Alright, here is the deal , in honor of the 100th  post at Location 180 I've decided to stick with the recent theme of how a blog can change your life.  Before you start sending all of the hate mail, I DO understand how many similar posts  are out there about why you should start a blog.  However, none are this in depth, honest, or well, long.   So thank you for sticking around and reading 100 posts of my nonsense.
This was originally going to be 100 reasons to start a blog, however, I'm not gonna lie, I spent hours writing this and I only came up with 56, so that's what you are getting!  Enjoy!
1) Build a support system that will be there no matter what happens in your life. With all of the difficult decisions I've made over the last few months, YOU have helped make it easier.  Whether it was support or advice or whatever, this community has turned in to a support system that I never expected to gain.
2) Where else will you get 100s or even 1000s of people to hang on your every word?
3) Chicks dig bloggers.  Ok, well maybe not.  But I'm sure there at least a few out there!
4) It will teach you why Twitter is awesome, regardless of what you may think about it now.
5) You'll make friends from all over the world. Like me! Need a place to stay in Bangkok? I've got a great tile floor.
6) Improve your writing skills.  Being a good writer will ALWAYS be valuable.
7) More likely to get free stuff. Could be as simple as an ebook, but you never know when someone is going to fly you to the South Pacific for free!
8) Build up your web skills. Lets face it, the internet is here to stay.  Word and excel won't cut it in the new era.  Here is a useful and fun way to learn what the hell you are doing on the internet.
9) Make some extra cash. While my site may not have them (yet) throwing up a bunch of affiliate ads could help you bring in some extra beer money.  And that is just the start.  There are dozens of ways you can monetize a blog.
10) Learn how to edit photos. I've been trying to provide more interesting photos on my site, so Photoshop and I have actually gotten to be pretty good friends.
11) Become an internet celebrity. I'll never forget the first time I called an account rep of mine for affiliate stuff, and he actually knew who I was because of my blog!
12) "Stop having a boring tuna, stop having as boring life." When you are forced to write on a regular basis, you want to keep it interesting! I've climbed mountains, quit my job and moved to Thailand all because I want to have interesting things to write about! Ok…maybe that isn't the whole reason, but it's an added bonus!
13) Get job offers! The Tropical MBA must have seen something they liked, as if it weren't for my blog, I would have never got a job.
14) A successful blog is more valuable than any resume will ever be. Period.
15) Keep in touch with old friends and family. Or at least let them see how cool your life has become.  It also makes your family hate you less when you are living abroad and can't call everyday
16) Support your friends and family. Maybe that second cousin of yours is the next Salinger, give them a shot at fame by posting on your site!
17) Start living the life you really want. The first step towards making drastic changes to improve your life is starting a blog.  It allows you to sort out your priorities and then meet likeminded people who will support you every step of the way.  Use this site as a case study.
18) Become addicted to stat checking. Provide yourself with a hobby that allows you to see exactly how much progress you've made over a period of time.
19) Hold yourself accountable for just about anything. If I was still at my job, I think I would have about 3.7 readers right now.  None of you would have stuck with me.  Now that's accountability!
20) Meet other like-minded individuals. Let's face it, that girl you sit down next to at the bar probably isn't going to have the same fascination with the latest Twitter client as you have.
21) Improve time management. As much as it may not seem like it at times, having a blog and sticking to a schedule, has tremendously improved my time management and allowed me to accomplish much more than if I was just spending my time watching reruns of Lost.
22) Get opinions! Want to know how that new hat really looks on you?  Add a poll to the blog with that ridiculous picture of you in a fedora.  Note: You can't pull it off, so maybe just skip that and move straight on to a more useful poll.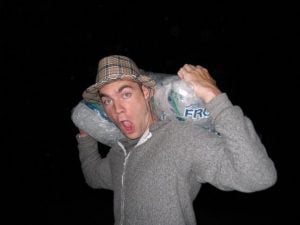 23) Brag to your friends that you know what a .htaccess file is. If they aren't impressed…well, they should be!
24) Get donations. Chances are if you do this long enough, someone will be thankful for the value you have added to their life.  Throw up a donation link and give them a nice sob story about how your broke.  You never know what will happen!
Note: I'm broke please feel free to donate here.
Double Note: That was a joke, but the link actually does work.
25) (Constructive) Criticism anyone? Sometimes you need to be taken down a peg or two.  Here is what you do: Guest post for a one of the largest niche blogs on the web, write about something that doesn't directly relate to the niche, and wait for the comments to roll in.  I'll let you judge how constructive these comments really were.
26) Stress relief. Sure there is some stress that comes with having a successful blog, but the stress relief of getting all of your thoughts out can be more than worth it.
27) Free Therapy! Whether it is the writing or the response you get from your readers, many of life's problems can be solved by blogging!
28) Create a job. Blogging for a living is a very difficult thing to do, but there have been many people who've seen success at it.  So when the job market is rough, take it upon yourself to create a new career for yourself!
29) Become a source of influence. Who knew you could be so powerful? Yes you! Start a blog, and start influencing others in any way you see fit.  Use your new power with caution…
30) Share your hobbies. Maybe other people haven't caught on to the wonderment that is stamp collecting.  This is your opportunity to show them how cool it really is!
31) Be different! How many people do you personally know that have a legitimate blog?  For me, I could count the number on one hand.  Dare to be different and start doing things your own way!
32) Promote your business. I still maintain there is no better way to promote a business than with a well written and well maintained blog.  Do people know about the moonlighting you do in T-Shirt sales?  Well make sure they do!
33) Track change in your own life. Location 180 has been a very cool way to see how my thoughts and actions have changed over the past 8 months.  I can see the transformation from having a job, to jobless to globe trotter very clearly.  No telling what the next 12 months will bring!
34) Beat your kid sister at Scrabble. With all of the new words you will learn blogging, you will become a scrabble master.  Just remember that Jo, Qi, and Za are all words.
35) You've got nothing better to do. Seriously. What else are you going to do that is more productive?
36) Depression sucks. Feeling depressed?  Millions of other people are too.  Use the writing as an outlet, and then start getting help from others who have been there.  May seem like a long shot, but you'd be surprised at how powerful this can be.
37) Save Money. Everyone talks about how to make money online, but fail to mention how a blog can save you money.  Next time you are bored and want to go drink away your sorrows, go to a movie or buy a new puppy, just go to your blog instead.  There are so many ways to spend  your time working on your blog its not even funny.  You'll probably learn a thing or two while doing it as well.  College ain't got nothing on this education.
38) Give back. Look at where you are today, how much you've learned and all the people that have helped you.  Starting a blog gives you a forum to share your knowledge and give back to the community that helped you, whatever that community is.  Or if no one helped you, you can at least rub your success in their face.
39) Get on the cutting edge.  Let's face it, the internet is here to stay.  The more you know about it, the better off you will be, so better start practicing! Not to mention many blogs and social network sites break major news updates before anyone else, so by being in the blogosphere, you will always be in the know.
40) Become a baller on Google. When was the last time you Googled your name?  Well I guarantee that employers and many other people you meet will be checking up on you.  So why not make them think you are some super huge internet celebrity?  If you search for Sean Ogle, the top 4 spots and 7 of the top 10 are about me.  I'm nobody, but Google seems to think otherwise.
41) Attain the power to publically humiliate. No one will ever mess with you ever again…or at least no one that you have incriminating photos of.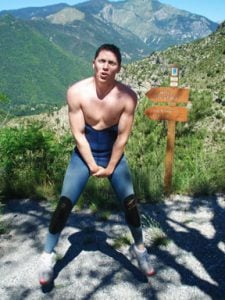 42) Get a book deal. Ever wanted to write a book?  Start a blog.  The best  way to get your writing noticed is to put it out there for everyone to read.  Chris Guillebeau is an awesome example of blogger turned author.
43) You don't need to know HTML. Maybe you've always wanted to start a website but were intimidated by all the technical stuff.  There is very little that is technical about a blog, and even less if you get set up with wordpress.com.  No more excuses for you.
44) Gain Google love for your business. Perhaps your business only has a few static html pages.  Add in a blog and all of a sudden you are getting quality content published that is most likely fairly optimized for search engines.  There is no reason not to.  There are all sorts of industries where businesses aren't utilizing this powerful tool.
45) Meet an expert. The power of social media has made it very easy to get in touch with many of today's most powerful people.  Colin just met Seth Godin and Cody recently did an interview with Gary Vaynerchuk.  A blog gives you more leverage on the internet to make these people pay attention to you.  It's never been easier to get in touch with, well, anyone.
46) Become an expert. The more time you spend writing about something, the more knowledge you gain.  Thus the more likely you are to be perceived an as expert in your field.  I'm not exactly sure what field I'm in, but I feel like an expert at it!  One of these days others might start perceiving me as one too 🙂
47) Free places to stay. Going on a trip any time soon?  Well I'm pretty sure that thanks to my blog Carlos would put me up in Buenos Aires.  I could probably convince Christiaan to give me a place to stay in the Netherlands and any number of other people could help out in hundreds of other places.  I may never have to pay for a place to stay on vacation again!  It's cool guys, I'll buy the beers.
48) Make new friends. Lets take this a step further than just meeting people.  I have friends now that I can honestly say I would not have were it not for my blog.  And we aren't just talking online friendships either, real honest to goodness friends that I've met in person!  That's powerful.
49) Do something totally out of the ordinary. While it hasn't happened yet, I still plan on playing golf at Augusta National.  Sooner or later one of my readers is going to have some connections and help me to make this happen.  I'm sure of it.  Anyone?  Beauler?
50) Learn about the power of Skype. Last week I was on a call with someone from Argentina, someone from the United States, all while I was in Bangkok.  If it weren't for blogging, I probably never would have discovered such a powerful (and cheap!) tool.
51) Create an email list. Regardless of what you are trying to sell or promote (even if its just your ideas), a blog gives you the power to start creating an email list of people interested in what you have to say.  Ask any internet guru, these lists are huge.
52) A blog is cooler than a diary.  Come on guys, I know many of you keep "journals", which we all know is guy code for a diary.  Lets legitimize this thing and get you a blog, stat!
53) Share your art. Whether you are a true artist, musician, photographer or any number of other talents, a blog can be a great outlet to gain exposure with the masses.  Don't be surprised if one day you find a link on this site to some kind of awful music I've created and put out there for your listening pleasure.
54) Learn logo design. Since I was too cheap to hire a designer, I took it upon myself to make an attempt at designing my own logo.  You never know when those skills will come in handy, as I've already had to design two logos here in Thailand.
55) Call out your friends. For instance, maybe you decide to see what its like to not drink for a month.  But of course you don't want to do it alone, so a blog can give you a forum to publicly rope your friends into joining you!
56) Allows you to Find your "Thailand".
If you enjoyed this post be sure to sign up for my email updates and subscribe to the RSS Feed!  Seriously thank you all for sticking around long enough to get me to 100 posts on the site.  Here is to the next 100!