So, you want to learn how to start a blog, huh? It's no secret that I think the absolute best way to get started building a business online is to start a blog.
You'll hear many people make arguments like "a blog isn't a business" or "you don't need a blog to have a successful business."
While there is probably some truth in those statements, the reality is that starting a blog serves as an excellent training ground regardless of the type of business you want to build.
To name just a few of the skills you can learn by starting a blog:
Learn how to setup a site on WordPress (the best platform for those just beginning or are non-technical)

The basics of Search Engine Optimization

The importance of copywriting and how to create content that gets shared

Social media for business
The list goes on.
You may have also heard people say that blogging is dead. Trust me. Blogging is not dead.
Your first 365 Days of Blogging
These are the 5 best pieces of advice I have for your first year of blogging. Watch this, take notes, and keep these things in mind as you go through the rest of this post and get started with your new blog or niche site.
Blogging Terminology: A Quick Glossary
To ensure we're all on the same page before jumping in, I want to make sure you understand a couple of key terms so that the rest of this tutorial makes sense.
Domain: The domain name is the identifier that helps to locate a website on the internet. For instance, as you can see above, this site's domain name is locationrebel.com.
Hosting: A company that "hosts" (stores) websites in high-powered servers that connect to a network. It is where all the data for your blog lives.
Bluehost: Bluehost is a hosting company that also offers domains for purchase. Here's my full Bluehost Review.
WordPress.com: This is a site where you can host your website for free, but there will be certain limitations. Generally speaking, this isn't the best way to start a blog, but we talk about how to do it a little bit below.
WordPress.org: This is a self-hosted install of the WordPress content management system. It is slightly more technical but infinitely more flexible. You will need your hosting for this. It is the recommended way to start a blog, which is what most of this tutorial will cover.
Plugin: A special piece of code you can add to your WordPress site to add functionality. Examples might be plugins for a contact form, sales page, membership site, or advanced menus.
Widget: A feature on the backend (the part of a website only you can see) of your site that adds design features such as sidebars or footers.
Theme: A WordPress theme allows you to easily change your site's look and feel while retaining the same content and information.
So, do you think it's right for you?
Let's get your site up and running.
Learn How to Make Your First $1,000 Freelance Writing (in 30 Days or Less)
Join over 40,000 people who have taken our 6 part freelance writing course. Sign up below and let's do this together.
By entering your email address you agree to receive emails from Location Rebel. We'll respect your privacy and you can unsubscribe at any time.
The Elephant in the Room: Is Blogging Dead?
You might be thinking, "Soooooo, I thought blogs were dead….is this even worth my time?"
And I'd forgive you for saying that and then explain why blogs are not dead.
But for a quick answer, let me ask you a question:
When was the last time you did a Google search, and the answer showed up in the form of Instagram, Tik Tok, Snapchat, Facebook, or a Podcast?
Exactly, blogs are still very much a thing, and I'd argue they will be even more important over the next 5 to 10 years.
How to Start a Blog for Free in 2023
There are a lot of different services out there that will allow you to start a blog for free.
That said, if you're serious about blogging, I recommend spending a little bit of money so that you can have your own domain, better hosting, and more flexibility with your site.
But if you're totally strapped for cash and aren't as concerned about starting a blog as a business or getting your site to rank in search engines, then the best way to start a blog for free is at WordPress.com
WordPress.com looks very similar on the backend to WordPress.org. But with this option, WordPress themselves will host your site for free – but they will really limit the things you're able to do on the site. Things like:
Add special plugins
Monetize the site
Rank well within search engines
This is why it's not recommended.
That said, we think this is the best free blog service out there because if you ever decide to move to the self-hosted version of WordPress.org, it's much easier to make that transition.
So how do you set up a blog for free in 2023?
It's really easy.
Click the link in the top right that says "Get Started"
Follow the prompts!
Seriously, that's it. You'll be up and running in almost no time.
But if you're serious about growing a larger blog or turning it into a business, then you'll want to go with WordPress.org, and that's what the rest of this post is devoted to.
Why Choose WordPress.org to Start a Blog?
By starting a site of your own, even if you have no direction or a specific topic in mind – you can get way ahead of the game by going through this process.
In the most basic terms, WordPress is an open-sourced website creation tool. It is easy to use but extremely powerful content management system (CMS) for your website. That means you can manage all of your content (blog posts, pages, product descriptions, etc.) right from one place.
WordPress is the most popular CMS out there. Small blogs and huge brands all use it because it's relatively simple, easy to customize, and powerful all at the same time. So, it's the best choice out there.
Here are some of the basics of WordPress:
Cost: About $150ish per year. Typically hosting is about $10 per month, plus a URL is about $15 a year.
Themes: There are thousands of free themes you can use with WordPress, or you can upgrade to a premium theme (we'll highlight that more later) for anywhere from $25 – $75 and up for a one-time fee.
Customization: Lots of potential here. You can add any of thousands of plugins to make your site work well without needing any major web development tweaks.
So for those of you most serious about learning how to start a blog, this is the way you'll want to go.
And looking for more philosophical reasons why you should start a blog? Here you go:
The 3 Steps to Starting a Blog on WordPress in 2023
Chances are you know you want to start a blog of some sort – but you're not entirely sure how to start, or what you're going to write about.
No problem!
The good news is that starting your website is actually really simple, and even without an idea or a direction, we can get going right now.
Here are the three simple steps to starting a blog
Choose a domain name. No clue what to call your site? Use a variation of yourname.com
Get a hosting account. For less than $100 for your first year on Bluehost,

you can get a domain and host for

unlimited sites

(that's what we'll be using in the tutorial below)

. You can check out our tips for choosing a hosting service here.
Install WordPress. They make it super easy with a single click.
Does this still seem daunting?
Don't worry, it's much easier than it sounds and we're going to walk you step by step through how to start a blog in excruciating detail – so you have no reason not to get going 🙂
Ready for this? Ok, settle in, and let's get it going!
Step by Step: How to Setup a Blog on Bluehost
Ok, ready to learn how to start a blog? Grab a cup of coffee, and within the next hour or so, you're going to have the basics of a site up and running. Trust me; this has the potential to be a total game-changer in your life if you treat it as such.
So I'm personally excited to see where you take this 🙂
Step #1: Go to Bluehost
Now that you've got those down, it's time to get this thing rolling and get your hosting plan set up. Head over to Bluehost to get started.
Why do I say Bluehost when there are hundreds of other hosts out there? Well, there are a lot of reasons.
Here's our detailed breakdown of how to find the best blog host for your new site.
Short answer: for 95% of you, Bluehost is the way to go.
I've used close to a dozen different hosts over the last 8 years for different websites. And for when you're just getting started, Bluehost has consistently impressed me the most with the combination of price, performance, and customer service.
That last one is a big deal because you will have a learning process to go through. Having solid customer support is extremely important, and I've spent hours on the phone with them over the years.
Note: If you have a higher-traffic site or want a little extra customization, I recommend WP Engine.
However, for 95% of people getting going, Bluehost is the way to go. Not to mention, they've been super cool and are hooking Location Rebel readers up with a special link that makes this a total no-brainer.
If you click this link and join, you get in at $2.95/month for the first year, a great deal. When you get to the site, you should see:
Step #2: Click "Get Started Now" and Choose Your Plan
It's pretty simple here.
If you think you're only going to need one site for the foreseeable future, just go with the basic plan. Most of you, especially as you are starting out, will fall into that category.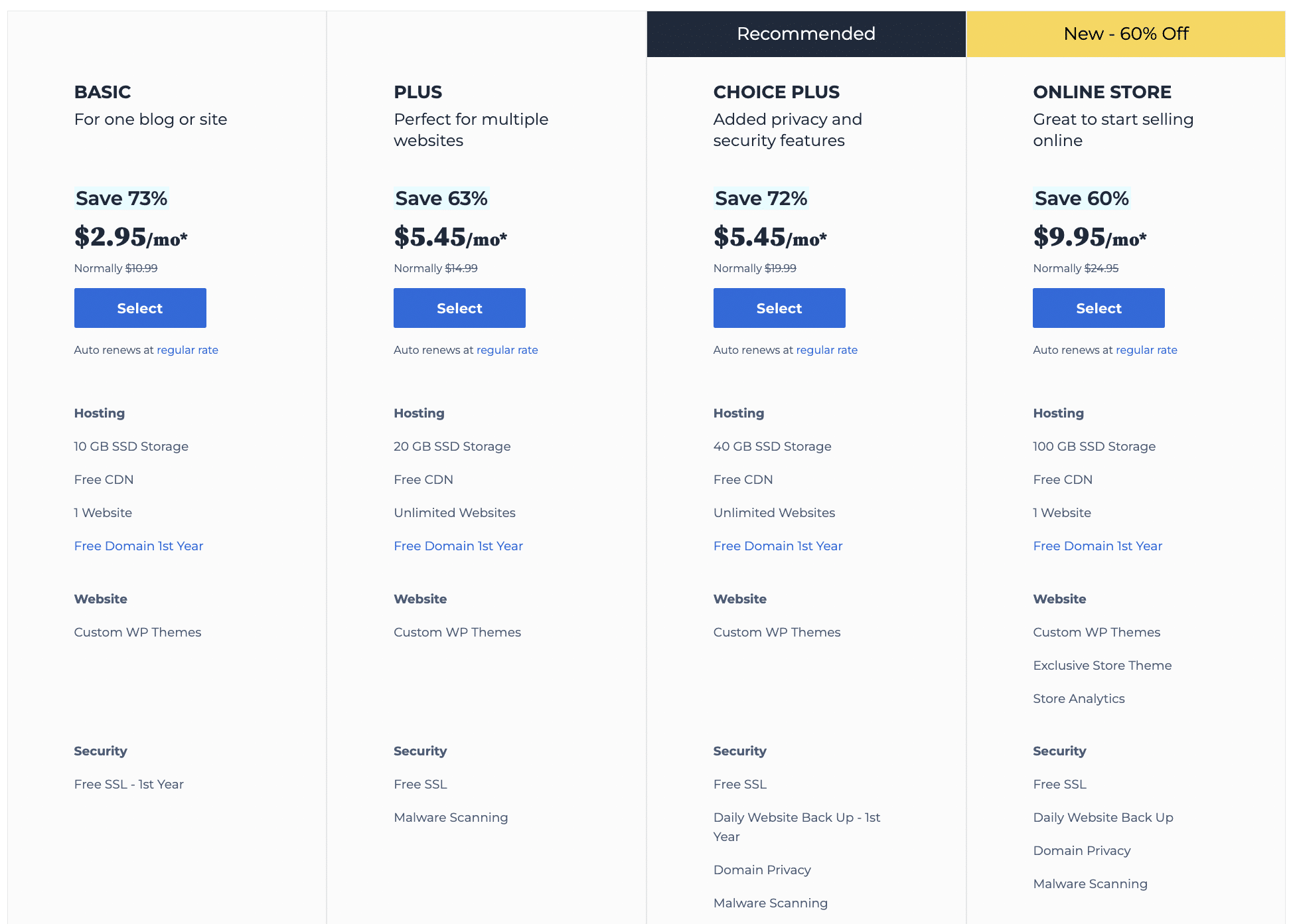 However, if you think you might want to create a few different sites, then the "plus" level for under $70 for a year is a no-brainer. I generally recommend this for people who know they are going to start a few things down the road. For instance, they might want to build a few niche sites and are also looking to start a website for their freelancing services.
Step #3: How to Choose a Domain Name for Your Blog
Now we look at domain names (the URL for your website).
If you've already bought your domain name yet, enter it into the box that says 'I have a domain name.' 
If you don't have a domain yet, then this is the fun part. 🙂 A lot goes into a domain, but you shouldn't stress too much about it.
Remember, you can always buy a new one for about $10/year and if you have the unlimited plan, you can set up as many sites as you want!
Choosing Your Domain
Not sure what you want to do? Get a version of yourname.com. Even if you choose something else, it's always a good idea to secure a version of your name as well. If your name is taken, try your initials or yournamewriter.com or something like that.
A .com is ideal, but it's not a deal-breaker. Just try and stay away from top-level domains that are strange (info, guru, or anything else that isn't a com, net, or org)
Try not to use dashes. And only use one at MOST. Example: nichesitebuilder.com is much better than niche-site-builder.com. Dashes lose trust.
Obviously, there's more to it than just a name. Having an idea of what industry or niche you're going to be blogging about is important. Learn how to choose a niche for your new blog here.
This video may also be helpful:
From there, we recommend checking out Namecheap to see what URLs are available.
Let's say you've got your heart set on blendershop.com for your new site. That's going to be about all the things you can do with blenders. But you pop that into a domain service like Namecheap and discover it's not available.
You've got a few options to create some workable fixes:
Try adding an 's' at the end – blendershops.com
Try adding 'the' at the start – theblendershop.com
Consider other extensions. While .com is always the best, .co or .net aren't going to ruin your site – blendershop.co
Think about related terms if none of the above work – blenderrecipes.com, theblenderchef.com, blendercentral.com, etc.
If you get stuck, one cool feature of Namecheap is they allow you to do a bulk domain name search. They call this "Beast Mode." You can brainstorm a ton of ideas (if needed) at once.
Click on this link, and you'll be brought to that page. Select Beast Mode, type in a bunch of ideas, or anything that pops into your head, choose the extension you want (ideally a .com) and click enter.
You can see it in action here. We put in a couple of name ideas and picked .com, .co, and .net as the extensions.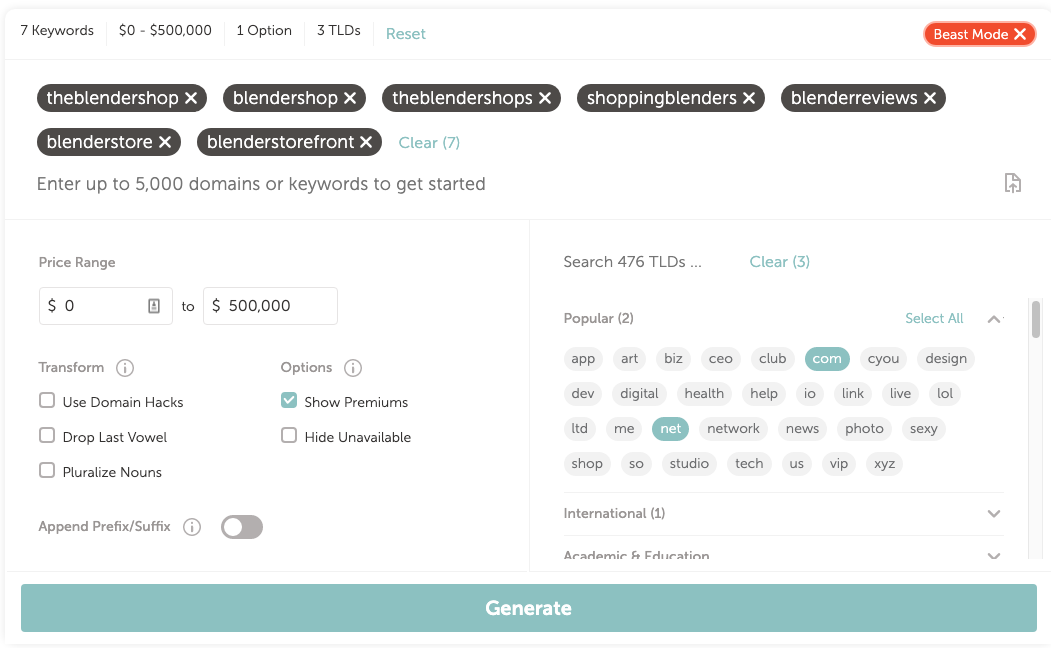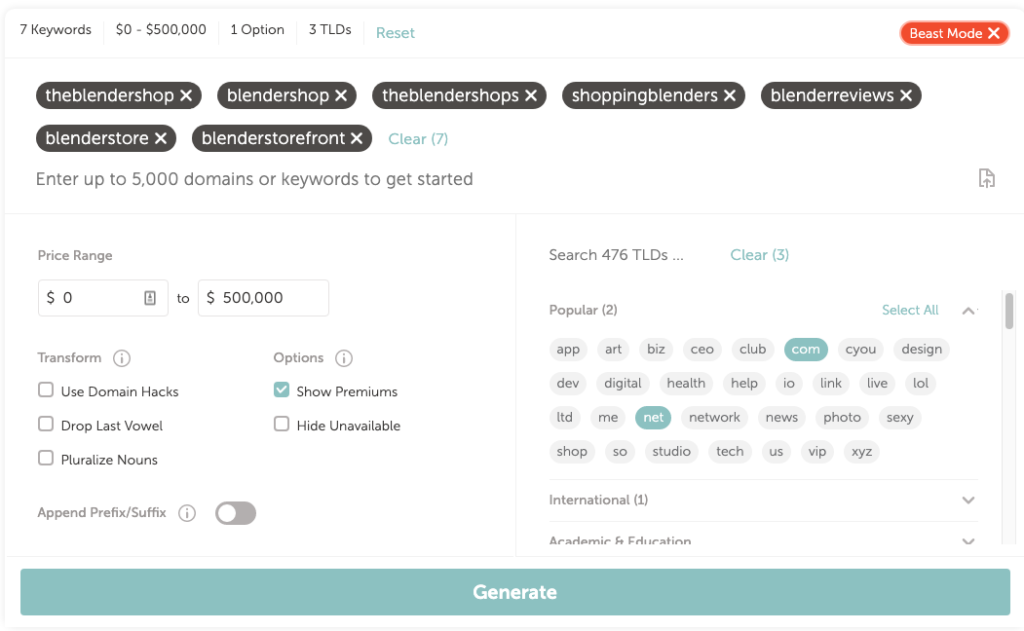 Click Generate.
Then you'll easily be able to see what options are available. To buy one, click Add to cart.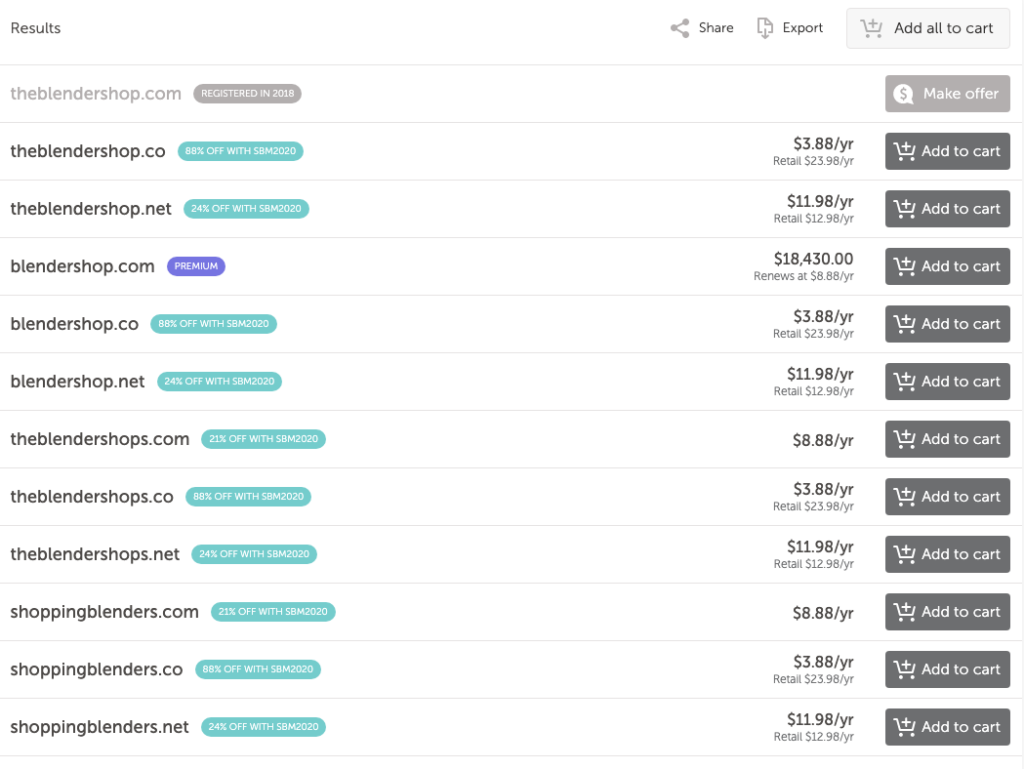 Once you've purchased your domain name, you need to hook it up with the Bluehost servers. To do that, check out this article (option 2) or follow these simple steps:
Login to your NameCheap account
From the dashboard, pick the domain name you want to use and click the manage button
Under domain, scroll to where it says Nameservers
Click Custom DNS from the dropdown
Add Bluehost's hosting nameservers, one for each line.

ns1.bluehost.com
ns2.bluehost.com

Click the green checkmark button to save your changes
Note that it could take up to 24 hours for your domain name to point to your Bluehost account, so if it doesn't show up right away, don't panic.
If you get stuck at any portion of the above, contact NameCheap support. If you scroll to the bottom of the page on your dash, they have a button to open up a live chat.
If you've bought your domain through some other service (not Bluehost) the process should be similar.
Ok, now back to Bluehost.
You can also choose to skip this step about buying a domain. Just click I'll create my domain later and go ahead and create an account.
For now, we're going to go ahead as if we have our own domain. But, if you do want to use Bluehost to get one, keep reading.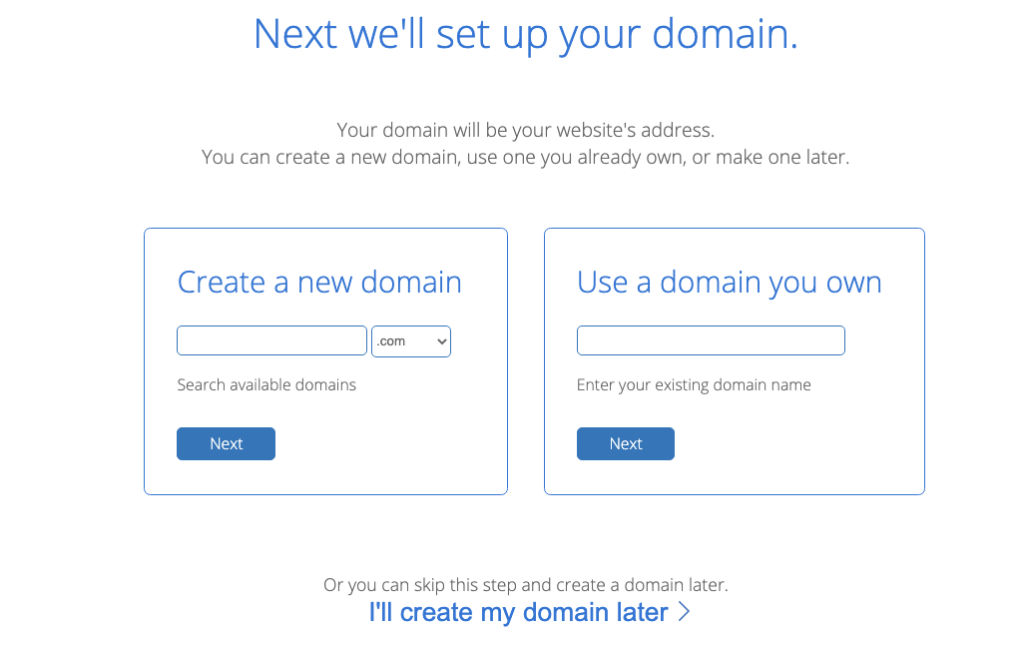 Getting a domain through Bluehost
Remember the "sign up now" page from above? Well, if you need a new domain, then you enter the domain you want to use in the "new domain" box.
We know from our search at NameCheap that shoppingblenders.com is available, so let's go with that.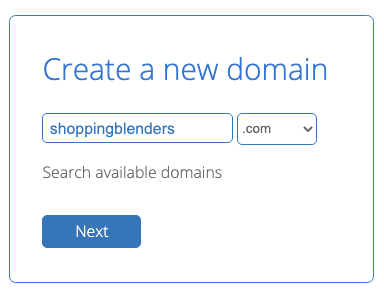 Click the 'next' button, and you'll be asked to create an account and pay for your package.
Note that the longer you set the account plan for, the cheaper the monthly rate will be. The system defaults to 3 years.
Also, when you're just starting out, you probably don't need many of the additional packages to start. Read through each and decide if they are right for you. If you want them and have the budget, go for it, but you don't need to worry about spending the extra cash right away.
Once you've decided what you're going to go with, enter your credit card information and click 'submit.'
After you've done that, you'll be asked to create a password for your account. Don't forget this!
Bluehost will send you an email confirming your information. From there, log in to your Bluehost account to get WordPress installed.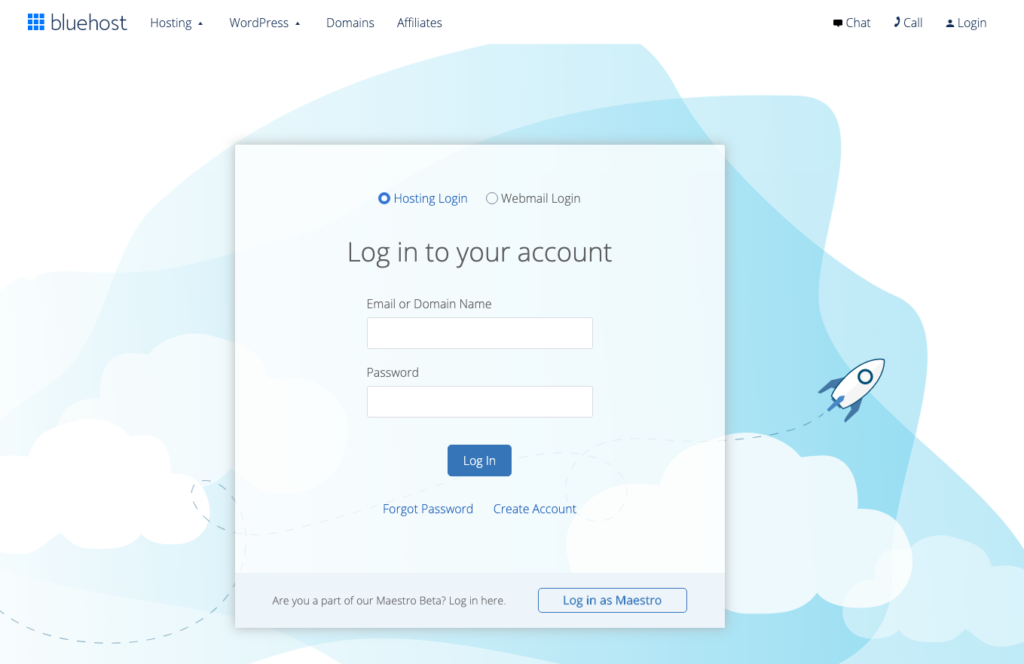 Note: If you're moving from one domain name to another, here's how to change your domain name without hurting SEO.
Step #4: Log in to Your Site
The first time you log into your site BlueHost asks for some information to help you along the way. You can fill these out or skip them.
Here they are in order.
This first one has a bunch of options that fit most people. If you aren't sure, you can just go with a blog. Remember, there are no wrong options here; you aren't going to mess anything up if you change your mind or pick something you realize you didn't want.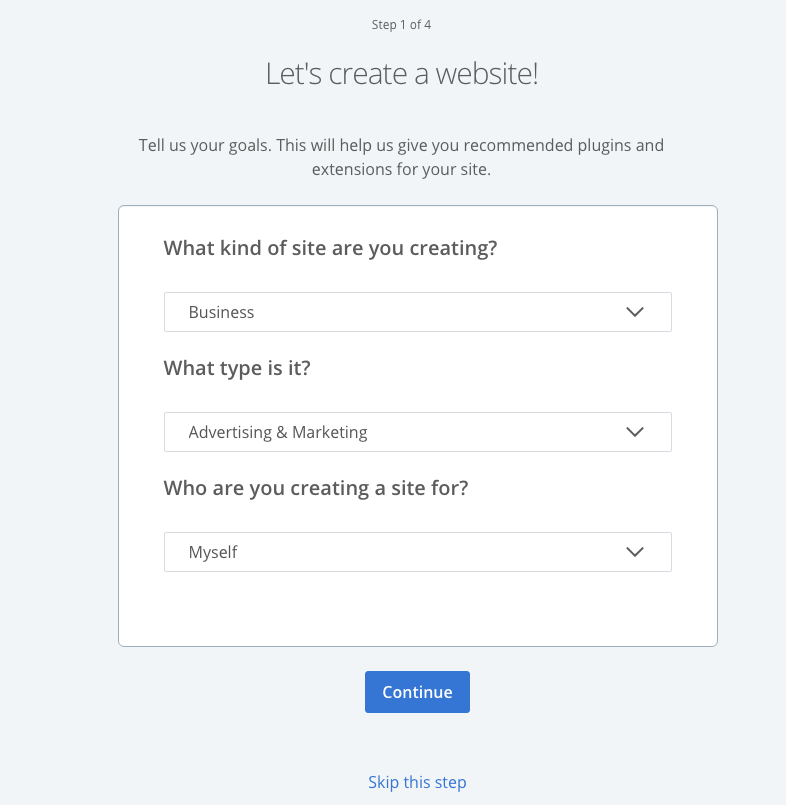 With this step, you can pick what features you want to be added to your site. Most of you will want a blog, and everyone will want an about page. You don't need to worry about a logo right now. And only people who are selling things from the start need to select a store.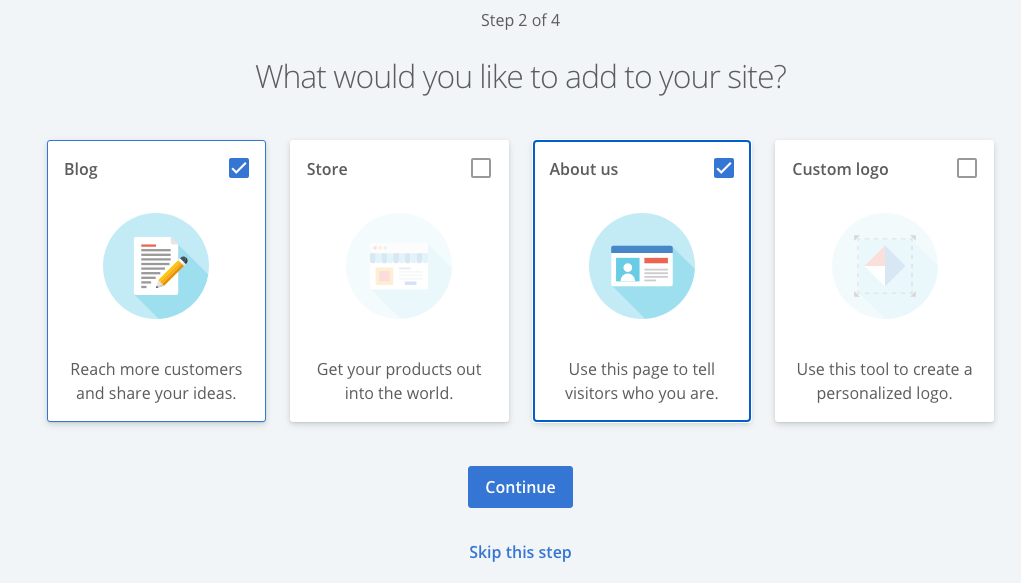 Alright, here, just add your site's name.
For a freelance writer, you can just use your name. And the tagline is optional. You can always go back and add this in or change it later.
Unless you've set up a site before, select "a little" for your comfort level.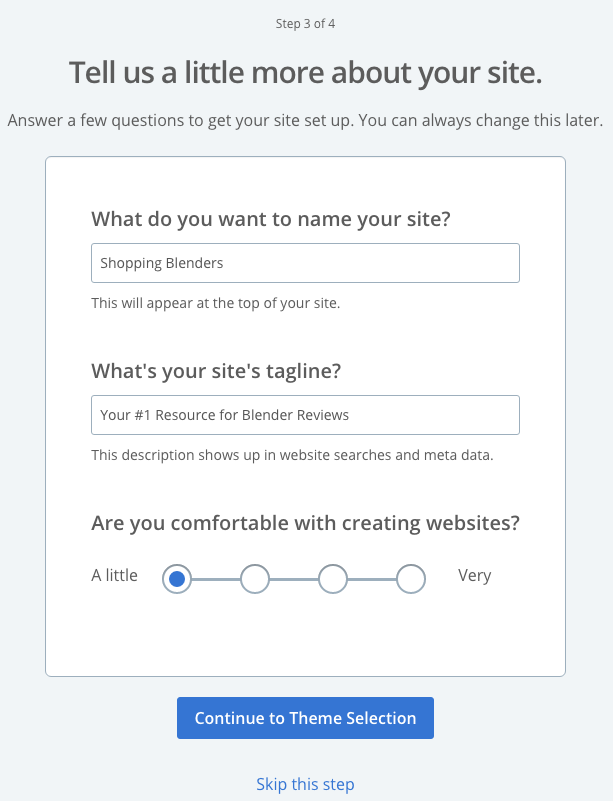 Ok, next we get to the themes.
WordPress has a few standard free themes ready to roll. And Bluehost will give you a few options to choose from as well.
If you're truly crunched for cash at the start, a free theme is fine. For now, pick something that is basic. A lot of people get stuck because they pick some super fancy theme with a ton of features they don't need and it can be a monster trying to set up.
You can avoid a ton of headaches and save a lot of time by going simple at the start.
You don't want to rely on free themes for a long time. We recommend getting a premium theme up and running as soon as you can (which is covered in Step #7).
If you already have a theme, you can skip this step and upload yours later.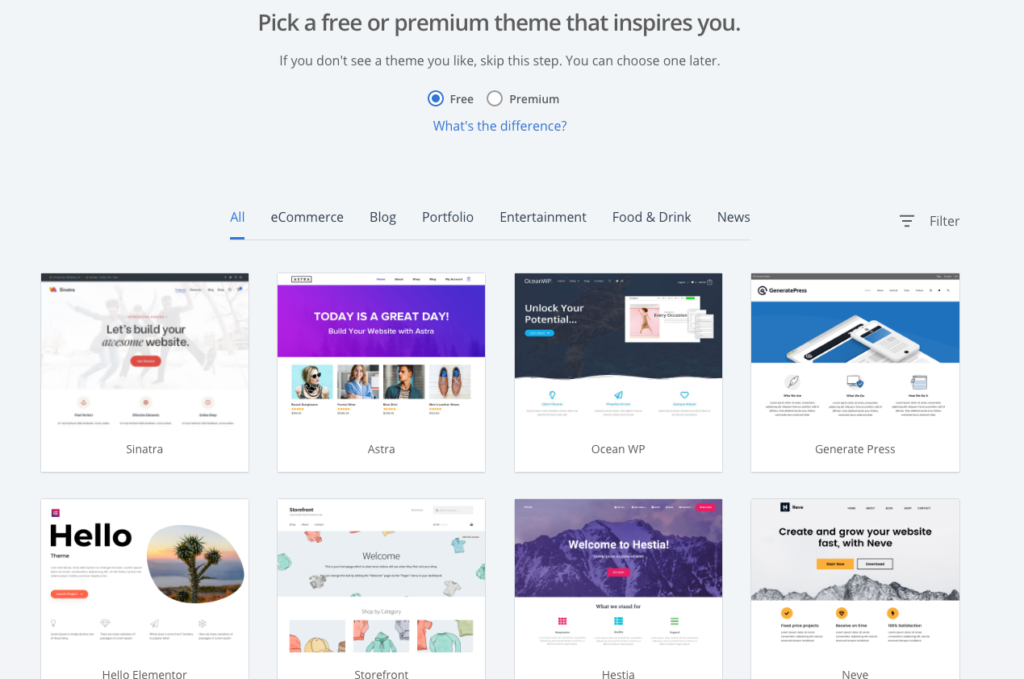 Whoohoo, WordPress is installing, pretty simple, right?
Just a note, you might see this screen for a few minutes, so be patient.
And, with ANYTHING website related, anytime you get stuck on something, contact BlueHost support. They are there to help you.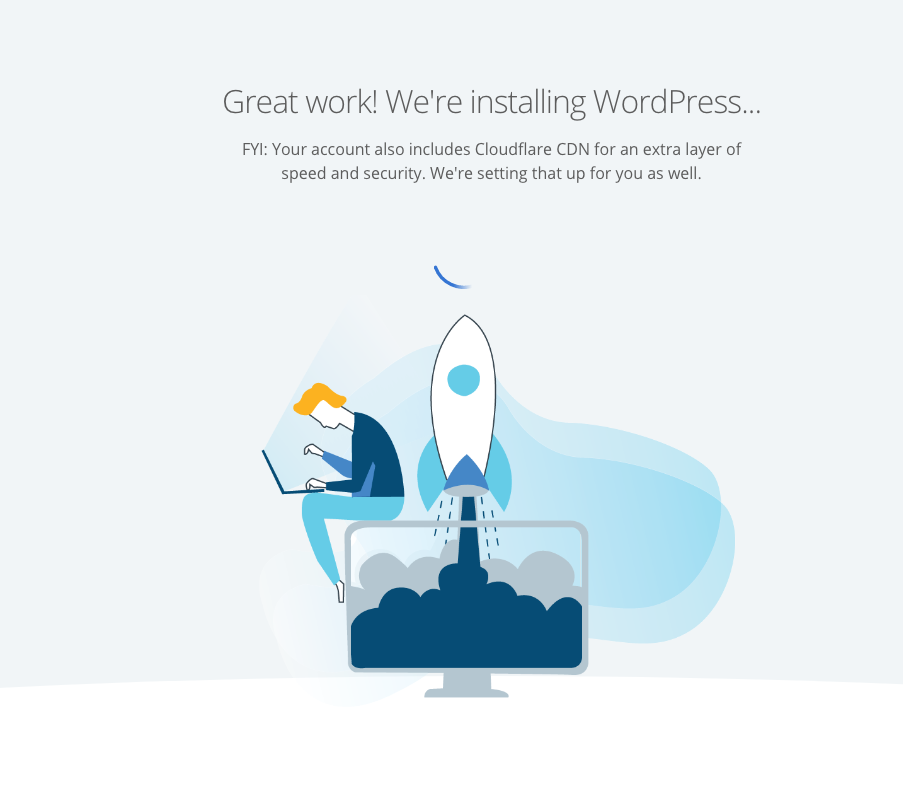 Ok once you're set with that you'll be on your site's Bluehost dashboard, also called a c-panel.
It should look something like this: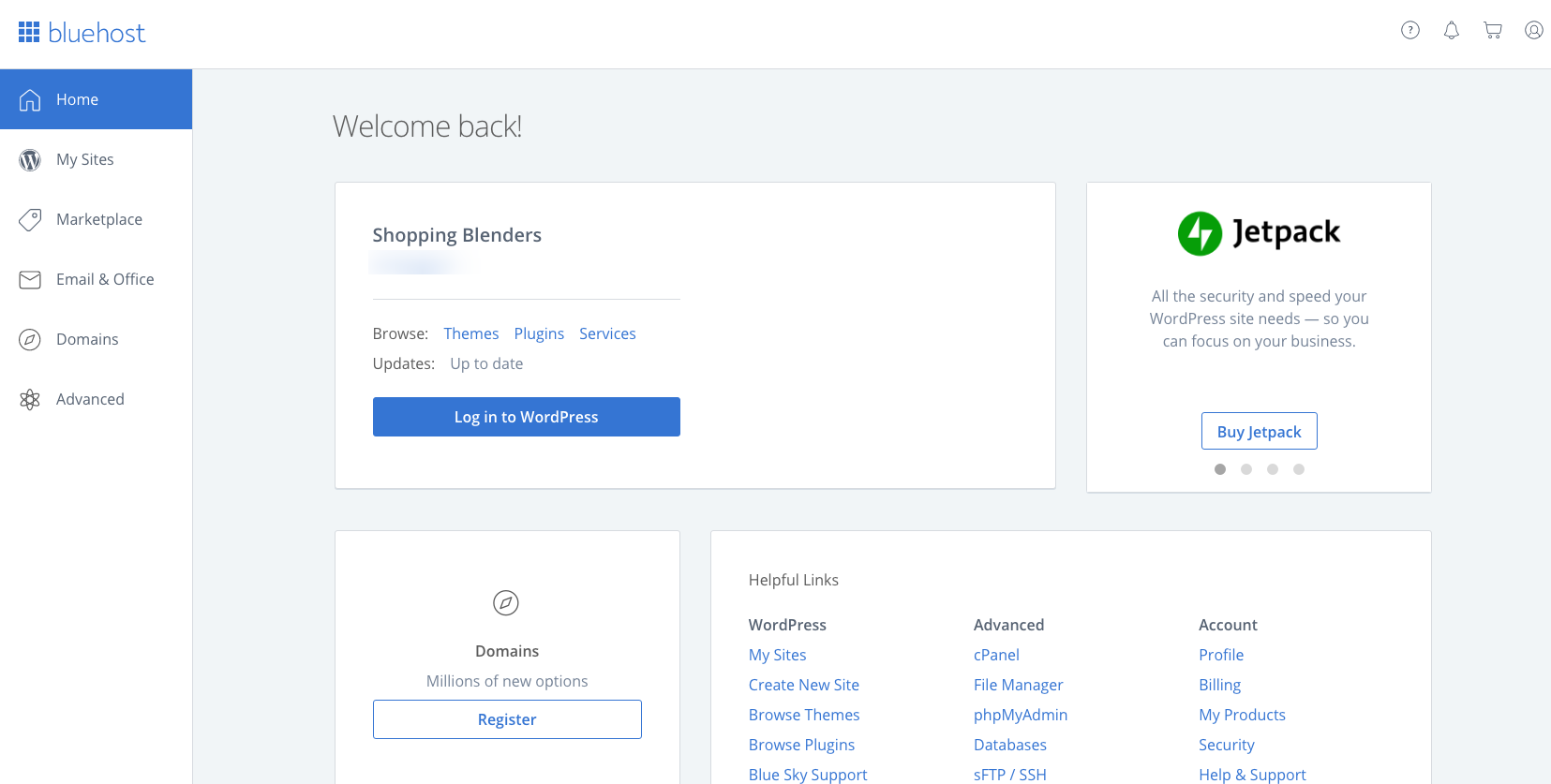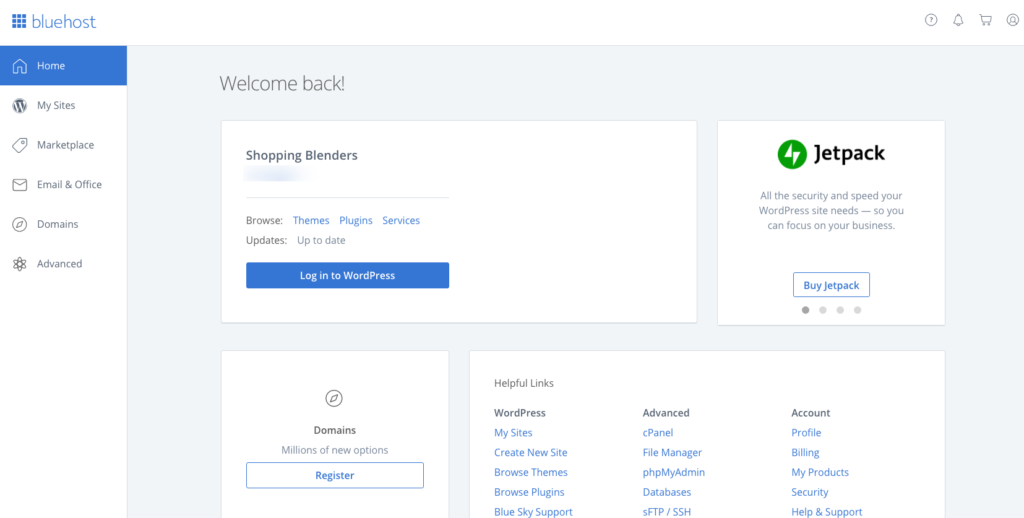 You just need to click the blue Log into WordPress button and it will bring you to what's called the back end of your site. That's the part of the site only you can see.
You can also log in to WordPress by going to youdomainname.com/wp-admin
Both will bring you to the same place.
Remember, if you get stuck at ANY portion of the above, contact Bluehost support. They are going to be the best people to help you.
A lot of people get stuck at one point or another getting a website up and running and that can derail your progress. So don't hesitate to contact them if you do find something that doesn't look right. Don't waste your time getting super frustrated if you can't figure it out easily.
At this stage, we're all about forward progress, so do everything you can to avoid hitting a wall.
Step #5: Explore the Back-end of Your New Blog
We could stop here, but I'd like to give you just a little bit more information to make sure you can get your site looking good, and keep you from making excuses on why you "still can't get started."
We'll break down each of the sections of your new site, so you'll have a better idea of what each one does. Every time you log in, you'll get sent to your dashboard.
Here again, you'll see the backend of your site. Once you've clicked launch button you're good to go. From here, Bluehost gives you some simple ways to immediately start creating posts and pages.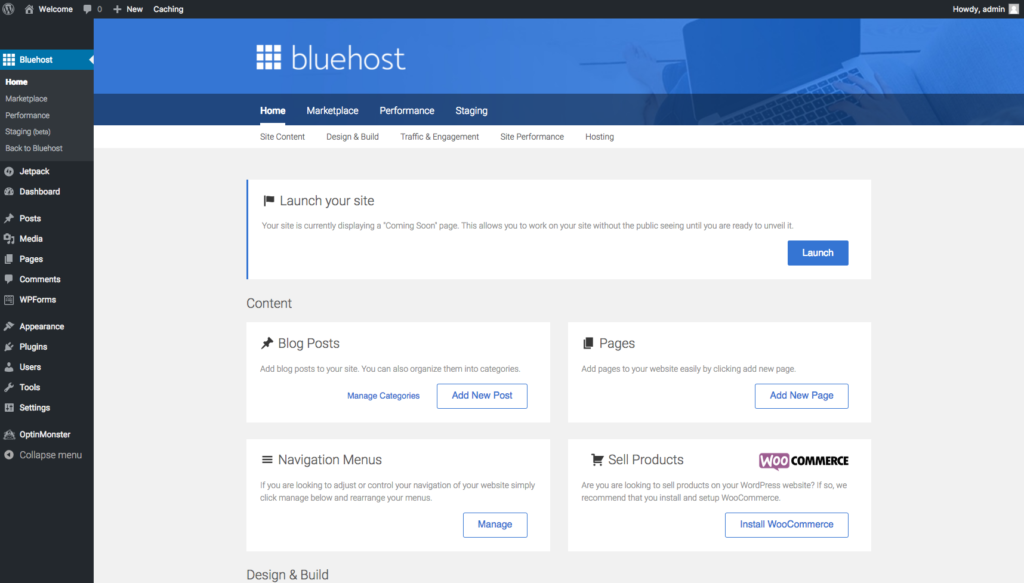 The most important part of this page is the navigation on the left-hand side of the dashboard.
This is where you'll do everything from write blog posts to view comments, and change the look and feel of your site.
As you install different plugins, you'll notice your dashboard will begin to have more items. Here, we're just going to cover the basics to get you started.
For a few quick tips, let's look at the most common things you're going to click here:
Posts: A list of your blog posts (you can create a new post here)
Pages: A list of all your website pages (you can create a new page here)
Media: An overview of your images/video library (you can add new media here)
Comments: An overview of all the comments on your blog
Links: A list of links you've added to your site or blogroll (you can pretty much ignore this)
Appearance: This is where you can tweak your theme, menus, and widgets plus do any changes to the CSS of your site
Plugins: A list of all the plugins you use on your site (you can add new ones here also)
Users: A list of all the users who have registered on your site, plus your profile (you can add new users here)
Settings: Here you can access many of the general settings of your site like the name, how comments are viewed, the date and time, how blog posts appear, etc.
These are the main menu links you're going to spend the most time using. It's a good idea to explore each of these on your own so you can get a better understanding of what they do.
Step #6: Install a Blog Theme
Even though you have a free theme to start with, you want to get a premium theme installed as soon as you can afford it.
This is probably the most important step of the second half of this tutorial.
A WordPress theme allows you to keep all of your content the same, but make your site look completely different.
By installing a new theme you can make your site look beautiful and professionally designed with very little work. You can use a free theme to get started if you'd like.
However, based on my experience it's worth paying an extra $40-75 for a premium theme.
Why?
Because not only will it look better, but it will be easier to customize to your liking, and less technical to make major changes.
I personally recommend you check out Theme Forest. This is where I buy 95% of my themes, and I've always had really good luck with the ones I've bought on there.
As you look for themes, a couple of things to keep in mind:
Always look for something that has an active support team, you will need it at some point, make sure they are there for you.
Pick something that has good overall reviews.
Keep it simple to start, a lot of people get caught up because they pick a massively complex theme and it throws them,  you don't need that right now.
Here are some more tips on how to pick the right theme for your website.
If you've bought a theme, you'll have to download it from the site where you got it. It will come as a .zip file, and you do not need to open that up, it can be uploaded directly into WordPress.
Here's an article on how to install your theme into WordPress. But it's pretty simple.
How to Install Your New WordPress Theme
It's super easy to install a WordPress theme:
Click Appearance (on the left toolbar) and Themes.

Then at the top of the page, click "add new."
If you have already bought a theme that you want to upload then click the "upload theme" button.
Choose your .zip file and click "Install Now."
Once done, go back to your main theme page and you will be given the option to either preview your theme or activate it.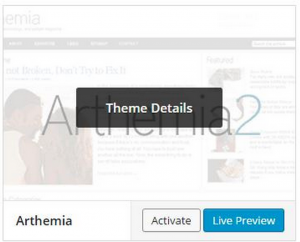 The preview is just that, it will show what the theme will look like when it's live. If everything looks good, click "Activate."
To customize parts of your theme, like the color, headings, number of sidebars, etc., click "appearance" on the left side menu and then customize.
Every theme will have different customization options, and many of the premium themes will have their own dedicated menu in the dashboard sidebar.
Look for a new menu item, or look under the "appearance" menu to see if you see a theme with your name on it.
One last benefit of a premium theme is that usually their documentation and support is much better. If using Theme Forest, look for themes that say "well documented" to make sure you have all the help you need customizing – as each one does act differently.
And don't forget, you can always go back and change things if you don't like them!
Step #7: Create Your First Blog Page
Next, you need to learn how to create a page. A page and a post are very similar with a couple of key differences:
A post is listed in reverse chronological order on the page you specify in Settings > Reading. This is essentially your "blog"
A page is static and has no date on it.
If you're writing a blog post it should be a "post", if you're adding say an About page or a Contact page – then you should do it as a "page".
Moral of the story? Don't go crazy. To start you only need a handful of pages. Here's what I recommend:
Home
About
Contact
And a dedicated page for your blog
That's it to get started. Once your site is up and running you can add more pages if you like, but these are the essentials.
Here's how to do it.
On the left sidebar click Pages then click Add New.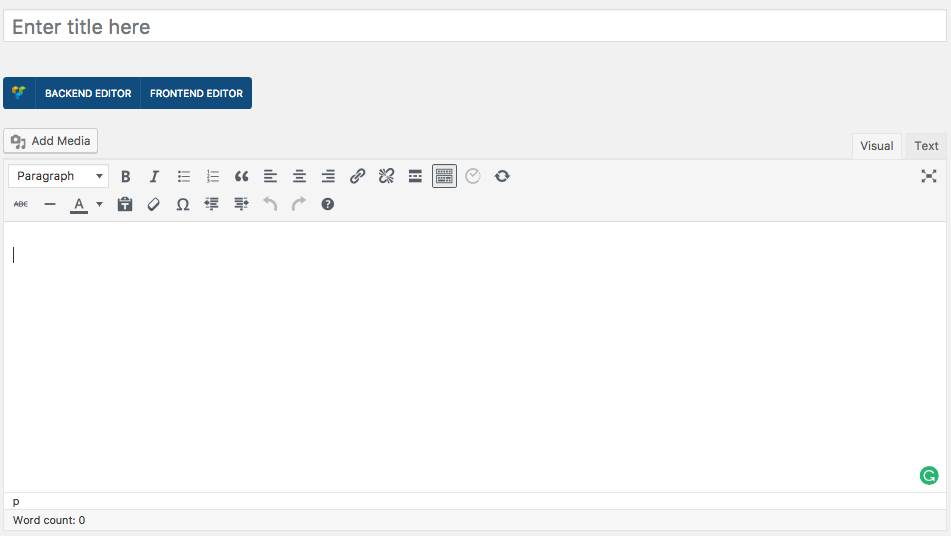 We're going to cover a few different aspects of a page here.
First where it says "Enter Title Here" this is the title of your page, for example, Home, Contact, About are all options.
Right under the title, you'll see it says "Permalink," which is the URL for this page.
Click Edit to change the end of the URL. So, if you were going to call this your About page, the URL will be youdomain.com/about.
Setup a Blog: How to Update Your URL Structure
If you notice your URL structures are showing up funny, you might need to edit your "permalink structure."
Do this by clicking "Settings > Permalinks." I would then recommend changing from "default" to "Post Name."
This will make your URLs show up like this: https://www.locationrebel.com/sample-post/
Instead of like this: https://www.locationrebel.com/?p=123
Setup a Blog: How to Add Content
To add any photos, video, or audio, click "Add Media".
Then in the big white box is where you write your content.
The items at the top you'll see are very similar to what you'd find on a Google Doc or Microsoft Word, so you should be familiar with those.
On the right-hand side, you'll see a few boxes: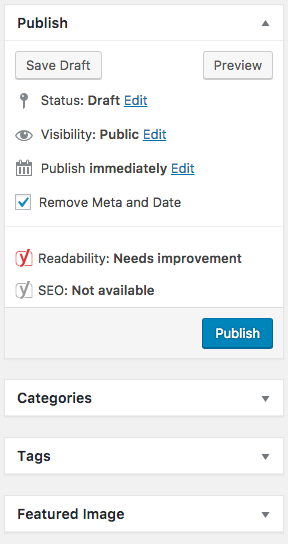 These are pretty self-explanatory.
The Publish box allows you to determine when you want your page to go live. You can publish immediately, or if you're not quite ready, save it as a draft, or schedule it to be published at a later date.
The Page Attributes box is where you will decide if you want to use a specific template for your pages (some themes offer this).
You can also pick where your page is going to appear on the website.
For example, if you want this page to be an About page, then you can leave (no parent) and it will appear on your home menu. But say you have two people you want to feature on your About page. You could have a page called About Sean and another called About Liz.
If this is the case, your About page would be the parent page, and when a visitor hovered their mouse over the About page, two drop-down pages would appear, one About Sean and the other About Liz.
That's how a parent page works.
You can also set the order of the dropdowns in the Order box. If you wanted About Sean to appear first, have that page be 1 in order, and About Liz be 2 in order.
Next is the Featured Image box. Use this if you want to have a specific image on your page.
Some themes require you to have a featured image on your posts or pages. So if you happen to see a broken image link when you preview your page, that might be why.
Once your page is good, click Publish and you'll be able to see it on your site.
Step #8: Create Your First Blog Post
I'm gonna go out on a limb and say you're probably pretty interested in starting a blog.
So here's how you can start it.
Since you've already created your Blog page, you can now create your blog posts.
Again, head over to that left-hand sidebar and click Posts and Add New.
The cool thing is a blog post page looks exactly like a page, so you already know exactly how everything works in terms of composing your post, tilting it, and adding media. 
There are a few differences to pay attention to on the right sidebar with your posts, same as with the box above with your pages.
The Publish box is obviously the same as with Pages.
The Categories box is there if you want to group your blog posts in certain categories. So, if you're writing a travel blog, for example, you might want categories to be Europe, North America, or Asia. That way, when a visitor clicks on a particular category, they will see all the posts in that category.
The Tags box works much the same way, but you could break posts down across a number of categories. Let's use a travel blog example. You could have tags like: hotels, flights, or food. Then when a visitor clicks the hotel tag they can see all posts with that tag, regardless of category.
The last box is Featured Image. Most themes will feature blog templates that allow for a big picture right at the top of the blog post which will also appear on your main blog page like this:
How Do You Decide What to Blog About?
Now that you know the specifics of how to create a blog post in WordPress, what about the actual content?
Don't worry, we've got you covered there too.
Step #9: Install Essential WordPress Plugins for Your Blog
Plugins are the things that really make WordPress special.
Basically, a plugin is a third-party tool that you can upload to your site and add a lot more functionality.
Head to the left-hand menu again, and click Plugins then Add New.
You'll be brought to the Plugins page where you can install a plugin you've already downloaded, search for a particular plugin, or browse some of the most popular plugins used by WordPress bloggers.
You can see the box for each plugin gives you some useful information, like the name and a description, the last date it was updated, if it's compatible with the version of WordPress you have installed, and the number of reviews.
If you click, More Details, a pop up will open that shows you some screenshots of the plugin, more details about the plugin, some FAQs, and in depth reviews.
Once you're ready to install, click Install Now.

You'll see this screen, once you see where it says "Successfully installed…." click Activate Plugin.
Your installed plugins can all be found by clicking Plugin and then Installed Plugin from the left side menu. Here you can see what's active, what needs an update and can access the settings for many of the plugins.
This is what they'll look like on your Installed Plugins page:

There are plugins for virtually everything and anything, but there are a few "must haves" that you should  get started with:
Once you've got the basic plugins set, then you can start adding more features to your site.
The bottom line is that if there is some kind of functionality you'd like to add to your site, there's a 95% chance there's already a plugin out there that will help you do it.
So search for different plugins from the "Add new" plugin menu, or just search Google for what you need.
Step #10: Activate Blog Widgets
Most website themes will come with specific spaces where you can put special menus. Usually, you can find these spaces at the header and footer of your site, plus on the sidebars.
See these smaller boxes on the right side of my site Breaking Eighty?
Those are widgets.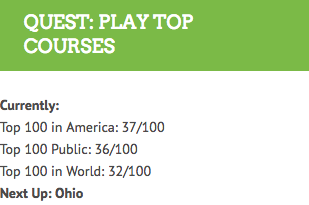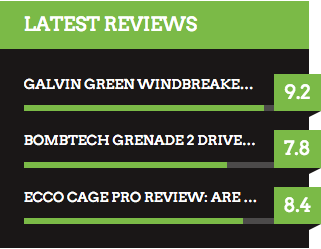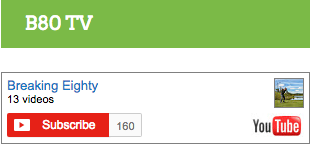 Now, you can do a ton of stuff with your widgets, but most people keep it pretty basic, including things like a search bar, email sign up form, Facebook like box, or recent comments, just to name a few.
You control what goes where and what you want to show with widgets.
So head to the left-hand sidebar again and click Appearance and then Widgets.
As you can see, there are lots of widgets available: This is the widget menu, here is where you'll see all the widgets you have available on your site.
Now, on the right-hand side of the page, you'll see the places in my particular theme where I can put widgets.

You'll see a couple of spots in the header, and then four footers. Your theme might have more spots available.
All you have to do to activate a widget is simply drag it over to the place you want to put it.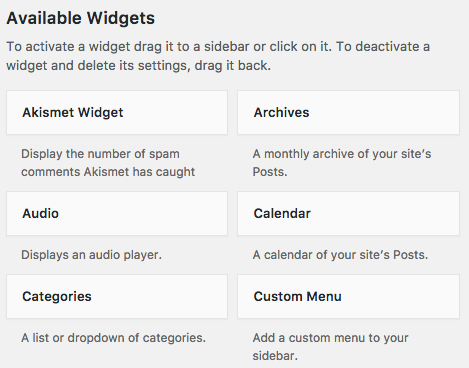 Simple, right?
You can play around with your widgets to see what you like where. You can also use "text" widgets as places to add in any special coding that can create a new widget for you.
If you don't want a certain widget to be active any longer, simply drag it back over to the available widgets section and it will be removed.
Additional Reading: Not sure what widget/pages/plugins etc. to include on your site? Check out: The 60 Minute Blog Audit to get some direction.
Step #11: Create a Primary Menu in WordPress
Your website is almost good to go.
Just one last thing you want to take care of, and that's creating menus. The menu is going to help you determine what pages get shown on your site. You can also use menus to showcase only the pages you want visitors to be able to access.
To start, click Appearance and then Menus from the left-hand sidebar on your dashboard. Since you won't have any menus to start with, you want to click "Create Menu."
Next, you simply want to decide what pages you want to show in your menu. On the left side, you'll see a box with all the pages you have created.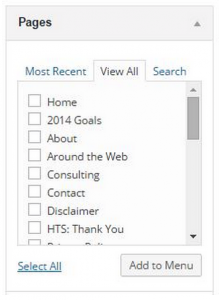 As you can see, I have a bunch of pages, but I only want to showcase a handful on my site for visitors to see. That's where the menu comes in handy.
You simply click the box next to the pages you want to be in your menu, and then click Add to Menu.
Here's what it will look like: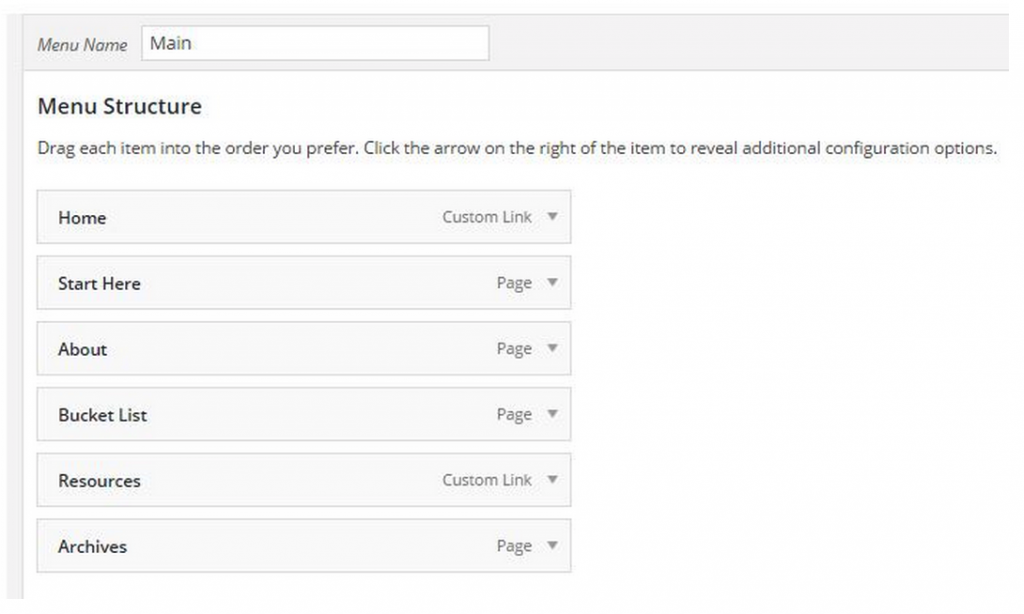 So even though I have a bunch of pages in the pages box, I only selected a handful of them to be in the main menu.
You can then click and drag each of these boxes to put them in the spot you prefer. You want to be sure you know where this menu is going to be displayed.
In this case, my theme allows me to put a menu in the footer or have a main menu, this is going to be my main menu, so it will show at the top of my website.
Once you have your menu set, click Save. Here's what our old home page menu looked like:

See how they match the menu structure?
On the home page, you'll also notice that it just shows my most recent blog posts – there isn't even a "Blog" page available on the menu.
I don't have what's called a "landing page" where you would then have to click a menu link over to get to my blog. I like to have my blog right there front and center.
For most people who want to create blogs, you should have your "home" page showcase as your blog. You can change this later on if you start to get into more advanced marketing tactics, but for now, it's unnecessary.
So in order to have our blog show up on our home page, there's one other setting we need to double check.
On the left side toolbar, click Settings then Reading, you'll see this page: If you want your main home page to feature your latest blog posts, just copy these settings.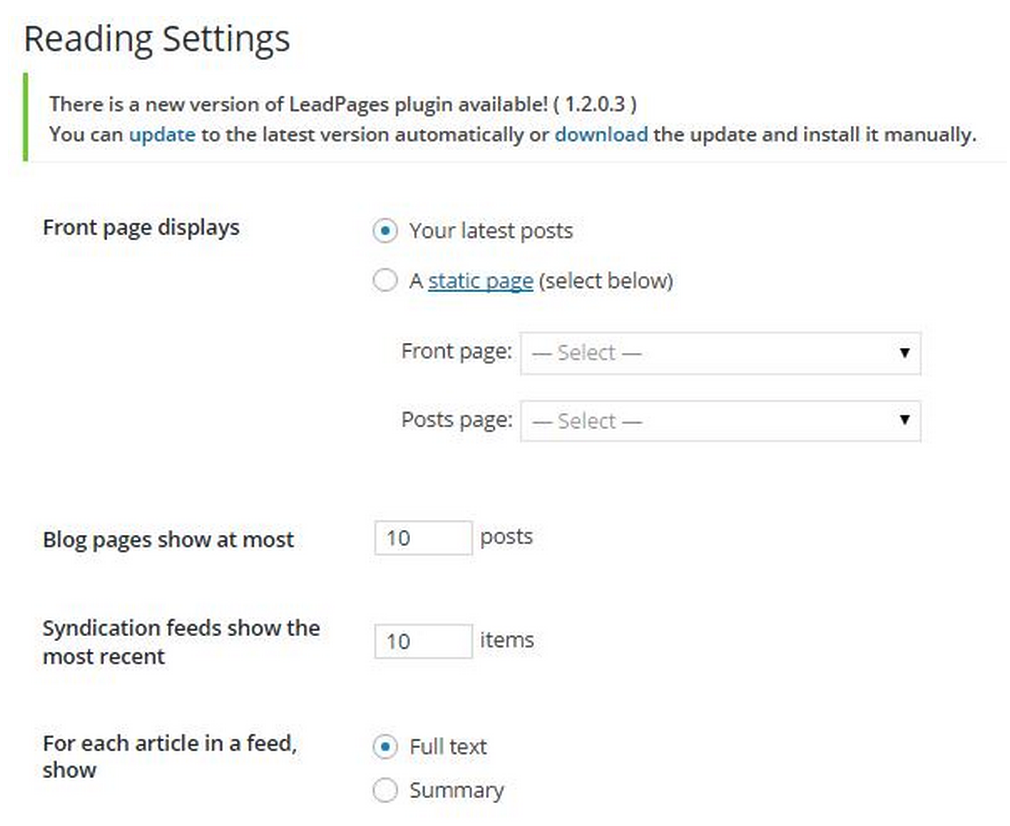 If you want your main home page to be a true home page, and have your blog be a separate page, then click the toggle next to "A static page."
For the Front page choose from the drop-down the page you want to be your front page, this could be a home page, a sales page, anything you like.
Then for the Posts page, use the drop-down to select the page your blog is called. Click save and you are good to go.
A Few More Pieces of Advice (Things I've Learned from 10 Years of Blogging)
This post walked you through all of the specifics of the technical side of starting a blog. But I've learned a thing or two about how to make a site a success early on.
These are a collection of posts I'd recommend reading to help you with the strategy, the mental side of starting a blog, and some next steps for making your blog posts even more effective:
Blogging Alternatives: 3 Other Online Businesses to Consider Other than Blogging:
Niche Sites – This is a form of blogging, but with a much more targeted focus and specific content strategy that centers around affiliate marketing.
Freelance Writing – Rather than creating a website of your own, consider creating content for other people's websites.
Physical Products – Want to make something physical and then sell it online? There's a lot of opportunities if you're willing to put in the work.
If you're just looking to make passive income through a blog/niche site, then after you go through the above steps in this post, you'll want to watch this:
The Importance of Building a Blog Audience
The whole point of starting a blog is to get people to read it, right? Well, there are some important things to keep in mind as you get going. Specifically, traffic is great – but traffic without cultivating an audience won't do you much good.
See what I mean in this video:
Final Thoughts for Setting Up a Blog on WordPress
Ok, I know that was a lot of information. But if you made it through, this tutorial then you now know exactly how to start a blog. Just a few of the things you've learned are how to:
Get a Domain
Set up a hosting account with Bluehost
Install WordPress
Install your WordPress theme
Understand the basics functions of WordPress (Themes, posts, pages, menus, plugins, widgets)
Every theme is different. So, your experience may be slightly different than the tutorial outlined here. But if you go through your theme documentation you should get extremely in depth help tailored to your situation.
If you've been putting off starting a blog or website because you simply "don't have an idea" or "don't have any technical experience" use this post to try and push past those hesitations.
I firmly believe this is the absolute best step you can take to start making major changes in your life. So if you run into any issues and need help, your best bet is to contact your hosting company. And if it's a theme problem, contact them. These companies have help desks set up just for this purpose. I've also found success searching on YouTube too.
Next Steps for Starting a Blog
Now with that, head over to Bluehost, get your domain and hosting, and let us know when you're new site is up and running!
This page contains affiliate links. This means that if you click a link and buy one of the products on this page, I may receive a commission (at no extra cost to you!) This doesn't affect or opinions or our reviews. Everything we do is to benefit you as the reader, so all of our reviews are as honest and unbiased as possible.
Sean Ogle
Sean Ogle is the Founder of Location Rebel where he has spent the last 12+ years teaching people how to build online businesses that give them the freedom to do more of the things they like to do in life. When he's not in the coffee shops of Portland, or the beaches of Bali, he's probably sneaking into some other high-class establishment where he most certainly doesn't belong.
Learn How to Make Your First $1,000 Freelance Writing (in 30 Days or Less)
Join over 40,000 people who have taken our 6 part freelance writing course. Sign up below and let's do this together.
By entering your email address you agree to receive emails from Location Rebel. We'll respect your privacy and you can unsubscribe at any time.