Writing isn't always easy.
A lot of budding freelance writers learn that firsthand.
But there's no denying that writing is one of the most important skills anyone can have.
And no, that doesn't only apply to freelance writers.
Everyone can benefit from becoming a better writer.
Improving your writing skills can help you land more clients, sell your stuff, and communicate more effectively with others.
So, it's something everyone has to work on.
One way to do it?
Practice.
Thankfully there are some writing tools out there that can help.
If you want to start a daily writing habit, work on that novel you've been dreaming about, or craft better headlines to grab more readers, we've got you covered.
In this post, we're sharing the best writing tools out there. These are our favorites. They can help you become a better writer and take your freelance writing career to new heights.
Ready to dig in?
Let's do this.
The Best Writing Tools for Freelance Writers
You may think you don't need to step up your game when it comes to writing, but here's a little secret: you do.
So much of building your brand is based on your ability to communicate effectively, so the sooner you start working on your writing skills, the better.
These tools can help you start habit forming a consistent writing habit and improve your writing along the way.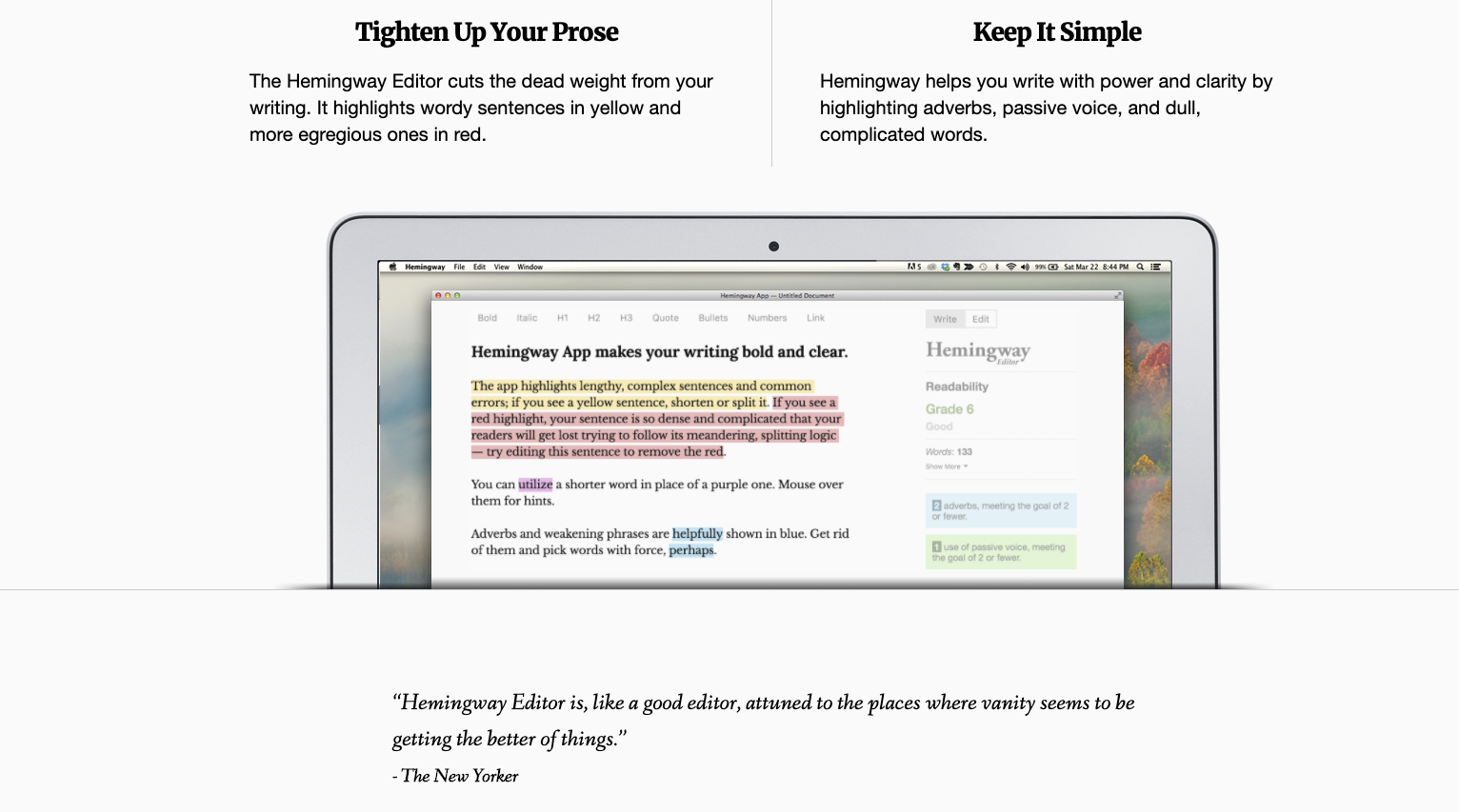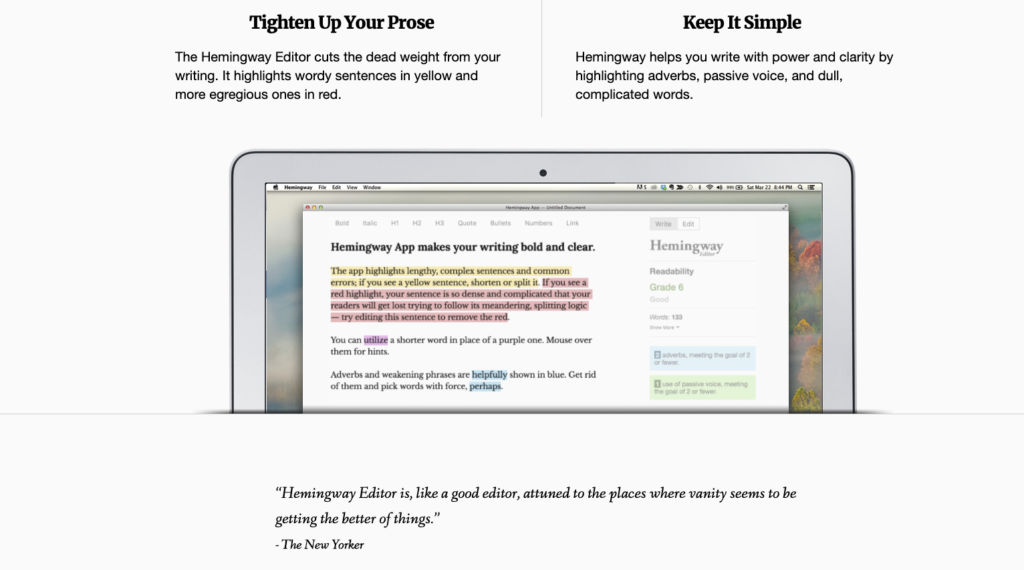 I've heard tons of writers swear by the Hemingway App. It's a simple tool for cutting the bad from your writing and tightening up your message. You can also get a desktop version for distraction-free (i.e. no WiFi) writing.
Best Writing Tool For: Remote workers who do a lot of writing work and tend to be on the wordy side.
Key Features: 
Minimalist design that encourages focused writing

Color-coded problems, mistakes, and errors

Publish directly to WordPress or Medium
Pros:
No internet connection required

Color coding makes it easy to understand editing needs

Interfaces with WordPress and other editing programs

Simplifies complicated and hard-to-understand grammar and sentences

Helpful grading features
Cons:
Unfortunately, there are no browser extensions

It does not work within Word or Google Docs
Pricing:
Hemmingway editor offers an incredibly helpful free version and a very reasonable premium version for $19.99 lifetime access.

I was first introduced to Scrivener by Lise Cartwright, who uses it to write Kindle books. Since she has about a billion of them, I listened. Scrivener is a monster writing tool that allows you to keep everything from research to outlines all in one place. PC Magazine rates it as the number one writing app on the market.
Best Writing Tool For: People who do long-form writing, such as books, and want their entire writing process to take place within a single tool.
Key Features: 
Project management and word processor all-in-one

Research within the tool itself

Extensive categorization
Pros:
All your writing needs in a single tool

Plan, research, write and edit in one place

Formatting presets

Import files and research from other apps

Set targets and track progress
Cons:
Not very intuitive, could be overwhelming for some people

Poor mobile app
Pricing:
With Scrivner, you purchase a one-time license. The standard rate is $59.99, and a discounted $50.99 is available for educational licenses. Minor updates are free, but major version upgrades do have additional fees.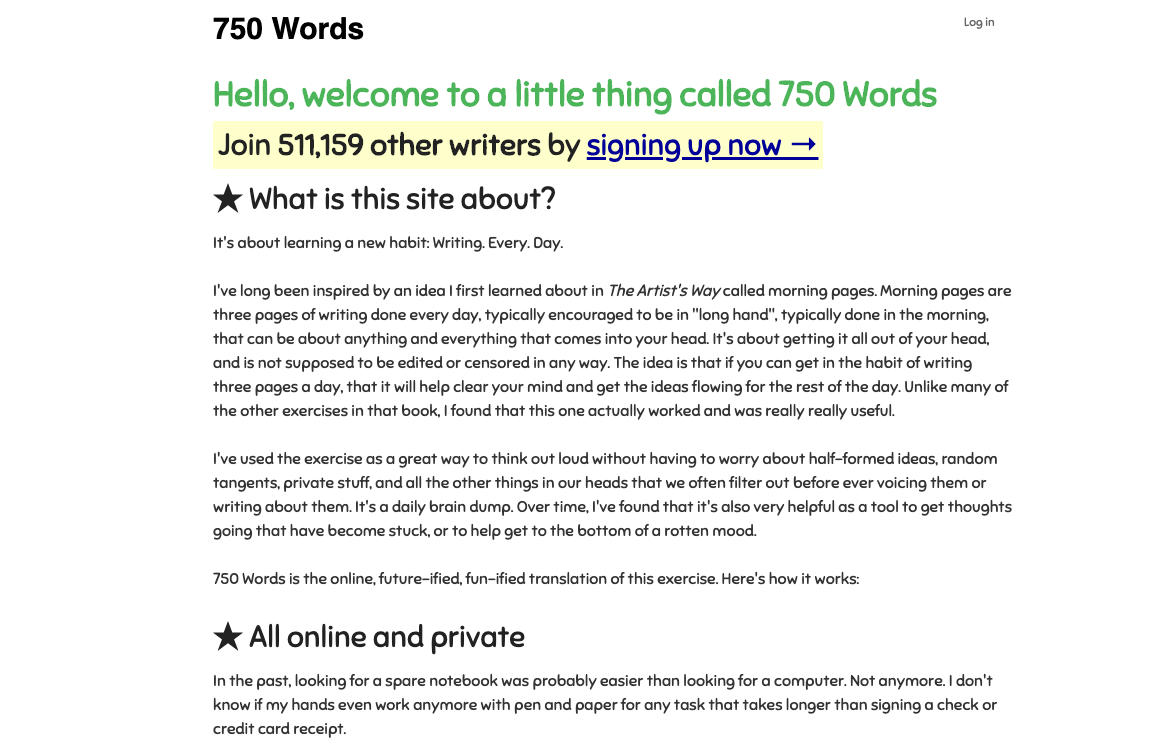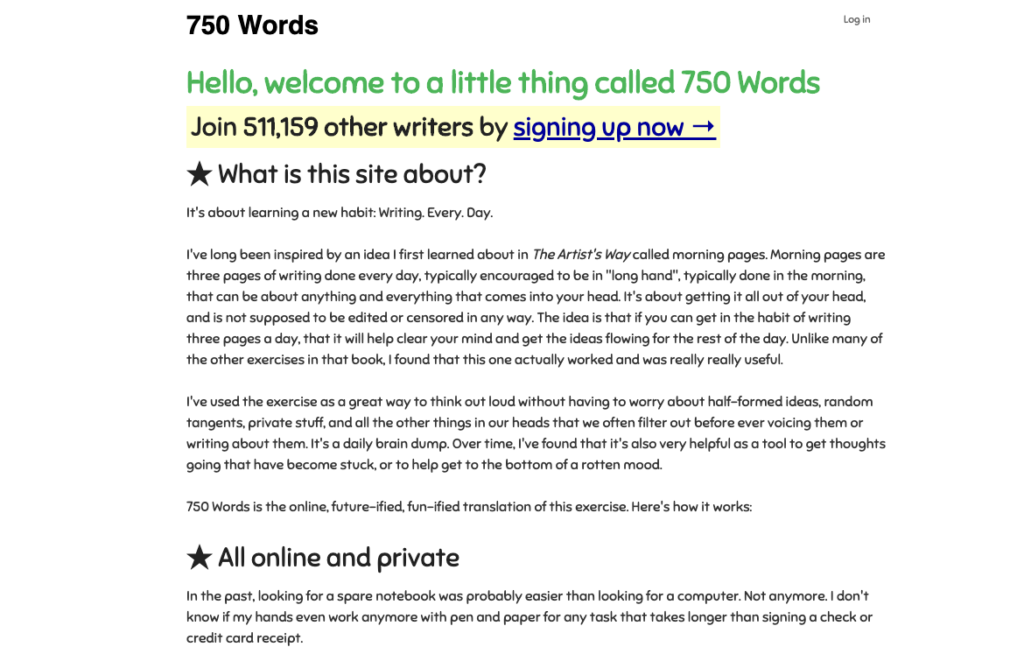 If you struggle to write much at all but want to form a daily writing habit that's manageable, check out 750 Words. What I like about it is the gamification aspect. It gives you points for writing, plus tracks everything.
Best Writing Tool For: Remote workers who struggle to get their daily words in and enjoy a gamified experience. 
Key Features: 
Gamified writing process designed to build a writing habit

Based off the famous "Morning Pages" concept for mental clarity

Online yet completely private
Pros:
A very simple writing app with a specific goal in mind

Gamified point system with user ranking (if you like competition)

Extensive stats and reporting 

Removes distractions

Completely private 
Cons:
Not made for sharing 

Not the best option if you prefer to put pen to paper
Pricing:
750 Words is free for the first 30 days. Then it costs $5/month.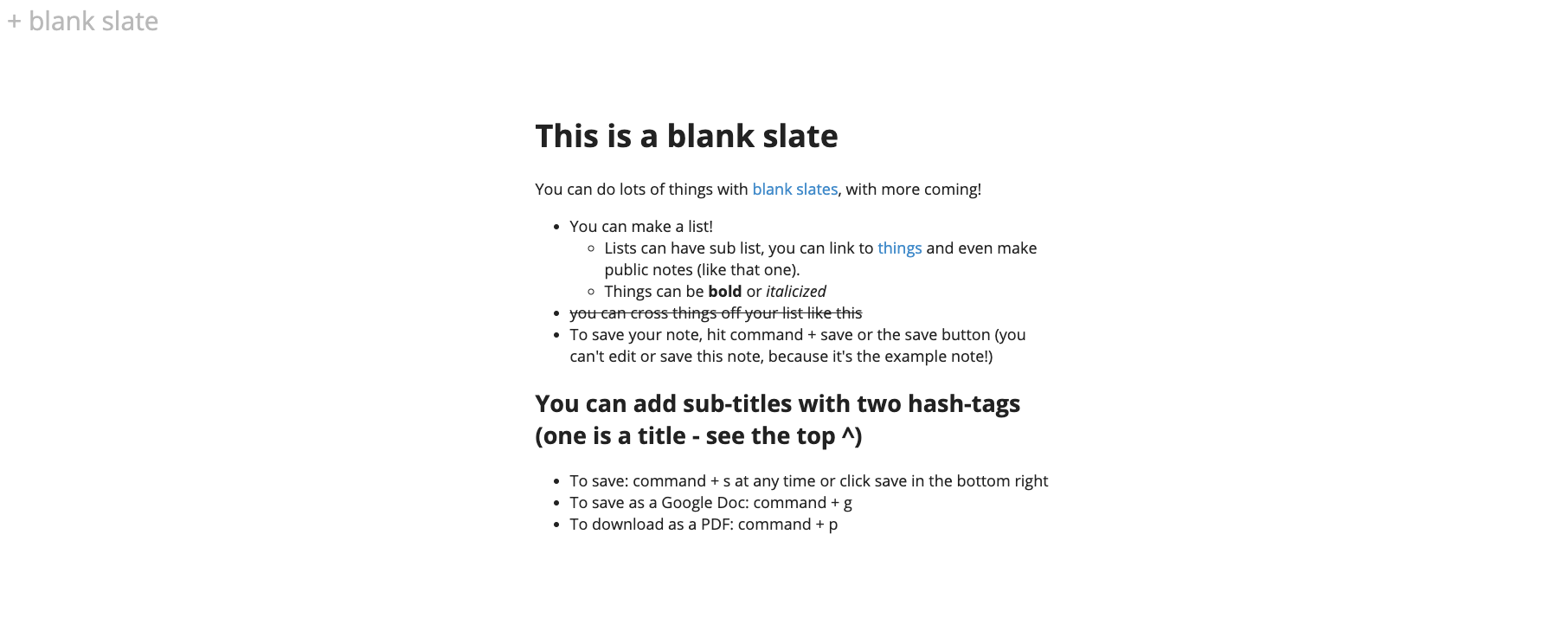 Sometimes, you just want to jot down ideas quickly. Nothing fancy, no bells and whistles. In that case, Blank Slate is the tool for you. With a clean and super simple interface, you can find a spot to get your notes, ideas, and outlines down.
Best Writing Tool For: People who want a simple way to get thoughts and ideas out quickly. 
Key Features: 
Distraction-free writing

Easy to open the page and start typing

Has a blog function
Pros:
Easy save to PDF
Easy import to GDrive
Can create an account to save your notes
Cons:
Not made for sharing 

Not many features beyond a notepad
Pricing:
Blank Slate is free.
The last thing you want to worry about when you're conducting an interview is to find out the recording crapped out halfway through. That's where Otter.ai helps. It's an easy way to record interviews and notes and it has a built-in AI that will transcribe your conversation too. Check out our thoughts on Otter and other AI writing tools here.
Best Writing Tool For: Freelance writers who need to get expert quotes or interviews for articles and blog posts. 
Key Features: 
Record interviews, lectures, and notes in real-time from your computer or phone

AI system allows for real-time transcription of notes

Notes can easily be searched and shared, both in audio and text format

Integrates with tools like Zoom
Pros:
Up to 600 minutes of free recording every month

AI can identify separate speakers making it easy to find quotes

Can search recordings by keyword

Can edit transcripts easily, if needed

Can share and collaborate with others for easy access
Cons:
AI doesn't always get exact transcription

Free version maxes out at 40 minutes per recording
Pricing:
The basic plan offers 300 minutes of recording a month for free. The Pro plan is $16 a month and allows up to 1,200 minutes of recording in 90 minute blocks. The Business plan is $30 per user per month for 6,000 words and has all the features of the Pro plan plus additional business features.
Related: 23 Places to Find Online Transcription Jobs – This works if both if you're looking for an alternative to Otter.ai or if you want to make money as a freelance transcriptionist.

Basically, you set a word limit, a time limit, and if you want a consequence, reward, or stimulus, and then you're off to the races. If you don't hit your word count at the time limit, the Write or Die will let you know (loudly).
Best Writing Tool For: People who want a way to stop overthinking and write quickly. 
Key Features: 
Allows you to set a timer and a word goal for your writing.

Tracks your words per minute to help you speed up your typing pace.

Saves your writing stats so you can track progress.
Pros:
Has a desktop app so you can save projects.

Gamified system, including online leaderboard to help motivate you.

Clever and creative way to keep your attention locked into writing.
Cons:
Not a great user interface.

Updates are done by one person so can take time for new updates or bugs to be fixed.
Pricing:
It hasn't been updated in a little while, so both versions 2 and 3 are free.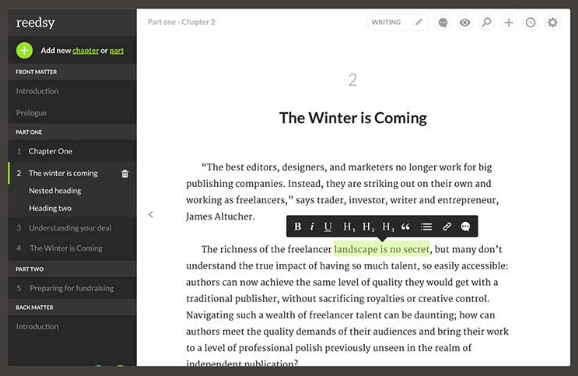 For authors who are looking to self-publish but want a tool that's a bit more user friendly than Scrivner, Reedsy is a great choice. It helps with the formatting and conversion of documents. You can export your manuscript directly to ePub and Kindle ready formats with just a few clicks of a button.
Best Writing Tool For: People who want to write a book. 
Key Features: 
Content is pre-formatted and ready to go for publishing needs

Easy download for easy distribution to Amazon, Kobo, and other ebook vendors

Can tap into the marketplace and find editors and other collaborators
Pros:
Developed specifically for book writing

Distraction free interface

Easy to include collaborators and editors
Track changes feature
Cons:
Some of the advanced features are still in development

Editing help costs extra
Pricing:
Reedsy for book writing is free.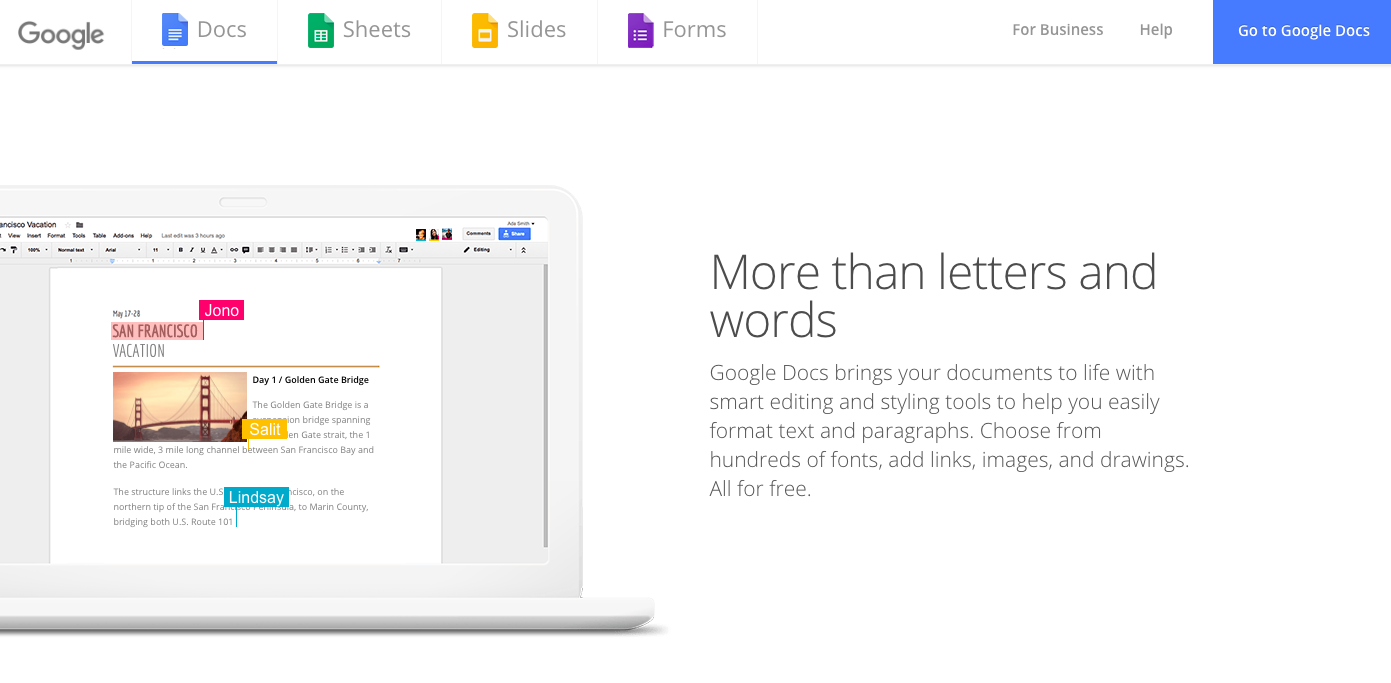 This one is obvious. A lot of people don't think about using Google Docs for writing practice, but it makes sense. Google Docs is a free writing tool. It's also easy to use and can be accessed from pretty much everywhere.
Best Writing Tool For: People who want something free, easy to use, and cloud-based.
Key Features: 
You can access your docs anywhere you have WiFi from your computer, tablet, or phone

Automatically saves your work

Lots of add-on features for enhanced personalization
Pros:
Most everyone is familiar with it

Very easy to collaborate with others

Has a library of templates you can start with

Grammarly now works with it
Cons:
Can get overwhelming if a lot of people are editing and making comments

Difficult if you have to work offline
Pricing:
GDocs is free.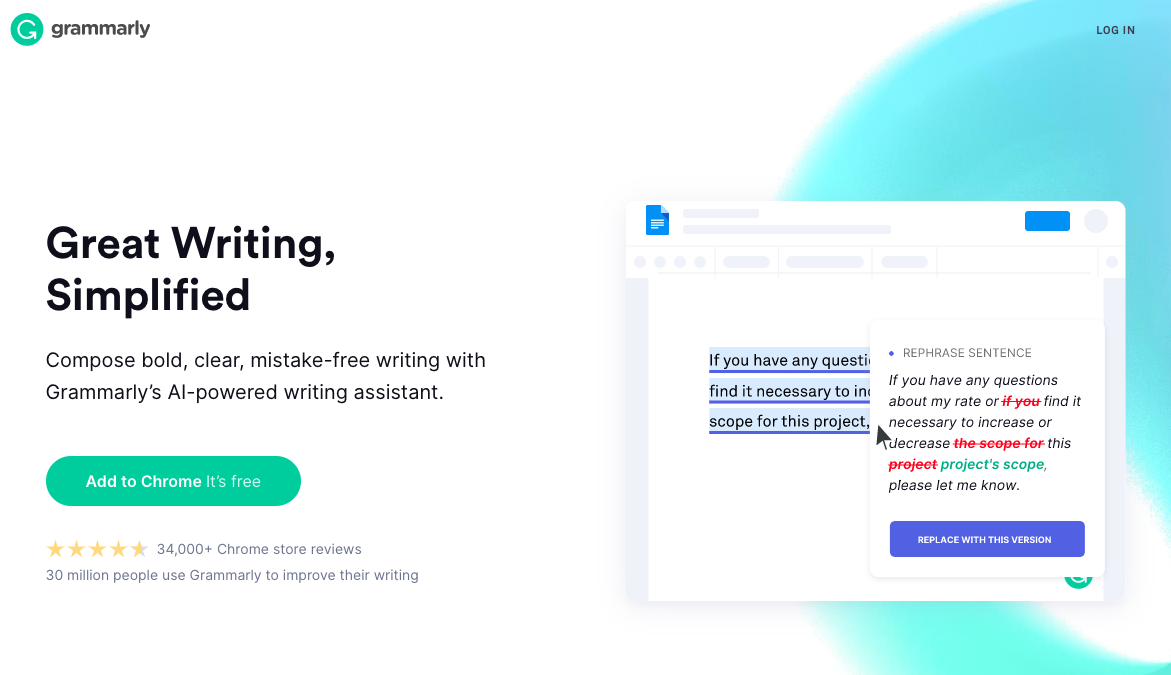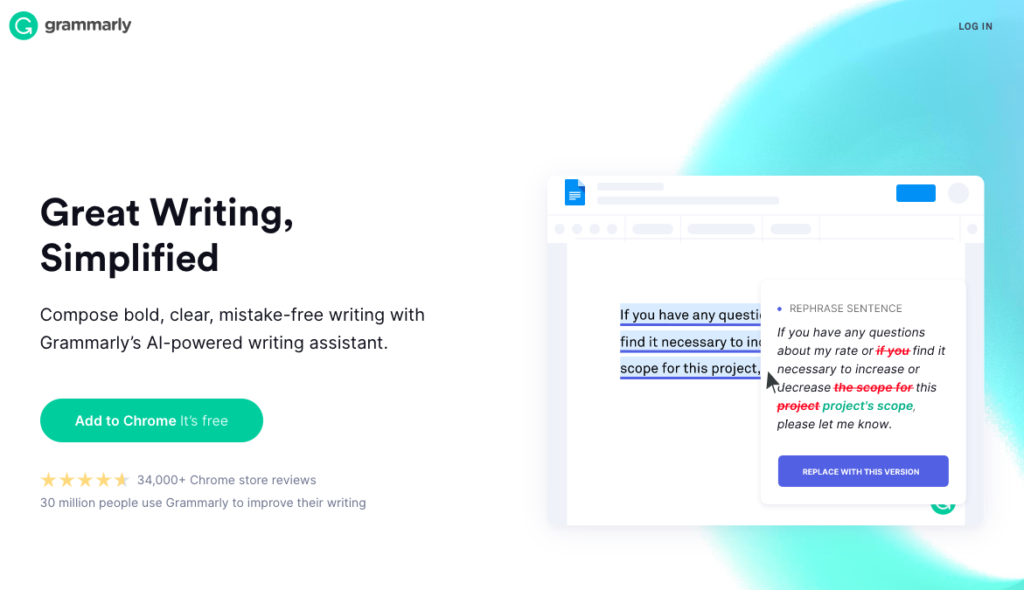 I love Grammarly. You can check out my review of why I think it's the best writing tool for freelancers. Even if you use the free Chrome extension and you'll be able to dramatically improve your writing right away. Basically, Grammarly looks at everything you write, from blog posts to emails to social media, and lets you know any basic grammar and spelling mistakes.
Best Writing Tool For: People who want to stop making spelling and grammar mistakes. 
Key Features: 
Chrome extension allows you to check your email, social media, and other docs

Sends you a weekly email tracking your stats

You can write directly in Grammarly and also import or export GDocs, Word, etc. 
Pros:
Easy to understand user interface

Cloud-based so you can access your docs anywhere

Advanced features can offer a lot more clarity in your writing

Can add words or phrases to a custom dictionary
Cons:
AI tool isn't always correct

Can't choose between editing styles, i.e. AP vs Chicago style
Pricing:
Basic Grammarly is Free. You can upgrade to a Premium plan for $12 a month. It offers more features like plagiarism detection, tone and clarity adjustments, formality level, and you'll get up to 1,000 AI prompts a month.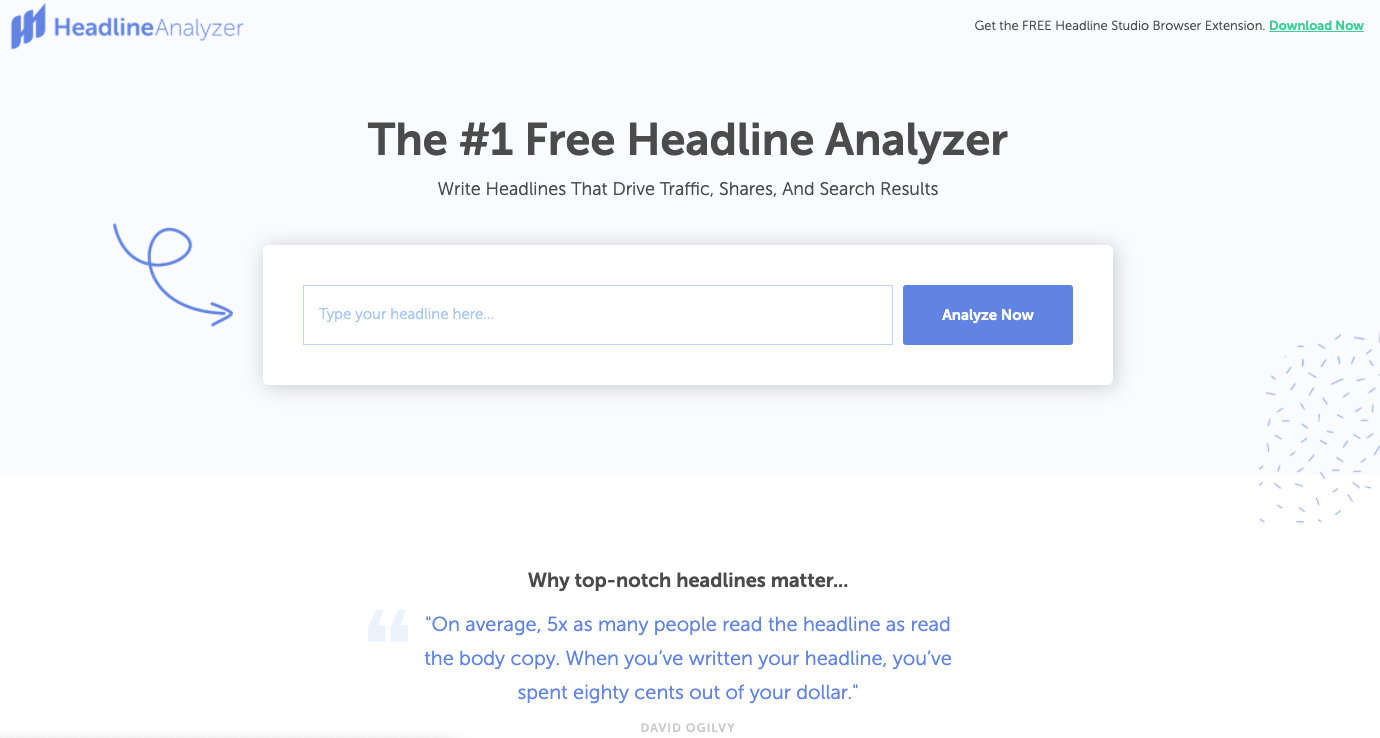 If your headlines are boring, then no one is going to want to read your blog posts. That's an ancient copywriting prophecy, but true. Fix your headline problems with CoSchedule's Headline Analyzer.
Best Writing Tool For: People who want to get more clicks for the content they create. 
Key Features: 
Gives you an easy to understand graded score for your headlines

Feedback on headlines are backed by data
Pros:
A very simple tool that's easy to use

Gives word and character counts for SEO purposes

Results are displayed in easy to see visual charts
Cons:
It's not the end all be all tool for headlines

Sometimes well-performing headlines have poor scores
Pricing:
The headline analyzer is free.
Best Books for Writers
There's an axiom you'll see as you get more and more into writing.
Basically, it goes like this:
If you want to be a better writer, read more.
Well, you never have to tell me twice when it comes to reading. Jokes aside, this is true. You will absolutely become a better writer by not just reading amazing writers but also books on writing.
Don't think that just because these are books, they don't count as writing tools too.
There are plenty of amazing books out there that can help you get better at writing. Here are a few of my favorites.

On Writing by Stephen King
Everyone knows Stephen King. When he's not busy scaring the bejesus out of you with some of his classics (I couldn't sleep for days after deciding to read Misery during homeroom in junior high), you've got to be amazed by his writing output and ability.
His book, On Writing: A Memoir of the Craft blends his unconventional life story and invaluable writing tips and advice.
Everybody Writes by Ann Handley
Since I create a lot of B2B marketing content in my freelance business, I've always paid attention to what goes on over at Marketing Profs. When I saw that head Prof Ann Handley had a book about writing, I grabbed it right away.
I'd consider her book, Everybody Writes, essential reading for anyone who is looking to learn how to write amazing content for the online world.
Bird by Bird by Anne Lamott
I never expected to fall in love with this book, but it didn't take long before I couldn't put it down.
In Bird by Bird: Some Instructions on Writing and Life, Anne Lamott manages to weave her own biography with these incredible little gems about how to tell stories and write better. This is one of the few books I've seen and every single person I know who has read it recommends it.
Save the Cat by Blake Snyder
This one might be an odd choice, but I just recently got Save the Cat, and am loving every page of it.
In it, Blake Synder uses his years of movie scriptwriting experience to tell you exactly how to craft a story that people will love. While it's written as an instructional book for budding screenwriters, anyone who wants to be a better storyteller should pick this one up.
Learn How to Make Your First $1,000 Freelance Writing (in 30 Days or Less)
Join over 40,000 people who have taken our 6 part freelance writing course. Sign up below and let's do this together.
By entering your email address you agree to receive emails from Location Rebel. We'll respect your privacy and you can unsubscribe at any time.
Getting into a Writing Mindset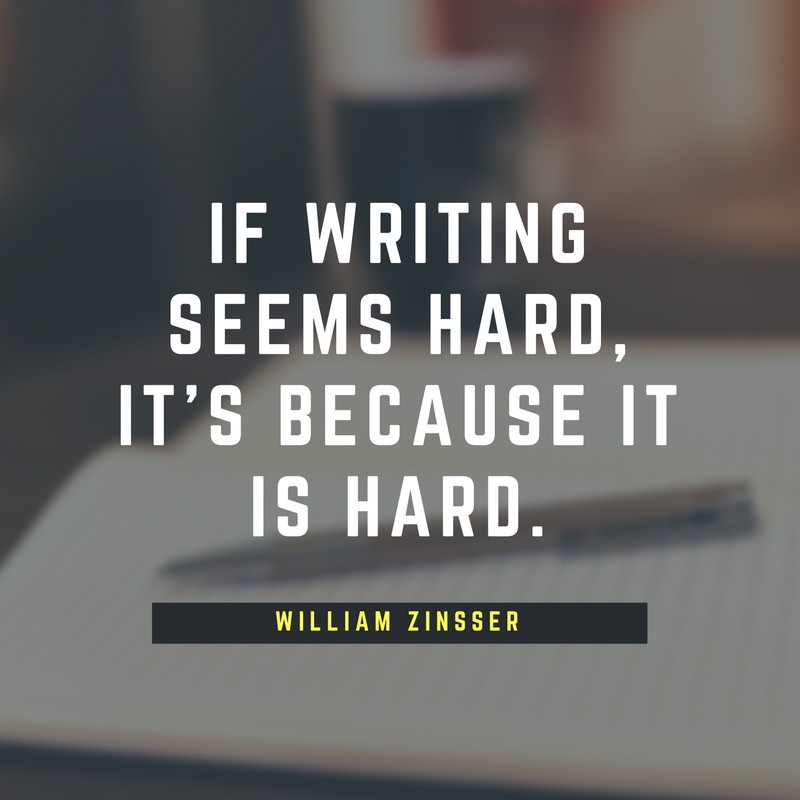 Hopefully, these writing tools are going to help you get into the practice of creating content a lot more often.
That's one part.
The other is keeping the mindset going. Because there are going to be days when you'd rather throw your laptop out the window instead of writing.
Here are a few tips to help you make writing a part of your schedule.
Start Small
You don't need to start with 1,000 words. In fact, don't do that. Start with the smallest number of words that will get you writing, and then up the ante every month. Maybe it's 100 words or 250 words. Or set a timer for 2 minutes. It doesn't matter what number you start with. Just write.
Remove the Pressure
While consistency is key, being a freelancer is stressful enough, so don't add piles more to your life. If you miss a day, you miss it. Just make it up, or start fresh the next. It's fine.
Set a Schedule
On the days I wake up and bang out my words, they flow much more easily. On the days when I have it weighing on me all day, I can sit staring at a blank page. Understand when during the course of your day, your brain is best wired to write.
Some of Your Words Will Suck
No matter how amazing of a writer you are, every word you write isn't going to be usable. Don't go in expecting you'll be able to write something and it will all be awesome. You won't. It's ok.
Alright, got those tips down? Let's look at some of the tools.
And If You Really Want to Go All In?
And if you're ready to take all of these tools and really go all-in on your writing practice, then you might consider doing a daily blog for a set period of time.
When I got out of the habit of writing on a regular basis, I said I'm going to write every day for a month. I told everyone I knew I was going to do it, for accountability, and was been incredible for both my creativity and building the habit.
Start Writing 
Ok, enough procrastinating.
I've given you a bunch of different writing tools that are going to help kick your butt into gear and get you to start writing. There is no better time than right now.
It doesn't matter if you're trying to just build a daily writing practice or you want to make a serious run at being a B2B writer, getting into the mode of writing a lot is always a good thing.
What are you doing to build your writing habit? Comment below and let me know what writing tools you've found that have made it stick, I'd love to hear more about them.
Note: this post has been updated as of October 2021 for accuracy.
Liz Froment
Liz Froment is a full-time freelance writer and the one who keeps Location Rebel running like a well-oiled machine. If she's not writing something informative or witty for her clients, she can most likely be found reading a good book.
Learn How to Make Your First $1,000 Freelance Writing (in 30 Days or Less)
Join over 40,000 people who have taken our 6 part freelance writing course. Sign up below and let's do this together.
By entering your email address you agree to receive emails from Location Rebel. We'll respect your privacy and you can unsubscribe at any time.