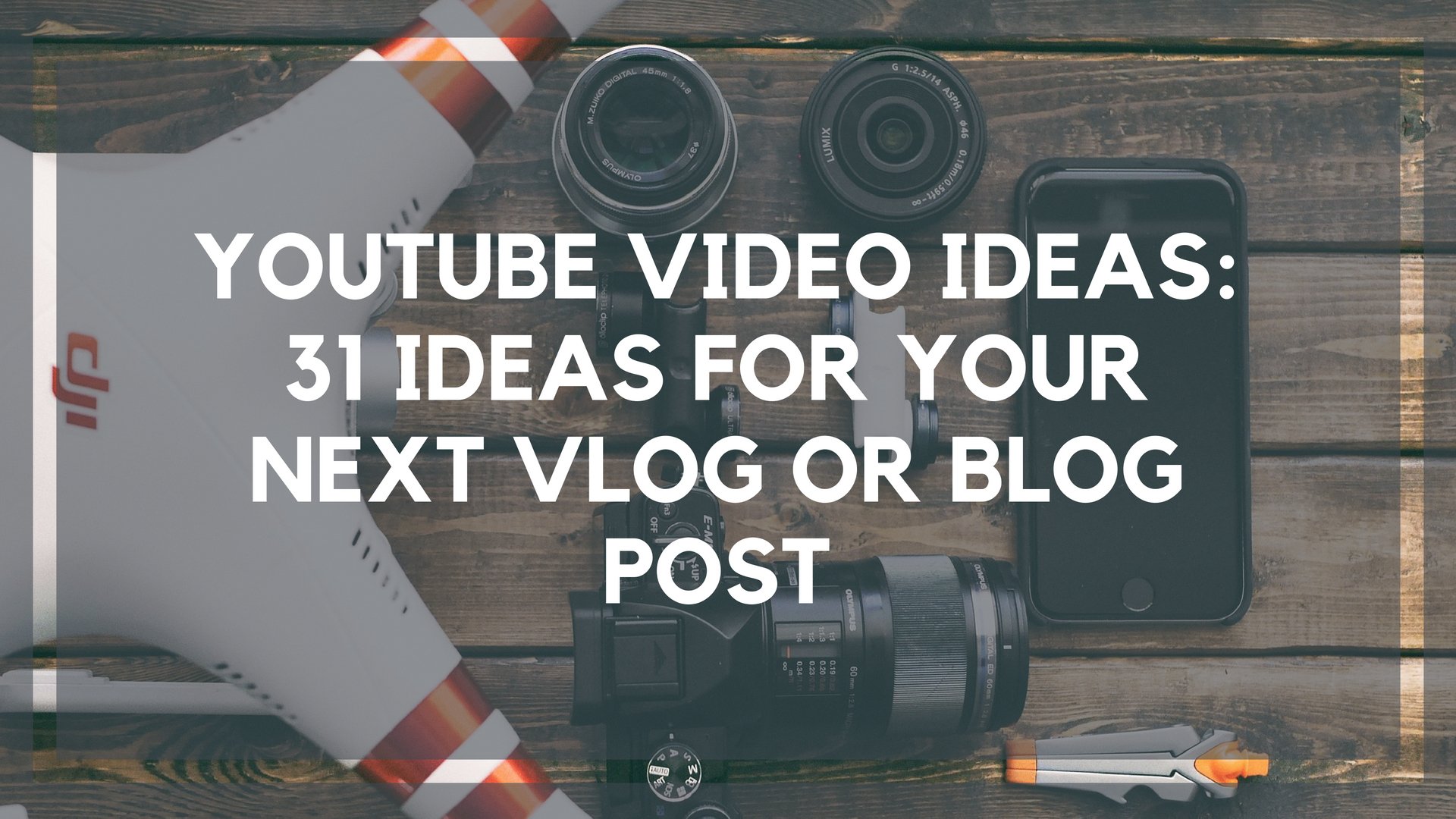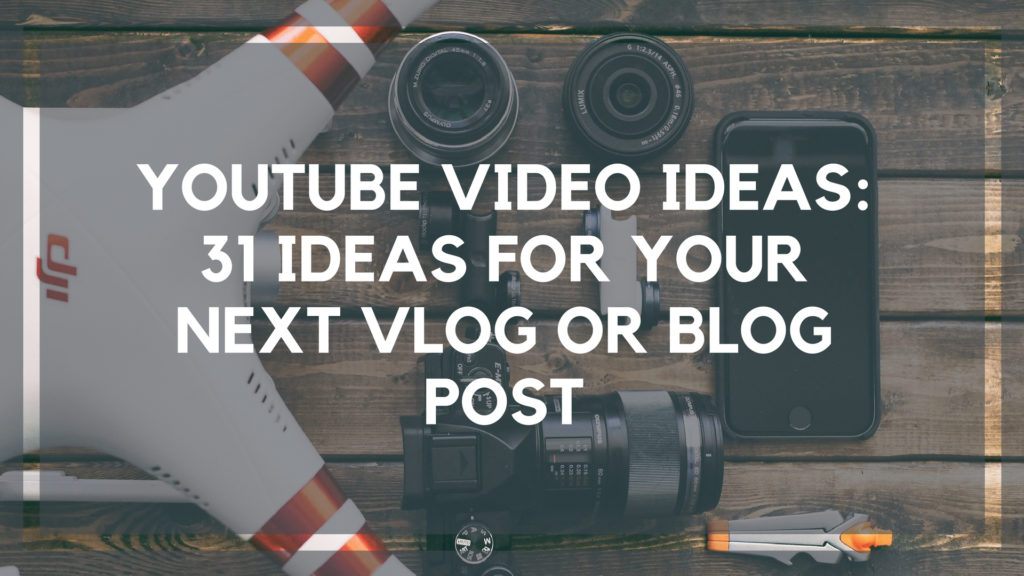 With the rise of people like Casey Neistat, everyone wants to start a YouTube channel these days.
And while it can be exciting and fun as you're starting, it's not long before you start to realize just how daunting starting a vlog can really be.
Take it from me, having started and stopped the whole YouTube thing many times over the years, staying consistent with it can be tough.
Although, I have stayed consistent enough to hit 20,000 subscribers – here some of the most important lessons I've learned.
One of the most difficult aspects of it though is keeping your video content fresh and interesting. How on earth do you come up with YouTube video ideas that are not only informative but entertaining for your viewers?
Fortunately, it's not as hard as you think it is. And in this post, I'm going to share with you 31 different vlog ideas so that you never run out of content and can focus specifically on building your authority and relationship with your viewers.
I should also point out that these vlog post ideas, also work really well for blog posts as well. So even if you're not into video, these ideas should help you create any kind of online content, regardless of whether it's written, video, or a podcast.
Related: 56 Reasons to Start a Blog (Hint, it changed my life)
31 Ideas for Your Next Vlog or Blog Post
Many other posts you'll see about YouTube video ideas give recommendations that are very specific for certain industries (like gaming for instance). The nice thing about this list is pretty much regardless of what your YouTube channel or blog is about these should be applicable.
1) Day in the Life Post
Do a post all about your day to day life. It will help your viewers get a better sense of who you are, and hopefully, build trust and rapport in the process.
2) Vlog About a New Restaurant or Business
Do you have a restaurant, bar, or any other business that you absolutely love? Go there and shoot a video about it, who knows, it may also score you some points with the owner and a free drink or two!
3) Do a Contest
A small giveaway can have the potential to make a big impact. Choose one of your favorite products or services, and give it away to one of your readers. Get in touch with the company that makes the product beforehand as well, there's a good chance they may sponsor it.
4) Go to Your Favorite Place in Your Hometown and Vlog About it
Maybe it's a park, a business, a tourist attraction, or just a quiet place you like to go and chill. Again, this will give your viewers some insight into your life and make them more interested in the rest of your content.
5) Do a Product Review
What product do you use and absolutely love? Do a review of it, and don't forget to sign up for an affiliate program so that you can get paid for your recommendations in the process.
6) Do a Book Review
We all have books we love, tell your viewers about one of your favorites, and how it's had an impact on you.
7) Talk About a Problem You've Overcome
We all like to hear stories about underdogs. What's a problem you've overcome in your life? How have you faced adversity? What can others take away from your experience?
8) Do a Vlog About Your Gear
Every vlogger at some point gets persuaded to do a "gear review" video. Talk about all of the tools and equipment you use to create your videos.
9) Interview Someone You Admire
Who has made an impact on your life or business? Do an interview with them and share the story. Seem like too much work? Simply record it over Skype and get creative with your editing.
10) Do a Unique Activity
What is something you can do that is unique, out of the ordinary, and that would make other people say "oh that's cool!"
For me, we ate miracle berries – which I promise isn't a code word for a new drug…
11) Do a Case Study
Have you helped someone achieve a goal or make a change? Do a case study about that experience and how it came to be.
I do a few each year for Location Rebel Academy.
12) Make a Rant Video
I guarantee there is something that has made you mad or frustrated lately. And if you're made or frustrated, chances are, you're not the only one. Make a video about it.
Here's a recent example of one from Casey Neistat:
13) Talk About One of Your Favorite Vloggers
Who do you admire or look up to? Shoot a video about them and what it is about them that you like so much.
14) Make a Reaction Video to Another Vlog You've Watched
There are millions of videos on YouTube, and often there are timely videos that strike a chord. Not only can keeping up with the latest popular videos be great fodder for a post of your own, but it can also potentially help you get more traffic as well.
Note, this one clearly did not help me get traffic…
15) Create a Top 10 List
Everyone likes lists, and posts like this are really easy to create. It also doesn't have to be 10, it can be any number you want.
16) Teach a Skill
One of the primary reasons people spend so much time on YouTube is to learn. I mean just look at all the makeup tutorial channels out there with millions of followers. Leverage your expertise, and teach people how to do something!
Here's an example of how to create a niche site:
17) Create a Video Where You're Vulnerable
No one is perfect and no one's life is perfect – despite how it may appear on social media. The more real you are with your audience, the higher the likelihood that they'll trust you and continue to pay attention.
18) Do a Sales Video
Do you have a product or service you offer on your website? Shoot a video sales letter for it! It can be a straight up sales pitch, or you can get a little bit more creative like this:
19) Make a "Greatest Hits" of Your Favorite YouTube Videos
If you've been doing YouTube videos for a while, by now I'm sure you've realized some of your videos are better than others. Create a video all about some of your favorites.
20) Make a "Greatest Hits" of Your Favorite Vlogger's YouTube Videos
Don't have many videos of your own yet? No worries, do a recap of some your favorite videos from another vlogger you follow. Just make sure to give them credit for all their hard work.
21) Do a Screencast
Screencast videos are some of the easiest to create. Do you need to show people how to do a specific task on your computer? Use screencsast software to record your screen while you do a voice over on top of it.
22) Do a Survey
Poll your audience and have them respond in a comment, or on a separate page you link to. Then shoot another video about the results of the survey. For those in a niche with a lot of devoted people, this can be really interesting for viewers.
23) Tell a Funny Story
People go to YouTube to learn or be entertained, so be entertaining! Tell a funny story, and feel free to make it self deprecating, once again, it shows your a real person.
Related: Learn How to Make People Remember You
24) Do a "Making of" Post
Have any kind of big project, event, or business initiative you've been working on? Shoot a little behind the scenes footage and let your viewers get a taste of what it's really like to create something like that.
25) Thank Someone Who Has Been Influential in Your Life
Many of us have had a mentor or someone who has influenced us in our journey. Do a vlog post all about that person in your life and how they've made an impact.
26) Write a Song and Perform it On Your Vlog
Musically inclined? Get creative and write a song. It might be a little embarrassing for you, but your audience will love it.
This might be one of the best examples of this I've seen: Hashtag Hustle.
27) Talk About How You Overcame a Fear
Inspirational and motivational stories are huge. So many people are stuck in their life, or they're constantly giving into fear and uncertainty. Help them move past it by sharing a story about how you've done something like this in your life.
28) Do a Comparison Post of Two Similar Products
So often when people are making a purchase (could be big or small) they're debating between two different products. Pick up both, use them, and then do a review and let your viewers know the pros and cons of each, as well as which one you like better. I did this with a couple of golf products here.
29) Stick a Camera in Your Friend's Face and See What Happens
When all else fails, and you're hanging out with a friend or two? Just start filming, and see what happens!
30) Go to a Big Event
Whether it's a concert, sporting event, conference or any other gathering of people – film it! If nothing else the people who attended the event might find it interesting and help you garner a new audience.
31) Vlog About a Mistake You've Made
Once again, no one is perfect and sharing your mistakes is a good reminder your human. And letting others laugh at your expense every once in awhile isn't a terrible thing.
I mean, just look at this mistake I made:
31 MORE YouTube Video Ideas for Your Next Vlog
Here's the sequel to the above video:
If you've enjoyed this post, make sure to subscribe to our channel!
Check out this if you're looking for more help with blog post ideas.
Or if you just want some inspiration here are some of our best travel vlogs from Location Rebel.
Learn How to Make Your First $1,000 Freelance Writing (in 30 Days or Less)
Join over 40,000 people who have taken our 6 part freelance writing course. Sign up below and let's do this together.
By entering your email address you agree to receive emails from Location Rebel. We'll respect your privacy and you can unsubscribe at any time.
How to Create You Tube Videos
So now that you have a plethora of ideas for your next YouTube video, you might also be trying to figure out, well,  how on Earth do I do this? 
Never fear, I've got your back.
Check out this post that walks you through exactly how to vlog, how to create compelling content, and grow your audience as well.
How to Make You Tube Videos Part of Your Business
I've got news for you, if you're creating videos on YouTube, you have a business – whether you realize it or not.
YouTube may be part of your marketing for a business that already exists. Or you could solely be doing YouTube just because it's a fun way to get your thoughts heard or talk about a hobby or passion.
In any case, it represents an opportunity. 
Depending on your goals and content, each business opportunity might be different. You might be:
Using YouTube to drive traffic to a bigger part of the organization.
Trying to share case studies or success stories from your products or services
Working to become an influencer and growing ad revenue with every new subscriber
Building your authority and open up other opportunities
Whatever it is, the ideas above will help you create content that will further those goals. YouTube is a powerful platform and one that for as popular as it is it's still in the early stages of its development.
That means there's a big opportunity for you to leverage it either as your primary business focus or as a secondary aspect of something larger.
Still needing some more creative video ideas for beginners? <<—I got you.
Sean Ogle
Sean Ogle is the Founder of Location Rebel where he has spent the last 12+ years teaching people how to build online businesses that give them the freedom to do more of the things they like to do in life. When he's not in the coffee shops of Portland, or the beaches of Bali, he's probably sneaking into some other high-class establishment where he most certainly doesn't belong.
Learn How to Make Your First $1,000 Freelance Writing (in 30 Days or Less)
Join over 40,000 people who have taken our 6 part freelance writing course. Sign up below and let's do this together.
By entering your email address you agree to receive emails from Location Rebel. We'll respect your privacy and you can unsubscribe at any time.