I'm not even entirely sure where to start with this post, so I'm just going to start.
The last month has been, how shall we say? A whirlwind.
How you might ask?
Well, let's just throw it all out there:
It started with our Enter China beta launch.
A day later we kicked off the inaugural Pioneer Nation event
I closed on a house a week later
Turned 29
Got engaged to Tate
Oh, and those last three all happened on the same day.
I feel like I became a grown up all in a span of about 3 hours.
So, let's back up for a sec and I'll recap everything as best I can.
The Engagement
This is far and away the most important thing that has happened. After over 5 years together, Tate and I are finally going to get married.
When we first started dating I wore a suit and tie to work everyday, and had a very traditional life.
She's had to deal with me starting a business, leaving a job, moving to Thailand, moving back from Thailand, starting more businesses, and continuing to travel the world.
Talk about patience.
Throughout it all she has been my biggest supporter, and has had more patience than anyone I've ever met as I've figured out how to make this lifestyle work not only for me as an individual, but for us as a relationship.
We won't officially tie the knot for another year and a half or so, but I can't wait to start the next chapter of my life with her – none of this would have been possible without her support, so I'm excited to finally take this next step!
So how did I do it?
Well, I did it about 10 seconds after we walked into the second most important part of this story:
The House
For those of you paying attention you may remember my new years goals post at the beginning of the year.  One of the things I really wanted to accomplish was to buy a house.
I can hear what many of you are saying: "What?! You're supposed to be the Location Rebel!"
Bottom line, the only aspect of my life the house changes is the level of space and comfort when I'm at home.
I currently travel about 4 months out of the year, and the rest of the time I'm in Portland. So that will all remain the same, I'll just have a dedicated office, space for friends and guests, and a great view of the city as well 🙂
Tate and I have lived in 485 square feet for years, and when you work from home, this gets unbelievably small.
So for all of those reasons I'm pretty stoked.
Also, I think we made a great investment. It's very much a "cheapest house in the best neighborhood" kind of situation, and I'm still within walking distance to downtown Portland which is a pretty big deal for me.
Pioneer Nation
In the midst of all of this, myself a few others put on the inaugural Pioneer Nation event.
Essentially it was a business conference for independent entrepreneurs.  Think a smaller World Domination Summit, with more of a business focus.
Overall everything went off without a hitch, and our attendees seemed to have a great time.  The jury is still out on what the next iteration of it is going to look like – but for now, I couldn't be happier with the end result or more proud of our team that put it together.
Chris also did a fantastic recap of the event here.
Enter China
Finally, the day before Pioneer Nation started my friends Nick Ramil, Tim Nybo and I released the beta edition of Enter China.
This is my first new product in nearly two years, and I think it's positioned extremely well to serve a small but growing niche of people that are looking to China to do business.
The community is already thriving, and Nick is throwing our first EC meet up in a couple weeks in Guangzhou for members that are coming out for the Canton Fair.
And for those of you who missed it, here's a quick video of my experience at the Canton Fair in 2012:
That Part About the Kick in the Ass
This past month marks the most expensive month of my life.
Between buying the house and all that entails, paying my 2013 taxes, SEP contribution, and Quarterly payments for next year – I've had to write 6 figures worth of checks this month.
Ho. Ly. Crap.
That is terrifying to me. But to be honest, I think it's the best thing I could have possibly done for my business.
When the Uncomfortable Gets Comfortable
I'm going on 5 years of entrepreneurship. Next month will be my five year anniversary of starting this blog (WHAT?!?!).
For the vast majority of those five years, I went through a bunch of uncomfortable phases.
First I worked up the guts to leave my job.
Then I moved to a foreign country.
Then I had to figure out how to support myself back in the United States.
I stress about money – a lot.
And during these periods of change, I was always just uncomfortable enough to keep pushing forward – striving to get to that point where I don't have to stress out about money.
Then something really weird happened.
I got to that point.
In the last few months I reached a point where I had enough money in my bank account that I didn't stress about how I was going to make my next dollar.
I could do what I wanted and buy what I wanted without those doubts hanging over me.
And you know what?
I didn't know what to do with myself.
Your Success is the Only Reason for My Success
The drive I'd had for years to build and grow had waned a bit and I found myself feeling oddly comfortable in a life I'd built on the premise of discomfort.
It feels awesome to know that this great life I've built for myself was only because I was able to develop products and systems that helped other people build great lives of their own.
We have over 600 members in Location Rebel now, and a big percentage of them are living their own versions of the dream.
Just look at this picture that Tristan sent me.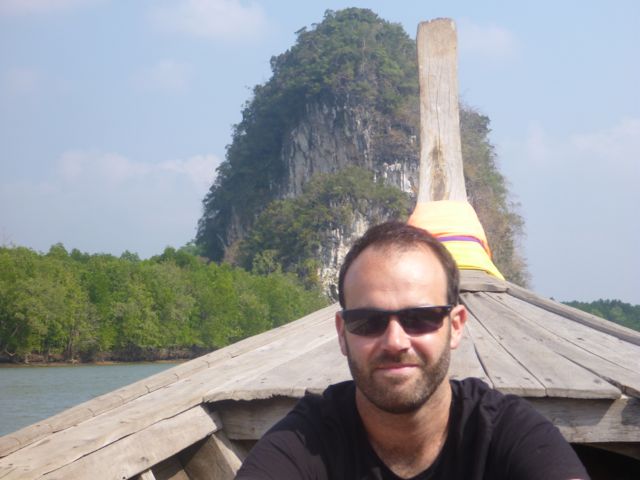 Or this one from Lise in New Zealand:
The list goes on. I've only been successful because they've been successful.
But as comfort set in, I was becoming less useful to everyone else. Sure I got to play more golf and spend more time with friends, but I wasn't actively doing as much of the things that brought my success in the first place: helping others achieve their lifestyles.
Keep Your Back Against the Wall
It's so odd to me that it took the things that most people consider very safe, traditional, and comfortable to knock me back into a place of discomfort and focus on the business.
It took zapping my bank account to near zero to get to the point where I remember, "Oh wait, there's a reason I'm in this position, and it sure as hell isn't because I slacked off and lived like a 28 year old retiree."
I've found that for myself and so many other entrepreneurs the best work is only done when your back is up against the wall.
When things have to work, because you have to be able to keep the lights on next month.
When you're at the point where failure isn't an option.
When there are forces greater than yourself relying on you to be successful.
Those are the times the greatest work is created.
Now much of my cash is gone and I have a mortgage to pay. That scares the hell out of me.
But the minute I saw all that money leave my account, it was like a light went off.
The motivation I'd been searching for for months was finally back – and with vigor.
I've felt renewed and excited to refocus the business that has helped so many people these past few years.
Mentally, it feels as though back is up against the wall again.
Even though on the surface, by traditional standards, my life might be getting more comfortable and settled down – the exact opposite is happening.
I'm returning to the fight and excited to take what I know and apply it to as many lives as possible.
Life is a rollercoaster and as I mentioned in my 2014 goals post, this is will be a huge year for me, and one that represents the biggest series of changes I've had in 4 years.
Once again I can feel the creep of the fear of uncertainty. But now that I know this is an asset and not a liability.
For the next couple of weeks I'll be moving into the new place and trying to get refocused on the blog and business – there's been a lot of guest posts lately!
In May I'll hit the road again for a couple short trips, and then I'll be doing a longer trip in June to the east coast to continue knocking off more of my Top 100 Golf Courses.
Have you gone through any major life changes recently? How did you handle it?
Sean Ogle
Sean Ogle is the Founder of Location Rebel where he has spent the last 12+ years teaching people how to build online businesses that give them the freedom to do more of the things they like to do in life. When he's not in the coffee shops of Portland, or the beaches of Bali, he's probably sneaking into some other high-class establishment where he most certainly doesn't belong.
Learn How to Make Your First $1,000 Freelance Writing (in 30 Days or Less)
Join over 40,000 people who have taken our 6 part freelance writing course. Sign up below and let's do this together.
By entering your email address you agree to receive emails from Location Rebel. We'll respect your privacy and you can unsubscribe at any time.