You've probably bought something from Amazon at least once before. After all, it's one of the biggest marketplaces in the world.
What appeals to so many shoppers is the fact that you can get virtually anything off Amazon today. And that also makes it a prime target for affiliate marketers too.
While relying on Amazon isn't going to be the most lucrative of affiliate marketing potentials, at least at the start — it has one huge benefit going for it.
Amazon's affiliate program is a really easy place to get started with affiliate marketing.
In this post, we're going to dig into it. You'll learn what makes Amazon's Associate Program stand out as a first choice for many and what you need to know to get started with it.
Ready to dig in?
What is Amazon affiliate marketing?
Amazon is huge, you know that already. But did you know it represents nearly half of all e-commerce sales in the United States?
Check out this chart:
For many, this illustrates exactly why they decide to jump into Amazon as a tool for affiliate marketing.
If you've already dug into this post then you should have a pretty good understanding of affiliate marketing. If you haven't, take a second and read What is Affiliate Marketing (And Other Affiliate Marketing FAQs Answered).
Ok so like a lot of other brands, Amazon has it's own affiliate marketing program too. It's called Amazon Associates (you might also see Amazon Partner Program sometimes too).
Basically, you sign up for the program and right from Amazon you'll be able to create an affiliate link for any product they sell on their site. You can then add that link to your blog posts or site.
Then, when someone visits your site and clicks on your link they are brought to Amazon's site. If they buy something, anything — not even the product you've linked to — within 24 hours, you get credited with the referral fee.
It really doesn't get much easier than that.
Why join Amazon Associates?
There are a couple of big reasons why so many people, from newbies to pro affiliate marketers, sign up for Amazon. But, it's also to consider it's not all unicorns and rainbows with it too, so let's take a look at a few of the pros and cons of joining Amazon Associates.
Pros
As you saw in the chart above, the biggest pro for using Amazon is the sheer amount of people who use the site on a regular basis. It's easy to use and people don't have to jump through extra hoops to buy something. That sort of thing can often help you snag a few extra customers as opposed to other affiliate programs.
Another big pro is that Amazon has tons of products.
Unless you have some tiny specialized niche, you'll likely find at least one or two items on Amazon you can sell that are related to your niche.
The affiliate program is also free to join, so even if you don't plan on using it extensively, it never hurts to just sign up and have it in your back pocket.
And Amazon is good at giving you a lot of different options for how to promote your products. In most cases, you click how you want to promote and they will generate all the info you need. You'll just need to copy and paste the script into your blog post and you're good to go.
Amazon also offers both digital and physical goods. So if you've been thinking about moving into a physical product business, Amazon can be a great stepping stone before you jump into creating your own products. They will do the packaging and shipping for you — saving your living room from boxes!
Finally, affiliate marketing through Amazon is also easy and reliable. It's not complicated to get started and with a few clicks, you can insert affiliate links into your site. Plus, since Amazon is so huge they have a steady stream of suppliers and inventories across the world so you're less likely to run into snags with fulfillment or delivery.
Cons
You might be thinking Amazon seems like a dream come true for affiliate marketers, right?
Well, while it offers a ton of options, there are still some negatives you want to keep in mind as you get started.
The biggest con for many is that the fee schedule is pretty low. Where you might get upwards of 25-50% with a lot of affiliate programs, Amazon tops out at 10%.
Here's a look at the commission fees they're currently offering (note they do change these rates from time to time):
Those numbers bring you to the other main complaint people have with the associate's program; to see a substantial amount of earnings, you'll need to get a lot of people clicking your links.
You'll also need to pay attention to how Amazon uses its cookies. While you get a commission fee on anything someone buys through clicking your link, even if they don't buy the product you sent them to, they have a 24 hour limit on cookies. So if they click, buy nothing, and then come back 3 days later and buy, you miss out.
The exception to that rule is if your reader puts something in their Amazon shopping cart. In that case, the cookies last 90 days.
Finally, Amazon has a big restriction which does impact marketers and that's you can't use Amazon affiliate links in your marketing emails. So if you're standard weekly newsletter includes copying and pasting your blog posts, for example, you can't include affiliate links.
If, however, you link to a blog post that's still ok.
Alright, now you know the pros and cons of using Amazon's affiliate program. We still think it's a good idea to use it since the pros outweigh the cons for a lot of people, especially those who are just getting started with affiliate marketing.
Learn How to Make Your First $1,000 Freelance Writing (in 30 Days or Less)
Join over 40,000 people who have taken our 6 part freelance writing course. Sign up below and let's do this together.
By entering your email address you agree to receive emails from Location Rebel. We'll respect your privacy and you can unsubscribe at any time.
How to sign up for Amazon Associates Program
Here's how to get started.
Go to https://affiliate-program.amazon.com.
They will ask you to enter basic information including:
Your name
Home address
Your URL(s) where you'll be promoting Amazon products
Then they will want you to fill out a bit more information about what you plan to sell for your profile. You can see some of the questions they ask here:
Answer these as best you can. If you aren't sure, just give your best guess. These aren't set in stone and you can always go back in and tweak what your answers are later on.
Once you get through this part, you'll be asked to provide a phone number to get a pin that you'll use to verify your identity. So make sure you sign up while you have your phone handy.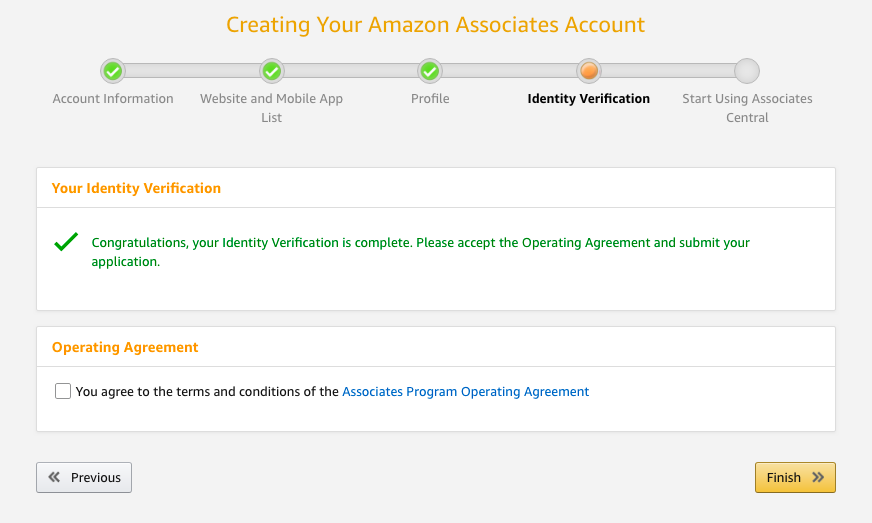 Agree to the terms and conditions (make sure you read them too), and you're good to go.
The last step is to fill in your Tax ID or social security number plus your bank information so you can get your payments. You can do this right now or wait until later since, whichever you prefer.
Now that you have your affiliate link set, you can start promoting products!
You can learn more in this post, but here are the basics.
Type in the name of the product you're looking to promote in Amazon's search box:

Then, once you find the exact product you want, choose how you want to display it.
Text will give you a link.
Image will give you an image.
Text + image will give you a display box that shows both.
For the vast majority of people, text is going to be the standard choice.
So click that and you'll get this: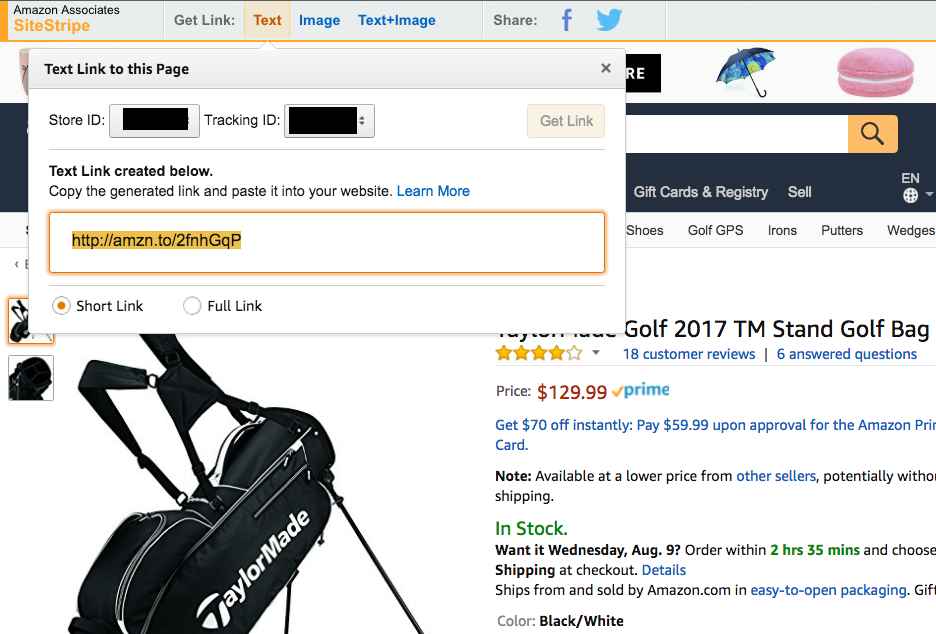 That highlighted shortened link has your referral code built into it. So all you need to do is take that link and paste it right into your blog post or site (remember no posting links in emails).
That's all there is to it.
If you want to get a bit more advanced with your links, there are a bunch of plugins affiliate marketers use for Amazon. You can check out a few of them here.
A few Amazon affiliate marketing tips to get you started
For many, where Amazon really stands out with affiliate marketing is with niches. So if you're building a hobby hacking site, this is a great way to find complimentary products.
When it comes to getting started with affiliate marketing, your best bet is to focus on product reviews to start. It's a great way to build an audience that's based around trust. And who doesn't love highlighting products that they really love?
As you get into affiliate marketing, think about the long term. Amazon is always going to see a huge spike in traffic around the holiday season, so plan out your blog content and marketing schedules accordingly. You can take advantage of seasonal traffic spikes to do things like gift roundups that can help you drive some traffic and capture a few extra affiliate commissions.
This post is a great example of a gift roundup.
A word of caution, even though Amazon makes it really easy, you don't want to link to any and every product under the sun on your site. Remember, keep it related to things that are in your niche and products you already know and use, especially to start.
Then as you expand out you can always add more links over time.
And don't forget to check out this post, it's the biggest mistakes I've made affiliate marketing. Avoid these, and you're going to be ahead of the game.
Ready to dig into more affiliate marketing?
Awesome!
Check out our affiliate marketing hub and start exploring all the posts we have on the topic.
Sean Ogle
Sean Ogle is the Founder of Location Rebel where he has spent the last 12+ years teaching people how to build online businesses that give them the freedom to do more of the things they like to do in life. When he's not in the coffee shops of Portland, or the beaches of Bali, he's probably sneaking into some other high-class establishment where he most certainly doesn't belong.
Learn How to Make Your First $1,000 Freelance Writing (in 30 Days or Less)
Join over 40,000 people who have taken our 6 part freelance writing course. Sign up below and let's do this together.
By entering your email address you agree to receive emails from Location Rebel. We'll respect your privacy and you can unsubscribe at any time.