Hi, My name is Sean.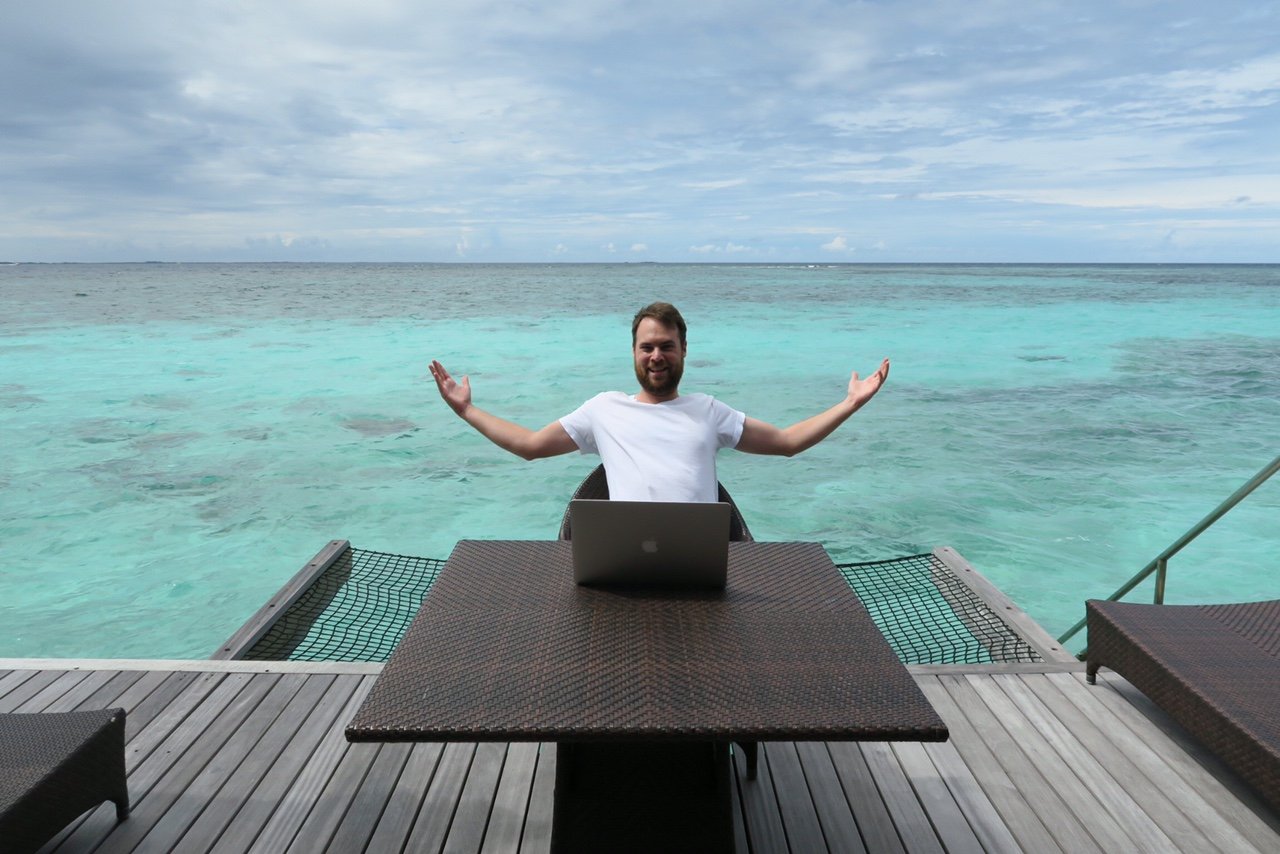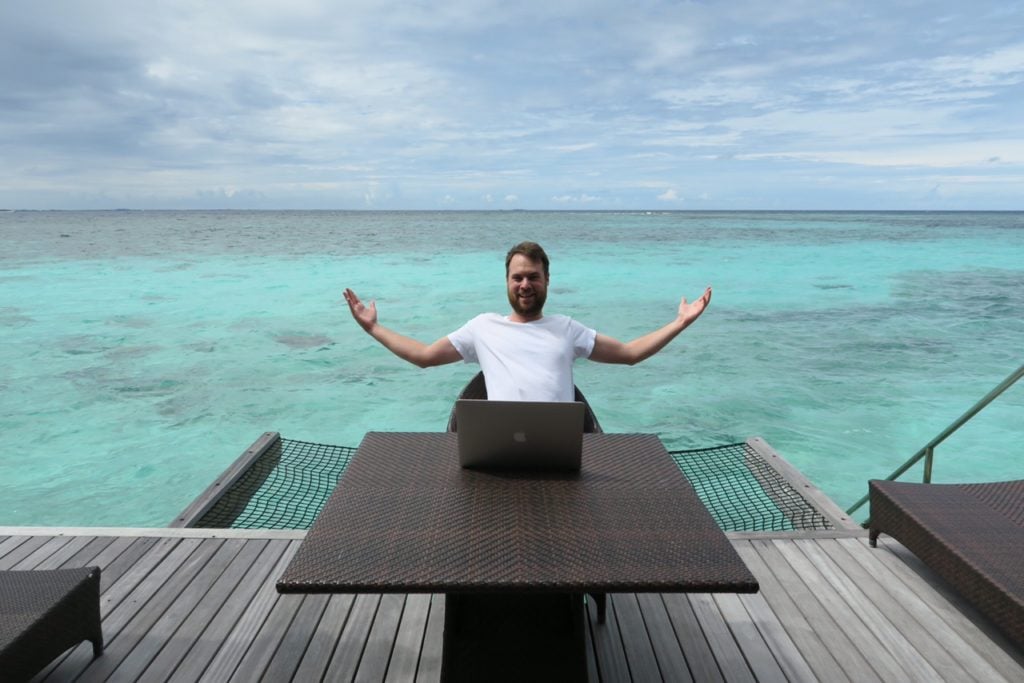 I'm the Head Rebel here at Location Rebel, and my purpose here is to help you build a small business that gives you the freedom and flexibility to work from anywhere in the world.
You may be here because you're fed up with your job.
Perhaps you want to work for yourself and do meaningful work.
Maybe you just want to be able to travel anywhere, whenever you feel like it…
…Or simply work from home in your sweatpants while your pet nuzzles up against you.
It could be you're simply unhappy and are looking to make significant changes in your life.
Whatever the reason, thank you for being here.
To be brutally honest, I'm just a normal dude who's figured something out over the last 7 years of traveling and working for myself.
This site is dedicated entirely to teaching you what I've learned, and helping you do the same thing. No pretention. No BS.
Are you so anxious to get started that you can't finish reading this about page?
Grab our free six part course How to Make Your First $1k Online and I will start helping you build that business, immediately. Right now. Today.
Why Location Rebel? (The Backstory)
It all started with a desk.
I spent 60 hours a week at this desk, crunching numbers as a financial analyst. It was mindless work that left me feeling uninspired. It didn't matter if I gave it 110% effort, or 10% effort – the result, the compensation, and the recognition would all be the same.
I used to joke I was the only person in Portland, Oregon to have to wear a suit and tie to work. I thought having that desk, with my sweet views of the city and the prestige that went along with the title were exactly what I wanted in life.
But a few years in, I quickly realized…it wasn't. When I graduated college I had two goals for myself:
I wanted to travel the world

I wanted to own my own business
I was achieving neither of those, and the longer I stayed in that position, the more money I made, and the more comfortable I became, the farther I'd be from obtaining that lifestyle that I really wanted.
Does this sound familiar?
Well, I ended up leaving it all.
I started a little website called Location 180 to hold myself accountable for the changes I wanted to make in my life.
Less than 9 months later I'd left my job, sold my car, and moved to Thailand to have the adventure I'd been dreaming about. But more importantly, to learn the skills necessary to create a business for myself that would allow me to have my dream lifestyle not just for a few months, but for the rest of my life.
I spent the next few years continuing to grow Location 180, while also doing freelance SEO (search engine optimization) work to pay the bills.
I unknowingly stumbled across a three step process for building a lifestyle business, that I've now taught thousands of other people over the last few years. This site is the culmination of that journey.
Originally, this site was two separate entities, which were combined into one in the summer of 2016.
Location 180 – This was the blog component. We had over 600 blog posts on this site, and you can still have access to all of them (plus all of our new ones)

here.

Location Rebel – Originally this was just our premium course and community where we helped the most dedicated people build their businesses.
Now what used to be "Location Rebel" is known as "Location Rebel Academy" it's the same fantastic community, but we now have even more content, blueprints, and members.
You can learn more about it here.

Write For Us
Interested in guest posting on the Location Rebel blog?
We do accept guest posts, as long as they are high quality and have a value for our readers. If you're interested in posting, don't email first.
Read through our guidelines here.
Getting Started with Location Rebel
If this is your first time here, then welcome! You can get started by digging into the archives, or checking out some of my favorite posts here:
For the Beginners:
For More Experienced Entrepreneurs:
The Location Rebel Philosophy
My guess is you were drawn to this site with thoughts of creating a sexy business. Affiliate marketing. Niche sites. Software. Information products. Passive Income.
That's what everybody wants. And we teach you how to do all of that. But I don't recommend you start there.
Sure, those businesses are what get people excited. But the reality is, they are difficult to get off the ground…Unless you have already developed the proper skills to be successful with those, I recommend a different starting point (don't worry, you'll get there soon enough).
What would happen if you built a house without first properly building the foundation? It would crumble pretty quickly. That's what happens when you dive into the dream of a passive income business.
More often than not, after a few months the new entrepreneur fails to make progress, gets frustrated, and gives up.
That's why I recommend the boring approach to lifestyle entrepreneurship. It's a simple three step process.
Step 1: Build Your Foundation and Training Ground
Regardless of what you do online there are certain skills that will serve you extremely well if you can procure a basic knowledge of them.
Specifically:
Copywriting
Search Engine Optimization (SEO)
Creating a website with WordPress
Social media for business
Fundamentals of design
Online marketing essentials
Regardless of whether you take a job or start something on your own, a background in these skills will prove useful.
So step one of our processes is to learn these skills in a hands on manner, by creating your own website to use as a training ground.
A place where you can get hands on, experiment with trial and error, and create confidence in your ability to run an online business.
Step 2: Choose a Skill You Excel at and Freelance
Freelancing is the single easiest way to generate income on the internet.
It's as simple as that. By freelancing you'll generate the income and confidence needed to help you leave your job, travel, and grow a business for yourself.
It's not as sexy as those "passive income" businesses mentioned above, but starting here will lay the foundation for success in those other businesses a few months down the road.
Step 3: Create Your "Sexy" Business
Once you have acquired the right skills, have some income coming in, and are confident in your ability to generate money for yourself – then you start the sexy business that you've always wanted.
Being in a place where you don't have to worry about your passive income business generating money right away is huge. Because it allows you to build the business the right way, and take your emotions out of it.
In the end you'll have multiple streams of revenue, the freedom to work from anywhere you please, and a business you can be proud of.
Ready to Get Started? Join our community here.
Need a little more convincing? Get started with our free course here:

Who Are We?
Learn more about the Location Rebel team here.
Around the Web
Over the years I've been fortunate to have been featured in a number of different places around the web. Here's a list of some of those places.