Over the next month I'll be doing a special series of travel related posts about my recent trip to Jordan.  We'll explore everything from adventure opportunities to saftey concerns in the middle east, to why I went out there in the first place.

You know my number one goal here is to do stuff worth writing about, and this trip should fit in with that nicely.  I hope you enjoy this introduction to one of the coolest places that you probably know nothing about.

These posts will be in addition to our regularly scheduled programming, so I hope you enjoy, and as always I welcome any comments!
What do the movies Promethius, Transformers 2, and Red Planet all have in common?
They were all shot in the other-worldly desert of Wadi Rum, Jordan.
Wadi Rum is unlike any place I've ever been.  Immediately upon entering the protected area about 4 hours south of Amman, you feel like you've been transported to a completely different world – Mars for instance.
The sand is a dusty red color, and the towering cliffs look like they came straight out of a sci-fi movie.  You see, a million years ago Wadi Rum was part of the Red Sea.  It was all underwater, and due to the soft nature of the sandstone the cliffs are made up of, the salt water essentially melted the cliffs, resulting in them looking like walls of melted candles.
So why am I sharing with you the history of a desert that's half a world away?  Because earlier this week, I had the opportunity to spend 24 hours on this Martian landscape, and it completely blew away all expecations I had for the place.
I mean really, how interesting can a desert be?
Turns out extremely.
Hour 1: Jeep Tour Through the Desert
Wadi Rum was about an hour drive from our previous destination of Aqaba on the Red Sea (more on that soon).  We knew we would be staying in the desert, but at the time didn't know exactly what that meant.
Upon arriving we were pretty stoked to find out that we were staying in a traditional Bedouin Camp, sleeping in tents, and having an authentic meal of Zarb that had been cooking underground for hours.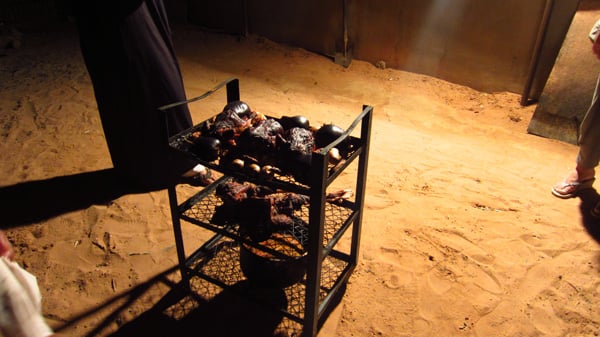 Before getting too settled however it was time to hop in the back of a truck and haul ass through the desert for a few hours. Every 20 minutes or so we'd stop at a new point of interest, with each one being more interesting than the last.
When you were younger did you ever play the game Crazy Taxi?  This was kind of like that, but not a taxi, and not in a city.  Joel and I were kicking it in the back of this truck, while our driver Mahmoud was cruising around in this bad boy like he stole it.
He looked like he was having so much fun that it made me want to drive.  However, fortunately (or unfortunately for my Baja dreams) Wadi Rum has very strict rules regarding who can drive in most areas of the park.  Access is much more restricted than most similar areas in the middle east.
After stopping at a viewpoint over looking the vastness that is Wadi Rum, we headed into one of many canyons and listened to our screams reverberate through the cliffs.
For some reason all I could think about after arriving here was how much I wanted to hit a golf ball down this canyon: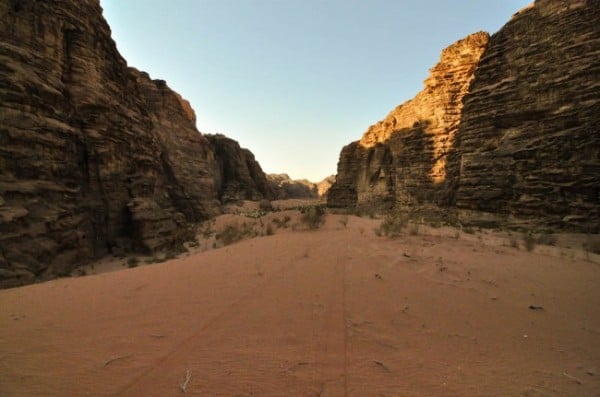 This was followed by us flying down a hill and almost shooting out of the back of the truck.  Yes, it's safe to say this was my kind of adventure.
One thing that surprised me was just how many ruins were all over Jordan.  It seemed there were buildings, columns, and petroglyphs all over the place.
Even out in the middle of the desert we stumbled upon these 2,000 year old carvings:
We concluded our tour overlooking the vast expanse of desert after 5 tries of trying to get up the sand dune lying in front of us.  This photo pretty much summed up the whole of Wadi Rum: lots of cairns, vast desert, and beautiful vistas regardless of where you look.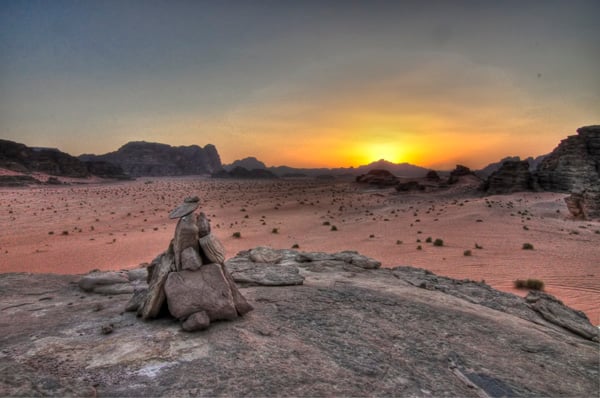 Hour 7: Night Shots
This is what happens when you have a camera, tripod, and a huge desert at night: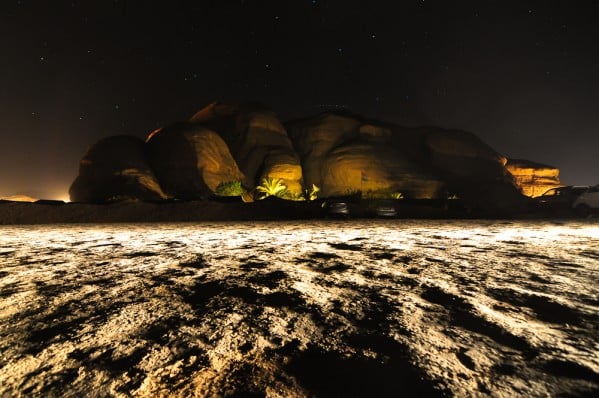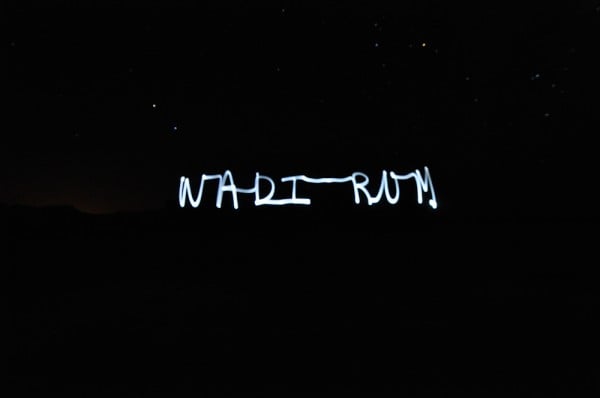 Hour 12: Sunrise Over the Bedouin Camp
The next morning we were all set to jump out of a plane.
Breakfast was at 5, and we needed to be at the drop zone by 5:30.  So being my usual punctual self, I was up at 4:55 ready to go.
5 rolls around, and no one is up except Mahmoud who was kind of enough to make me some coffee.
5:15, 5:20, 5:30 – still no one awake.
Hmmmm, did I miss the memo somewhere?
"Your guide told me 5am for breakfast?"
"Yeah, he told me the same thing," I said.
Instead, of waiting around he asked me to grab my camera and we headed up to a cliff overlooking our camp to experience sunrise over the desert.  It had been a long time since I was awake early enough to see a sunrise, so it was a pretty cool bonus.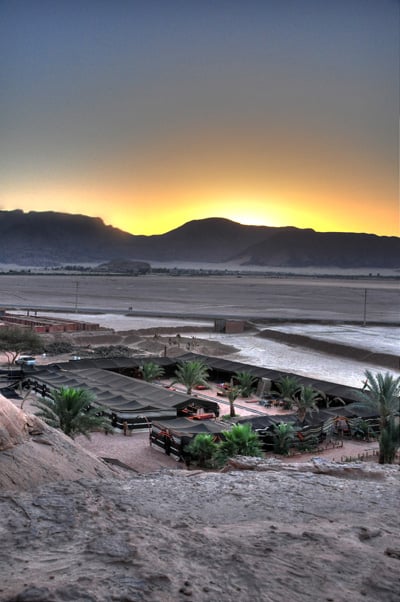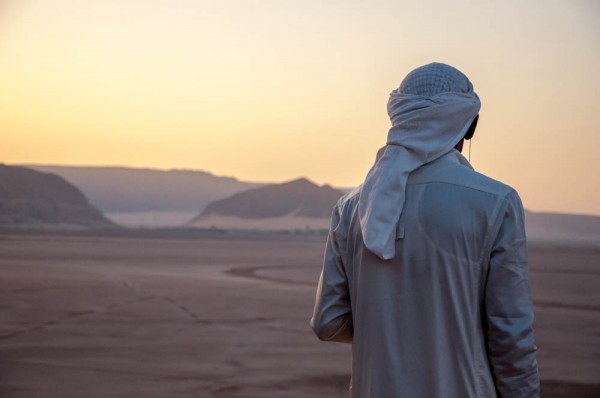 Then 5:45 rolled around and the rest of our group finally made their way to the outside of their tents.  Well you know, all except for Joel who was still sleeping like a baby 🙂
After a quick breakfast of yogurt and pita, we were out the door and ready to make our way to Skydive Jordan.
Hour 14: Skydiving Above Wadi Rum
One of the coolest parts of the whole trip was actually the one that almost didn't happen.  Originally the jump was scheduled for the date I had to be leave in order to make it back for a World Domination Summit meeting, and because of the popularity of the jump, rescheduling was proving to be difficult.
So we showed up (albeit an hour late) and hoped for the best.
Luckily, we got checked right in and only had to wait about 90 minutes before we were headed out to the tarmac…er, desert, on our way to our 13,000 foot jump.
The first thing I noticed when arriving at Skydive Jordan was just how professional and put together everything was.  I won't lie, there was something about jumping out of a plane in a foreign country that had me a little nervous.
The reality was that they transported the ENTIRE Skydive Dubai operation to Jordan for 3 weeks in order to do this.  That meant we had some of the best equipment and instructors in the world making sure that we didn't die after hurling ourselves out of the plane.
Not only did their instructors know what they were doing, but the camera work was the best I'd ever seen – much better than the work I'd seen for previous jumps in the States…
Here was my video.  If you don't want to sit through all 5 minutes, fast forward to the 3:30 spot and see the awesome footage of the jump itself:
We also got a few photos, that you know, I guess turned out alright…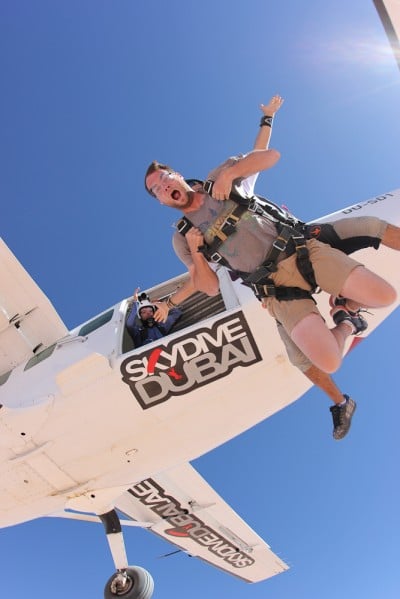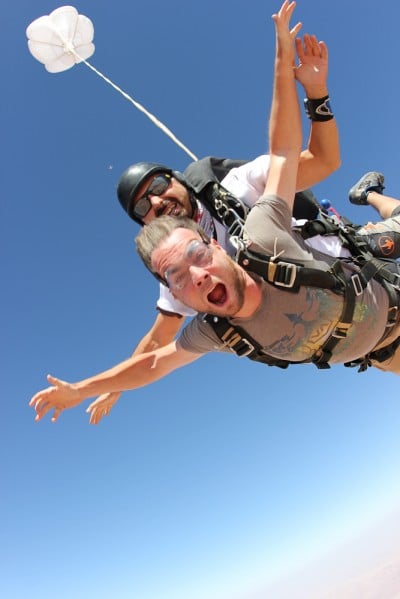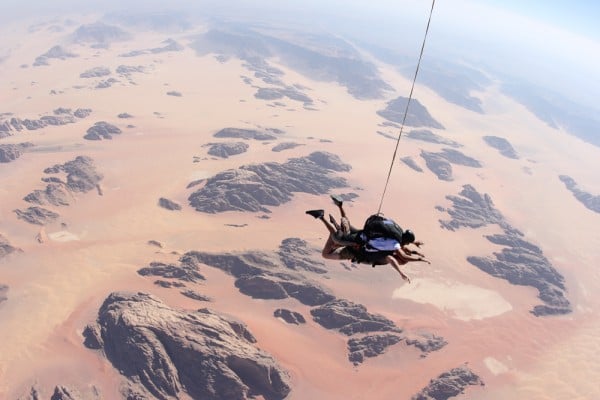 And how about one more for good measure…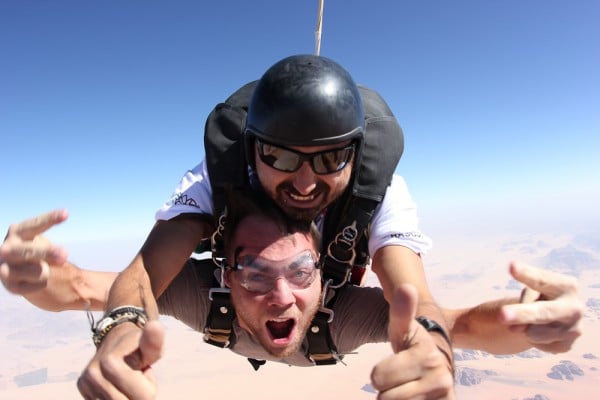 Hour 18: Exploring via ATV
We didn't waste any time after our jump to find our next adrenaline rush.
We had a good hour to kill before our video was ready after the jump, and there were some very fun looking ATVs sitting around next to the site.
After a quick conversation with our host Reine, 10 minutes later we were cruising through the desert, hopping sand dunes, and pinching ourselves wondering if there was any way this day could be any more incredible.
You could tell our guide had been doing this for awhile, as his arsenal of dune buggy tricks quickly came out – this guy may have one of the worlds greatest jobs: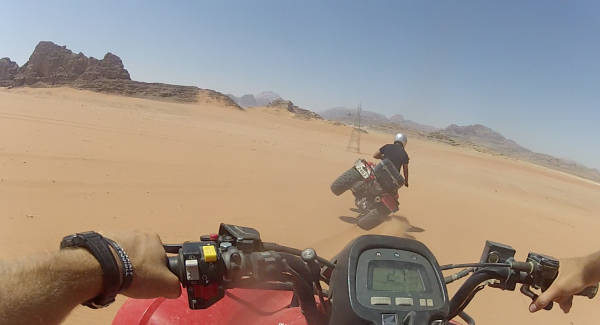 Leaving Mars, ahem, Wadi Rum
Our 24 hours in Wadi Rum was perhaps the biggest surprise, in a trip full of surprises.  I had no idea what to expect.  I was blown away by the hospitality of the Bedouin people.  The beauty and uniqueness of the landscape is unparalled anywhere in the world, and the opportunities for adventure activities were seemingly limitless.
If you're into adventure, the outdoors and want to experience someplace a little more off the beaten path.  Head out to Wadi Rum – I promise you won't be disappointed.
As I guest of the Jordan Tourism Board, I visited Jordan for 6 days in mid-June.  While my trip and accommodations were sponsored, all opinions and photos are entirely my own.

Also a very big thank you to Jodi Ettenberg of Legal Nomads fame, as without her, this trip wouldn't have happened!