One of the perks of having a lifestyle business is being able to work from anywhere you want.
At it's core, that is what Location Rebel is all about: 
Helping you build something that allows you to work from anywhere and spend more time doing the things you enjoy most in life.
Every year for the past four, five, six years in December I created my "coolest offices" post for the year.
This is the list of the most unique, scenic, and interesting places that I've worked for the year.
The only rule is it has to be a spot I've actually sat down and done real meaningful work – not just snapped a photo at a scenic view point.
We even shot a fun video to illustrate what the Location Rebel lifestyle is all about:
The Coolest Offices in the World
This year, despite having some of my best offices yet, I decided to shake it up a bit.
Rather than simply doing what we've always done, this year I wanted to really highlight the best of the best.
So rather than doing a "Coolest Offices of 2017" post, I'm going to mix it up and do the Top 20 Coolest Offices of All Time.
These are my favorite places I've ever worked.
Want a sneak peek into a few of the best? Check out my quest to find the most exotic office in the world:
20) Cabin – McKenzie Bridge, Oregon
This is the most sentimental office on the list. It's where I first announced Location Rebel Academy back in 2011. And unfortunately this summer, my family sold the cabin I'd been going to since I was a toddler. Nevertheless, can't beat peaceful river views!
19) Manor Vail – Vail, Colorado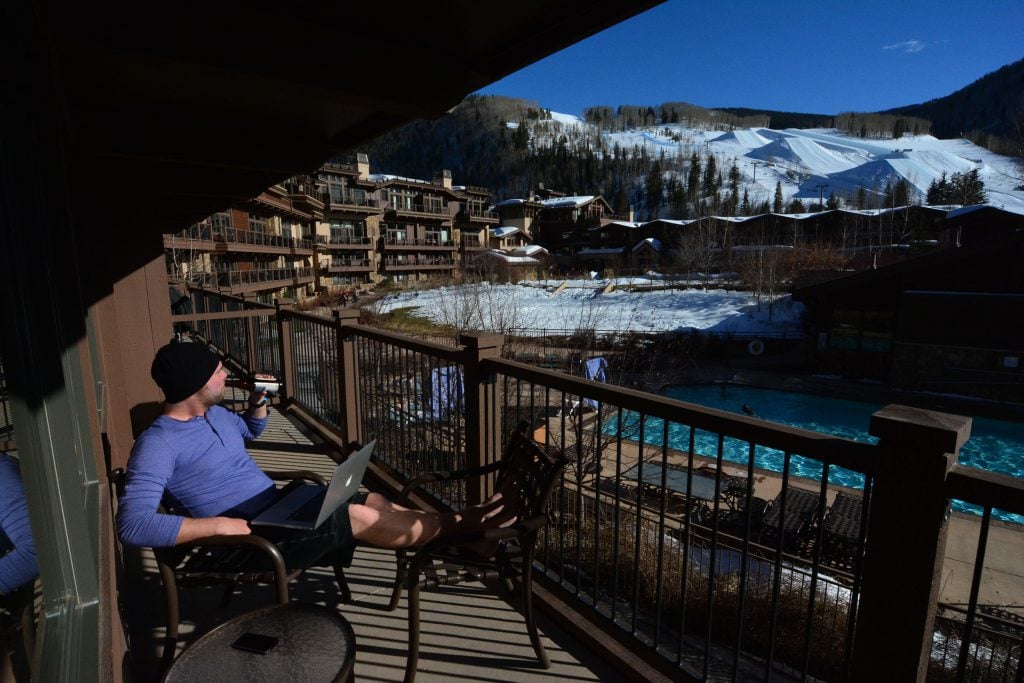 What do you get when you combine a balcony, cold beer, and some sweet mountain views? One heck of an inspiring spot to write.
18) Como Uma – Ubud, Bali
The Como Uma isn't necessarily the most well known spot in Ubud, but with a pool area like this? It should be.
17) Ritz Carlton Half Moon Bay
When it comes to cool features in a hotel room, the Ritz Carlton Half Moon Bay might just have my favorite ever: you're own fire pit. Combine this with a view of the Pacific, and you've got a killer afternoon office.
16) Badladz – Puerto Galera
Back in 2010 when I had to flee Bangkok due to rioting and civil unrest, I found myself at Badladz Resort in Puerto Galera, Philippines, with my buddy Dan just hours later.
This is about as remote as it gets.
15) Bhu Nga Thani, Railay Beach Thailand
To make a long story short, my girlfriend (now wife) and I were supposed to go to Bali – but due to some passport issues she was unable to enter the country. So we made a last minute audible and headed to Krabi, Thailand. Unfortunately we weren't quite prepared for the fact it was the wet season. Still, can't beat the rocky views.
14) Baiyoke Sky Tower – Bangkok, Thailand
Another view with some sentimental value. What used to be the tallest building in Thailand was about a 20 minute walk from my apartment in Bangkok. I used to work here and enjoy the view once a week, then head over to the enclosed driving range and spend the equivalent of $1 to get a bucket of balls.
Side note: I've been fortunate to stay in some pretty amazing places over the years. If these offices have been enticing to you, here are 5 of my best tips for how to do it on the cheap:
13) District Hotel Boracay
Boracay is like the Cancun of the Philippines. With so many fantastic beaches in the world, I'm not sure I'd make the long journey to head back anytime soon – but the fact remains, our spot in White Beach didn't suck.
12) Canazei, Italy
What do you get when you combine a peaceful mountain town and a quaint cafe in northern Italy? You get one of my favorite offices of 2017.
11) Alegranza – Los Cabos, Mexico
A week in Cabo in December? How can you say no to that? Especially when you get to do your work and drink coffee out here every morning?
10) Villa Song Saigon
Back when my wife and I decided on a whim to fly to Saigon to get custom suits made for my groomsmen, we ventured outside the center of the city to spend a night at the Villa Song Saigon. The riverfront views and incredible pool area exceeded expectations.
Check out: 10 Reasons to Build a Lifestyle Business in Asia
9) Hotel Jen, Hong Kong
This is my favorite spot to stay in Hong Kong. For a notoriously expensive city, Hotel Jen is clean, relatively affordable and has an incredible rooftop pool, lounge area, and gym.
8) Peppers Seminyak (Formerly, Bali Sentosa Villas)
The original epic office. I stayed in this suite way back in 2011, and at the time it was one of the coolest experiences of my life.
Watch the video, it's not hard to see why:
7) St. Regis Shanghai – Shanghai, China
I'd never stayed at a St. Regis before, but for the last two nights of our Sabbatical trip, it seemed only right to do something special.
I'd say this view qualifies.
6) Koosah Falls – McKenzie River, Oregon
In the 15 minutes I was literally dangling over a waterfall while shooting our Desk video, I actually got a blog post written. Seriously.
5) Banyan Tree on the Bund – Shanghai, China
We move into the top 5, which features some pretty heavy hitters. The two nights before we were at the St. Regis in Shanghai, we made the Banyan Tree home, and all I can say is, wow.
Their "Bund Retreat" room had the most epic 270 degree view of the city imaginable. And let's just say, the office was on point.
4) Shangri-La Villingili Water Villa – Maldives
In what was unequivocally the best trip of my life, for our honeymoon we took off to the Maldives, where I found the only golf course in the entire country.
For the first three nights we stayed in an unbelievable overwater bungalow that I thought wouldn't ever get surpassed. Well, wait until you see #1…
3) Singapore Airlines Suites Class
What's cooler than a hotel with a magnificent city or ocean view? Your own room 37,000 feet in the sky, with world class food and drinks served at your beck and call.
It was worth every single one of the 91,000 Amex points I spent to have the experience.
Check out: How You Can Fly Singapore Air Suites Class
2) Shangri-La at the Shard – London, England
In the #1 office from this year, our view from the Shard in London was even more impressive than I'd anticipated. You're literally dangling over the city, and the only thing more impressive than the "office" was the panoramic 270 degree view from the shower…
1) Shangri-La Villingili Treehouse Villa – Maldives
Nevertheless for the last three nights of our honeymoon, we got upgraded to the single most incredible office I've ever had.
How to Work From Your Own Cool Offices
When I started creating this post each year, it was out of a desire to prove myself.
I had a lot of haters and doubters when I left my finance job and jumped into this whole online business thing.
So this was a way of saying "hey look! I really am traveling and working from anywhere!"
As the years went on, it became more of an internal motivator for me to continue doing interesting things.
I didn't want to settle down, and every year when I think about planning travels I often think "ok, need to keep upping the ante with these offices!"
And now? Frankly, I've got nothing left to prove, and these posts feel a little on the arrogant, braggadocios side – which was never the goal. It just kind of became a tradition to post every December.
That said, I wanted to add something to this post that would prove valuable to you.
So how do you work from your own cool offices and have similar experiences?
Well the reality, is it's not as difficult as you think. It mostly takes a willingness to think outside the box, and actually have a desire to have unique experiences.
Let's face it I never thought I'd ever get any real work done perched on top of a waterfall, but it's pretty cool to look back on the memory.
Step 1: Identify "Cool Offices" In Your Hometown
Why I like working from unique places so much is beyond me, but this isn't a new phenomenon.
When I was first starting this blog, I'd go work from the Heathman Hotel Library in Portland, Oregon after work. If I timed it right, I could also get hooked up with their complimentary wine happy hour 🙂
When I lived in Bangkok, I found the place with the best view and started working there – despite the fact they didn't have any wifi.
No matter where you are, there are awesome, inspiring, motivating places to setup your laptop for a couple hours.
Think bars or restaurants with a view. Bluffs or buttes you can drive to the top of. Parks, coffee shops, hotel lobbies – in Portland alone I can think of dozens of cool opportunities for this.
Doing this is great practice for when you're traveling as well. Learning to work around the logistics of being outside of your home or office will help as you grow your lifestyle business.
Step 2: Create Your Office Bucket List
By now, it's pretty obvious I'm a fan of creating a bucket list. I'm a firm believer that if you don't know what things you want to do in life, you'll never do them.
So as you're creating your list, think about some of the unique places you might not only visit, but that you might work from as well.
A lifestyle business is just that, it's a lifestyle. Work never really goes away, so integrating it into your travels in an interesting way is one of the best ways to continue to be productive on the road.
So for me, I had a little side list that included things like:
Work from at least 75 stories up
Work from an overwater bungalow
Work sitting in a first class flight
Work on the beach (and avoid getting sand in my laptop)
I know this might seem weird, but integrating work into your travel experiences will not only allow you to continue growing your business while you're traveling, but it's also a way to keep you motivated and make the experience or work fun.
Step 3: Put A Little Effort into Travel Hacking
Obviously there were some pretty lavish and expensive hotels and flights near the top of that list. I'm not sure there's a single one I've paid full price for.
Investing the time to learn a little more about travel hacking is time well spent. Not only can it save you thousands, but the incredible experiences that can come from it is virtually limitless.
Learn How to Make Your First $1,000 Freelance Writing (in 30 Days or Less)
Join over 40,000 people who have taken our 6 part freelance writing course. Sign up below and let's do this together.
By entering your email address you agree to receive emails from Location Rebel. We'll respect your privacy and you can unsubscribe at any time.
To Finish Up…
As I said in the beginning, Location Rebel is all about showing you how to build a business that:
You can run from anywhere on earth
Allows you to spend more time doing the things you love
Gives you the freedom to spend more time with the people you love
Makes you happy
I hope this post was at the very least inspiring and helps you to start thinking outside the box a little bit more when it comes to your own life and what you want it to look for.
Life is more about experiences than things, and finding cool offices to work at? It's just one more way to create interesting stories in your own life.
Sean Ogle
Sean Ogle is the Founder of Location Rebel where he has spent the last 12+ years teaching people how to build online businesses that give them the freedom to do more of the things they like to do in life. When he's not in the coffee shops of Portland, or the beaches of Bali, he's probably sneaking into some other high-class establishment where he most certainly doesn't belong.
Learn How to Make Your First $1,000 Freelance Writing (in 30 Days or Less)
Join over 40,000 people who have taken our 6 part freelance writing course. Sign up below and let's do this together.
By entering your email address you agree to receive emails from Location Rebel. We'll respect your privacy and you can unsubscribe at any time.