Here's the good news: we've got more travel stuff within our reach than ever.
Gadgets and gear, niche stuff, cool stuff, useless stuff, expensive stuff. You name it.
Pick a trend, a topic, a style and you can find endless lists of travel gear for everyone from the solo female traveler to the family of five living #vanlife.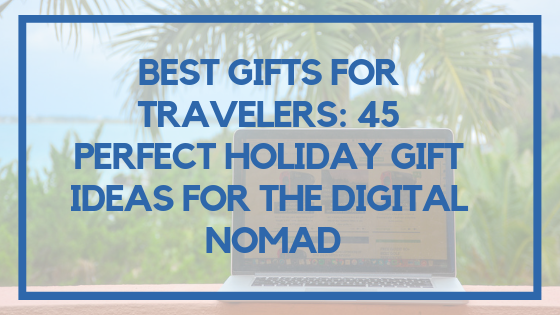 Sounds pretty good, right?
Well, here's the bad news.
It's really hard to comb through all of the stuff out there, especially if you're new to traveling or have a limited budget.
Collectively, we've have spent a lot of time working on the road in places all over the world, from trains in Scotland to cafes in Saigon and lots of places in between. So we've tried and tested all sorts of travel gear for the digital nomads who spend a ton of time on the road and those who travel throughout the year like us.
With the holidays coming up, what better time to share some of our thoughts on the very best digital nomad gifts for the traveler in your life. Maybe that's you, your kid, your sibling, or your friend if you know someone who works online and loves to travel, we've got you covered.
But if you have someone in your life that loves digital nomad videos watching of traveling – these gifts will be perfect.
Best Notebook: Leuchtturm1917 ($20)
I'm a dedicated note taker and the Leuchtturm 1917 is my notebook of choice. It's got a table of contents, number pages, a small folder in the back, and doesn't bleed through with my pens.
I take this notebook with my pretty much anywhere. It's small and light enough that I can toss it in my purse or notebook but still sturdy enough that it can handle the beating I usually give these every year! I use it for everything from tracking the books I read to notes on business calls to brainstorms for LR.
Who is it for? The person who wants to get into Bullet Journaling, keeping a commonplace book throughout the year, or just a spot to jot down notes.
Who isn't it for? The person who is 100% digital and isn't interested in putting pen to paper.
Solid Alternative: The Lemome Thick Classic. It's slightly cheaper (under $15) and has fewer pages but still hardcover and high quality.
Links:
Best Noise Cancelling Headphones: Bose QC35 ($280)
The Bose QC35 Noise Cancelling Headphones is Sean's go-to set for his travels around the world — and ignoring my chattering in whatever cafe we're co-working in at the time. Use these to block out noises on airplanes and catch a few vital hours of sleep. Or work in peace by blocking other noises and getting great sound from the stuff you want to listen to.
He actually told me he got them as a Christmas gift a few years ago (he uses the older QC15 for now) and it's the single most used gift he's ever received – putting thousands of hours of use into them.
The headphones are larger than your average set, but they come in a compact carrying case so it's easy to toss these into your bag as you head out the door.
Who is it for? The person who wants to have premium sound quality.
Who isn't it for? The person who is looking for light and compact for minimalist travel.
Solid Alternative: Cowin E7 Active Noise Canceling Headphones ($60). These offer a lot of the features of the top of the line noise canceling headphones, plus 40 hours of use time, for a fraction of the price.
Links:
Best eBook Reader for Travelers: Kindle Paperwhite ($130)
If you love books as much as I do, it can be hard to choose just one to take with you on a trip. With my Kindle Paperwhite, I can bring hundreds of books with me at any time. If you love reading articles or white papers, you can use this little plugin in your browser to send anything to Kindle whenever you want.
The display is really gentle on the eyes, there's no glare. And with the newest Paperwhite being water-resistant, don't be afraid to park yourself by the beach or the pool and start tackling some of your to be read this.
Plus, Kindles are compatible with most public libraries and have built-in access to Audible so you can grab even more books, whichever way you prefer to consume them.
We've all been stuck somewhere while traveling, so I've found this to be an extremely useful travel gift (and I'm not the only one).
Who is it for? The person who wants to have plenty of reading material in one thin and light design.
Who isn't it for? The person who loves reading paper-based books.
Solid Alternative: Kindle eReader. If you don't want to splurge on the Paperwhite, you can still use the standard Kindle ($90) for reading. The newest model comes with a built in front light for reading in the dark.
Links:
Best Gift for the Instagrammer: Moment Wide Lens ($120)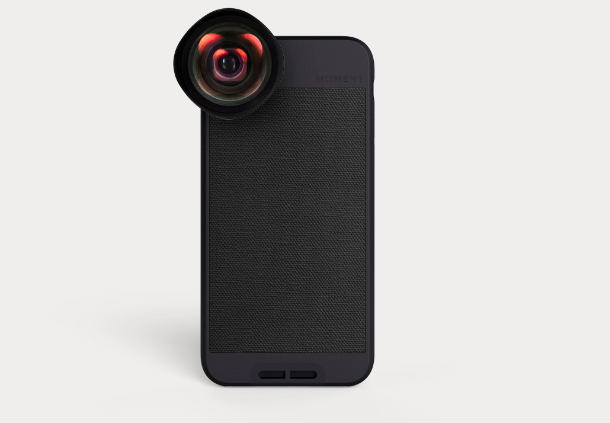 Want to really step up your mobile photography game? With so many freelancers and brands relying on social media channels like Instagram to really grow you want to be sure you can nail killer photos.
Moment lenses can be the perfect fit for you. It attaches right to your iPhone (including the new iPhone 11), Google Pixel, or Galaxy 8 series and lets you instantly transform your images into really professional looking shots without having to carry all the bulky camera lenses.
Who is it for? The person who wants to take better photos but not carry a DSLR around.
Who isn't it for? The person who loves playing with lots of lenses and is focused beyond Instagram.
Solid Alternative: Xenvo iPhone Camera Lens Kit Pro. While the Moment lenses are typically top of the list, the Xenvo lens often is king of the budget options at $40.
Links:
Best External Hard Drive for Travel: CalDigit Tuff ($120)
You know backing up your data is really important, right? So if you've been putting it off now might be the perfect time to invest in an external hard drive.
Sean relies on an external hard drive especially when it comes to backing up photos from his golf trips and all the video that makes up our YouTube channel.
Digital nomads need gear that is going to hold up over lots of trips, and the CalDigit Tuff is consistently rated as the toughest out there. You can travel with this knowing that a bit of heavy handling won't break it (and all of your backups).
Who is it for? The rugged traveler who needs lots of backup for images and files.
Who isn't it for? The person who doesn't need to worry about gear being tossed around.
Solid Alternative: Adata SD600Q ($60). If you want a hard drive that's going to still be really durable but doesn't offer as much space, the Adata SD600 is a good entry-level option.
Links:
Best Fitness Tracker: Fitbit Charge 3 ($150)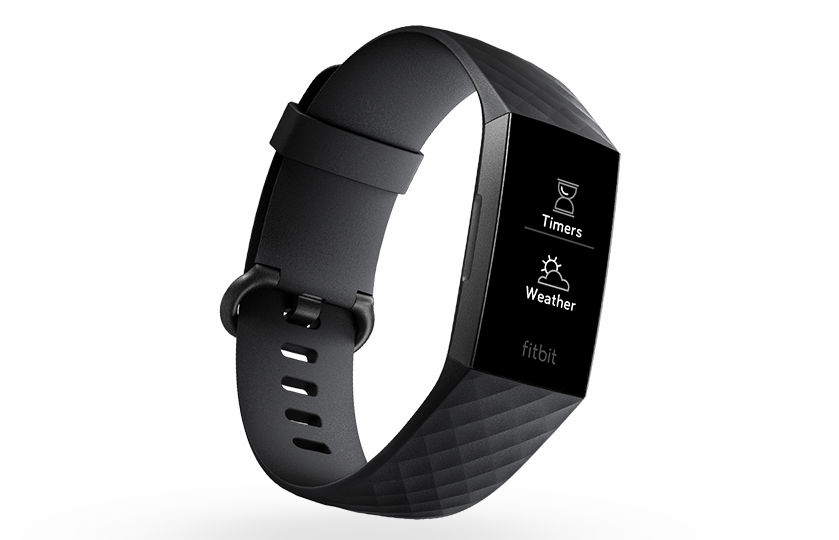 Digital nomads spend a lot of time wandering around. And that's not just sightseeing but also to and from a work spot, chasing after planes, and maybe the occasional bar crawl looking for the world's best cocktails.
So it's kind of cool to be able to keep track of just how much exercise you're getting in any given city. The Fitbit Charge 3 will help keep you on track. It has a slim lightweight design that feels and looks like a watch plus it's waterproof and you can hook it up to the Fitbit app for more in depth tracking.
Who is it for? The person who wants to keep track of their fitness levels while away from their home gym.
Who isn't it for? The person who wants the bells and whistles like GPS tracking.
Solid Alternative: FitFort Fitness Tracker ($33). This tracker does a lot of stuff for a low price. It can track your heart rate, steps, and sleep plus it connects with a ton of fitness apps.
Links:
Best Carry On Luggage for Traveling: Travel Pro Crew 11 ($150)
Travel Pro has long been considered among the best luggage out there, so if you want to go all in on something that is going to last, check out the Travel Pro Crew 11. This case is specifically made to fit TSA regulations when it comes to carry on luggage.
So say goodbye to checked bag fees!
I recently upgraded to this luggage and have been super impressed with it. The Crew 11 is lightweight, durable, and has some smart tech features including a USB port and dedicated pockets for portable power banks (something that's now required to travel in your carry on).
Who is it for? The person who wants a piece of luggage that they can use around the world and will last for years.
Who isn't it for? The person who is looking for something a bit more affordable or has a hard case.
Solid Alternative: Delsey Luggage Helium Sky ($70). My former luggage set is from Delsey so I can speak to its quality and durability for a good price. The Helium Aero features a hard case and is super lightweight.
Links:
Best Daypacks for Digital Nomads: Patagonia Refugio Backpack 28L ($90)
I've had my Refugio for years and it hasn't shown any signs of wear and tear.
It's tough enough that you can really use it for a ton of tasks. Mine has been my airline carry-on, my grocery transporter, a weekend bag, and of course an easy way to carry my laptop and working gear when I head off to the local coffee shop or my co-working space.
What I love about this bag is it carries a ton of stuff without feeling bulky. I can slide my laptop into the back sleeve, and it has a ton of pockets for my notebook, pens, cords, and water bottle. Plus the padded straps keep it comfortable for my back and shoulders all day.
Who is it for? The person who wants a durable, waterproof, comfortable backpack for a ton of different uses.
Who isn't it for? The person who wants something that is a bit more sleek and stylish.
Solid Alternative: Nomatic Backpack. These guys are travelers themselves and have an awesome story of launching their first bag via Kickstarter. Check that review to learn more about the brand and see why it's such a good option.
Links:
Best Travel Adapter: Pac2Go Universal Travel Adapter ($27)
When you're heading abroad, even for a short trip, it can be a hassle to have to pack so many different plug adapters and chargers. They can take up precious space, especially if you're trying to pack light.
That's one reason why I'm a big fan of universal adapters and why I love the Pac2Go. It's got everything you need to travel across much of the world in one small cube. In addition to the plugs, it also has a couple of UBS ports so I can easily charge my laptop and phone or Kindle at the same time.
Who is it for? The person who wants a simple adapter that is small and works in a lot of places.
Who isn't it for? The person who is looking for a more powerful answer or use on planes (it's a tight fit).
Solid Alternative: JOOMFEEN Worldwide All in One Universal Power Wall Charger ($12). The Joomfeen model is slightly smaller and has fewer USB ports. It's a favorite of Nomadic Matt's so you know it's pretty good!
Links:
Best Small Portable Charger for Travelers: Jackery Bolt ($36)
This is another one of my personal favorites. I love my little Jackery Bolt so much I actually have two of them. Here's my favorite part of the Jackery Bolt: you don't need to haul around charging cables with you too. It has a USB micro and an Apple-compatible cable built-in.
When I'm traveling, I just toss my portable charger in my bag and I'm good to go. I know I won't have to worry about my phone running out of juice right when I'm trying to find directions or taking a good photo. Plus it's small enough to carry in your pocket if you have to.
Who is it for? The person who wants a simple adapter that is small and works in a lot of places.
Who isn't it for? The person who is looking for a more powerful option to charge bigger equipment (like a laptop).
Solid Alternative: Aibocn Mini Power Bank ($11). Aibocn will give you a solid candy bar sized charger that works with Apple products and most others for a good price.
Links:
Best Phone Charging Case: Mophie ($60-100)
Phone battery life is usually a huge concern for most people when traveling. We store so much info on our phone, everything from Airbnb entry codes to maps and subway routes. So your phone dies, you're in trouble.
If you don't want to carry around an extra charger then getting a charging case is probably a better option for you. Mophie makes one of the best on the market. It works with a bunch of different phone models and will give you a few extra hours of juice without having to carry any additional bulk.
Who is it for? The person who wants additional phone battery life without having to carry extra gear.
Who isn't it for? The person who isn't worried about their phone losing power.
Solid Alternative: Trianium Atomic Pro ($29). Trianium makes another really popular chase and charger combo for the iPhone that is less than half the price.
Links:
Best Travel Bottles to Avoid Spills in Your Luggage: GoToob+ ($25)
We've all been there. You open your luggage after your flight and suddenly you discover that you've got shampoo all over your stuff.
Awesome!
Now, couple that with TSA regulations that mean you can't travel with more than 3 ounces of liquid in a carry-on and a lot of people need travel bottles that are sturdy and comply with the law. Enter the GoToob+. What I like about these is they're soft, you can make sure you get every drop of liquid out of them.
Who is it for? The person who wants to avoid spillage at all costs and grab every bit of liquid out of a bottle.
Who isn't it for? The person who is looking for a bigger set for less.
Solid Alternative: Nalge Travel Kit ($10). Want a basic kit that is going to make sure you're covered? This one is a really good bet.
Links:
Best Water Bottle: Bindle Bottle ($35)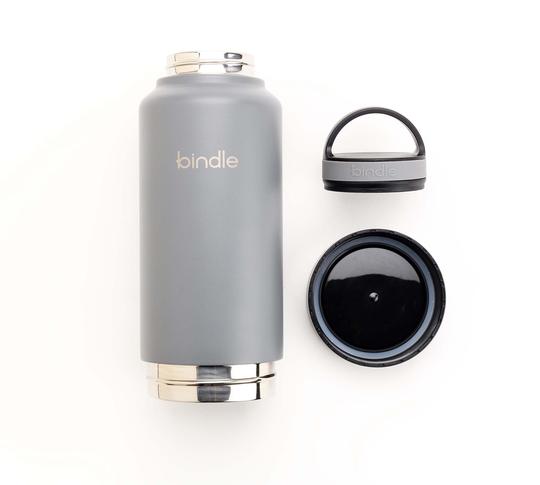 When Oprah puts something on her famous "Favorite Things" list that has to mean it's pretty good right? And yea, the Bindle Bottle is a great fit for a lot of travelers too.
It has a solid design, is PBA free, and holds up to 24 ounces of liquid, perfect to ensure you stay hydrated throughout the day. My favorite feature, though, is it has a compartment in the bottom of the bottle that you can unscrew and hold a set of keys or a bit of cash.
So if you want to head out for a few hours without a bag or you're going for a workout in a new city or off do your dodgeball game and don't have pockets, you're covered.
Who is it for? The person who wants a quality bottle that offers a little bit extra with the storage case.
Who isn't it for? The person who is looking for just basic hydration in a smaller size.
Solid Alternative: HOKLAN Collapsible Water Bottle for Travel ($16). This is a solid water bottle that's great for travel because it's leak proof, can handle both hot and cold drinks, and collapses down to a few inches.
Links:
Best Travel Coffee Maker for Digital Nomads: AeroPress ($32)
I'll admit it, I can't go more than an hour or so without my brain flashing "you need some coffee" when you wake up. But, at the same time, relying on your local coffee shop for your morning joe every day can really add up. So if you want the best of both worlds, consider traveling with your own coffee maker.
I love my AeroPress. With the travel kit, you can get the press, filters, a scoop, and everything you need in one little tote bag. It's easy to clean and all you need to get going is hot water and coffee, no plugs required.
Who is it for? The person who wants to save money and try local coffee from anywhere.
Who isn't it for? The person who is doesn't want to grind and make their own coffee at home.
Solid Alternative: Gator Pour Over Coffee Travel Mug ($17). If you prefer to have an all in one option that can also serve as a hot travel mug, this is a really popular option. I use Gator for my French press at home so I know it's good quality.
Links:
Best Minimalist Wallet for Travel: Ridge Wallet ($75)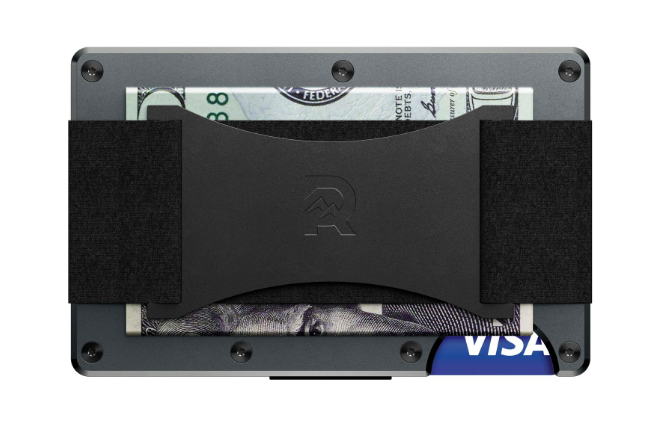 Wallets are one of those things pretty much everyone needs but they can get really bulky, especially if you're looking to lighten up and save space while you're traveling. Security is a concern too, people can track your stuff now too, so an RFID blocker is an important feature.
The last thing you want to do is just grab different cards out of your wallet and carry them in your pocket (I know this because I've managed to lose more cards than I can count doing this. So check out the Ridge Wallet instead. This is a super-thin lightweight wallet that will carry a ton of stuff and still keep a really small profile in your pocket or bag.
Who is it for? The person who wants to feel safe carrying their wallet without a lot of bulk.
Who isn't it for? The person who has a ton of cards they don't want to leave at home.
Solid Alternative: Buffway Slim Minimalist ($10). Buffway has an RFID minimalist wallet for men and women too that has a lot of the features from Ridge but comes in at a great price (only $10).
Links:
Best Laptop for the Digital Nomad: MacBook Air 13 inch ($999)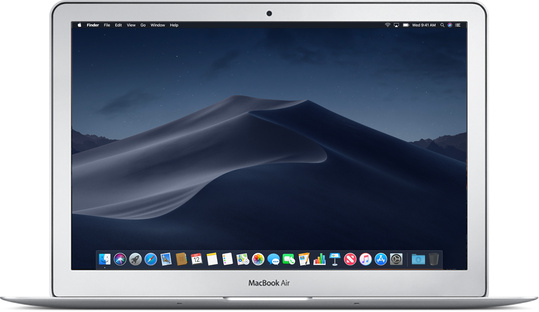 This is the laptop I use. After a few years of testing a couple of different laptops and having them go kaput after 2 years, I decided to make the switch to the 13 inch MacBook Air and I couldn't be happier.
Yes, Mac's are pricey but if you are using this every single day, you want something that is lightweight and reliable. And, with the long lasting battery power, I can head out to a cafe for a couple of hours of solid work knowing I don't have to worry about plugs (key if you're traveling out of the US and need an adaptor).
If you're looking for a splurge for the traveler in your life – you'll get major props.
Who is it for? The person who wants a reliable, lightweight laptop that just works from anywhere.
Who isn't it for? The person who is on a budget.
Solid Alternative: HP Pavilion x360. This is a 2 in 1 laptop that's lightweight, easy to travel with, and still has all the speed and features you'll need, coming in at under $600.
Links:
Best Travel Clothing for Digital Nomads: Bluffworks ($98)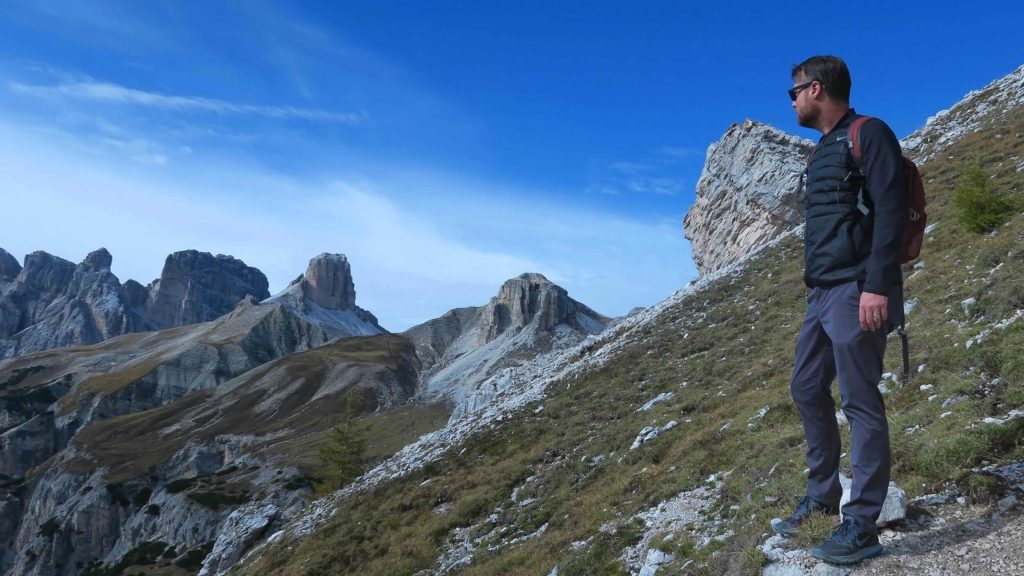 Last year, Sean spent the best part of two months traveling the world. I met up with him in New York before he took off to Europe and Asia. If that sounds like a big trip with a lot to pack you wouldn't be wrong and it can be really hard to find clothes that can be rugged and still work for grabbing a drink or a nice dinner.
Thankfully, he'd just gotten a new pair of Bluffworks pants (check out his review here). These pants are lightweight, quick dry, and wrinkle-free so they are super easy to pack. If you think that travel pants mean those zip-off khakis that scream "hey I'm a tourist" think again.
Who is it for? The person who wants to look good while traveling and not have to worry about ironing.
Who isn't it for? The person who loves zip-off pants ;).
Solid Alternative: Kentwool Compression Socks ($22). Sometimes I feel like an old man doing it, but I wear compression socks on nearly every long international flight I take. It truly makes a difference when you land, leaving your feet, legs, and body feeling more refreshed.
Links:
Best All in One Travel Shoe: Samuel Hubbard Re-Boot ($275)
Full disclosure, my dad works for Samuel Hubbard. BUT, that being said, both Sean and I rock our Samuel Hubbard boots both at home and abroad. For places that have weather that can vary (hello, Portland) these were my go-to casual shoes beyond my sneakers (yup they make women's versions too).
So what's great about these boots? They can dress up or dress down, which is really important with limited luggage space, and the Vibram soles mean they are super comfortable to walk around in all day, perfect if you want an option beyond your sneakers that won't hurt your feet.
Who is it for? The person who wants to have one quality shoe that can replace several pairs.
Who isn't it for? The person who is only interested in flip-flops (more on that to come).
Solid Alternative: Clark's Desert Boot ($130). Clark's makes another quality boot that looks good and can be dressed up or down when needed.
Links:
Best Flip Flops: Havaianas Urban Brazil ($36)
There's a reason why you will find at least a dozen pairs of Havaianas at every hostel in the world, people love them! If you're planning on spending any time at all in a tropical location, a sturdy pair of flip-flops is basically a staple item.
Havaianas give you the best of both worlds, they look good, and they are comfortable. You can wear them out and about, to the beach, and yes even double duty in the shower if you have to.
Who is it for? The person who is headed to the tropics and wants one set of flip-flops that can last.
Who isn't it for? The person who is a flip-flop hater (you'll come around).
Solid Alternative: Sanuk Men's Burm ($19). These have a little bit of a thinner sole but are still an overall solid pair of flip-flops that will last you a while.
Links:
Best Airport Lounge Pass: Priority Pass ($299)
Have you ever spent time in a really nice airport lounge? Remember how sad you were to go back to the land of miles of those uncomfortable seats and 17 people fighting over one outlet?
It was not quite as fun.
That's why if you want to splurge and take advantage of everything a high-quality lounge has to offer, you should check out Priority Pass. This level will give you 10 free passes, so if you travel somewhat frequently throughout the year that can be a lifesaver (especially when you hit weather delays or long layovers).
Who is it for? The person who is loves chilling in the airport lounge doing work.
Who isn't it for? The person who doesn't travel more than once or twice a year.
Solid Alternative: Dragon Pass. It's slightly cheaper ($219) than Priority Pass for a comparable plan and has a really solid app that gets great reviews.
Links:
Best Reading Material for the Road: 5 Books for the Digital Nomad
Hey you know I can't go too long in any post without bringing up books. And, since we've already got a Kindle Paperwhite on the list, here are a few books that can help you get inspired about life and maybe learn a little something too!
I could go on about my favorite books for days, but here are a few more posts you can check out on the site that can inspire some more reading choices:
Ready to Start Shopping?
Hopefully, this list can get you started and maybe even inspired to do a bit more traveling this year. You can still work from the road and be effective, thousands of people who are doing it right now from spots all around the world.
And if you aren't a traveler but have someone in your life who is, some of these digital nomad gifts can be the perfect present this holiday season!
Have a favorite we missed on the list? Let us know in the comments!
More Gift Ideas