See the end of the post for the video of my marathon experience. Or just click on the link. I've also gotta give a BIG thank you to Poul Stefansen, because without him initially signing up I never would have done it. It also was great know I wasn't the only one going through hell!
Of all the things on my bucket list, there were two that I felt were going to be close to impossible:
Fly in a Virgin Galactic Space Flight (most likely actually impossible)
Run a Marathon (apparently not impossible)
On New Years Day this year, I foolishly signed up for the Eugene Marathon, thinking I'd be able to stick to a rigorous training schedule and actually finish a marathon.
I've written in the past about how I'm great at starting things, but awful at finishing them.  This was going to be my chance to change all of that.
Training lasted for about 2 weeks before minor injuries and travel got in the way and I just never got back into it.  I think I did one 8 mile run (the longest of my life) before bailing.
The date of May 1st (marathon day) was always looming out there, but I didn't think much about it.  Every once in awhile I'd go for a 3 mile run, but certainly wasn't doing any kind of training.
I finally decided a few weeks before that I'd give it a shot (after all, I'd already paid for it), except I was just going to walk it.  I even changed my bucket list last week from "Run a Marathon" to "Finish a Marathon" – finishing was good enough for me, and was still something I wasn't sure I'd be able to do.
So this past Sunday I woke up at 5am to head over to Hayward Field in Eugene, Oregon and prepared for what was surely going to be the most spectacular failure of my life.  I honestly had no idea what to expect.  I figured I'd get to around the 15 mile mark and my legs would totally give out.  I'd never walked that far before.
At 7am as I was preparing to cross the starting line, something odd happened: my ego kicked in.
For some reason I couldn't allow myself to start walking when thousands of people around me were running.
"Ok, I'll just jog the first mile.  I'll back it off from there."
4 Miles in I was still jogging.  I finally convinced myself to stop and walk for a bit, because I knew I'd never finish if I ran for more than 5 miles or so. My legs would get too sore, my shin splints would come back, blah blah blah – excuses.
Save for a period of 6 or 7 miles, I ran the entire freaking thing.
I finished a marathon.
I'm going to make a note right now that to many of you this post may sound really overly dramatic.  People run marathons all the time, and most do it much faster than I did (I was second to last in my division haha).  That said, this is easily one of the 5 biggest personal accomplishments of my life, and one thing that while I always wanted to be able to do, I truly never thought would happen.
The Best Part of it All
Here's the coolest part about the whole thing though. When I first started training my goal was to run it in under 5 and a half hours.  Not a fast time by any means, but one I would be extremely happy with if I could accomplish it.
At the halfway point I figured out that I was almost on pace to run 5:45 .  It didn't matter, I knew the second half was certainly going to take me at least an hour longer than the first 13.1 miles.  Hopefully I'd at least be able to finish in 7 hours.
At the 20 mile mark, I'd actually gotten faster.
And for the last 6 miles, I ran hard for the entire thing, save for a couple stretch breaks.
I kept waiting for the cramps, for the point where reality would set in and I physically wouldn't be able to go anymore.  It had to happen right? After all I didn't do any training for this.
When I crossed the finish line the clock read 5:34.10.
SO close, but at this point my goal was just to finish in the 7 hour time allotted, and I killed that. So I was beyond stoked.
What I forgot to take into account is that I didn't cross the starting line until a few minutes after the clock started. About 5 to be exact.
Official time: 5:29.05
As I mentioned, In January I'd set a goal of running under 5:30, after training.
Even with the lack of preparation, I still beat my initial goal. I can't put into words the emotions that were going through my head upon entering Hayward Field for the final 200 meters.  I was short of breath for the first time in the whole race.  I think it was because I was on the verge of tears, and still running.
Throughout the whole I race I imagined what it would be like to actually get there.  After all, this is one of the most storied track and field stadiums in the world, and the birthplace of Nike.
At mile 9 we passed Hayward and I couldn't figure out how there was a huge stream of people running in there already.
Oh, the half marathon.
I watched them, and could only pray I'd be able to get there hours later.  At mile 12, 18 and 23 I again got emotional thinking about it.
It was mile 15  I actually started to believe I may have a shot at this thing.  Man, it's over and thinking about it still effects me.
I achieved one of the few things in my life that I honestly thought I wasn't physically capable of.
Its experiences like this that make you realize you can do anything you set your mind to.  I can't chalk finishing up to training, being a natural runner or anything like that.  It was all mental.
I'd already had two blog post titles prepared, this one, and one that read: The Biggest Failure of My Life.  I can't tell you how happy it makes me to not have to write that second one.
How to Run a Marathon with No Training
Obviously this probably isn't something you should strive for.  After all it wasn't until 3 seconds before crossing the start line that I decided to try and run.
Bottom line, adrenaline is going to get you started and the rest is all mental.
The first 3 or 4 miles felt great.  Everyone was in a good mood, strangers were holding up signs saying things like "You're doing incredible, complete stranger".  Strangely enough, it was actually motivating. Every few hundred yards people would cheer for you by name.  Sorority girls held up signs that said "We have tequila shots at the finish line."  The point is that it was a really cool atmosphere.
It also helps that Sunday was the most beautiful day we've had all year in Oregon – I even got sun burnt.
The biggest realization I had during the whole process, and the one that led me across the finish line, was that it doesn't matter what anyone else is doing. It might have been my ego that got me started running in the first place, but the only thing that carried me from mile 4 to 26 was doing my own thing.  Running when I felt like it, and walking when I had to.
It's kind of like life. Everyone is going to have their own goals and are going to be going down their own path.  The only way to be successful is to figure out what works for you and pursue that vigorously.
By mile 15 it surprisingly was much less painful to run than it was to walk.
I found that keeping my mind occupied was also really important to success.  I realized the reason I didn't make it through training wasn't because I couldn't, but rather I just got too bored in the longer runs.  So I made excuses for not doing it.
At mile 11 I had the opportunity to turn right for the full marathon or left for the half.  I was in a giant pack and I was the ONLY one who went right.  Talk about a wake up call.  The next 5 miles I was pretty much completely on my own, I had to pee like none other, and it was about mile 10 the pain started to kick in.
There were a few thoughts that kept me going through the hardest parts:
Getting to know what it would be like to cross the finish line.
If I didn't finish, I wouldn't be able to cross it off the list, and I'd have to go through the whole thing again at some point.
The constant realization that I was doing something that I truly thought was impossible.
Those were the three things that mentally kept me putting one foot in front of another.  I also had a great playlist, got a lot of support from friends and family along the way, and really didn't want to write a blog post about being a failure.
The Whole Point
Some of you might be thinking: "Ok great, good for you, you ran a marathon, I don't care."  And that's fine.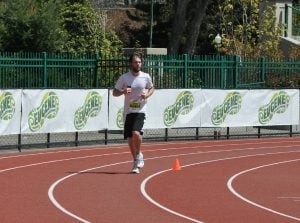 That said, you can't deny there's a lot to be learned from a story like this.  In just about anything you want to do in life, the only thing that is stopping you is yourself.  You can make all the excuses you want about circumstances or what have you, but the bottom line is that it all comes down to you.  If you want something bad enough, go freaking get it.
It may be hard. You will go through pain to get there.  You will have to do stuff that you may not necessarily want to. But if you're serious about finishing, you can and you will.
This is monumental for me, and now more than ever I believe that anything is possible.
There was a girl running in front of me in the beginning of the race.  The back of her shirt read the following:
"Life's battles don't always go to the strongest or fastest man, But sooner or later the man who wins is the fellow who thinks he can." ~Steve Prefontaine
So, do you think you can win?
Sean Ogle
Sean Ogle is the Founder of Location Rebel where he has spent the last 12+ years teaching people how to build online businesses that give them the freedom to do more of the things they like to do in life. When he's not in the coffee shops of Portland, or the beaches of Bali, he's probably sneaking into some other high-class establishment where he most certainly doesn't belong.
Learn How to Make Your First $1,000 Freelance Writing (in 30 Days or Less)
Join over 40,000 people who have taken our 6 part freelance writing course. Sign up below and let's do this together.
By entering your email address you agree to receive emails from Location Rebel. We'll respect your privacy and you can unsubscribe at any time.