When I think of travel pants, the first thing that comes to mind is an older gentleman in cargo pants that zip off into shorts.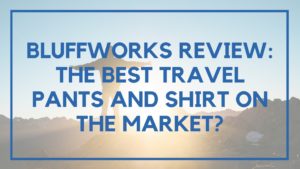 It's the ultimate kiss of death when it comes to fashion.
While I'm far from the most fashionable person in the world, I draw the line at zip-off khakis.
No matter how practical and functional they might be, I could never bring myself to do it.
While that's my own stigma with travel pants, I know there are dozens of options out there that are just as practical and don't scream "I'm a tourist" – however, I'd never looked into them much.
On trips, I'd have a few pairs of cotton shorts and a pair of jeans and generally have been just fine.
However a couple months ago I received an email from the marketing person at Bluffworks introducing me to their brand.
Bluffworks was started by a man named Stefan Loble with a goal of providing a pair of pants that would cross the divide between technical ability and durability, with office-ready looks.
What does this mean? Put simply it means they had to be:
Wrinkle Free
Breathable
Quick Drying
Friendly to the traveler in terms of features, look, and washability.
We'll see if they achieved their goal later in this review.
I'd never heard of them, but when they offered to send me a pair of pants, as well as a sample of their upcoming travel shirt – I happily obliged.
I was getting ready to embark on a trip across the world that would take put me in all kinds of unique situations:
Cocktails at some of the fanciest bars in the world in NYC.
Hiking in the Dolomites of Northern Italy
Volunteering at a panda reserve outside Chengdu China
Drinking liter after liter of beer at Oktoberfest in Munich
The list goes on.
I'm traveling about as light as I could feasibly get my bag for a 2 month trip, so it felt like a little bit of a risk trusting a pair of pants and a dress shirt to a company I'd never heard of, with clothes that I'd only get a chance to wear once before leaving on the trip.
How did my Bluffworks experiment play out? Let's find out.
Bluffworks Fit – Is It Hard to Get the Sizing Right?
As far as I know, Bluffworks entire retail presence is through their online store. Because of this, you're taking a little bit of a risk when it comes to sizing.
They have two styles of pants: Original, and a more tailored Chino fit.
The styles not only a different fit, they actually use different materials as well.
The Original has a little less stretch and has a more traditional wool-like look and feel. The Chino on the other hand is a bit more casual and has more of a cotton look.
I opted for the Chino fit in my standard 34×32 in a charcoal gray. I chose this color because I figured it would show less dirt than other options while on the road for a long period of time.
With their shirt, they had an original fit and slim fit.
This was a little bit trickier, as I had to look pretty closely with the measurements to make sure I got the right size and fit for my preferences.
I tend to go medium across the board, but often the slim fit style I like can get a little bit too slim fit and make me self-conscious.
I went with the large slim fit option and crossed my fingers.
When both items arrived I immediately took them out and tried them on.
Perfect. Fit.
I was shocked that the pants were a perfect tailored chino look that had just the right amount of room to make traveling comfortable and easy, while also looking very put together for any nicer dinners or events I might incur on the trip.
The shirt I'm pleased to say was also a resounding success – it truly fit exactly how I was hoping it to.
I wore it for a nice dinner in NYC tucked in with the chino pants and looked great. I've also worn it very casual with sleeves rolled up and shorts – and it looks just as good.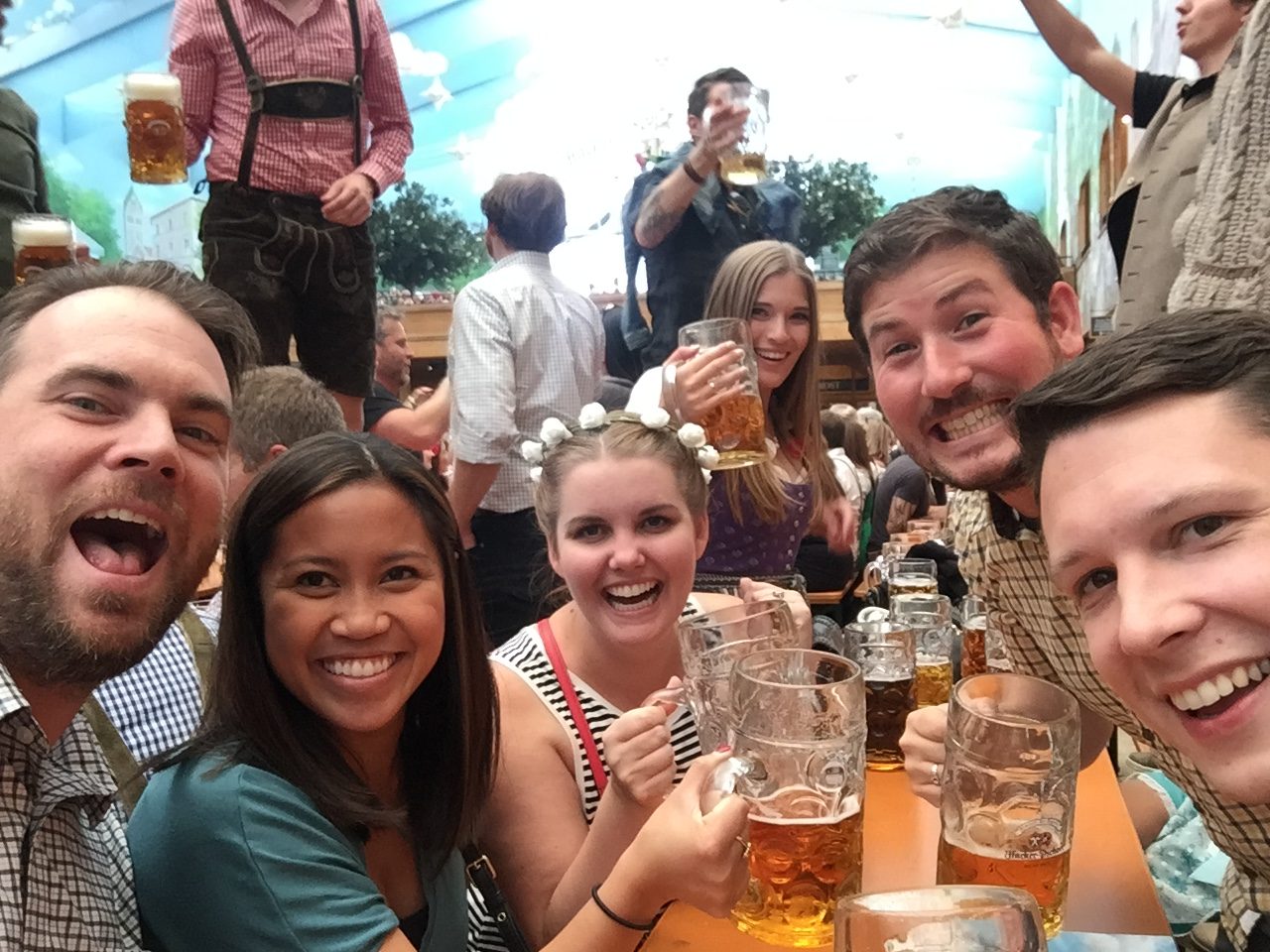 So at least for me personally? I used my best guess on the fit for both the pants and shirt and was extremely pleased with what I got.
Bluffworks Performance and On the Road Experience
As I write this I'm about 3 weeks into my trip and am currently overlooking the Rhine River in Koblenz, Germany.
I mentioned I was skeptical about how the clothes would hold up, and I can definitively say after a few weeks of wearing them on a regular basis that I absolutely love both the pants and the shirt.
Let's talk about a few features I like of each.
Bluffworks Chino Features
The Bluffworks Chino so far has handled everything I've thrown at it. While it does have a slight "tech pant" look that often distinguishes travel pants from say, Bonobo Chinos, it's really not bad, and the performance more than makes up for it.
Everything Bluffworks makes is machine washable, so you don't have to worry about doing anything special to keep everything fresh.
There are smaller pockets inside each side pocket with zippers that make them nearly impregnable to pickpockets. I've used it for coins, credit cards, train tickets, keys, or other things I'm particularly wary about losing.
The back left pocket also has a zipper, which is great for ensuring you don't get a phone or wallet jacked in a busy subway station.
Those are great, but it's the package as a whole that makes the pants so useful.
I feel like I can wear them in just about any travel situation and fit in. I can dress them up or down with ease, and after getting caught in a pouring rainstorm in Koblenz the other day they dried in minutes due to their blend of technical quick dry breathable polyester material.
Bluffworks Dress Shirt Features
When it came to the dress shirt, I had only one major goal for it:
I wanted to be able to shove it in a suitcase repeatedly, and still have it be wearable and not wrinkled to hell afterward.
To be honest, I'm not sure I've found a shirt that truly does this (even stated "wrinkle free" shirts).
I'm more than happy to report that when it comes to this test, the Bluffworks Dress Shirt passed with flying colors.
On the third day of my trip, I had a nicer dinner with some of my Eighty Club members in Manhattan. I pulled out the shirt and was shocked to see it completely wrinkle free.
Fit-wise it's almost perfect as I mentioned it before. Personally, I like the slim fit option, and it works both tucked in or left untucked. I usually roll up the sleeves, which look great (and stays wrinkle free even after unrolling!).
My only gripe about the shirt is the spacing of the top 2-3 buttons. I tend to leave the top two buttons untucked for a little bit more of a casual look. But the way the spacing works, if you forgo the top 2 buttons, you're at risk for exposing a pretty substantial amount of chest.
For many, this won't be a big deal, but I found myself caught right in between feeling too buttoned up and showing a little too much skin. Now, this is probably just personal preference, but I would have loved to see that third button from the top be about half an inch higher.
Bluffworks Final Thoughts
Overall I've been extremely impressed by Bluffworks, and upon returning home from my trip one of the first things I'll be doing is purchasing another pair of their Chinos in a lighter color.
I also like that they have free shipping and exchanges in the US. Any time you're ordering something needing a specific fit, the internet can still be a bit of a crapshoot – but they make it super easy to ensure you're getting exactly the right style and fit for you.
As I write this Bluffworks has recently launched their Kickstarter for the new dress shirt, so if you've been looking for a flexible travel dress shirt, and are interested in what I've written about above – I definitely recommend backing the Kickstarter and picking one up at a nice discount.
You can buy the pants on their website here, and they also have a travel blazer that I have yet to check out personally, but I've heard rave reviews from friends.