Note: This post has been updated as of September 2017.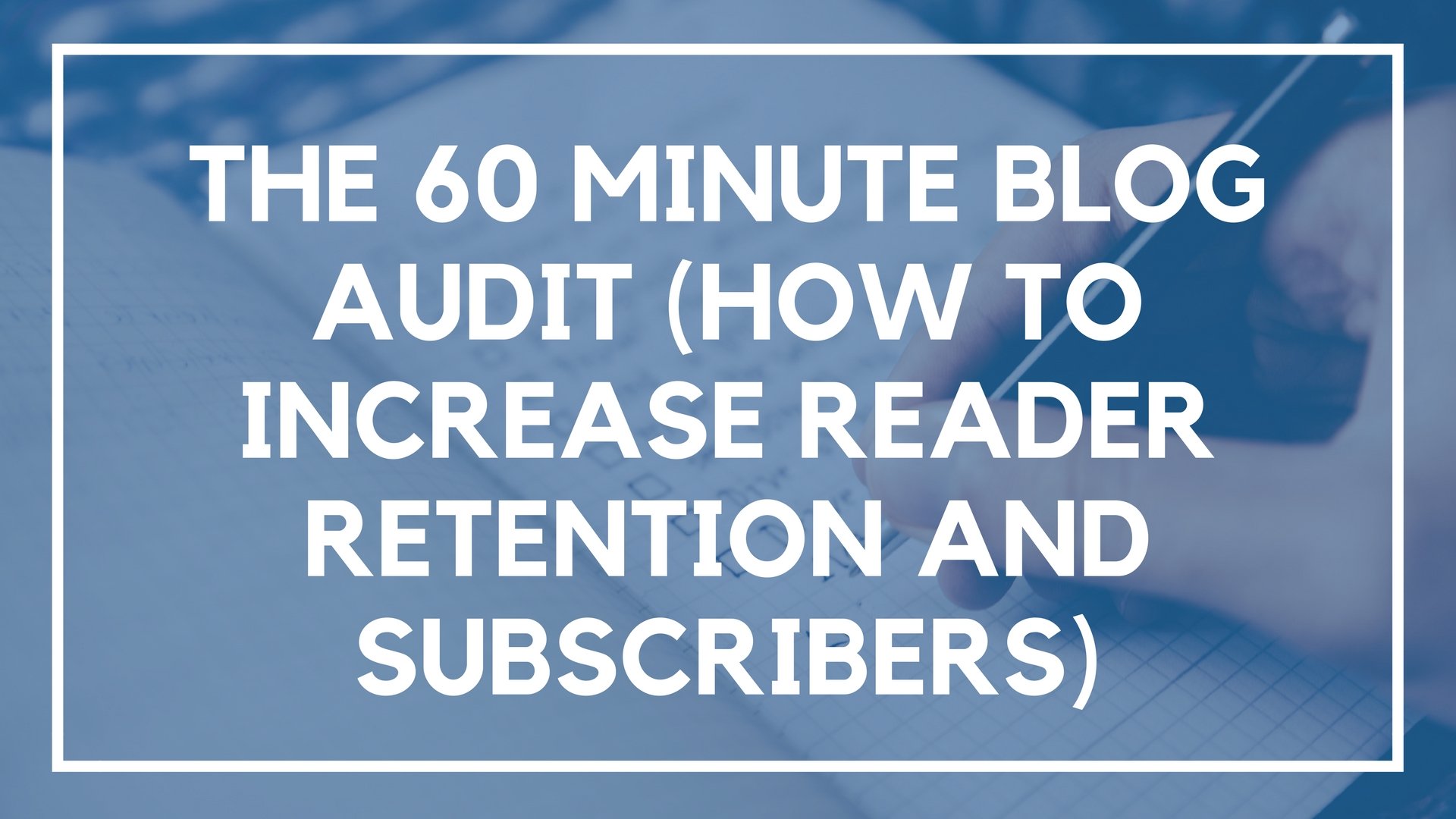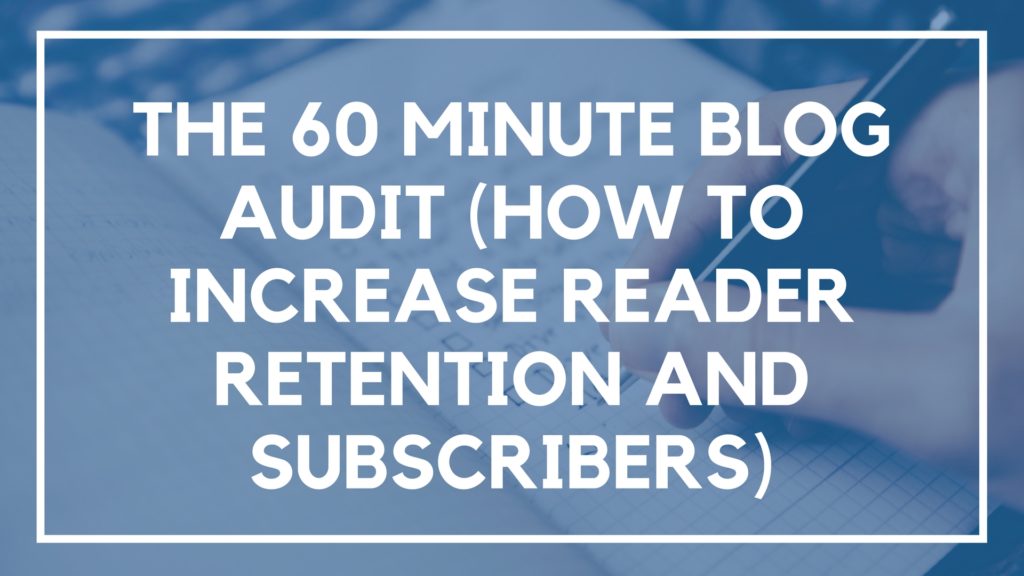 I've seen a lot of crappy blogs
No really.
I hate to say it, but I get a lot of emails from people asking me to check out their blog and give them feedback on it.
I do my best to be kind and respond with some tips, but I've found that without fail, almost every single time I'm giving the exact same advice.
Now, I may not have the world's best blog, but I've worked with a lot of Location Rebel members and others to help them position their blogs in the best possible place to be successful.
"What do you mean you need a tagline?!"
"Oh, I need a photo on my about page?! Says who?!" 
"Wait, people won't sign up for just email updates?"
These are all mistakes I've made and I still see people making even today.
So in order to save myself a lot of time (yeah, I'm selfish like that), as well as hopefully help you improve your website, I've put together this 60-minute blog audit.
This is the exact process I go through every time I look at someone else's site.
It may take you longer to actually implement changes, but by addressing some of these key sites attributes you should be able to encourage more interaction, subscribers, shares, and in turn have more success in whatever form you quantify it.
Before We Get Started:
Get out a piece of paper, Evernote, a word doc or whatever it is you use to take notes. At the end of this post, you'll have the option of downloading my blog audit checklist which covers these steps in checklist form.
Here's the cheat sheet for those of you too lazy to read the whole thing (although I really encourage you to spend more time and read each section). It's broken down into ten simple questions:
Do You Have a Professionally Designed Logo?
Do You Have a Clear Message (or Tagline)?
Do You Have an About Page (and Has it Been Updated in the Last Year?)
Is Your Email List Set Up?
Do You Have a Killer Free Offer to Get People to Opt-In?
Do Your Headlines Suck?
Are You Communicating With Your Subscribers?
Are You Writing for the Reader, or Yourself?
Are Your Posts and Pages SEO Optimized?
Are You Leveraging Social Proof?
For the things that need work, take notes based on my recommendations. When you're done, sit down and start going down the list, making improvements where necessary.
Over time, you'll be amazed at how a few small changes will increase just about every metric you have for blog success.
Ready? Got your blog open? Note taking device?
All right, let's do this.
Question #1: Do You have a Professionally Designed Logo?
Have you actually got a real logo designed for your blog?
Or do you still have the stock text that you entered into your WordPress backend that looks like this:
Having a well-designed logo does a number of things:
It proves that you're taking this website seriously, which in turn will make people take you seriously
It helps define what your site is all about (more on that in the next item)
It establishes clear branding, which will make you stand out from the other 100 million blogs out there
Notice how a good logo just conveys a better sense of professionalism:
It's not difficult to get a logo designed.
Check out sites like Fiverr and Design Hill. For less than $100 you should be able to get something well thought out and specific to your goals.
Question#2: Do You Have a Clear Message (or Tagline)?
One of the worst things that can happen is someone lands on your site and have no idea what the hell it's about.
Here are a few things to keep in mind:
A first time visitor should know what your site is about in 3 seconds or less: People have short attention spans these days, don't make them guess, make sure they know exactly what they're going to get by coming back to your site week in and week out.
Can you summarize your site in one sentence? "Location Rebel helps people build businesses that they can run from anywhere in the world." While there is a lot more to the site than that, it offers a very clear and descriptive starting point. Get your summary down and then translate that into your message or tagline.
Does your current tagline reflect what your site is actually about? Often brands, blogs, and businesses change. Have you kept your brand consistent with the changes you've made in your business?  If you've changed course at all recently, make sure everything is still consistent.
When you're getting your logo done you should also consider whether you need to add your tagline into the design as well.
I see so many people make mistakes with their site taglines.  They get too cute with it, and in turn, tell the reader nothing about what the site is actually about.
So, do you have a descriptive tagline or message? Do you even have a message? If you answered no to either of those questions you should fix this asap.
By considering these issues with your site's tagline, it will keep first-time visitors more engaged, and make it much easier for people to describe to others what your site is all about. After all, if you can't describe what you do in a single sentence, how the hell is someone else supposed to?
Question #3: Do You Have an About Page (and Has it Been Updated in the Last Year)?
Remember how I said a first time visitor should know exactly what the site is all about in 3 seconds or less? When you do this it gives people a reason to want to stick around and keep reading.
Another way to help ensure that happens is to have a great about page.
After your homepage, this is often the next thing readers will look at and oftentimes, it's what will make them decide whether or not they should stick around and listen to what you have to say.
You don't want people searching all over the place to figure out who you are. YOU are the most important component of your website.  Most of the people who read Location Rebel do so because they've felt some connection or interest in me – the advice and everything else is just bonus.
People follow personalities, and you want to make sure yours shines through.
Some tips for crafting the perfect about page:
Do you have a clear photo? Can't reiterate this enough. Make sure people can actually see who you are. I can't stand going to a new site and having to search everywhere to figure out who the author is. You want to make it as easy as possible to form a connection with your readers.
Does it invoke curiosity or relate-ability? Those are two keys to a good about page. It should either have them saying "Oh, that sounds like me." OR "Oh, this is interesting, I want to learn more." You'll see with my about page I go deep into my story, which a lot of people can relate to.
Do you offer a solution? People read blogs because they either want to be entertained or get solutions to their own problems – and usually both. Does you about page do either of those things? Entice with an interesting story, and an offer to help. How does your bio do those things?
Do you have a video you can use? While not necessary, the more information you can give to new visitors the better. When I updated the site here at LR, I made sure to include The Desk Video so people can clearly see who I am and what the site is about in just a couple of minutes.
Do you make it clear where else they can find you? This is a great time to tell people about other projects you have. Maybe it's a product, social media account or additional website, if you've grabbed their attention, they'll often be looking for more from you.
Make yourself stand out: This is your chance to really grab their attention. Do you have some entertaining facts you can share? A funny story about how the site got started, perhaps? Get creative and make yourself stand out.
Don't forget to add an opt in: If people are looking for more information, they might also be really interested in signing up for updates directly, so make sure there's an opportunity for them to sign up for your email list.
All too often I see vague about pages with no real information on the author or the blog, which completely defeats the purpose of having it there.
My about page is one of the 5 most visited pages on my site, so people are obviously curious. Make sure what you're telling them is an accurate portrayal of what the site is about.
Has Your About Page Been Updated in the Last Year?
You change. Your business changes. What you're offering evolves. You about page should always reflect where you're at currently in your business.
I've visited sites before where their about page does not relate at all to the rest of their site. This can really be a red flag to people, especially if you're offering services on your site.
Would you want to work with someone who can't even get their message right on their own site?
Didn't think so.
This timing isn't an exact science, but schedule time in your calendar six months to eight months from now (if you're brand new to this) and a year from now (if you're more experienced) to revisit your about page for updates.
Question #4: Do You Have a Your Email List Set Up?
Whoo, this is one I see all the time. I don't care how new or fresh your website is, you need to have your email system set up from the very start.
Don't wait on this.
There are two main reasons behind it:
It's way more professional. If you're looking to work with a client, what email is going to make a better impression 

[email protected]

 vs. 

[email protected]

?
You want to start collecting emails from day one.
Sure, you likely won't get a rush of subscribers in the first few months, but with email, it's all about consistency. You want to work on building that relationship that grows over time.
We use ConvertKit at Location Rebel, but you can also check out email service providers like MailChimp and ActiveCampaign.
So don't skip this part.
If your site is already up and running you need to get your email marketing set up right now. If you don't, the next step is going to cause you some problems because it's all about getting more people to sign up for your email list.
Question #5: Do You Have a Killer Opt-In to Incentivize Readers?
I've covered the importance of this in a couple blog posts, including:
Bottom line, email is the best way to communicate, build relationships, and sell to your audience. But they aren't just going to sign up because there's a box there for them to do it – there has to be an incentive.
Your list is also one of the few true assets you have for yourself online. Google can strip your search rankings or toss out your RSS subscribers, but your list is yours, and even if everything else blows up, not all is lost.
Consider the following points when crafting your offer:
Are you Actually Providing Value? A catchy headline with subpar content isn't going to cut it. Sure you might drag a few people in, but they'll likely unsubscribe and the buzz will never be generated. I think of it like this, what would a paid product look like in the niche I'm going after? I make notes, create the product(s) and give it away for free.
Do You Make it Easy to Sign Up? Do you have a box after every post? Is there a clear place to sign up on your sidebar? Are you leveraging a popup or welcome mat?
Is it relevant? If my site is about building a business and my opt in is all about taking better photos there is a huge disconnect. Make sure you're offering the right incentive to the right audience, otherwise it will conflict with your brand recognition and keep people from signing up – or worse, not coming back to the site.
This is the place where you are really going to start building a connection with your readers. Make it easy and a no-brainer for them to sign up for more from you.
Question #6: Do Your Headlines Suck?
One of the most important things I've done for my business is improving my copywriting. It doesn't matter how good your content or website is if you can't get people to go there in the first place.
So how do you do that?
You have to garner attention with solid, descriptive, headlines.
It doesn't matter if people see it via social media, in search results, or as a link from another site if you don't have a way to hook people in.
Review your blog headlines and ask yourself honestly, "if I saw this on Twitter from someone I didn't know, would I click on it?" If the answer is no more than 50% of the time, then you should probably re-evaluate what you're doing.
My friend Dane Maxwell once told me the most useful piece of advice I've ever received as it relates to copywriting. He gave me his formula what he calls his instant clarity headline, and it looked like this:
End Result Person Wants + Specific Timeframe + Objection Handled
Offering one of those is a good headline.
Two is a great headline.
All three is an irresistible headline.
For instance, on my Location Rebel Academy sales page I've used the headline: Make $1,000 in Extra Income in Three Months (Even if You Still Have a Full Time Job).
Result: Make $1,000 in Extra Income
Time Frame: 3 Months
Objection: "Does this work if I still work full time?"
Headlines are more important the actual blog post the or page itself, here are some other things to help:
Grab Jon Morrow's Headline Hacks: He put together an ebook of the 52 best headlines of all time. Really useful if you run into a block trying to create better headlines.
Split Test: I've used Visual Website Optimizer to split test a couple different alternatives. One test improved my opt-ins for Location Rebel by 88%. Also, as you begin to see what works well, you can emulate it with future posts and content.
Practice, Practice, Practice: Yup, that too. The only way to get better at copy is to practice copy. An easy way to do that is to come up with multiple headlines for every single post and see what resonates.
When In Doubt Use What Works: 9 out of my 10 most popular posts ever started with "How to." Lists are also incredibly effective to get click throughs. For instance, a few years ago this post: 10 Things You Can Do Today to Start a Lifestyle Business (Even if You Have No Ideas) led to my highest traffic day of all time.
If you're only spending 5 seconds to come up with a headline you're doing something wrong – put serious consideration to you post headlines and why you're choosing them.
Here are a couple of good tools that can help you improve your headlines:
These tools aren't the end all be all, but they can help you spot some patterns and come up with better headline ideas.
Question #7: Are You Communicating with Your Subscribers?
Your blog should be a way to facilitate relationship building, and the more you treat it as such, the more successful you'll be.
How are you engaging the people who are reading your site? Are you responding to their comments? Answering their emails? Does your email series encourage them to actually engage in a conversation with you?
If not, you should seriously reconsider how you're approaching this.
The bottom line is, if someone signs up for your email list and then doesn't hear anything from you until you decide to send them some pitch to buy a product, they aren't exactly going to be very receptive, are they?
Here are a few ways to increase communication with your subscribers and build relationships not just fans:
Create a Newsletter: I send out a weekly newsletter that covers happenings on the site, big wins from Location Rebel members, and other cool things I've found throughout the week. Send it on the same day or date, so people learn to expect it and there's always an open line of communication if someone has a question about any of the content.
Don't Take Everything Personally: When you begin communicating more, there will be people who don't like it. They'll view it as spam no matter how high quality the content is. Don't take it personally, they aren't your target audience anyway.
Ask a Question: As soon as someone signs up for your email list, ask them to respond to you with the answer to a specific question. This is the best thing I've ever done to get to know the people who read Location Rebel.
As soon as you make the transition from thinking of your fans as statistics and begin to look at them as real people that you want to get to know everything changes.
Question #8: Are You Writing for the Reader, or Yourself?
This is a tricky one, and something I've definitely struggled with.
You need to decide if your blog is going to eventually be a business or if it's simply something for you personally.
If it's just a way for you to write and tell friends and family what you're up to, then by all means, write about whatever your little heart desires.
However, if you're trying to garner a larger audience and build a business out of your website you need to stop writing for yourself and start writing for the reader.
This is a fine line.
You have to be interested in what you write about, willing to share about yourself and be vulnerable, but in the end, most of what you write needs to have a takeaway and value for the reader. Otherwise, they'll go get the information they're looking for somewhere else.
Why do you think articles that start with "how to" are so effective?
Anytime you can teach someone how to do something there's tangible value. Sure you may love writing your travel stories, and there will be people that like to read them, but you need to make sure the overwhelming amount of your content has something of value for everyone else.
A big part of this is creating a target persona you want to write for. When you do this it's a lot easier to know what to write about because you're writing for that person rather than picking ideas you think might work out of thin air.
Check out a post like this that will help you get started with creating customer personas.
A couple things to keep in mind:
Have a Clear Reader Takeaway for Every Post: While I was writing this post at the top of my screen I wrote this: "Goal for audit: Help people improve their reader retention, build stronger relationships, and in turn become more profitable by making these small changes to their blog."
Are you venting? There are a LOT of times I want to write about a time I got screwed or when I wanted to vent my frustrations. There's a right and wrong time for this. These posts have the potential to bring a ton of traffic, but only if you're venting about things relevant to everyone else. Venting about my nightmare at the DMV? Bad vent, no one cares. Do that on Twitter. Good vent? "Why America Hates Everything But the Status Quo." Hehe, I enjoyed writing that one.
Can You Share Someone Else's Story to Get Your Point Across? I should do this more. It's one thing to use yourself as an example over and over, but if you can use case studies or tell the story of how other people have had success (or not) with your topic of choice, it can help make the concept more relatable on a broad scale.
Think about why you're writing.
If you're still writing for yourself, it'll be hard to garner the attention that you're looking for.
Question #9: Are Your Posts and Pages SEO Optimized?
While writing for people is the key, you also need to know how to get your posts and pages SEO optimized so your stuff gets found online.
If you need a crash course in SEO, check out this post where we cover all the basics.
You want to apply simple SEO optimization to your posts and pages. Don't skip this part either. If you've got a site up and running, be sure to go back and at the very least fill in the keyword and meta description for every post and page.
As you move forward but sure you do the following for every new post or page you create.
Here are the basics to check to ensure SEO keyword optimization for your posts and pages:
Keyword in the title
Keyword as a subheader
Keyword in the actual content
1-2 related keywords in the post as well
Keyword in the alt description of an image in the post
Keyword in the meta description
As you get more comfortable with keyword research, get to know your audience better, and write more, this will all become second nature.
And, obviously, it's a lot easier with one of the SEO plugins installed. We recommend either Yoast SEO or All In One SEO if you're using a WordPress based blogging system. Then you can see at a glance if your SEO meets all the requirements for good optimization.
Question #10: Are You Leveraging Social Proof?
Everyone loves to jump on a bandwagon.
If you've had some big wins or been featured in other places around the internet, you should make that known! Do you have 10,000 Facebook fans? 30,000 RSS subscribers? Featured in Forbes?
Those are all things that should be advertised.
Even if people don't want to, they will still look at that and say "Oh, if so many other people think this is good, it must be."
If you only have 20 Facebook fans, five email subscribers, and a brand new site, it's usually best to wait on displaying numbers. However, you can absolutely start displaying places you've been featured in, guest posts, and testimonials, for example, from the very start.
Here are a few ways you can leverage social proof:
As Featured In: Create a homepage image or sidebar ad with an "as featured in" title with the logos of all the places you've been. Instant social proof. Take this a step further by including a press page with links to the various posts.
Social Media Shares: Get your social media profiles up there too. Don't have a ton of shares or followers (yet) that's ok, try highlighting things like "Twittermonials" or other social media comments where someone highlights how much they love your stuff.
Make the Effort: Usually getting big media mentions isn't something that just happens, especially not in the beginning. Be proactive and reach out to various sites and give them a compelling reason to tell your story for you. Here's a strategy that works beautifully.
Social proof can be one the most powerful positive forces on your blog. Assess where you can leverage this, and if you're at a place where you can't – then make more of an effort.
So How'd You Do?
The key things in this article are some of the biggest mistakes I see bloggers make.
No one is perfect, but if you make some small changes based on this audit you'll have the potential to see a huge shift in the direction of your website over the coming months.
Now, ready for the checklist? Get it by signing up in the box below. And, bookmark this page so you can come back to it each year.
Sean Ogle
Sean Ogle is the Founder of Location Rebel where he has spent the last 12+ years teaching people how to build online businesses that give them the freedom to do more of the things they like to do in life. When he's not in the coffee shops of Portland, or the beaches of Bali, he's probably sneaking into some other high-class establishment where he most certainly doesn't belong.
Learn How to Make Your First $1,000 Freelance Writing (in 30 Days or Less)
Join over 40,000 people who have taken our 6 part freelance writing course. Sign up below and let's do this together.
By entering your email address you agree to receive emails from Location Rebel. We'll respect your privacy and you can unsubscribe at any time.