So, you're thinking about changing your domain name, huh? Well, get ready for quite the ride.
Making a domain name change is actually pretty straight forward for the most part – but there are a lot of little things you need to consider in order to make sure that you don't hurt your search results and that current readers or customers aren't caught off guard.
In this post, I'm going to share with you all of the lessons I learned when migrating locationrebel.com to locationrebel.com and also give you the basics for how to actually change domain names.
Why Change Your Domain Name?
Before we go any further, we should look at reasons why (or why not) to change your domain name.
For me personally, it was a branding and business management issue.
I had two websites that had similar names, and are doing similar things.
Location 180 (locationrebel.com): This was my blog. This is where all of the free content lived, and we had nearly 600 blog posts and pages of content. You can still find all of those posts here.
Location Rebel (locationrebel.com): This was our flagship product. So Location 180 basically created leads for the course/community now known as Location Rebel Academy.
When people asked me what I did, or what my business was named, I never quite knew how to answer.
On top of that, the branding was inconsistent across both sites, which often led to confusion between readers and customers.
So in my case, the reason we changed domain names was to create a better user experience for both my blog readers and Location Rebel Academy members, while also creating a stronger brand in the process.
A few other reasons to consider changing domain names:
You want to change from yourname.com to more of a brand (or vice versa).
Your company or business name has changed.
Your website has evolved to talk about something else than it did initially
Obviously, there are any number of reasons to make this change, but I would make sure you have a really good reason for doing it, as the process can be quite complex.
Even if the actual switch itself can be done in a matter of minutes, there are are a lot of variables to consider before flipping the switch.
We'll cover those in our best practices section below, but first, let's take a quick top level look at what you actually have to do in order to change domain names.
How to Change Domain Name: Quick Start
Step 1: Decide on the new domain, and buy it.
This one is pretty straight forward. If you're going to switch to a new domain, you need to own a new domain!
Step 2: Do a full analysis of your content, and make sure it is optimized for search engines.
The last thing you want is to spend weeks optimizing your content after the fact. The better shape your content is from a quality and SEO standpoint beforehand, the easier the transition will be, and the less the impact will be on your search results.
This is a great free resource for making sure your content is in good shape.
If you have a larger site, I'd recommend picking up a service like SEMrush for at least a couple months to do all of the initial and post site analysis to make sure nothing weird is going on. Here's our full SEMrush review.
Step 3: Back up your current website
The process shouldn't be too big of a deal, but just in case something goes wrong, make sure you've got a full backup of your current site and it's settings.
If you use WordPress then I'd recommend this plugin for backups.
Step 4: Create 301 redirects using .htaccess file and upload.
The most crucial part of switching domains is learning how to setup proper 301 redirects. 301 redirects are permanent link redirects that tell forward visitors to old pages to the correct new pages.
More on the different types of redirects here.
Here's a rundown of what a .htaccess file actually is.
And we'll cover specifics of how to create your .htaccess file below.
Step 5: Tell Google you moved
Once your site has been properly redirected to the new domain, and you've done a site audit of the new site to make sure everything is good, you'll want to go into Google Webmaster tools and tell it that you've permanently changed the domains.
Here's how you use the Change of Address Tool
Step 6: Enjoy your new site!
That's it! Pretty simple, right?
Ok, obviously that was a very broad overview, but never fear. Below we'll go into more detail about some of the steps for changing your domain name, give you some best practices to keep in mind and learn about what went well, and what didn't when we changed our domain name and changed our hosting here at Location Rebel.
Learn How to Make Your First $1,000 Freelance Writing (in 30 Days or Less)
Join over 40,000 people who have taken our 6 part freelance writing course. Sign up below and let's do this together.
By entering your email address you agree to receive emails from Location Rebel. We'll respect your privacy and you can unsubscribe at any time.
Changing Your Domain Name: Best Practices
1) Educate Yourself in SEO and the Process of Changing Domain Names
I know many people who have migrated hosting accounts or changed domain names on their own – and were totally fine. But if you aren't careful, you could risk having a dip in search traffic, having confused visitors, or much worse.
Reading this article is a great start, but to truly make sure you know what you're doing, I would brush up on some of the essentials of SEO, 301s, and on-site optimization.
Here are a few resources I'd recommend starting with:
2) Hire an SEO Expert
Ok, now that you're getting up to speed with the fundamentals of SEO and the migration process, I'm going to give you a very important piece of advice:
Hire an expert that has done this before.
When it comes to SEO I'd say that while I'm certainly no expert (anymore), I know more than the average person.
It's because of this, I was smart enough to hire someone who has done migrations just like mine hundreds of times before.
If your site is brand new, without much content, and without many big links or search rankings – then I don't think you have much to lose by doing the domain name change yourself.
But if you have a site you rely on as a business, then it's absolutely worth spending a little bit of money for help.
The cost of hiring an SEO expert to watch over your domain name change will vary. But I'd expect to pay around $250 on the low end, and $2,500 or more on the high end depending on how big your site is, and how hands on you want them to be.
We've had so many things come up in our migration, I have no idea how I would have managed it if I didn't have an expert handing things for me.
I used The Search Engine Shop and have been beyond impressed.
3) Think Through URL structure changes 
On my old site, I had a pretty antiquated URL structure that wasn't ideal for branding or for SEO. It looked like this: sitename.com/category/post
So this post might have looked like: https://www.locationrebel.com/change-domain-name.
Having that category in there isn't ideal.
In a perfect world, you would move over your URL structure exactly how it was. But Google is getting smarter, and as long as you do your redirects properly, you should be able to alter your URL without too much trouble (see the post on the new rules of 301s listed above, for more on this).
So think through what you want your links to look like.
These days from a search perspective, you're best off not having the categories in there.
To take things a step further, many people are seeing boosts in search results by making their entire domains https, rather than just the payment or sales pages.
If you are going to make your entire domain https after the fact, it's basically like going through the whole redirect process all over again.
So if this is something you want to do, do it at the same time you do the domain migration.
Location Rebel is built on Rainmaker, which has https built in. I literally just had to flip a switch to turn it on…once I made sure all of my redirects were properly in place, of course.
4) If Merging Sites, Make Sure Both are as Clean as Possible
This is where I made one of my biggest mistakes.
When I combined Location Rebel and Location 180, both sites were pretty messy.
We had dozens of published pages on Location Rebel that we weren't using any more.
I'd also largely ignored SEO on Location 180 for years, so we were left with a lot of loose ends that I didn't think were going to be that big of a deal until they were.
Here are some issues I ran into that you should make sure you have handled if you're looking to merge two sites:
Make sure you have meta data accurately input for all posts, including post titles, descriptions, and keywords.
Have alt information for all images (we had have nearly 4k images that weren't  aren't optimized)
Remove unwanted or unused landing pages
Make sure pages you don't want indexed are set to noindex. For instance, all of our forum pages were getting indexed, even though it was a private forum. So the content would be listed in search engines, but when people clicked, they couldn't access any real content. This is bad for SEO
Watch out for duplicate content issues. You don't want two pages of the exact same thing.
It's because of these issues I still have a lot of work ahead of me. It wouldn't necessarily have been much less work had I done it beforehand, but Google would have liked it much better if I had.
5) Monitor Everything
I have a few keywords that send me quite a bit of traffic. I'd always known they were there and maybe took that for granted a bit.
Now that we've gone through this migration, I've been extra sensitive and aware of both key terms I rank well for, as well as opportunities I may be missing out on.
When you're making a move like this, one box checked, or detail missed could be disastrous for your site.
For a month or two after the move, check in on a few key things to make sure everything appears to be in order.
A few things I'm monitoring:
Results in Google for my highest traffic key terms
Indexed pages on the new site: Do a search for "site:http://www.yourdomain.com". This is how I realized I had so many old sales pages and forum pages that were indexed.
Key terms with featured snippets: One of the best search results you can get are ones with "featured snippets." There's not much you can do here, but it's good to keep an eye on it. See example below.
Traffic Fluctuations: If your traffic totally disappears, obviously there's something wrong.
User navigation issues: With us merging two large sites with so many components to them, I was hyper-sensitive about user experience. We had some 404 errors and nav issues, that came up while monitoring our merge.
Example of a Featured Snippet:
6) Prepare for a Few Months of Fluctuating Traffic
The reality is, even if you do everything right, there's a good chance that your traffic may drop for awhile, while Google figures out exactly what is going on.
This can be pretty scary and was my one biggest fear with the move.
Think this through beforehand, and consider different ways you can drive more traffic to your site outside of organic search, and also think about marketing initiatives you can employ that might help with some lost revenue. Examples could be social campaigns, webinars, paid traffic, or email sequences.
The good news is, if you do things right, hopefully by going through the domain name change process, it forces you to think about the structure of your site, and will improve SEO over the long term.
A couple examples of things that we improved, that should lead to a traffic boost longer term are:
Making the switch from HTTP to HTTPS
Instead of having multiple sites with links pointing to each, we have one larger site. So we 301 redirected our smaller sites to the Location Rebel home page, thus gaining the links from my older sites. More links=better results.
Optimizing our URL structure
Content updates, where we're updating old content and optimizing for search
Cleaning out bloated and unwanted pages.
7) Create a Plan for Announcing to the World
While search traffic was my biggest concern with the move, a close second was how my audience was going to react to the move.
I have thousands of readers who knew me and my brand by the Location 180 name, so how would they react when all of a sudden the site was completely different?
By being transparent and rolling things out in stages, I was able to change my domain name with very few issues from an audience standpoint.
Here are some things to consider when you're creating your plan for rebranding:
Let your audience know it's coming well beforehand. I wrote this post about 3 months before I made the change.
Flip the switch a day or two before the "official announcement". This gives you a chance to test and make changes on the live site before you email your list or have a surge of traffic. Doing it during a lower traffic time, like over a weekend or at night is best.
Prepare a blog post explaining why. People may be confused, concerned, excited or any number of other emotions. Write a detailed post explaining exactly why you made the change, and specifically why it's such a positive thing. Here was mine.
Use the increased traffic and fresh site as an opportunity to engage and promote. We launched our marketplace, and used the opportunity to tell people about or new products in some of our emails during launch week.
8) Change Other Web Properties
Most likely, you're not just changing your domain name, you're changing your entire brand along with it.
So while there are obviously a lot of on site factors, there are a number of other things you'll want to change and update as well.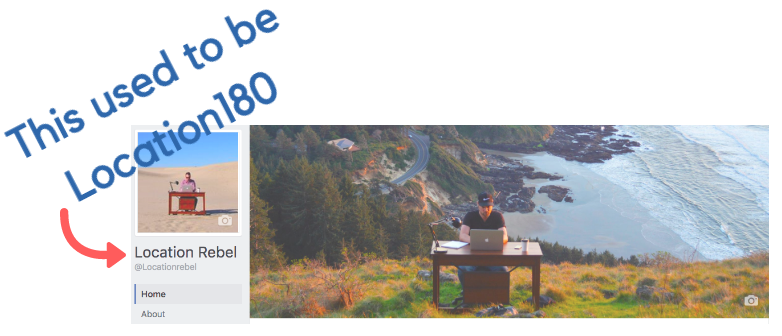 Here are just a few that we had to update:
Email addresses: Make sure you use your new domain in your signature, and in any marketing emails you send out.
Social media: You'll want to change your URLS, titles, and handles for all major social media sites, including Facebook, You Tube, Twitter, Instagram, etc.
Landing and Confirmation Pages: We had email confirmation pages that reference Location 180 or locationrebel.com email addresses.
Legal Pages: Make sure you update your privacy policy and disclaimer pages with the new brand name.
Old Blog Posts: One of the big ones for us, was going to high traffic posts and changing the references to Location Rebel to Location Rebel Academy.
9) Make Sure You Do Your 301s Properly
If you're reading this, I'm willing to bet you've never used a .htaccess file before, and probably have no idea what it is (or at least you didn't until you read this post).
Getting the actual redirect rules correct in this file is the single most important component to making sure this whole thing goes well, so if you're not 100% confident in your ability to do it, I'd look for some help.
Check out this post to start getting an understanding of what you need to do.
Questions on How to Change Your Domain Name?
Hopefully, this post helped you to understand exactly how to approach changing your domain name. It's not the most difficult process in the world, but there are definitely some small moving parts that you need to pay attention to.
Have questions about my migration? Just leave a comment below, and I'll do my best to answer!
Sean Ogle
Sean Ogle is the Founder of Location Rebel where he has spent the last 12+ years teaching people how to build online businesses that give them the freedom to do more of the things they like to do in life. When he's not in the coffee shops of Portland, or the beaches of Bali, he's probably sneaking into some other high-class establishment where he most certainly doesn't belong.
Learn How to Make Your First $1,000 Freelance Writing (in 30 Days or Less)
Join over 40,000 people who have taken our 6 part freelance writing course. Sign up below and let's do this together.
By entering your email address you agree to receive emails from Location Rebel. We'll respect your privacy and you can unsubscribe at any time.