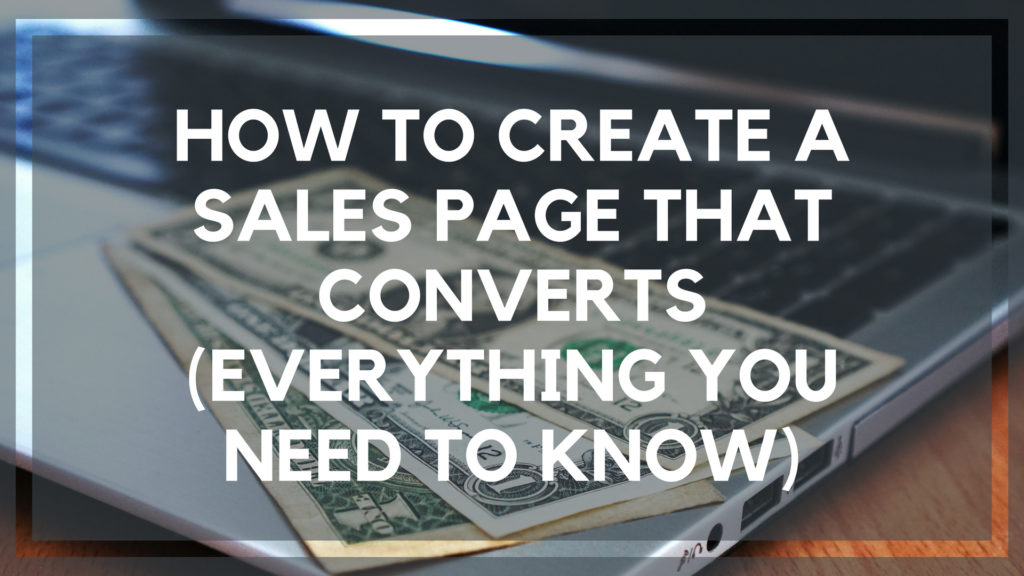 Ok, so you've got your product and service ready to go, all you need to do now is put up the offer and wait for the money to roll in, right?
Well, kind of.
One of the absolute most difficult things to do in online marketing is to write and create a sales page.
If your sales page sucks, you're going to miss out on a ton of sales. You'll pull your hair out wondering where you went wrong and why no one wants to buy.
That part is not fun.
But, if you put some time, effort, and planning into building a killer sales page it can make all the difference in the world. You'll get new customers, make money, and be well on your way to the lifestyle of your dreams.
Simple, right?
Well, not quite, but that's what this post is for. In it, we're going to share everything you need to know to start creating a sales page that converts.
This is a bit of a monster post, so you may want to grab a coffee or a beer and settle in because if you're new at creating a sales page for a product or service you're offering, this should be one of the only posts you'll need.
Here we go.
What is a sales page (and why they are important)?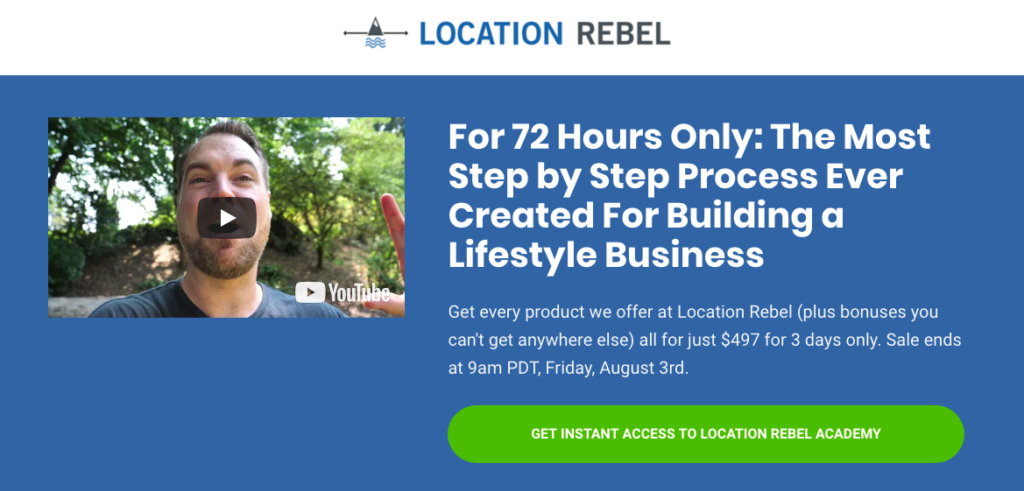 This might be the shortest definition you'll ever see in online marketing. What's a sales page? It's a page dedicated to making sales.
Yup, it's pretty much all there in the name.
What you don't want to do is confuse a sales page and a landing page since they are kind of similar. A sales page is all about getting people to buy that's its one and only purpose.
Whereas a landing page, while it also has one goal, is focused around getting people to take a specific action singing up for your newsletter or downloading an ebook, for example. Landing pages usually have short copy, a punchy headline, and some sort of opt-in feature.
Sales pages can long (like really long) or short with lots of headlines and features but the call to action is always going to be some form of asking people to buy.
Sales pages are important because every brand needs to make sales. In online marketing, sales pages are pretty much the most effective way to do that. Most people aren't going to just land on your blog and decide they are ready to buy whatever you're selling, they need a bit of convincing. That's where the sales page comes in.
A well-designed sales page gives you the chance to highlight your product or service, tell a story, overcome objections, and share the successes of previous customers all while asking for the sale.
If you want to sell anything directly on your site you need to have a sales page. And more importantly, you need to have a sales page that converts readers into customers.
How to Create a Sales Page: Before You Start
I know you're ready to put on your copywriter hat and dig in, but hold your horses for a minute. Before you type a single word of your sales page there are things you have to do first. Very important things that are going to help make your sales page better.
Skip these and your sales page is going to be clinging to a life raft before you've even started.
How to Research for Your Sales Page
Before you even think about actually creating a page, you have some research to do.
You need to know the answers to these questions (hint: the answer is not everyone):
Who is going to buy the product?
Why will they buy it?
How much are they willing to pay?
What is going on in their head while they're considering buying it?
If you don't have answers to all of these questions, then you still have a lot of work to do.
The absolute best way to get this information is to actually communicate one on one with your target audience. They are the ones that will give you direct feedback on what they're looking for that you can use to craft the skeleton of your sales page.
Here are a few places to start gathering data on your ideal target customers.
Respond to Blog Comments
The easiest way to get started with this is to find the people who are already communicating in your network. Do you have people that comment on your blog? Send them an email thanking them for the comment, and get a conversation going.
Based on their comments and your conversation, you can often get a sense of where they are in their business, what their problems are, and how you can position your service or product to alleviate their problem.
Create a document and copy and paste any specific answers they give.
So for instance, if they say something like "I'm really struggling to find an easy way to start making money from home so that I can take care of my sick grandma." you want to make a note of that.
If you start noticing a trend and everyone wants to take care of their sick grandma, then you're not going to market a product that lets them travel and go work from a beach. Even if the solution is the same, you have to market to their needs.
Solicit Emails
This is similar to responding to blog comments, but it's even more effective.
I talk a lot about how I try and start a conversation with everyone who signs up for my email list. The very first thing I send them asks the reader to hit reply and answer a couple questions.
So what you should do is figure out the most important questions you need to know about your product and ask them to answer via email. This gives you a great chance to provide personal service, help solve problems, and ultimately build rapport.

As with the responding to blog comments, copy and paste any specific responses they have that are relevant so you can refer to them later.
Start a Social Conversation
This one is easy. Are you engaging with people who follow you on social media? No? Why not?!
If you're constantly replying to comments on these social media channels, and even better, asking questions and getting responses, there's a greater likelihood they will head back to your website and engage even more by leaving comments or sending you an email.
Social networks are great for getting crowdsourced answers or little bits of information, but the real benefit is directing them back to you so they can engage in more depth.
Again take notes on relevant responses.
Check Product Reviews
If you've already got a product out there, check the reviews from customers. It can be a bit scary to ask someone for feedback on something you've worked really hard on, but you can get some invaluable information (and even ideas) from your customers.
If you haven't sold your product yet, you can do a modified version of this. Start by checking out your competitors and check their reviews. See what people are saying in testimonials and other review sites. Also, take a look on social media channels and especially YouTube, tons of people do awesome video reviews on there where you can get a ton of insight.
Again, be sure to note the comments that center around similar feelings, pain points, or solutions that you address in your product or service in your document.
Stalk Amazon
If you have a physical product to sell or even a book, Amazon can be a treasure trove of information for you. All sorts of people, including Gary Vaynerchuk have mentioned how they spend tons of time in Amazon reviews to learn more about their potential customers.
And, since millions of people use Amazon around the world, it's not too hard to find at least a few reviews on every product that you can dig through. Some pro reviewers even have contact information on their profiles so you can get in touch directly and ask for their thoughts.
To dig into reviews, make sure you look at verified reviews primarily, and then also look at critical reviews too. These might be harder to read but you can find a lot of good pieces of information there for the copy.
As with all the other research points above, be sure to keep a note of all the comments and information you want to note for the future.
After a couple weeks of doing this, you should have a big list of things people have said that are relevant to your product. This is telling you exactly how you should be marketing your product and service and gives you the direction you need to start actually writing the sales page.
How (and why) You Should Outline Your Sales Page
Writing a sales page, no matter how long, is a daunting task.
If you're doing a long form sales page then you have to find a way to take 5,000+ words and multiple elements and put them together in a coherent manner that actually sells something.
If you're going for short and sweet, then it's almost even more difficult to convey your message in a way that's visually appealing and still does the job.
This is why it's so important to have an outline. If you haven't done a good job of outlining exactly what you want your sales page to look like, then you'll lose a sense of cohesiveness, run off on tangents, and potentially get burnt out.
I personally use Evernote to outline my sales pages. I'll have one notebook for the sales page, and then notes for the following:
Bullet point outline
Key testimonials
Product Features
Photos an media to use
Content for the sales page
When I'm in research mode, I'm constantly adding to each of those so that when it comes time to sit down and expand on my outline, it's easy to do.
If Evernote isn't your thing, check out Gingko App (h/t Nick Reese), which has a cool, unique workflow for writing big projects.
Now that you have notes and everything in one place, how do you actually create the outline?
I usually start with what I want the basic format to look like, and almost always it's something like this:
Killer headline
Good lead that draws the reader in
Personal video
Relatable story
Testimonial
Buy Button
More relatable stories
Product Features
Testimonial
Buy button
More product features
Objection Handled
Buy button
LOTS of testimonials
Buy button
Video walk through
Pricing
FAQ
Buy button
Testimonial
Guarantee
Bonus
Recap
Buy Button
Now obviously that's taking the long form sales letter approach, but when you're selling a higher priced product, I've usually found that's the way to go. I also will deviate when necessary, but by starting with this basic outline, it becomes much easier to start putting together the pieces of the puzzle.
Once I've got this much then I'll break it down even further by adding bullet points. If I'm telling a story then I'll put down the key messages and things I want the reader to feel when reading.
If I'm outlining a video walk through, I'll bullet point out the most unique features I want to make sure I show.
If it's product features, I'll bullet point the complimenting benefits the reader is going to get because of those features.
Once you've got a detailed outline of every section it makes actually writing it, so much easier, because you've already thought through the most difficult part. It's also much easier to visualize the page as a whole when you do it this way, otherwise, it gets fragmented and hard to fully comprehend.
In the rest of this 7,000 word post we cover:
The six most important components of a sales page
How to write an effective headline
How to create an offer that really sells
The difference between benefits and features
How to get the testimonials you actually want
4 killer conversion boosting techniques every sales page should have
How to test your sales page
The absolute must have tool every blogger should user for their sales pages
Once a month we release a crazy in depth tutorial post which is mostly just available to our Location Rebel Academy members. Join us here.
Not totally sure you want to dive in yet, learn more and get access to our free six part series on starting a lifestyle business.
---
---
Sorry, but the full post is only available to Location Rebel Academy members.
Want to get in on the action? Click here to find out more about LRA and how to join 2,500+ people from around the world who are building their own businesses.
If you are currently a Location Rebel Academy member, sign in below.
---
---