More than 70% of the people who come to Location Rebel decide to make freelance writing their first online business.
Why?
It's the easiest way to build your income and confidence when first getting started. And it has the potential to be a very lucrative long-term, remote business. 
Don't believe me?
Ask Allison. She made over $13k in her first 7 months.
Or Samantha. Location Rebel helped her overcome some crippling fear to become a full-time freelance writer.
But before you really get going with your new business, there's one thing you should create that will make finding clients, landing clients, and getting paid much easier.
What is it?
A writing portfolio.
There are all sorts of good reasons to have a freelance writing portfolio.
Here are just a few:
Allows you to show off your writing samples to potential clients
Helps you to build rapport with a potential client
Establishes credibility and expertise.
By building the website, you'll get hands-on and learn valuable skills that will be beneficial to any online business you create
How to Create a Writing Portfolio (aka, a Website)
So another way of saying "writing portfolio" would be to say "writing website."
Alas in order to have a portfolio, there needs to be a place for your work to live, and the best place to do this is on your own website.
Don't worry, it's easier than you think to get going, and it doesn't need to be something super fancy or technical.
There are two main ways we recommend building your writing portfolio website.
1) Using WordPress
WordPress is a CMS, or Content Management System. It's free to use and is by far the most widely used CMS on the internet.
In fact, nearly 40% of ALL websites on the internet use WordPress.
That's insane.
So if it's good enough for 40% of the internet? It's good enough for you.
All of my sites are hosted on WordPress. I like it because it's great for SEO optimization, and if you want to expand in the future? There's pretty much nothing you can't do on the WordPress platform. There's also a gigantic support community for it.
To install WordPress you need two things:
A domain name or URL.
A hosting account
The best way to describe these things would be to relate it to where you live.
Your domain name is your address.
Your hosting account is your home.
For online writing portfolios, I recommend Bluehost.
Location Rebel readers get their first year for $2.95 a month and that includes your domain.
If this is the route you want to go, follow this step-by-step tutorial for setting up your website.
2) Using Squarespace
SquareSpace is a little bit different than WordPress.
With Squarespace, the hosting is done through them as part of their service.
You'll pay around $18/month for the plan we'd recommend, you'll pick your domain, choose your theme, and they have an easy and intuitive system for getting your site setup.
For a lot of people, this is a great option.
It's a little bit more expensive than using WordPress and Bluehost, I've found it isn't quite as good for SEO, and if you want to expand your site down the road, it can be more difficult to do so.
There's no wrong answer here when it comes to your writing portfolio – either will work great.
A 17 Point Checklist for Your Online Writing Portfolio
Ok, ready to create a beautiful website that is going to help you bring in new clients, and establish yourself as one of the premier players in your freelance industry?
Awesome.
We're going to focus on WordPress in this post, as that's what I generally recommend as the best starting point for most people.
1) A Premium Theme
On the surface, this is very much an optional expense.
However I've seen so many people work to create these websites, and 90% of the time, the sites that use free themes look like crap.
They are tougher to customize for beginners, and can often have the theme company's branding in various places on the site – which is a dead giveaway that you're not willing to invest money in your business – so why should a potential client invest in you?
You can get amazing themes for around 50 bucks these days, and in my opinion, it's money well spent.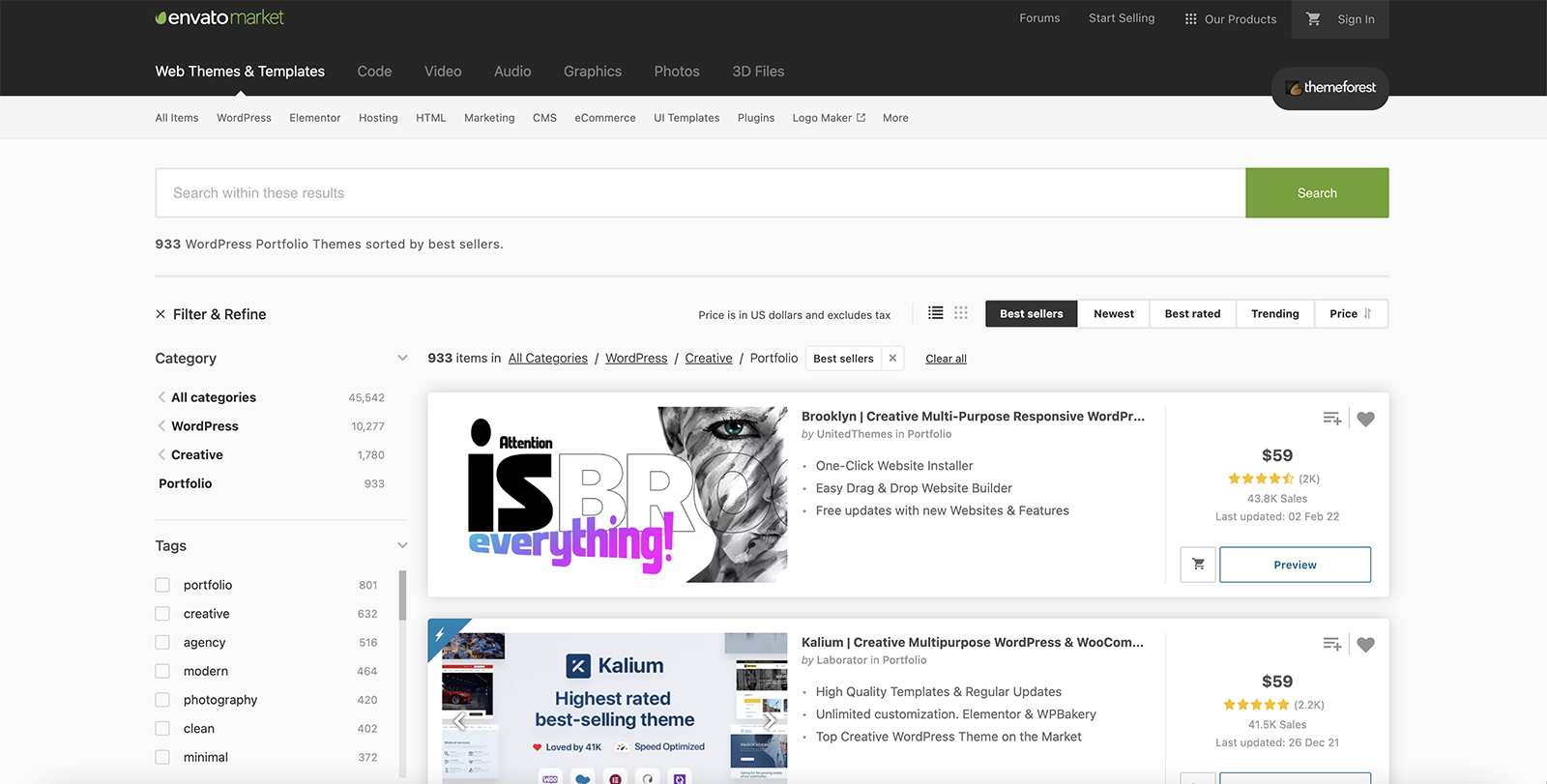 Recommendation: I tend to go to Theme Forest first whenever I need a new theme. They have a huge catalog of them, for just about any need you could have. Go there and search for "WordPress Portfolio Themes." Some will be geared towards photography or other mediums, but most you'll be able to make work for your writing portfolio.
2) SEO Plugin
What's better than finding work through friends, word of mouth, or other types of networking?
Getting a client completely out of the blue from Google. This requires no work on your part, and while it might take a while to get your site to the point where this happens, once you rank for a couple of useful key terms, it can be a great source of leads.
Worth keeping in mind, some premium themes have many SEO tools built into the theme, so an external plugin may not be needed.
Recommendation: Yoast SEO. This plugin makes it really easy to see what on-page SEO components are good, and what needs to be addressed.
3) Contact Form
This one is pretty obvious, but it's going to look more professional if you have a custom contact or quote form on your site – rather than just an email address.
To really get the most of this, don't just use the generic fields of (Name, Email, Subject, Body). Think through what information you really want to get from a potential client, and create fields for this.
The more detailed (read: longer) your contact form is, generally the higher quality leads you'll get. If someone is going to take 5-10 minutes to fill out your form and really think about what they need, they're already more committed to you.
Put your contact page somewhere prominent so it's very clear and easy for new clients to find you.
Recommendation: Contact Form 7. Many premium themes have contact forms built-in as well. Personally, I use Ninja Forms, which is a paid service, but gives you more flexibility.
4) Branded Email Address
You've got a big boy (or girl) business now, and you want people to know it.
So while you may have a sweet AOL email address from back in the day, it's best to get an email address for your domain name.
For instance, you can email me here at [email protected].
Recommendation: Zoho. You can have emails for one domain free, and this will be more secure than setting it up through your shared hosting platform.
5) Email Opt-In
No matter what you do online, an email list is the most valuable resource you have for marketing. The success of your email marketing obviously has a lot to do with the content you send to your list, but the first step is building it.
This is an absolute must for bloggers, but when handled properly, can be an effective tool for freelancers as well.
Recommendation: How to Get Email Opt Ins (With the Secret HLS Meth0d). I've used this to grow my email lists by thousands.
6) Custom Logo
This is a pretty easy one that seems like it could be really difficult and expensive.
Yes, to get a high-end graphic designer to create the perfect logo could be hundreds if not thousands of dollars.
But we don't need that. We just need something basic, that isn't the text-based logo your theme will give you. Going one step farther to have a custom logo will not only help you come across as more professional, but it will help your brand memorability as well.
Recommendation: Fiverr. You can generally find pretty good-looking logos for 20 bucks or less. Want to spend a bit more and get higher-quality branding? Try 99 Designs.
7) Explain What You Offer Clearly
The main thing your online portfolio should do is clearly explain the services you offer and any industries you specialize in. If a potential client is looking for someone specializing in designing technology websites, and this is your niche, then you want to state that clearly.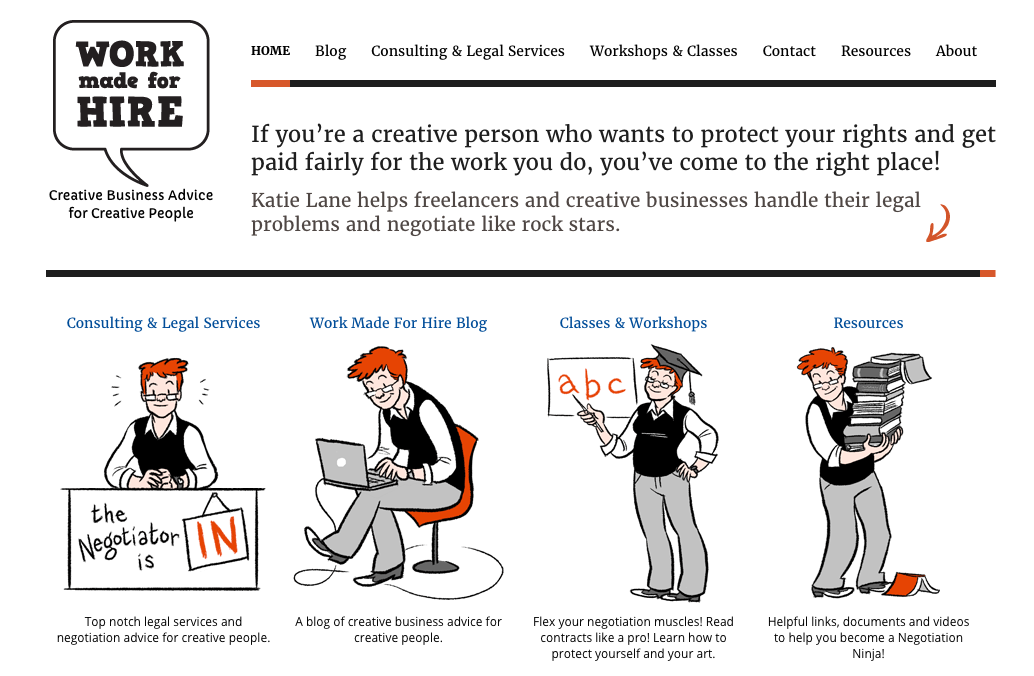 One example of a freelance site that clearly explains what it does is Work Made For Hire. This site offers advice to other freelancers, including legal advice. The site states clearly in the logo that it offers "creative business advice for creative people."
Owner Katie Lane then goes on to explain that she helps creative-type businesses handle legal problems and negotiate. There are legal services, a blog, classes and workshops, and a variety of other resources. You can access all of this very clearly from the landing page.
8) A Blog
While your site isn't a blog per se, having a blog component is a really good idea.
The way I'd incorporate a blog onto a freelance site is simply to build my perceived expertise. I'd write once or twice a month about topics within my industry.
What this does is prove that I know what I'm talking about, that I stay on top of trends, and if you're running a freelance writing business, it has the added bonus of establishing that you're a good writer.
It's also a chance to build rapport with a potential client.
Remember every single word on your writing portfolio is essentially a sample of your work. So with each blog post you create, you're just giving people one more opportunity to see that you're the right fit for the job.
Recommendation:
Now that we've got some of that setup stuff out of the way, let's look at the different content components of your site.
9) Descriptive, Catchy Headlines
You want to pull people into your site. You want them to want to read more and talk to you more.
In essence, you want them to want to hire you.
Ok, that's a lot of "wants…"
But if you don't hook them in from the beginning, there's a good chance you won't get that shot.
Most people treat headlines as an afterthought – when in reality, you should put just as much time into considering them as any other aspect of your site.
On your Home Page, you want people to know what the site is all about within 3 seconds of landing on it.
On your About Page, you want your personality to come through immediately and get people to want to read more about you.
On your Contact Page, you want them to actually take the action of filling it out and hitting send.
Think about how your headlines can help you achieve this goal.
Recommendation: I've always liked this formula:
Desired Outcome + Time Frame + Objection Handled = The Perfect Headline.
You probably can't use this whole formula for every page on your site, but it's a good starting point. And if you get even 1 or 2 of these in your headline, it's still going to be pretty solid.
Here's an example of a headline I use for Location Rebel:

Another post that you'll find helpful are 15 Types of Blog Post Titles (That Get Clicked)
10) At least Two Photos of Yourself
This is one huge non-negotiable for me.
When I'm reading a website and I can't picture the person who is talking to me, it makes it extremely difficult to have any kind of personal connection with them.
However, when you have photos of yourself, then it immediately becomes clear who is on the other side of the screen. Bonus points if you can include photos that give some insight into your personal life. Hobbies, family, etc. Anything like that makes you seem more real and approachable.
11) About Page with a Story
So along with a photo on your About Page, you should have stories that really show who you are.
If you're doing freelance writing, why are you doing it?
Are you doing it to support your thirst for adventure while you travel the world?
Are you trying to support your 4-year-old daughter?
Have you had a passion for writing your whole life, and are finally pursuing your dream of doing it for a living?
Any stories like these elevate you from a faceless company to a real person, with real goals and ambitions. A story is a powerful thing, and your about page is the best opportunity you have to build rapport with that reader or potential client.
12) Diverse Samples or Case Studies
If you're going to actually book work as a freelancer it's important to have a solid portfolio of samples of your work.
This will vary a bit depending on what type of industry you're in, but they don't have to be from actual clients if you don't have any yet.
If you're doing freelance writing, narrow down your range of services. Are you doing SEO writing? Copywriting? Technical writing?
Once you have an idea of what exactly you're offering, create a few samples for each type of service.
If you're doing copywriting, create a fake sales letter for a product you love to show off your chops. SEO writing? Pick 3-5 of the most random and difficult topics you can think of, and write 500 word articles to show your diversity.
Doing a website for your freelance SEO? Build and rank a website of your own, and point to that as an example of what you're capable of.
Or maybe you're going at it as a generalist, so you need to have a diverse set of samples in a bunch of different industries:
Many people have also done work for clients they can't talk about, so put in a little bit of extra time to create samples of your own to show off your capabilities.
13) Testimonials
This is one of the most powerful tools any person selling something has.
Usually, people are reluctant to work with someone who hasn't proven themselves. But testimonials can prove that you do in fact know what you're doing and that many people have had success working with you.
Just take Location Rebel Academy for instance. It's all of these real-world, unsolicited testimonials that really sell the course.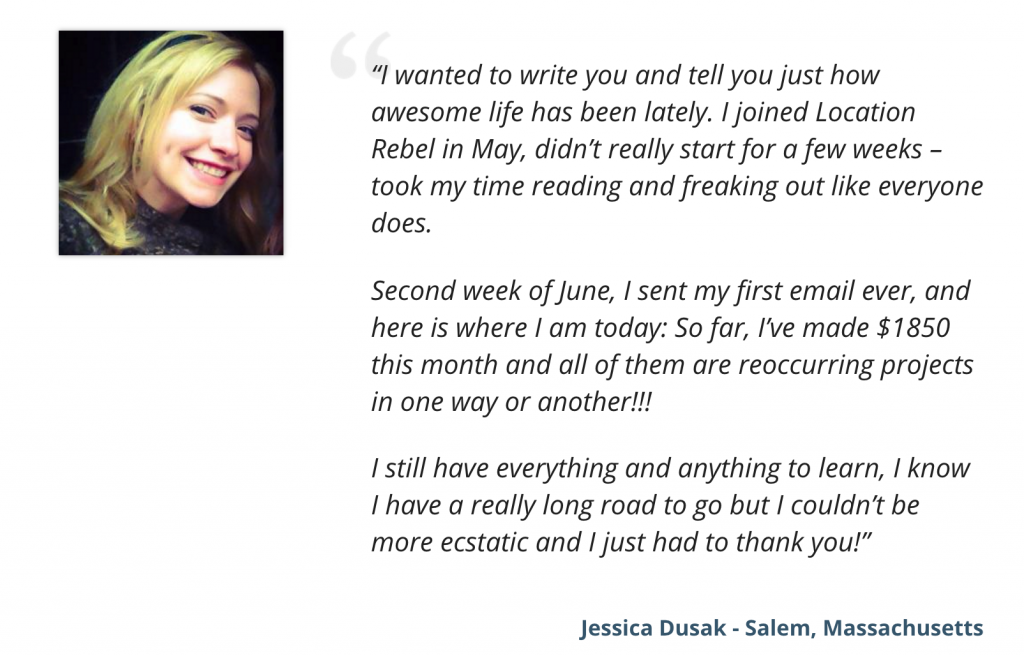 Even if you don't have true client testimonials, get 3-5 people in your life to say nice things about the work you do, your personality, or other positive traits. Those can go a long way in building your perceived reputation.
14) Rates….Or Not
There are two different schools of thought on this. One is that you should have a page where you publish your rates.
This gives people a ballpark of what they can expect to spend and whether or not they can afford what you're offering.
Other people swear that you should try and get the conversation started, sell them in advance, and if you know what you're doing, they'll pay whatever you ask them to.
For people just starting out, I personally tend to lean on the side of not publishing rates. This allows you to get to know the client and put together an offer custom-tailored to them.
But if you struggle with your sales skills, putting you rates out there from the very beginning may make it a bit easier to get a quick yes or no from potential clients.
Recommendation:
Publish rates a little bit higher than what you would typically accept. This leaves them room to negotiate a bit (especially if they buy in bulk), helps you still get your target price, and makes them feel like they're getting a good deal.
How to Set Your Freelance Writing Rates – More help on the topic.
15) Social Media Links
Each social media platform has its place. Facebook is fantastic for personal interaction. Twitter is great for getting responses from influencers. LinkedIn is perfect for making new business contacts.
Have links to each of your profiles or pages on your site, as different people like to connect in different ways. So not only is this another excellent way to build rapport with people, it might get people to interact with you that might otherwise not have.
16) A Hook
Finally, we have one of the most important things you can have on your freelance service's website: a hook.
We talked about the personality aspect of it, but what's your hook that truly makes you different?
Is it pricing? Will you create unlimited long-form sales pages for $999 each?
Do you specialize in a specific industry? Are you the premier content writer for the golf industry?
Is there a brand and personality? Do you live in some crazy place like Zanzibar and want to build a brand around that?
Have a hook that sets you and your offering apart from all of the other generic freelancers out there, and you'll see your bookings and referrals skyrocket.
Learn How to Make Your First $1,000 Freelance Writing (in 30 Days or Less)
Join over 40,000 people who have taken our 6 part freelance writing course. Sign up below and let's do this together.
By entering your email address you agree to receive emails from Location Rebel. We'll respect your privacy and you can unsubscribe at any time.
One Last Thing EVERY Writing Portfolio Should Have: Personality
For me, this might be more important than anything else on this list.
So often new freelancers think they need to be "professional."
"I've got a business now! So I should act like a business person!"
This can lead to overly formal, stodgy writing, that is full of buzzwords and lacks personality.
Bottom line, people want to work with people they like. Your writing portfolio is your chance to show off who you are, and why you'd be a great person to work with.
Don't be afraid of being a little polarizing. You don't need to be please everyone. Ash Ambirge is a great example of this. Her style won't be for most businesses. But the people it is for? They'll pay her anything.
What You Need to Think About When Choosing a Theme
I wanted to cover this in just a little more depth, because choosing a theme is often where freelancers have the biggest hang-up when it comes to creating their writing portfolio.
There are a couple of factors you need to consider when you're considering a theme. In fact, looks shouldn't always be your first thought, though it is important.
So here's what to factor in as you decide.
What's the purpose of your site?
There are thousands of themes out there, but the vast majority aren't going to be a good fit for your purpose.
If you want a theme to show off your writing portfolio, then picking an e-commerce storefront is going to make it look like a mess and not fit your needs. It might look cool, but it's going to be packed with all these random features that will just slow your site down.
You know you want a site to highlight your work as a freelance writer, so start there.
Then, now that you know the basics, you can start searching for themes that are compatible with that versus trying to jam your site into something that looks cool and has too much or too little functionality.
Right now, for example, ThemeForest has over 1200 portfolio themes.
What functions do you need?
Here's a huge secret, especially for those brand new to this…you don't need many functions on your website to start.
You don't need a million fancy features, and although they will undoubtedly look cool, you might have to trade off a steep learning curve figuring out how to make it happen.
Remember, the goal here is to get up and running relatively quickly. If you're burnt out because you're stuck on getting a slider on your website to look perfect, you're not going to have a lot of energy to get clients — which is the entire point.
So for your needs, here's what you want to look for:
Blog option
Email opt-in option
Portfolio page or option
Mobile friendly design
Don't go overboard on the functions. Stick to the basic stuff that you think you'll need. You can always go in and add stuff later in the form of plugins, but too many functions can end up being more trouble for you than you need right now.
How are your technical skills?
Now don't get nervous.
A lot of people still think that in order to get a website up and running you need to know how to code. But with all of the options today and with one-click install through your host, that isn't further from the truth.
The vast majority of you don't need a theme that's super fancy or high-tech. Avoid picking any theme that is going to require you to get too technical if you're new to it, that's just going to frustrate you.
If you are just starting with WordPress stay as simple as you can. You can always upgrade your site to a new theme as you get more experienced with the ins and outs of WordPress.
Also, look for themes that offer support with purchase. And don't be afraid to use it. You're paying for that as part of your theme, so if you run into any hiccups, reach out to the theme support team and they will be able to help you.
Is your theme easy to read?
Let's get to the basics here.
The point of your writer's website is for potential clients to have one easy place to check out your work. The vast majority of these people don't care all that much about what your theme looks like or how fancy it looks. What they do care about is it's easy to navigate and read so they can figure out if they want to work with you.
Don't make this part harder than it needs to be, if prospective clients can't read your site, they aren't going to stick around.
So look for a clean theme. A theme that's not too cluttered and is going to be distracting. It's ok for it to be simple and have plenty of white space. And it's ok for it to just be one page too, it doesn't get much easier to navigate than that!
Tips on picking the best writer portfolio sites
Now that you have an overview of the basic considerations, here are a few more things to keep in mind as your exploring theme options.
Keep your budget in mind:
You don't have to spend $100's to get a great theme, there are plenty of excellent options for a one time cost of $25-65 that will cover everything you need.
Look for support features:
Most people will need help at some point with something on their theme. Having a theme that has a great support team can make it really easy to fix issues and not suck your time. So make sure that's an option available to you.
Test the theme first:
Make sure you look at all the options the theme offers. Also, see what it looks like as a full page on both desktop and mobile bef0re you buy. Remember, most people use mobile to search sites, so if it looks like a hot mess on a phone, avoid that theme at all costs.
Google has a tool you can use to test mobile sites, check it out here.
Supports plugins:
The great thing about WordPress is all the plugins you can use for your site to tweak and upgrade it. But if you have specific plugins you know you'll want to use, make sure you check and see that your theme is compatible.
If you aren't sure or have any questions, don't hesitate to shoot a message to the theme support team or message the developer of the plugin, they can let you know.
Read the reviews:
Always take a look at the theme's reviews to see what people are saying about it. Also, look and see if people comment with questions about the theme, how responsive the theme designers are about answering them.
If you see lots of engagement with the designers then that's a good sign you aren't going to be left high and dry if you have questions or run into issues.
A Few Writing Portfolio Theme Recommendations:
Alright, we've covered a lot, but we also wanted to highlight a few theme recommendations for you to check out too.
That's not to say you have to pick these, they are just freelancing websites that meet the criteria above. When you explore ThemeForest on your own, just be sure to keep everything else we mentioned in mind as you pick and choose.
Bifrost – This has some great simple options – specifically the "Medium Blog" Template
Rosemary – A nice clean and simple site that is responsive and has a few built-in layouts.
Hyper-X – This is a theme that was specifically created for portfolio sites so it's got pretty much everything you need built-in.
Typology – This is another theme that's super simple and clean with a lot of white space but quality design and support.
Scribbler – This is one that might border on too many options. But if you choose the "Simple Blog" template, I think this could work great as a portfolio site to show off your samples.
Sean Ogle
Sean Ogle is the Founder of Location Rebel where he has spent the last 12+ years teaching people how to build online businesses that give them the freedom to do more of the things they like to do in life. When he's not in the coffee shops of Portland, or the beaches of Bali, he's probably sneaking into some other high-class establishment where he most certainly doesn't belong.
Learn How to Make Your First $1,000 Freelance Writing (in 30 Days or Less)
Join over 40,000 people who have taken our 6 part freelance writing course. Sign up below and let's do this together.
By entering your email address you agree to receive emails from Location Rebel. We'll respect your privacy and you can unsubscribe at any time.