So you want to be a copywriter.
But, you keep running into one big roadblock — you don't know how to get started with copywriting. And then, there's that other matter of experience.
You don't have any.
Isn't that kind of a big deal when it comes to becoming a copywriter?
Well, yes and no.
Just like any job out there, experience matters. But that doesn't mean that you're going to be stuck in a never-ending cycle of trying to figure things out. The truth is, you can get started as a copywriter, even if you don't have any experience.
We're gonna show you how.
Consider this post a step by step guide to learn what is copywriting and how to become a copywriter.
Ready to dig in?
Let's do this.
Is video is more your thing? See the video version of the post, right here. I'm pretty proud of this one 🙂
What is copywriting?
Ok, let's start with copywriting for beginners.
So what does it mean, exactly?
Copywriting is the art of using persuasive words to get someone to take an action. Examples could be buying a product, clicking an ad, or subscribing to a mailing list.
Companies put out a ton of content every day. You've got blog posts, ads, sales pages, maybe podcasts or tv and radio ads, emails, flyers, and social media posts.
A lot of that stuff is often created by a copywriter
Most people think that copywriting is something like a long-form sales page.
Just like the image you'll see below:
But that's only one type of copywriting. There are actually tons of different forms of copywriting, including:
Sales pages
Video sales scrips
Emails
Social media ads
Direct mail (flyers, postcards, etc.)
Landing pages
About pages
Case studies
White papers
A brand will hire a copywriter to write each of these to push readers toward taking action (buying something or doing something).
That's where someone like you comes in handy.
A good copywriter can come in and improve the number of people who take action, this is called the conversion rate.
Here's an example:
Let's say a brand has a sales page and they get 1 out of every 100 people who land on it to buy.
That's a 1% conversion rate.
They want to make more money, so they hire a copywriter to redo the sales page. With this new page, now 5 out of every 100 people who land on it buy. The brand is thrilled because now, they've increased to a 5% conversion rate – all because of your great copywriting skills.
Why you should learn how to become a copywriter?
The answer to this is actually really simple.
Brands want people to buy stuff and using persuasive copy is the best way to help make that happen.
Even if you're doing something as simple as writing an Instagram caption, the more persuasive your content, the better off you're going be in the long run.
Here are a few of my biggest reasons for wanting to learn copywriting:
Get more freelance clients. Evert pitch or letter of introduction you make? That's a form of copywriting. Want to get more clients? Get better at writing cold emails.
It will help you create an email list. An email list is your most valuable asset as a business owner. And how do you get people on your list? You need to create a persuasive and appealing offer on your landing page or opt in box.
Benefits in your personal life. Being able to persuade friends and family to see things your way can have a powerful impact on how things evolve in your life.
Helps you become a better thinker. When you're writing copy, you need to think through what you're trying to accomplish with it. The more you do it? The better and more effective your planning becomes.
It's essentially like having a personal ATM. I've said it over and over before on this blog, if you're a good copywriter you'll never hurt for money again. Whether it's creating your own products, making passive income through affiliate marketing, or being a freelancer – there will always be a way to monetize those skills.
You can apply copywriting skills to anything you write, from emails to a client to blog posts and Tweets. The better and more persuasive of a writer you are the more opportunities you're going to have for your writing career.
Learn How to Make Your First $1,000 Freelance Writing (in 30 Days or Less)
Join over 40,000 people who have taken our 6 part freelance writing course. Sign up below and let's do this together.
By entering your email address you agree to receive emails from Location Rebel. We'll respect your privacy and you can unsubscribe at any time.
Is copywriting right for you?
A lot of aspiring writers get sucked in by the allure of copywriting. It's usually regarded as the most lucrative form of freelance writing work, so naturally, there's going to be a demand there.
But the reality is most people aren't cut out to do it.
It's not as simple as just being able to write using big words. You need to know how to sell. You need to be able to understand the wants and needs of a specific audience and then truly be able to sell them on the benefits they'd get from taking the action you want.
Not sure if it's the right approach for you? There are three specific things every copywriter needs to be able to do in order to have even a chance at being successful. Watch this, and by the end you'll know if it's worth pursuing based on where you're currently at.
How Do You Get Work as a Copywriter?
For most copywriters, there are three main routes people take to finding jobs and clients.
Work For a Company
In this case, you're going to be employed full-time for one company and you write copy for them. A lot of times, this is called 'working in-house.'
And before you get caught up on not wanting a 9 to 5, let's think this through. Working in copywriting for a company is a great way to learn how to be a copywriter. You can learn the ropes quickly and do projects with some of the big-name brands in your niche.
It also helps to have a mentor or a boss who can give you a lot of one on one copywriting advice. Plus the stable paycheck doesn't hurt!
Don't worry, there are plenty of chances to work remotely today so you don't have to sit in an office if you don't want to.
But, you don't need to discount this as an option.
Work With an Agency
This is a really common path for a lot of copywriters to get started.
You connect with a marketing agency (sending LOIs is a great way to do it) and they will send clients your way. This route, of course, has some positives and negatives.
The big positives are you don't have to constantly be out on the hunt for new clients. The agency does all the heavy lifting when it comes to the marketing side of things, you just need to focus on writing.
The agency will also act as a go-between for you. Generally, the person you're working with on the agency side will review your work and give you some tips and advice on how to change things or make them better. So you can still get a learning experience that way too.
The cons are you will likely get paid less than you would if you connected with the client directly. And, a lot of agencies focus on paying by the hour, so if you're a fast writer, for example, you could actually lose out.
But, for copywriters getting started, it's a really good idea to at least check in with a few local marketing agencies and see how the process works.
Want to look for agencies?
Well, you can start with Google. Just search for "marketing agency" + your location.
But, we've found a couple of lists of marketing agencies online to help get you started:
Since there are thousands of agencies on this list, it's going to take you a while before you run out.
Work as a Freelance Copywriter
As a freelance copywriter, you work for yourself. That means you're responsible for everything — the marketing side and the client side of your copywriting business.
If you're going to go this route (with a bit of agency copywriting sprinkled in probably), it's a good idea to really think about what you want to do in terms of a niche.
It was mentioned before, but it's worth mentioning again.
A lot of copywriters have succeeded by not just defining one niche, but actually looking at things through multiple lenses. That includes both what kind of copywriter you want to be and also what niche you want to focus in
Think of it like this. As a copywriter you will:
Write email copy for SaaS brands
Create social media ads for fitness brands
Write video sales scripts for golf brands
A lot of this is covered in the How to be a Freelance Writer and the Getting Started with B2B Writing posts. Read those and you'll see that getting into a niche is a real key to success for a lot of writers.
When most brands are looking for a copywriter to work with they have something specific in mind that they want and it's even better if the person who can provide that works within that industry.
John McIntyre is known in the copywriting word as "The Autoresponder Guy." All he does is write email autoresponder sequences.
Joel Klettke is a copywriter who runs a project that is called "Case Study Buddy." He's the go-to guy when it comes to writing compelling case studies.
Joanna Wiebe runs Copy Hackers and puts all her focus into being a "conversion copywriter."
Starting to see how niches matter?
Also, think about industries too. It's never a bad idea to start with what you know because so much of good copy is tied to hitting emotional responses.
For example, if you love fishing, you probably already know what keywords or feelings are triggers that get you to want to buy new tackle. Use those skills and apply them to your copywriting career.
It's this deep knowledge of golf that has made me successful both with my golf niche site and as a golf copywriter.
When you're able to lock on to both a niche and an industry you're going to be in a really good position for success (keep reading for more on that).
How much can copywriters earn?
Another big reason why people become copywriters?
The money.
A great copywriter can have more work than they could ever handle. That's how in-demand copywriters are.
Top copywriters can make six figures on a limited schedule, where they pick and choose exactly which projects they want to work on. When you're getting paid $5,000 or $10,000 a pop for a project, you don't have to take on more than one or two a month to get the lifestyle you want.
Sounds like living the dream, right?
Before you start packing your bags to move to your favorite tropical island, let's look at what you can expect (on average) to earn in each of the working situations described above.
According to PayScale, the median in-house copywriter at a company makes about $55,000 a year.
Most agencies usually pay freelancers by the hour.
So, you could realistically expect to see anywhere from $35 an hour on the low end to over $100 an hour for highly skilled copywriters. It's not unreasonable to come into an agency and get around $50 an hour, even as someone new.
Learn how to set your freelance writing rates here.
That's why working with agencies is a great way for new copywriters to start building a network, creating a better portfolio and earning more money.
When it comes to the earnings of copywriters who freelance on their own, it's harder to nail down an exact number.
Most freelance copywriters charge on a per-project rate, so it could be $50 for an email or $500 for an about page or $5,000 for a sales page.
I personally know many six-figure copywriters, so it's not all that rare. But, there are also brand new copywriters who make $25,000 a year while still working a full-time job and doing copywriting as a side hustle.
The range can go well upwards of $100,000 and even $200,000 for really good freelance copywriters, and some of the serious pros can make in the millions.
Crazy, right?
So, even if you're just starting out and have a knack as a pretty good copywriter, you have a ton of potential.
And the more work you put into honing your copy and learning a bit about the psychology of people and why they buy, the better off you're going to be.
How to become a copywriter (in five easy steps)
Ok, now let's get into how to be a freelance copywriter, even with no experience.
Copywriting is a very hands-on type of skill — you actually have to practice to get really good at it. No matter how much raw talent you might think you have if you don't actively spend time learning about copywriting and writing out copy, you're never going to get to that top level.
So, that makes it very easy for you to gain a competitive advantage. If you want to be good at copywriting, practice being a copywriter — a lot of people will likely give up along the way.
The best copywriters are really into two main things: studying and writing copy.
Yay, nerds!
If this sounds right up your alley, you're in the right place, keep reading.
If you think you can make it without dedicating some time to the craft, you might want to rethink your approach and priorities and figure out if another type of writing is a better fit for you.
When it comes to learning about copy, there's a ton of information out there.
And that goes even beyond the technical aspects, like how to write a sales page or how to come up with good headlines, it can get pretty deep into looking at how people think, the psychological aspects of persuasion.
A lot of big copywriters today start with the basics and follow a pretty similar path.
Step 1). Learn from the all-time great copywriters
First, they'll look at the copywriting greats.
These are people like David Ogilvy, Joe Sugarman, Gary Halbert, Dan Kennedy, Robert Collier, Victor Schwab, and Eugene Schwartz.
These guys have all written really famous ads that have made them (and the brands they worked for) a lot of money. But, they also took a traditional approach to copy and that's something you can learn from as you move forward.
So, spend a bit of time learning from them.
A lot of people start by checking out the Gary Halbert Newsletter.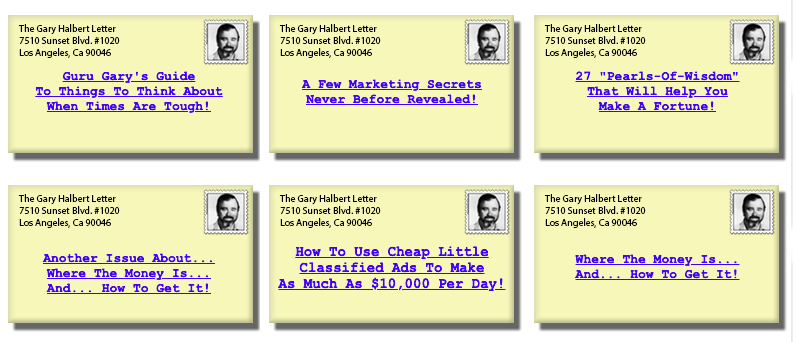 Yes, it looks this old school, but for many professional copywriters, these newsletters are a treasure trove of amazing copywriting ideas, styles, and techniques.
Just look at the headlines in these newsletters, very clickable, right?
Then there are the 'must read' copywriting books.
Here are a few of them:
Get through all of that, and you're going to understand exactly what a copywriter does and have a really solid foundation to start copywriting.
Step 2). Learn some human psychology
The other big part of understanding copywriting is psychology.
The best copywriters have a really deep understanding of human motivation; why we are compelled to buy something and the motivations that go with it.
You have such a limited time to really grab people's attention today, we're all way too distracted, so anything you can do that packs a punch right from the start is going to set you ahead of the pack.
You can see in example, after example, how psychology plays into understanding how to write compelling copy.
So getting into that and learning a bit about persuasive writing skills is something else that is going to take you a long way.
After all, let's face it, a big part of writing copy is persuading someone to do something.
A great place to start is Influence: The Psychology of Persuasion by Robert Cialdini.
A lot of really good modern copywriters cite this book as one of the reasons behind why they write winning copy.
It also happens to be my personal favorite book for improving your copywriting (even if it's not technically a copywriting book per say.)
Step 3). Learn by writing copy (by hand)
Actually sitting down and writing copy is also important to becoming a copywriter.
It takes practice and you've got to put in the effort to hone your skills.
This is the part where a lot of people will skip. They will sit around just waiting for someone to hire them, and then actually get around to learning a bit about writing copy.
And here's another thing you should do.
Write out copy by hand.
Uhh…..wut?
Yea sounds weird. You'll need to find an actual pen and notebook somewhere.
But it works.
The best way to do that is with CopyHour.
With CopyHour you'll get daily assignments. The rules are simple. You open up the email and copy it by hand.
Soon your inbox will be filled with stuff like this:

Open up one of those emails and you'll get an assignment telling you to start copying down an ad by hand.
Here's an example:
Sitting down and writing something like this out by hand is going to sink serious copywriting skills into your brain.
You're going to pick up on techniques and learn a ton from doing this.
Here are some other copywriting exercises that will help you learn the craft of copywriting quickly:
Step 4). Create a copywriting portfolio
One very important thing to remember about your copywriting website is that it is the first place where you can show off your copy.
Think about that as you get your website set up.
You want something compelling that shows off your budding copy skills on every page of your site, from the welcome page to the about page. All that can count as part of your portfolio too.
So, where you really want to focus as you get started is not how slick and cool your website looks, but how good the words on it are. Because that's what is going to stand out.
Anything you do on your website you can track and use as proof to your future copywriting clients. Do you have a killer landing page that gets a ton of email subscribers, highlight that! Do you send emails that get opened all the time? Track your open rates.
In a world where open, click, and sales rates that are 1 percent better can translate into more clients and more money, demonstrating that you can persuade more people to take action will give you the keys to the kingdom.
To start, you can keep things very simple.
Get a main page, a portfolio page, a contact page, and an about page to start.
That's it.
As you build your skills you can expand. If you want to spend some time blogging about copywriting or copy trends in your industry, you can toss a blog up there too, but it's not critical to start.
If you don't have any of those paid examples, use your practice pieces, and then replace them with new samples as you get more experience.
Learn more about what goes into a good portfolio here.
Alright, now on to the important stuff, getting paid as a copywriter.
Step 5). Find freelance copywriting jobs
Copywriting jobs are everywhere.
You just have to find them.
Here's one unique approach to get freelance copywriting work.
Once you've decided that you want to be a copywriter the first step is letting everyone know. Chances are someone you know might have somebody who needs a copywriter. That can be a great way to get your foot in the door.
Beyond that, you've got to dig in and do some searching. You can use this post on finding writing jobs online as a place to start. While they aren't all geared toward copywriting you can get a lot of good jumping-off points.
Here are just a few places to find freelance copywriting jobs:
Cold pitching potential clients
Connecting with marketing agencies
Networking
Apprenticeships
Where you need to stand out from the pack when it comes to getting copywriting work is with your samples. That's why it's so important to practice.
The best way to get your foot in the door is having a sample in a related niche or industry to the job you're looking at.
So, let's say it's a gym that wants someone to write an email series about joining classes.
You don't want to apply to this job with a long-form sales letter on fishing tackle as your sample. As great as your copy may be in that sales letter, it's hard for people who aren't seasoned pros to pick up on the nuances of your writing — that's why they need a copywriter after all.
Instead, come at them with a mini sample email that talks about fitness or gym classes or something that's very similar and related to what they want.
Doing that stuff can really help you stand out from the pack, especially if you're trying to find work by sending out LOIs and cold pitch emails.
And if you don't have that sample sitting in your arsenal?
Create it.
That's one tool that new copywriters have that so many aren't using when they apply for jobs. Yes, it is more work for you, but getting a client is better than not having any client not only in terms of money but also experience and future connections.
So it can really pay off to do a little bit of leg work beforehand to make your pitch really stand out from the others.
And remember, use a marketing mix to keep a bunch of irons in the fire. Don't rely just on UpWork or agencies or your friends to point you in the right direction.
A Final Thing to Note on Freelance Copywriting
At this point, you might be convinced that freelance copywriting is the right approach for you as you figure out what's next in your life and business.
It may very well be.
But if you watched the video above, you'll remember that most freelance copywriters fail.
I really don't want to see you waste your time and spend a bunch of energy on something and not see success with it.
So take 5 minutes and watch this video. If any one of these 5 points on why you shouldn't start freelancing resonate with you, you might consider whether freelance copywriting or content writing is really for you:
The Most Valuable Skill I Have
One last thing I wanted to add about copywriting. Of all the skills I've learned in my business career, copywriting is the most valuable.
How valuable?
I've made over $1,000,000 in the last decade that can directly be tied back to my copywriting skills. So even if you don't go the freelance route, learning how to become a copywriter can be incredibly valuable for your own business.
Here are 5 of the most valuable things I've learned that has allowed me to have so much success with it:
Ready to become a copywriter?
If you've made it this far, then it looks like you're dedicated which is one of the biggest skills you need when it comes to getting into copy.
The rest is all about the dedication and work you put into it.
Great copywriters aren't born, but they are made.
Ready to give it a shot?
Note: This post was updated in November of 2022 to include our most relevant and up-to-date information on becoming a successful copywriter.
Sean Ogle
Sean Ogle is the Founder of Location Rebel where he has spent the last 12+ years teaching people how to build online businesses that give them the freedom to do more of the things they like to do in life. When he's not in the coffee shops of Portland, or the beaches of Bali, he's probably sneaking into some other high-class establishment where he most certainly doesn't belong.
Learn How to Make Your First $1,000 Freelance Writing (in 30 Days or Less)
Join over 40,000 people who have taken our 6 part freelance writing course. Sign up below and let's do this together.
By entering your email address you agree to receive emails from Location Rebel. We'll respect your privacy and you can unsubscribe at any time.