Note from Sean: Having a good portfolio is one the biggest keys to getting bites from potential clients.
In this post, Kayla shares how you can create an online portfolio that actually works and gets clients interested. Follow these and learn how to promote your work for your best chances of success. 
Take it away, Kayla!
—
If you're one of the approximately 53 million people considered a freelancer, you probably already understand just how competitive the marketplace is right now.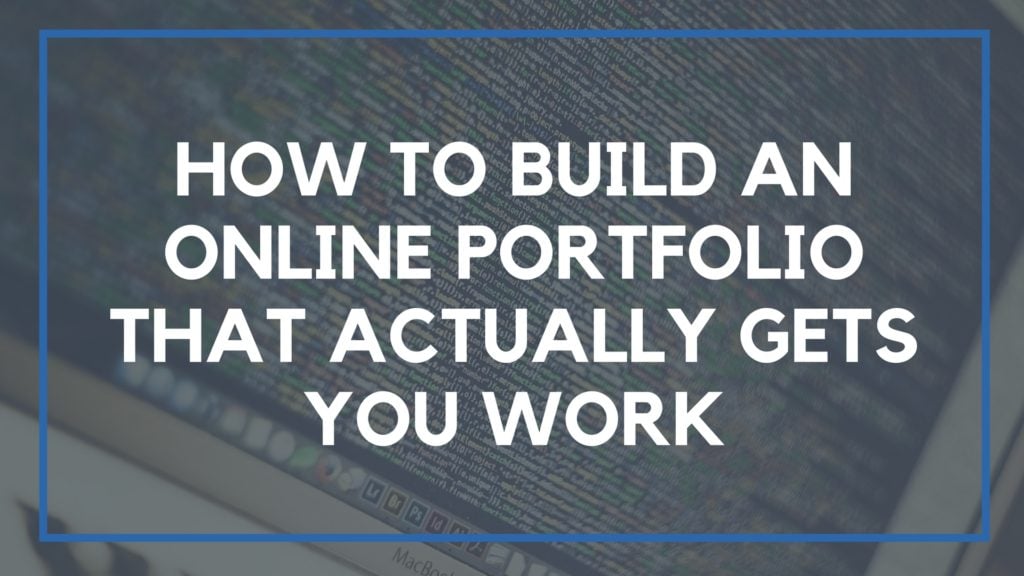 You're competing against people all over the globe, with up-and- coming newcomers hitting the marketplace each year.
What if you could stand out from the millions of other freelancers?
Would you love to grow your client base this year and bring in more income? As a freelancer, your online portfolio is the face of your company. It's how you are going to present yourself to clients when you're looking for freelance work.
And if you don't have an online portfolio, you should really consider getting one. There are tons of free portfolio websites out there (like Contently).you'll likely want to
You'll likely want to build your own website in order to have a custom URL and access to more advanced features. This website cost calculator is a good place to get started if you're concerned about pricing.
No matter where you are in your portfolio management, there are some key features of successful portfolios that nearly every freelancer can benefit from. Study the features below and adjust your own online portfolio.
These will help you become more competitive and give your online presence a professional edge.
1. Explain What You Offer
The main thing your online portfolio should do is clearly explain the services you offer and any industries you specialize in. If a potential client is looking for someone specializing in designing technology websites, and this is your niche, then you want to state that clearly.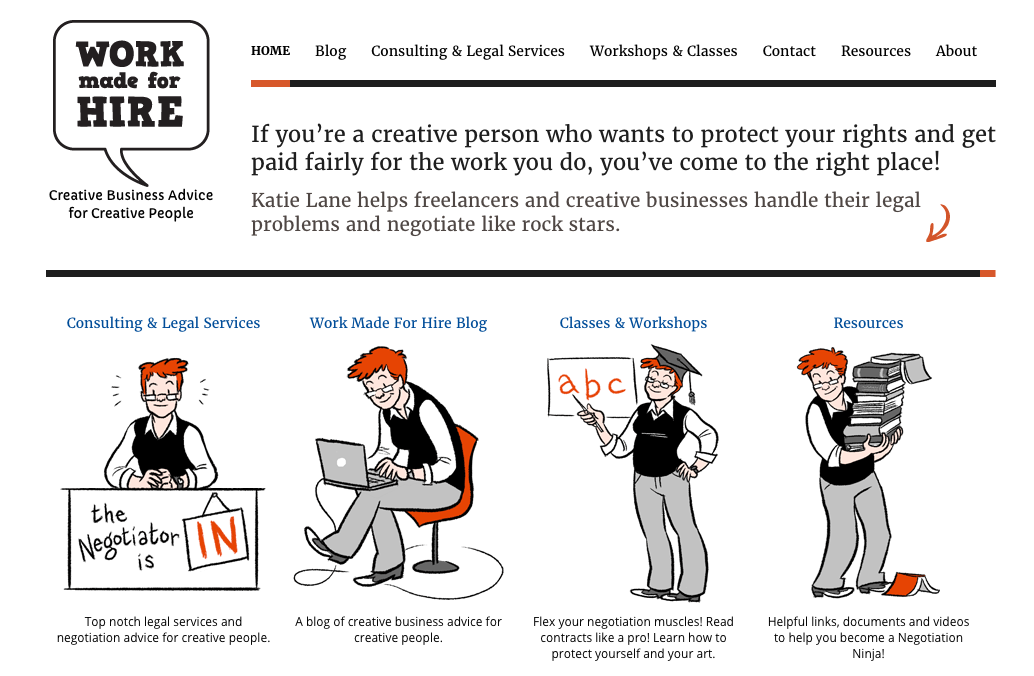 One example of a freelance site that clearly explains what it does is Work Made For Hire. This site offers advice to other freelancers, including legal advice. The site states clearly in the logo that it offers "creative business advice for creative people."
Owner Katie Lane then goes on to explain that she helps creative-type businesses handle legal problems and negotiate. There are legal services, a blog, classes and workshops, and a variety of other resources. You can access all of this very clearly from the landing page.
2. Make Contact Info Easy to Find
If you want potential clients to be able to contact you, then you have to make that contact information easy to find. In addition, you should offer a variety of ways to get in touch with you.
Some people might prefer sending an email, while others will want a telephone number to call. Don't forget to include social media handles, too, for the younger generation who might wish to send a DM on Twitter or get in touch on another social media platform.
Jun Yang created a simple Wix website, but the result is a portfolio that makes sense for the work Yang does. He clearly lists projects he's worked on, info about him, and then right at the bottom of the landing page are his name, phone number, and email.
He also adds this information to every other page on his site to make it easier to find. On the "about" page, he adds a contact form as well. If you want to get in touch with Yang, you can easily find the information to do so.
3. Offer a Quote Upfront
Some freelancers don't list their prices because they fear competitors will undercut them. However, consumers often want to know the approximate cost before they will consider hiring you.Midnight Whimsy Design lists the prices right upfront with detailed pricing.
Midnight Whimsy Design lists the prices right upfront with detailed pricing. Another way to get around this dilemma is to offer a free quote on your website.
Another way to get around this dilemma is to offer a free quote on your website. A free quote offers two advantages.
First, you'll be able to gather the lead's information. This means you can get in touch again and not lose the contact you've worked so hard to drive to your website. It also allows you to give an estimate before the business owner hires you to do work. This prevents misunderstandings later about the cost of the job.
4. Limit the Number of Categories
Even if you do a wide range of job types, try to limit the number of categories you list on your homepage. Otherwise, visitors might feel the page is too cluttered and bounce away instead of looking at examples of your work. If you have more than five types, think about how to condense them into larger categories.
Ava Sawicka is a 3D game artist. When you land on her online portfolio homepage, you'll see three basic categories. She has images she's created for Guns of Icarus Online, for Cuddle Pets, and a collection of her personal art work.
If you need additional info, she has uploaded her resume and you can click on the link near the top of the page. The site is fairly simple but it works well to draw the reader in.
5. Get Social
If you want to reach out to new clients, social media is the way to go. It is vital to have a social media presence, at least on the bigger social media sites, such as Facebook and Twitter.
You should add the icons for these social media pages to your online portfolio so site visitors can take note and connect with you on those platforms as well. This simply gives you another way to connect with those who visit your site and stay in touch.
Emily Miethner's online portfolio shares her social media locations right at the top right of her landing page. She is involved in LinkedIn, Twitter, Snapchat, Instagram, Facebook and YouTube.
You certainly don't have to add that many, especially if you're just getting started, but it gives you an idea of the importance of connecting on social media and integrating those pages onto your website pages.
6. Choose Your Best Work
It should probably go without saying that you should present only your very best work.
However, it is very easy to set up an online portfolio in the early days of building your freelance business and then fail to update the images in the portfolio with your most recent work. No matter what type of freelancing you do, it is certain you've improved over time.
Take a minute to look through what you have on your site and make sure it is still the way you'd like to present yourself to potential clients.
Are there any images you feel do not reflect you in the best light or maybe just are no longer the absolute best you have to offer? Remove them and replace them with something better.
Jenn Clara's photography portfolio is an example of a truly beautiful representation of the kind of work she is capable of doing. If you were planning to hire a wedding photography and you saw the gorgeous bride balanced on a rock in front of a lake landscape, you'd hire her in a heartbeat.
As you scroll down the page, you'll see beautiful images representing various categories. You can click on "Portfolio" in any of these categories to make your way to more images of the same type.
The images are big, bold and beautiful. They truly capture the ability of the photographer and show it off.
Build A Better Portfolio Today
One of the best things you can do for your online portfolio is to update it frequently with new work and new skills you've learned.
Revisit your portfolio at least twice a year and make updates. If possible, update every time you finish a big job where you're pleased with the work you've done. By updating your work frequently, potential clients will always see the best you have to offer.
Kayla Matthews is a productivity blogger based out of Pittsburgh, PA. You can read her latest posts by following her on Twitter @KaylaEMatthews.