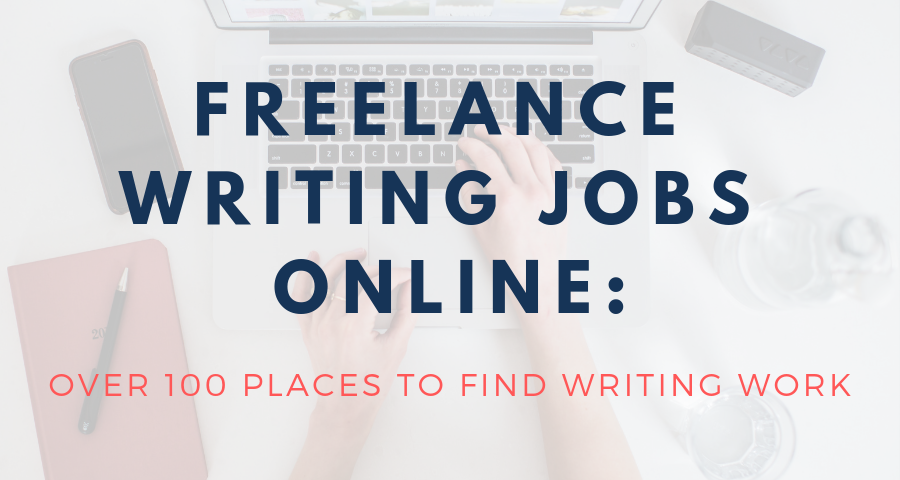 There are a lot of people looking for writing jobs online right now.
If you're reading this post, you probably are too.
There are lots of good writers out there who struggle getting any traction because they don't know where to get started.
Unless a job happens to fall in their lap, they don't know where to look for freelance writing jobs.
Well, we've got you covered.
In this post, we want to keep it simple. This is a list of sites you can use, right now, to find freelance writing jobs online.
So, if you've been struggling with where to find potential writing gigs, save this post.
Where to Find Writing Jobs Online
We've broken these into sections. You'll find job boards, paid sites, social media, and paid guest posts to help you get started.
This list is going to be a living breathing thing, so keep checking back in as we update it and keep adding more sites as we find them.
Also, we're huge proponents of B2B writing as one of the best ways to get going with freelancing. So if before you start sending out all of your pitches check out our incredibly B2B writing work.detailed guide on getting
Job Boards
You might hear people poo-pooing job boards. A lot of it is about due diligence. But there are some actual quality boards out there that tend to post good gigs more often than not, so that's what this list is for.
I've personally gotten some very good long-term clients off some of these sites. So they can work for you too.
Note: These aren't in any particular order. 
Paid Sites
There are a few very good job boards out there that are protected behind a paywall. Some of these are strictly job boards while others are more like membership sites for writers that have job board perks.
Typically, these will spend much more time curating high-quality posts, so you won't find a lot of bad jobs on here.
A note of caution here, do your due diligence before paying for any job boards (a simple Google of the name can provide a wealth of information). A lot of them will not put you much further ahead than many of the free sites while wanting you to pay high monthly fees.
The sites below are those that I know feature good jobs.
Social Media
Don't forget about social media! I keep track of a number of accounts on Twitter because you never know where something that's perfect could pop up!
I also follow lots of influencers in my field too. They will also often share job postings from their sites or friend's sites on their social media accounts.
Lastly, don't forget to do searches all over social media try searching: "we're hiring," "work with us," "writing job," or "job posted" to start.
Also, don't forget there is always the potential to offer your services inside any Facebook groups you join. Remember, don't spam, become a part of the community, offer value, and then showcase your skills.
Follow the tips Olivia lays out for making the most of Facebook groups, in this post.
Sites that Pay for Guest Posts or Have Paid Contributors
You can also get your feet wet doing guest posts. These are not only great to build up your brand, but some sites actually pay for posts too.
Now, you're not going to get rich pitching these sites, but you might catch a good break down the road. The key with these is to read the instructions. It's all there.
Unfortunately, way too many people ignore the directions and plow forward. Don't be one of these people. If something particular is put in the directions, seems like it's important to pay attention to, no?
Read these pages a few times and then craft your pitch. Getting an accepted post on any of these sites can be a nice boost to your freelancing career.
For the sites below, most have their pay rates right on the page. Others will offer payment for really high-quality stuff.
Unless they specifically spell out that there is no payment for posts, you don't know. So when you do send in your pitch, it never hurts to ask.
I recently had a pitch accepted for a guest post on a site that didn't mention payment at all. After the post was published, the editor reached out and asked me where he could send a check.
More Places to Find Freelance Jobs Online
Some of these don't fit neatly into the categories above, but I still think they are really useful. So, check out a few of them and see if they are a good fit for you.
Whew, that's a long list. But, keep in mind, these aren't the only writing jobs available out there so don't just rely on these. Keep your own search going and, at the same time, schedule time in your week to search and pitch.
A Few More Ways to Land Freelance Writing Jobs
Yes, you can scour the web for writing jobs but that isn't the only thing you can do to improve your chances of finding freelance writing clients.
Things like making sure you have a solid (and professional) blog on your website, researching the person you're trying to reach, and even having a bit of personality are important factors. And honestly, way too often, no one even thinks about them.
If you want to set yourself up for the best possible chance to land some of these writing jobs, then you've got to check out the video below. Or you can read the accompanying post, how to get more freelance writing clients:
Additional Reading:
Don't Forget the Pitch! Here's Some Advice
Oh yea, that. The cold pitch.
All in all, when you mine for online writing jobs always consider reaching out directly, you have the potential for a higher quality client, especially if you can try to get on their radar and build a relationship over time.
If you've been thinking about getting into business to business (B2B) writing, then get friendly with the cold pitch.
What I have found is that great pitches and persistence can pay off. (If you want some tips on improving your pitching, I recently wrote this post with tips.)
In general, here's what you should aim for in your pitches:
No spelling or grammar mistakes
Short and easy to read, do not send over your life story
The impression that you've actually spent time researching their product, site or service
At least one, but ideally a few, really solid ideas for how you can help them
Samples of your work
Make it really easy for them to say yes
Sometimes the slow drum beat of consistency, keeping lots of irons in the fire, and luck can come into play just at the right time. But, most of all, being a good writer, with a good portfolio, and a great pitch is going to help you promote your writing services.
So never stop trying to improve those.
You can start with the cold email checklist, use this to make sure you don't make any huge mistakes in any email you send.
For more tips on cold pitching, sign up below:
Final Thoughts
If you've been struggling with where to find more writing jobs online, hopefully, this will help.
Keep all of these sites and tactics in mind when you set out to search for gigs. More often than not, having lots of pitches out there over time will start to pay off.
Did we miss any secret gems? Let us know if you've got a few go-to sites you use to find writing jobs online in the comments.
Note: this post has been updated as of April 2018 for accuracy.