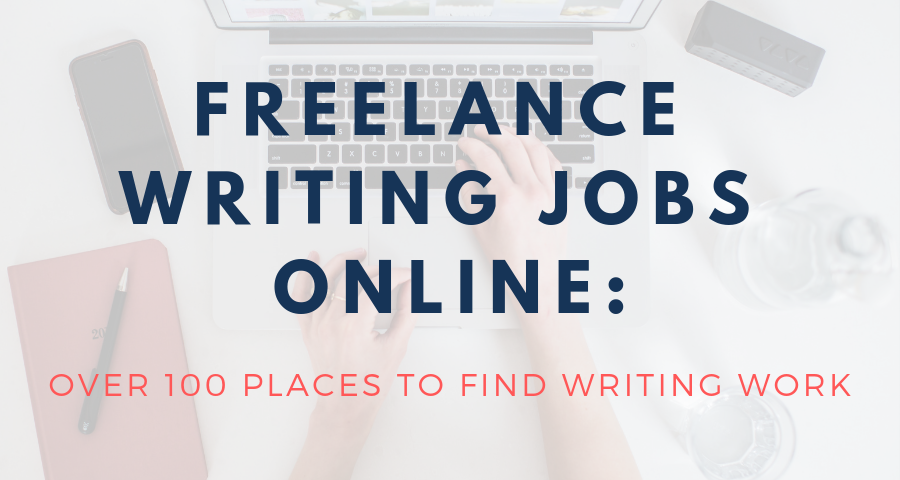 When it comes to making money online freelance writing is one of the first places people look as a way to start.
It makes sense, right?
Getting started with freelance writing doesn't cost much, you don't even need a website to start (even though we think it's a pretty good idea — here's how to do it).
Where people generally hit their first roadblock is finding writing jobs online. And while it's somewhat easy to find a bunch of those low paying writing jobs we want you to look beyond those and get paid what you're worth.
And that's more than $0.01 a word.
If you've decided to jump into freelance writing here's what you need to do.
First, read this post about how to become a freelance writer. It's going to show you step by step exactly how to break into the business, find good jobs, and start making real money.
If you want to niche down into B2B writing, check out this post next.
Next, you need to go through all the links for the various freelance job boards and sites we list below. Depending on your level of skill and area of focus some will stand out as potential gold mines for finding clients.
Keep track of the places where you know you can get hits because that's going to bring the third step into play: marketing.
In order to succeed as a freelance writer, you have to market yourself all the time.
All. The. Time.
We're going to cover a few tips for you to start building your own marketing schedule at the end of the post.
Sound good?
Awesome, let's dig into finding those freelance writing jobs.
But first, a little video interlude…
Where to Find Writing Jobs Online
We've broken these into sections. You'll find job boards, paid sites, social media, and paid guest posts to help you get started.
This list is going to be a living breathing thing, so keep checking back in as we update it and keep adding more sites as we find them.
And don't forget our guide to becoming a freelance writer if you want more help in getting started.
Job Boards
You might hear people poo-pooing job boards.
Yea, there are some true stinkers out there but you can find some hidden gems too. It's all about doing your due diligence and figuring out the boards that are going to work best for you.
We've started by posting up some of the boards where you'll typically see quality jobs, but your mileage may vary.
Note: These aren't in any particular order. 
And want to know our favorites? Here are 6 of the best freelance writing job boards for actually finding work.
Paid Sites
There are a few very good job boards out there that are protected behind a paywall. Some of these are strictly job boards while others are more like membership sites for writers that have job board perks.
Typically, these will spend much more time curating high-quality posts, so you won't find a lot of bad jobs on here.
A note of caution here, do your due diligence before paying for any job boards (a simple Google of the name can provide a wealth of information). A lot of them will not put you much further ahead than many of the free sites while wanting you to pay high monthly fees.
The sites below feature good online writing jobs.
Agencies
Don't forget to check out agencies for writing jobs too. For some people, working with an agency is the best of both worlds because they do much of the heavy lifting in terms of finding clients. All you have to do is write.
While you can build some amazing experience working with agencies, keep in mind you won't see rates that are as high as you might if you connected with a brand on your own.
Here are a few to check out:
Social Media
Don't forget about social media! I keep track of a number of accounts on Twitter because you never know where something that's perfect could pop up!
I also follow lots of influencers in my field too. They will also often share job postings from their sites or friend's sites on their social media accounts.
Lastly, don't forget to do searches all over social media try searching: "we're hiring," "work with us," "writing job," "pitch me," or "job posted" to start.
Also, don't forget there is always the potential to offer your services inside any Facebook groups you join. Remember, don't spam, become a part of the community, offer value, and then showcase your skills.
Follow the tips Olivia lays out for making the most of Facebook groups, in this post.
Sites that Pay for Guest Posts or Have Paid Contributors
You can also get your feet wet doing guest posts. These are not only great to build up your brand, but some sites actually pay for posts too.
Now, you're not going to get rich pitching these sites, but you might catch a good break down the road. The key with these is to read the instructions. It's all there.
Unfortunately, way too many people ignore the directions and plow forward. Don't be one of these people. If something particular is put in the directions, seems like it's important to pay attention to, no?
Read these pages a few times and then craft your pitch. Getting an accepted post on any of these sites can be a nice boost to your freelancing career.
For the sites below, most have their pay rates right on the page. Others will offer payment for really high-quality stuff.
Unless they specifically spell out that there is no payment for posts, you don't know. So when you do send in your pitch, it never hurts to ask.
I recently had a pitch accepted for a guest post on a site that didn't mention payment at all. After the post was published, the editor reached out and asked me where he could send a check.
More Places to Find Freelance Jobs Online
Some of these don't fit neatly into the categories above, but I still think they are really useful. So, check out a few of them and see if they are a good fit for you.
Whew, that's a long list. But, keep in mind, these aren't the only writing jobs available out there so don't just rely on these. Keep your own search going and, at the same time, schedule time in your week to search and pitch.
A Few More Ways to Land Freelance Writing Jobs
Yes, you can scour the web for writing jobs but that isn't the only thing you can do to improve your chances of finding freelance writing clients.
Things like making sure you have a solid (and professional) blog on your website, researching the person you're trying to reach, and even having a bit of personality are important factors. And honestly, way too often, no one even thinks about them.
If you want to set yourself up for the best possible chance to land some of these writing jobs, then you've got to check out the video below. Or you can read the accompanying post, how to get more freelance writing clients:
Additional Reading:
Don't Forget the Pitch! Here's Some Advice
Oh yea, that. The cold pitch.
All in all, when you mine for online writing jobs always consider reaching out directly, you have the potential for a higher quality client, especially if you can try to get on their radar and build a relationship over time.
If you've been thinking about getting into business to business (B2B) writing, then get friendly with the cold pitch.
What I have found is that great pitches and persistence can pay off. (If you want some tips on improving your pitching, I recently wrote this post with tips.)
In general, here's what you should aim for in your pitches:
No spelling or grammar mistakes
Short and easy to read, do not send over your life story
The impression that you've actually spent time researching their product, site or service
At least one, but ideally a few, really solid ideas for how you can help them
Samples of your work
Make it really easy for them to say yes
Sometimes the slow drum beat of consistency, keeping lots of irons in the fire, and luck can come into play just at the right time. But, most of all, being a good writer, with a good portfolio, and a great pitch is going to help you promote your writing services.
Start with the cold email checklist and use this to make sure you don't make any huge mistakes in any email you send.
For more tips on cold pitching, sign up below:
Embrace Marketing
This is a dirty word for a lot of writers, we get it. But, you're not going to get far if you aren't willing to spend time every week at a minimum and daily if you're really on the ball putting yourself out there.
That means making connections with other freelance writers, networking with editors and potential brands, and sending out letters of introduction (LOI), ideas, and pitches.
You can get more on sending out LOIs in this post on B2B writing.
Our best advice is to set aside time every week to make marketing part of your schedule. Close all your tabs, get out of social media, and send all the emails, Tweets, and LinkedIn connections you can in an hour. Set a timer if you need to.
Make a list of everyone you send notes to and the date that way in a few weeks you can circle back and send follow up emails too.
The more you focus on marketing the more clients you are going to get. It's just facts. Ask any six figure writer why you're not getting a lot of clients and about 95% of the time they will ask you how much time you're devoting to marketing every week.
It's not uncommon for these people to send 25 pitches and LOIs a week to writing jobs they see or brands they want to work with.
Think about that if you're hitting a few bumps in the road. The more consistent you can be with this very early in the process, the better off you're going to be over the long run.
Final Thoughts
If you've been struggling with where to find more writing jobs online, hopefully, this will help.
Keep all of these sites and tactics in mind when you set out to search for gigs. More often than not, having lots of pitches out there over time will start to pay off.
Did we miss any secret gems? Let us know if you've got a few go-to sites you use to find writing jobs online in the comments.
Note: this post has been updated as of June 2019 for accuracy.