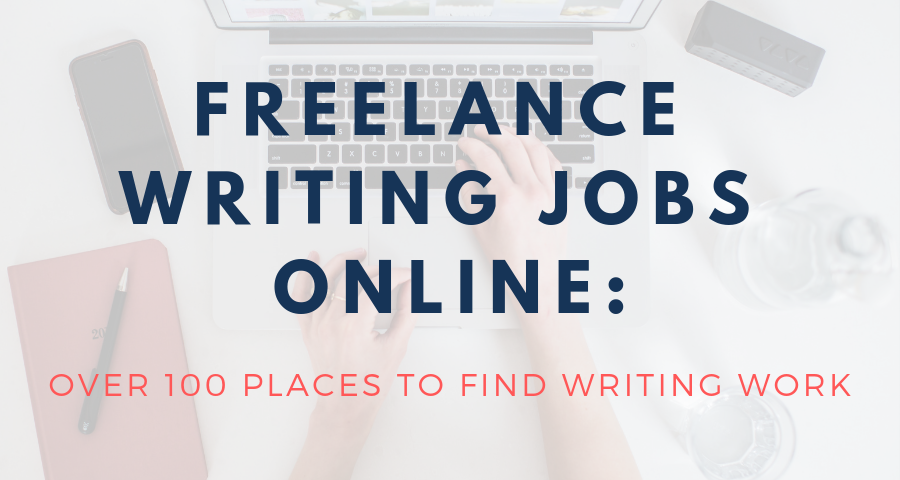 When it comes to making money online freelance writing is one of the first places people look as a way to start.
It makes sense, right?
Getting started with freelance writing doesn't cost much, you don't even need a website to start (even though we think it's a pretty good idea — here's how to do it).
Where people generally hit their first roadblock is finding writing jobs online. And while it's somewhat easy to find a bunch of those low paying writing jobs we want you to look beyond those and get paid what you're worth.
And that's more than $0.02 a word.
If you've decided to jump into freelance writing here's what you need to do.
First, read this post about how to become a freelance writer. It's going to show you step by step exactly how to break into the business, find good jobs, and start making real money.
If you want to niche down into B2B writing, check out this post next.
And if you want to get into copywriting, check out how to become a copywriter here.
Next, go through all the links for the various freelance job boards and sites we list below. Depending on your level of skill and area of focus some will stand out as potential gold mines for finding clients.
Keep track of the places where you know you can get hits because that's going to bring the third step into play: marketing.
In order to succeed as a freelance writer, you have to market yourself all the time.
All. The. Time.
We're going to cover a few tips for you to start building your own marketing schedule at the end of the post.
Sound good?
Awesome, let's dig into finding those freelance writing jobs.
But first, a little video interlude…
How to Send a Proper Freelance Pitch
We could give you all of the places to find work in the world, but if you don't know how to pitch yourself properly?
It's not gonna do you much good.
When you mine for online writing jobs, always consider reaching out directly. You have the potential for a higher quality client, especially if you can try to get on their radar and build a relationship over time.
If you've been thinking about getting into business to business (B2B) writing, then get friendly with sending pitches and letters of introduction (LOIs) to potential contacts and clients.
What I have found is that great pitches, LOIs, and persistence can pay off. (If you want some tips on improving your pitching, I recently wrote this post with tips.)
In general, here's what you should aim for in your pitches:
No spelling or grammar mistakes
Short and easy to read, do not send over your life story
The impression that you've actually spent time researching their product, site or service
At least one, but ideally a few, really solid ideas for how you can help them
Samples of your work
Make it really easy for them to say yes
Sometimes the slow drumbeat of consistency, keeping lots of irons in the fire, and luck can come into play just at the right time. But, most of all, being a good writer, with a good portfolio, and a great pitch is going to help you promote your writing services.
Start with the cold email checklist and use this to make sure you don't make any huge mistakes in any email you send.
One More Secret for Your Pitch
This secret is nothing earth shattering, but less than 5% of the writers out there actually take this to heart and implement it.
What is it?
Remember that every single pitch you send is to a real person.
Crazy, right?
The vast majority of writers, freelancers, agencies etc. will sent template emails, with next to no personalization. Many even do a horrible job mail merging dozens at once.
Don't do this.
Ever.
PLEASE.
Take a few extra minutes to research the person you're pitching. Figure out as much as you can about what they're looking for – and who they are as a person.
Then write an email to them that focuses on those things.
Mind-blowing, right?
It shouldn't be, but so few people do this, that if you do? You'll have a huge leg up.
Oh, and another little secret? Every email should include 4 words. These are insane for increasing your chances of getting a response.
Watch to see what they are:
Where to Find Writing Jobs Online
Ok, now that you know how to find jobs. Let's dig into the list, and show you where to find freelance writing jobs online.
We've broken these into sections. You'll find job boards, paid sites, social media, and paid guest posts to help you get started.
This list is a living breathing thing, we update it regularly as we find more solid resources.
And don't forget our guide to becoming a freelance writer if you want more help in getting started.
Finding Freelance Writing Work: Job Boards
You might hear people poo-pooing job boards.
Yea, there are some true stinkers out there but you can find some hidden gems too. It's all about doing your due diligence and figuring out the boards that are going to work best for you.
We've started by posting up some of the boards where you'll typically see quality jobs, but your mileage may vary.
Note: These aren't in any particular order. 
And want to know our favorites? Here are 6 of the best freelance writing job boards for actually finding work.
Paid Sites
There are a few very good job boards out there that are protected behind a paywall. Some of these are strictly job boards while others are more like membership sites for writers that have job board perks.
Typically, these will spend much more time curating high-quality posts, so you won't find a lot of bad jobs on here.
A note of caution here, do your due diligence before paying for any job boards (a simple Google of the name can provide a wealth of information). A lot of them will not put you much further ahead than many of the free sites while wanting you to pay high monthly fees.
The sites below feature good online writing jobs.
Freelance Writer's Den – Carol Tice of Make a Living Writing runs this job board so you know it only has high-quality posts.
Freelance Success – The forum is the big feature here, but being a member includes a newsletter that features quality listings.
Contenta – This site isn't always open to join, and has one of the highest fees out there, but also has a lot of hand curated jobs in a variety of fields that you won't find anywhere else.
FlexJobs – You can search for free on FlexJobs but to get access to the good stuff, the paid feature provides a lot more information.
Sonia Wieser's Opportunities of the Week Newsletter – This newsletter is a few bucks a month, but if you're looking to get into magazine or digital publication writing it has a ton of curated leads.
Study Hall – This another site that focuses on more of the media and journalist side of things if that's the area you want to dig into.
Our Full List of 100+ Places to Get Freelance Writing Jobs Online
Our list of sites has gotten surprisingly large over the last year. On top of the 30 job boards, and 6 paid sites we listed above, we also have:
11 Content Marketing Companies and Agencies (and a couple of these sites have links to HUNDREDS of other agencies).
9 Social Media Groups to Become a Part Of
53 Sites that pay for guest posts or have paid contributors
14 0ther unique places to get killer freelance writing jobs that aren't covered in other sections.
We compiled all of this into a beautiful and incredibly easy to digest PDF guide.