This post on freelance writing jobs online was updated in September 2022.
I truly believe that freelance writing is the easiest way for most people to make money on the internet.
It makes sense, right?
Getting started with freelance writing doesn't cost much, you don't even need a website to start (even though we think it's a pretty good idea to have one).
Here's how to get a website up and running.
Where people generally hit their first roadblock is finding freelance writing jobs online. And while it's somewhat easy to find a bunch of those low-paying writing jobs, we want you to look beyond those.
You can't make a living writing on those $0.01 and $0.03 cent a word posts. It might be ok to get those low rates for a handful of portfolio pieces, but beyond that, you need to set much higher rates.
Good thing we can help you learn how to do it.
If you've decided to jump into freelance writing here's what you need to do.
Ok, you've decided you want to be a freelance writer, here's how to do it in three easy steps:
Step 1: Check out these posts.
We've written a lot about freelance writing on the blog. But these are the three key posts to get you started. If you want to start a business as a freelance writer, the first one is required reading.
First, read this post about how to become a freelance writer.
It's going to show you step by step exactly how to break into the business, find good jobs, and start making real money.
If you want to focus your writing more on the commercial, or B2B (business to business) side of things, check out this post next.
And if you want to get into copywriting, check out how to become a copywriter here.
Step 2: Apply for freelance writing jobs.
Next, go through all the links for the various freelance job boards and sites listed below.
Depending on your level of skill and area of focus some will stand out as potential gold mines for finding clients.
But just having the list isn't going to be enough. You need to send out an email to convince someone to hire you.
If you don't know how to properly pitch and sell yourself, then you're going to struggle to get consistent high paying work.
Watch this 11 minute video to tell you everything you need to know to actually send a pitch that gets a response:
This is where a lot of aspiring freelance writers mess up.
So if you take any tip from this post, this is the one to remember:
Every single pitch you send is to a real person.
Crazy, right?
The vast majority of freelancers send template emails, with next to no personalization. Many even do a horrible job mail merging dozens at once.
Don't do this.
Ever.
PLEASE.
Take a few extra minutes to research the person you're pitching. Figure out as much as you can about what they're looking for – and who they are as a person.
Then write an email to them that focuses on those things.
Mind-blowing, right?
It shouldn't be, but so few people do this, that if you do? You'll have a huge leg up.
Oh, and another little secret? Every email should include 4 words. These are insane for increasing your chances of getting a response.
Watch to see what they are:
Got that?
Here are a few tips:
Triple check for spelling and grammar mistakes
Keep all your emails short, no more than 5-6 sentences
Include a few links to samples of your work
Make it really easy for them to say yes
Sometimes keeping lots of irons in the fire, and luck can come into play just at the right time. But, most of all, being a good writer, with a good portfolio, and a great pitch is going to help you promote your writing services.
Start with the cold email checklist and use this to make sure you don't make any huge mistakes in any email you send.
Keep track of all the emails you send, you can use Excel, create an Airtable sheet, or track with Streak from your Gmail because that's going to bring the third step into play: marketing.
Step 3: Focus on marketing.
In order to succeed as a freelance writer, you have to market yourself all the time.
All. The. Time.
This is a dirty word for a lot of writers, we get it. But, you're not going to get far if you aren't willing to spend time every week at a minimum and daily if you're really on the ball putting yourself out there.
That means making connections with other freelance writers, networking with editors and potential brands, and sending out letters of introduction (LOI), ideas, and pitches.
Learn how to send out LOIs in this post.
Our best advice is to set aside time every week to make marketing part of your schedule. Close all your tabs, get out of social media, and send all the emails, Tweets, and LinkedIn connections you can in an hour. Set a timer if you need to.
Make a list of everyone you send notes to and the date that way in a few weeks you can circle back and send follow-up emails too.
The more you focus on marketing the more clients you are going to get. It's just facts. Ask any six-figure writer why you're not getting a lot of clients and about 95% of the time they will ask you how much time you're devoting to marketing every week.
Sound good?
The Best Freelance Writing Jobs for Beginners
Awesome, let's dig into finding those remote writing jobs.
Here are four types of freelance writing that work for most beginners.
Learn How to Make Your First $1,000 Freelance Writing (in 30 Days or Less)
Join over 40,000 people who have taken our 6 part freelance writing course. Sign up below and let's do this together.
By entering your email address you agree to receive emails from Location Rebel. We'll respect your privacy and you can unsubscribe at any time.
We recommend digging into content writing and copywriting from the start.
Where to Find Writing Jobs Online
Ok, now that you know how to find jobs. Let's dig into the list, and show you where to find freelance writing jobs online.
We've broken these into sections. You'll find job boards, paid sites, social media, and paid guest posts to help you get started.
This list is a living breathing thing, we update it regularly as we find more solid resources.
And don't forget our guide to becoming a freelance writer if you want more help in getting started.
Finding Freelance Writing Work: Job Boards
You might hear people poo-pooing job boards.
Yea, there are some true stinkers out there but you can find some hidden gems too. It's all about doing your due diligence and figuring out the boards that are going to work best for you.
We've started by posting up some of the boards where you'll typically see quality jobs, but your mileage may vary.
Note: These aren't in any particular order.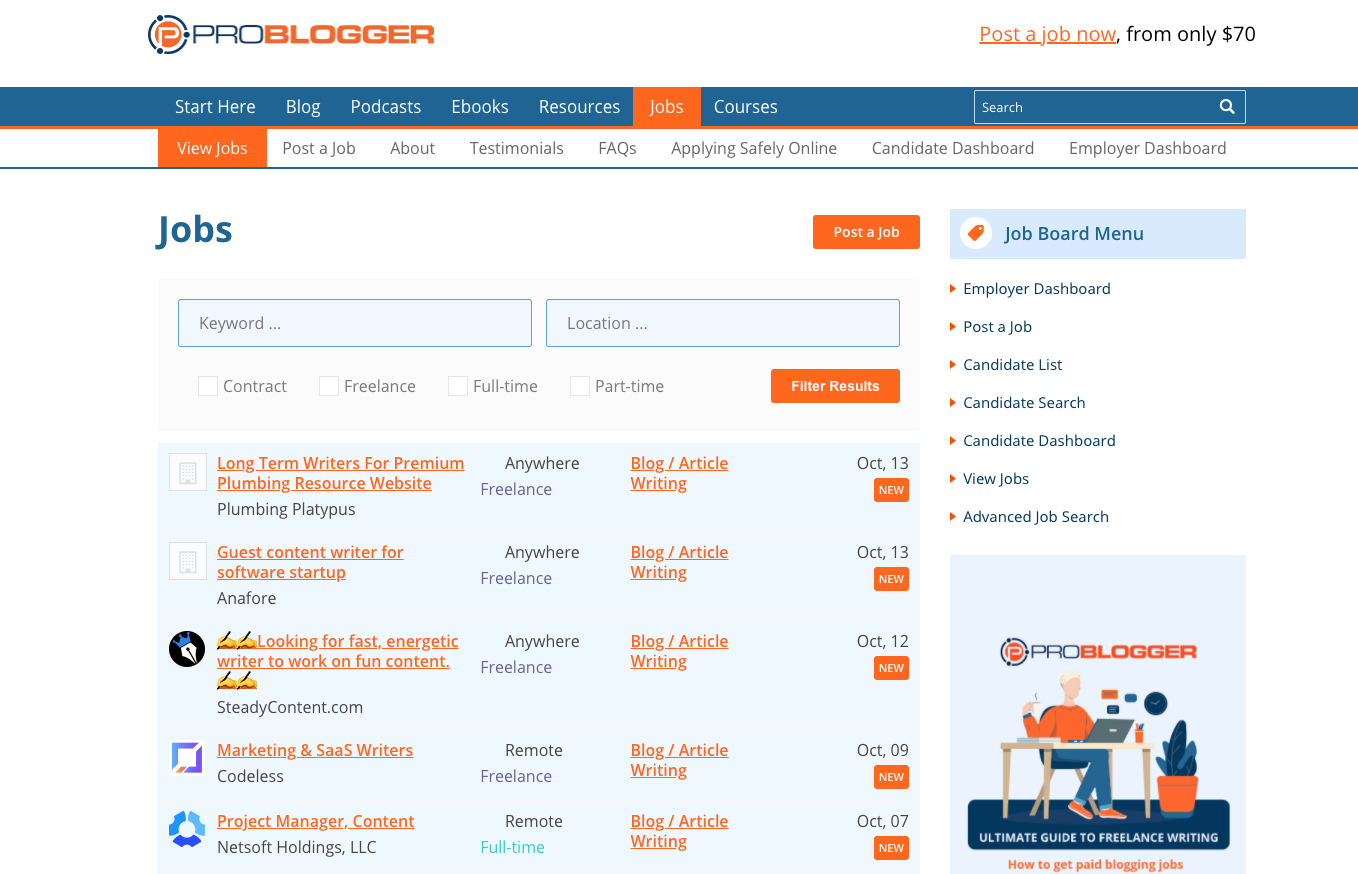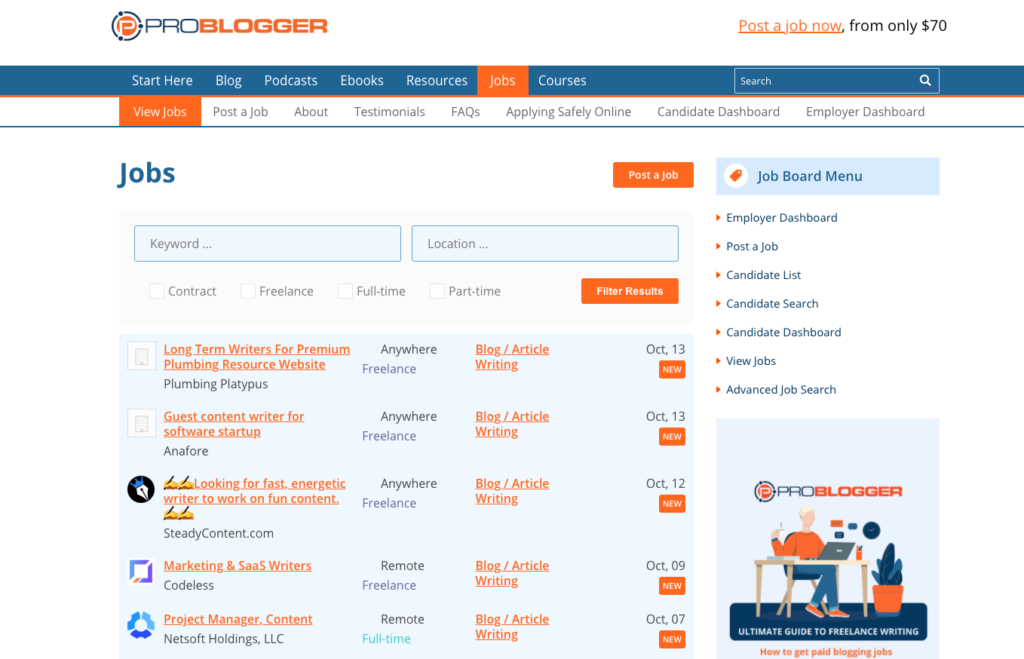 This job board is one of the first places any freelance writer should go. It's where a lot of writers land their first paying client.
You hear a lot of conflicting views about this site, but if you dig deep and work your pitch, you can find gigs. Just don't let yourself settle for the bottom of the barrel low paying jobs.
As with ProBlogger, you'll find lots of copy and content gigs here from more established brands.
This site has lots of jobs covering everything from writing to programming and web design.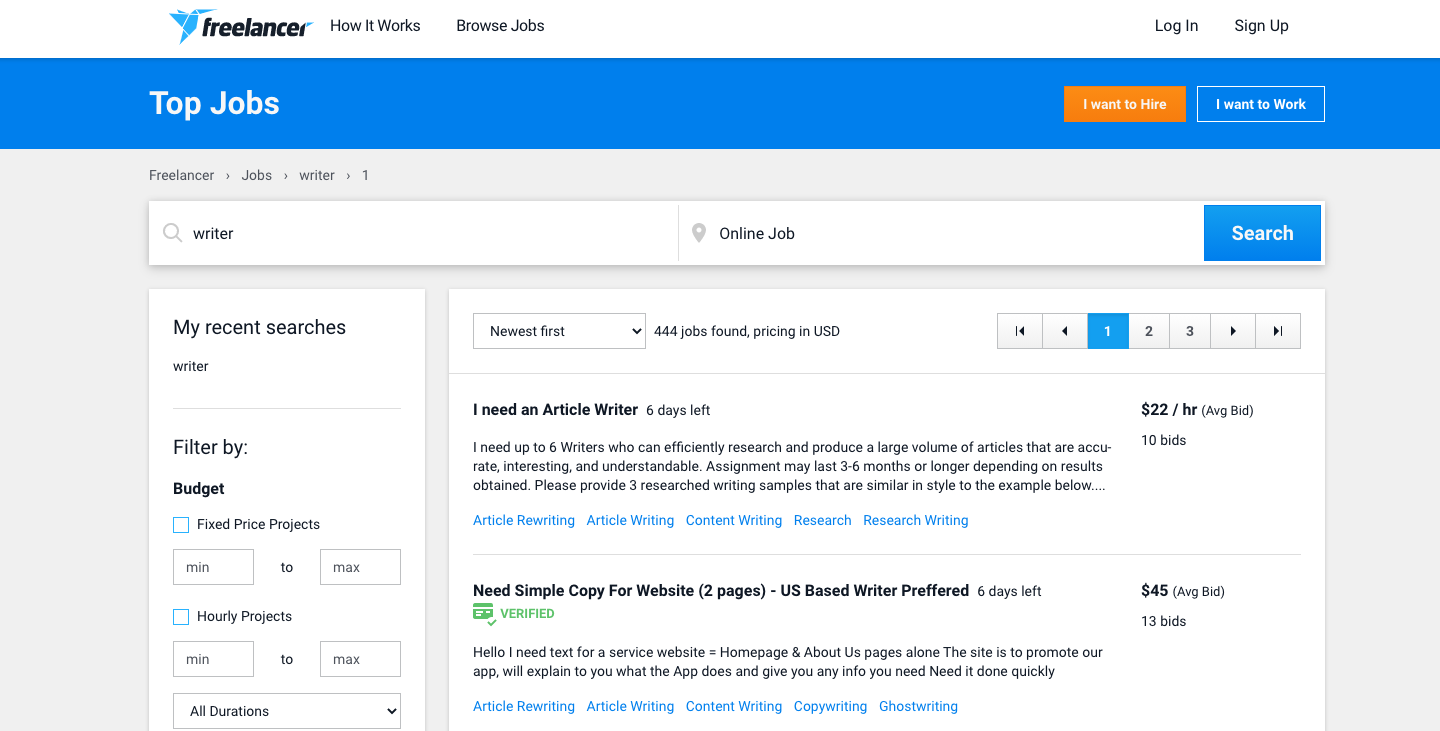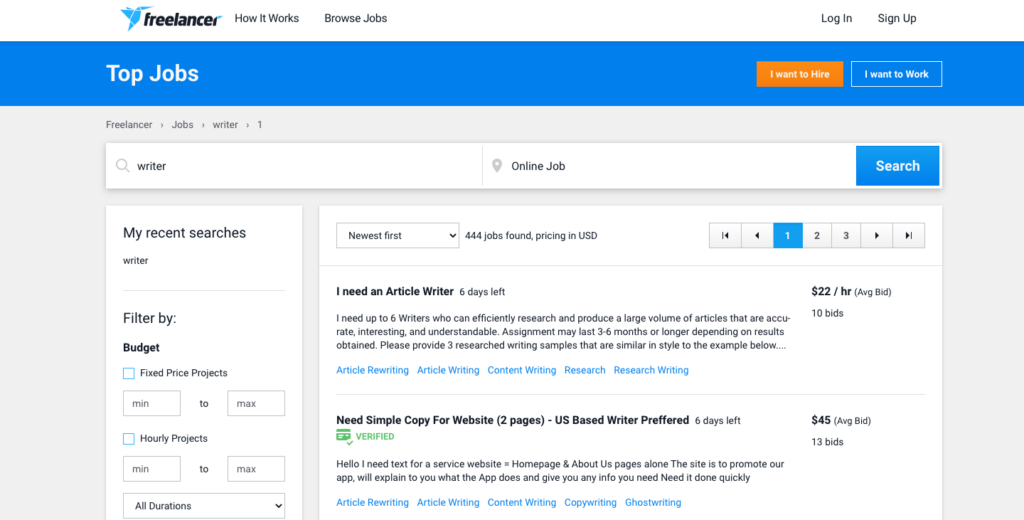 Another big job board that covers everything from writing to app design, but specifically geared towards freelancers.
This site has a database of companies who are looking for writers, you pitch your ideas and go from there.
A lot of freelancers been able to nab high-paying quality clients off Profinder. LinkedIn is a great resource that most freelancers are ignoring. Don't make that mistake, create a LinkedIn profile ASAP. (Currently US only)
Don't forget there's a job feature to LinkedIn, most are full-time, and some are remote. But that doesn't mean you can't pitch yourself either.
You'll see a number of these jobs on some of the other big boards but there are new ones on here too.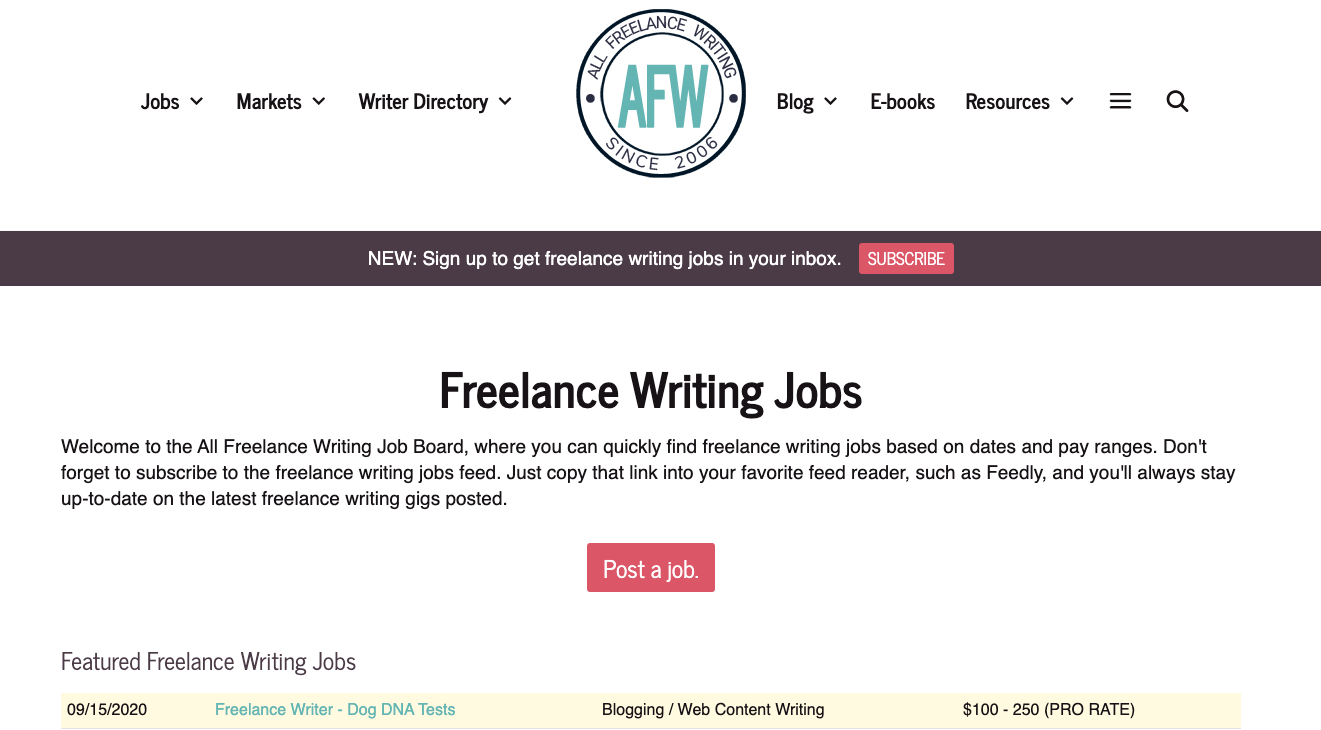 Another smaller list of jobs but it's nice you can see the pay range of each right from the jump.
You don't have to be Canadian to apply, and there are lots of listings on here.
There is a really good mix of big-name brands and niche writing opportunities (like non-profit work) on Glassdoor, so it can't hurt to set up a profile here. And you can search with remote as a location.
HubStaff is relatively new. The brands are listed and then you submit your pitches, there is no bidding, and you set your rates.
This site has more focus on remote full-time jobs as well as travel-related jobs. It doesn't update as frequently as the other boards but I've also seen gigs here I haven't spotted elsewhere.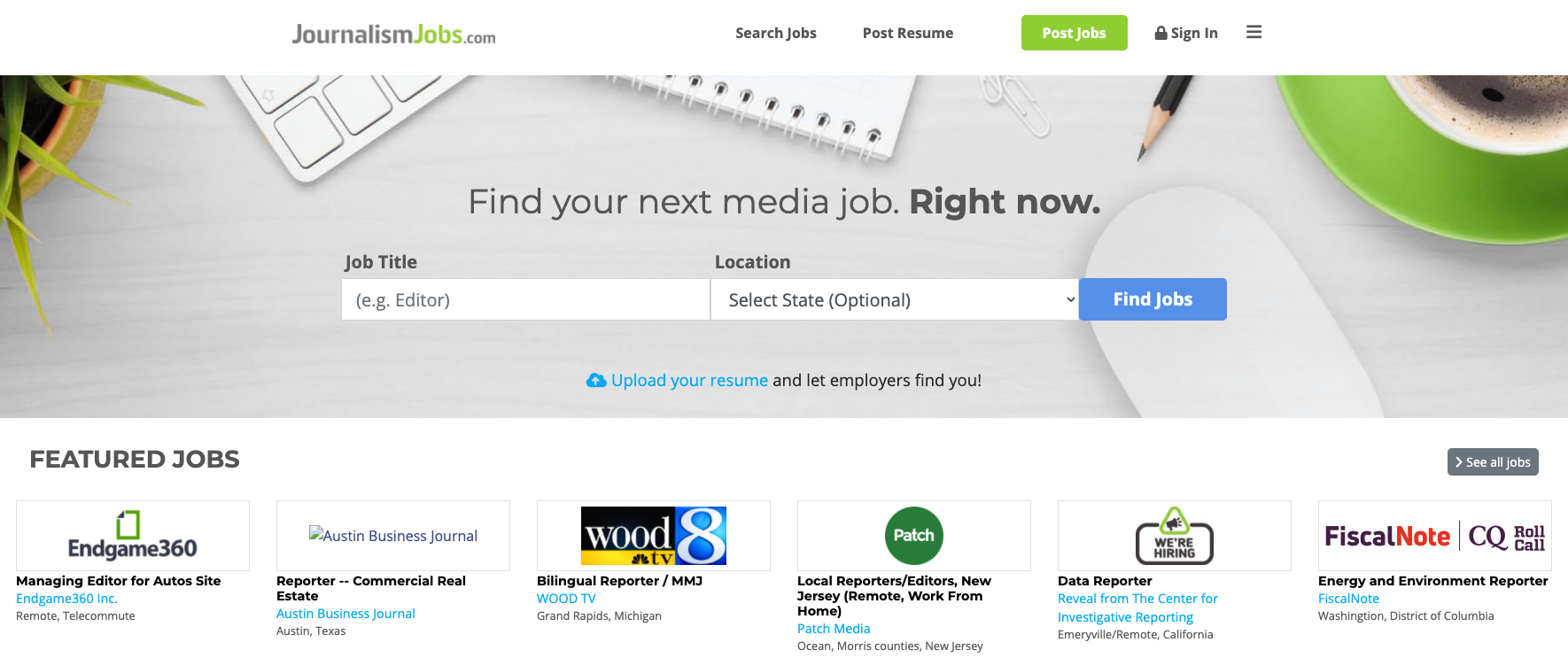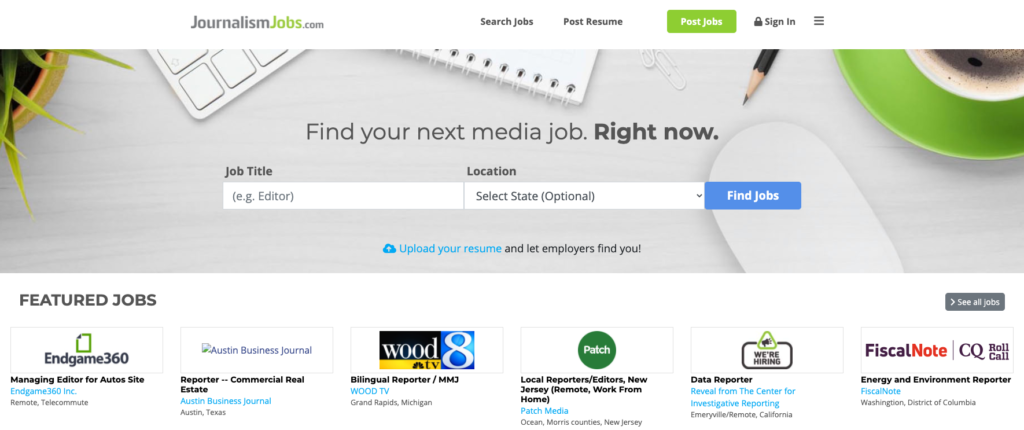 You don't have to be a journalist to apply for jobs on this site. And, if you are a journalist looking for freelance work, jump in here you'll find plenty of opportunities
This site has two options for you to find more work. One is their job board that focuses mostly on blogging, copywriting, and journalism gigs and the other is their daily morning newsletter
If you're looking for copywriting jobs, check this site out. It's got a mix of full-time, freelance, and flexible arrangement (i.e. 2 days in the office and 3 days out) copy jobs.
This is a good site for people who are looking to get published in magazines or trade articles, it has a nice listing of markets that are paying as well as a freelance work listing.
I love it when sites have an option to search for freelance and remote work and this site delivers. You will have to create an account to see the listings. They are mostly in and around the magazine industry.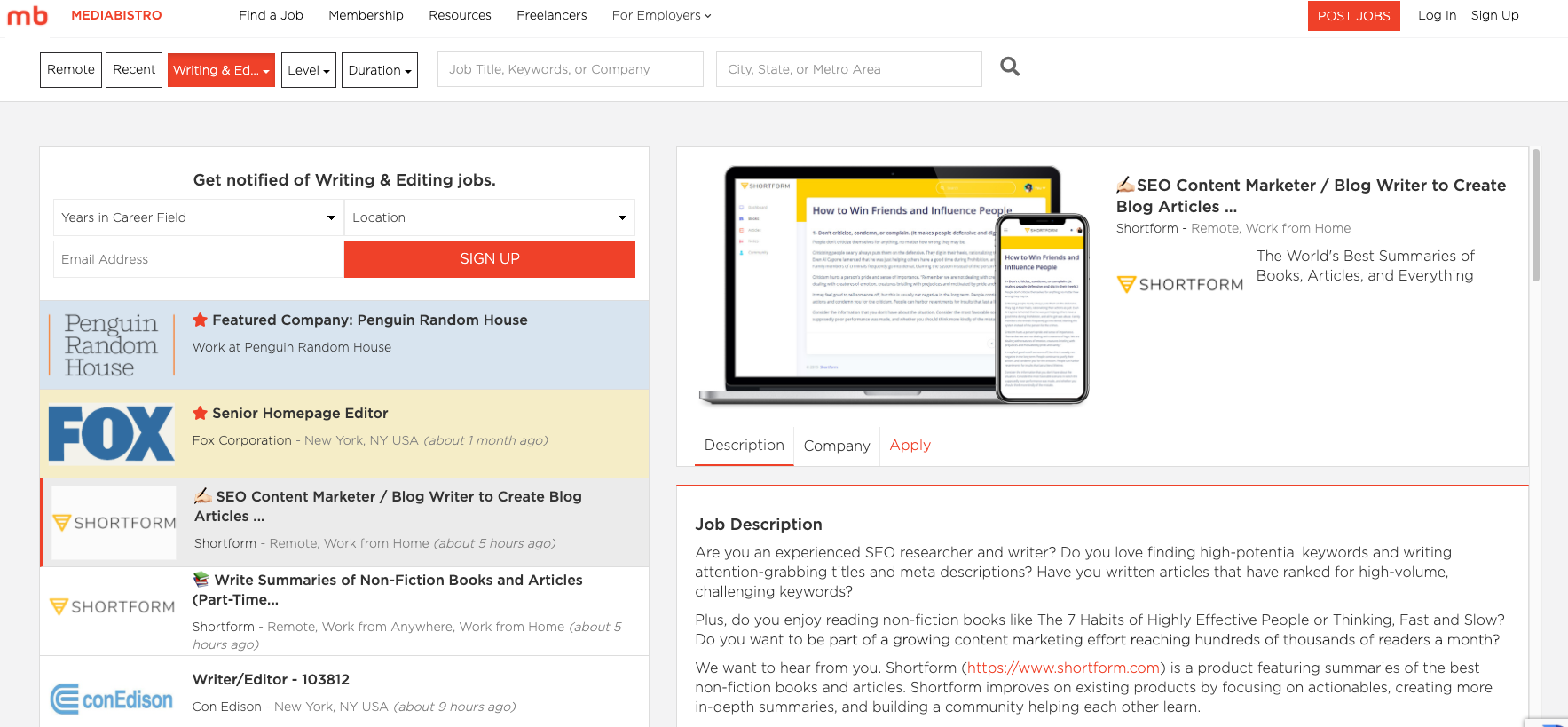 While it's not just for freelancers, the Media Bistro site does offer a search feature for remote work. Or hey, you might find some awesome full time gig writing for a dream brand.
This Reddit sub features just a listing of writing jobs. You'll have to pick through them to find gigs that suit what you're looking for but it's updated multiple times a week. You can check out the Freelance Writers sub too, that sporadically lists jobs.
You won't find just writing jobs online here, but a whole list pulled from a bunch of different sites. It's updated weekly, so it can't hurt to pop in here and see what's available.
This board was created by digital nomads for fellow digital nomads. It doesn't get updated as frequently as the other boards but you'll know every opportunity is remote.
It's a standard job board, but unlike a lot of others I've seen you can search for remote work really easily, right now there are over 30,000 remote writing jobs on the site for you to dig through.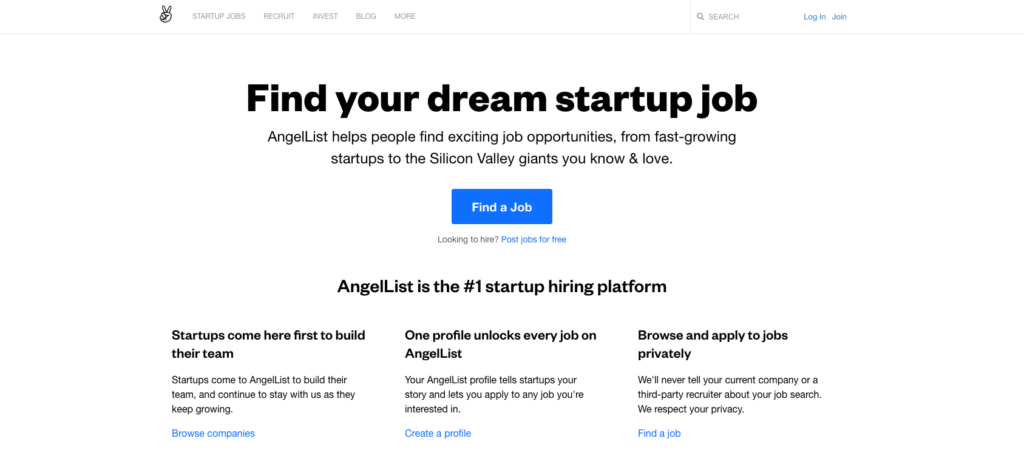 If you want to dip your feet into the startup world, check out Angle List. There is a solid listing of writing roles that lean heavily on remote work for both part-time and full-time gigs.
This is another site that hires freelance writers to add to their stable for big client work projects. Scroll to the bottom of the page and click the Content Studio Application to fill out the form.
The folks over at the Dynamite Circle have created their own job board for all sorts of jobs in various industries and positions. It's not for writers specifically but there are writer jobs on there.
This isn't a massive job board, but hey some jobs are better than none! Choose between writing jobs and PR/communication jobs and go from there.
This is another site that makes searching easy because all of the jobs listed are remote and work from home opportunities.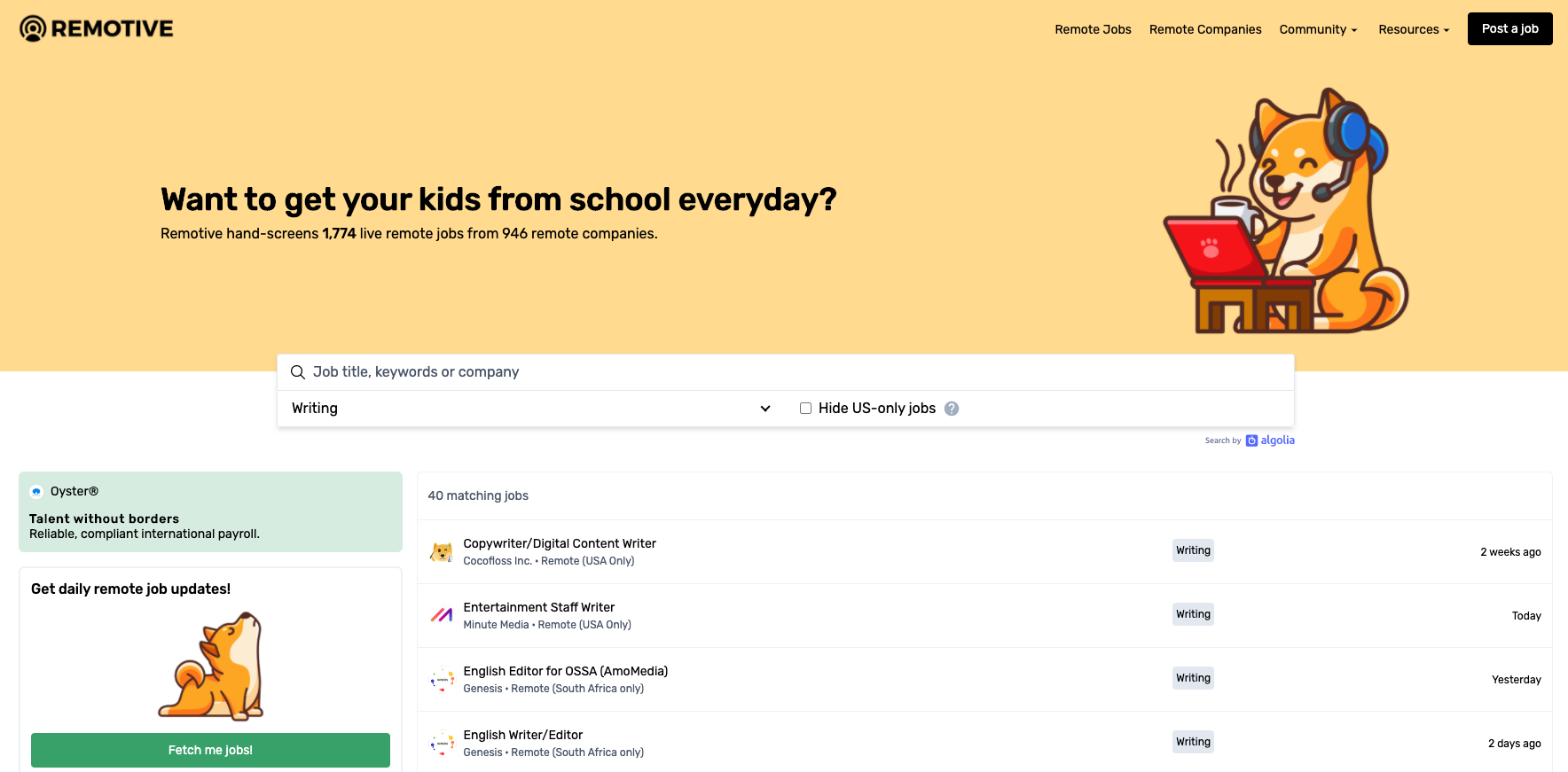 While this site is geared more towards web developers and designers, you can find writing jobs in the marketing section. It has more tech-heavy clients and lots of SaaS brands.
And want to know our favorites? Here are 6 of the best freelance writing job boards for actually finding work.
Finding Freelance Writing Work: Paid Sites
There are a few very good job boards out there that are protected behind a paywall. Some of these are strictly job boards while others are more like membership sites for writers that have job board perks.
Typically, these will spend much more time curating high-quality posts, so you won't find a lot of bad jobs on here.
A note of caution here, do your due diligence before paying for any job boards (a simple Google of the name can provide a wealth of information). A lot of them will not put you much further ahead than many of the free sites while wanting you to pay high monthly fees.
The sites below feature good online writing jobs.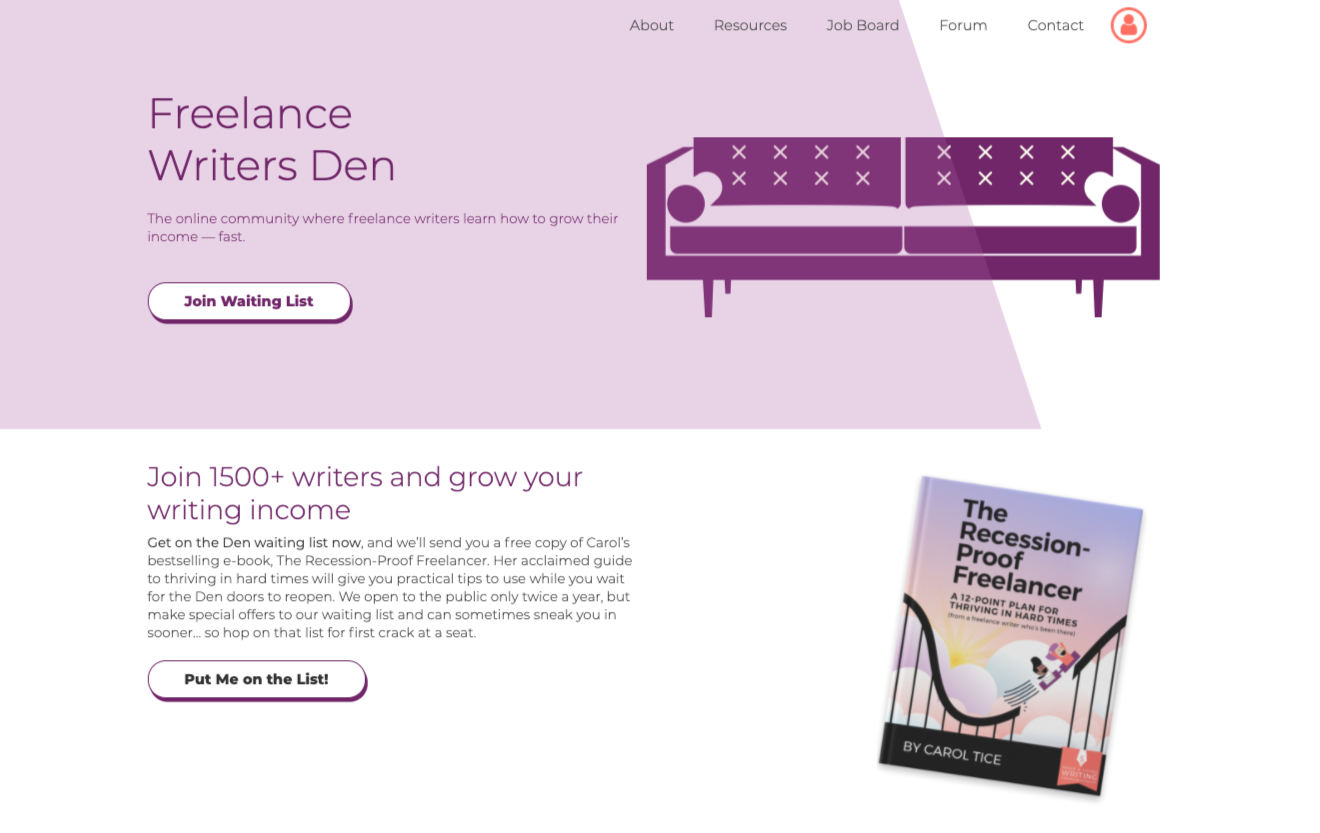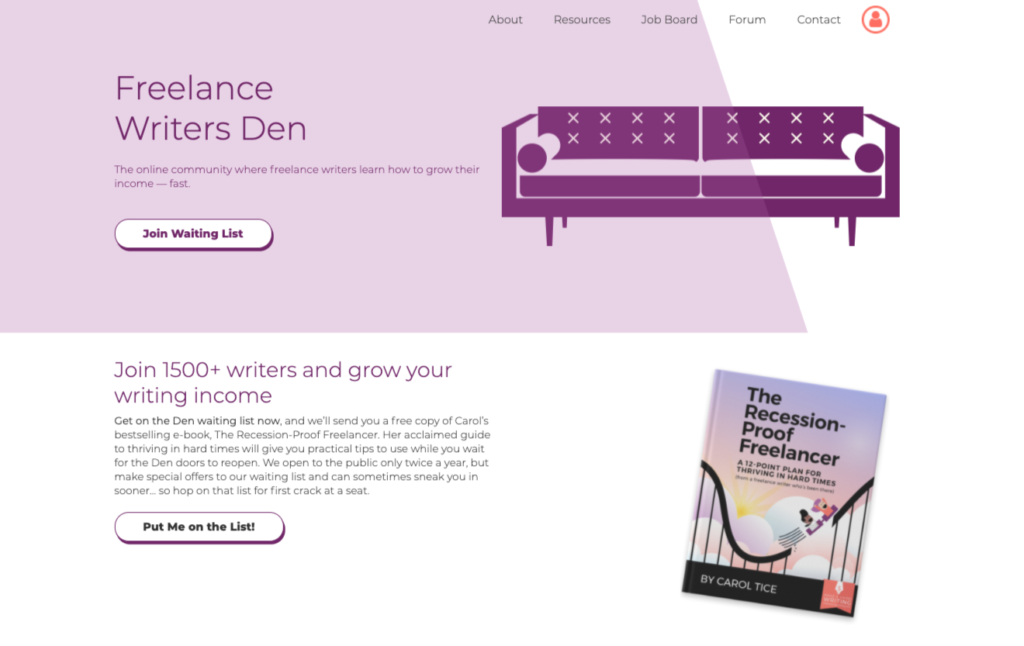 Carol Tice of Make a Living Writing runs this job board so you know it only has high-quality posts.
The forum is the big feature here, but being a member includes a newsletter that features quality listings.
This site isn't always open to join, and has one of the highest fees out there, but also has a lot of hand-curated jobs in a variety of fields that you won't find anywhere else.
You can search for free on FlexJobs but to get access to the good stuff, the paid feature provides a lot more information.
This newsletter is a few bucks a month, but if you're looking to get into writing for magazines or digital publications it has a ton of curated leads.
This another site that focuses on more of the media and journalist side of things if that's the area you want to dig into.
Finding Freelance Writing Work: Content Marketing Companies and Agencies
Don't forget to check out agencies for writing jobs too. For some people, working with an agency is the best of both worlds because they do much of the heavy lifting in terms of finding clients. All you have to do is write.
While you can build some amazing experience working with agencies, keep in mind you won't see rates that are as high as you might if you connected with a brand on your own.
Here are a few to check out:
Start by creating a free portfolio and add to it. Because if you get a good profile rolling, they might contact you for work, and the jobs are typically high quality (and pay well). Learn how to optimize your Contently profile here.
This is another site where you can jump in and start creating a portfolio. They work on matching high quality writers with big time gigs from Fortune 1000 brands.
Toptal is a site that claims it accepts only top level freelancers. If you do get through the process, though, you have access to legit big name brands.
Another big name site where a lot of bigger brands look to find writers. Set up your profile
This is another site that's like Skyword and Contently, they work with some big brands and will call on you if you fit their needs.
You might think staffing brands can't help you find creative or writing jobs, not true with Creative Circle. I've found their copywriting and social media postings especially relevant for freelancers.
43). Marketing Agency Lists
I cribbed this list from the becoming a freelance writer post, but you'll find THOUSANDS of agencies here:
Finding Freelance Writing Work: Social Media
Don't forget about social media! I keep track of a number of accounts on Twitter because you never know where something that's perfect could pop up!
I also follow lots of influencers in my field too. They will also often share job postings from their sites or friend's sites on their social media accounts.
Lastly, don't forget to do searches all over social media try searching: "we're hiring," "work with us," "writing job," "pitch me," or "job posted" to start.
44). @write_jobs
45). @tmj_bos_writing (find your city with @careerarc)
46). @remote_ok
47). @remoteok
48). Follow the hashtag "#reignydayjobs"
49). Facebook "writing jobs" groups
50). Facebook "writing jobs" pages
51). LinkedIn "writing jobs" groups
52). LinkedIn "content writer" companies
Also, don't forget there is always the potential to offer your services inside any Facebook groups you join. Remember, don't spam, become a part of the community, offer value, and then showcase your skills.
Follow the tips Olivia lays out for making the most of Facebook groups, in this post.
Sites that Pay for Guest Posts or Have Paid Contributors
You can also get your feet wet doing guest posts. These are not only great to build up your brand, but some sites actually pay for posts too.
Now, you're not going to get rich pitching these sites, but you might catch a good break down the road. The key with these is to read the instructions. It's all there.
Unfortunately, way too many people ignore the directions and plow forward. Don't be one of these people. If something particular is put in the directions, seems like it's important to pay attention to, no?
Read these pages a few times and then craft your pitch. Getting an accepted post on any of these sites can be a nice boost to your freelancing career.
For the sites below, most have their pay rates right on the page. Others will offer payment for really high-quality stuff.
Travel
53). Matador Network 
54). The Expeditioner 
55). International Living 
56). The Savvy Retiree 
57). Theme Park Tourist 
58). Arrivedo 
60). The Culture Trip 
61). Transitions Abroad 
Money
62). The Penny Hoarder – Personal Finance
63). Doctor of Credit – Personal Finance
64). WiseBread – Personal Finance
65). Moneycrashers – Personal Finance
66). Elite Personal Finance – Personal Finance
67). Coin Central – Bitcoin
68). Coin Insider – Bitcoin
Writing
70). B2B Writing Success 
71). Writer's Weekly 
72). Funds for Writers 
73). Barefoot Writer
Tech
74). A List Apart – Web Design
75). Smashing Magazine – Web Design and Development
76). Linode – Linux, Linode and Cloud Infrastructure
77). Digital Ocean – Tech
78). Technopedia – Tech
79). Polygon – Gaming
Making Money Online
80). RemarkMe – Work from Home
81). Rank Pay – Online Business
82). Income Diary – Online Business
Family
83). A Fine Parent 
84). Just Parents 
85). MotherWell 
Personal Stories
86). Reader's Digest – Personal Stories
87). Chicken Soup for the Soul – Personal Stories
88). Narratively – Various
Health and Fitness
89). Horse Network – Sport
90). Blog Paws – Pets
91). Yoga International – Health
92). Vibrant Life – Health
93). Cooking Detective – Food
94). wiki Espresso Machine – Coffee
Lifestyle and Culture
95). Listverse – Various
96). The Drive – Automotive
97). American College of Healthcare Sciences – Science
98). Loaded Landscapes – Photography
99). Book Browse – Books
100). The Partially Examined Life – Culture
101). Cracked – Culture/Entertainment
102. ScreenRant – Entertainment
103). Wide Open Country – Entertainment
104). SyFy – Entertainment
105). Tor – Culture/Entertainment
Unless they specifically spell out that there is no payment for posts, you don't know. So when you do send in your pitch, it never hurts to ask.
I recently had a pitch accepted for a guest post on a site that didn't mention payment at all. After the post was published, the editor reached out and asked me where he could send a check.
A Few More Places to Find Freelance Jobs Online
Some of these don't fit neatly into the categories above, but I still think they are really useful. So, check out a few of them and see if they are a good fit for you.
106). Who Pays Writers
A good look at the sites out there that pay freelancers and how much they actually pay per word or project.
107). Contently's Freelance Rates Database
This is a big list with hundreds of entries of sites and how much they pay freelancers.
108). Pitchwizz
You can directly connect with a bunch of editors from big name digital sites and smaller magazines here.
109). Where to Pitch
This is a cool twist on your standard job board, it gives you the masthead and pitching guidelines for a ton of paying sites.
110). Get Apprenticeship 
Taylor Pearson created this site for people who are looking to embrace the apprenticeship model, lots of potential here.
111). Earn Money Online: Monster List of 161 Markets for Freelance Writers
Monster list is right, you can find a ton of opportunities right here.
112). 34 Travel Magazines and Websites that Pay Freelance Writers
This list from The Write Life should be must read for aspiring travel writers.
113). 900+ Startups Hiring Remotely
This is a huge database from Remotive of startups that are hiring but it doesn't list what they may be hiring for so you'll have to do some digging (and pitching) on your end.
114). Aerogramme Writer's Studio
You'll a lot of information here on writers in residence programs, fiction and non-fiction contests, short story submissions and the like.
115). Writer's Market
This is a book that comes out every year and features a huge listing of magazine and trade publications that accept writers. It also has great advice on how to write good pitches.
116). 70+ Publications that Pay $1 a Word
A nice list of publications and sites that offer good rates.
117). Get Paid To Write Online: 99 Travel Publications That Pay Up To $4,000
If you're a travel writer, this is a great list to dig into.
118). 35 Travel Magazines That Pay Writers up to $3 per Word – Another list to check out if you're a travel writer.
119). Location Rebel Academy – Sure, we'll pitch ourselves. We've got a member's only job board and we do post up remote gigs we see floating around online.
Whew, that's a long list.
But, keep in mind, these aren't the only writing jobs available out there so don't just rely on these. Keep your own search going and, at the same time, schedule time in your week to search and pitch.
A Few More Ways to Find Freelance Writing Clients
Yes, you can scour the web for writing jobs but that isn't the only thing you can do to improve your chances of finding freelance writing clients.
Things like making sure you have a solid (and professional) blog on your website, researching the person you're trying to reach, and even having a bit of personality are important factors. And honestly, way too often, no one even thinks about them.
If you want to set yourself up for the best possible chance to land some of these writing jobs, then you've got to check out the video below. Or you can read the accompanying post, how to get more freelance writing clients:
Do you already have a few clients already but you want to take your freelance writing career to the next level? This post: Strategies to Find More Freelance Work can help.
Check out these 5 (Weird) Ways to Land Freelance Copywriting Jobs:
Final Thoughts on Finding Freelance Writing Jobs Online
If you've been struggling with where to find more writing jobs online, hopefully, this will help.
Keep all of these sites and tactics in mind when you set out to search for gigs. More often than not, having lots of pitches out there over time will start to pay off.
Did we miss any secret gems? Let us know if you've got a few go-to sites you use to find writing jobs online in the comments.
Sean Ogle
Sean Ogle is the Founder of Location Rebel where he has spent the last 12+ years teaching people how to build online businesses that give them the freedom to do more of the things they like to do in life. When he's not in the coffee shops of Portland, or the beaches of Bali, he's probably sneaking into some other high-class establishment where he most certainly doesn't belong.
Learn How to Make Your First $1,000 Freelance Writing (in 30 Days or Less)
Join over 40,000 people who have taken our 6 part freelance writing course. Sign up below and let's do this together.
By entering your email address you agree to receive emails from Location Rebel. We'll respect your privacy and you can unsubscribe at any time.