My First Mentor
I've told this story a lot on the blog, but given the circumstances, I feel it's worth telling again.
It was March of 2009.
I was out of vacation days (already) for the year, so during my first meeting with Chris Guillebeau I was at a "doctor's appointment"  – which in some ways wasn't all that far from the truth. There was something wrong in my life, and I was looking at him to help me fix it.
I was working as a financial analyst at the absolutely lowest point in the Great Recession, and had just received a 20% pay cut the day I got back from a life changing trip to Brazil.
I'd stumbled across Chris' blog, the Art of Non Conformity. where he was talking about a different life, or taking a different path.
He'd just moved to Portland, and surprisingly agreed to meet me for a cup of coffee.
During that meeting he encouraged me to create a Bucket List and to find some accountability for it – which I did by starting this website you're reading now.
The next year became a whirlwind. I started this site, left my job, sold my car, and moved to Thailand.
11 months later, Chris and I met at a Starbucks in Bangkok, and it was at that moment I realized just how far I'd come.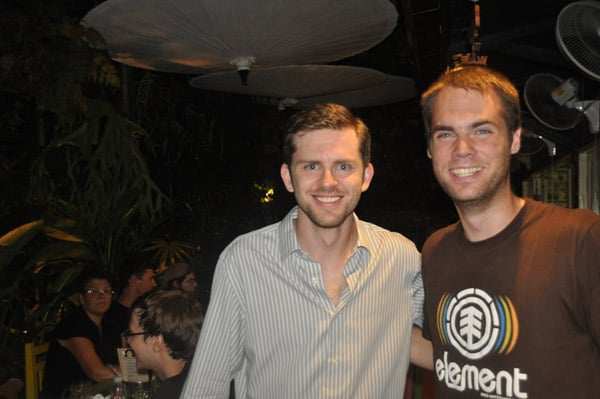 Now just over 9 years later, I'm still working for myself, helping people build small businesses every single day, and am constantly pinching myself wondering how it's all still working so well.
How to Find a Mentor
I shot this video about my mentors over the years that you may find interesting:
So why tell you this now?
100 Side Hustles – The Evolution of Chris' Other Books
Because today Chris is releasing his 6th book, 100 Side Hustles: Unexpected Ideas for Creating Extra Money Without Quitting Your Day Job.
As I look back on the books Chris has written, they walk the reader through the exact process that I've gone through in my own business.
And finally today, we have 100 Side Hustles.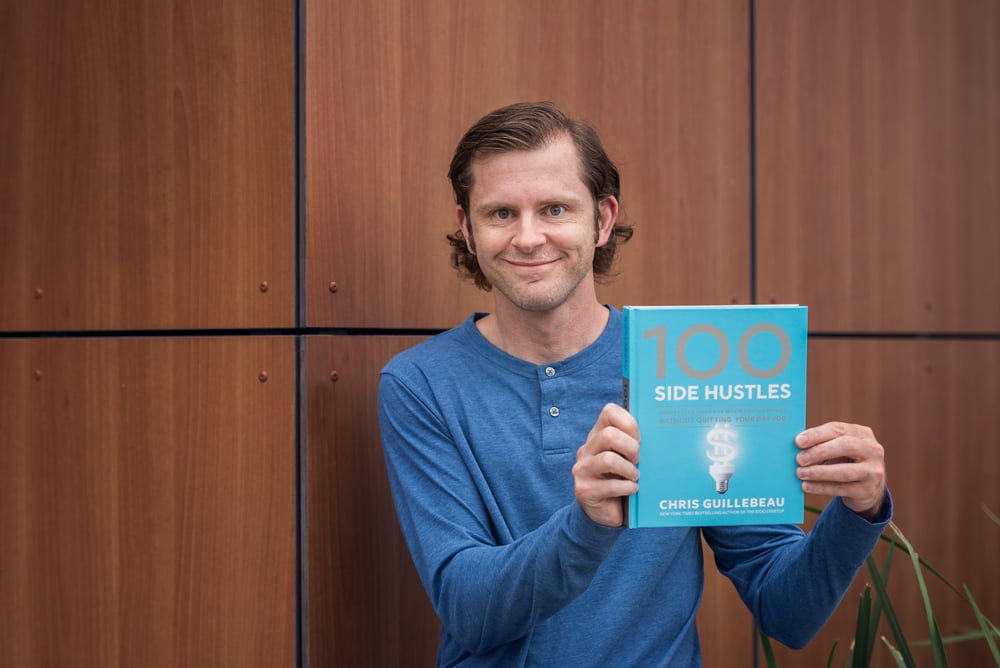 100 Side Hustles Review
In the book Chris highlights 100 stories of (very) different people building (very) different types of businesses, many of which are still being done on the side.
While Chris' books have always had good examples, what I've loved about this one as I've read through it is what it does for your creative juices.
Note: I was sent an advance copy of the book.
With each story I began thinking of how I can take elements of what others are doing and apply it to my own life and businesses.
For instance, in reading the one about Scott's Cheap Flights, I began formulating ideas for how I could create a similar email list in the golf industry (and this idea actually has me really excited!)
If you don't have a business, then this book is even better as it will take you down numerous different roads and allow you to explore different ideas, niches, concepts, and ideas to help you come up with your own great idea.
Should You Buy 100 Side Hustles?
100 Side Hustles is different from his other books, as it's more highly designed and almost feels more like a coffee table book than a novel – and that's one of the things I've liked about it.
It ties in perfectly with his daily podcast which features similar stories, but by doing it in a different medium it's going to hit a different audience that needs to see it.
(If you do tune into the podcast, I will say I'm quite partial to episode 263  🙂 )
So if you've been looking for some additional inspiration to start a business, or are just looking to hear some unique stories about different ways that others have set out on their own path, I highly recommend you pick up 100 Startups Today – you won't regret it 🙂