Here's something you maybe haven't thought much about: Most people hate typing.
Some people might be OK at it. Others just plain suck. And some might actually be decent but just don't have the time. Whatever the case, for a lot of people, typing is a time-consuming drag.
And typing a large number of words accurately so that what you've taken down could actually be published or shared with others? Well, that's enough to cause downright panic in many people.
Why are we telling you all this?
Because if YOU can type and you can type accurately and you can type fast – well, you can get paid to type.
It's called transcribing. It's taking what other people have recorded and putting it down on paper (or computer screen).
It's not super high-paying and it's not terribly exciting.
But you know what it is? Easy! Like, really easy. If you can type, that is.
So if you're looking for a work-from-home opportunity, or a side hustle to bring in some extra money, or another skill to add to your freelance services offerings, don't overlook transcription work. Getting started is supid simple.
What Are Online Transcription Jobs?
Anything where there are words that have been audibly spoken and now need to be written, is a transcription job.
Say someone gives a speech and now that organization wants to publish a written version of what was said. That's a transcription job.
Or maybe a professor gives a lecture and the school decides they want to include it as part of next semester's curriculum. Someone has gotta transcribe what was said.
Maybe someone wants to write their memoir but they want to record their words rather than write or type them. A transcriptionist is the one who turns that recording into a written document.
Before the internet, people who wanted something transcribed had to record it and then send or deliver a copy of that recording by mail or in person.
Now, recording is simple and delivery is even simpler.
It means that people can hire transcriptionists much easier.
And that means that more people are aware of the idea of hiring transcriptionists.
Add it all up and you'll realize that working as an online transcriptionist is more and more of a thing.
Is Transcribing a Good Job for You?
We talked about typing skills. That's probably the biggest prerequisite when it comes to getting transcription jobs. If you can't type fast, transcribing might take you too long to realize a good enough dollar-per-hour return.
Beyond typing, you've got to be accurate. That means attention to detail. You have to transcribe exactly what's been recorded verbatim. This isn't paraphrasing.
Also, you'll need to be proficient with punctuation. Because you can't see the punctuation when you're listening to the recording, you'll have to add the commas, apostrophes, etc. where you think they fit based on some basic understanding of punctuation and grammar.
Beyond those things, is transcribing a good job for you?
I don't know. Do you want to work from anywhere? Do you like making money for doing a really easy task?
You do?! Go figure!
Alright, then let's keep going.
Learn How to Make Your First $1,000 Freelance Writing (in 30 Days or Less)
Join over 40,000 people who have taken our 6 part freelance writing course. Sign up below and let's do this together.
By entering your email address you agree to receive emails from Location Rebel. We'll respect your privacy and you can unsubscribe at any time.
Common Types of Transcription Jobs
The most common types of transcription jobs are in the legal and medical fields. Things like depositions and search warrants or physician notes or medical charts. There's always work like this available.
Law enforcement transcription is another popular gig. Things like witness interviews and 911 calls.
Some companies will want transcriptions of recorded business meetings.
And more and more podcasters and YouTubers are realizing that they can double dip with their content by publishing a transcription as a blog post.
What Do I Need To Get Started as a Transcriptionist?
Not much, really. A computer. An internet connection. Those are the only real requirements.
A pair of headphones is probably a good idea. You'll need to listen closely. And when you're kicking it by the pool or in the corner of the coffee shop – or literally anywhere! – you're going to need to tune out the distractions.
If you want to be a big-leaguer, a foot pedal is a key investment. This lets you play, pause, rewind, etc. with your foot. As a transcriptionist, you'll be pausing and rewinding a lot! Remember, you have to get the words verbatim. So having a tool that gives you better playback control could be a big time saver.
23 Online Transcription Jobs for Beginners
The thing to remember about all of these jobs is that with some basic skills, your learning curve is next to nothing. So if you're ready to hustle and put yourself out there to find work, you can get started pretty much immediately.
All that's listed below is intended for beginners or non-experienced transcriptionists. But all of these ideas can be scaled as well. Transcription isn't ever going to be the highest-paid work you can find, but as with everything, the more experience and track record you have, the more money you can make.
Rev makes it super easy to get started as a transcriptionist. Just pass a grammar quiz, and you're on your way.
This site is loaded with work. Some transcriptionists will find all the gigs they can handle with just this one source.
Rev quotes the average monthly transcriptionist earnings at $245. Like we said, transcription isn't the highest-paid work that you can find. Then again, it ain't nothing.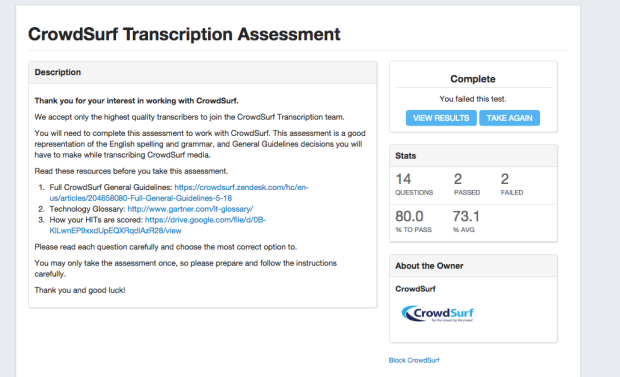 CrowdSurf is another place packed with potential for transcription work.
To get started, you'll first create a freelancer account on the platform's Work Market. From there, you're on to CrowdSurf and the gigs.
And, if you need it, they even provide training.
No experience required. That's you, right?
GoTranscript gives you 10 hours to transcribe 10 minutes of audio. You can handle that, can't you?
And they have work in more than 20 different languages, so if you're multilingual, you may find even greater opportunities here.
Ever heard of it?
You know what to do here. Punch in some obvious search terms, and voila…
Oh, by the way, if you're going to do this work, you'll need to decide what to call yourself. Transcriptionist or transcriber. They mean the same thing. Take your pick. And search for both.
The name tells you everything. They market their transcription services to companies in a variety of industries.
Guess what that means? They need transcriptionists.
This service transcribes voicemail messages, memos, letters, legal files, medical files, recordings of phone calls, conference calls etc.
You may need just a bit of experience to get hired here. No worries. You can find plenty of initial experience opportunities elsewhere on this list.
This site focuses on law enforcement transcriptions. They market themselves to investigators, attorneys and other government agencies.
Can you keep a secret? The work you do for this service must remain confidential.
8) Cold Outreach
You know how we love us some cold outreach.
Why?
Cause it works!
It's a simple numbers game. Send enough letters of introduction or pitches and you're gonna get some bites.
This tactic can work for any kind of freelancing gigs, including transcription.
Just don't do this:
This site promises its clients a three-hour turnaround. So, if you want jobs here, you'll need to be prepared to work quickly.
This company has been providing transcription services since 1990.
But getting work here does require you to have a foot pedal. You might want one anyway.
This is the place on LinkedIn where people go to find freelancers, including transcriptionists.
Set up an account. Create a profile that announces yourself as available to do transcription work, and watch what happens.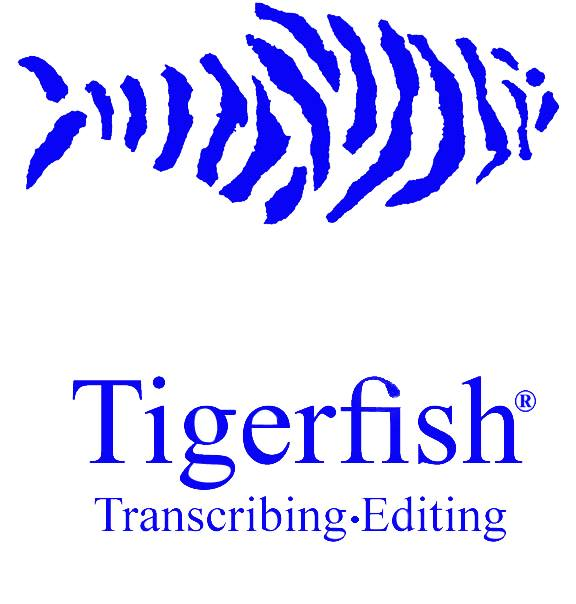 Alright, this list is geared towards beginner transcriptionists. And Tigerfish strays a bit into the more experienced side of things.
Still, it's worth listing. Because once you get just a bit of experience, you'll be eligible to work here.
And you want to work here. They've got tons of work and from cool brands.
All the jobs are in English, but you will need to understand some accents. Namely British, Australian and Indian.
This is a popular spot for beginners.
All the jobs are in English, but you will need to understand some accents. Namely British, Australian and Indian.
This is a popular spot for beginners.
People may not realize this, but Upwork has a bunch of transcription work.
Just be careful not to fall into the trap of selling yourself too cheap. It's easy to do as a beginner. But it can be a hard trap to break free from.
Here are some tips on how to get jobs on Upwork (if you really decide to go this route).

Another place that seems to always have work.
Sign up, pass a test and get going.
This is an Amazon-powered crowdsourcing marketplace. They connect businesses with service providers. And they've got transcription work.
This site isn't just for freelance writers.
You'll have to dig a bit, and there might not always be a ton, but there is transcription work to be found here.
Post your skills and wait for offers.
You don't have to have any experience to get started working on GMR. But when you do acquire experience, you'll be in line for better-paying work.
So it pays to stick around at this site and build up some clout.
This site is looking for real pros. They want reliable transcriptionists who can turn jobs around the same day.
This is your reminder to make sure that you're networking. Twitter is a great place to do it.
The play here is to find others doing what you want to do. Follow them. Learn from them. And engage them in conversation.
Twitter is a great way to pick up work. Referral work is often the best kind. It won't happen immediately, but the long-game approach is worth it.
Here's exactly how to find freelance jobs on Twitter.
This is another one that will take on new transcriptionists but that will pay you more as you gain more experience.
This is for U.S.-based transcriptionists only.
They say that they are always looking for transcriptionists.
You'll have to pass a short test. After that, it's off to the races. Lots of market research transcription work.
Like with Upwork, you'll need to be selective when searching for work on Fiverr. There's a lot of work, but there's also a lot of really cheap work.
Just remember, you don't have to work for next to nothing. If you are patient and selective, you'll find some gigs on Fiverr that are actually worth your time.
Get Started With Online Transcription Work Right Away
I'm not sure there's a quicker freelance startup path than with transcription work. Seriously, you most likely already own everything you would need to get going.
Maybe not a foot pedal. But you can wait until you get some momentum before upping your game to that level.
I'll say it again though: Typing is the key skill here. You gotta be able to type accurately at a decent clip. Otherwise, it's going to take you too long. It won't be worth your time.
But if you can type. If you can be accurate. And if you like getting paid for easy work. Yeah, transcription work is where it's at.
Sean Ogle
Sean Ogle is the Founder of Location Rebel where he has spent the last 12+ years teaching people how to build online businesses that give them the freedom to do more of the things they like to do in life. When he's not in the coffee shops of Portland, or the beaches of Bali, he's probably sneaking into some other high-class establishment where he most certainly doesn't belong.
Learn How to Make Your First $1,000 Freelance Writing (in 30 Days or Less)
Join over 40,000 people who have taken our 6 part freelance writing course. Sign up below and let's do this together.
By entering your email address you agree to receive emails from Location Rebel. We'll respect your privacy and you can unsubscribe at any time.