by Liz Froment
|
Last Updated:
May 17, 2018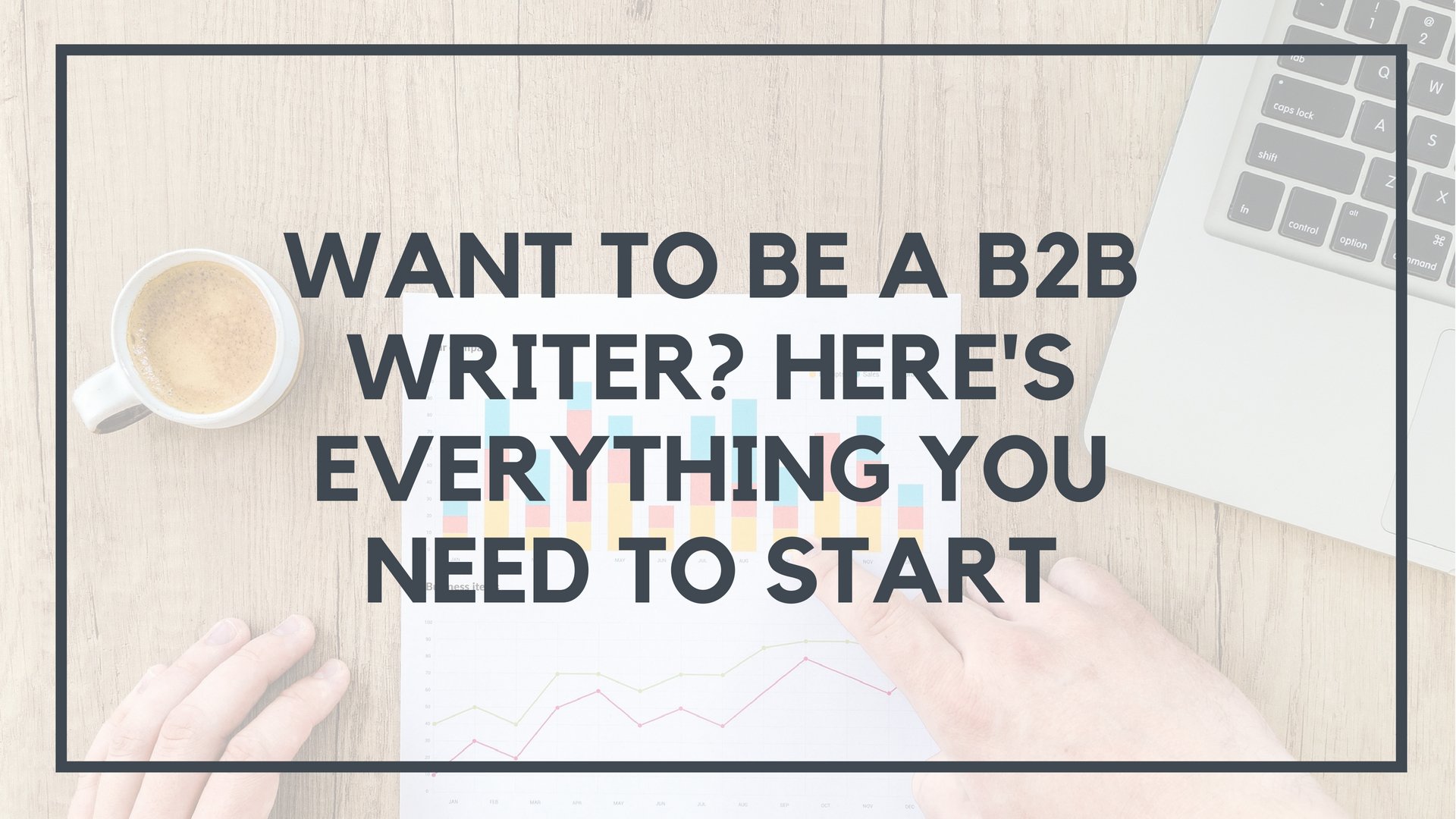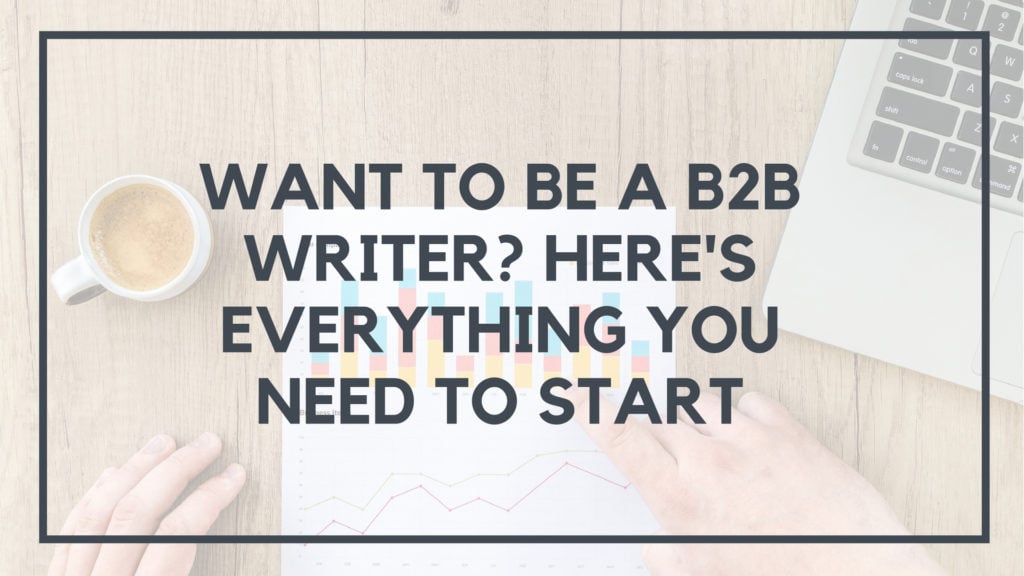 There's a whole world of freelance writing out there, and most people don't even know it.
When I started freelancing I had no idea B2B writing was an option.
And now?
It's my biggest source of income.
As I've been preaching the benefits of B2B writing inside the Location Rebel forums, I realized most people didn't know what it entailed or how to start.
And that meant a huge opportunity to create a guide that would help people in two ways: understanding the potential of becoming a B2B freelance writer and how to get into it.
So here we are.
Here's what you're going to learn in this post.
How to Become a B2B Writer
Reading not your thing? Get the lowdown here:
What does B2B writing mean?
B2B means business to business.
B2B brands sell products and services to other businesses. Whereas Business to consumer (B2C) brands sell products directly to you and me, we the people, the consumers.
So B2B writing is doing writing work for business to business companies. This could be blog posts, white papers, marketing initiatives, sales copy, internal documentation, or anything else B2B related.
Intel is a B2B company. It makes and sells products like microchips and server boards, all the little bits and pieces that make up the guts of your computer.
If you wanted to buy a chip from Intel they wouldn't sell it to you. But Dell or IBM can buy. They buy those parts and put them inside the computers they sell to you.
Some brands will have both B2B and B2C components to their strategy. IBM sells to businesses and consumers. So it doesn't always have to be one or the other.
In this post, we're going to focus on B2B, the brands that sell stuff to other brands. That's where we're looking to get freelance writing clients.
Build a Lifestyle Business Giving You Freedom You've Always Wanted
Our 6-part course gives you a strategy to start right now. Put control of your life back in your hands. Sign up below and let's do this together.
By entering your email address you agree to receive emails from Location Rebel. We'll respect your privacy and you can unsubscribe at any time.
Here are a few B2B marketing examples:
So you probably want some examples of B2B content in the wild.
Good idea.
Tons of brands run blogs. They need blog writers.
John Deere has a blog that talks about industrial farming equipment:
Brands also need people to write whitepapers, guides, and ebooks. Plus, they need people to write those landing pages too.
MedPro has a guide all about medical waste management:
Brands need infographics and people to design them and come up with content for them.
Dun and Bradstreet made this Halloween inspired infographic:
Brands need people to write product descriptions.
Here's one about a fishing reel from Shimano:
Brands need social media content (including ads). Zillow has a whole Facebook page that speaks only to real estate agents.
Are you getting the picture? This just scratches the surface of the opportunities out there.
The Benefits of B2B Writing
When I first started freelancing a few years ago I had no idea B2B writing was even a thing.
It wasn't until I met a few really successful six figure writers that I realized one common denominator between them. They were all B2B writers.
To say it was a lightbulb moment was an understatement.
The more I dug into B2B marketing the more opportunity I saw.
Here's why:
Money.
Yup, I said the dirty word right there in the open. Ya girl wanted in on some of that action.
B2B writing can be a lot more lucrative than other types of writing.
When I made the jump my invoices went from the standard $50, $60, $75 a post you see on a lot of the job boards to $150, $225, and $350 a post for the same number of words.
So money is the big one. But that's not the only benefit to this sort of writing.
Here are a few more:
Work for some big name brands, great for adding fancy logos to your writer website
Dig into an area of expertise and explore it
Build new relationships in an industry
Embrace the opportunity to expand, maybe you start with blogging but transition into whitepapers and make even more money
It's also important to keep in mind that outside of the huge brands, most people have never heard of many B2B companies. So that means there's less competition for you to get your foot in the door.
That's perfect, especially when you're getting started.
The most common types of B2B content
Here's where we start to see people struggle. They think creating solid B2B content is like writing a term paper in astrophysics or something.
Let me assure you, it's not.
Unless you decide to write for some aerospace defense B2B brand, in which case you probably will be writing about astrophysics and I'll be over here watching the Real Housewives of Beverly Hills.
Writing content for companies is no different than writing content for any other online brand, the key is understanding a bit more about your chosen industry.
You saw some examples above but here are even more B2B content marketing requests you'll see from brands: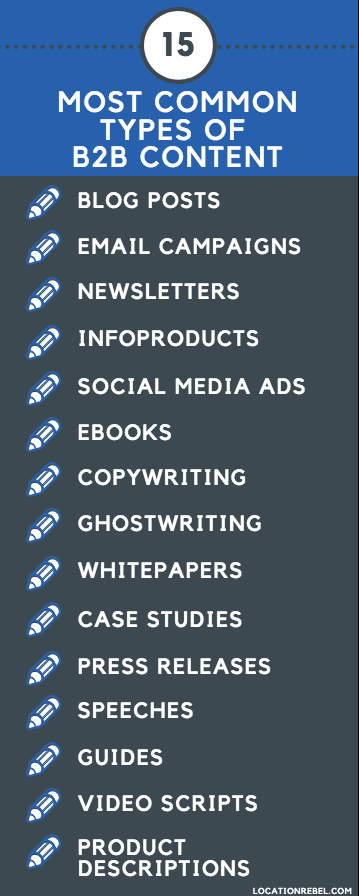 Those should all look familiar to most freelance writers.
And for you non-writers, there are all sorts of B2B content you can create too.
Video, social media, web design, project management, SEO, infographics, slide decks, photography, and designed images are a few examples.
Check this out: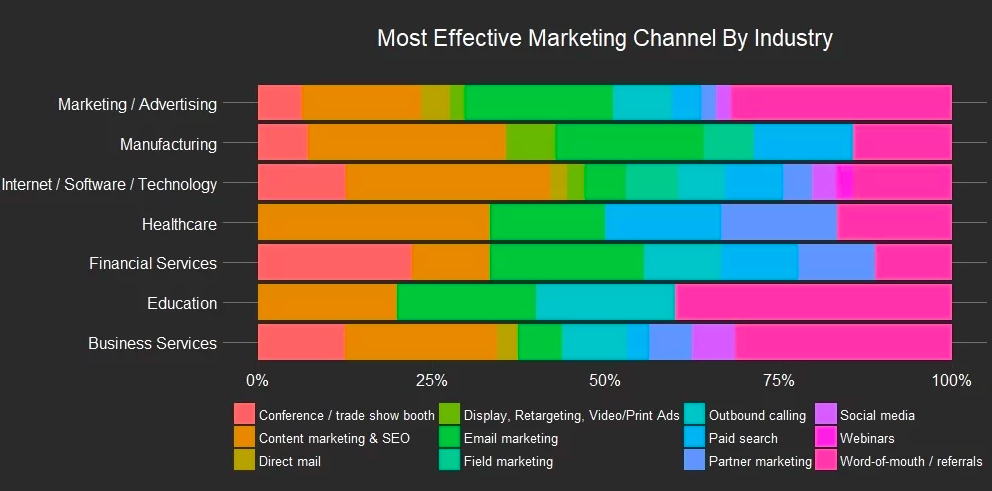 This chart from Bizible highlights the B2B marketing channels brands use.
You can see that content marketing certainly plays a part. But, so does email marketing, paid search, social media, direct mail, and SEO.
Brands need people who can do this stuff for them. Sometimes it's in-house (meaning a person who works for the company in the office), sometimes it can be done remotely, and sometimes the in-house marketing manager will hire freelancers to do it.
So there are lots of potential options.
A sampling of industries that need B2B marketing
The correct answer is pretty much all of them.
Don't worry, I won't leave it at that. There are tens of thousands of small industries and subcategories and niches out there in the B2B world.
Here are a few to get you started: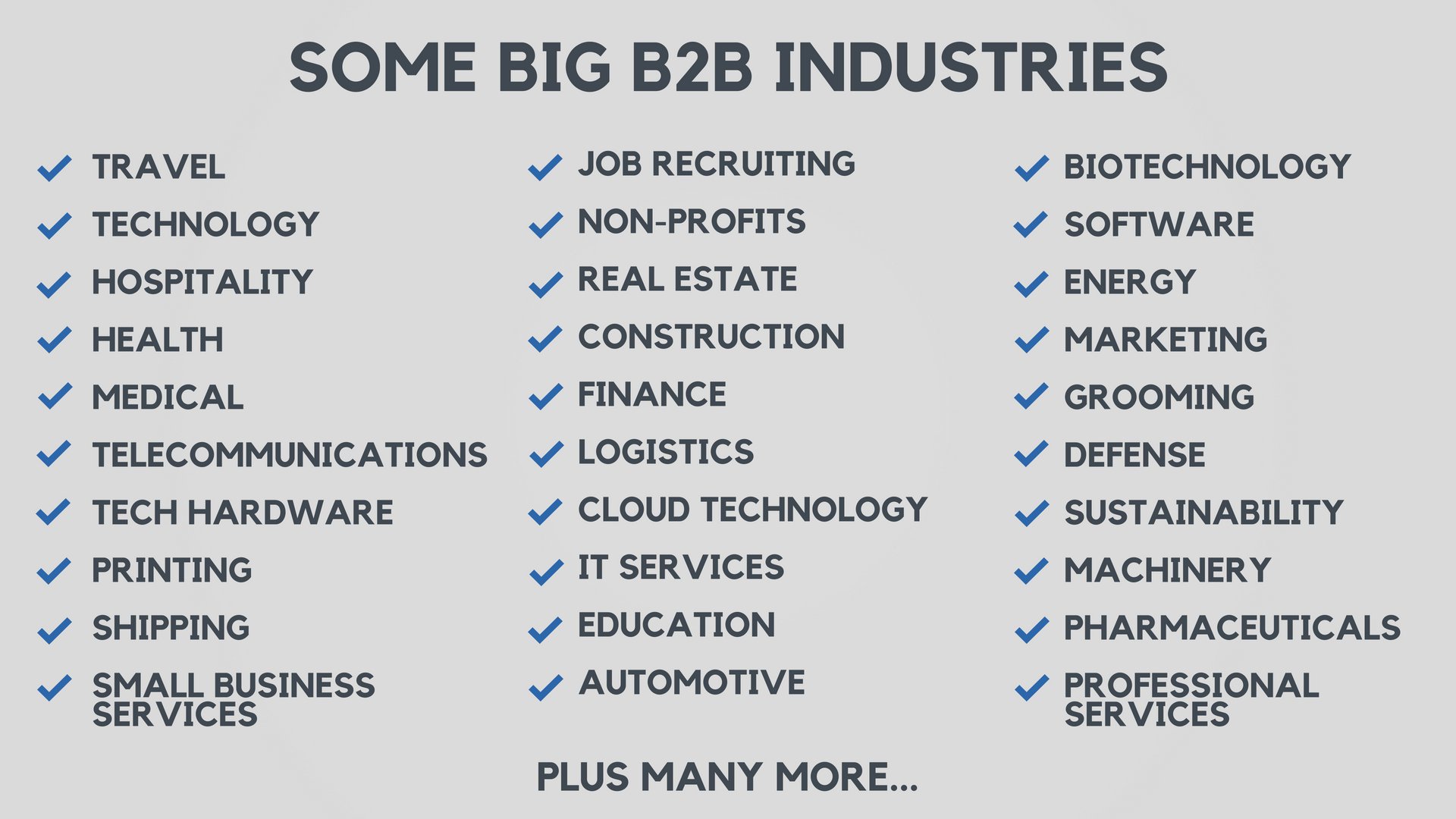 Chances are you have some sort of experience or understanding in at least one of these industries. And remember, this is by no means a comprehensive list.
Brands in these spaces need people to help them with their marketing. They need content written, Tweets scheduled, videos edited, and websites designed.
There's a ton of opportunity. You just have to go out and get it.
That's what we're going to cover next.
How to prepare to be a B2B writer (or, getting your act together in 3 easy steps)
I don't want to be the bearer of bad news, but here it is.
If you want to become a B2B writer, you have to get your shit together.
This is not something where you can wake up tomorrow, roll over, and say to the birds on your windowsill, "Today, why today's the day I become a B2B copywriter!"
PS, let me know if that works.
What I mean is this isn't something you want to jump into with zero preparation and no idea of what you're trying to do because you won't see success and you'll get discouraged.
No one wants that. I want you to be successful, get new clients, raise your income, and then email me and tell me all about it.
So the next few sections are going to help you get prepared and in the best possible position to start ASAP.
Step 1: Check Your Current Skills and Experience
I see this all the time inside the Location Rebel forums. People forget they had a life and career before they started freelancing.
I know this is a problem because I did it myself.
Prior to freelancing, I was in finance. I worked on mutual funds and hedge funds. Instead of leaning into my years of experience in corporate finance, college education, and internships I ignored it and tried to start fresh.
Unsurprisingly, it was a struggle. I wanted to become a writer but I made a lot of mistakes and wrote a lot for peanuts and didn't make much money. I felt frustrated a lot and I couldn't figure out what I was doing wrong.
If I were to meet myself on the street today and got into a conversation about writing, I'd say "write about finance, dummy!"
I share a little bit more about that in this guest post I recently wrote on breaking into B2B tech writing.
The second I started embracing what I knew and marketed myself as someone who could do financial writing, opportunities opened up.
That's a lesson I hope you learn right now. Don't make the same mistake I did and ignore what you already know.
Now, make a list of all your skills and experiences. Here are some places to find them:

Don't be shy.
Write down anything and everything you know how to do because you should find at least one thing that either was a B2B product or service or applies to any combination of B2B products or services.
I don't want any excuses so I'll offer up a few examples for the objections I know are coming:
Worked in retail? You know something about inventory and point of sale systems
Was a teacher? You know something about learning models and education technology
Stay at home mom? You have personally researched and field tested thousands of products
Admin at cube farm? You know something about enterprise systems and project management
All you have to do is reframe your thinking to include all those little things you worked on, knew, and picked up during your life. Then, figure out where these can directly apply to writing.
Action Step: Create a list of all of your skills and experiences. Highlight the ones that you think can work for B2B. Even better if you enjoyed doing any of them.
Step 2: Find a Niche
Niching down is a big mental obstacle for a lot of people.
They think that if they niche down they are going to miss out on millions of customers and lots of money.
That's wrong.
When it comes to niching you need to think like a customer. And how they would search to find you. Work backward.
Let's say you've got years of experience working as an office manager for doctor's offices. Here's some of the stuff you probably did:
Worked with IT on managing scheduling, invoicing, and payment systems
Were the point person for biohazard and waste management
Spoke directly with administrators at major insurance companies
Now, does calling yourself a B2B copywriter highlight any of this? Does it give anyone who would be really interested in all your years of valuable experience any idea what you do?
NOPE.
Here's where the niche matters.
You're more than just a general B2B copywriter. You're a B2B medical IT copywriter. Or a B2B medical waste management copywriter. Or a B2B healthcare technology copywriter.
Yes, you've just knocked out a ton of potential customers.
But a travel or financial or automotive parts company doesn't care about you or your skills because you don't know anything about what they do.
The companies that are in healthcare technology or medical waste management are going to LOVE you and want to pay you good money to write for them because you know exactly what they do.
And how are they going to find you?
Not by looking for any old copywriter.
They might ask around to other local doctor's offices and ask if they know any writers.
And then they are going go to Google or LinkedIn and look for a healthcare tech or a medical waste copywriter. When they see that you've niched yourself that way, it shows you are a great fit.
Remember, you don't need 1,000 clients to be successful when you're a freelancer. If you have 3 clients who pay you $2,000 a month to write copy for them you're making $72,000 a year.
Can you convince 3 healthcare related brands out of the tens of thousands out there that you should write for them?
I think so.
A few final thoughts before we go to the next step.
People will ask, can you be a generalist (i.e. not have a niche) and still succeed?
The answer is yes, but it's going to be harder. If you're going to go the generalist route, I'd suggest niching in some aspect of what you do. Maybe you only do email marketing campaigns, for example.
Another popular question is what if I pick the wrong niche?
Pick another one. You don't have to nail your niche on the first try. Most people don't. You can always shrink it or expand it or find some opportunity that comes and move into an entirely new niche altogether.
Don't skulk around for weeks because you can't decide on a niche.
That's exactly why we did the exercise above. Something should pop out to you as a potential.
Pick that and get to work.
Action Step: Niche down. The above exercise should have helped you narrow down to at least one, and ideally more areas where you can find an entry into B2B writing. Pick a few and get started.
Here's more on choosing a niche and niching down. The content is geared more towards choosing a niche for your blog, but a lot of the concepts are relevant.
Step 3: Create Your Portfolio
Now the fun part.
If you've already got a website up and running, you're ahead of the game.
If you don't have a website yet, I'd check out the instructions in this post to help you get a site up and running in the next few weeks.
On your freelance writer's website you need to have a few things:
A homepage where you tell visiting clients what services you offer
An about page where you can dig into your skills and experience a bit more
A sample or portfolio page where you highlight a few pieces of your work
A contact me page so people can contact you
A blog if you have no samples (because you can use the blog to create some!)
Here's a bit more on each:
Homepage
You want to make it very clear on your homepage that you are a B2B writer (or whatever it is you're going to do) and you have a niche or a few related niches.
You want a prospective client to land here and think awesome, this person is doing exactly what I need. Remember, think backward from what your ideal client is looking for and provide it on your site.
About Page
This is where you are going to dig into your relevant life experience, work experience, and skills.
It's nice to share a bit of fun stuff about yourself, but don't go overboard. Clients want to know that you have the relevant experience they are looking for and you can write. That's about it.
Sample Page
In an ideal world, you will have a minimum of 2 samples in your niche(s) that you can highlight here. If you've got more, fantastic.
You don't have to go overboard and post everything you've ever written. Pick the best 2-5 samples you have in each niche (don't forget to update as you get more work) and leave it at that.
Check out this post for more on how to have a good portfolio.
Contact Me
If people can't reach you they can't pay you. So get that page up and running!
Blog
Some people won't have any samples to start. That's ok. Think of your blog as a place to create samples.
Even if you don't have B2B writing experience write about stuff in your niche. Create a thought piece, talk relevant recent news. Highlight some of the companies you would love to work with.
A few well written highly relevant blog posts can go a long way. It's more important to make sure they are good versus posting every week, for this specific type of work, at least.
One last thing to keep in mind before we move on. Your website is also a reflection of your writing work too. So make it count.
Finally, keep in mind when advertising your skills, at least to start, I'd pick a focus and highlight either B2B or B2C (even if you write for both). For example, I call myself a B2B writer on my site but I do write for B2C clients too, just not as my primary work.
Action Step: Get your website up and running and start creating your portfolio. Here's a good post on the essentials of a freelance writing site. 
Now comes the time to start compiling potential job opportunities.
First, you need to know where to look.
Where to Start Looking for Freelance B2B Writing Jobs
I'd start with this list of places to find writing jobs online. In it, you'll find a huge list of potential job opportunities. Some will work well for B2B others won't.
From there, I'd go to the following spots:
LinkedIn
If you want to be in the B2B world (and even the B2C world, honestly), you have to get on LinkedIn.
Like your website, make sure your LinkedIn profile is up to date and highlights your B2B chops and your niche. Put that right in the title.
If you're US-based, I highly recommend signing up for LinkedIn ProFinder. I've gotten three writing projects through this alone. And I'll note ProFinder is not only for writing.
Learn more about how to get started on LinkedIn here.
You can also share the blog posts that you've written on your site on LinkedIn too. That might be a nice way to get some extra eyeballs in front of your work.
Once I started posting sporadically on LinkedIn I started getting attention. Just last week, I signed on for some work with a company who contacted me directly on LinkedIn.
Contently
Contently is a free site you can use to create a portfolio. They work with writers, photographers, videographers, infographic designers, and researchers. Learn more here.
So, if you find the idea of getting a website up and running too much then this should be your first stop in Step 3. But, don't ignore creating your own site forever.
The added bonus to Contently being a free portfolio site is they also work with brands as well. They run searches through their databases and if your content or experience is a match then you can get requested to work on a project with a brand.
After a long absence, I recently went in and updated my portfolio on Contently. And bazinga, not long after, I landed my first client there in one of my niches at a very good rate.
You can learn a bit more about specific areas where Contently is hiring here. And they also have a blog too.
And a protip for Contently, make sure you take their free course on how to use the platform. If you do, then you'll get flagged as a writer available for work.
Skyword
I had no idea what Skyword was until I went to a writers conference in NYC last year, which is somewhat hilarious considering it's in Boston (where I'm from).
A lot of the more successful writers I know have worked with Skyword.
Here's how it works.
You sign up, create a profile, and add your content to it. Skyword's teams comb through content to find matches in particular areas with their clients. When there is a match you'll be invited to a team.
Skyword accepts writers, designers, photographers, and videographers too. Learn more here.
You can see some common FAQs on their platform here. And also take a look at their blog, The Content Standard for good tips too.
I recently had the same experience here as with Contently. After a few months of writing for some B2B finance and insurance companies, I went in and updated my portfolio.
Probably a few weeks later I got an email asking if I wanted to join a team. Once again, this client is in one of my niches and pays well.
Next, Tap Your Network
Once you've got your stuff set on the sites above, it's time to start tapping into your current network.
For more on this, you should check out these two posts: How to Find More Freelance Writing Clients and 12 Strategies to Find More Freelance Work.
Clients
That includes past clients and current clients too.
Reaching out to people you've already worked with is a great way to get more work. And, with your new found niche ideas you might be able to squeeze some good content out of a project that could be a great fit for a niche you'd like to get into.
If they don't have work available, ask them for a referral.
Friends and Family
After clients, head out into the wider world.
Get into all of your networks: friends, family, social media, religious groups, beer softball teams, it doesn't matter who they are tell them you are a B2B [insert your niche here] writer and you're looking for introductions.
More often than not, these types of connections can work out because someone knows someone or a friend of a friend who is in marketing is looking for a writer and you'd be perfect.
Build Relationships With Other Writers
Tied in with this is building relationships. This is one of the reasons why becoming a B2B writer can take a bit longer.
But if you cultivate these relationships you can find an incredible source of support as well as referrals too.
Remember, this is not a competition. Other writers should be your friends.
Attend writer conferences, go to writer meetups, and join other writer's groups.
Be helpful and supportive. Make it clear what your niche is, and you might find a nice flow of referral work coming your way.
I know six-figure writers who routinely refer tens of thousands of dollars a work a year to others.
Those are nice friends to have, right?
Working With Agencies
Another source of good writing work comes from agencies. Many marketing, advertising, PR, and communications agencies hire loads of freelance writers to work on client projects.
Both Contently and Skyword, the examples from above do this.
You can also check out sites like NewsCred (scroll all the way to the bottom of the page for applications) and Brafton is another company that hires writers.
And nDash is another agency that created a platform to connects writers and brands. I've had success on here writing in banking, marketing, real estate, and insurance, which are my core niches.
There are some pros and cons to working with agencies.
The pros are they find all the work for you. All you have to do is wait to be called up to work on a project. You don't have to find any of the clients in the first place.
Also, since they have a stable of clients to work with, you can find yourself trying out different opportunities. It could be a great chance to get into a new niche or try whitepapers, for example.
When you're just getting your foot int he door, this is a very attractive option for a lot of people.
The biggest con is you get paid less than you would for working directly with the client. For some, that's a huge negative, for others it's a fine price to pay for not having to do all the upfront work of landing a client.
You get in touch with agencies by searching them out and sending a pitch or a letter of introduction (LOI). More on this soon.
Work with Brands Directly
Finally, you want to get in touch with brands directly to pitch your services.
Again, the key here is to have a list of the right brands to contact. This both helps increase your chances of a yes and doesn't waste your time.
You're going to learn how to come up with a list of brands in the next section.
Why Research is Your Best Friend
Once you've exhausted all of the avenues above, you want to include pitching actual brands in your marketing schedule.
First, you need to figure out the right brands that are going to be a good fit for your experience and knowledge. So you need to research.
This is the part that takes a long time, can be tedious, and a pain in the ass. This is also the part that a lot of people skip and then wonder why they aren't getting any new clients.
Jennifer Gregory, who runs a fantastic blog and is a very successful B2B writer, shares a really good method for finding clients in her book The Freelance Content Marketing Writer. I suggest you check out her site and book, it's chock full of awesome information.
Essentially, here's how it works, remember to pay particular attention to your chosen niche:
Think of all those skills and experiences you've listed above, now include the names of any and every brand you've worked with.
Make a huge list of all the products and services you've used in this niche, plus any related products and services you can find that you'd know their target audience uses
Find brands that are related to those products and services
In reality, it's pretty simple.
Go through these steps and create a gigantic list of companies. These likely will be a mix of B2B and B2C depending on your niche.
Next, start going through them and making notes:
Are they a brand you have experience with?
Do they have a blog? Has it been updated?
Is there any glaring content that is missing from their site?
Can you come up with a few ideas that you would make their content better?
This can help remove some brands that are poor fits and highlight some that are great fits.
There will probably be a few that jump off the page for you. Start with these first and work your way down the list.
I'd use Google Sheets or Excel or Airtable to keep track of this list. I've been loving Airtable lately, and it's free.
You can see the top line of my personal content writing business on Airtable:

So this is the list you're going to work with to start. Remember, nothing is set in stone.
You can tweak, update, remove, and add anything. Don't forget to add your list of agency contacts here too.
And, as you get more familiar with this it's going to be a lot quicker and easier.
Sending Introductions
Whew, here we are at the end.
By now you've got your website good to go, your niche set, and your list of agencies and brands you want to get in touch with.
Here's what comes next:
Letters of Introduction
These are perfect for agencies especially. A letter of introduction (LOI) is a quick email (seriously QUICK keep it under 5-7 sentences) that tells an agency key information:
Who you are
Why you are qualified both in terms of your writing ability and your industry knowledge
How you write
That is it.
Not your life history.
This is an email just saying hello, I'm a writer who has experience in your industry, and here are a few of my samples, let's chat sometime.
Here's an example:
Hello,

Do you work with freelance writers?

I'm a freelance [your niche here] writer. I've worked with brands X, Y, and Z creating [stuff you've created]. Before starting my writing business, I spent years working in [industries/niches where you worked].

You can see more of my experience on my [LinkedIn, Contently, Website]. And here are [a couple of relevant sample posts].

Hope to connect soon.

You
That is it. Something that is in this sort of feel and tone can work for an LOI. The important thing is to stay relevant to your client list, experience, and samples.
It's fine if it's not exactly dead on the same, the goal is to be in the general neighborhood.
As you get more experience and clients and sample work you can refine this as you go. But one thing to keep in mind is you don't want to send a finance LOI if you're talking about real estate, create a new letter for that.
If you don't have real estate experience, that's ok, create some sample pieces that tie finance and real estate together, which is pretty simple.
Pitches
In an ideal world, you want to work with as many warm leads as possible. But, when you're starting out sometimes you have to revert to the cold pitch.
Now, when it comes to sending pitches you can use pretty much the same approach as above. It doesn't hurt to talk about the website and position yourself as an expert.
For example, lots of business sites have very sporadic blog posting schedules. Mention in your email that you can come up with a blog content strategy.
You don't have to be over the top pushy or salesy to get the right attention. If you have some experience and, I think most importantly, some writing examples that are in that niche, it can go a long way.
For more on cold pitches, check out our Ultimate Cold Email Checklist.
Following Up
Finally, don't forget to follow up.
This part is super important!
I keep track of all of my pitches in two places.
In my Airtable (which you saw above) I keep track of specific articles or posts that I've pitched. This includes the site, the name of the post, my estimated rate, the date, and if the pitch was accepted or not.
When I'm sending out cold pitches or LOIs I keep track of that using Streak for Gmail. I love this tool and wrote an in-depth post on why I think it's so awesome for freelancers. So give that a read.
Keeping track means you can set a schedule to follow up on your emails.
This is because you will hear a whole lot of nothing, especially at first.
So, you want to know when you can go back in and send a follow-up email. Which should just be a quick, hey remember me type note. Nothing more than a sentence or two to start.
Sometimes, you'll hear back something like we'll keep you on file, or we're starting a new project on this in a few months, and then you'll hear nothing.
This is even better because it's a warm lead.
For this, I love the advice of Ed Gandia from B2B Launcher (he has a great podcast you should check out too). He uses what he calls a "9 word follow up email."
It basically looks something like this:
Hey Client,

Are you still looking for blog content?

Thanks,

You
Use this for all sorts of stuff, anything from standard follow-ups to telling people about new services, sharing a new link they might be interested in, or figuring out your future availability.
There are tons of possibilities.
Last note on follow-ups, well two last notes:
Don't barrage people with aggressive follow-ups, wait at least a few weeks for the first and then set a schedule
Don't create a new email, forward the email you originally sent and write your new note at the top of that
Alright, we're almost done.
Rinse and Repeat
What I shared above is going to give you the basic outline to getting started.
Go through this and when you get to the end, do it again. Get yourself into a system where you update your content, refine your niche, and send out LOIs on a consistent basis.
It might be slow going at first, but keep doing it and you will get there.
Now, it's up to you.
I can't wait to hear about your first B2B client, so let us know in the comments and good luck!
Liz Froment is a full-time freelance writer and the one who keeps Location Rebel running like a well-oiled machine. If she's not writing something informative or witty for her clients, she can most likely be found reading a good book.
Build a Lifestyle Business Giving You Freedom You've Always Wanted
Our 6-part course gives you a strategy to start right now. Put control of your life back in your hands. Sign up below and let's do this together.
By entering your email address you agree to receive emails from Location Rebel. We'll respect your privacy and you can unsubscribe at any time.