Becoming a remote worker can be one of the most liberating experiences in the world.
That being said, whether you're employed or self-employed, becoming a remote worker requires that you develop the skill of managing your own productivity. No one is in your home, or in the coffee shop, or on the beach looking over your shoulder to ensure that you're pushing the needle forward. 
When you get involved in remote project management like I have, you realize quickly that it becomes easy for things to get lost in the shuffle.
Which, of course, is terrible for business.
Learning this skill of self-management can be challenging. That's why I turn to an arsenal of tools to help keep me on track and highly productive (… most days). 
Before we get going, a quick disclaimer, this article will include many links through affiliates. We have arranged affiliate agreements with a handful of our favorite options, those affiliate links will be included in this article. Just know, we believe in some of these tools so much that we are excited to help their companies grow. 
What are Productivity Tools?
The definition of productivity tools can be incredibly broad, the argument could be made that one of the first productivity tools was fire. 
For our purposes with this article, we'll define a productivity tool as any application or software that increases the productivity of your work. These tools help you to accomplish more in less time, with greater ease. 
Technology and the internet have allowed for an overwhelming amount of useful tools to be created and offered to every kind of person. 
Here, I've shared my best recommendations for the productivity tools anyone working remotely should use to get started and continue progressing.
Buckle up.
Task Management Productivity Tools
Setting and getting control of tasks has to be a priority as you start to grow your business. I used to think I could store everything in my Mind Palace (shout out to the Sherlock fans in the house…) and be good to go.
Not exactly.
These tools are going to help you get your tasks on board. Plus, they can help with goal setting, keeping you focused on the most important things you need to get done today.
Momentum is a way to always have your to-do list and most important tasks ready with just a click. It works with your browser and every time you open a new tab, you'll be reminded of the stuff you need to get done.
Best For: Anyone who needs that little bit of boost keeping your tasks at the top of your mind.
Key Features: 
Keep track of tasks with to-do lists

New inspirational quote every day

Helps eliminate distractions
Pros:
The dashboard can be completely personalized and customized

You can set daily goals and intentions

Easily create daily to-do lists

Removes distractions

Features weather and forecast so you don't have to click away to see it
Cons:
Doesn't work in Safari

Not the best option if you prefer writing things down
Pricing:
The basic version of momentum is free or you upgrade to Momentum Plus for $3.33 a month, billed yearly, or $4.95 a month.
If you want more than just one task, Dayboard has got you covered. This is another tab replacement task management system, but it asks your 5 most important tasks of the day.
Best For: Anyone with a daily to-do list who appreciates recurring reminders as they open new tabs. 
Key Features: 
Keep track of tasks with a top 5 to-do list

Built-in site blocker

Historical tracking to help you review your productivity
Pros:
Allows for 5 daily to-do's

Focus mode allows you to work on one task at a time

Site blocker stops you from visiting your list of distracting websites

Community integration to keep the whole team on task

Keeps tasks in sync across multiple devices
Cons:
More to-do's can lead to less productivity

Not the best option if you prefer writing things down
Pricing:
The basic version of Dayboard is free. You can upgrade to Dayboard Pro for $5.00 per month. Or you can create a Dayboard business account with a range of options between $20.00 and $130.00 per month.
I manage my entire life through Asana. I use it for my editorial calendar here at Location Rebel and on my other sites, I use it for personal tasks, and I use it to track big projects and product launches.
It works great regardless of whether you have a big team, or your a lone rebel.
Key Features:

Easy to follow and track to do lists
Assign tasks to different team members
Different project types that cater to your personal preferences.
Pros:
Easy to get started with the basics
As simple or robust as you need it to be
Has a free version for people just getting started
Cons:
Can be tough to get everyone you work with to buy int
Need to stay on top of it, otherwise it's not as effective
Pricing:
A basic account is free and surprisingly full featured. Cost then goes up to $10.99/month for Premium or $24.99 a month for Business, which each add on more robust professional features.
Prioritab not only shows your most important daily, weekly and monthly tasks, but drops a not too subtle kick in the pants by reminding you how much time has already passed.
Best For: Remote workers who want to be reminded of their daily, weekly, and monthly tasks while keeping our most important resource of time at the forefront. 
Key Features: 
Daily, weekly, and monthly to-do's at a glance

A motivating percentage time tracker of the day, month, and year

Clean, non-distracting layout
Pros:
Your top priorities for the entire month at a glance

Drag and drop feature to move to-do's from monthly to weekly and to daily

Easily create daily to-do lists

Removes distractions

Features an eye-opening look at each passing moment
Cons:
Open-source extension which has not been updated in almost 3 years

Not the most aesthetically pleasing although clean and simple 
Pricing:
Prioritab is offered as a free Google Chrome extension.
If you want task management that is more than a tab replacement, it's hard to go wrong with Trello. Most people I know who are building their brands use this as their go-to task management system.
Best For: Remote workers who love working off lists that are organized in a simple and user-friendly manner.
Key Features: 
Organized "boards" with color coding and due date scheduling

AI bot "Butler" helps to manage workflow

Accessible online, offline, and mobile-friendly
Pros:
Very user friendly with simple yet attractive UI/UX

Great for teams 

Easily create daily to-do lists across multiple categories on one dashboard

AI bot "Butler" assists to manage boards based on predetermined rules

Power-up library allows for customization with creative plug-ins
Cons:
Pricing:
Trello's basic offering is free. Their business class offering is $9.50/month per user, billed annually, or $12.50/month per user, billed monthly. There is also an enterprise-class offering that supports 20-5000 users with a price range of $7.38/month per user up to $17.50/month per user.
If you are looking for something similar to Trello but a little more professional, Todoist is a killer to-do list app. It's superb UI, support for plenty of platforms, and collaboration features have earned Todoist the honor of being a PC Magazine Editors' Choice.
Best For: Remote workers searching for an in-depth, professional-looking, and incredibly mobile-friendly task management app.
Key Features: 
Due dates, reminders, and priority rating categories for each task

Great features such as natural language input and productivity reports

Cross-platform support for you and your entire team
Pros:
Highly customizable tasks including a range of timing and labeling features

Collaboration, commenting, and attachment features for team projects

Easily create as many categorized to-do lists as your heart desires

Desktop, Chrome, mobile, and offline functionality allows easy access.

Easy email integration for reminders to be sent to your inbox
Cons:
The Premium version is so great and so cheap, you almost have to buy it

May not be the best for the minimalist remote worker
Pricing:
The basic version of Todoist is free or you upgrade to the premium offering for $3.00/month billed annually, or $4.00/month billed monthly. Todoist also offers a business rate of $5.00/month billed annually, or $6.00/month billed monthly.
Get the Todoist Chrome extension here.
Learn How to Make Your First $1,000 Freelance Writing (in 30 Days or Less)
Join over 40,000 people who have taken our 6 part freelance writing course. Sign up below and let's do this together.
By entering your email address you agree to receive emails from Location Rebel. We'll respect your privacy and you can unsubscribe at any time.
Client Tracking
Whoohoo you're ready to get out there and start pitching prospects, or maybe you're in talks with a couple of potential new clients.
Now it's time to actually start tracking what you're doing.
Too many times I've seen a possible customer get lost in the shuffle. These tools will help you see exactly where you stand with all your contacts.
Hubspot CRM is another easy to use client system that works inside your email. Integrate it with Hubspot Sales and you'll have an awesome tool that gives you tons of client information at your fingertips.
Best For: Remote workers looking for a sophisticated all-in-one sales software, this is not for the faint of heart.
Key Features: 
Email template and tracking. Call tracking and recording

Appointment & meeting scheduler with live chat 

In-depth analytics and reporting 
Pros:
Outstanding email integration features 

Complete outreach tracking, recording, and template features

Relationship building features for sales automation and customer service 

A large library of informative sales training content

A one-stop-shop for managing your entire sales pipeline
Cons:
Sophistication comes with a higher price tag
Pricing:
Hubspot does have a basic, free offering, and then the prices climb. Their starter pack begins at $40/month, the professional pack is $400/month, and the enterprise pack is $1200/month.
Grab Hubspot Sales for Chrome.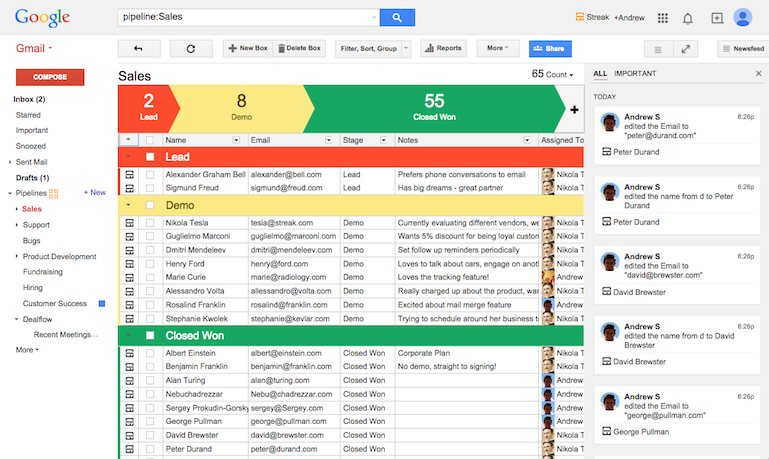 I'm a huge fan of Streak. It works seamlessly with Gmail, making it super easy to keep track of anyone you've pitched, need to follow up on, are working with, or is not interested.
Best For: Remote workers who want to turn their Gmail account into a client tracking powerhouse.
Key Features: 
Information about your pipelines, contacts, and tasks directly in your inbox 

Email reception and review tracking

Email follow-up scheduling and automation
Pros:
Full integration with Gmail 

See when the recipient has opened your email and how many times

An automated follow-up scheduling feature

Project management and tasks completion features

Fundraising and closing investment deals
Cons:
Only works with Gmail

Less functionality than a full-fledged CRM software
Pricing:
Streak offers a free plan and a pro plan for $15 per month. If you want to take it up a notch there is also a business plan for $49 per month and an enterprise plan for $129 per month.
If you spend a lot of your time pitching potential clients via cold or cool email, this one is for you. Followup.cc is like a little spy in your inbox, tracking who's opened or clicked your emails, and setting follow up reminders.
Best For: Remote workers who want the easiest email follow-up app in the world (as claimed on their website!).
Key Features: 
Schedule email follow-up with a single click

Mark any webpage for follow-up at a later time

Email opening tracker
Pros:
Minimalist and very easy to use

Schedule automatic follow-up emails directly in the message window

Follow-up will be canceled if the recipient responds before the scheduled time

Mark any webpage for follow-up at a scheduled time

Email opening tracker with real-time notifications
Cons:
Free version limited to 25 reminders per month

Reported billing issues and poor customer service
Pricing:
Followup.cc has a limited free starter version, a professional version for $29/month billed annually or $36/month billed monthly, and a salesforce version for $40/month billed annually or $50/month billed monthly.
Best Tools for Focus
I think most of us would be lying if we said we were always productive all the time. I would never say anything like that, which is an entirely different problem…
But, sometimes when your natural high for running your own business starts to wear off in those cold winter months, you might need a little bit of a pick me up.
That's where these productivity tools can help you kick it up a notch and get back to work.
You might think you're locked in and focused all day, but chances are you spend way more time on Twitter than you should. Use RescueTime track where you spend your time and improve your habits (and productivity) with one of the best productivity apps PC Magazine has ever tested.
Best For: Remote workers who want to get more done, in less time with daily insights on how and where they spent their day online.
Key Features: 
Automatic time tracking with detailed reporting

Turn off distractions such as social media and news for a set time

Real-time notifications of "productive time" vs "distracted time"
Pros:
Tracks time in apps and on sites

Site blocking allows for work without distractions

Great reporting and customization

Track time spent in meetings and calls

The website also offers a free 4-week productivity email training
Cons:
A relatively expensive premium version 
Pricing:
RescueTime lite is their limited free version. RescueTime premium costs $78 annually or $12 monthly. Considering their claim of giving you an extra two hours of productive time per day, I think the app will pay for itself.
One of the easiest ways I've found to step up my focus and productivity is using Be Focused. It's so simple, but hey, it works. And, I love seeing my progress over the last few weeks as an extra source of motivation.
Best For: Remote workers who love their Apple products a little too much.
Key Features: 
Customize work interval and break times for maximum productivity

Full synchronization between all Apple and Mac devices

Helps eliminate distractions with a simplistic layout
Pros:
Break tasks and projects into work and rest intervals

Ability to paste task lists from other apps

Synchronized focus across your iPhone, iPad, and Mac

Track your progress across customized time periods

Includes goal tracking feature
Cons:
Strictly an Apple application

Quick, quiet notification that can be missed
Pricing:
Be Focused has a free version and a pro version for $2.99 downloadable in the Apple App Store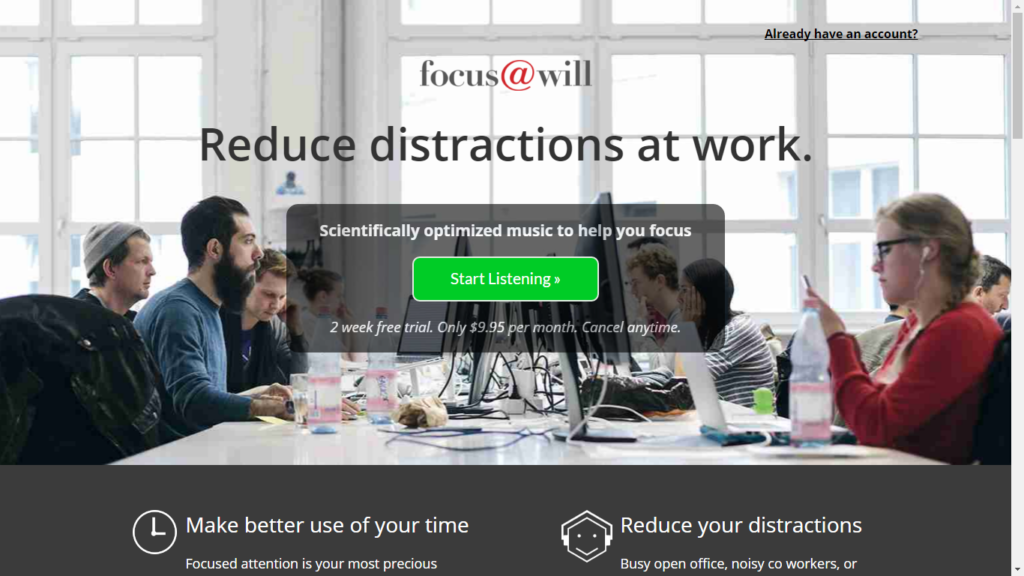 If you're someone who needs to listen to music when you work but find yourself distracted by words (looking at you, Adele "Never will I find someone like you…") try Focus@Will. The music is specifically picked to make your brain happy and focused.
Best For: Remote workers who love to listen to music and using tools like binaural beats while they are working
Key Features: 
Music designed to help you focus

Includes some productivity-tracking tools

Seven available genres
Pros:
Free version offers a good number of features 

Relatively large selection of music

Novel concept

Customization based on focus quiz type

Backed by world-class neuroscientists
Cons:
No free version and expensive subscription considering Spotify and Youtube exist

Productivity-tracking relies on self-reporting 
Pricing:
The basic version for individuals includes a one-week free trial then charges $52.49 annually, $89.99 billed every two years, or a VIP version for $224.99 with lifetime access. Focus@Will also offers a range of workplace options with a charge per user based on the size of the company.
When you need to take serious measures to get work done, turn to Freedom. It allows you to not only block your own access from certain distracting websites, but it can also set time limits on your browsing.
Best For: Remote workers who want to try another type of website blocker with scheduling and additional features.
Key Features: 
Website, app, and internet access blocking

New inspirational quote every day

Helps eliminate distractions
Pros:
Personalized and customized dashboard

Advanced scheduling features 

Ambient noise for focus 

Session history stats 

Session annotation features 
Cons:
Negative reviews on iTunes app store regarding poor function

Reported to work with Safari but not Chrome
Pricing:
The basic version of Freedom is free or you upgrade to Freedom Plus for $6.99/month, billed monthly; $2.42/month, billed yearly; or a one-time payment of $129.00 for lifetime access.
Automation
Automation may be a big buzzword running around the internet today, but the fact of the matter is, when you can reduce the time (and mental energy) some tasks take, it can free you up for more important things.
I can predict, though, once you start dabbling in automation, it can be hard to stop.
Using these tools you'll find tons of ways to automate your life that you didn't even know existed…and now won't be able to live without.
Zapier is an awesome automation tool that helps you streamline some of those annoying time-consuming tasks online. It works with hundreds of other tools, apps, and programs online, allowing you to link actions between everything from your GMail to Trello.
Best For: Remote workers who want to integrate their apps and automate their work.
Key Features: 
Create automated actions between online services

Supports a huge variety of apps

No coding knowledge necessary
Pros:
Multi-step automations allow you to use a chain of apps in one Zap

High-level security

World-class support

Extremely complicated processes made easy without coding

Immense amounts of time can be saved
Cons:
No mobile app

Does not work with smart home devices like IFTTT
Pricing:
Zapier includes a very limited free version and a starter version between $19.99 and $39.00 per month billed annually. There are four other subscription tiers with their own variant pricing depending on how much Zapping you will be doing!
IFTTT is another handy automation tool. It includes hundreds of apps to connect not only your business, but your life. My favorite recipe? A text alert when someone on my fantasy football team is injured. Priorities!
Best For: Remote workers looking for an automation tool that includes voice assistants, smart home devices, and mobile applications.
Key Features: 
Automates tasks between apps, services, and devices

Supports IoT devices and voice assistants

Friendly and easy to use
Pros:
A range of services not included with Zapier and many of the same

Multi-step automation included with a paid subscription

Easy to use interface 

Removes monotonous tasks and saves serious time

Limited time "set your price" subscription
Cons:
Only paid users can use multi-step services
Pricing:
IFTTT offers a very limited free version but they have an incredible limited time offer where you can set your own premium subscription price and they will honor it indefinitely. Do not miss out on this!
Social Media
If you're not on social media, well what exactly are you doing with all that free time?
Seriously though, and speaking of automation, it never hurts to use a couple of tools to manage your message on social. Especially if you are looking to share some of your own content over time.
These tools can help you find the right balance between posting live and sharing from your archives.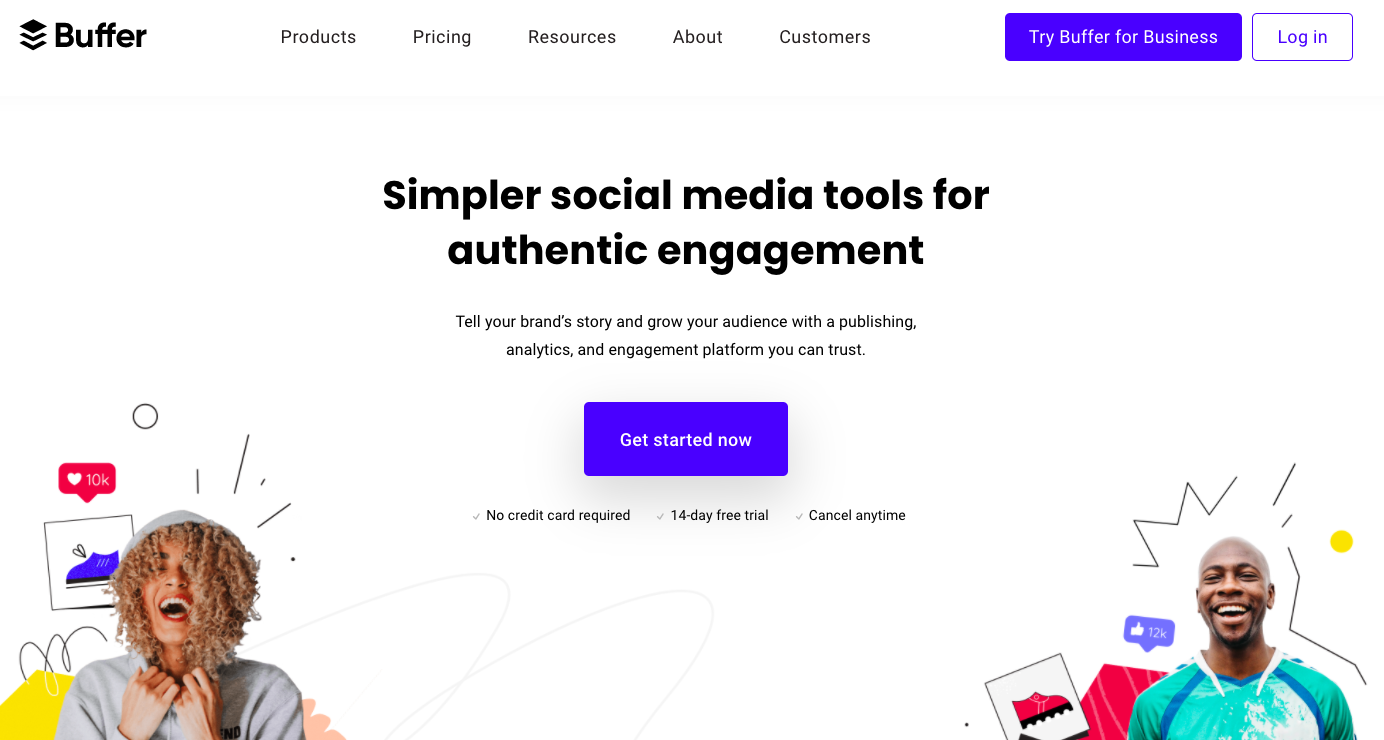 Buffer is sort of the ultimate in social media automation. You can link up everything from your Twitter account to your Pinterest boards and schedule specific times of the day and week to share your content.
Best For: Remote workers who need the ultimate social media automation tool.
Key Features: 
Buffer Publish social media management

Buffer Analyze social media campaign analysis

Excellent handling of multiple social accounts
Pros:
Easily coordinate and schedule all your social media posts

Easy-to-use drag and drop publishing features 

Expandable with buffer's additional tools

Campaign performance analytics

Strong management features
Cons:
Can get expensive when working with multiple team members

Easy to get lazy and lose content quality through automation
Pricing:
Buffer Publish ranges between $15-$99/month billed monthly and $12-$85/month billed annually depending on the size of your team. Buffer Analyze ranges between $35-$50/month billed monthly and $28-$40/month billed annually.
Another social media sharing tool I love is Edgar. What sets this one apart from the rest is you can keep libraries of past shared content, and also separate your content into categories to share at specific times.
Best For: Remote workers who are looking for a social media app that offers a few more advanced scheduling features.
Key Features: 
Create as many categories as you want

Set up a posting schedule for each category

Suggested variations allow MeetEdgar to write posts for you
Pros:
Organizing content by category can save a lot of time

Saved content can be reposted on a recurring basis

Generate post using browser extensions

Automatically imports new content 

A/B testing between posts within the platform
Cons:
Can't communicate with your audience from the platform

Steeper pricing
Pricing:
The basic version of MeetEdgar is Edgar Lite for freelancers, side hustlers, and growing brands. This includes a seven-day free trial after which it costs $19/month. Additionally, there is the Edgar package for entrepreneurs and small businesses which costs $49/month.
When it comes to keeping track of my social media streams, I turn to HootSuite. What's cool about this tool is it really gives you an all in one option. You can monitor your feeds, schedule, and share content from one place.
Best For: Remote workers who want an all-in-one social media management platform.
Key Features: 
Monitor your conversation feed for individual posts

Analyze and advertise within Hootsuite

Communicate with your audience directly through the platform
Pros:
The ability to interact with your audience directly from the platform is huge

Focusing on individual feeds enhances engagement

The bulk scheduling feature allows the ability to schedule even more efficiently

Removes the need to be involved and consumed by social media

Competitive pricing and free versions available
Cons:
So many features can make Hootsuite overwhelming to navigate

Analytics viewing is limited by a number of credits per month
Pricing:
Hootsuite's free offering allows you to manage up to three social media files and schedule 30 posts in advance. There are four paid options ranging from professional to enterprise, from $29 to $599+ per month.
Tools for Saving Content
I don't know about you, but I love to "educate" myself aka wildly procrastinate by reading tons of articles and posts online.
Trouble is, once you get started reading, you suddenly realize it's two in the afternoon and you haven't done any of the work you were supposed to do by noon. Whoops.
That's where these tools are a lifesaver. Now I can save content till my little heart's content and access it all later when I'm taking a break or need to reference it.
I don't even remember my life before Pocket came along. This is one of the handful of very special tools I use every single day. Pocket is awesome for saving and tagging content for reading, social sharing, and research.
Best For: Remote workers who want to remain productive and have content saved for viewing later on.
Key Features: 
Collect content from everywhere and save it for later

Offline mode even allows from content when wi-fi isn't available

Reading timer and highlight feature let you make the most of reading
Pros:
Escape the endless internet rabbit holes and consume on your schedule

Chrome extension and app allow for mobile and desktop experience

Listen to articles instead of reading for auditory learners

Organize saved content using tags 

Can be used with automation software such as IFTTT
Cons:
There is such a thing as too much content consumption 

The free version is limited
Pricing:
Pocket does offer a free version which includes saving capabilities. Pocket premium comes with the rest of the features included at a rate of $44.99 paid annually or $4.99 paid monthly.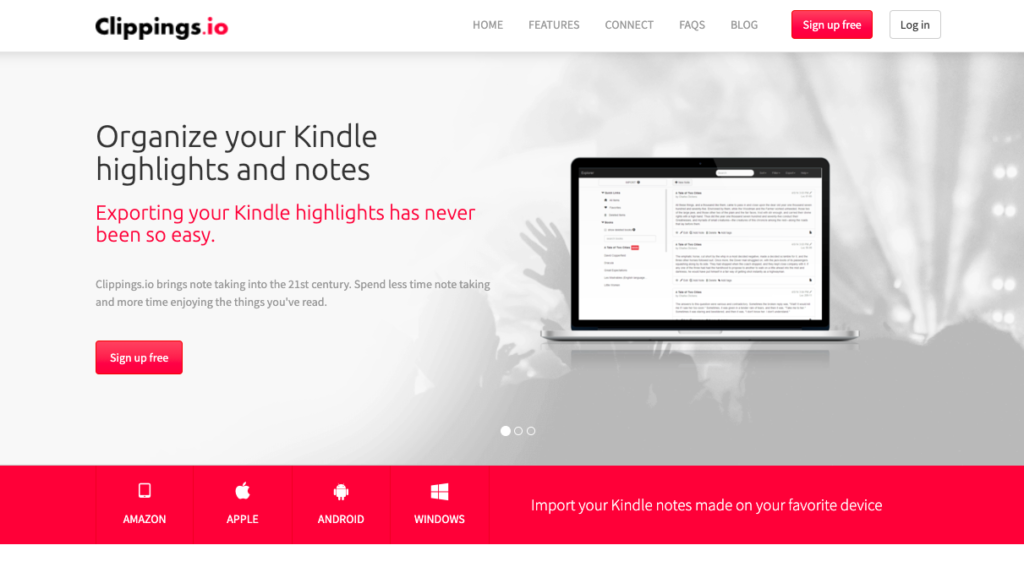 I learned about Clippings from Taylor Pearson. I wanted a way to easily access, organize, and recall notes I made on my Kindle app while reading, and this is the perfect solution.
Best For: Remote workers who love their Kindle looking for an elegant way to collect all of those book notes.
Key Features: 
Import notes from Kindle and export to various platforms

Edit, search, and tag your Kindle notes for organization

Can be used across all devices
Pros:
Imports from any Kindle annotation

Find everything with organization features

Edit existing notes and add additional ones

Export various file types and integrate with apps such as Evernote

Access from anywhere on any device
Cons:
Specific to Amazon Kindle reading devices

Some app failure has been reported
Pricing:
Download Clippings.io for free. They also offer a $2.00 Chrome extension.
Evernote is one of those indispensable tools. I don't even know anyone who doesn't use it, actually, I don't know if I want to know anyone who doesn't. With Evernote, you can write content, store and access files, create to-do lists, and a lot more.
Best For: Remote workers who are looking for one of the best classic note-taking apps on the market.
Key Features: 
An all-in-one tool for your notes, ideas, lists, and reminders

Plan and organize projects and keep records 

Available across all devices both online and offline
Pros:
Great note-taking and syncing across devices

Web clipper allows you to save notes on your desktop

Templates are included to improve notes 

Handwriting search allows you to search handwritten notes

Document scanning feature allows for paperless records
Cons:
"Gutted" free version

Expensive premium subscription
Pricing:
Evernote's free version has been described as a "gutted" version of its former self with very limited functionality. That being said, if you are looking for the top note-taking app on the market then the premium offering is your go-to, a personal subscription is available for $7.99/month with a business subscription costs $14.99/month per user.
Best Tools for Creating Images Online
The Interwebz is a visual place, so if you aren't creating images to go with your content (and that includes social media) you might not get a ton of traction.
Thankfully, the days of needing to be a pro in Photoshop aren't necessary for regular people like you and me.
Now, there are some awesome tools you can use to create kick-ass images for any piece of content you want to put out there online.
Canva has to be one of my favorite tools. I went from struggling (and I mean struggling) to create images using Photoshop to blasting out tons of content in a snap. Use Canva for social media, blog headers, even presentations.
Best For: Remote workers looking to create images without the hassle.
Key Features: 
Huge library of template content makes creating easy

Sophisticated user-friendly image editing functions

Design any digital or print content with minimum know-how
Pros:
Simple and intuitive to use

Freemium subscription model

A very cost-friendly alternative to hiring a designer

Template library and image uploading 

Great for personal and business design
Cons:
The Premium version is much more powerful

Limited functionality, for beginners only
Pricing:
The basic version of Canva is free or you upgrade to Canva Pro for $9.95/month per user billed annually. Or $12.95/month per user, billed monthly. Canva also offers an Enterprise package starting at $30.00/month per user.
Just like Canva, PicMonkey is a great tool to use for creating all sorts of awesome images you can share with your content. I love their collage feature, I've seen people do some amazing images with it.
Best For: Remote workers looking for more photo editing and creation tools.
Key Features: 
Edit photos online

Design unique digital and print assets

Real-time collaboration with your team
Pros:
Makes image editing simple and user friendly

Professional looking graphic design tools

Video production and editing features

Brand design templates

Social platform-specific templates
Cons:
No free version

Limited compared to Canva
Pricing:
PicMonkey has a basic offering at $7.99/month or $72/year. Their pro offering is $12.99/month or $120/year and their team offer starts at $33.99/month or $300/year.
Best Security Tools for Remote Workers
You can't spend any time online thinking at least a little bit about security. This is especially true for you remote workers out there.
Anytime you travel or even work in a coffee shop there is a risk of hacks, or even worse, your equipment getting stolen.
Protect yourself by getting a password tool and a VPN, here are a few recommendations.
Once you get into your business, you're going to discover just how many passwords you're going to need. It will be virtually impossible to remember them all, that's what Dashlane is for, they do it for you.
Best For: Remote workers looking for a password management tool with many security extras.
Key Features: 
Offers essential and advanced password management

Syncs across all devices and operating systems

Includes extra security features such as VPN & dark web scanning
Pros:
Pro plus subscription also monitors credit and identity theft

Patented industry-leading security

Data remains private and is never sold

Included VPN protection 

Analytics and background scanning enhances security
Cons:
Expensive subscription

Free version is limited to a single device 
Pricing:
Dashlane offers a limited free version as well as several paid options. Dashlane offers a pro subscription for $4.99/month billed monthly or $59.99 billed annually. They also offer pro plus for $9.99/month or $119.99 billed annually. There are also family and business subscriptions with a range of pricing options.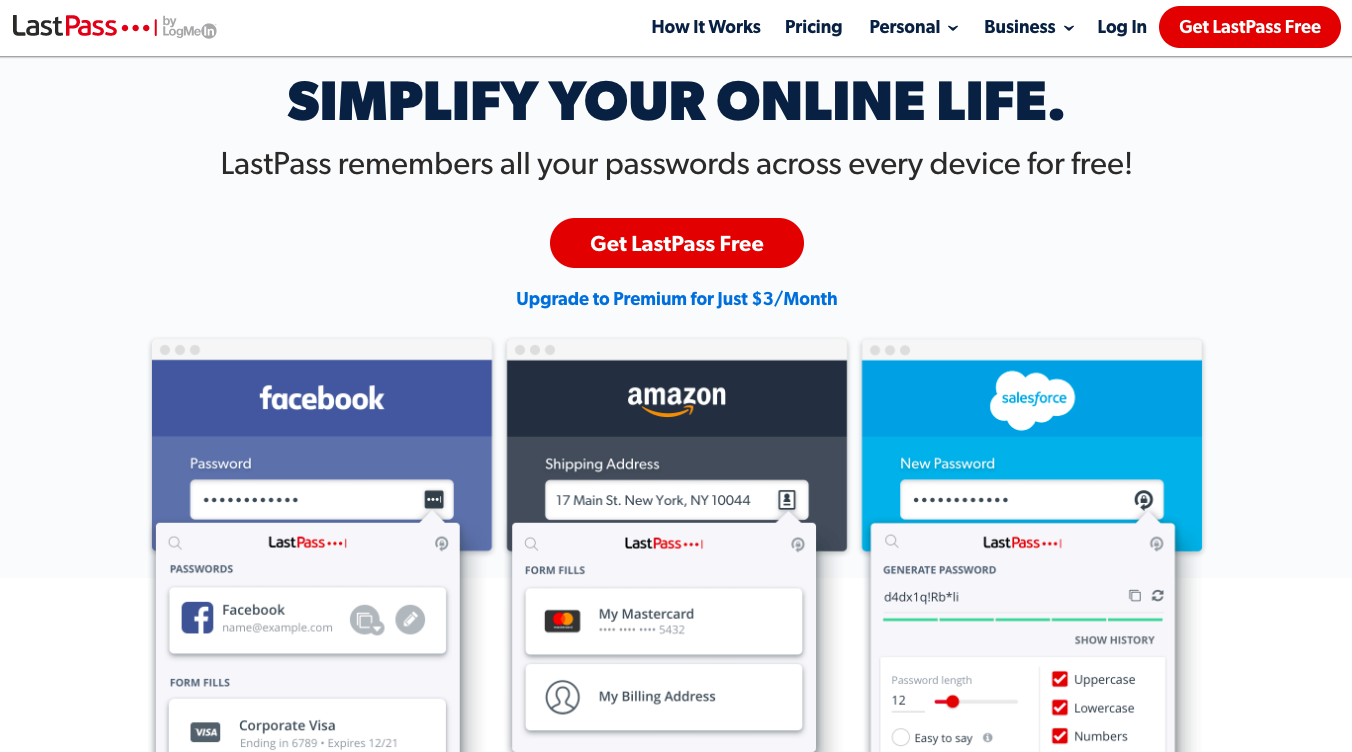 Another password manager is LastPass. It allows you to keep track of your passwords, and even share your passwords with others without them seeing the actual password. Perfect for things like tech support and admins.
Best For: Remote workers who are interested in a capable, free password protection tool.
Key Features: 
Free version is as capable as many other paid tools

Password manager vault makes keeping track easy

Dark web tool monitoring available for free
Pros:
All your passwords in one manageable "vault"

Advanced local encryption security

Compatible across all platforms and devices free

Browser extension keeps password list up-to-date

Very reasonable paid subscription options
Cons:
The free version is so good, it makes the premium version less desirable 

Credit and identity theft monitoring not included
Pricing:
Lastpass offers a highly capable free subscription. Their paid subscriptions start at $3/month for individuals, $4/month for families, and $3-$8/month per user options for businesses.
Looking for a VPN to keep your devices protected when outside of your own network? Check out Proton VPN, which allows you to browse anonymously through a proxy network.
Best For: Remote workers who frequently use public networks and desire to protect their IP address from any potential security breach.
Key Features: 
PC Magazine's top-rated free VPN service

Proton has incredibly strong legal protection as a Swiss company

No logs policy and company policy assures data will never be shared
Pros:
Best free VPN tool on the market

No logs policy means your data is always protected

Flexible, low-cost plans

Safe file sharing and receiving 

Tor network use increases security
Cons:
Fewer server locations than most can affect service 

No public third-party audits
Pricing:
The basic version of Proton VPN is free or you upgrade to Proton Plus for $9.40/month  billed monthly or $112.95 billed yearly.
Best Online Storage Tools
Once you start creating content, you'll soon realize you're going to need a place to store it all. Sure, you can save it to your laptop, but what if it crashes?
You don't even want to think about it, I know.
That's why I turn to the cloud. I save everything, and I mean everything to the cloud. Not only does it keep my stuff safe from any potential technology disasters, but it also means I can access it from any device, anywhere.
One of the most popular cloud storage tools out there is Dropbox. It's super easy to use, allows you to give access to certain documents to others, or even create shared groups which is pretty cool.
Best For: Remote workers looking for an online storage solution that is not integrated with big tech platforms such as Google Drive.
Key Features: 
Flexible storage plans 

File and version recovery backups

Great team functionality and administration tools
Pros:
More additional features than most storage solutions

Great for business and team use

Connects to over a quarter million third party apps
Cons:
Free version offers very little storage

Expensive paid subscription without integration
Pricing:
Dropbox offers a limited free version and then professional subscriptions start at $16.58/month, billed annually or $19.99/month, billed monthly. Dropbox also offers a variety of business and team subscriptions.
Sean is a huge fan of Amazon Web Services for his cloud storage needs. Just like Dropbox, it's an easy and super convenient way to store your files, videos, podcasts, and webinar recordings for access anywhere.
Best For: Remote workers who only want to pay for the data they actually use.
Key Features: 
Scalable pricing structure allows AWS to grow with your company

Highly customizable 

Strong security
Pros:
Only pay for what you use

Highly customizable and user friendly

Most supported cloud storage service
Cons:
Confusing price structure

Relies on 3rd party apps for integration
Pricing:
The free version of S3 comes with 5gb of storage. The pricing for Amazon S3 is quite confusingGrab the App. Take a look at this pricing calculator to create a quote based on your needs.
If you live your life in the Google universe (like I do), then turning to Google Drive for your storage needs is pretty much a no-brainer. It's also perfect for sharing docs, folders, and projects for group collaboration.
Best For: Remote workers who want a fully integrated storage tool. 
Key Features: 
Integrates with all other Google applications

Generous free storage offering

Accessible across all devices
Pros:
Works perfectly with Google docs, sheets, etc

Tons of free storage and very accessible pricing

Includes Google Photos which is a priceless feature
Cons:
You are just another cog in the Google machine

Data privacy concerns
Pricing:
Google Drive offers a free 15 GB of storage for anyone with a Gmail address. After that Drive costs anywhere from $19.99 billed annually for 100 GB of storage to $99.99 billed annually for 2 TB of storage. There is also a range of business and enterprise pricing options.
Best Accounting and Invoicing Services
Boo, everyone hates accounting.
Yes, it's true (sorry my accountant friends). But, it's a very necessary part of business. If you can't keep track of your books, you're not going to get too far in the profit part of it all.
Hand in hand with that is invoicing. You like to get paid, right? Well, use these tools to make sure you do.
Designed for small businesses, FreshBooks is an easy to use system to help you keep track of your invoices, expenses, and payments all through one simple and attractive interface.
Best For: Remote workers and small business owners who want a user-friendly and automated accounting tool.
Key Features: 
Start to finish invoicing program and automation

Expense and time tracking 

Estimates, quotes, and proposals 
Pros:
Great for small business owners

Very user friendly

Excellent customer service
Cons:
Some invoicing limitations

No quarterly tax reports
Pricing:
Freshbooks Lite starts at $15.00 per month including 5 billable clients. Freshbooks plus starts at $25.00 per month including up to 50 billable clients. Freshbooks premium starts at $50.00 per month including up to 500 billable clients and you can call them if you need more than that.
For my accounting software, I've been using QuickBooks Self Employed for the past few years. It allows you to link it up to your credit cards, payment processing accounts like PayPal, and lets me see what my quarterly taxes will be so I know what to set aside.
Best For: Remote workers with larger businesses looking for an at-home accounting tool.
Key Features: 
Basic bookkeeping

Automatic mileage tracking

Quarterly tax estimates
Pros:
Great user experience 

Easily track incomes and expenses

Automatic mileage and quarterly taxes for independent contractors
Cons:
High price

Accounting is incredibly basic
Pricing:
Quickbooks has a 30-day free trial then subscriptions begin at $25/month for a simple start. There is an essential package for $40/month, a pro package for $70/month, and an advanced subscription for $150/month.
The relatively new kid on the block, Wave is making a splash (get it?). This free service is specifically designed for freelancers, small business owners, and entrepreneurs to make accounting and invoicing super easy.
Best For: Remote workers who own a very small business and want an extremely affordable and sophisticated accounting tool.
Key Features: 
Accounting, invoicing, and receipts free

Pay-per-transaction credit card processing

Payroll services with monthly fees
Pros:
Great selection of essential services 

Great point of sale transaction management 

User friendly
Cons:
No sophisticated mobile app

No time tracking feature 
Pricing:
Wave offers a unique and generous pricing model. Accounting, invoicing, and receipts are free while credit card and payroll services can be found at these rates.
Payment Processing
One of my favorite things in the world is getting paid. It's pretty awesome, right?
When you get started working online you'll discover getting paid isn't quite as simple as that monthly direct deposit you had in your 9-5.
Here are a few tools you can use to make sure you'll get your funds.
I really like Dwolla and have been using it for a few years now. It's really easy to use, the fees are virtually nothing, and it integrates seamlessly into my bank account with zero issues.
Best For: Remote workers looking for an easy seamless payment processing solution.
Key Features: 
Pay-as-you-go basic subscription

Extensive customer support 

Pays out to an attached debit in thirty minutes
Pros:
Hassle-free basic subscription

Many developer tools available

Mass payment features
Cons:
No credit or debit processing

Paid plans are incredibly expensive
Pricing:
Hopefully, Dwolla's pay-as-you-go subscription fits your needs, otherwise, you are looking at either $2,000/month for the scale package or $10,000/month for the enterprise package.
If you do anything online that involves getting paid, PayPal is going to be the go-to tool for you to use. It's pretty easy to use, it's everywhere, and you can even use it as an invoicing tool as well.
Best For: Remote workers looking for the most globally recognized payment solution. 
Key Features: 
Incredibly popular and therefore convenient

Easy to set up and use

Works internationally
Pros:
Everyone has a PayPal account

Fairly easy to send, receive, and deposit money

Great security track record
Cons:
Horrible customer service

Will retain money unexpectedly due to security
Pricing:
PayPal is free to subscribe and charge a service fee on each transaction.
A third option for getting paid is using Payoneer. What's cool about this tool is it's worldwide, working in over 200 countries and in over 150 different currencies. For those outside the US, it's a great option.
Best For: Remote workers looking for an international third-party payment tool that isn't PayPal.
Key Features: 
Direct e-transfers

Prepaid Mastercards

Local and international e-wallets
Pros:
Mass payouts

Payment requests

Payment and transaction history
Cons:
Higher fees & monthly rates

Can only send to Payoneer accounts
Pricing:
An explanation of Payoneer's fees can be found here.
Inbox Management
The Holy Grail of email for many is inbox zero.
While I don't aspire to those levels, it's still really important to keep your inbox as de-cluttered as possible, especially when you're trying to balance personal emails, networking emails, client pitches, and well you get the point.
These tools will help you remove some of the junk and keep your inbox focused on what matters.
Tons of remote workers absolutely love SaneBox. It helps you track what emails are unimportant, allows for one-click unsubscribes, and even lets you snooze on emails to come back to them later.
Best For: Remote workers who are wanting to finally take control of their inbox.
Key Features: 
Sanelater allows you to separate unimportant emails 

Saneblackhole allows you to train Sane to delete emails automatically

Sanereminder sends you follow-up reminders 
Pros:
Great for organizing emails 

Time-saving filters

Do not disturb functions
Cons:
Pricing:
Sanebox offers a free two-week trial and then starts with the Snack subscription for $59.00 per year including one email account. The lunch subscription includes two email accounts for $99.00 per year and the dinner account costs $299.00 per year including four accounts.
Another tool that's been designed to remove spam and help you see what emails are clogging up your inbox is Unroll Me. It also lets you see all the unwanted emails in a daily digest with an unsubscribe feature.
Best For: Remote workers looking to organize their inbox and unsubscribe from emails with the click of a button.
Key Features: 
Unsubscribe with a single click

Organize your inbox efficiently

Customizable folders and categories
Pros:
Save time with email

Unsubscribe from spam emails easily

Focus on what is important
Cons:
Only one account at a time
Pricing:
Unroll.me is completely free.
Best Calendar Apps
You can't get too far in growing your own brand without having a good handle on your calendar.
For many entrepreneurs, their calendar is the single most important tool that they have for keeping track of their lives.
I've gone from someone who never used a calendar, so someone who schedules virtually everything, and it's made a huge difference.
Live in the Google world, well then you've already got a pretty good calendar sitting right at your fingertips with Google Calendar. Use it to keep track of your schedule fright from your email or phone.
Best For: Remote workers looking for the most widely used and integrated calendar tool on the web.
Key Features: 
Create multiple calendars 

Schedule everything, sometimes with a click of a button

Collaboration and sharing schedules
Pros:
Integrates across all devices

Most popular and widely used calendar

User friendly
Cons:
Data is not protected 

Incompatible with some schedulers
Pricing:
Google calendar is absolutely free. 
Ever have to try to schedule a time to meet with someone? Fifteen emails later, you're finally set, right? Until now. Use Calendly to easily coordinate times and schedules to book instantly on your calendar.
Best For: Remote workers looking for a great scheduling tool.
Key Features: 
Preset calendar with scheduling

Group scheduling options

Integrates with major calendar apps
Pros:
One-on-one and group scheduling automation

Calendar integration

Custom messaging 
Cons:
No dedicated calendar

Expensive
Pricing:
The basic version of Calendly is free or you upgrade to Calendly Premium for $8/month, billed yearly, or $10/month. Calendly Pro costs $12/month, billed yearly, or $15/month.
Well, there you have it.
An epic list of tools you can use to help grow your business and take it to the next level. Did I miss any? I'm always on the lookout, so let me know what your favorite tools are in the comments!
Want More Resources for Remote Work?
Sean Ogle
Sean Ogle is the Founder of Location Rebel where he has spent the last 12+ years teaching people how to build online businesses that give them the freedom to do more of the things they like to do in life. When he's not in the coffee shops of Portland, or the beaches of Bali, he's probably sneaking into some other high-class establishment where he most certainly doesn't belong.
Learn How to Make Your First $1,000 Freelance Writing (in 30 Days or Less)
Join over 40,000 people who have taken our 6 part freelance writing course. Sign up below and let's do this together.
By entering your email address you agree to receive emails from Location Rebel. We'll respect your privacy and you can unsubscribe at any time.