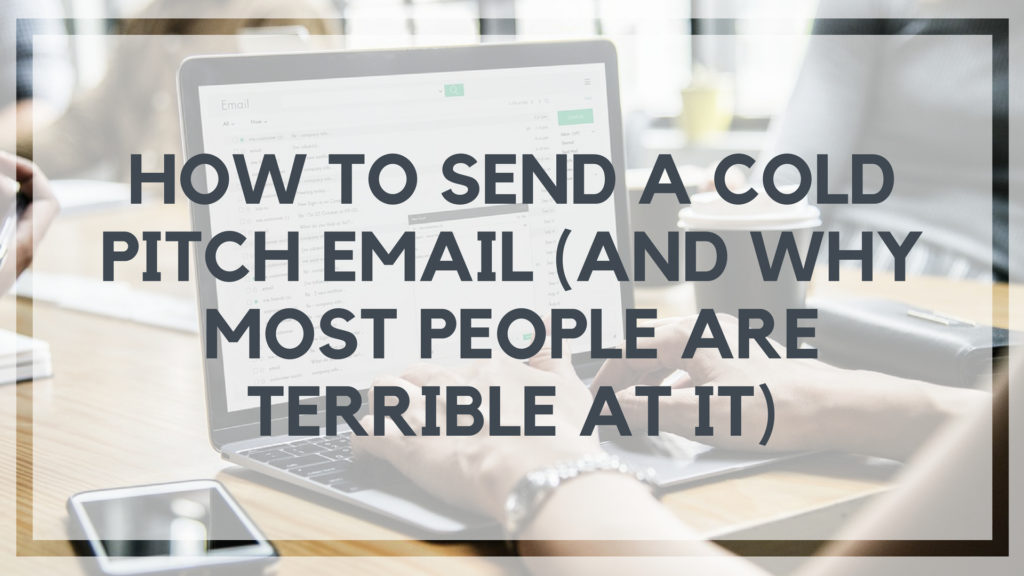 It always starts the same.
"Dear Editor."
"Hey Admin."
"Hi Location Rebel Editor."
And my personal favorite, "Dear Mr. Sean."
They always end up in the same place too.
The trash.
Sometimes, if I'm feeling annoyed, I'll respond to especially egregious pitches in the hopes that a glimmer of awareness will help people realize they need to shape up.
This happened to the guy who pitched about landscaping ideas and the girl who sent a blog topic on how pregnant women can watch their protein intakes.
Unless I hit my head too hard and missed something over the last 5 years, we don't talk about anything close to those topics here.
My last response looked something like this (sorry, Stella):

If you've gotten this far and think this topic doesn't apply to you.
Think again.
Because it probably does.
Here are some more examples of just how bad these pitches get:
Here's the harsh truth: you probably suck at sending emails
If terrible pitches were the exception, not the rule, then every popular blogger you know wouldn't spend time on social media venting about the piles of crap they get in their inboxes every day.
Here's an example from John Doherty from GetCredo.
He posted this on his Twitter account and went so far as to critique it:
Check out the responses.
You'll see people like Brennan Dunn from Double Your Freelance Rate and Tim Soulo from Ahrefs commenting about the same thing. Tim's even written his own post all about this same topic.
This is a common problem.
I know this because I've done it myself.
I'm no email guru, but I have sent a lot of bad emails. Especially when I started freelance writing.
And if you asked me 3 years ago if my outreach emails sucked, I would have said ABSOLUTELY NOT thankyouverymuch.
However, the proof was hard to deny. I wasn't getting much of a response. I wasn't seeing new clients. And I wasn't counting all that extra money in my bank account every month.
Something wasn't working.
And guess what?
It was me. Turns out my emails did suck.
Ouch.
It wasn't until I admitted that, and then turned red for 15 minutes from the embarrassment of all those terrible emails I'd sent, that I decided to get my act together and work on my emails.
Once I started actively practicing, testing and improving my emails, things started changing.
First, a story about shotguns
In his book, 80/20 Sales and Marketing, Perry Marshall talks about 'racking the shotgun.' It's based on a story from his friend John. Perry tells the story of John, who learned an important life lesson in the middle of a Vegas club one night, in the book, but I'll give it a quick summary here.
John's new buddy pulled out a sawed-off shotgun (I'm going to ignore any of the various laws and safety issues this presents for the sake of the story) and loudly snapped it as if he was loading it. Around the club, a few people turned their heads. The rest either didn't hear the noise or actively chose to avoid it.
John's buddy told him to pay close attention to the people who noticed the sound. In this case, those were the people who were interested in what he was doing.
Here's more what Perry Marshal has to say on the topic:
Everything you do in marketing is racking the shotgun. Some people search Google; some don't. Some people click on your ad; some don't. Some open the email, some don't. Some sign up for the webinar, some don't. It's all racking the shotgun.

You send one calculated signal that most ignore, but a few to respond to.

It separates the 80 percent from the 20 percent and it's the fastest way to separate the amateurs from the pros, even in sales & marketing.
The key to this lesson is that you only want to pay attention to the people who are interested in what you're doing. (In poker, the lesson is the opposite, a pro wants to play with the people who didn't turn their heads. Hence John's buddy only wanted to play with the people who didn't turn their heads).
I wrote more about some of the lessons I've learned from his book here.
It's the same for your email outreach too.
Most people ignore racking the shotgun. Here's what the do instead:
They reach out to everyone under the sun that has an easily available email address.
They spend 2 minutes typing out that super generic email and click send to everyone on that list.
Out goes 350 generic form emails. By accident and a bit of luck, one lands in the inbox of someone who at that very moment happens to need a writer. And it turns out, behind that terrible email, there's actually a pretty good portfolio so they get the gig.
All that effort and they have a 0.27% success rate. So 99.97% of the people they reached out to are the ones in the club who didn't turn their head. They lucked into the one yes.
Soooooo, congrats?
How to send a cold pitch email (and where you should focus your time)
Now, I'm not here to tell you that you can get 100% positive response rates from your emails. That works for Beyonce. For us mere mortals, we have to settle for say 30% (which is pretty good, incidentally).
But you'd be surprised how easy it is to stand out from the crowd with a bit of effort and understanding how to rack the shotgun.
It feels counterintuitive but stick with me for a minute.
Not a lot of people are willing to try to improve their response rates. Or actually, let me rephrase, they focus on the wrong side of the equation.
They don't get any responses to their emails. So what do they do?
Send more emails.
Here's what I want you to do instead.
SEND FEWER EMAILS.
Stop emailing someone out of a blue asking them to do something for you.
Instead, focus on building relationships with a select group of people who are interested in what you are doing instead.
To do this you have to change your approach.
The main goal most emails you send to people should be to introduce yourself and see if they are interested. This is the slow and the not hot and sexy approach.
It's like chatting with someone in a coffee shop or a beer softball game or a developer's meetup before deciding if you want to ask them out.
Sure you could walk right up and ask them to marry you. But chances are, you are going to turn people off doing that.
Instead, it's all about working on a foundation that can move you along to the next step and then if they are interested.
In this post by Growth Ramp on improving email outreach this type of approach is detailed:
I optimize emails only for a reply. Once someone responds back, they are more invested in the relationship. As a result, I make bigger asks as more emails are exchanged between myself and the person I'm emailing.
This is racking the shotgun in action.
5 steps to sending better cold pitches
Here's what I do (with the occasional tweak). Is it perfect? Nope. Am I always trying to improve? Yup.
My focus is always on the long game, building relationships for the long haul, getting people to feel comfortable with me, and letting them know I'm genuine and invested in helping them.
Step 1: For the love of God niche down
I get that this is hard when you're first starting. You want to take anything and everything out there, just in case.
First, relax for a minute. Second, try as much as you can to get into a niche. Maybe it's dentists, or graphic designers, or industrial exterminators.
These are the only people you want to start with at first. You're going to send an intro email to say hello (pre-coffee date, remember) and rack the shotgun.
The people who respond, you take the next step. The people who don't, you follow up with over the long term because they're in your niche and they might not be ready to buy until down the road.
We highlight more on how to figure out a writing niche in the B2B writing post.
Step 2: Spend 10-20 minutes researching
Get your timer out and do this if you have to.
Read the site. The about page. The blog posts.
Google the name of the company and see where they pop up in the news.
Google the executives you can find (especially if one happens to be the person who can hire you) and see what you can find.
All of this research will give you a leg up. You can use what you find to turn a very cold email into a slightly warmer one.
You might find you have something in common with the hiring manager, or someone in common, or very specific language they use (that you can use in your email), or a news story that ties in perfectly with what you want to talk about.
What you want to do is avoid that BS 'oh I love your posts' junk that most people start their emails with. False flattery will get you nowhere. Having an insightful thought or comment on a post or interview is going to help you get somewhere.
Step 3: Craft your letter of introduction
This is the problem step for most people.
I generally see two types of emails in this area.
The generic boring email with mail merge links and something the author read that was 'cool'
The 500 word life story email
I don't want you to take this the wrong way, but these people don't care about your life, your major, your passions, or how you think how great you are (with rare exceptions see Step 2).
Instead, focus on them. How you can help them make more money, get more clients, increase their click through rates, promote their tool, anything along those lines.
I've written a lot on the things to watch out for in your letter, which you can check out here.
Last month, I sent out an introduction email to an agency where I did this. I found an interview the CEO did in a local magazine that gave lots of little nuggets of info.
When I sent out my email, I noted I had read about them in that interview and picked out a comment that I (genuinely) found interesting.
I got a response that they did work with freelancers and I'd get added to their list.
This might feel like a failure because I didn't close the deal.
Nope.
I racked the shotgun and this CEO took the time to respond. He raised his hand that he was interested. Now it's my job to keep nurturing the relationship over time until he's ready to say get lost or yes let's work together.
Step 4: Keep track of your pitches
There are about a million tools you can use to keep track of your pitches.
I use Streak and I think it's an awesome tool for staying organized right from your inbox.
There are a couple of reasons why I think it's really important to keep track of these things:
See who you emailed (duh)
Know when you contacted someone last and schedule follow ups
Add notes to each contact so you know what you talked about
Track which email pitches actually work
Collect information that you can share in your next email
Why does all this actually matter?
Because you have to be marketing all the time. And part of that is sending out emails.
You can draw a direct line between getting better at emails and seeing more success in everything from getting jobs to building real connections.
Step 5: Do it all the time
For the last 6 weeks, I've been doing a marketing challenge. Every week, I keep track of every potential client I've pitched, job I've applied to, past client I've followed up with, and letter of introduction I've sent out.
I can't tell you how much easier it is to see what is working and my progress all in one place. My marketing outreach system has gone from sloppy and infrequent (at best) to a repeatable, scalable, system that is now baked in as part of my weekly activities.
And guess what?
In the last few weeks, I've gotten contacts from incredible sites, pitches accepted, old clients back in the mix after follow-ups, and (most importantly) a dramatically reduced aversion to pitching.
Don't let me down…seriously
I'm on a one woman mission to have people send better emails.
I promise if you spend time doing these things, researching, and coming up with a solid marketing plan you will see success.
Are you ready to do it?
Did you know that inside Location Rebel Academy we have an entire course completely geared towards helping you send amazing emails that get you the response you're looking for?
It doesn't matter if you're pitching clients, influencers, friends, or anyone else. Our course helps with the psychology behind it, gives dozens of templates for every situation imaginable, and will help you feel confident every time you hit the send button.
Check out Location Rebel Academy and get out full "How to Send a Cold Pitch" course.