Link building is a sure-fire way to get your website ranking in search engines. But how do you go about it?
The first thing you need to understand about link building is that it is a gradual process. You can't expect results overnight, but it will eventually pay off.
This is the exact process I used to grow my own blog from 0 to 500k monthly readers in just over a year and now I teach others how to start and grow their blog, too.
Now, let's get into some real case studies from others who used link building as a growth marketing strategy to grow their blog's traffic. 
After executing a link building strategy, Brian Dean from Backlinko was able to double organic search traffic to his site in just 14 days:
Responsify was able to see a 582% growth in organic traffic with a sound link building strategy:

Loganix says, "A strong link profile is still one of the best indicators of success for ranking high in Google."
You must devise a fool-proof link building plan to see significant results.
If you're just starting your blog or business, it can be hard to make huge investments right at the beginning. 
However, optimizing your search engine ranking through link building is a cost-effective way to gain exposure and establish your blog.
This is especially important if you want to actually make money with your blog.
Remember, you can't monetize if no one can find your website!
And best of all, making money via blogging is one of the easiest ways to work from home and earn passive income.
This guide will be helpful even if you're writing a book and looking to gain media exposure, which is yet another reason you should have a blog up and running to drive traffic to. 
In this post, I'll walk you through 5 effective link building strategies you can adopt for your blog.
Let's dive right in!
5 Link Building Strategies You Can Implement For Your Blog
One of the key findings of a study involving 11.8 million Google search results was this:
"Pages with lots of backlinks rank above pages that don't have as many backlinks. In fact, the #1 result in Google has an average of 3.8x more backlinks than positions #2-#10."
Although link building has a huge impact on your search engine rankings, it is considered to be one of the toughest aspects of SEO. It's why the majority of pages have zero links:
Here are five easy and effective link building strategies you can use to gain valuable backlinks for your blog:
1). Broken Link Building
Broken links give readers a bad user experience, and could cause them to leave your blog. 
The good news is there is a way to fix these dead links.
In a nutshell, it involves finding broken links, recreating content that matches the link, and getting the broken links replaced with your original content.
The first step in broken link building is to find dead links that are in your niche. 
To do this here is what you could do:
Search Google for a keyword and find relevant content.
For example, if you search for the keyword "SEO copywriting," here are the results: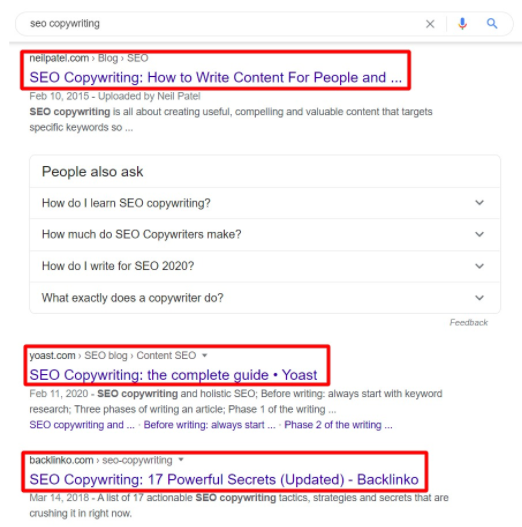 Identify the broken links on the page.
You could use a broken link checker tool to do this. For this example, let's use Ahrefs' broken link checker tool. 
If you paste the link in the tool, it will show you a list of broken links on that page:
Choose which links you can create suitable content for.
Here are the broken links for the chosen page:
Select the links that you can create better content for and use them to pitch to blog or website owners.
Find other websites linking to that broken link.
Type the URL of the broken links identified into Ahrefs and find all the other websites linking to that missing page and include them in the next step. 
Reach out to the blog owners.
The last step in broken link building is to find the contact information of the owners of the resource and pitch your article to them to replace the broken link.
Here is a template you could use to pitch your article via email:

I recommend using a project management tool for this as you reach out to sites so you can plan and track your progress.
Otherwise, things could get messy and some leads could fall through the cracks easily, especially when sending out emails in mass. 
Learn How to Make Your First $1,000 Freelance Writing (in 30 Days or Less)
Join over 40,000 people who have taken our 6 part freelance writing course. Sign up below and let's do this together.
By entering your email address you agree to receive emails from Location Rebel. We'll respect your privacy and you can unsubscribe at any time.
2). Guest Blogging
A guest post is a blog post you write to publish on another website in your niche to gain exposure. 
Guest blogging allows you to tap into the other blog's audience and gain new followers.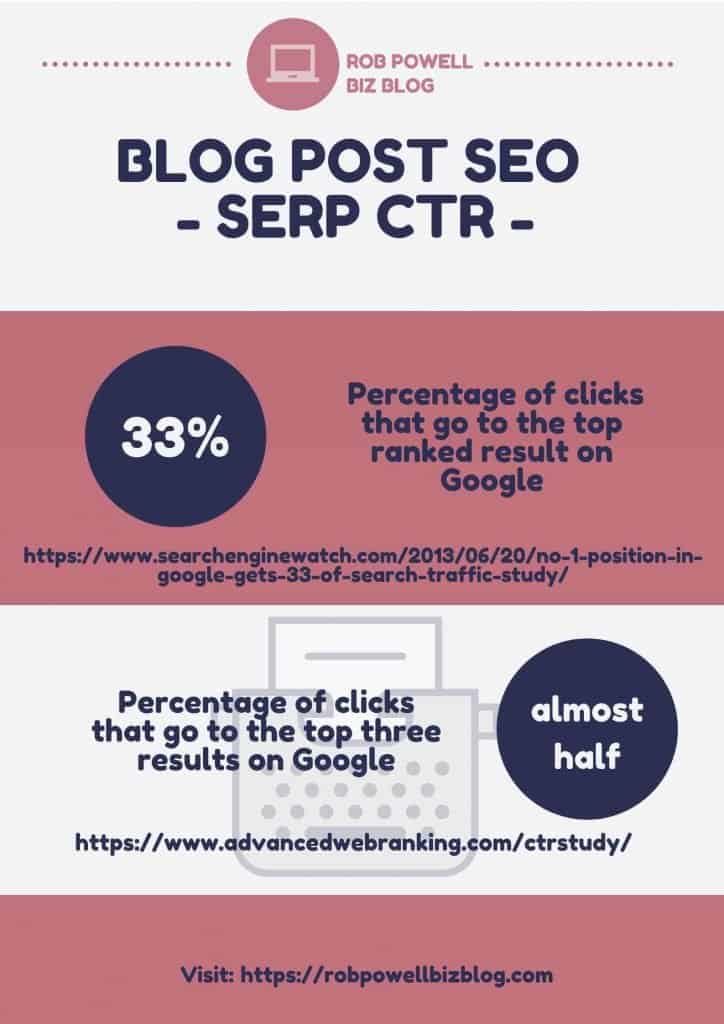 Submitting a guest post allows you to connect your name and blog to a much more prestigious blog that the audience loves and admires. It also allows you to showcase your knowledge in front of a new audience.
Choose a site that has considerable traffic, social media shares, comments, and other interactions to submit your guest post. Try to be a regular contributor on the site so that you become known as an expert in your niche.
Once you have chosen a site (or multiple sites) to pitch to, you need to reach out to them. Most guest bloggers do this via email.
You can create different Gmail templates like the one below to send out for different purposes, but be careful to personalize them well before you hit send.
Here's an example from Reply.io from their post on the best email outreach templates: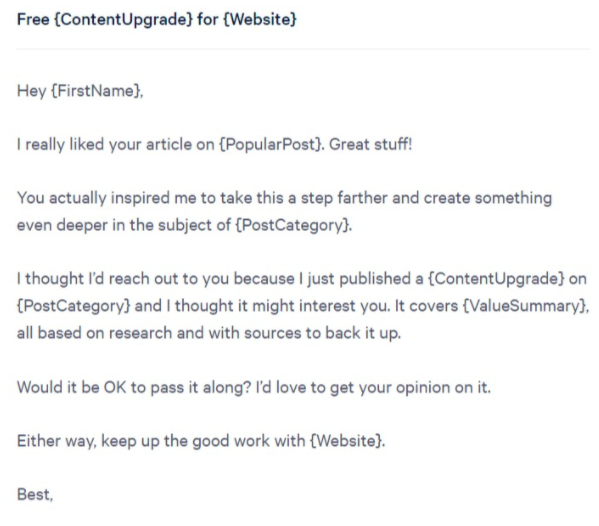 This email has a customized subject line, a short but genuine introduction, and a brief email body with lots of personalization.
To make this link building strategy work, you need to choose sites in a similar niche as yours and review their performance factors. These could include the site's domain authority and the number of social media followers.
Once you have picked a blog in your niche, check with the guidelines if the blog is offering contributors a featured bio. Do your research and create an attention-grabbing pitch that you can send the editor. After that, create a guest post that has the potential to attract new followers to your site.
Make a list of target people you want to reach out to, whose relationships you will benefit from in the future. Set specific goals, create your list, and use tools like Hunter.io to find their email addresses.
Some people consider outsourcing this process, however, in my experience, using sites like Fiverr for your SEO is not a great idea. Oftentimes you will have to carefully screen candidates who apply for the job and go through hundreds of candidates to find the right fit. 
Don't believe me? Here's what Brian Dean has to say about hiring people on Fiverr for SEO:
"When it comes to SEO, Fiverr is a HUGE waste of money.
(As the old saying goes: "you get what you pay for")."
Not everyone on Fiverr is a pro, and hiring the wrong one could be a waste of time and resources.
Instead of outsourcing, I recommend automating the process using a marketing automation tool to make it as efficient and hands-off as possible. 
However, if you do decide to go the outsourcing route, just be sure to sign a virtual contract for the services being rendered to prevent any issues and protect your business. 
3). Influencer Marketing
There were 3.484 billion social media users in the world in 2019.
Influencer marketing is a great strategy that helps you promote your blog or your products by partnering with popular influencers. They generally have a large following of people who trust them.
There are many ways you can get influencers to work with you. The first and most common method is to pay them for posts. You can have an influencer write a post on their blog or take part in an interview.
Another method is to offer free samples or a discount for the influencer's audience. You can also get the influencer to host a contest or a giveaway, and let them pick the winners. Once that is done, you can send over the free products.
One point to note here is the use of rel=sponsored between your SEO team and the influencer. Read up on the pros and cons of it before you decide whether to use it or not.
One thing you need to keep in mind when choosing influencers to work with is to not go by numbers. Check to see whether the followers have been bought or whether they are truly engaged with the influencer.
Loyalty is the most important metric.
If you're not sure where to start, there are various influencer marketing platforms you can use to connect with influencers in your industry. 
4). Offline Events
It can be easy to get stuck in the technical aspects of link building. But the truth is, link building can also be done in other offline events that don't involve the internet.
For instance, you could host a small local event and invite local bloggers. Prior to the event, you should submit the details to event directory sites.
You could then do outreach to influencers and media to invite them to the event. This will get you some media coverage as well.
You could also host a larger event where you can interview some important bloggers in your niche, gain press coverage, and conduct some talks like a conference. Sites like Meetup or Eventful can help you do this easily.
You could even do some branding and marketing by giving away free merchandise or having a contest at your offline events.
Once you have organized the event, you could write about it and promote it on your blog. You could also network with other bloggers during the event and probably discuss ways in which you can collaborate.
Another method is to sponsor an event and obtain a link as a sponsor.
Track your efforts after the event. You could follow up after the event by sending attendees emails for feedback or possible collaborations.
5). Create original research
Original research, studies, and comprehensive data are critical to acquiring links in the modern era.
Why?
People reference data points in every blog post they produce. Original research helps both writers and business owners alike to communicate key tactics and prove their success rates. 
Original research is incredibly easy to generate backlinks for. 
It's natural, it's data-driven, and it's far less spammy than most infographic style links. 
Another amazing benefit of original research is that it can fit any industry. 
For example, take a look at SleepJunkie's sleep research section on their blog:
They sell mattresses but using sleep health data and original studies, they can entice both customers and case studies, which means more links and more sales. 
To create original research, find keywords in your niche that are actively searched, and spin them to fit potential data points of interest. 
Bonus Tip: Master Your Homepage 
Homepages used to be extremely salesy. You'd land on a homepage and it would be a short, quick sales pitch. 
Now, homepages shouldn't be. Not if you want to generate quality backlinks. 
People aren't going to link to your homepage (or landing page) if it's selling harder than a used car salesman. 
People will link to your homepage and landing pages if they contain: statistics, original images or media, examples, case studies, etc. 
My favorite example is from JoyOrganics: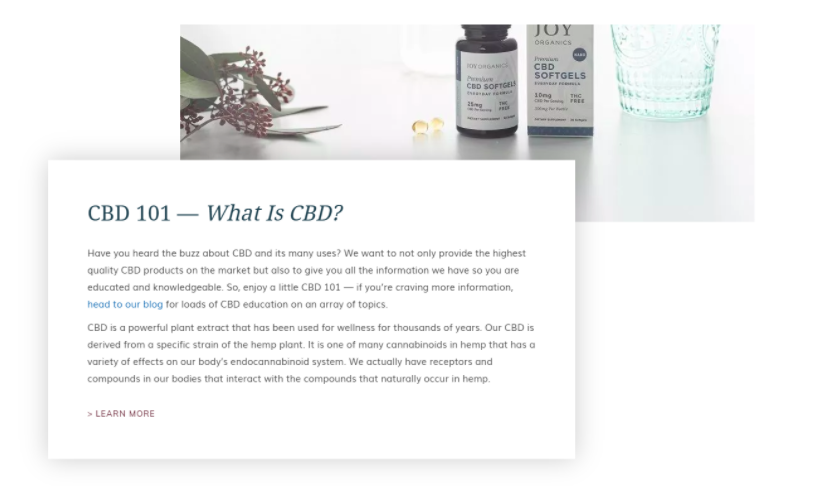 Notice how they use actual content on their homepage, rather than being overly promotional and sales-forward. They aim to instead educate users. This also helps for link building by utilizing direct definitions and content to reference. 
Another stellar example is Tidio's chatbot landing page: 
Complete with detailed information on AI, integrations, and research, it's easy to link back to Tidio and more specific pages, too. 
Your homepage and landing pages are a place for information and lots of it. If you want to acquire backlinks, consider adding more key information to it. 
Conclusion
Unless you have a sound strategy in place, your link building efforts will be in vain. Also, this method takes time. Whatever efforts you take in the present will eventually add up and lead to greater results in the future.
There are many ways you can build high-quality links to your blog. Broken link building is one of these. 
Guest blogging on other prestigious blogs can get you in front of your target audience and earn you some links. Influencer marketing and organizing offline events are also great ways you can use to build links.
Figure out which strategies work for your blog and implement them to get better quality backlinks that will help your SEO.
With over 500,000 monthly readers, Adam Enfroy's mission is to teach the next generation of online entrepreneurs how to scale their influence at startup speed. 
You can follow him on Facebook, Twitter, and Instagram.
Guest Post
Learn How to Make Your First $1,000 Freelance Writing (in 30 Days or Less)
Join over 40,000 people who have taken our 6 part freelance writing course. Sign up below and let's do this together.
By entering your email address you agree to receive emails from Location Rebel. We'll respect your privacy and you can unsubscribe at any time.