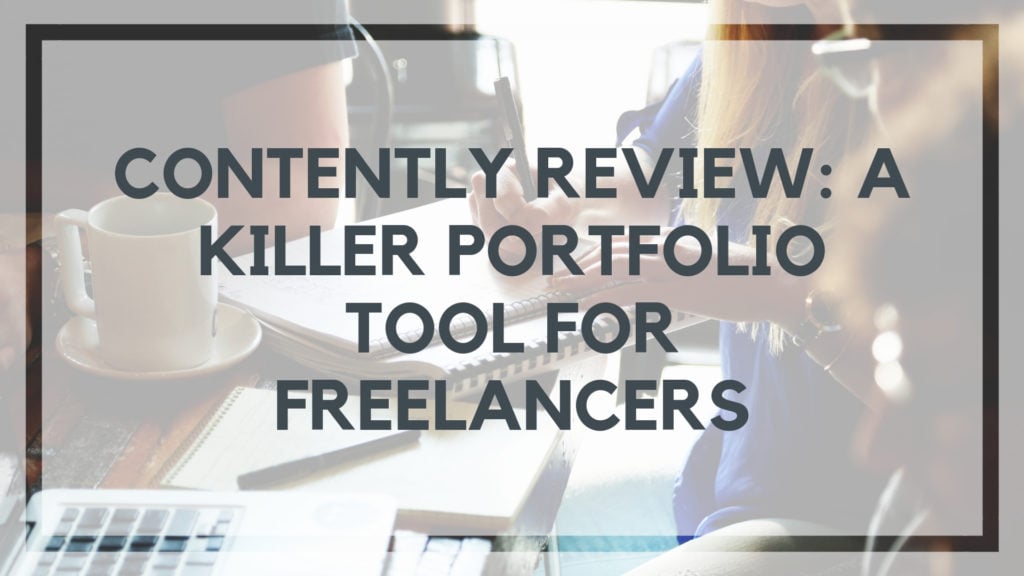 I submitted my first draft and immediately got a notification of payment, $375 bucks ready to be cashed out to PayPal.
Not bad for 600 words.
Welcome to Contently.
It took me about a year to get on Contently, but now I'm a total fangirl.
I work with quality clients in there who are awesome. And, ever since I jumped all in on it I've grown my income by thousands of dollars a month (yes, you read that right).
While we've mentioned it a few times on the site and in the forums before, I want to take a deep dive on why Contently is such an awesome portfolio tool for freelancers and how to get started with it.
First Things First: What is Contently?
It's an all in one content marketing platform. Brands (psst…aspiring B2B writers) use it to optimize their content process, and most importantly, find freelancers.
Basically, if a brand chooses, they can work directly with someone from Contently to come up with content ideas, connect them with freelancers, edit their work, and help with tech support.
I've worked with clients who use a Contently intermediary who functions as an editor and my primary point of contact. So they'll send me ideas and I will write.
I've also worked with brands where I deal directly with the client so I'm one of a number of writers they work with and I'll send pitches every month. If they like the ideas, I write them.
Depending on the client, there is some flexibility in how they work.
Who Can Use Contently?
Unlike a lot of other platforms, Contently isn't just limited to freelance writers. They also look for designers, photographers, videographers, and illustrators to work with on projects too.
One of the biggest benefits of the site is they let freelancers build free portfolios with them.
If you're just getting started and feel overwhelmed at the prospect of setting up your own website, this is a good middle ground. You'll still have a way to share your portfolio without having to spend time on a website at the start.
Even if you have a website, I think it's a really good idea to get some of your best portfolio pieces up on the website, because that's how you get found.
Contently's clients go into their database of freelancers and check out portfolios. Just like with everything else online, it's all about getting hits on searches with keyword matches.
That's how it's worked for me at least. Most of my clients have come from me popping up in a search. I've had another come through because an editor I'd worked with on another client wanted to keep working together (and I was happy to oblige).
First, build a portfolio.
Learn How to Make Your First $1,000 Freelance Writing (in 30 Days or Less)
Join over 40,000 people who have taken our 6 part freelance writing course. Sign up below and let's do this together.
By entering your email address you agree to receive emails from Location Rebel. We'll respect your privacy and you can unsubscribe at any time.
How to Build a Portfolio
Here's how to start: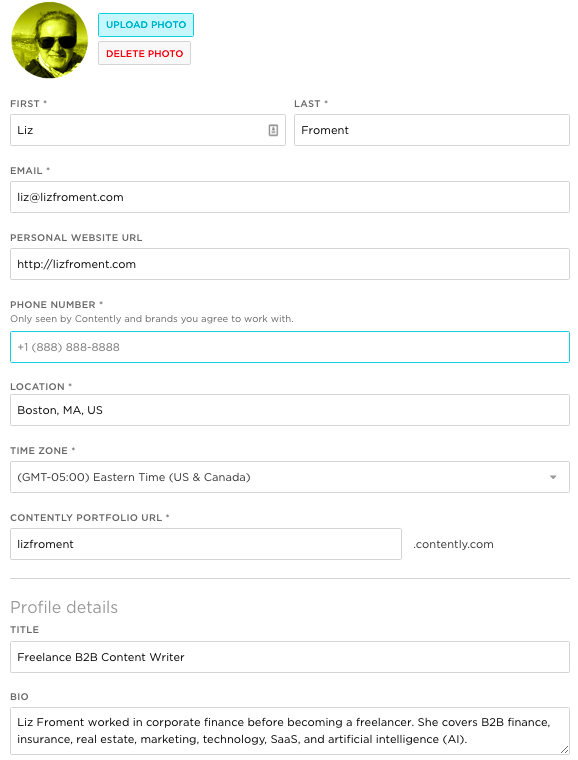 Add a profile photo, a title, and a short biography. They limit the characters you have, so only hit the most important (and algorithm friendly) points.
Step 3: Add portfolio pieces
Click projects, then the little plus button on the right. A drop-down will appear, I usually pick import from a single URL.
Add the link (or pdf).
Double check the title is correct (typically this gets auto populated).
Pick the format (blog post, ebook, Facebook post, podcast, video, etc.).
Add a description of the post or use the start of your post.
Choose the topics the post covers.
Add the skills you used to create the content (ghostwriting, research, photo editing, etc. )
Pick the images to be displayed.
That's really all there is to it.
The cool thing about Contently is you can even upload pdfs of portfolio pieces. That can come in handy for new freelancers or designers who don't have online access to their work.
Your Portfolio is Good, Now What?
Honestly, it can be a bit of a waiting game. That's one reason why optimizing your portfolio is important.
Contently will scan through your work and at some point decide that it's good to go. I got an email like this: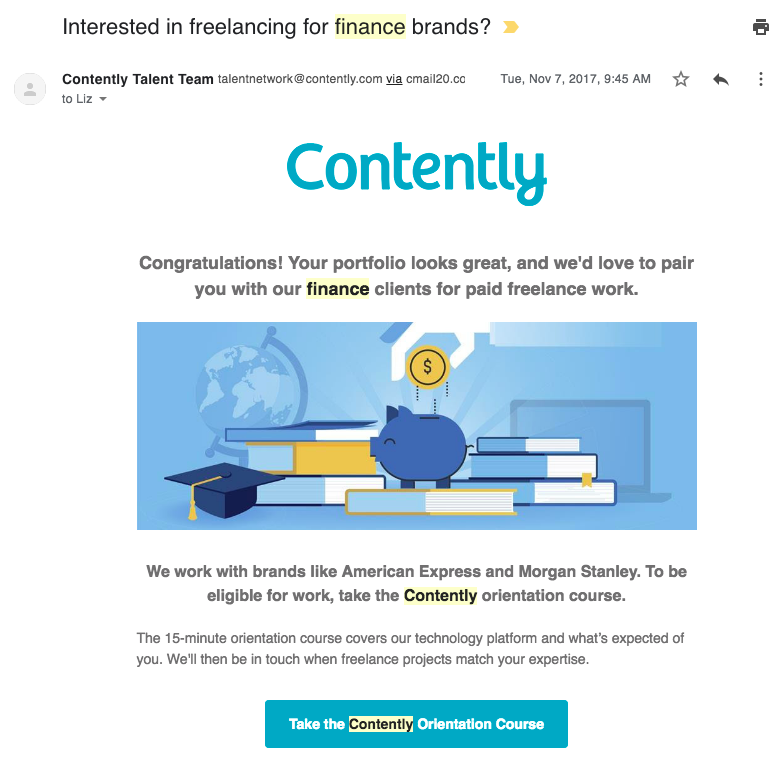 Next, take the Contently orientation course.
Don't put this off!!
If you don't take that orientation course you're not allowed to move to the next step of being matched with brands.
After finishing the course, I waited again. [Cue Jeopardy music]
And then, with zero fanfare, I got another email that said, "You were invited to work with [brand] on Contently."
Just a simple notice that this brand was interested in working with me. The invite expires after a week, so, once again if you're interested in working with the brand it's a good idea to click right away.
From there, I was asked to pitch ideas.
This was a bit nerve-wracking at first, but I got the hang of it. Now, after months working with this client, I've doubled my monthly posts. And I pretty much always get all my pitches approved on the first shot.
Contently is really good about keeping you updated on what's going on via email. I get emails with reminders to send in my outlines or drafts, reminders that a post is due soon, reminders to update my pitches, and so on.
That part is helpful especially if you're juggling a few clients at once.
I think an underrated benefit of Contently is they are super clear with the details. You'll know upfront how long the post should be, what you'll get paid, the editing process, and specific keywords and calls to action that should be included.
So, that's how I was able to get started with Contently.
Now, let's get into a few of the tips I've discovered along the way.
Optimization Strategies
Keep in mind with these, especially the title and the bio, you want to feature those key topics and keywords that is your niche or area of expertise.
Remember, just like everything else in our lives, Contently runs on an algorithm that will pull in freelancers who hit specific keywords. So optimize!
The same principle goes for your portfolio pieces too.
Contently doesn't allow you to apply for jobs, you get found. So every part of your portfolio has to be optimized for its "Intelligent Talent Recommendations."
This can be the difference between getting found right away and waiting a year (yes, that's me) to get noticed by the system.
At first, I just let the system pull in a description for me, which was generally the first 600 characters of the post. I figured that was good enough.
Now, I've started to go in and update the description to have the right keywords. It's not about stuffing but giving an honest account of what your content is about.
General Advice
Regardless if you're a brand new freelancer or someone who has been doing it for a while, I think it's a really good idea to sign up for Contently.
At worst, you have a free place online to highlight your portfolio. At best, well you can make a couple of thousand dollars a month with a bunch of new high-end clients.
Update your portfolio on a regular basis.
I update my various 'profiles' (everything from LinkedIn to Contently, Skyword, nDash, and even my website) on a frequent basis. You never know what article is going to ping the algorithm and make the difference between zero clients and your first shot.
This is just a good practice to get into in general, I use it as part of my marketing mix. Plus, as you get more experience in certain areas you might want to update or tweak how you're presenting yourself.
Order your portfolio.
You can drag and drop your pieces, so keep what you think is going to be the best at the top. It might not make a big difference, but I like to put the pieces from the biggest names at the top to grab some attention right away.
Don't be flakey.
Yes, this is a general maxim that I try to follow but it's especially true here. Working well with one editor can mean the difference between zero clients and a bunch of new opportunities. So hit your deadlines, answer requests quickly, and be open to feedback.
Keep it professional in communications.
You can send communications from within the Contently dashboard and you can respond to comments on your stories too. Even if you have a good relationship with an editor or client, keep it professional inside the platform.
There are usually a bunch of people tagged on a project behind the scenes that you might not ever see so you don't want to accidentally complain about someone (or something) and end up pinging like 5 angry people in your client's legal department (who often have the final say on content).
Take the initiative.
Once you're invited on a project get pitching! Sometimes a client might have a few open jobs that can be claimed, grab those!
And don't be afraid to ask clients what they are looking for. I don't want to waste my time or my clients time with pitches that aren't going to work. So, I ask.
I'll send a message inside Contently asking for clarification or if they have something they would specifically like to see. Usually, I will get responses that are perfect for me to send back in pitch form.
Don't give up.
Since you can't just apply for jobs on Contently it can get put on the back burner compared to other sites where you can actively apply for jobs. Don't give up here though.
I waited a year before I got my first job through the site. And I'm pretty sure that had I been following the advice I set out here (updating my profile consistently and optimizing my descriptions for keywords) I would have heard back from them sooner.
If I had just given up, I'd be missing out on some really awesome clients and a good chunk of income each month.
Ready to Give it a Try?
If you haven't already, hop on Contently and give it a try. You really have nothing to lose and a ton of potential prospects.
If you have any specific tips on how you've optimized your profiles, let me know in the comments.
Liz Froment
Liz Froment is a full-time freelance writer and the one who keeps Location Rebel running like a well-oiled machine. If she's not writing something informative or witty for her clients, she can most likely be found reading a good book.
Learn How to Make Your First $1,000 Freelance Writing (in 30 Days or Less)
Join over 40,000 people who have taken our 6 part freelance writing course. Sign up below and let's do this together.
By entering your email address you agree to receive emails from Location Rebel. We'll respect your privacy and you can unsubscribe at any time.