Yesterday during a deep binge into the dark recesses of our archives, it hit me, that you well, haven't heard much from me over the past month.
I went overboard with our daily blog in September, and then since then it's been a bit of radio silence as far as posts from me and our email newsletter.
That doesn't mean that there isn't a LOT going on though!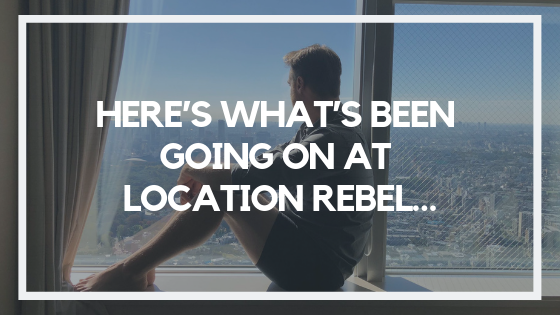 So now felt like as good of a time as ever to come out from my dark hole that I've been working in for the past six weeks and give you an update on exactly what's going on here at Location Rebel.
1) What's Old is New Again…
Earlier this year when we migrated from Rainmaker back to WordPress, we were left with a giant technical mess from an SEO perspective.
In beginning to sort that out, we realized we had over seven hundred blog posts on this site.
That's a LOT of content, and frankly, a large portion of it, really wasn't that valuable anymore.
So for the last few months we've set out to do something about it.
We reviewed every single post and put it into one of the following categories:
Great, up to date post: Keep it
Good concept, but post needs to be overhauled: Update It
A post that is relevant to my journey in going from day job to entrepreneur: Update as necessary for SEO and readability (some of those early posts were pretty ugly).
Irrelevant to the site, my journey, and/or out of date: Un-publish.
We've already gone through and unpublished over 150 posts, which still leaves us with over 500 blog posts.
Fortunately, we feel like we're getting closer to the point where everything is feeling more relevant, up to date, and useful for readers in 2019.
Here are just a few of the posts we've updated over the last few months:
And if you've been wanting to do something similar with a site of your own, I can't recommend SEMrush highly enough. It's been a lifesaver.
2) Improving Our Archives and Site Navigation
With this much content and a site that's been around for close to a decade, it's easy for things to get lost.
I've realized that when I'm personally struggling to find a specific post, then there's zero hope someone new to the site is going to find it.
Liz and I have been talking a lot about our archives, site structure, and how we can make it much easier to find the type of content you're looking for.
By the end of the year, we'll have a revamped archives page, better blog side bars, and potentially new navigation options as well.
We're always open to suggestions and opinions if you have any!
In the meantime, you can see all of our latest posts here.
Learn How to Make Your First $1,000 Freelance Writing (in 30 Days or Less)
Join over 40,000 people who have taken our 6 part freelance writing course. Sign up below and let's do this together.
By entering your email address you agree to receive emails from Location Rebel. We'll respect your privacy and you can unsubscribe at any time.
3) Liz is Moving to Portland!
If you're new to Location Rebel, I should introduce Liz Froment. She's our second in command here, and does everything from manage our community forums inside Location Rebel Academy, to manage our content calendar, and writing posts of her own.
We wouldn't be able to function here without her, and so to be able to spend the next year working in person means nothing but good things for the future of LR.
4) You Can Now Buy Location Rebel Academy and Hobby Hacking Together
After fielding countless emails from people trying to decide between Location Rebel Academy and Hobby Hacking, we've finally made it easier to get access to both of our flagship courses (as well as every other premium product we've ever created).
It's called the Location Rebel Ultimate Package, and regardless of whether you want to build a freelance writing business to ramp up income quickly, or you want to build a niche site around a hobby or passion – you're now able to easily learn the exact steps for how to do both, while getting all the help and support you need via our forums.
The Ultimate Package sells for $749, which is about half of what you'd spend if you bought everything separately.
Check out the Ultimate Package.
5) Upcoming Location Rebel Coaching Program
For years, we've been asked if there was a way to get more help and support on top of what we provide within the Academy community.
And the answer has always been, well? Not really.
So this year we're launching a beta, 3 month coaching program to go along with our Anniversary Sale on New Years day.
It'll feature one on one strategy planning, regular group and individual calls, video support via Glide or Marco Polo, and help with accountability.
We'll have more details on this soon, but don't worry, if you join the Academy before then, or are already an Academy or Hobby Hacking member, you'll still be able to get down on this!
6) Latest Posts
Even though we haven't been emailing about them for the past few weeks, we've still been publishing new content, on top of our older post updates for the past month.
Here are some of the things you may have missed:
7) Travels and a Personal Update
The whole reason I started this blog so long ago was to hold myself accountable for doing all of the things I wanted to do in life.
While the content and scope of Location Rebel has evolved, my quest to pursue more of the things that I find interesting in life is as active as ever.
Point in case, last week my wife Tate and I returned from an 8 day trip to Singapore and Tokyo, where we're continuing to try and visit as many of the Top 100 bars in the world as we can.
Check out the Instagram story on my personal account.
While I don't think I have any interest in taking another trip entirely devoted to drinking any time soon, tasting some of the most unique libations in the world, proved to be just as enjoyable as I'd hoped.
How about Tippling Club, whose "menu" has gummy bears that are flavored like the cocktails you'll be drinking?
Or what about Bar Orchard Ginza, crammed into a small space on the 7th floor of a random Japanese apartment building, that has a fruit basket on the bar as their menu. You pick a fruit, they make you a cocktail.
We visited a bar that you have to have reservations at months ahead of time, in Gen Yamamoto.
We also sampled gins from the bar with the world's largest gin collection, at Atlas.
And these were just a sampling of the trip.
For our Academy members as part of our included Hacking the High Life course I'm going to write an in depth post for how we not only stayed at some of the best hotels in the world on this trip for nearly free, but also how we hardly had to pay anything at the bars and restaurants we visited as well.
You can learn more about the Top 100 quest here.
And I'm still going strong with my Top 100 golf quest, as this year I got to within one of being halfway through the Top 100 courses in the US.
8) Finally, Re-Inventing What It Means to Have a Blog
This is purposefully cryptic, but I've been thinking about this for two years, and I'm finally going to pull the trigger on it.
While I still think blogging is alive and well, it's certainly changed over the last 5-10 years.
With social media being so prevalent these days, people just aren't reading blogs in the way that they once were.
Well, what if there were a way to bring people back?
A way to make reading a blog fun and interesting again, but more importantly, to provide an experience that you can't get elsewhere?
All while teaching you specifically how to build a business and rewarding you for doing so.
That's what we've been working on behind the scenes.
That's all I'm going to say for now, but early next year we're going to roll out something I've never seen done before on a blog, and I think it's going to be a welcome change that's going to be fun for everyone involved.
As Always…
Thank you so much for being a reader, and allowing me to help you in your journey to build a business, travel more, or simply do more of the things that make you happy in life.
Questions? As always, just shoot me an email! Sean (@) locationrebel.com
Sean Ogle
Sean Ogle is the Founder of Location Rebel where he has spent the last 12+ years teaching people how to build online businesses that give them the freedom to do more of the things they like to do in life. When he's not in the coffee shops of Portland, or the beaches of Bali, he's probably sneaking into some other high-class establishment where he most certainly doesn't belong.
Learn How to Make Your First $1,000 Freelance Writing (in 30 Days or Less)
Join over 40,000 people who have taken our 6 part freelance writing course. Sign up below and let's do this together.
By entering your email address you agree to receive emails from Location Rebel. We'll respect your privacy and you can unsubscribe at any time.