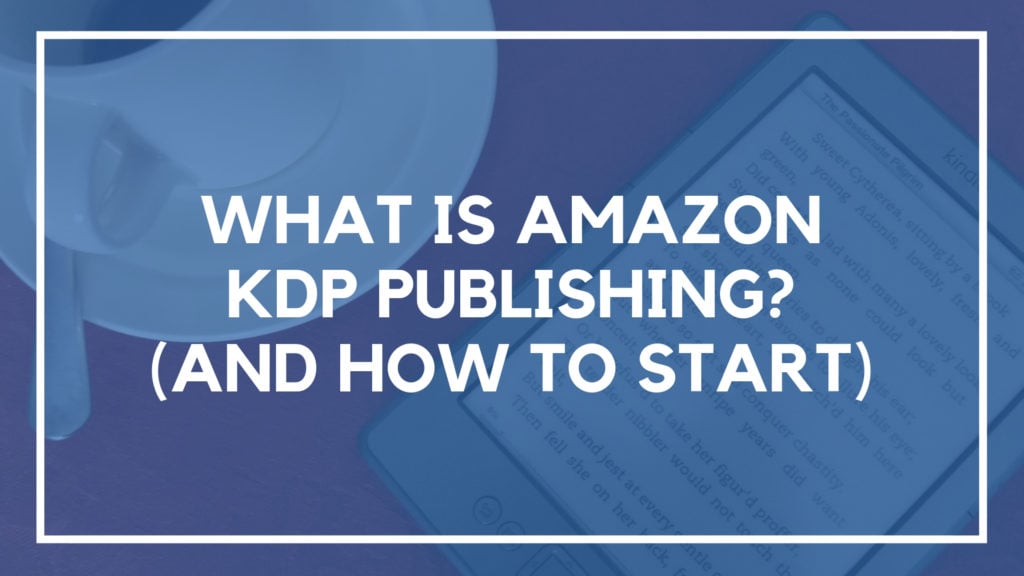 These days, self-publishing is a legit business. Budding authors all over the world are creating a monthly income through self-publishing books on Amazon.
The cool thing is it's opened a new way of creating income that was barely possible even ten years ago.
Want to write your own book and get it published, yup you can do it.
As an Amazon author myself (yup, I'll toot my own horn here a minute) the process was fun and eye-opening. Plus getting those occasional royalties in my bank account doesn't hurt either.
Most of our posts on Amazon self-publishing get into the meat of creating a book.
We've covered how to get started with Kindle publishing, how to pick a niche for your book empire, and even how to turn your blog into a book.
But we've glossed over the basics of getting started with Amazon KDP publishing.
This post is going to change that.
Let's dig in.
KDP Publishing: The Basics
KDP stands for Kindle Direct Publishing.
So yea, saying KDP Publishing is a bit redundant, so let's stick with KDP to make it easy.
KDP is the way authors can get their books for sale online at Amazon.
Most people will choose the Kindle format, which keeps it as an ebook and easy to read via an e-reader or Kindle cloud reader which you can just access from a browser.
If you'd like to make a real life physical copy of your book you can do that through KDP now too.
I'll be honest, it's pretty cool to hold your own book in your hands and now it's really easy to try that option. You can learn more about that here.
Getting started is simple.
Once you create an account, choose the + next to Kindle eBook and follow the prompts.

You'll be asked simple details first, things like:
Title and subtitle
Book description
Names of contributors (if you co-authored your book)
Categories
Age ranges
Then you'll upload your manuscript and your cover (or now you can make one using Kindle's Cover Creator tool). And finally, you'll get to pricing.
Let's dig into that a little bit more.
Setting Your Prices with KDP
This is where you're gonna get rich, right?
Not so fast, JK Rowling, you've got a few steps to go (oh and millions and millions of books to sell!).
KDP vs KDP Select
At the very top of the pricing page, you're going to run into your first major decision.

What's KDP Select?
Basically, if you choose to use KDP Select for your book you're giving Amazon exclusive rights to it. Authors who chose KDP Select cannot publish it anywhere else (that includes your website).
There are a few other benefits too:
You can join in Kindle Countdown Deals
You can offer special deals on your book to attract more potential readers
Your book will be enrolled in the Kindle Unlimited program, which gives Kindle readers unlimited access to books for $9.99 a month
Your book will also be available in the Kindle Owner's Lending Library, a feature for Amazon Prime member
With KDP Select you'll be eligible for additional royalties through both of these programs.
For some authors, this is the way to go, especially if you only plan on selling your book on Amazon anyway.
But for others, Amazon having all the control is not something they are interested in.
If you want to be able to offer your book for sale other places, including your website, Smashwords, or Draft2Digital, or you want it to be read by people with other kinds of eReaders, like the Kobo or Nook then KDP Select is not the best choice for you.
Here's where you make that choice.
Note you can always get into KDP Select at a later date or cancel it after 90 days if it's not right for you.
Picking Your Price
Once you make your decision on KDP vs KDP Select you'll get to pricing.
Here you'll be faced with another Amazon author question that is as old as time, choosing the 35% royalty plan or the 70% royalty plan.
There are a couple of factors that go into this but the main ones are how much you want to sell your book for and the markets where you want your book to be available.
The 35% royalty fee has a minimum price of $.99 while the 70% option is set at $2.99.
You can see more about the differences between the two royalty options here.
You'll also see KDP Pricing Support service.
Basically, this offers an algorithm that sorts through similar books to yours and then gives you an estimate of what you 'should' be listing your book for.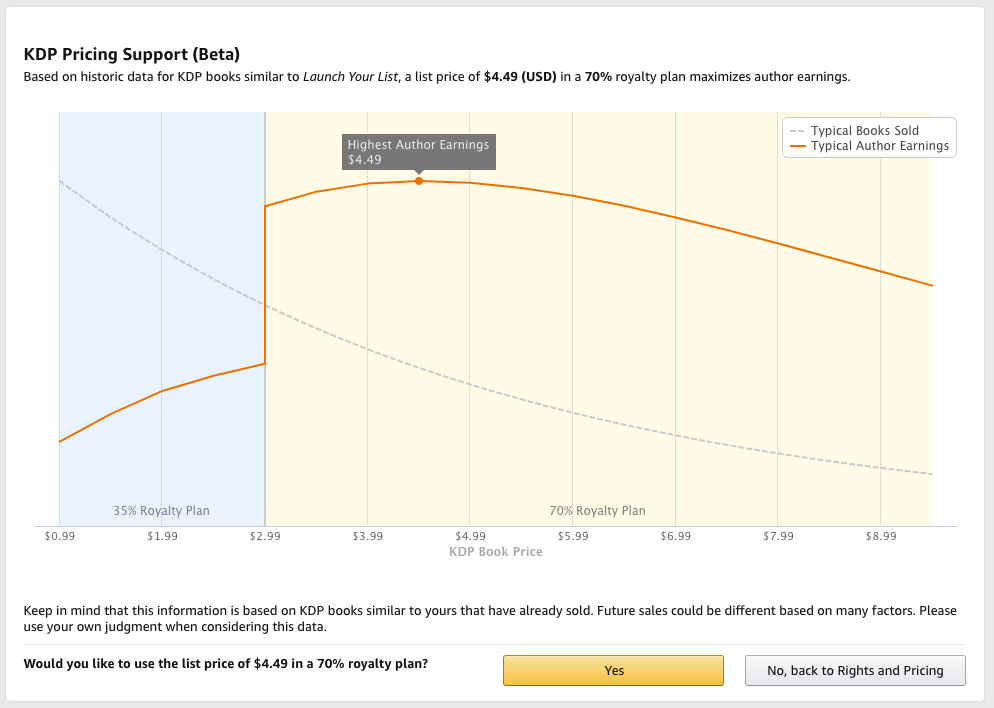 For a lot of authors, the jury is still out on this one while Amazon is tinkering with the formulas.
It seems the consensus might be that by raising the price of your book will make up in lost sales. So that's something you should factor in as you decide if this option is right for you.
Alright, once you've got your pricing set, you're home free.
If you're ready to take the plunge, click "Publish Your Kindle Book."
Congrats, you're an author!
Want to read more on Self-Publishing?
Thought so.
Check out all of our posts on the topic here. 
What are your thoughts on publishing on Amazon? We've seen some pretty cool success stories and others making a nice little side hustle from it each month.
Are you tempted to give it a try?
Also, If you're serious about self publishing, improving your Kindle sales, and becoming a successful author, the single best resource I know of is Self-Publishing School. It's where I recommend anyone who is serious about that as a career or side hustle get started, as it's the most comprehensive training out there.
Check out their free class on writing and launching your own book to see if it's a good fit for your goals.