Note from Sean: I still think guest posting is one of the absolute best ways you can grow your audience, email list, and search rankings. And today I'm sharing with you just a portion of the very best guest blog post I've ever had here on Location Rebel. (If you'd like to guest post on this site, read our guidelines).
In How Complete Newbies Can Land Killer Guest Posts: the Ultimate Guide, Location Rebel member Alp Turan breaks down exactly how to land killer guest blogging opportunities. This will be presented in a 3 part series, and the entire thing is bordering on 20,000 words. So if you've ever wanted to get more traffic and subscribers through guest posting – look no further than this massive post.
We've published parts 1, 2, and 3, so click below to be brought to any specific part. 
Click here to go to Part 1: How To Get Busy Bloggers To Open Your Email When You Pitch a Guest Post.
Click here to go to Part 2: How to Craft a Guest Blogging Pitch No Popular Blogger Can Resist.
Click here to go to Part 3: How to Magically Find Time for Guest Blogging (Without Working 100-Hour Weeks).
And with that, take it away Alp!
—
Don't have time to read How to Guest Post: The Ultimate Guide post now? That's ok. Let me give you a pdf copy so you can read it at your leisure. 
Admit it… you're frustrated.
It's been months and you still don't have a guest post to your name. Meanwhile, others are getting invitation after invitation from the big players.
Should you play the numbers game and reach out to more bloggers?
Or should you comment on their blog for another decade or two before you approach them again?
Maybe you just need to be patient, populating your own blog with content before you even think about guest posting.
But deep down, you suspect that something else is going on.
The fear creeps in…
Did the blogger hate the idea and delete your email?
What does it take to get a response from a busy blogger?
Do you need a blood sacrifice?
The Bullet Proof Way to Land a Guest Posting Opportunity
You only need to do three things to land a guest post:
Get the blog owner to open your email
read it and…
say yes
That's all. Shortest ultimate guide in history.
It sounds infuriatingly simple, right?
Of course the tricky part is figuring out the how.
This guide is a step by step "one stop shop" for Location Rebels who want to land guest posts on great blogs (even if they are complete newbies with no connections). You'll get clear action items, ready-to-use templates and proven systems for each step that will be the quickest route to getting your posts published.
It will be published in three parts:
In Part 1, we're going to focus on the hardest part: how to get bloggers to open your email – because if you can't do that, you won't get anywhere.

In Part 2, you will learn how to craft a guest post pitch that no popular blogger can resist. I'll show you a simple trick that makes it a no-brainer for the blogger to say "YES". 

(You will also learn the three things you must do before you hit 'SEND' to avoid a failure during the last mile.)

And, finally in Part 3 we'll remove your #1 obstacle to actually implementing this guide: Lack of time. You'll discover how to always find time for guest blogging (without working 100 hour weeks). Once you learn this trick, your calendar will miraculously open up every time you decide to write a guest post.
Throughout the guide, we'll analyze horrible pitches and expose the four mistakes that get you blacklisted. Most bloggers are too polite to point these out, so you might still be making them without realizing it. I know I was!
You'll also discover four proven ways to write emails that get you guest post invitations.
But even the perfect pitch is useless unless you can get the blogger to open it.
So that's where we start.
Part I: How To Get Busy Bloggers To Open Your Email When You Pitch a Guest Post
The Innocent Mistake That Ensures Your Email Stays Unopened
You email a guest post idea to a popular blogger. Then it's radio silence.
Did he even open your email?
Most people spend all their time writing a beautiful pitch in the email body.
But that's a mistake. The content is not what makes a blogger open your email.
A blogger only sees two things as he scans his inbox:
The subject line and the from field.
And here's the thing.
You can catapult your pitch into the spotlight by using these two elements strategically.
Most people skip this step entirely. They go straight to crafting the best email imaginable.
What they don't realize is that they've lost the battle before it even started.
Well, I want you to win. You have something important to say and the world needs to hear it.
'SUBJECT': How to Write Subject Lines That Get Your Emails Opened
Research shows that 85% of editors open emails based on the subject line. Give them an incentive to open yours.
Fractl and BuzzStream surveyed 500 top-tier publishers in 2014 to uncover what makes editors open certain emails and not others.
Here are some eye-opening findings from their research:
The ideal length for the subject line of an email pitch is 10 words.

More than 80% want to see the content title, a statistic from a study, or your pitch clearly in the subject line.

When given four options of subject-line formats:

42% chose content title (the headline of your guest post)

29% chose personalized ("You have a Beer chime, We have Cowbell – re: Exclusive Study")

19% chose statistic ("Kylie Jenner posted 451 selfies to Instagram [Celebrity Selfie Study]")

10% wanted their name: "Hi [name], I thought you might like this"
Putting all this together, how do you write an attention-grabbing subject line?
Pro Tip 1. Use your content title as the subject line.
This keeps it relevant and to the point.
Example: "Guest blogging idea: [the headline of your article]"
According to the survey, more than 50% of editors want subject lines that are descriptive and specific.
Pro Tip 2. Add a statistic near and dear to their heart.
This shows that you know who they are and what they do.
Example: "(Raw Data) The average click-through rate of display ads is 0.1% — guest post idea on banner blindness"
Statistics work best when you are pitching someone like Neil Patel or Bryan Harris whose work is very data-driven.
Pro Tip 3. Avoid "marketing speak."
Bad Example:  "Sean, you won't believe this shocking freelancing secret!!!"
(This screams spam.)
When you're pitching publishers, your email could easily be perceived as spam if you're relying on a sensationalist subject line to attract click-throughs.
Indeed, of the publishers surveyed, less than 20% said that they want catchy, personalized, or humorous headlines.
Further, more than 70% said they rarely or never want to see all caps, emojis, or exclamation points.
Remember: You are pitching a peer, not writing to your email list.
Even for email marketing, recent research shows that clickbait subject lines lead to a 8.69% fall in read rates. It's official. We all hate spam.
Let your idea speak for itself.
Revised Example: "(Guest Post) How I Built a 6-Figure Online Business in 12-months"
This sounds like a legitimate case study.
Pro Tip 4. Include keywords like "exclusive" and "raw data" if your guest post offers these.
Put these keywords in your subject lines.
Raw data and exclusives will earn the most response from publishers. More than 85% want raw data with your pitch.
Example: "(Raw Data) Why 3000+ Word Blog Posts Get More Traffic"
Example: "(Exclusive Story) How Your Student Went From Boring Attorney to Bestselling Author"
Oh well, a man can dream.
Pro Tip 5. Remind them of how they know you. 
Sixty six percent of respondents said they'd be at least somewhat more likely to open your email if you reference your past relationship in the subject line.
Example: "Guest post idea (from Location Rebel member): 11 Fatal Flaws of the Newly Location Independent"
Example: "Guest post: How to Use Haro To Get Media Mentions (Derek Johanson recommended I contact you)"
Let's recap. Your subject line should be descriptive and specific, and if possible, you should reference your past relationship.
The best practice is to put the content title or a statistic from a study in the subject line. If you're offering raw data or an exclusive, make it apparent.
Now I want you to implement these insights.
Action Step: Write your subject line.
I recommend using this template:
"Guest post idea (from [your relationship]): [Headline of your guest post]"
Example: "Guest post idea (from LR member): How To Work Remotely While Having the Adventure of a Lifetime"
Note: To help you, I put together of subject lines that make bloggers drop everything else and read your guest post pitch. Explore them for inspiration.
The subject line of your email is the tip of the spear. Ultimately, if the metal it is made of – your headline – is weak, it won't penetrate.
When you are cold pitching a guest post, your headline will need to do the heavy lifting to get your email opened. That's what the research tells us.
The thing is…
Headlines are tough.
And, frankly, most of us suck at writing them.
Sure, if you are a headline wizard, go ahead and cold pitch blogs.
If not… don't worry. I have another way for you to get your emails opened.
Imagine trying to push open a heavy door.
Unless you have Herculean strength, it's not going to budge.
One option is to lift weights every single day until you grow strong enough.
In this case, that means writing a hundred headlines a day for a whole year – that's what blogging guru Jon Morrow did when he started.
The other option is to cheat by recruiting help.
If you get just one other person to push the door, you'd only need to do half the work.
Can't write Herculean subject lines that crack any inbox open?
That's ok. We are going to get the "from" field to do some of the pushing.
'FROM': How to become the cool kid popular bloggers can't wait to hear from
When I send an email and don't hear back, I feel embarrassed for reaching out.
"I'm a lurker out of the cold that makes contact," I tell myself, wallowing in self-loathing.
Did they take one look at my email and think: "I don't know who this guy is or why he keeps emailing me. Should I apply for a restraining order?"
Several days pass. Still no response.
Have I managed to get myself blacklisted?
If you've ever worried about this, I've got good news and bad news for you.
The good news is that bloggers won't judge you for reaching out to them.
The bad news is that they just won't pay you any attention.
Do you know why?
Influential bloggers are busy. They get hundreds of emails every day. And there simply aren't enough hours in the day to read them all. So they have to prioritize.
Research shows that editors prioritize emails as much by familiarity as by importance.
This should not come as a surprise. We open the emails of people we know.
Therefore, you need to cut through a crowded inbox by making your name recognizable.
You want them to go, "Oh yeah, that name sounds familiar" rather than "Who is this person?" when your email drops into their inbox.
Indeed, when you are guest blogging your relationship with the editor/blogger is just as important as the quality of your writing.
Jess Ostroff, who is Managing Editor at Convince & Convert, explains this from the editor's perspective:
"Make me care about you as a human and I'll be much more likely to read what you have to say."
There you have it, straight from the horse's mouth.
"I Don't Want To Invest In Long-Term Relationships.  I Just Want My Guest Post Up Now."
Every time I read an article like this, I used to get so disappointed.
"This guy is telling me to build long-term relationships with bloggers. Sure, I agree… but it sounds like that's going to take a long time. I want a guest post NOW."
I'm being diplomatic. What really went through my mind was:
But there were other reasons why this advice pissed me off:
First of all, everyone tells you to build long-term relationships with bloggers. But then they never show you exactly how to do it.
It's a waste of everyone's time and people go away frustrated and feeling like they'll never be successful at guest posting.
Life sucks. Let's go watch Netflix.
But what if there was a way to get the best of both worlds?
What if you could get the guest post now and play the long game of relationship at the same time, with all its hidden benefits?
That's what I'm going to teach you today.
Instead of spending the next decade or two commenting on their blog, you're going to learn how to nail it in just TWO emails.
In the first email, you're going to give them something that makes you Santa Claus in their eyes. (And it won't cost you a dime.)
The blogger will see what you're doing and say, "Wow. That's amazing. I've never seen anyone else do that. This guy rocks."
Then your second email will deliver a pitch, which develops organically from that first email. It won't be forced or awkward.
They won't feel cheated. They won't think, "Oh. So this is what he was after all along."
Instead, inviting you to their site will feel like the most natural thing in the world.
In the next section, I'm going to teach you seven strategies that will instantly make you the cool kid everyone wants guest posts from.
Getting on your blogging hero's radar will become quick and effortless, even if you are a complete newbie or raging introvert.
And the best part is… you'll learn a step-by-step process.
In fact, I'll hold your hand every step of the way.
Ready to conquer the Blogosphere?
7 strategies to go from cold pitching to getting 'invited' to guest post
Let's look at various ways you can add value to your target blogger.
Here are seven different types of email you can send to get noticed by your blogging hero. Each of these naturally segues into a guest post pitch:
Strategy 1: Create a Lead Magnet For Their Blog Post
You create a resource that makes it easier to implement the advice in that article, such as a cheatsheet, flow diagram or spreadsheet.
Strategy 2: Prove Them Right
You email them research supporting something they've written.
Strategy 3: Become Their Poster Child
You do what they tell you to do, get results and then tell them about it.
Strategy 4: Become a Star Student
You showcase the quality of your work by winning a community challenge. Or email them an overachiever's version of the coursework that they'll want to feature in the module materials.
Strategy 5: Come Up With Ideas For Them
You email 10 ideas for blog posts they should write or 10 blog posts from other people they should promote to their audience.
Strategy 6: Point Out Broken Links
You find broken links on their site and suggest working replacements (either updated URLS or content that covers a similar topic).
Strategy 7: Help Them Out Like a Friend Would
You opt into their email list and keep your ears open for opportunities to help them out.
Ready to become the cool kid everyone wants guest posts from?
Let's start.
Strategy 1: Create a Lead Magnet for Their Blog Post
Is a popular post on the blogger's site missing a lead magnet?
(A lead magnet is a "free" resource you get to download at the end of a blog post in exchange for your email address. Also known as an "opt-in bribe".)
A fantastic way to get on another blogger's radar, provide value (and possibly drive subscribers to your site with minimal effort) is to create a resource for their readers.
For example, at the bottom of this popular post at Smart Passive Income, you'll notice this paragraph:
As you can see, Eric simply added value to Pat's audience, earning himself a link and a relationship.
This tactic is pure genius. I stole the idea from Brian Dean and built on it:
Step 1: Make a list of the most popular content on your target blog.
Blogs usually list their popular content on the Start Here page, Archive or side bar.
You can also use a "social popularity tool" like BuzzSumo, QuickSprout or SocialCount. These tools help you find the most popular posts on your target blogs using share counts from major social platforms (Facebook, Twitter, etc.).
Step 2: Identify any posts on your list that don't have a bespoke lead magnet.
Step 3: Read each of these blog posts. Ask yourself, "What would make it easier to implement this advice?" Brainstorm a list of resources you could offer.
Here are five resources that take less than 30 minutes to create:
A checklist version of the post.

A package of relevant links (such as support documentation, Youtube videos that go into more depth or other relevant blog posts on the topic)

A how-to video where you record yourself implementing the advice so readers can follow your exact workflow

Scripts and templates readers can use to implement a particular step

A swipe file to provide inspiration. For example, if they wrote about the health benefits of kale, you can offer them a swipe file of 30 delicious kale recipes (oxymoron?)
For more inspiration on the different resources you could create and instructions on how to set them up, read these two articles: here and here.
Step 4: Create the resource.
Step 5: Reach out to the blogger and share the resource:
"Subject: Your post on [topic] and a free resource for your readers
Hi [Blogger],
I'm a huge fan of your work. I recently read your article on [post topic] and committed to implementing your advice over the next [time frame].
In fact, I front loaded the work by creating a well-organized set of spreadsheets, pre-populated with each step of the process [or whatever your resource is].
I thought it might help your other readers too.
Here is the resource [attachment or link to Google doc]. Please feel free to use it however you wish.
Thanks again for your excellent content on [topic]!
Best, [your name]
Wait a second…
What if you snuck in a link to a landing page, so that the only way to download the resource is to opt into your email list?
After all, guest posting takes a lot of time but "guest resourcing" does not. It reaps the benefits of guest posting (subscribers) without the effort (writing).
They write the post, you get the opt-ins.
Imagine leveraging the traffic of a gargantuan site like that…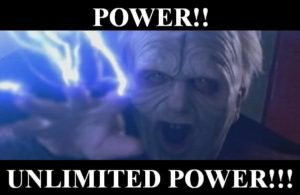 Right?
But you know what eventually happens to sneaky people who are only out for themselves: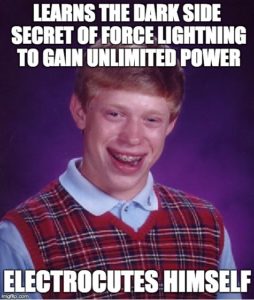 You need to be careful with how you offer the resource.
A gift should be a gift, not a Trojan horse.
In the grand scheme of business, a couple hundred subscribers is a drop in the ocean. It's not worth burning your bridges.
Most people think the real benefit of guest posting is the subscribers you get. It's not.
It's the relationship you build with influential bloggers.
Play the long game.
Let's look at how you could offer your resource without being a jerk.
There are two ways you can go about this:
The first is to create the resource and then offer it as a gift.
I promise you, if you do a good job, they will be overjoyed.
You will instantly become one of their favorite people online. The next time you send them an email, they'll stop what they're doing and open your email.
The second option is to create the resource, write a blog post on the source article and your resource, and then send them a link to your post.
They'll still think it's neat and probably link to your material.
You might get traffic and subscribers but it won't create a relationship in the way the first option would.
You can study what Eric did for an example of how to do this.
He wrote a short blog post on his resource, which referenced Pat Flynn's article. In other words, he focussed on providing value to the reader before asking Pat for a link.
Next, you email the blogger. Here is a template you can use:
"Subject: Your post on [topic] and a free resource for your readers
Hi [Blogger],
I'm a huge fan of your work. I recently read your article on [post topic] and committed to implementing your advice over the next [time frame].
In fact, I front loaded the work by creating a well-organized set of spreadsheets, pre-populated with each step of the process [or whatever your resource is].
I wrote about my process here: [link to your blog post]
I thought it might help your other readers too.
Thanks again for your excellent content on [topic]!
Best, [your name]
Want to be a total overachiever? Try this:
Step 1: Create the resource and write a blog post on it.
Step 2: Email it to the blogger using the template above.
Step 3: Implement their advice, get results and tell the blogger about it. Follow Steps 4 to 6 from the Poster Child Technique (see Strategy 5 below).
So which route should you follow?
That depends on your goal.
If you're reaching out as part of your long-term business strategy, go with the first.
If you're about to launch a product and all you care about is the short-term benefit of growing your email list, you might decide to try the second.
That's the cool thing about being an entrepreneur. You are the CEO of your business.
Personally, I almost always take the first route. It's the relationship that opens doors.
To borrow Warren Buffett's phrase, I am long-term greedy.
How to transition from creating a resource to pitching a guest post
You did the groundwork. You created an amazing resource for their readers. Now you're the cool kid they can't wait to hear from.
You've ensured that when you email your pitch, they will open it.
But how do you move the conversation forward and ask to guest post without creating awkwardness?
The easiest way is to offer to write a follow-up article to their blog post.
Here is what the process looks like:
Step 1: Email them the resource.
Step 2: Brainstorm ideas for possible follow-up articles while you wait for a response.
Here are five types of content that work great as a follow-up article:
The Next Step
What's the next step after implementing the advice in their blog post? Write a how-to article on that.
A Case Study
Write up your results and pitch it as a success story. Bonus points if you walk them through your exact workflow.
Just follow the instructions from "Strategy 3: The Poster Child" below.
A Common Problem
Write about a common problem people encounter when they try to do what the blogger tells them to do.
For example, let's say you want to write a follow-up to this very article.
Here I share seven strategies for reaching out to bloggers.
But the problem with outreach is that after a while it gets overwhelming.
Things start to fall through the cracks.
So… you could write an article on how to create a system to keep track of your outreach.
The Expansion Pack
Find a point they touched on in passing and expand on that.
The Missing Piece
Find an aspect of the topic they haven't covered and write about that.
Step 3: Once they respond to thank you, pitch them a guest post:
Hi [Blogger],
Glad to hear you like the [resource]!
I'm thinking of writing a follow-up post to your article. I get the feeling your readers would love something on:
Your Headline
Would you be interested in featuring it as a guest post?
Best, [your name]
Make their life easier. Do something no one else does and create a lead magnet for them. Then pitch a guest post. You'll be amazed with the responses you get.
Now, if research is your Super Skill, then I have the perfect weapon for you…
Strategy 2: Prove Them Right
Imagine this:
You've heard your friend declaim a million times that cats are evil.
Then you stumble upon research by Swiss scientists, which conclusively shows that cats are genetically predisposed to treachery.
You're probably grinning as you clip it for your friend, right?
Do the same thing with bloggers.
This is a cool trick I picked up from Derek Halpern:
Suppose that your blogging hero's pet argument is that design (not content) is king.
What can you add to the conversation? How can you make them look good?
Just read your article about "Design is King." What's funny is, I've always believed the same thing, and some people don't. Well, check this: I stumbled on some research that PROVES design is king. It was done by a university in London, and I think you'll dig it. Here's the link.
As Derek points out: "You're providing research suggesting that the blogger you're emailing is RIGHT. And people LOVE being right."
Here is how you can put this into action:
Step 1: Pick one of their pet arguments. Be strategic and choose something related to your guest post topic.
Step 2: Find raw data and research on that topic.
If you are accustomed to academic or legal research, this will be a breeze.
If not, you've been spared. Here is the CliffNotes version of that boring, six-hour library lecture: here and here.
The first link walks you through ten ways to find answers and hard data online.
The second link explains how proper online research works.
The "TLDNR" (too long did not read) summary is: Google is your friend.
Before you deep dive into more complex research tactics, try Googling:
"[your topic] research"
"[your topic] data"
"[phrase your topic as a question] research"
Limit search results to the last year to get the most recent studies on the subject.
Example: Continuing the example above, how do I find scientific data that shows design is king?
I start by brainstorming a list of questions and search phrases I can plug into Google:
Why is design more important than content? Research/science/fact/study
Research on the importance of design
Do people buy based on design?
Do people judge websites based on design?
After trying just the first question, I hit jackpot:

I click the first link that comes up and voila! British scientists have already figured it out:
Now I just need to find the root study. I throw a couple distinctive keywords at Google:
There we go.
Again it's the first link that comes up. Praise Google.
Step 3: Sit down and read it. Then email the blogger. You can use Derek's script above.
How to transition from underpaid researcher to celebrated guest post author
When they write back to thank you, that's the perfect opportunity to pitch a guest post:
Hey, glad to hear you found it useful.
There is actually a really interesting point here that's hard to spot until you really dive into the research:
[your analysis/argument/insight]
I'm thinking of writing a blog post that explains this in Plain English.
I know you like to stay at the cutting edge of [topic], so I wanted to check if you'd like to feature it as a guest post?
If not, no worries. I'll publish it on my own blog/send it to [blogger] who also expressed an interest. I love your work so I wanted to give you first dibs on the article.*
Hope all is well, [your name]
Note: Obviously, only say this if another blogger actually expressed such an interest. Every big blogger knows every other big blogger. Lies always come out.
Hate research? More of a doer who prefers immediate action?
Then the next technique will be right up your alley…
Strategy 3: Become Their Poster Child
In "How to Pitch a Guest Post," Sean points out that the best way to get featured on someone's blog is to become their case study.
In other words just do what they tell you to do – and then tell them about it!
You're making them look good, providing a useful how-to for their audience and positioning yourself as an expert – it's a win/win/win.
A great way to reach out to a blogger is to mention a specific insight from a specific article, how you implemented it and the results that you got.
Here's an example (courtesy of my friend Primoz Bozic):
"Hey Selena – my name is Primoz and I'm a young entrepreneur from Slovenia. I've recently read your post about 5 ways of adding value to your favourite expert, and I especially loved the insight about recording video testimonials for the online courses I've completed. I sent a video testimonial to Ramit Sethi and he actually replied back to me and thanked me for it!"
Small gestures like this start a conversation.
And you never know where that conversation might eventually lead to.
Primoz is now a business coach on the Accelerator program. He was also a guest speaker on Selena's recent panel in NYC.
Every journey begins with the first step.
And sometimes that first step is as simple as following the instructions in a blog post.
Why does the Poster Child Technique work?
It captures the blogger's attention and shows them you're an action taker who implements their advice.
Since they know you won't waste their time by asking for advice and never following through, they'll be more likely to respond to your emails in the future.
But what if you don't have the results to be anyone's poster child yet?
How do you get started?
A cool hack I learned from Bryan Harris is to create an "Actionable Advice" spreadsheet.
Then every time I come across actionable advice, I immediately plug it into this spreadsheet so I don't forget. Without a system to track and implement the blog posts I read, they just fall through the cracks.
Step 1: Create a Google doc entitled "Actionable Advice". Have a separate sheet for each blogger. Here is a ready-to-use template you can download for free.
Step 2: Pick articles that are actionable and relevant to your business. Record the URL and title of each into your Google doc.
Step 3: Follow the exact instructions in the article.
Step 4: Write the author an email telling them exactly what you did, how you did it, and the results you had. Use this as your email template (courtesy of Bryan Harris):
Subject: re: your post on [insert topic].
Body: I read your article on [post topic].
I was struggling with that exact issue before I read your post and committed to implementing exactly what you outlined in your post [number of days since posted] ago.
These were my results: [insert bullet point list of results]
[insert screenshots of results]
Thank you so much for sharing that.
– [your name]
Step 5: Write a blog post detailing the actions you took and the results you had.
Step 6: Email the author back and ask them to 'give you feedback' on your post. Use this template (courtesy of Bryan Harris):
Subject: case study on [insert blog title].
Body: Thank you for your feedback on my previous email.
I've put together a blog post on my results and wanted to let you know.
[insert article title and link]
Thanks again for all of your help.
-[your name]
If you are an ambitious risk-taker (come on, live a little) you can even pitch it to them as a guest post. Use this template (again, courtesy of Bryan Harris):
Hey [blogger],
I've been following your blog for the past 6 months and have really enjoyed reading your work. Great job!
Recently, I read your post on XYZ and implemented that into my business and had awesome results. In fact, I was able to [insert result].
Anyhow…
Just wanted to shoot you a quick note. I've written all of my results up into a case study that I thought your readers might benefit from.
[insert link to google doc of case study]
I would love to publish it on your site as a case study. Do you think your readers would benefit from it?
But what if you want to write a guest post on a different topic? Can you still use the Poster Child technique to get your foot in the door?
Absolutely!
Here is the word-for-word script Neil Patel uses (you can use something similar):
Hey [Blogger],
The [outcome from taking advice] is still producing great results.
I seriously appreciate all the hard work you do to create useful, actionable advice about [topic].
I know it's difficult to produce top-notch quality consistently, so I was wondering if you'd like a hand with it.
I've already brainstormed a few ideas that I think would really resonate with your readers:
I've written a lot in this niche. Here are some examples of articles that capture the quality of my writing:
[link to a guest post or your own blog article #1]
[link to a guest post or your own blog article #2]
I know you don't accept guest posts often, but I'd be honored if I could contribute to [site name].
If not, no worries—I won't stop reading your posts!
Best Regards,
[your name]
Step 7: Repeat for every blogger you want to guest post for.
Next up, I'm going to show you a strategy that works great for people who love learning.
But first, I'll let you in on a secret:
I'm a total course junkie.
Some men buy wristwatches. Cool men buy motorcycles. I buy courses.
If you are a lifelong learner with a bit of a competitive streak like me, you will LOVE this technique.
Strategy 4: Become a Star Student
A lot of people tell you that the surest way to get featured on someone's blog is to become their student – nepotism at its best.
When you hear such advice, you assume that:
You can't get featured on a big blog unless you buy their premium course.

Once you become a student, you'll automatically get preferential treatment.
This is discouraging because nobody has the money (or time!) to become a student of every blogger they want to write for.
Here is a twist on that story. When I approached Jennifer Gresham for a guest post, I was already a client – paying a hefty amount each month for executive/career coaching.
She still turned me down.
When you read a response like that, your first thought is:
She doesn't take guest posts even from her clients? What a total witch…
But in fact, Jen is one of the nicest people I've ever met.
So what on earth is going on here?
You have to remember that bloggers are the guardians of their readers' inboxes.
And your inbox is a very private thing.
(Do you like it when someone eyeballs your emails over your shoulder?)
Bloggers take their responsibility towards their readers seriously and won't let you through the gates until they trust you to deliver quality content.
What happened next illustrates this perfectly:
During one coaching call, Jen told me that the homework I submitted that week was the best work she ever received from a client.
She wanted to feature it as part of the module materials. She also asked if I would write a guest post for her on two related topics:
Once you build a relationship with a blogger, you have so much more room to negotiate.
For instance, I didn't want to write about those topics Jen Gresham gave me, so I counter-pitched three other ideas instead.
How can we turn incidents like these into repeatable formulas?
After all, we want to understand the psychology of why something works rather than blindly chase after tactics.
Here is my take on why the Star Student technique works:
They get acquainted with the quality of your work, so they trust you to deliver the goods the next time you propose something.
The Poster Child is about making them look good, whereas with the Star Student tactic is about instilling trust, showcasing your work and proving that you are a solid guy.
Action Step: Do any of the courses you joined run community challenges or competitions? Time to be an overachiever.
If not here is an alternative:
Have you ever taken an online course where you found yourself saying, "Man, I wish I could see what this actually looked like in practice. How did other students do it?"
If you've completed any of your target blog's courses and have exemplary coursework they could feature in the module materials, email it to them.
But what if you are a virtual hermit who never buys anything from anyone?
You can always become their secret idea machine…
Strategy 5: Come Up With Ideas for Them
This is a really cool tactic I learned from John Gannon.
Step 1: Write down 10 ideas for blog posts in your niche every morning.
Step 2: Instead of sending the "I loved your article" email everyone else sends bloggers, email them:
10 ideas for blog posts that they should write

10 blog posts from other people that they should promote to their audience

10 people they'd enjoy following on Twitter
Use this template:
Hi [blogger],
I'm starting a practice of generating 10 ideas a day and today I decided to focus on [blog name].
I hope you find some value in them!
Idea #1 [You can either give them a one-liner explanation or package your idea into a headline]
Idea #2 […]…
Bonus: You can also use a variation of this tactic to pitch your guest post.
For instance, if I wanted to pitch Boost Blog Traffic using this tactic, here is the email I would send the editor-in-chief:
Hi Glen,
I'm starting a practice of generating 10 ideas a day and today I decided to focus on Boost Blog Traffic. Here are 10 articles I would love to read on your site:
How to Find Guest Posting Gold Mines (and Avoid Toxic Blogs That Bring Zero Subscribers)

How to Find Where Your Target Audience Hangs Out Online
Jedi Mind-Trick: How to Turn a "No" Into a "Yes" If Your Guest Post Is Rejected
How to Write a Guest Post Pitch No Popular Blogger Can Resist
Turn the Tables: How to Get Popular Bloggers to Ask YOU for Guest Posts
How to Tell if a Seemingly Good Guest Blogging Target Will Actually Flop
How to Find the Hidden Kingmakers in Your Niche (and Why You Should Stop Spamming Random Bloggers for Guest Post Opportunities)
Keys to the Kingdom: How to Get Popular Bloggers to Unlock Their Network and Pitch Guest Posts on Your Behalf
Hitting a Brick Wall With Guest Blogging? 60 Tips To Retain Your Sanity
How to Get Tons of Subscribers From a Small Blog
I know you are probably busy and won't have time to blog on these topics. Let me know if anything caught your eye and I'll write it for you.
Best,
Alp
This tactic is the Patron Saint of the Long Shot – it can land you a guest post on a big blog that's otherwise out of reach.
But what if coming up with quirky ideas and mouth-watering headlines is not your forte? What if you're more of a tech-guy than a copywriter?
Then I have the perfect strategy for you:
Strategy 6: Point Out Broken Links
Brian Dean discovered quite a creative way to get another blogger's attention: find broken or outdated links on their site and let them know.
At first blush this seems like a paltry strategy. Why would you want to fix something small that no one cares about?
But in fact, it's easy to do and a great way to open the door to a relationship.
Think about it:  bloggers hate broken links.
It's bad for SEO.
It's bad for reader retention. Instead of reading one article, clicking on an interesting link and then reading another article, visitors hit a dead end and call it a day.
It's bad for the author's sanity. Who wants to spend hours writing an article which no one will read because they can't open it?
No one wants to bleed out subscribers because of a broken link.
If somebody sent me an email to let me know that my highest converting content is now inaccessible because of a stupid link, I'd stop what I'm doing and fix that. Now.
That's where you come in, the Knight in Shiny Armor…
Step 1: Use the Chrome extension Check My Links to find their broken links. Make a list.
Step 2: Find working replacements (either updated URLs or content that covers a similar topic). This is the proverbial extra mile. It also showcases your familiarity with the blog.
Step 3: Drop the blogger an email letting them know you stumbled upon a few broken links and wanted to lend a hand:
Hi [Blogger],
I'm an avid reader of [blog]. I discovered a few broken links while exploring your content and wanted to lend a hand.
Here are the naughty links and my suggestions for replacements:
[table with three columns: page url + text of broken link + replacement]
Best, [your name]
How to transition from link repairman to guest author
When they write back to thank you, reply with something like:
Hey, no problem! It was a good excuse to spend more time on [blog] – I love your content!
You know, when I was searching alternatives for [broken link], I thought it would be cool to link to a post on [subtopic they have never written about].
Based on how well your posts on [umbrella topic] have done (here, here and here – with links), I think your readers would love something on [the subtopic].
I searched the site but it seems you've never written anything on that.
You're probably busy with other stuff – why don't I write it for you as a guest post?
Here are a couple of ideas for the headline:
[HEADLINES]
Don't worry, I won't let you down! Here are some writing samples that capture the quality of my work:
[WRITING SAMPLES]
What do you think? Shall I write up a draft?
Ok, let's recap. So far I've shown you six techniques very few people know that immediately get you on a blogger's radar.
The final outreach tactic I'm going to share with you is beautifully simple.
I know that you will be a natural at it.
Strategy 7: Help Them Out Like a Friend Would
This is the Art of Being a Nice Guy applied to the Blogosphere.
You opt into their newsletter and then keep your ears open for opportunities to help them out.
For example, I noticed that Sean asked for a book recommendation in his weekly update:
So I emailed him a couple of recommendations – it took less time than microwaving popcorn:
Blogger outreach is the art of being a friend and genuinely helping people out.
There is goodness in you. The people in your life are there because they see that.
Just bring more of who you are online.
When you see the bloggers you contact as your friends, outreach stops being an uncomfortable exercise in self-promotion. It becomes effortless.
Did you read a 10,000 word ultimate guide to learn how to be someone's best friend?
You know this stuff already.
You just need to reframe outreach from an alien activity you do online to an everyday activity you've done a million times without even thinking about it: being friendly.
Whenever you're learning a new skill, the key is to anchor it to something you're already good at…."Ah, this is a bit like [x] – the only difference is [y]."
All right, we covered a lot of ground in this guide.
You learned how to write irresistible subject lines that beg to be opened.
You discovered secret tactics to get your email to the front of the queue.
And you now have seven strategies at your disposal to go from cold pitching to getting "invited" to guest post like the cool kids.
But here is something I didn't tell you…
The Long Game
I'd love to tell you that getting influencers to respond is easy. I'd love to tell you that there are shortcuts. I'd love to tell you that you can do it with your brain on autopilot.
But I won't, because we're being honest here, right?
Landing guest posts for influential bloggers is work. No, it's not backbreaking labour in a rice paddy, but it does take time, energy, and dedication.
And there is a long game that most people aren't willing to play. A game that takes you beyond scoring a few hundred subscribers, to landing a spot in the major leagues.
Play the long game and focus on building relationships with bloggers you admire.
If you're willing to do that, then there will always be a place for you on the web. You'll always be in demand. You'll always stand out.
Five years from now when 99% of the blogs you see today have faded away, you will still be here, changing lives on an unimaginable scale.
Your message will touch the hearts and minds of millions.
And that will be your life's legacy.
But here is the thing:
What you do in the next ten minutes will determine whether you'll be among that 1%.
Will this be another blog post you read and never take action on?
Or will it be the first step in the journey to your life's work?
The question you need to ask yourself is…
Do you love yourself enough to make your mark?
Your Next Step
Here is the ONE thing you should do to get started:
Write down your subject line.
(Estimated time: 3 minutes.)
That small step is enough to separate you from the 99% of people who will read this and not take action. Tell you what…
I want you to be in that 1%.
So I'm giving you a bonus resource to help.
Bonus: My personal repository of "Email Subject Lines That Make Bloggers Drop Everything Else to Read Your Guest Post Pitch".
I tap into this file whenever I need inspiration. Click here to download it for free.
The road is long, but you know what?
There is greatness in you.
Don't give up.
Part II: How to Craft a Guest Blogging Pitch No Popular Blogger Can Resist
You reach out to blogger after blogger and each time the door gets politely slammed in your face: It's horrible.
"This isn't a good fit for my audience, but thanks for writing in. Best of luck!"
Wait – was it something you said?
Did your email have spinach between its paragraphs?
How do you get past these gatekeepers and reach your readers? The people you were meant to help, inspire and change from within…
You know what? It's time the world saw your genius.
So let's explore how to pitch your idea and get it accepted (almost) every time.
Note: I put together a bonus resource at the end of this post that will save you hours and make pitching easy as pie. (Well, almost.) Make sure you read all the way to "Your Next Step" to get it (or check it out here).
Why guest blogging is all about making a sale
When you pitch a guest post, what you are really doing is selling an idea.
You (the factory) sell the idea first to the blogger (the store owner) and then to the readers (the shoppers).
And here is the thing:
The sale is in your head. 
As Jeffrey Gitomer, author of The Sales Bible, writes:
"The mindset by which you approach the sale will determine its outcome more than any other element of the selling process. (…) Friendly, smiley, enthusiastic, positive, confident, self-assured, likeable, and prepared beyond nervous. It's in your head, way before it's in your wallet." (emphasis added)
Now that's a problem. When most of us think about guest posting, the emotion that pops up is pure dread.
I have a confession to make: I dread crafting the pitch too.
What I really want is to wake up, log into my email and just have 5 invitations waiting for me: "Hey, can you blog for us?"
I don't want to craft email pitches. I don't want to reach out to bloggers.
I just want to be introduced to people so I can do what I do best, which is talking about what I talk about.
How we sabotage the "sale" before we write a single word
When I have to pitch, I growl and protest like a distressed circus bear who's just found out he has to dance for his dinner:
"Arrrgh, fine. Just another thing to do that prevents me from doing the thing that I want to do."
I worry about botching the pitch. What if I make a fool of myself?
Writing that first email is tough.
Once you get a reply, you have some insight into the temperament of the other person. If the answer is short and clipped, you can mirror that in your next email.
But when you send the first solicitation, there is an element of the unknown. It's awkward.
Of course, then, you start to wonder:
These bloggers get a hundred pitches a week. It's hopeless – I'll never stand out.  Is my post any good? Do I really have anything new to stay? Hasn't this topic been worn out by more popular bloggers?
What about my email? Too long? Too short?  Oh, who am I kidding! This is a waste of time. 
This kind of self-talk suggests an anticipation of hostility.
It's like walking into a sales meeting thinking to yourself, "The sale is probably not going to happen."
I sabotaged the sale before I wrote a single word.
But that's not my fault, is it?
I'm not a born salesman.
The popular myth about selling
Most people think a sale is about selling:
You have to be a natural at selling. You have to write the perfect pitch.  
But in fact, "why they buy" trumps "how to sell".
According to sales guru Jeff Gitomer:
"People don't like to be sold, but they LOVE to buy. The nuance of sales (that most people COMPLETELY overlook) is finding out WHY people buy.

'Why they buy' is more valuable than 'how to sell'. (…) Their buying motive (their reasons for buying) is one billion times more important to the sale than your selling skills.

Know 'what you sell' in terms of the customer's need to buy – not in terms of your need to sell. (…) It will completely differentiate you from all your competitors trying to SELL." (The Sales Bible, page 12)
The takeaway for pitching is:
Focus on what they (the blogger, the readers) want, right now, instead of obsessing about crafting the perfect pitch. 
That's your 80/20.
How do you write emails even the busiest bloggers LOVE to read?
You make the email about THEM.
Here is the hardest truth of the Blogosphere:
You don't matter.
It doesn't matter who you are and what you do, except in so far as it qualifies you to talk about something.
What the person you're pitching really wants to know is what will your article do for them?
For example, here is what my friend Nick Wolny did:
"I scored a great win this week – a coach in my niche that I've followed for 3-4 years is 35 weeks pregnant, so I offered to do a 4-week series of posts for her that would go live next month while she's with her newborn baby. "All you'll need to do is press 'publish'" was the clincher!"
That's a perfect example of knowing people and focusing on what they want.
After all, the sexiest word in the English language is 'YOU'.
The subtle art of persuading bloggers to "buy" your guest post ideas
I find that it helps to work backwards. I imagine the response I want from the blogger and reverse-engineer what needs to happen to get there.
Ideally, after reading my pitch, it will be a no-brainer to say yes.
So why would a blogger want to say yes? What would make it a no-brainer for him?
"That's a great idea."
"This benefits my business – it makes my life easier and my readers will love it."
"I trust this guy to deliver the goods."
That's what I need the blogger to think as he reads my email.
Therefore, I can stack the deck when I pitch by doing three things:
Explain why the guest post I'm proposing is something original their readers haven't seen before.
Show them why their readers will love it.
Prove that I can be trusted to deliver the goods.
Let's take each of these in turn.
#1.) What does your piece bring to the table?
It's hard to say 'yes' if they don't understand what they're saying yes to. We need to describe our killer idea and explain why it's something original their readers haven't seen before.
First, pitch a specific topic. 
Which one is sexier?
"I want to write something about pitching" – vs – "Jedi Mind Trick: How to Turn a 'No' Into a 'Yes' When Your Guest Post Is Rejected"
Second, give them options. It's usually a good idea to pitch three headlines.
According to Jess Ostroff, who is the Managing Editor of Convince & Convert, "Offering several ideas shows that you are versatile in your knowledge and willing to work with them on the best possible match for their audience."
They might already have something in the pipeline similar to what you planned.
Third, never write the post first (unless their submission guidelines specifically ask for the full post).
Just give them the headline with a short explanation of what your idea is about.
I tested this over a period of two months. Turns out, it's not a good idea to attach a draft to your pitch.
Let's think about blogger psychology for a minute…
They are busy. Sending your whole post will make them archive the email to check later, which means never. Instead, evoke curiosity with the headline and make them eager for the post.
Look at the world from the editor's desktop, your headline is their first contact with your post.
"It doesn't matter how good your post idea is. If you can't sell it to us via your headline then we can't be confident that you can sell it to our readers either."
That's an actual quote from Jon Morrow, who helped Brian Clark build Copyblogger and later founded Smart Blogger.
Research has shown that a great headline is the difference between getting 100 visitors and getting 5000. Editors know this. Use it to your advantage.
Based on my testing, I believe it is the headline and their trust in you that sells your guest post.
Fourth, include a short description of your idea.
If you don't, you've added at least one back-and-forth set of correspondence that could have been avoided.
This is where you close the sale. Your summary should be long enough for your angle to be clear, but not so long that you're rambling on. Aim for 50-100 words.
The secret to being irresistible is to offer content that the editor can only get from you, rather than information that could have been written by any content creator.
How to write a description that closes the sale
This is the hardest part of the pitch for me.
If I keep it short, it becomes generic. If I provide detail on what makes my idea unique, the email starts to look like work.
How do you keep the description short and sweet, but still explain everything you need to explain?
I really like Neil Patel's 5Ws Method, which I'll explain through an example.
We'll start with the headline and work our way through 5Ws to craft a description.
Headline: "101 Networking Resources That'll Take You From Unknown to Interview Superstar"
The 5Ws:
Who: Newbie bloggers
What: Networking resources
Why: To get interviews, which will lead to traffic and exposure
Where: On blogs and podcasts
When: Strategies that can be done within one year
Description: Putting it all together you get something like this:
"I want to put together a comprehensive collection of the best networking resources for newbie bloggers. These resources will help your readers get interviews on blogs and podcasts, which will lead to exposure and traffic for their sites. To top it off, all of these strategies will be doable in less than one year."
I distilled this technique into a post-it-sized checklist and taped it to my monitor (feel free to steal it here). 
Now every time I need to write a pitch, it's right there. I just follow the checklist and fill in the blanks.
This way I don't waste time redrafting my description over and over again.
PRO TIP #1: If it's a list post, include a few example bullets. The key is to feature your most surprising points.
PRO TIP #2: If your description feels too vague, your idea is probably too big. Narrow your scope and go deeper. (I learned this the hard way. The 20,000 word post you're reading now took over 100 hours to write.)
Next, you should explain what's in it for them.
#2.) How will publishing your guest post benefit them?
Based on trial and error, this is what works best for me:
First, show them why their readers will love your idea.
It's not enough to discuss all the ways your guest blog will be amazing. You need to spell out how publishing your guest post will be good for their blog.
In essence, you are selling their readers' interest in your idea.
Examples:
"I've noticed that posts about marketing hacks do very well on your site. I'd like to offer my own observations in a post titled

." 

"Based on how well your posts on [topic] have done, I think your readers will love something on [subtopic they've never written about]."
Second, walk them through how saying yes will make their life easier. (This is optional.)
For example, when I pitched Sean I actually had a section in my pitch titled "How this will make your life easier". It read:
"Here is my promise to you: I'll match your best guest post (this?) in quality or you don't take it. 

I know you're busy, so I'll handle everything and send you a final version you can drop right into WordPress. You won't waste any time editing. 

I will of course respond to comments after the post is published and spend as much time promoting it as writing."
#3.) Why should they trust you to deliver the goods?
Your pitch needs to show why they can trust you.
The key to getting your guest post accepted is reducing the risk the blogger will feel in taking a chance on you.
This is especially true with editors. When an editor decides to run a guest post, she's vouching for that writer. As a writer, you need to overcome any objections she may have about accepting your content.
A lot of advice floating out there boils down to:
"You absolutely must have a blog with high quality content before you even think about requesting placement on another blog."
I have tested this and found it not to be necessary.
For instance, I got my first three guest post invitations without a website or a single writing sample to my name.
I used four strategies to create credibility and win the trust of popular bloggers. In my experience, these work even if you're a nobody with no credentials.
My favorite is to go from cold pitching to essentially getting 'invited' to guest post by focusing on building relationships with bloggers.
We covered this in part 1, above.
But sometimes you need a quicker solution. That's when I pull out the other three tricks from my bag.
How to write emails bloggers will happily read (even if they have a million other things to do)
We've all received one of those emails, right?
The sender obviously put a lot of work into it and you do want to help them out, but…
It looks like it's going to take a lot of time to answer. Time you don't have right now. So you archive it for later.
Then other stuff comes up and you forget about it. A week later it's still sitting in your inbox, waving a sad little flag.
Could the same thing be happening to your guest post pitches?
Let's see. What do we know about bloggers?
They're busy running their blog.
They get tons of email each day and might not have the time to read and reply to every one of them.
They hate it when people waste their time by asking for advice and then not implementing it.
Remember: They're not in this business to help you. They're in it to help their readers. Knowing this, let's devise a few ways in which we can give bloggers what THEY want.
After a lot of trial and error, I came up with three rules of thumb:
Structure the pitch like an inverted pyramid. 
Hook them with the opening. 
Make it look easy.
Now I'm not coming down from the mountain with the tablets. This is what works for me – it may or may not work for you.
As Bruce Lee says, "Adapt what is useful, reject what is useless, and add what is specifically your own."
#1.) Write a guest post pitch that gets under their skin even if they stop reading halfway
This is a trick I picked up from Glen Long, who is the Editor-in-chief at Smart Blogger (formerly known as Boost Blog Traffic).
Dan and Chip Heath, authors of Made to Stick: Why Some Ideas Survive and Others Die, also recommend a similar approach.
The gist is:
Assume they may stop reading at any moment.
Give them the most important info (the widest part of the pyramid) at the top.
This means giving them the headline in the subject line, then the call to action in the opening, and then information about your idea. Other information like why you're well placed to write the post can follow later.
Applying these principles, here is the skeleton for a successful guest post pitch:
As you can see from this outline, the pitch is built around the three elements we discussed in the previous section.
Spell out what your guest post is about. Explain why their readers will love it. Show them why they can trust you to deliver the goods.
I want to make this easy for you, so why don't I give you the 4 strategic blueprints I use? This way you won't have to stare at a blank screen and figure out how to say what you want to say.
Think of these blueprints as ice cube trays: you just pour the water (your idea) in and it crystallises into a pitch.
I'll also explain the pros and cons of each blueprint, show you which blueprint to use depending on your target blog, and give you actual email scripts to play with.
#2.) Hook them with your opening
Before they "buy" a guest post from you, they need to buy into you.
As the old sales adage goes: "All things being equal, people want to do business with their friends. All things being not quite so equal, people STILL want to do business with their friends."
And the best way to make friends and influence people is to make them feel good about themselves.
Author Olivia Fox Cabane shares this fascinating story in the Charisma Myth:
"In the torrid London summer of 1886, William Gladstone was up against Benjamin Disraeli for the post of prime minister of the United Kingdom.

This was the Victorian era, so whoever won was going to rule half the world.

In the very last week before the election, both men happened to take the same young woman out to dinner. Naturally, the press asked her what impressions the rivals had made.

She said, "After dining with Mr Gladstone, I thought he was the cleverest person in England. But after dining with Mr Disraeli, I thought I was the cleverest person in England."

Guess who won the election? It was the man who made others feel intelligent, impressive, and fascinating: Benjamin Disraeli."
How can we take these principles and apply them to pitching a guest post?
Don't reach out in a way that communicates your intentions as "one and done."
Don't be random and creepy. Show that you've done your homework.
Do open with an introductory paragraph that makes a connection. In other words, make "your" introduction all about "them."
We saw one example of this in the email Primoz sent using the Poster Child Strategy in Part 1.
Here is another example of making a personal connection, this time from a pitch Managing Editor Jess Ostroff received:
"Hi Jessica, 
Cheers from a fellow chronic wanderer, who also made a pit stop in South Florida. While you were pulled away to the Big Apple, I recently settled down in Delray Beach. As a PR and digital marketing enthusiast, I thought you might be interested in the following research on content marketing.*"
(*Note how this intro uses the "Prove Them Right" strategy we discussed in Part 1.)
What goes through an editor's mind when she opens an email like this? Let's ask Jess:
"This tells me three things: 
She figured out who I was and addressed me by name. This means she went to our About page, scrolled to the bottom, and found me, or she Googled "Convince & Convert guest post guidelines" and found me there. 
She visited my Twitter profile and used the "chronic wanderer" line from my bio.
She visited my About.Me page and saw that I was living in South Florida for a short time and now live in New York City."
One final example from John Rampton:
"I've been a subscriber to your blog for a couple of years now, and have found your posts extremely helpful.  Your article, 10 Steps to Finding Funding For Your Startup, was invaluable when I took the plunge and started my own business last year**…"
(**See how John sets the stage for a "Poster Child" pitch here? You can find more about this in Part 1 under Strategy 3.)
John got the following response to a pitch he sent using this strategy:
"What a refreshing change to get an email from a peer instead of the random and creepy people who usually want to guest post on my site..."
PRO TIP: If you're pitching an editor rather than a blogger, tell them which authors and pieces you especially liked (from their section!).
#3.) Make it easy
The easier you make it to read your email, the more likely you'll get a response.
My rules of thumb are two-fold:
Rule 1: Your email shouldn't look like work. 
First, formatting is your secret weapon. White space and short paragraphs are your friends.
Second, you need to keep the email as short as possible.
You're balancing two things here: length vs persuasion.
Write a longer email only if doing so significantly enhances the degree to which it persuades the blogger to accept your pitch.
Limit small talk.
Get straight to the point in the first sentence (the 'ask').
Don't waste time writing a giant love letter to get their attention.
(I call this "the Fan Boy Pitch". It's a blood relative of the dreaded "Life Story." Here is a detailed write up on four other mistakes that will immediately get you blacklisted.) 
Let's look at an example of Death by Biographical Fan mail - it kills your pitch:
"Dear Greg,
I hope this email finds you well and in good spirits. Your book is very close to my heart and I wanted to get in touch to let you know how much I admire your writing. 
I am a big fan of your work – and upon objective reflection, I may have taken it to a bit of an extreme. Recently, I decided that I would no longer buy people perishable goods as a housewarming present and instead made it a habit to get them Essentialism – one copy each for every member of the household. 
This did raise a few eyebrows the first time I showed up with a bundle of books, when, apparently (and unbeknownst to me), I was supposed to bring the wine. It was intimated, several times during the course of dinner, that wine for the soul was not, in fact, quite the same thing as… well, wine. 
(However, with consistency of application, I find that people generally warm up to the idea.)
Anyway, I realize now that the disciplined pursuit of less but better is what I have been groping in the dark for all my life, but never had the words to describe. Thank you for giving me the words.
While reading your book, it was interesting to discover the similarities between the paths our lives took. I am a dual-qualified lawyer – [GOES ON AND ON AND ON AND ON...] 
Although I work as a lawyer, my heart is in inspiring people to live a life true to themselves so that they can be authentic and free. Applying Essentialism day after day finally made me hear what my heart had been whispering all along. As Steve Jobs says, your heart knows where it wants to go. This year I will be transitioning out of the law to pursue my lifelong* dream of becoming a full time author and entrepreneur. (*Roughly 27 years in the making, counting representational narratives made by crayons and hieroglyphics.) 
On that note, can I just say how much I hate you sometimes when I read your blog posts? Nobody (Yours Truly excluded) ought to be able to write so well, so concisely, and with such impact. It is against the laws of nature. 
I've once heard that the best designs are invisible – and that's what I think I love about your articles. They are so well structured, but you never see the scaffolding while reading. (My favourite, by the way, is "The Most Important Hour of Your Life.") 
As I looked at your articles, I noticed a pattern: You introduce the "problem" with a story, suggest the cause (often referring to statistics), and then offer a solution. You usually prepare the stage for this solution by reference to a success story or by drawing unexpected conclusions from a seemingly unrelated scientific study.
Is this intentional? 
[BY THIS POINT, GREG IS THRASHING AROUND ON THE GROUND, LIFE DRAINING OUT OF HIM - DEATH BY FANMAIL.]
Anyway, I must practice what I preach and head to bed. ['FINALLY – IS THAT LIGHT AT THE END OF THE TUNNEL?'] Time to protect the asset. ['PLEASE. MAKE. IT. STOP,' PRAYS GREG, HAVING DISCOVERED A RENEWED SENSE OF RELIGION. 'I PROMISE TO DONATE ALL THE PROCEEDS OF MY BOOK TO BLOGGERS.']
I look forward to hearing from you. ['YEAH RIGHT.']
Regards
Alp"
A concise version might be:
"Hi Greg,
As an avid reader of Essentialism, I would love to read about how 'the disciplined pursuit of less but better' can be applied to bloggers. I think your readers would as well. 
Your content on the monk mode, the priority game and perfectionism is great, but I think you can tie it all together by blogging on 'Entrepreneurs ADD' – especially when it comes to online marketing.
I know you are probably busy and won't blog on it. How about I write it for you?
Don't worry, I'm a great blogger and had my posts featured on [insert guest post #1] and [guest post #2].
Let me know if you are interested.
Thanks, 
Alp"
(Yup… The longest section of Part 2 is about how to be concise. Apparently, the irony escaped me.)
Rule 2: Don't make the blogger exert mental effort. 
The trick is to be clear with your 'ask' and to be specific.
Don't play 'Where's Waldo?' with your ask.
Make sure it's very clear what you're asking for.
You want the blogger to spend no more than a minute reading your email, and then you want them to say "Yes, let's get this written up!"
Have a clear call to action at the beginning and end.
Compare these two examples:
Example 1: Playing 'Where's Waldo?' With Your Ask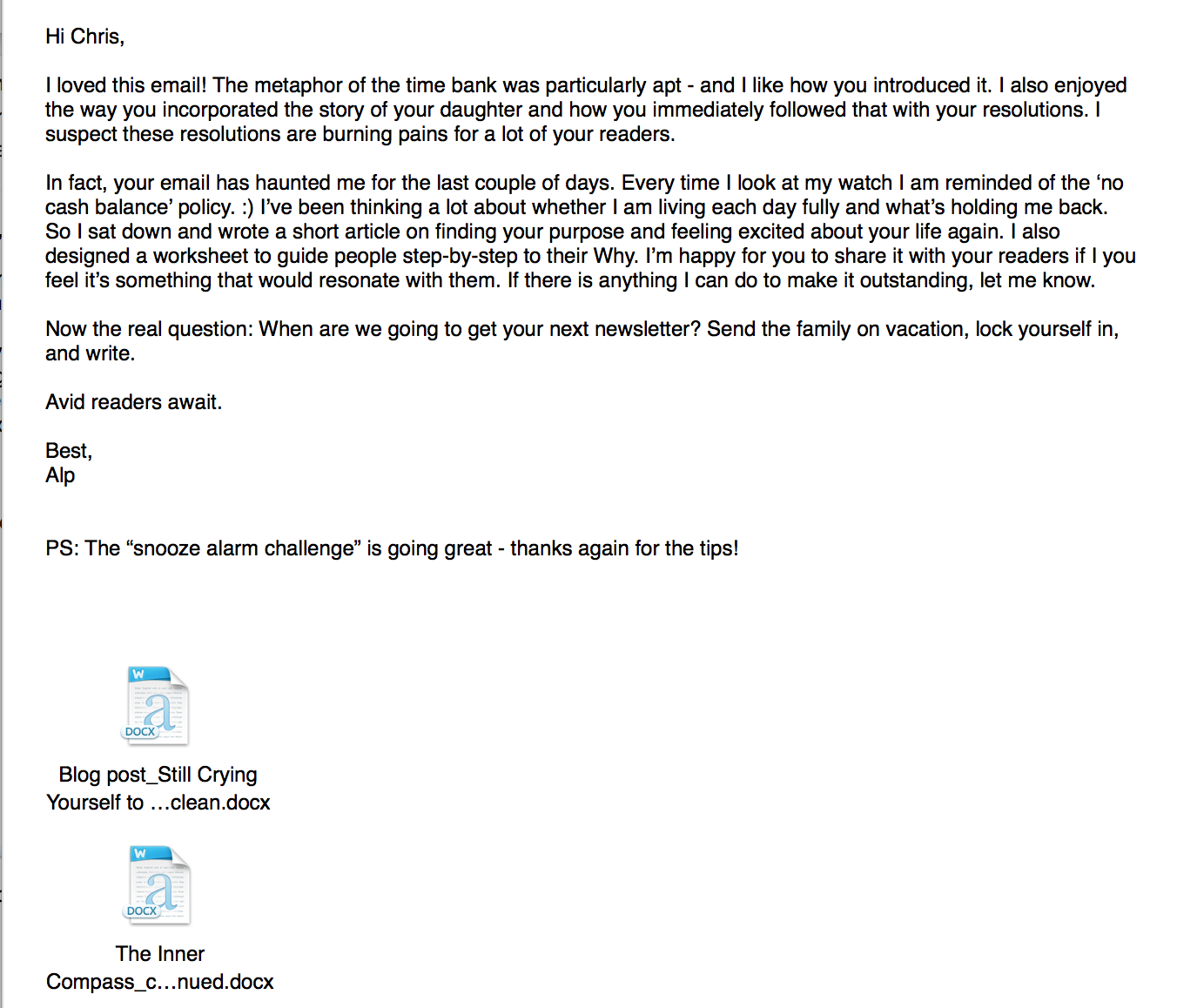 This email is all over the place.
Put yourself in the recipient's shoes. Is it clear what you need to do next?
The blogger I pitched didn't think so:
Example 2: A revised version of that email:
"Hi Chris,
My name is Alp and I'm a long time reader. (My favourite post was '86,400' – every time I look at my watch, I am reminded of the 'no cash balance' policy!)
The reason I'm reaching out is that I wrote a follow-up article to 86,400. Would you be interested in featuring it as a guest post?:
Still Crying Yourself to Work Every Morning? How to Live Your Purpose Without Quitting Your Job
Ever since reading your post, I realised that my life didn't excite me anymore because it didn't feel like my life. So I sat down and wrote this post on how to find one's purpose. (No Ashram in India required!)
Hope all is well and hope to hear from you soon.
Thanks,
Alp"
Moral of the story? If you want a specific result, make a specific request.
The revised pitch in Example 2 uses what I call the Silver Bullet Technique.
To improve my game, I analysed every successful guest post pitch I could get my hands on. After a while I started to see common patterns among great pitches.
I boiled these down into four different pitching styles.
We don't have space to explore that here, but if you'd like to learn more check out this in-depth guide.
Be so specific your deaf aunt couldn't misunderstand you
Be specific and omit vague language.
This way the blogger won't need to think about what you're trying to tell them, but will just keep reading and nodding instead.
For example, instead of:
"Based on experience with my clients, the advice in this article has tested very well with people who are health-conscious."
Say:
"The advice in this article helped 10 of my clients rid themselves of food cravings and lose 10kg in 2 months."
PRO TIP #1: We all write shitty first drafts – the great thing about writing is that no one else has to see them. Iteration is your friend.
PRO TIP #2: The better your relationship with a blogger, the more likely she is to hang around until the end – even if it's a long email.
3 things you must do before you hit 'send' to avoid a failure of the last mile
Edit, edit, edit.
Sleep on it.
Proofread in hard copy the next morning.
As harsh as it sounds, research shows that 85.2% of editors delete a pitch based on spelling/grammar errors, regardless of the content's quality.
That seems obnoxiously pedantic – until you put yourself in their shoes.
When you're getting 300 pitches per week (on top of everything else you need to do), you'll probably take any excuse to stop reading.
I might be old school, but I recommend printing your pitch and editing it in hard copy.
Every time I try to go paperless, (an) indefinite article goes missing.
Your next step
That was a ton of information.
And let's be honest. If you just bookmark it, months will pass and nothing will happen.
So I distilled it down to bite-sized Cliff Notes you can download and use right away.
First, you get a checklist version of everything we discussed in Part 2. Just tick the boxes to refresh your memory.
Second, I crystallised all the theory we explored in Part 2 into four strategic blueprints. Just plug your guest post ideas into these and watch them emerge as finished pitches.
I'll also walk you through the anatomy of these four pitching styles, the pros and cons of each approach, and when to use which one.
Third, I wrote a short guide on pitching mistakes that immediately get you blacklisted. (According to a 2014 survey of 500 editors, 53% blacklisted at least one person that month due to bad pitches.)
I actually made two of these mistakes when I started out. I don't want you to be embarrassed like I was.
Fourth, I'll send you a zip file that includes all the resources I mentioned in Part 2:

A post-it sized checklist to describe your guest post idea in a way that closes the sale;
The credibility cheatsheet (includes 5 hacks to establish trust and get bloggers to take you seriously).
And the best part is that none of these take more than 15 minutes. Think of them as your toolbox. Just pull out the tool you need when you need it.
Download them here and dive right in. 
Your new life as a popular blogger
Fast-forward a couple of months. You've read this guide and put it into practice.
Now you're getting responses like:
"That sounds amazing! When can you send it over?"
In fact, it's a bit embarrassing.
You have so many people who want guest posts from you that you will have to turn some of them down.
It's hard to be popular.
Part III How to Magically Find Time for Guest Blogging (Without Working 100-Hour Weeks)
Can I be real with you for a second?
It's been three months since Part I.
How many of the strategies in this guide have you implemented?
One? None?
Look, I get it.
Life is tough and you certainly don't need someone yelling at you and making you feel miserably guilty.
But before you close the browser and stomp off into the distance, cursing me for being a jerk (mea culpa!), I have a confession you need to hear.
You see, I neglected to tell you something:
It isn't your fault. Not really.
You're not struck because you're lazy, or stupid, or a failure.
No.
You're stuck because you're attacking the wrong problem.
Two weeks ago, I surveyed everyone who read Parts I and II.
I asked "What are you struggling with most when it comes to guest posting?"
The results were eerie.
It's as if the readers who responded agreed on their stories before writing in.
You told me that your biggest frustration is feeling like you're never doing enough on your blog.
You'd like to see a breakdown of how bloggers who work full time at other jobs manage to fit everything in for their blog from writing to marketing to guest posting.
You said you often had trouble making it happen and asked for a sample schedule or a checklist of weekly tasks.
I have great news:
The real issue isn't lack of time - or having a to-do list that's so long it could bridge two continents.
Which is great, because, after all, the day only has 24 hours in it, and we can't really make more - however much our unreasonable bosses might argue to the contrary.
The true cause of your lack of progress is much more insidious:
Three psychological agents sabotage your blogging efforts.
These work surreptitiously in the background and strike where you are most vulnerable, obliterating any chance of your ever making it big.
We're going to expose them today.
Once they're brought to light, you can tackle them head on.
If you overcome them, you will always have an abundance of time. Better yet, you'll the motivation to do what the calendar tells you to do.
Why You Never Have Time for Guest Posting
One the one hand, we tell ourselves that guest posting is important. On the other hand, our behaviour isn't consistent with that.
This creates cognitive dissonance. And that sucks - it's like having a thorn stuck in your foot, constantly reminding you that something is wrong.
We hate cognitive dissonance, so we make up excuses to feel less discomfort.
We tell ourselves it's due to a lack of time.
Glen Long argues very persuasively that "I don't have time" is actually code for "I'm not sure if this will be worth it":
"Imagine you were suddenly somehow 100% sure that two hours a day spent on your blog would lead to wild success.
Would you struggle to find those extra hours?
I seriously doubt it. Chances are, your calendar would miraculously open up, like the Red Sea parting for Moses' staff."
So let's address the root cause.
Root Cause #1: Uncertainty
As you're reading blogs or talking with other people, everyone has their own opinion and it's always different.
Some people tell you to do guest blogging, others tell you to do a marketing giveaway, others to write a Kindle eBook, or to develop your Twitter account...
They always promise the results will be outstanding and that it will change your business for the better. They also say that it doesn't take much time.
But your experience tells you that:
It actually takes A LOT of time to start something new. It always takes more time than you expect.

Results are never guaranteed.

It can lead to a lot of wasted time.
In the end, there is too much contradictory information out there. Also, if I tell you what to do, why should you trust me more than someone else who is telling you to do other things?
This leaves you between a rock and a hard place:
If you try to pick one strategy, you can't stick to it because what if it isn't the right strategy?
If you try to pursue too many things at once, you end up not doing anything. You make no progress at all.
What Every New Blogger Secretly Wants
When I sat down to write Part III, I originally thought I could help you best by showing you how to balance your time between building relationships, sending pitches and writing posts.
After talking to a lot of readers on Skype, it hit me:
Nobody actually wants to write guest posts.
Don't believe me?
I can prove it to you.
Let's do a thought experiment.
If God Almighty took you by the arm and said:
"I see how much you struggle and my heart bleeds for you. I can teach you one of three things but you must choose:
How to Write a Guest Post Pitch No Blog Can Resist

How to Wake Up to 5 Guest Post Invitations in Your Inbox (Without Writing a Single Pitch)

How to Get So Many Quality Subscribers Without Guest Posting It Feels Like Cheating
What would you choose?
Hell, my website is called "the Guest Posting Game Plan" and *I* would choose #3.
3 > 2 > 1
Most people say they want to learn how to guest blog only because some guru told them they should. And they feel guilty for not doing it.
Given that you don't really want to guest blog, I think the best thing I can do for you is to take away the guilt.
When Guest Blogging Won't Work for You (or: How to Never Feel Guilty About It Again)
Let me be completely honest:
I can't guarantee that guest blogging will work for you.
But I can guarantee that guest blogging WON'T work for some of you, no matter what you do.
Guest blogging works best in niches that have established influencers with large audiences.
The short term goal is to get subscribers by writing posts for their audience. The long term goal is to become friends with them, so you can ask them to share the content you write for your own site and get traffic on demand.
Guest posting is very time intensive. You also see the real benefits - like partnerships - much later down the road.
Therefore, guest blogging doesn't work well if:
Your niche doesn't have big influencers.

Everyone in your niche is a direct competitor and if readers buy from you they won't buy anything else from them. (This is rarer than you think.)

You are cash rich and time poor. For example, you want to leave a high-paying career to build an online business. 
These are tell-tale signs that guest blogging is the wrong strategy for you.
It's probably not an exhaustive list. However, based on reader feedback and the results my friends are getting, these seem to be the most common culprits.
As a case study, let's take my friend Shirag S.
He is a clinical psychiatrist. He also runs a very successful college admissions consultancy as a side-business.
Shirag wants to turn the admissions consultancy into an online business. His goal is to buy back his time. Not having to fly to schools all over the country to give talks would definitely help.
To my mind, there are a couple of red flags here:
Students (his audience) don't read admissions blogs in their spare time.

There are no "big" admissions blogs out there.

Admissions consultancy is a high-end, one-off thing. If I purchase admissions consultancy from Shirag after reading his guest post, I'm never going to visit the host's site again. Contrast this with the marketing niche, where I can buy a copywriting product from Ramit Sethi and then buy a list building product from Bryan Harris.

Shirag is cash rich and time poor.
If I were Shirag, I'd focus on paid ads first to get the online business off the ground.
I would reserve my guest blogging efforts for major outlets. The goal wouldn't be to get subscribers, but to get publicity and build credibility. ("I write an admissions column for the New York Times.")
Then I'd write a book, leveraging my expertise in psychology to write about admissions from a unique angle. The long game would be to leverage the book into TV appearances.
If at any point Shirag finds himself with more time than cash, he can utilise guest posting as a fallback. However, he would need to change his guest posting strategy.
Rather than writing for admissions blogs which nobody in his audience actually reads, he should target the sites his audience actively follows.
For example, he could write an article on a popular fitness blog about how your crossfit hobby can get you scholarships. A fitness blog probably has both his primary audience (the students) and his secondary audience (the parents who pay for the service).
Likewise, he could write something on meditation for a personal development blog and tie it back to college admissions.
The moral of the story is:
Before you rush headlong into guest blogging, take a moment to look at the big picture.
Is guest blogging the right strategy for you? Given your niche, do you need to approach it in a different way?
If guest blogging is NOT the right strategy for you, then great. You can stop doing it and never feel guilty about it again.
Headspace.
Root Cause #2: Lack of Confidence
There is a covert agent crippling bloggers and holding them back:
Lack of confidence.

We simply don't believe in ourselves.

Deep down, our internal response to every case study we read is "I could never do that."
But let's dig deeper.
Why does lack of confidence actually hold us back?
Because secretly we believe that our failure at a particular endeavour means that we ourselves are failures.
We fear that a failed pitch will prove that we're failed bloggers.
We fear that a failed guest post will prove that we're failed writers.
We fear that a series of failed guest posts will prove that we're failed entrepreneurs.
It's safer to never try, because then we can't fail.
We don't want to admit this to ourselves so we make up an excuse:
"Oh I could guest post, but I just don't have the time."
The solution?
How to Get Confidence on Demand
I used a very controversial psychological trick to get myself through law school.
Because you see, I had to.
After a lifetime of being the overachiever, I failed my first law exam.
My confidence was at an all time low.
As an overseas student reading law in England, I was paying ten times the tuition British students were. So I had to make it work.
Fast forward three years, I graduated as the valedictorian.
From Fail to First.
Here is the psychological trick I used to feel the fear and do it anyway:
I picked one guy from the year above who I thought was a total Goofy.
His name was - well, never mind.
Every time I started freaking out about an exam...
Every time I wanted to throw in the towel...
Every time I was bored out of my mind analysing a 200-page House of Lords case to the point I seriously considered intravenously drip feeding myself Netflix...
I told myself:
If Goofy could do this, so can I.
Goofy put me through law school.
As you guest blog and build an online business, let me be your Goofy.
Some of the mistakes I made this quarter were so silly you'd gauge your eyes out.
(My email subscribers are treated to a new embarrassing story every month. Where are you getting your comedy fix?)
But I still went from 0 to 1,000 email subscribers in less than 90 days.
The bottom line is:
If I can do it, there is definitely hope for you.
I believe in you.
Root Cause #3: the Fear of Burning Bridges
The notion that we only have one shot at this has been drilled into us.
Mess up that pitch and you'll be blacklisted forever.
Write a terrible draft and you'll be put on the naughty list.
(Ok, I'm a bit guilty of this as well. Fear sells.)
We worry that we'll do something wrong and burn our bridges for good.
So we never take action.
The quickest way out of this psychological dead end is to see evidence to the contrary. We need to see that our fears are unfounded.
Again, I offer myself as your personal guinea pig. You can watch from a safe distance.
Why You Shouldn't Give Up Even If You Think You've Become the Leper of the Blogging Community
Those bridges are more resilient than you think.
I know this to be true because well...
In the last 12 months, I managed to annoy the crap out of pretty much every influencer in the online business space (without meaning to).  
I've been on the receiving end of Ramit Sethi's tough love more than once:
I even managed to irk Jon Morrow, who is normally a ridiculously patient guy:
And even Sean, who as you know is an all around nice guy, raked me over the coals once:
When you do something wrong, influencers don't usually reject you outright or criticise you. They'll just ignore you.
Imagine how badly I must have screwed up for them to come out and yell at me personally.
Proof That You Can (Almost) Always Mend Your Bridges
Each time something like this happened, I could have curled up and died in a corner.
(Once I was so upset that I actually googled "how to dig a hole and bury yourself in it until the embarrassment passes".)
The thing is...
If you make a mistake, you can (usually) mend your bridges.
By being disarmingly honest (if you f*ed up).
By explaining yourself (if there was a misunderstanding).
By learning from what you did wrong and improving. (People notice.)
Here is proof...
When Ramit personally deleted something I wrote because it was a "waste of everyone's time", I went back and rewrote it until I got it right.
One of the coaches on his team then sent me this private message:
The next two times Ramit dished out his tough love on me, I took his advice to heart. I analysed what I did wrong and tried again.
He even featured me as a "star student" in one of his webinars:
And Jon Morrow?
Turns out he doesn't think I'm a total tool. Maybe there is hope for me still.
Can you imagine how great this message felt?
And with Sean?

You're kinda reading the happy resolution of that story. 🙂
The thing is...
The people at the top are much more generous and forgiving than we think. That's probably why they got there in the first place.
Take constructive criticism for what it is, learn and move on.
You have a dream that deserves to come alive.
Don't give up.
3 Ways to Magically Find Time on Demand and Become a Guest Blogging Machine
Addressing the root causes head on is often enough to break their hold over us.
In the case of guest blogging, we saw that uncertainty, lack of confidence and fear of burning bridges masquerade as a "lack of time."
I suggested ways to deal with each of these root causes.
But sometimes you just need an extra push to get through your to-do list.
Here are the strategies I use when I need a Hail Mary.
They work wonders for me. They might not work for you.
But who knows?
They just might.
Strategy #1: Create a Zero Based Calendar, and then do what it tells you.
The only productivity strategy that consistently works for me is to put everything on my calendar and then do what the calendar tells me to do.
I find it helps to use a "zero sum" calendar:
The idea is to leave no time unplanned - even if that time is dedicated to mindlessly watching… documentaries.
Here is how it works:
Write down everything you have to do for the day

Put all those tasks on your daily calendar

Only do what you have planned
This is what my zero-based calendar looks like:
Bryan Harris wrote a blog post on the Zero-Based Calendar. It also has a video tutorial that walks you through each step. I seriously recommend watching it.
If you need something that keeps you on task, organised and focused, the Zero-Based Calendar works wonders.
The tough part?
Actually doing what the calendar tells you.
That's where the other two strategies come in.
Strategy #2: Tap into your blogging motive
As Glen Long points out, "until you know with absolute clarity why you're blogging, you'll never find enough time for the how."
The article I link to below explains the importance of knowing your "Why" as a guest blogger and shows you a neat trick to get clear on your blogging motive.
Glen has written about this much better than I can, so I'll just refer you to the original article.
Strategy #3: Put a gun to your head
When I want to make sure something gets done no matter what, I put a (metaphorical) gun to my head.
Two ways I do this:
I give myself a ridiculously short deadline,

which I cannot move

(this is the crucial part); AND/OR

I give someone my credit card details and instruct them to charge me $1,000 which is to be donated to a charity I hate if I don't send them proof of completion by the agreed deadline.
I wanted to prove to you that this also works for guest posting.
You see, I'm not a last minute guy.
I like to submit my drafts a week in advance and leave room for 11th hour mishaps.
To test the gun-to-the-head method, I'm doing something I've never done before.
I started writing Part III just 24 hours before my deadline.
It's Sunday and by tomorrow morning I'll email Sean the finished draft.
Then I'll have another 24 hours to set up a landing page, create the lead magnet for this post and write the autoresponder sequence.
If you're reading Part III, it worked. 😉
Bonus Strategy: Be ruthlessly honest with yourself
If you've had to put something on your to-do list for three consecutive times in a row and it's still not done, just strike it off. It's not going to get done.
There is something very liberating about being 100% honest with yourself.
It clears off a lot of headspace.
The Good News...
You will never feel guilty about missing an arbitrary guest post "quota".
Maybe you realised that guest blogging isn't the right strategy for your niche anyway. You can now gleefully strike it off your to-do list.
But chances are, if you read all the way to the end, it's because you know guest blogging will move the needle for you.
Now you understand why you never seemed to have enough time to write those guest posts.
Armed with this new understanding and an arsenal of psychological tools, you are ready to conquer your corner of the Blogosphere.
Imagine:
Space will now miraculously open up on your calendar whenever you choose to write a guest post.
You won't feel frazzled. You won't feel overwhelmed. You won't feel like you're lagging behind everyone else.
If this 20,000 word guide helps you do one thing, I hope it is this:
To unapologetically do what is right for you.
Because you know why?
You are the CEO of your business.
With great power comes great freedom.
And the good news?
You don't have to apologise for it.
Have questions about any of this? Leave a comment below and I'll respond to every single one.
Author Bio: Alp helps infopreneurs skyrocket their subscribers and blogging confidence. Want to guest post on big sites? Try this: Email Subject Lines That Make Bloggers Drop Everything to Read Your Pitch.
Images: iStock Photo