This is a guest post from Jesse Gernigin about how to land UpWork jobs as a freelancer.
Chances are, if you've thought for even a second about freelancing, you've searched for UpWork jobs on their website.
Upwork is arguably the most famous site freelancers use to find work online. They've got freelance writers, web developers, accountants, social media managers, you name it.
Customers put their job posts up on the site and then freelancers can submit proposals for the work. If you're picked, awesome, you've got a client.
Should New Freelancers Use Upwork?
Before I tell you exactly how to get clients on Upwork, there's something you should know.
If you're a freelance writer just starting out, Upwork is not the best place for you to go.
Why?
For one, there is a ton of competition for writing work on Upwork and it can be a race to the bottom.
Because there are so many writers on the platform, it can be difficult to even get your application to be on the site approved.
Watch this for more insight into Upwork if you're a writer:
That said, as you'll see from Jesse's advice in this post, if you have some experience and are willing to put in the work, there is still potential there.
These strategies work even better if you're a different kind of freelancer, though.
And as for better options than Upwork for new freelance writers? I'd try these freelance writing job boards first.
How to Get Upwork Jobs (A Smarter Strategy)
Ok, now that we've got that out of the way: are you tired of writing endless proposals on all the big job boards?
Yea, I was too.
With all the proposals I was writing, it felt like I was spending more time writing proposals than doing client work. I knew something needed to change so I looked for a way to hack the system.
I knew if I could find a way to get clients to come to me I could spend less time writing proposals, get better clients and spend more time working. I decided to focus my attention on UpWork.
Why UpWork?
Simple.
UpWork has a search engine built into the site. Most freelancers overlook this because they have never hired anyone through UpWork. Why does this matter? (Because making more money per project matters)
UpWork's search engine lets you look for freelancers specific to your field and invite them to interview privately. That means you can get work by getting clients to invite you to jobs instead of posting proposals.
After a client does a search they are given a list of freelancers that match your search parameters. UpWork presents the hiring party with multiple options which they invite to hire using the bright green button on the right.
Now that we understand that, let's look at how to get Upwork clients to come to you.
Learn How to Make Your First $1,000 Freelance Writing (in 30 Days or Less)
Join over 40,000 people who have taken our 6 part freelance writing course. Sign up below and let's do this together.
By entering your email address you agree to receive emails from Location Rebel. We'll respect your privacy and you can unsubscribe at any time.
Going All In on UpWork Jobs
I decided to do a case study.
It would be risky. Sean has written a lot about the importance of being willing to take risks, so I knew I wanted to try something, even though it was nerve-wracking.
I could see a dip in monthly income (I didn't) or lose valuable clients (I actually got two amazing clients right away).
I wanted to hack UpWork's search engine so I would get private invitations from clients. My goal was to make $2,000 a month in invite-only work from UpWork.
I used my UpWork profile (in place of one of my students) and went to work.
Why I Chose $2,000 For My Goal
When I started this experiment my goal was to create a significant increase in my UpWork income. The $2,000 goal seemed reasonable with my hourly rate ($95/hr) and how many hours a week I actually wanted to work.
I also set $2,000 as my goal to show that UpWork is not a race to the bottom.
UpWork, like many job boards (ProBlogger or Freelancer for example) are actually great places to increase revenue. Now, there are a lot of people out there who will tell you that UpWork is simply a low income source.
Not true.
There are tons of freelancers out there who make six-figure incomes (or close to it) each year just using job board sites like UpWork.
The key is to get out of the mindset that you're not going to find good jobs on the site. Part of this means accepting that in order to really see success on UpWork, you have to be willing to put in the work.
If my experiment succeeded I would double my income I got from UpWork without adding extra hours to my end of week total. Specifically, I wanted the hours I spent sending proposals and talking with clients to translate to hours worked.
The Results
It took three weeks of editing, rewriting and tinkering before I got results.
Then something amazing happened.
I finished another rewrite, stepped away from the computer to go for a run and when I came back an hour later I had my first invitation for a job.
Not soon after, my second invitation came in, and many more were to follow. After weeks of taking notes, editing and making dozens of mistakes I had hacked the UpWork hidden economy.
Here are two snapshots from invitation-only clients. The first snapshot is from that first invitation!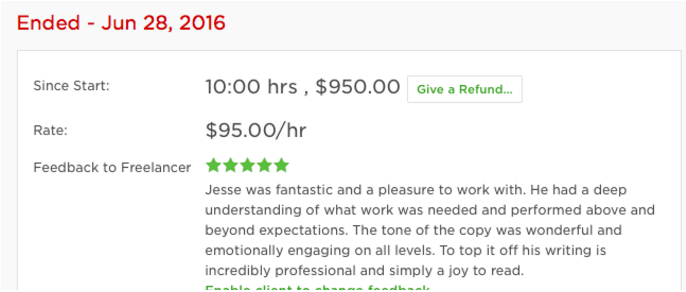 The first invitation was a two-day project. The client was easy to work with, paid quickly and left a great review.
This second snapshot is from an ongoing client. I have already booked $4,000 in work with him and he has two more projects he wants me to work on.

In the last two months (from time of writing this, not publishing) I increased my per month income by $1,500 bringing my copywriting income to $2,500 a month.
My personal case study worked for a host of reasons. I did quality research, I constantly updated my methods, I didn't let self-limiting mindsets arrest my growth but most importantly I was pro-active.
Pro-active work creates active income.
Sean wrote that active income is the foundation for creating your freedom business and he was right.
Why I Hacked The UpWork System
Hacking the UpWork system meant I would have larger access to greater freedom. I love traveling and having the freedom to grow as a digital nomad means I can spend more time doing the things I love.
Like watching the sunset after a long day of mountain climbing: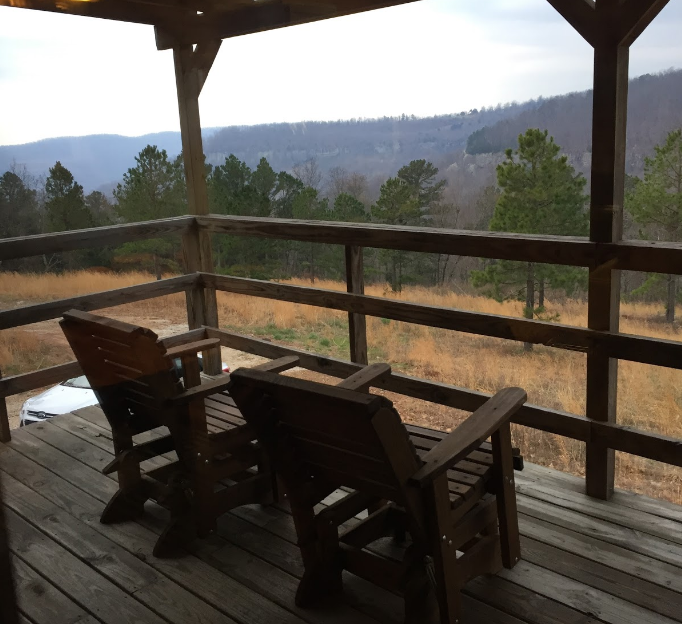 Or finishing a project before touring ancient Rome: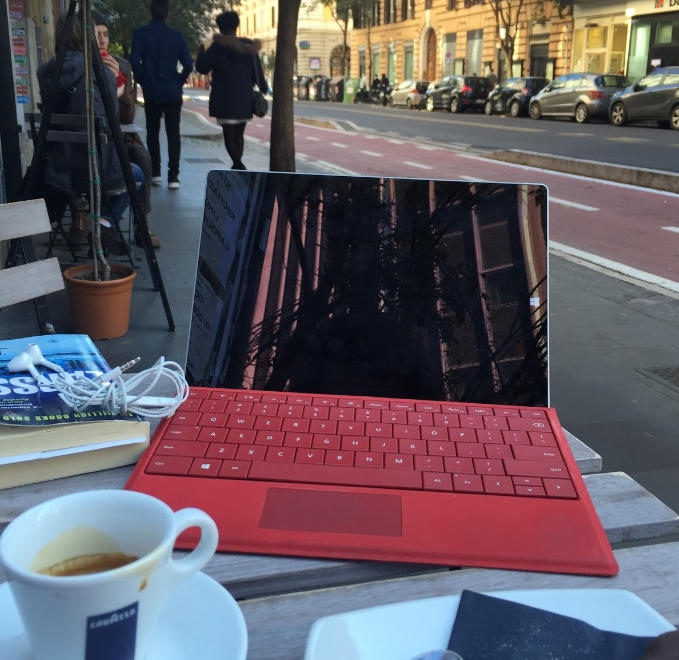 Or taking time off to get the good work done with Scully:
Want To Increase Your Active Income?
Are you ready to attract active income?
I've written up an outline to increase your income, get you better work and get you spending more time working and less time looking for work.
This short guide will help you hack the private UpWork economy. You will find three pro tips and my private profile outline I've used to book over $5,000 worth of work without sending out a single proposal in less than a month!
The first three tips are the common mistakes UpWorkers make when creating profiles.
If you avoid making these mistakes you will be 90% ahead of the competition, be more appealing to invite-only clients and spend more time working and less time submitting proposals.
My profile outline is the exact approach I settled on when creating my profile. This outline netted me $6,500 in two months (my regular monthly income from UpWork for two months would have been around $2,000. As of writing I am close to booking my third $10,000 month).
3 Common UpWork Profile Mistakes
#1: Having an Unclear Job Title
UpWork has a search engine built into it. To help the search engine find the best results for clients it introduced job titles into profiles.
Most freelancers on UpWork don't pay attention to the job title.
Don't make this mistake.
Look at my job title:

My job title is clear, it communicates exactly what I do and what I accomplish. When creating a profile to get private invite gigs this is your first line of offense.
Use your job title as a place to both position yourself in UpWork's search engine and quickly communicate what you do and what it accomplishes for your client.
#2: Profile's Don't Contain Success Indicators
What is a success indicator? A success indicator is something that creates social proof that makes clients understand you know what you are doing and talking about.
For example: A good copywriter would know and use terms like 'capture,' 'conversion,' and 'lead generation' because they reflect what their work does.
Another example would be a personal assistant who communicated they know how to use multiple email, time log and management systems.
Here is an example of success indicators in my profile: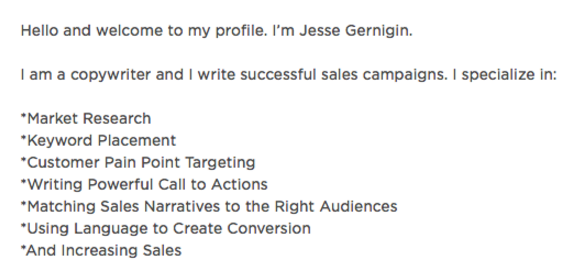 In this example I use bullet points. I used bullet points after writing a larger letter where each of these points are included in the text. I shared the bullet points as an extra tip to be sure and long and short form reader format your profile.
#3: Profiles Don't Contain Social Proof
Social proof plays a huge role in landing UpWork jobs.
What is social proof? Social proof is testimonials, reviews or videos people have given you for your work.
Most freelancer's either don't use social proof or use it incorrectly. Here are a couple common social proof misuses.
The Social Proof doesn't share specific positive traits employers look for
The Social Proof doesn't mention results achieved
The Social Proof isn't that great
There is no Social Proof included (i.e. no testimonials)
Use social proof to position your services as solutions to your clients needs. The screen shot below shows the first section of my profile. Note the two testimonials appear above my introduction.

Let's break down the two testimonials.
The first testimonial is great because it talks about my professionalism on multiple levels. Any client reading this will be put at ease knowing I am responsible, timely and can follow directions.
The second testimonial is incredibly short but even better than the first. Why? Simple.
The second testimonial shows results. If I could only use one testimonial I would use the second over the first.
Recap: Take care to avoid the three common mistakes all UpWork profiles have.
If you create a profile that:
leverages social proof through testimonials
uses success indicators
and has a clear and searchable work title
You are going to get the attention of clients, be able to charge higher rates and do the work you want.
Now let's look at the exact profile outline I use to book private gigs.
My Exact Profile Outline I Used to Book over $6,000 in Private Invitation Work
The layout of a profile has an effect on the reader.
The easier you make a profile to read the greater chance it will have of getting read. The more of your profile a client reads the greater chance you'll have of them contacting you invite only work.
You might think that a profile outline doesn't matter. You might think that clients are only interested in working with freelancers who have high customer rating scores.
You are wrong.
I have a sub 80% score on UpWork.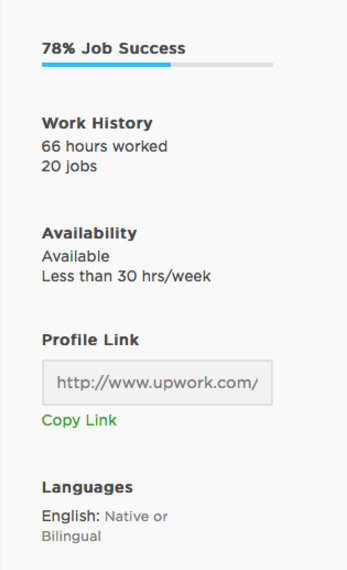 That's a bad score! Having a bad score doesn't stop me from getting invitation for great gigs. Why?
My score doesn't reflect my quality of service.
I communicate the quality of my service by using an amazing profile outline that even the most resistant clients read and find themselves nodding along to. So how did I do it?
Simple.
I created a profile outline that anyone can employ, anywhere and despite how bad their review score is still get invite only high paying gigs.
My profile outline has six parts.
Each part is designed to accomplish three things.
Keep the client reading
Prove to the client I know what i'm talking about
Get clients to respond to my CTA
Step 1: Acknowledge What The Client Wants
Copywriters talk about how great they are. This is a mistake Very few copywriters talk about what the client wants.
As a copywriter I know the client wants to capture, convert and sale. Identify what your client wants from you and make that the first sentence your client sees.
Step 2: Supply Relevant Social Proof
I mentioned social proof above. It is important. Use your first sentence or two to identify exactly what you can do for a client.
Follow this sentence with testimonials from clients that state you have done exactly that.
Pro-tip: Don't make up testimonials. Clients will know.
Step 3: Quickly Explain What You Do
Now you are in the body of the profile. Take a moment and explain what you do. Be quick, terse and to the point.
I use bulleted points to cover everything I do.
This is important. Most readers scan first and read second. Bulleted points capture and direct attention.
Treat your bulleted points like headlines. If done correctly your bulleted points will convert short form scanners into long term readers.
Step 4: Re-Explain What you do in Greater Depth
Up till now your profile is convincing the client to read the rest of your profile.
You will now use the main body of your profile to carefully, clearly and concisely explain what you do (your service), the experience you have and the results you have gotten.

In my profile I take the bulleted points and expand on what they mean and why it matters. Each point is also segmented to make for easier reading.
Take time and be very clear on your results and what you specialize in.
Step 5: Book-end Profile With More Social Proof
Your clients have just read your profile. They are interested in your service and might invite you.
Now is the time to push them over the edge. Book-end your main body with relevant testimonials.
Step 6: Have a Clear, Quirky Call to Action
The client has come to the end of your profile.
You have acknowledged their needs, leveraged social proof to promote yourself, caught their attention, held it and pushed them over the edge by giving more social proof.
Now is the time to close the deal.
Use a clear call to action that speaks to them in a unique way. Your profile made you stand out from all the other profiles they have read. Now close the deal with something unique.
My CTA uses a set-up, a follow up and a call to action that is playful, quirky and unique.

My CTA is 'Find out why'. It encourages readers to take the next step.
The most successful CTAs focus on getting readers to take the next step. My CTA doesn't ask for the sale.
No.
My CTA encourages readers to learn more about what I can do for them and it does it in a unique and engaging way.
Final Thoughts on Getting Upwork Jobs
Wow that was a lot of information!
You learned what to avoid when creating a profile, how to leverage relevant social proof, what clients want to see and how to lay out your profile so you get the attention you want from the right clients.
As a final takeaway let me re-state a key fact.
On UpWork the purpose of a profile and a proposal are the same. You want interested clients to take the next step.
Avoid hard-selling at all costs. Success on UpWork grows from creating situations for clients to start conversations more than anything else.
Related Upwork and Freelance Writing Posts
Guest Post
Learn How to Make Your First $1,000 Freelance Writing (in 30 Days or Less)
Join over 40,000 people who have taken our 6 part freelance writing course. Sign up below and let's do this together.
By entering your email address you agree to receive emails from Location Rebel. We'll respect your privacy and you can unsubscribe at any time.