Note from Sean:
Not every post here on Location Rebel will be applicable to everybody, all the time. We're all at various points in our lives and businesses, and I try and provide a good variety of content so that there is a little something for everyone.
One thing I've found though, is that if you want to do work online, regardless of what it is, one of the most valuable things you can have is an email list. It just makes communicating with people who are interested in what you're doing infinitely easier and more productive.
However, in the past many readers have made comments like, "I don't have a blog or a website yet." or "I'm not ready to start building a list."
To that I say, you need to read this article. Whether you've already got a sizable list and are looking to grow it, or are at absolute square one and need help getting started, today's post from Garin Etcheberry will get you on the right track.
I've been really impressed with the comments Garin has left here on the site and with the quality of work I've seen from him – so I'm really excited to host him here today!
So with that, take it away Garin!
—
It's not a big secret that building an email list is one of the most important things you can do for an online business. But if you're anything like me (or like I was up until recently) you still haven't started your list.
I always saw the benefits of growing a list, but I never thought that it was really relevant to me because I wasn't a blogger. I thought that to build a list you had to publish regular content on your blog, slowly grow return traffic, then over time convince those readers to sign up to your newsletter. For me it was long ball, and I'd rather spend my time making sales than "playing business."
That all changed a month ago. In just a few days I accidentally started an email list, got over 200 subscribers, and landed several clients for a new business venture, all without having a blog. Now I'd like to show you how I did it so you can do the same.
Before I jump into the tactics, I'd like to quickly go over a few reasons for starting a list, just so we're on the same page. Feel free to skip ahead if you're already a believer.
Benefits of building an email list
Once you earn a reader you don't have to gain their attention again.
When you launch a new product you can email your list and drive a lot of eyeballs in a hurry.
Need to make some quick cash for a mini vacation or a big night on the town? Email your list with a discount offer on one of your products for some fast sales.
If you want to validate a new business idea, launch a new site, or publish a guest post on someone else's blog, you can drive earned traffic to those pages rather than starting over from scratch.
Emails carry more weight and command more attention than facebook posts or tweets (plus the average person checks email 15+ times per day).
The list goes on.
Now on to my story.
How I got 160 subscribers in just a few days without a blog.
Awhile back I ago I wrote an article on Medium.com about how I landed 5 dream jobs in one month by giving my best ideas away for free. As soon as I hit "publish" I tweeted it to some people I mentioned in the article and shared it with some online personalities that I thought would be interested.
That evening James Altucher retweeted the link which gave me a huge boost. It gave me such a big boost in fact that it made Medium's Top 20 Most Recommended Articles of the Day list. This caught the attention of Medium staff who then added the article to the Medium front page. Within a couple days I had over 10k views.
It was my first article ever on Medium and I was absolutely elated. I was getting a flood of tweets and emails; I was literally hitting the refresh button like a woodpecker and watching the views and messages increase by the second.
For the first few days I was on top of the world, but on the fourth day I had a realization that caused a moment of panic: "What if I never write an article this popular again?" I thought. "It's amazing experiencing this torrent of traffic, but I'm doing absolutely nothing to capture these readers and to be able to recreate this success in the future." I realized that it was time (actually passed the time) to create a list.
So in an absolute frenzy, I started a Mailchimp account, put a signup box on my website, wrote an explanation of why people should sign up to my newsletter and what I would write about, and linked to it from my Medium article. On the post I said something like "Want to learn more tips like this? Sign up to my newsletter here (hyperlinked to my site) and I'll teach you my lessons from building businesses."
It wasn't the most polished or thought-out strategy, but I immediately started getting notices in my inbox for new signups. Within just a few days I had 160 subscribers. I've since used that list to make sales for my newest business, even without a big list. Success!
Now that I stumbled into building a list without blogging, here's how you can learn from my experience and do the same today:
Learn How to Make Your First $1,000 Freelance Writing (in 30 Days or Less)
Join over 40,000 people who have taken our 6 part freelance writing course. Sign up below and let's do this together.
By entering your email address you agree to receive emails from Location Rebel. We'll respect your privacy and you can unsubscribe at any time.
How to build an email list without a blog (or even a website)
Ok so you want to build an email list without a blog or a website? Great, here's exactly what you have to do.
Step 1: Go to Mailchimp.com and start a free account.
Once you have an account you'll need to create a new list. It's pretty straightforward to set up, but if you hit any snags check out this absolutely fantastic tutorial from CoffeeCup.com; it has pictures that show each step of the process.
Step 2: Find the URL
once you have your new list set up, copy the URL which you can find at lists>signup forms>general forms and save it for later. We'll use it in just a moment.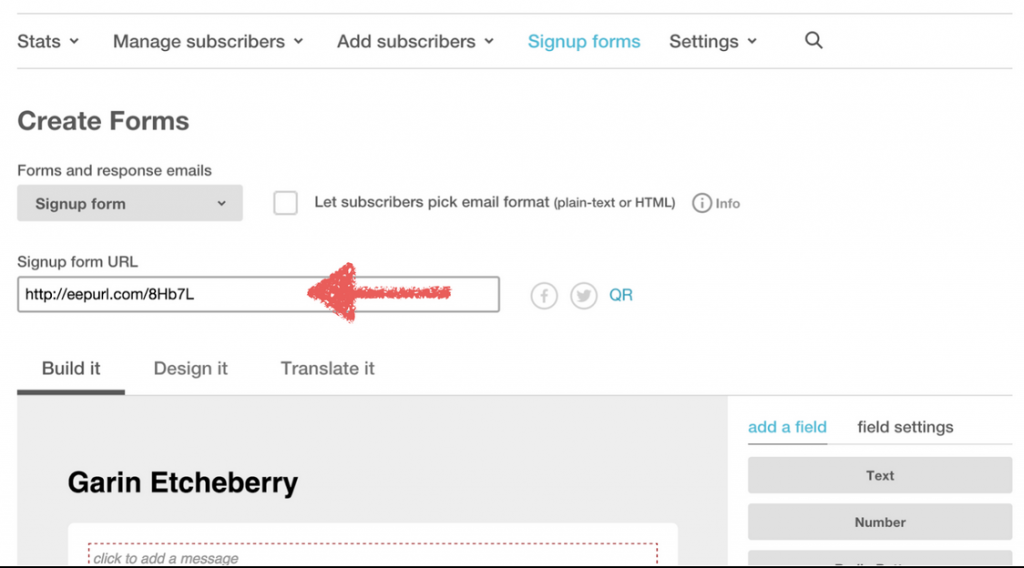 Step 3: Go to Smore.com and start a free account.
Smore is a website that makes it super simple to make beautiful online flyers, but in our case we're going to use it like a temporary website.
Step 4: Start a new flyer.
The whole point of this page is going to be to convince people to sign up for your newsletter, so start by giving it a catchy title like "[Your Name]'s Insider Newsletter: Biweekly Tips on How to Accomplish XYZ." In the body of the page, explain why people should sign up.
Here's a tip: don't talk about you, talk about the reader. Talk about what they're going to get out of it. Talk about what they're going to learn and what they're going to be capable of achieving after a few months of reading your newsletter. Focus on the value they're going to receive. This is where solid copywriting skills come in.
For more ideas on creating a valuable offer, check out this post.
Step 5: Customizing your "flyer"
After you've written your copy and made a killer pitch for why people should subscribe, go to the "Add more stuff to your flyer" panel at the bottom of the page and add a button.
Change the button text to your call to action, something like "Sign me up right now!" or "I want to join the newsletter!" Then paste your mailchimp URL in the link box. (Smore tells me that you'll be able to add custom code in the future so you can embed your signup form directly on the page, but this works just fine for the moment.)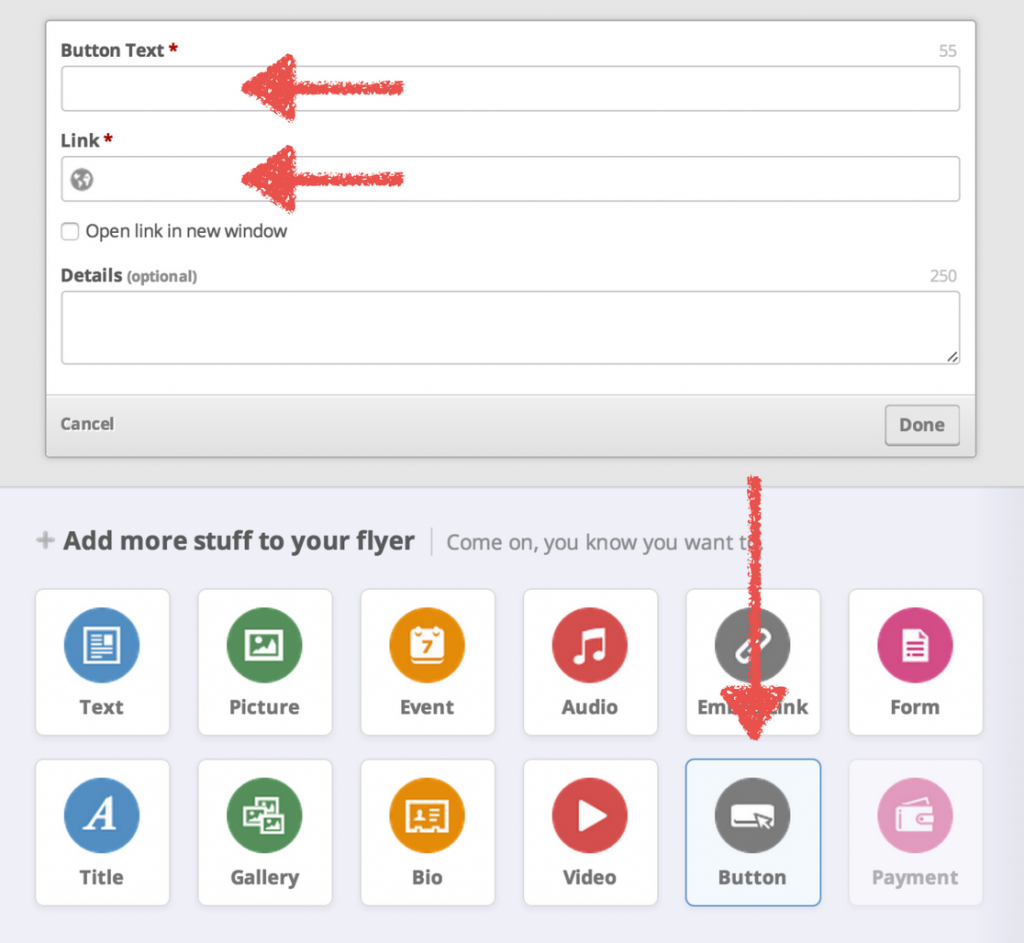 Now you have a beautiful page that convinces people to sign up for your email list and links to your mailchimp account! But….how do you get people to see this page in the first place? (Hint: the answer isn't blog for 6 months until you've built up a small audience.)
How to get people to see your signup form
Let me say something that is obvious but sounds mean: right now know one cares what you have to say.
You don't have an audience.
Nobody knows who you are and no one is trying to find you.
So rather than starting a blog and writing for crickets, go to where audiences are already congregating. By going to where people are already hanging out online, reading, and interacting, you'll increase your chances of being found a millionfold.
This means places like Medium.com, Linkedin, YouTube, or other people's blogs. (As a sidenote, I've been seeing lots of popular bloggers like James Altucher writing increasingly on Medium, and even facebook, and writing less and less on their own blogs.)
Step 6: Create Content for These Sites
Now it's time to create content for these sites. This could be articles, videos, or audio – then we'll link it back to your new Smore page.
(It would probably even be a good strategy to make awesome pictures to share in Instagram, hashtag the hell out of them, and link your profile back to your Smore page. Someone please do it and email me about how it works.)
Don't limit yourself to just one platform; cast a broad net and bring viewers to your optin page from several communities. Try lots of different kinds of content on different outlets and see what gets the best response.
I've had the best success making long, extremely detailed content where I teach something (like the one you're reading).
Make a list of ten things you're good at, or ten skills you find yourself teaching your friends, or ten shortcuts you've developed through trial and error, and make in-depth tutorials where you walk people through each step of those skills. And before you start, do yourself a huge favor and read this excellent article from Noah Kagan about what makes content go viral.
Step 7: Search Twitter
Once your content is published, search in twitter for people who are talking about the same subject that you just wrote/vlogged about.
Buzzsumo is also a great tool to find the most influential people having relevant conversations.
Find ways to connect your message to their message, or ways that your knowledge can be valuable to them and their audience. Tweet them the link to your new content and say "Couldn't agree more, here's my two cents." or "Here's another perspective from a big fan."
Preferably you've been following Sean's Pamphlet Principle and you've already been interacting with influencers, in which case you already have a foot in the door which could lead to them retweeting your link. (And if you haven't been doing The Pamphlet Principle, start now!) Essentially what you're doing in this step is marketing your content (you didn't think it was just going to blow up all by itself, did you?).
Step 8: Grow your Content
The beautiful thing  about all of this, is that the more content you publish, the more tools you have in your toolbox.
Each piece of content is like a tool that drives people back to your mailchimp signup form, and you can dust them off whenever you need to use it. If you read a blog post and think "Hey, this is kind of like that Medium post I wrote!" you can share a short tip in the comment section and leave a link to the article where readers can go to learn more. Or if you're having a conversation with someone on twitter and think "That one YouTube video I made would be really helpful for this person!" you can tweet them a link.
The easiest way to get people to sign up to your list
Now that you're starting to create and plan out content, I want to share one last tip for increasing sign up conversions.
Most often you'll see an email list with a signup incentive (also called a lead magnet or an opt-in bribe) like "Sign up to get my free ebook!" While this is a great idea, it should take a decent amount of time to create a high-value giveaway. And since you're just starting out your time is uber valuable, so here's an easy way to create an incentive in 3 minutes:
Step 9: Write out 10 headlines for articles or videos that you're going to publish.
Write out 10 headlines for articles or videos that you're going to publish.
Like I said before, make sure to come up with content for several different platforms. It allows you to cast a wide net, but it also allows you to do this: on your Smore optin page say "Here's what I'm going to be teaching in the coming weeks. Rather than following me in 10 different places, join my newsletter to make sure you never miss a lesson!" Then list out each headline and the corresponding network where it will appear.
Check out these 15 blog post headlines for help crafting the perfect clickable title.
Scaling up
Once you have the ball rolling, you're eventually going to want to take things to the next level.
This will probably include starting your own blog and creating a killer optin. There are a lot of reasons for doing this: to build a more intimate relationship with your audience, to track conversions and analytics, to increase opportunities to sell to your followers, and more.
In the context of building an email list though, a huge reason to launch your own site is to be able to use SumoMe. SumoMe is a wordpress plugin created by Noah Kagan (the guy who wrote the popular Location Rebel article about workcations) and it absolutely crushes when it comes to increasing email signups.
I installed it and have seen my list shift into a whole new gear. Every day I get my mailchimp update email and my subscriber number steadily ticks upward with no extra effort on my part. Just install it, forget it, and Noah's know-how does all the work. SumoMe will also let you follow Bryan Harris's Content Upgrade strategy for free; combine these two things and your list will hit warp drive.
Conclusion
If you've made it this far in this long post (although according to the Kagan article I posted above, this is the perfect length for virality at right around 2k words), then you no longer have an excuse to not be building an email list. I hope this gives you both the nudge and the know-how to get started today.
If you do follow these tips, email me a link to your first piece of content and I'll share it with my newsletter. (I'll say "I wrote this article on Sean Ogle's blog and look at these amazing people who actually followed my advice!" It will be social proof for me and exposure for you.)
Lastly, I would be a hypocrite if I didn't say: if you liked what you learned in this article join my list! I share actionable material like this all over and if you join my newsletter you won't miss a single lesson.
Most importantly, contact me at [email protected] or @GarinEtch on twitter. Ask questions in the comments below, let me know what you think, or just say hi. Thanks to Sean for this awesome opportunity, and I'll see you all in the comments section below!
Sean Ogle
Sean Ogle is the Founder of Location Rebel where he has spent the last 12+ years teaching people how to build online businesses that give them the freedom to do more of the things they like to do in life. When he's not in the coffee shops of Portland, or the beaches of Bali, he's probably sneaking into some other high-class establishment where he most certainly doesn't belong.
Learn How to Make Your First $1,000 Freelance Writing (in 30 Days or Less)
Join over 40,000 people who have taken our 6 part freelance writing course. Sign up below and let's do this together.
By entering your email address you agree to receive emails from Location Rebel. We'll respect your privacy and you can unsubscribe at any time.