Note from Sean: This is an epic post by Dan Moody on how to kickstart your own Amazon FBA business. In it, he covers everything you need to know, literally step by step, to get started so save this one to come back to again and again.
Take it away, Dan! 
—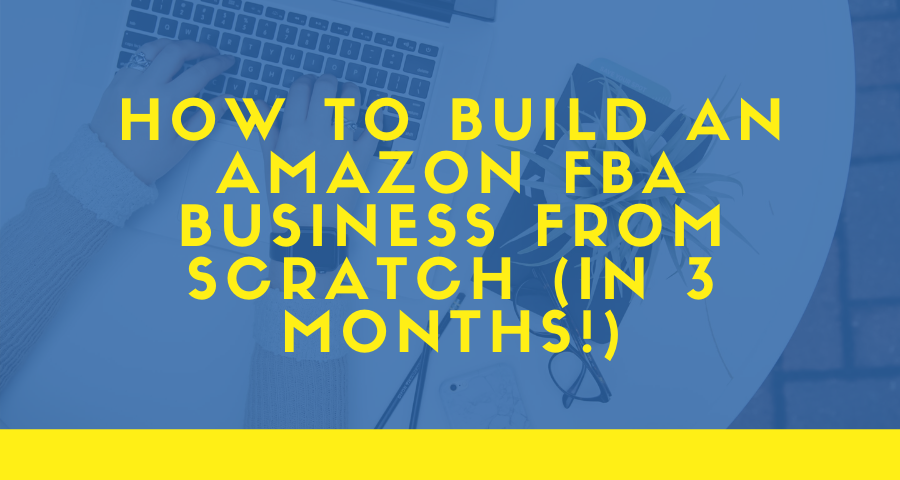 So many of the long-form guides on LR have been so useful in helping me that am thrilled to share a bit of my story and give readers some potentially life-changing information.
My name is Dan Moody, I'm a location independent private label seller of physical products and I also work as what I call an Amazon consultant.
Now based in Bulgaria, my laptop and Amazon are what feed me and my family!
In this post, I'm going to show you exactly how to build an Amazon store, from anywhere in the world.  
And the best part?  You can have all the logistics taken care of by none other than Amazon.
But first, a little bit more about me and my story.
You're probably asking Dan, how can I run a physical product business and sell in the US when I'm drinking cliché cocktails out of a pineapple in Bali?
I was based in Moscow for over 7 years and I never thought I could have any kind of inventory business because I wasn't on hand to manage. Plus, there were all the daunting costs that go along with a physical product business. Few things appeal to me less than having to run and pay for a warehouse.
Well, the good news is today you don't need a warehouse, you don't need a courier and you don't even need to lay one finger on a product.
But there are a few terms you need to know first. So let's cover those.
What is Amazon FBA?
Amazon FBA stands for – fulfillment by Amazon.
What this means is that you send your product to Amazon and they do all the legwork. They deal with the customers, ship your products from the Amazon fulfillment centers, and process refunds.
All you need to do is make sure you send in inventory before you run out of stock!
You can ship things directly from China to Amazon yourself. Or, if you would like your products inspected and are based outside of the US, you can send your items to some who preps and ships (aka "a prep and shipper"). They basically just receive your items, inspect them, label them and send them to Amazon. 
All you need to do is keep your laptop charged. So, let's get started.
What is Private Labeling?
You know how in Walmart you can buy regular Colgate toothpaste or the cheaper Walmart-brand toothpaste? That is private labeling (or white labeling).
What Walmart does is approach a factory that makes toothpaste and pays them to supply toothpaste with their logo on it. That's basically it.
In your case, what you will be doing is looking at good product opportunities on Amazon (more on this later), picking a product and then having a Chinese supplier make a similar or improved version with your brand that you will then sell on Amazon.
The Private Label Business Model – How Expensive is it, How Complex is it and How Much Can You Really Make?
In terms of ways to make money online, this is definitely one of the more complex models. But once you get your head around it, it really isn't bad. Plus, it's highly scalable, although there are more inherent risks to be aware of.
The downside is the cost of course because you'll need to spend money on samples and inventory upfront. So if you don't have at least a couple of thousand dollars to invest, it might be better to save up first (although you can get started much smaller, but it will take longer to scale).
Finally, how much you make is dependent on a few things.
But remember, when you see a success story of 15k in one month, you don't get the full picture. Namely that $15k in sales is much different than $15k in profit.  To see numbers like $15k a month, you'll probably need to make a much more substantial investment (think $10k) which obviously involves more of a risk!
Just a few things to keep in mind before you get started.
Learn How to Make Your First $1,000 Freelance Writing (in 30 Days or Less)
Join over 40,000 people who have taken our 6 part freelance writing course. Sign up below and let's do this together.
By entering your email address you agree to receive emails from Location Rebel. We'll respect your privacy and you can unsubscribe at any time.
How to Build an Amazon FBA Business (When Starting from ZERO)
Now you know how you can deal with the logistics and what private labeling is, let's dive into everything from setting up your Amazon seller account to picking a winning product to sell, to launching your product.
This business model has quite a few moving parts and might seem overwhelming to begin with, heck I even wrote a whole book on it, but I will condense everything I can into this post to give you the best overview possible.
Save this to your bookmarks and come back and visit as necessary because we're about to go deep.
Looking for a quick overview of how to build an Amazon FBA business? Here are the exact steps:
Setup your Amazon Account
Choose a Product
Find a Supplier on Alibaba
Place a Sample Order, Check Quality, Then Place a Full Order
Send the Goods
Do Your Keyword Research
Create Your Listing and Add Your Product to Amazon
Build Reviews
Setup Amazon Pay Per Click
Rinse and Repeat!
Now, that you understand where we're going – let's jump right in.
Step #1 – Set up Your Amazon.com Account
While technically you can do this later, might as well get started with it now. I advise signing up with a pro account right off the bat but you can sign up for a free account and upgrade later.
Here's exactly how to do that:
1) Go to Amazon. Scroll down to the bottom of the page and click the "Sell on Amazon" prompt. A welcome screen will appear.
2) Click the "Start Selling" prompt under the "Sell Professionally" banner to the bottom right of the welcome screen. The Register and Start Selling Today account registration form will appear.
3) Type your name and email address into the respective fields on the top Sign-in Information section of the registration form. Confirm your email address, and choose and confirm a password that is both secure and easy for you to remember.
4) Click the "Agreement" prompt. This is on the bottom right-hand corner of the bottom Seller Information section of the registration form. Read the agreement and make sure you can abide by its terms.
5) Type your legal name or the legal name of your business in the Legal Name field of the form. Check the box in the field labelled Amazon Services Business Solutions Agreement: and click "Continue."
6) Choose the name you would like displayed.  Enter it in the top Display Name field of the Account Information form that appears once you click "Continue." Choose your business name or a name that describes what you sell, such as "We love toys" or "Yoga mat love."
7) Type your address information into the necessary fields. Add your phone number in the "Primary Phone" field before you click the "Continue" button at the bottom of the form.
8) Click "Continue". Select your credit card type with the drop-down menu at the top. Type your name (as it appears on your card) and type your credit card number (without dashes or spaces) in the Credit Card Number field. Select the expiration date of your card.
9) Type your billing address and phone information. Do this in the "Enter a Billing Address for the new Credit Card" section of the form below the section for your card details.
10) Click the "Continue" button at the bottom of the screen to proceed to the Identity.
Verification by Telephone screen. Click the button marked "No, Call Me in the Next Few Minutes at:" and enter the phone number where you can be reached if you do not want to be called at the number you entered in Step 7, or leave the default option if you do want to be called at that number.
Click the "Call Me Now" button and note the four-digit PIN number that appears in the Call in Progress field.
11) Type the PIN you were given with your keypad when prompted to do so when Amazon calls.
12) Click the "Continue" button and proceed to the final screen. Tick the checkbox to indicate you agree to the terms of your new Pro Merchant account and click the "Confirm" button. You are now ready to begin listing items and selling with your new Pro Merchant account.
If you are from the US, you can go ahead and skip to Part 2 now.
Step #1 (B) – Setting up Your Amazon.com Account if You are From the UK
If you are from the UK, you can just go ahead and sign up using your UK business details, bank account and address.
Alternatively, you can start selling on Amazon.co.uk if you feel more comfortable with it, although the sales volume is lower there on average compared to Amazon.com
For UK-based sellers looking to sell in the U.S. and in the UK and Europe, you should set yourself up as a sole trader or LLC before you register (you'll need to submit your UTR – unique tax reference – number when you register with Amazon).
Amazon.co.uk is very picky about this kind of thing, and their verification process can take a while. They are quick to suspend too, so keep that in mind.
Setting up as a sole trader is very quick and painless, all the info is on the UK GOV website.
So, now your account is ready to rock and roll, it's time to move on to the fun stuff – product research.
Step #2: Choosing Your Product – How to Find Products to Sell on Amazon
I will show you the golden filters that will give you a product to sell Private Label but be advised, the competitive landscape is changing all the time, so do your own due diligence as well.
Pre-Research Notes:
1) Some categories in Amazon are gated, meaning you need permission to sell there before you can list products. You can find a list of gated categories here.
2) To make research much faster, purchase JungleScout (currently works for Amazon.com and UK).
Junglescout (or JS for short) integrates into your Google Chrome browser, streamlining your product research. It lets you extract rank, sales volume, FBA fees, type and quantity of sellers plus much more – without ever exiting your browser or having to enter an Amazon product page.
Step #2(a) – How to Research Products for Amazon FBA
Here's how I recommended getting starting with your research. It's important to keep track of everything.
1) Create a spreadsheet and list columns. This should show: product name, best seller rank (BSR), number of reviews, number of similar items.
2) Start searching the top 100-500 best sellers in every category (here's a link to the top 100). Given the increasing competition levels, you may want to go even deeper than that. To save time, you can use Amasuite for this, or just do it manually.
3) Add products to your spreadsheet that meet the following criteria: Small, light, not complex (think no electronics, moving parts) and, preferably, sell for over 20 dollars.
Here are a couple of things you don't want to do:
Do not

choose supplements of consumables for a first product;

Do not

choose a yoga mat, garlic press, chopping board or silicone baking mat etc. (With thousands of new students from popular courses, certain products are becoming viciously overpopulated).

Don't be emotionally attached to your product. Let the numbers do the talking.
4) Repeat the process for all the categories and subcategories on Amazon that you are interested in.
Step #2(B) Other Research Tips for Finding Products on Amazon
Always make use of your unique knowledge or experience when researching products, especially if you have a niche site.
For example, Sean, as a golfer, might be able to come up with quite a few interesting golf-related products to test out. Or he might be able to come up with a nice modification on an existing golf product and create a Breaking Eighty brand around it then leverage his FB audience as a launch list.
If you have a bigger budget and want to start with a higher-end product, add it to the table.
I don't recommend electronics because of the potentially high defect rate. But if you really want to run with an electronic product, by all means, do it if you feel the numbers make sense.
The final choice should be made on a combination of interest and profit margins. As I said before – let the figures do the talking and validate.
Step #2(c): Refining Your Short List for Potential Amazon FBA Products
Now we need to look deeper into each product, so for each listed product, do the following:
1) Search the main keyword in Amazon (if you found that garlic press was a top 100 seller, go to Amazon and type in 'garlic press') and look at the top 10 sellers on page one.
2) Find Products with Under 500 Reviews. If most of the top ten have more than 500 reviews, cross them off the list (the more reviews you have to compete with, the longer, harder and more expensive things will be).
3)Find products under 5,000 Best Seller Rate.  If the Best Seller Rate (BSR) is over 5000 for most of the top 10 in the main category, cross it off (your goal is to make sure that all the top ten are getting reasonable sales, if only number one has a good BSR, you'll be looking at a slow seller).
The exception is when your product is more expensive, in which case you will see fewer units sold per day, thus having a higher BSR.
Remember, the BSR is what gives you an idea of daily sales volume.
By putting the Best Seller Rate into the FBA toolkit, you will get a rough idea of daily sales volume, just make sure you double the estimate given there as the tool isn't 100% accurate.
You can also use the Jungle Scout free tool to get a rough monthly estimate.
4) Note in your spreadsheet the number of similar products (again, search something like a yoga mat, and note how many pages of results there are).
The general goal is to find a product that is selling close to 10 a day at $20+ (which, as a general rule, means a BSR of less than 5000), has less than 300 reviews and beatable competition (beatable means low or not too high review count, bad copy, images, poor optimization).
As mentioned above, to check estimated sales (if you aren't using Jungle Scout), key in the Best Seller Rate on FBA Toolkit and double the result you see (it's not 100% accurate).
To differentiate yourself, you may want to purposely start with a lower volume product to avoid competition. You might find it easier to sell 5 units per day and then launch more products doing 5 units a day.
Step #2(d): A Quick Way to Validate a Potential Product for Amazon FBA
The fastest and quickest way to get a feel for a product is to order a small batch directly from Aliexpress.
For $50 bucks you could have a dozen potential units, send them straight to Amazon and see how they perform before committing to a bigger order.
If you are happy with those test sales, you can then go ahead and find a supplier for that product and ramp up the order volume.
If all of this seems overwhelming, or you're looking to do something a little more unique than just private labeling, watch this video on manufacturing in China:
Step #3: Finding a Supplier on Alibaba
Now, we're going to cover how you can find a supplier.
1) Sign up for Alibaba (but you can also search local suppliers too).
Create an account with Alibaba and start to search for your item or something similar (example: yoga mat, herb scissors etc.). You'll see hundreds of results that will match what you need. We are looking for a base model that we can logo or improve upon
2) Search for your supplier.
There will always be an element of risk when dealing with new suppliers and the internet, but here are some filters to help you find a decent one:
Only look at the suppliers with a gold rating, that have been on Alibaba for at least 3-4 years and that have flexible payments (escrow, PayPal, T/T). To find this out, just do an advanced search for Alibaba Gold Members that have been visited and accept Escrow as they should be pretty safe.

Look for OEM and FOB for delivery (OEM means you can private label it and FOB means freight on board – basically the delivery quote will be from the factory to your doorstep, as opposed to having to pay the cost of transporting goods to port/airport, which can be potentially expensive).

Make sure their minimum order quantity (MOQ) is affordable to you. This is usually up for negotiation, but starting out, you might not have the budget for, say, 5000 units, plus it's more of a risk. If you can't find a small enough MOQ, Aliexpress may be the way to go.

Keep in mind that Alibaba is like a bidding platform and that, sometimes, suppliers will indicate lower MOQs to entice you in. Make sure you get the numbers checked.
Once you have a small list of suppliers that meet those criteria, it's time to get in contact and talk samples and costs.
Step #4: Place a Sample Order, Check Quality and Place Full Order
If you didn't go the Aliexpress route, you'll want to think about placing your sample order, or possibly even multiple sample orders.
A note on sample cost:
Don't be surprised if the supplier bills you $200 for a small sample of 5 units. This isn't the supplier trying to pull a fast one on you. They might need to change molds (which can be expensive) and also, they might be testing to see if you are serious.
These factories produce thousands of units per month and, I imagine, don't have all the time for a small-time operation that is trying to haggle and negotiate over $50 or $100.
Eat the cost as a business cost and come across as a professional business person. Remember, you're building a brand here, and this is part of the process.
If the sample is good, it's time to pull the trigger and place your first serious order.
If the samples are terrible, which sometimes they are, you will get back on the hunt on Alibaba to find a new supplier. Depending on your product, the finding-a-supplier dance can take a while.
A note on paying your supplier:
Most suppliers will not want to accept PayPal for the main order due to the associated fees, although if you really want to pay by PayPal, you can offer to cover these fees. Most will accept PayPal for samples, though.
If you are on Alibaba, you can pay using their escrow service which will offer you some protection in case of faulty goods or things not being up to scratch.
Finally, if you really trust your supplier, you can use T/T, which is basically a wire transfer from your bank to theirs. Generally speaking, this is the riskiest option so do this at your own discretion.
For a bigger-picture look at everything Alibaba, have a look at this article on the Shopify blog called Alibaba 101.
Step #5: Sending the Goods
Most first time orders will be sent by air courier (think FedEx, DHL) and your suppliers will be able to get you a good rate.  
Much larger orders or heavier products will usually be sent by sea. But generally, you'll get to this stage when a product has proven itself and you know what your sales are doing.
If you want to have your goods sent to a prep and shipper first, give the supplier their address and you'll get an email when your goods arrive. Then you can have them quality checked and sent off to the Amazon warehouse.
It's a good idea to use a prep and shipper first with new suppliers as sometimes, quality can differ from the samples and they can hand hold you through your first Amazon FBA shipment.
Alternatively, if you are still in the US, you can just receive the goods and label them yourself and send them off to Amazon.
If you want to get even more detail on this aspect (it can get deep!), I advise you to have a little look at this post from the sourcing blog.
Step #6: Keyword Research
This is something you can do while you wait for your product to arrive or right after you decide which product you would like to sell.
I use a few keyword tools for this and like to start with:
When you have a nice list of keywords, keep them in a document as you'll need them for your listing and also for your pay per click campaigns later on.
Here's a general overview of SEO.
It's a little bit different when searching for products as opposed to just ranking websites, but the section on keyword research is relevant:
Step #7: Adding Your Product to Amazon and Creating Your Listing
You'll need to add your listing to Amazon's catalog, it's pretty simple and here's how:
From within your seller central account:
Click Inventory, Add Product, Create A New Product

Choose the top level category for your product

Fill out the required fields. Your fields will be different based on your product category.

Enter your barcode/UPC code. 

Fill in everything you can, including your keywords and product dimension, weight and so on
Note on barcodes:
You can get barcodes from many sites – the one I use is www.barcodelove.eu.
When you buy one, you will get sent a pdf with the barcode and you enter that information into the Amazon listing. You need one UPC product. So if you have 150 units of the same product, you just need one UPC.
From here, you can also set your product title and the other core listing elements.
What to Add to Your Core Listing Elements
Title
Your title is something you need to get right. Look at some of your top-selling competitors and see what they are doing and use them for inspiration.
Make sure you use some of your keywords in the title, although don't go blindly stuffing them in!
Images
This will have a major impact on conversions. Your products are your brand. If they look like cheap stock pictures, people won't want to buy or worse, they'll buy from your competition.
Here are a few dos and don'ts:
DO: use at least 6 to 8 hi-res images

DO: use high-quality professional or 3D rendered images.

DON'T: be tempted to just use your iPhone camera, I know it's great, but it won't compete with a professional photographer.
Aside from just product images, think about the context of your product, set the stage and show it being used.
Even if you sell something as simple as a dog bowl, that baby better pop! Images of super cute dogs eating from the bowl.
Bullet points
Your bullet points are your gold, make sure you use all of them! Make them concise and snappy and make sure they highlight all your product's main advantages as well as benefits.
If say, you are selling a coffee machine (which FYI, would be a terrible thing to sell) that had a fast pour mechanism don't just say 10 second pour time, try something like:
COFFEE SERVED FASTER: thanks to our fast 10-second pour mechanism, you get to spend less time waiting for your coffee and more time drinking it!
The point is for the buyer to imagine what using the product will feel like, as well as understanding the benefits and advantages.
In other words, sell the benefits before the features.
Product description
This is where you will need to get a little creative on the copywriting. If you have no clue about copywriting, check out this post on how to become a copywriter for tips.
The goal for your description is Attention, Interest, Desire, Action.
Inside your copy, you want to include a block with your refund policy, whatever it may be. It's important as it will add an extra layer of trust for your potential buyers. Plus, you shouldn't be selling bad quality products that will generate a load of refunds.
Done correctly, this can be really effective.
If you are unsure of your ability to craft copy or simply aren't great with words (or English isn't your first language), you can usually find freelancers to do this kind of job on sites like UpWork.
When putting the finishing touches, make it visually stand out (if possible). A lot of sellers (myself included) use basic HTML in the product listing because, without it, your description will just be an unsightly blob of text. Blobs of texts don't get read and they sure don't convert!
However, Amazon does say HTML is not allowed, thus using it could get you in trouble. (Although I find it strange they allow the use of basic HTML in the editor if it really isn't allowed).
To me, it's worth the risk though because of the effect on conversions. If you decide to go with the HTML but don't know a lick of code, write and format your description in Word and then use clean to HTML to convert your text (it's free).
And always remember: Listings that look terrible don't convert!
Step #8: The Amazon Launch Formula + Building Reviews
This is the launch formula that will take your listing from obscurity into generating sales and kick start your reviews. Having 5-star reviews is super important on Amazon for conversions!
Here's what you'll be doing: to kick start your product, you will be giving away units in bulk for $1 to create a spike in sales and generate product reviews.
While there are quite a few more traditional ways of building a launch list, for this article I want to focus on one: the AmzTracker review group.
First, you need to create a discount coupon for $X off, since this there is some room for error here, you want to make sure you get this done correctly.
From there, you simply submit your codes in AmzTracker and then you can approve each reviewer, it's a piece of cake.
Here's AMZ trackers video showing how it's done.
Once you do that, you'll have your first reviews and get a nice spike in the ratings to start you off.
Step #9: Setting up Amazon Pay Per Click
Now, before we go into how to set your PPC campaign, I want to talk a little bit about the nature of Amazon PPC and how it can actually increase your organic rank.
How it works:
Presuming you have properly researched your keywords, you need to make sure they are present in the listing and start running properly-structured Amazon pay per click campaigns.
Next, the following happens:
Customer types in a keyword using Amazon's search field > Customer clicks on Sponsored Ad > Customer purchases product > Amazon takes note that the item just purchased should rank for that keyword.
The more sales through that keyword, the higher your product ranks for organic search.
That is how you can actively take action and boost a product through the ranks, it's very simple and perfectly white hat.
If you want to go really in-depth on Amazon's search algorithm, Feedbackz has the best breakdown I've seen right here.
How to Structure Your First Campaigns
I usually run 2 to 3 keyword campaigns at once, depending on the product.
Here's how to do it:
1) Auto campaign: the first thing to do is set up an automatic campaign. Set the daily budget to at least $25 and look for a cost per click (CPC) of a minimum of $0.75.
These are the recommended starting amounts because $25 per day is a reasonable budget to test your keywords (and you might not even spend all of it each day) and see results, plus $0.75 is a good amount for a keyword bid.
Your actual cost per click (CPC) may be higher or lower, depending on your niche. Remember, the CPC is determined by how many other people are bidding on a particular word or phrase and, like in any auction, the more bidders, the higher the price.
When your CPC bid is high enough, Amazon features your ad on page one and you pay Amazon each time that sponsored ad is clicked.
Run the auto campaign for 7 days, pause it and generate a keyword report. Your goal is to see which of the recommended keywords have been getting you sales. Take note of these keywords (put them in an excel document etc) and now create a manual keyword campaign.
2) Create a manual campaign. Insert the top-performing keywords from the auto campaign you ran, keeping the budget and CPC the same.
Run for 5 – 7 days and analyze the results. Keep the winners, viciously cull the losers.
3) Create a new manual campaign with other keywords to test. Run the same budgets and time frames, except in this campaign, you'll want to run keywords you have researched and want to test (see section one, keyword research for ideas).
If you've set up your listing properly and have the right keywords targeted, you should see your PPC campaigns start delivering some powerful results.
Once you have that setup, you should be getting consistent sales while you focus on that cocktail in a hollowed-out coconut. Check in on your PPC each day to make sure the spend is on track and enjoy getting these emails:
Step #10: Rinse and Repeat
Once your sales are consistent and you hit around the 10 sales a day mark, you can consider adding a second or third product, preferably ones that complement your first product and budding brand.
Now your business will basically be on autopilot and you can expand to other sales platforms (while using Amazon FBA to fulfill the orders) and grow your budding empire!
To find out more about Dan and Private Labeling, you can contact him via [email protected] and at www.dan-moody.com.
Not Sure if You're Ready for an Amazon FBA Business? Check out our 6 part series on starting a lifestyle business for total beginners.
Note, this post was updated as of February 2020 for accuracy.
Guest Post
Learn How to Make Your First $1,000 Freelance Writing (in 30 Days or Less)
Join over 40,000 people who have taken our 6 part freelance writing course. Sign up below and let's do this together.
By entering your email address you agree to receive emails from Location Rebel. We'll respect your privacy and you can unsubscribe at any time.