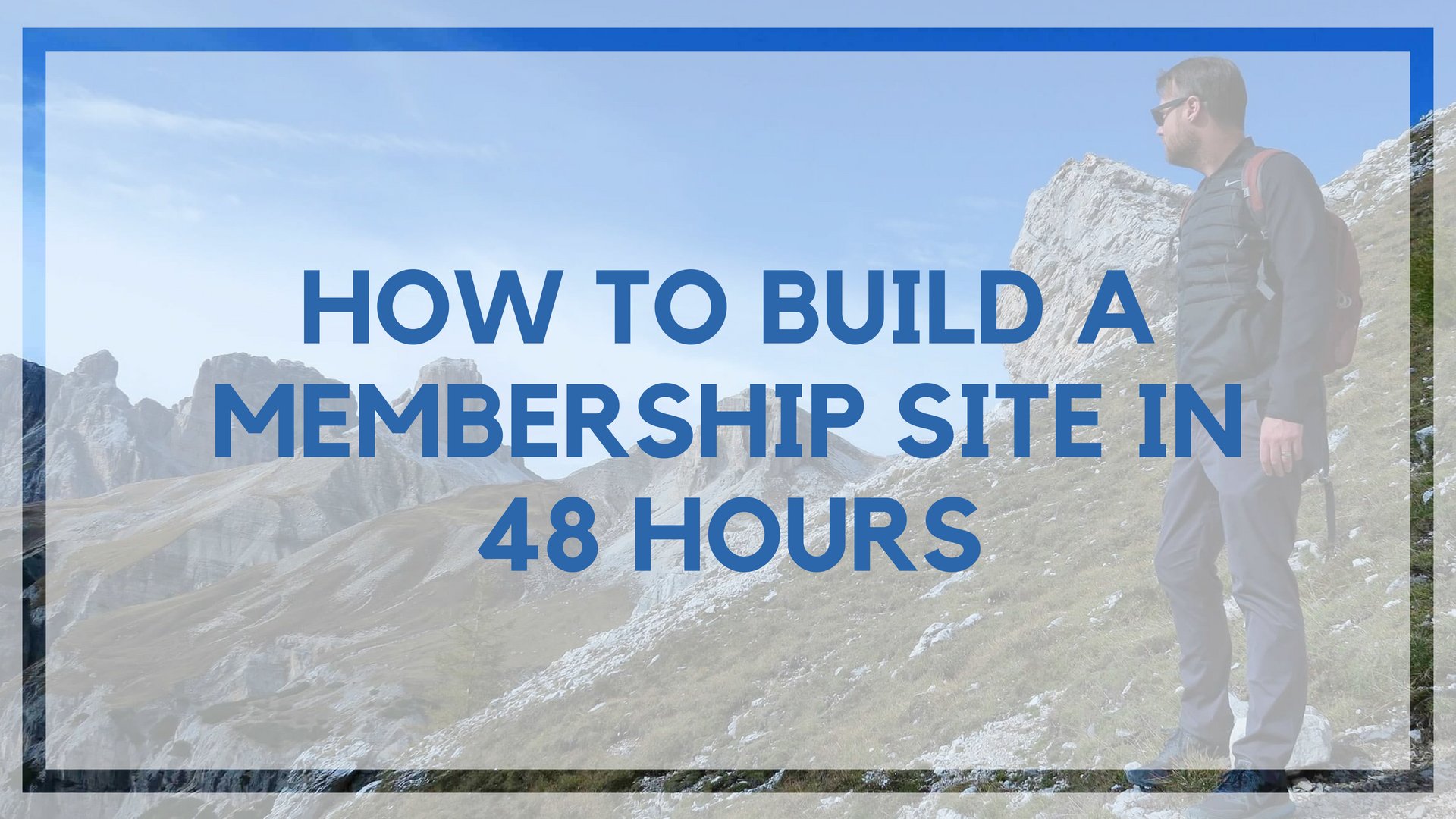 So you want to learn how to build a membership site, huh?
Well, I can tell you without hesitation, that doing so for me personally has been the single most valuable thing I've done for my brand and business.
Creating Location Rebel Academy has helped hundreds of people change their lives and build successful lifestyle businesses while creating a very nice lifestyle for myself in the process.
First off, let's clarify why I'm qualified to write such a post.
My first ever membership site was called "Overcoming the Fear of Uncertainty." It was about as basic as it gets in terms of logistics. Just a standard WordPress site and a membership plugin, pretty simple.
After I saw some success with Overcoming the Fear of Uncertainty, I decided to go big, creating Location Rebel Academy.
Location Rebel Academy is a much bigger project. It has more elaborate sales funnel, multiple pricing tiers, and is generally a much bigger beast – as well as a more advanced product.
Then last year, I created The Eighty Club using a very different set of tools than what LRA was built around.
Needless to say, I've been around the block. I know what works, what doesn't, and how to ensure you're not wasting your time trying to reinvent the wheel.
In this post, I want to keep it simple. Many of you are likely thinking about creating a membership course, but you might be stumped because it feels like a ton of work. Here's the good news, it's not (or at least it doesn't have to be).
There are a lot of things that go into a membership site (incredible content, marketing funnels, and the technical aspect of setting it up).
In this post, we'll touch on all three of those things, but we're mostly going to be focused on the setup itself.
We're going to show you all of the most common options out there for each component, compare and contrast them, and help you figure out what's best for your specific membership site needs.
And if you follow along carefully, we can have you up and running with the basics of your new site in just a few days.
So if you're ready for this, grab a beer, and get comfortable, because we've got a lot of ground to cover!
What is a Membership Site?
Essentially, a membership site is a part of your website that is gated off from non-members. That means that members have to purchase or signup for access to the closed-off portion of your site.
Location Rebel is a perfect example.
Anyone can access the blog, home page, about page, and resources page. But if you want to access Location Rebel Academy, Hobby Hacking, or How to Pitch Influencers, for example, you'll have to become a member.
Anyone who is not a member and will try to access these sections will get a message that they don't have access.
Membership sites aren't just about blog posts or written content either. You can have membership sites around videos, podcasts, screencasts, webinars, you name it.
Why Start a Membership Site?
Before you should even do anything, you need to give some thought as to why you are creating a membership site.
There are all sorts of reasons to do it and just as many ways to go about it. So before you do anything, let's look at some of the benefits of this content distribution model so you can get an idea of whether or not this is right for you.
Here are some of the main benefits of membership sites:
Membership sites are the easiest way to create user interaction:
If your goal is to create a closed community of committed people, this is the best way to go about it.
You know everyone involved has paid something to get in. More often than not, that means people are more committed to actually participating.
Easy to update:
You can distribute your product as an ebook, it is less complicated, but it also makes it much more difficult to update. Once it's done it's pretty much done, and after a couple years, or even months the content can grow stale and irrelevant.
With a membership site, adding or editing content is no more difficult than creating or updating a blog post. You can update everything on a consistent basis.
Allows you to distribute your message through more mediums:
With a membership site its extremely easy to combine written content, pdf downloads, audio, and video into one product. This helps to appeal to the largest variety of people (and their learning styles) possible.
If you were to create a zip file with all of this stuff and make it an ebook or infoproduct, the file would be huge. Plus, people tend to be more likely to skip over features that aren't right in front of them.
Allows you to generate recurring income:
Membership sites give you the opportunity to generate some monthly recurring income. You can't charge a monthly fee for an ebook. This flexibility really makes for an attractive option.
One of the most important questions you'll need to consider is whether or not your site will be a one-time fee or a recurring monthly charge. So, keep that in mind.
The product will keep getting better:
One of the best features of a membership site is the members. The more you allow for user interaction, the more information that's being created within the site. This only makes the site more valuable as time goes on.
Limited design knowledge:
To create an ebook that looks good, you've gotta have some design chops. Unless you want to pay someone else to do it all for you.
With a membership site, aside from a logo and a few random components you can use a pre-made WordPress theme and keep the designing to an absolute minimum.
This alone could be worth it for many of you.
Those are just a few of the benefits of using a membership site as your distribution model for your next product, but as you can see there is some pretty huge upside.
Learn How to Make Your First $1,000 Freelance Writing (in 30 Days or Less)
Join over 40,000 people who have taken our 6 part freelance writing course. Sign up below and let's do this together.
By entering your email address you agree to receive emails from Location Rebel. We'll respect your privacy and you can unsubscribe at any time.
Who Should Start a Membership Site?
I'm a firm believer that we're all experts at something. We all have something to teach and share.
Keep in mind, you don't have to be Jimi Hendrix to teach someone how to play guitar. You just have to be an expert relative to the person that you're teaching.
As long as you're a few steps ahead of your students, you have value to offer.
To that end, you should start a membership site if:
You have a clear skill that others would like to gain
You know how to break that skill into smaller chunks or lessons to make it easy to learn from
You're not afraid of the idea of selling
You're willing to spend some time learning a new platform or system to manage your new site
You're looking for a way to build an asset and a business around something you love or are good at
How to Find a Niche For Your Membership Site
Here's the deal when it comes to finding a niche for your membership site: the more niched down you can be, the more successful you'll be.
I call this the Niche Within a Niche Method.
Let me give you an example:
Golf is an industry
Golf travel is a niche
Golf travel to private, top 100 courses is a niche within a niche
The most successful membership sites I know are a niche within a niche.
Why?
Because if something is too broad, your customers will never be able to make the emotional attachment necessary to get over the hump and buy.
Here's another example using this site:
How to make money online is an industry
Freelancing is a niche within that industry
Building small freelance writing businesses so you can travel the world and work from anywhere is a niche within a niche
It might seem like you're making the audience smaller (and you are), but you're also making it much easier to convert those target people into members of your site.
Read this post to learn more about choosing your niche.
How Much Can You Make with a Membership Site?
One of the questions I get asked the most is "how much money can you make with a membership site?"
The answer is pretty easy, as there's no limit to how much you can make.
There are membership sites that have yet to make a dollar.
I also know of membership sites making tens of millions of dollars.
And everywhere in between.
But a good rule of thumb is that you should be making about $1/month for every person on your email list.
We'll talk more about this later, but email is by far the easiest way to sell access to your membership site.
So if you have 10,000 people on your list? You should be able to make $10,000/month off of it.
What Types of Membership Sites Can You Create?
Every membership site is a little bit different, and because of that, there are a pretty un-ending amount of combinations you can choose from.
But to help you figure out the best way to get started, in this section, I'm going to show you a few of the different components of a membership site. You can include one, or many of these depending on what you want to offer – there's no right or wrong way to do it, a lot of it comes down to your niche, your goals, and what you're teaching.
Forum Model
This is one of the easiest membership sites to create if you already have an audience. Essentially doing this just means that you have a private forum that people are willing to pay for access to.
Benefits:
Easy to justify a monthly/annual fee
Reduces the need to constantly be adding new content
Can be evergreen (you don't have to keep relying on stressful launches)
Allow your members to add value to the site for you
Examples of this would be The Eighty Club or the Dynamite Circle.
Mini Course Model
One of the most popular types of membership sites out there is the mini course model.
Basically, this means that when people join your site they are getting access to a variety of different mini courses that all help you achieve different aspects of a larger goal.
For instance, Revolution Golf charges ___/month for their RG+ service. This gives you access to hundreds of different mini courses on different aspects of the golf swing.
So one series of videos might be how to putt better, and another might be out to get out of the sand trap.
Benefits:
Tons of real and perceived value for your members
Different ways to market. Even if someone only wants one of your mini courses, that can be enough to sell them if the price is reasonable.
A great way to teach concepts both large and small, while allowing members to work at their own pace.
Dripped Out Model
In this model, there is generally a set time limit for how the course is going to go.
Often it might be 8 weeks, and every week there is a different lesson or module dripped out, so it encourages your members to stay accountable and put in the work on a regular basis.
Benefits
Able to create a sense of community if done in tandem with a forum
Can upsell them on future courses/semesters
A good way to ensure people actually follow through and do the work
"+" Model
I think this is one of the smartest ways for bloggers with loyal followings to monetize an audience they already have. When you do this, you have a relatively low price point, and add additional features to your blog that is members only.
Some of these features may include Extra content in each blog post that only members can see, special posts just for members, discounts on products, mini-courses, private community or Facebook page, early access to new content or products, monthly calls with you.
The list goes on.
Mark Manson has one of the best examples I've seen of this.
Benefits:
Easy to setup
Low barrier to entry if you have an existing audience
Can turn casual fans into true fans
Those are just a few of the most common types of membership sites I've seen. Each of these works best if you combine one or more of the above types of sites into one.
The more value you can add, the easier it will be to build your membership based.
Also, keep in mind this list was far from exhaustive. But it should give you an idea what might be the best fit for you and your goals.
How Will You Structure Your Membership Content?
As you saw from some of the examples above, there are all sorts of ways to structure your membership site. The same is true when it comes to your content.
To understand this, you're going to have to do a little bit of planning.
First, start with what you've already got. And then think about your long term plans for your course. Granted, nothing has to be set in stone right now, but it's a pretty good idea to think about how you are going to approach your membership site over the coming years.
After all, the idea is that it's going to run for a while, not just a year, right?
So part of your planning on content structure should include your future plans for the course because the answer will help you decide on the best way to deliver your content.
The most common type of membership site is going to offer a course, so let's use that as an example.
When you're setting your planning stage here are the questions you want to answer:
How am I presenting the course? Is your course all text based, video based, some combination? The way your course is presented can help you determine the best way to share it. Two hours of video content, for example, could actually take much longer to read all written out.
Will you drip content? Dripping content means you share it over time rather than all at once. So sometimes courses are dripped every new week, while others are every month. Dripping courses can work well with recurring fees because members are getting new content during every payment period.
How are you sharing the course? Will your course be more generalized, or will it feature more hand-holding going step by step for members? Step by step content is a good candidate for dripping, especially if you offer it in phases. For example, phase one (steps 1-10) is week 1, phase 2 (steps 11-20) is week 2, etc.
Will there be other courses? Are you planning to offer more courses that tie into your current course, will courses by totally separate, or is your course a stand-alone one and done? Depending on the answer, you might want to package all of your courses into one big course or offer that as a top level membership.
Once you think through these questions, you should have a pretty good idea about how you want to structure and deliver your course.
Remeber, things can always be tweaked over time, and you might find a hybrid delivery is what works best for you and your members. Never shy away from asking your members what they prefer and making changes to improve their user experience.
A good member experience is always really important so anything you can do to improve that in the way your course is structured or delivered is a very good thing.
Membership Site Software: To WordPress or Not to WordPress
Ok now that you have an idea of your niche, and you have a little bit of an idea of how you want to structure your content, it's time to get into the meat and potatoes of this article.
The technical setup.
Now I don't mean to use the word "technical" to scare you, because these days setting up a membership site is much easier than it used to be.
But some platforms/services are easier than others, and what you choose is going to come down to the style of site you want and your budget.
Last year we spent literally months (long story on why that had to happen).testing and reviewing every single one of these services below, as we tried to find the best place to move Location Rebel.
So rest assured we are really familiar with this process.
There are a couple of different ways you can go about creating a membership site.
Membership Platform Sites
Basically, there are two main options when it comes to building a membership site.
One is using WordPress as a base and then any one of a number of plugins that protects part (or all) of your site behind member access. The other us using a non-WordPress based options, these are membership platform sites.
These are essentially all-in-one services. They host the site, have a couple of templates for you to choose from, have an online payment gateway setup, and some will even include email services too.
Pros:
Membership platform sites take away a lot of the heavy lifting from you. You don't have to worry about managing a number of different components like plugins and payment gateways.
They are relatively easy to get up and running and typically offer a couple of different options that range from forums to courses.
Cons:
Generally, the price is the biggest negative with these types of platforms. Getting all the benefits in one package does not always come cheap. You will usually have to pay a monthly fee to start, and if you get a lot of members who sign up, the fee will generally rise.
The second negative is you don't have a ton of creativity with your design and offerings. Usually, these sites have set membership levels, for example. So if you want to do something special or out of the ordinary it could be tricky.
And finally, you want to watch for ownership and determine who owns your courses. If, in the unlikely event, the platform went out of business, would you be able to get your courses and members?
Some membership platform site examples:
WildApricot: This is a more advanced system that can grow with you as you build more options.
Kajabi: Specifically geared towards online entrepreneurs who want to have an e-commerce style marketplace and build and sell online courses.
Thinkific: This is a popular option that allows you to create, market, and sell your online courses from one platform.
Non-WordPress based sites like Wix and SquareSpace also offer the option of creating membership sites. These will give a bit more flexibility as compared to membership platforms, but you still won't quite get all of the benefits of going with WordPress based sites.
WordPress
For most people, WordPress is probably the easiest way to go. WordPress is flexible and relatively easy to use. Once you get hang of it, you can have a site up and running in an hour or two.
And, there are plugins you can use that will turn a standard WP site into a membership site. So you have a lot more potential for personalization and flexibility.
To get started with a WordPress site, you only need three things:
A domain name (your website's URL)
A hosting account (we recommend BlueHost or WPEngine, you can read more about hosting here)
A membership plugin
A payment gateway (PayPal and Stripe are examples)
That's it.
Once you have that base, it's all about deciding which plugins are going to work best for your particular needs when it comes to the type of content you create, sell, and want to be protected.
Pros:
With WordPress, you have a lot more potential for personalization and flexibility.
You aren't going to run into any limitations on the type or number of memberships that you want to have. One of the main issues we ran into when searching for membership site options was that we weren't going to be able to keep the membership levels we have now easily.
Also when you have a WordPress membership site you own everything. You don't have to worry about a site going belly up one day and all of your courses and members disappearing.
Cons:
WordPress does have a learning curve. This isn't a set it and forget it type of system that you'll be setting up. So you will need to monitor it. Also, depending on the route you're going to go, you might have to pay for a couple of different tools like plugins, theme, landing page creator, payment processor, etc.
What to Look for in a WordPress Membership Plugin
When it comes to membership plugins, there are literally dozens of them out there. So, it's really important before you dive in that you have an idea of what you need for your membership site.
Plugins offer lots of different options (which we'll cover more below). Some are perfect for selling specific courses, while others are better at protecting content, and others offer options like being able to drip protected member content over a certain period of time.
Here are a few popular options you can find in membership plugins:
Recurring subscriptions: This allows you to charge members $49 a month for your course or forum.
Multiple subscription levels: These help you create membership tiers, so $100 for a bronze membership, $250 for silver, and $450 for gold.
Course building: Some plugins will help you with templates and easy setups for creating courses.
Membership management: This lets you easily manage members, meaning you can upgrade membership levels, issue refunds, etc.
Social logins: You can have your members login via Facebook or Twitter.
Multiple payment gateways: These help you offer more options than just PayPal which can help attract more buyers.
So, before you start, you need to know what your approach is going to be and then make some choices from there.
Finally, here are a couple of other things you want to be thinking about before you make your final decision:
Reports: It's important to be able to track how your membership site is doing. Are you bringing in sales, are people dropping out of the course, are member's losing interest after a few weeks. Check to see what information the plugin will provide in terms of reporting.
Budget: Think about how much you want to spend. Some plugins have a monthly fee and others require a yearly payment. And some plugins will require you to buy additional integration tools, that could add up.
Membership levels: You want to not only plan for what you want to offer in terms of membership levels right now but if the plugin is going to be able to grow with you over the long term.
Content: Are you selling an entire course or are you planning on protecting certain parts of your site? Some plugins are great for creating stand-alone courses versus protecting pages, know which is more important to you.
Delivery: Will you be giving your members access all at once or will the content be dripped out over time?
Integrations: When you set up a membership site you'll need quite a few different plugins going at once, make sure your chosen plugin will work with everything else.
Instructors: If you're running a solo shop this might not matter, but if you are planning on having multiple instructors or admins on your membership site, some plugins will allow that.
Switching: No one wants to make the wrong choice, but sometimes you might find that the plugin you went with at first isn't the best fit anymore so you need to know if it's possible to easily access your membership data and transfer it to a new plugin.
Answer those and you're going to be well on your way to picking the right option for your needs.
Worpress Membership Plugins: How to Choose the Best for You
When it comes to membership plugins there are a ton of options. Seriously. Start trying to make a choice from the jump and your head is going to be spinning with all of the choices.
Hopefully, in the above section, you've learned about some of the most common features that are offered and have a pretty good idea of not only the membership content you are going to offer but also what you think you're going to need.
In the following sections, we're going to dig into some of the most popular plugins. It will be divided into two sections, one highlighting learning management system (LMS) plugins and one on the best plugins for memberships out there.
Learning Management System Plugins
LMS plugins are specifically created to manage the creation and offering of online courses. These plugins help you manage everything from course creation to selling and membership management.
If you know for sure you specifically want to sell courses, these plugins can be a great option. So, we'll highlight some of the most popular.
Learn Dash
LearnDash is of the most popular LMS plugins out there right now. It's a premium plugin, offering a number of advanced features including membership management, quiz and test management, content dripping options, and payment integrations.
Popular integrations: PayPal, Stripe, bbPress, BuddyPress, Slack
Click here for more information on LearnDash.
LifterLMS
LifterLMS is another popular plugin that also offers a lot of add-ons for affiliates and eCommerce too. It allows you a bit more flexibility with creating courses, allowing multi-tear courses and pre-requisites for courses and it has some fun gamification features. You'll also get the option to drip content, payment integrations, and membership management.
Popular integrations: PayPal, Stripe, WooCommerce, MailChimp, ConvertKit
Click here for more information on LifterLMS.
Sensei
Sensei is the LMS plugin created by the team at WooCommerce. So if you're planning on running that plugin as your main processing gateway, this will integrate perfectly. The best use for Sensi is creating courses it has features to have courses, lessons, and modules and has a quiz feature. This LMS plugin isn't as powerful as some of the others but is still pretty good.
Popular integrations: WooCommerce
Click here for more information on Sensei.
LearnPress
LearnPress is one of the few free LMS plugin options out there, but you will have to make sure you have a theme that is compatible, so there could be some costs included. Because the plugin is free it's not nearly as robust as many of the others, but it still has a landing page template, some gamification features, and allows you to drip course content.
Popular integrations: WooCommerce, bbPress, BuddyPress, Stripe, PayPal
Click here for more on LearnPress.
Best WordPress Membership Plugins
There are a lot of different WordPress membership plugins available out there. And believe me, once you start digging into them you can feel like you're swimming in a world of options.
There really isn't one plugin that is perfect for everyone. They each have small tweaks or features that might make them better for one style of membership site than another.
But, since we tried out a bunch of these when we were moving the site back over from Rainmaker, we have a pretty good handle on what the best options for membership plugins are.
In this section, we'll cover a couple of different plugins and list some of the pros and cons of each to help you get a better idea of what
MemberPress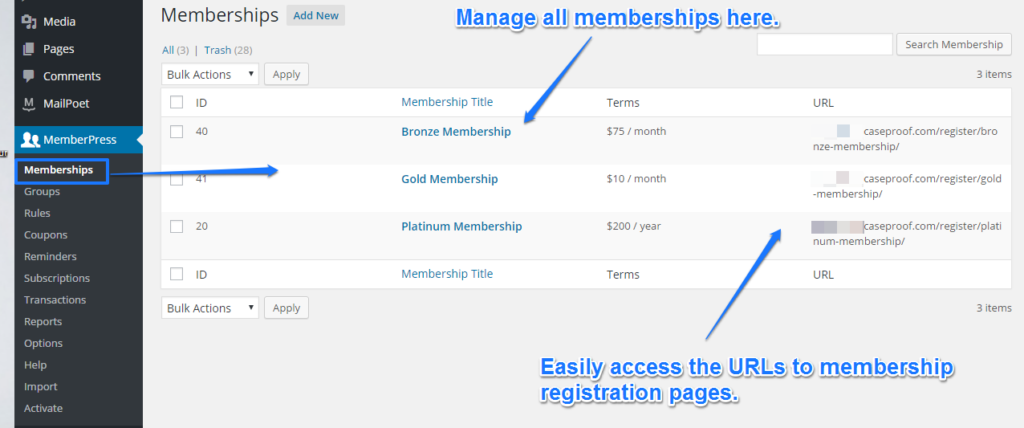 MemberPress is one of the most popular membership plugins out there. It's what we use here at LR. It's relatively easy to set up and is very powerful with lots of features.
We've been able to use it to set up almost two dozen membership options and protect content without needing an LMS tool as well. It lets you manage members, drip content, and has email automations and payment gateways built in.
Popular integrations: PayPal, Stripe, Aweber, MailChimp, Amazon Web Services
Click here for more on MemberPress.
Restrict Content Pro
Restrict Content Pro is very similar to MemberPress in how it works. This plugin is a great option if you've got a ton of content you want to protect versus creating a stand-alone course system. You have the flexibility to create unlimited membership options and pricing levels and it has good membership tracking and reporting.
Popular integrations: PayPal, Stripe, MailChimp, Easy Digital Downloads
Click here for more on Restrict Content Pro.
MemberMouse
MemberMouse is a bit unique in that it is a hybrid plugin that offers both membership and e-commerce options. It has a super simple user interface and is pretty easy to set up, which attracts a lot of people. It has a lot of different membership access levels and options, giving you some flexibility in setting things up. The access works through passwords. And there are some interesting things you can do with affiliate options.
Popular integrations: PayPal, Stripe, ClickBank, MailChimp, Aweber
Click here for more on MemberMouse.
Paid Memberships Pro
Paid Membership Pro is one of a few plugins that offer a limited free option. The plugin gives you the option of locking down posts and pages and setting up a variety of membership options. Keep in mind with PMPro you can't import a list of members which can be annoying if you've already got a site up and running and want to switch.
Popular integrations: PayPal, Stripe, MailChimp, Post Affiliates Pro, WP Affiliate Platform
Click here for more on Paid Memberships Pro.
Wishlist Member
Wishlist Member is another very popular membership plugin. It has a lot of similar features to MemberPress. You can create unlimited membership packages, drip membership content, and protect posts and pages. Wishlist Member also lets you create special 'error' messages when non-members access content and content sneak peaks.
Popular integrations: PayPal, ClickBank, JVZoo, Stripe, SamCart, Aweber, MailChimp, Drip
Click here for more on Wishlist Member.
WooCommerce Memberships
WooCommerce is already established as a killer e-commerce plugin. So if you've already got some products you want to sell and then offer a membership option, this can be a great choice for you. You can create membership levels and sell courses all-in-one. Plus, WooCommerce Memberships lets you create member rewards and perks and also sell specific courses only to current members.
Popular integrations: WooCommerce, Social Logins, bbPress, MailPoet, MailChimp
Click here for more on WooCommerce Memberships.
Membership Site Forum: Should You Have One?
The next question you're going to want to consider on your way to building a membership site is if you want a community or forum as part of it.
A forum is a place where people can gather online and chat. You likely belong to one yourself already. If you don't, a forum is pretty similar to Reddit or even Facebook. You can share some of your thoughts on a topic and others can come in and comment and vice versa.
Done right, a forum feature can be an incredibly valuable part of your site. Most importantly, it's going really add a ton of benefits to your members. It can be a place that they can go to build relationships and learn about topics.
We have a really thriving forum inside LR. With hundreds of members actively in there supporting each other, offering advice and suggestions, and even posting up job offers. So for us, having the forum is a really amazing additional benefit to the blueprints.
However, done poorly, and a forum can be a total ghost town that no one ever wants to visit. That kinda flies in the face of 'building a community,' right?
So before you jump into adding a forum to your membership site, there are a few pros and cons to consider first.
Pros
Can be an awesome resource for members
Keeps your members on your site for everything
Helps to build a real sense of community among people
Members are there specifically to talk about your product or service
A great way to interact with your members and find out what they might be struggling with
In the same vein, it's also a great way to come up with future potential product ideas based on feedback
Members can be automatically added with membership, no need for you to give them access manually
Cons
They can be more technical to set up
If your forum isn't active it can be a really bad look
Additional time must be spent on monitoring the forum and responding to people
It can be a learning curve for people so you have to be prepared to teach them how to use the forums
You'll likely have more technical issues to deal with along the way
The absolute biggest key that you need to think about if you're going to create a forum is if you have enough time, resources, and members to make it active and helpful for others. If the answer to that is no, you might want to hold off for the time being.
Remember, you can always add a forum at any time down the line.
Best Forum Software for Membership Sites
Alright, if you're ready to push forward and go with a forum, you're going to need a plugin or some software to make it work.
Like we did in the above sections, here we'll cover a few of the more popular forum options for membership sites.
Discourse
At LR, we're pretty big fans of Discourse. It's what our forum runs on and it's also the forum for the Eighty Club (Breaking Eighty's membership group) as well.
The software behind Discourse is free and open source, which is great. But you will need to have a place to host your forum so keep that in mind. There are also some Discourse plugins out there that let you have single sign on.
Discourse is very user-friendly, mobile friendly, and has a really nice and clean user interface. It allows for private messaging and even private forums within forums. One thing to note as you're setting it up, it has a ton of options on the back end, so it takes a little bit of playing around on the administration side to get things set up how you want them.
Learn more about Discourse here.
bbPress
bbPress, like Discourse, is a free and open source. It's a plugin that is built for WordPress so that means it's super easy integration means installation and getting up and running is a snap. You won't have to get another hosting site for bbPress, everything can be run from one place.
The user experience with bbPress is pretty good too. This plugin works with tons of themes on the WordPress platform and also integrates with a bunch of other plugins to have a few more added features.
Probably the one big knock on bbPress is that it's not quite as feature rich as some other plugins, but for a quick and easy way to get started, you can't go wrong.
Learn more about bbPress here.
BuddyPress
BuddyPress is another WordPress plugin that is similar to bbPress, they are often mentioned together. It's also based off a WordPress platform so that makes integration pretty easy to start.
BuddyPress has a few more advanced features over bbPress that are pretty interesting like the ability to create 'friendships' within forums and a cool points system that rewards and encourages members to post more frequently.
As far as cons, one of the biggest is that BuddyPress makes it hard to change platforms. So if you decided to move your site off WordPress and into an all-in-one hosted site, for example, your forum might not be able to come with you.
Learn more about BuddyPress here.
What About Facebook?
Good question.
There is always the option to create a private Facebook group instead of a forum. But, as with anything else, there are a few pros and cons to keep in mind:
Pros
It's free to create a private group on Facebook
Most people know how to use it
Easy access from apps so people can interact anytime via mobile devices
A quick setup on the administrative end, all you need is a Facebook account and your good to go
Cons
You don't own the forum, Facebook does, so if they shut that down you're stuck
There are lots of other distractions on Facebook
A group page is not nearly as organized and easy to find topics as a forum
You have to manually approve each new member who requests membership plus check them against your payment processor to be sure they paid
Members must have a personal profile on Facebook
So there are things you really need to think hard about before you choose Facebook.
We briefly thought about it but decided to continue with a separate forum for flexibility and ownership reasons. Plus, it just gives members a better user experience overall.
Membership Pricing: One Time Fee vs Recurring Revenue
Alright, now we're getting to the fun part: getting paid.
Basically, when it comes to membership sites, there are a bunch of ways to get paid, but in this post, we're going to cover two of the most popular options.
One time payment
Recurring payment
When it comes to setting up your payment systems there are positives and negatives to each of these.
One Time Fees
A one time payment is just that, your members pay you a sum upfront and boom, they get access to your site, forum, course, etc. This is definitely the easier way to go, once a member pays they are in, and the setup for your payment processor is very straightforward.
For one time fees, the setup will be simpler to start. Also, the price for a one time fee is going to be much higher than a monthly recurring fee. Another benefit is you're going to get all of the money for the course upfront, which can be great if you're trying to raise a bunch of cash to run your business.
A negative of the one time fee system is that you always have to be selling and your income can vary wildly from month to month. One month might see you bring in 10 people at $497 while another might only bring in 2. That can be a big difference and somewhat stressful.
And, one time fees are much easier to manage member expectations. People in this system are paying for what's already in your course or membership site. So while you should always work on updating your course over time, you don't have a huge amount of pressure to deliver something new.
Recurring Fees
A recurring payment means that members will pay a set amount over time. Usually, that will be a monthly fee. So you might charge a fee of $25 a month for access to your course. Your members will sign up and still get access right away, but if they miss a payment, for example, they will lose it.
Recurring fees will bring in less money per member per month, but on the other side, this type of fee payment can help you create a much more predictable revenue stream. If you know you have 40 members paying you $25 a month then you can pretty much rest easy that you'll be bringing in about $1,000 a month.
The cheaper prices of a recurring monthly fee also helps sell people who might not ordinarily be willing (or are unable) to pay upfront. For most people, $25 or even $97 a month feels much more affordable than a comparable lump sum.
However, the big negative with this is that people who pay recurring fees can have higher expectations on what the membership site offers each month. You have to make sure your membership site feels 'worth it' to people on a monthly basis.
So, that's something you'll need to consider with your pricing.
How to Decide What to Charge
Coming up with a pricing sweet spot is one of the hardest things you'll have to do as you get your membership site up and running.
Charge too much, and you won't have anyone wanting to join. Charge too little and you might be leaving a lot of money on the table.
In an ideal world, you want to hit a sweet spot so you can play around with it a little bit. Nothing is set in stone when it comes to pricing, but ideally, you want to be strategic about your offerings.
If you start with a good price then you can adjust for special sales or offers that raise and lower the price accordingly to attract more interest and paying members.
The biggest thing you need to consider is the value you can provide to your members over the lifetime of your product.
For example, if you've got a course set right now, plans and outlines for additional courses in the works, and enough interest to have a membership course, then a recurring monthly fee might be a great idea for you because you know over the next few years you have high-quality things to offer your members that is going to keep them around.
On the other hand, if you have one really in depth product that you don't think you're going to need to add much to beyond tweaks, a one time fee might be the better option. That's going to give all your members a ton of value up front without a ton of expectations for more stuff down the line.
So those are two examples, but here are a few more things to consider when you really start thinking about pricing:
Competition: What are they charging and what kind of pricing system are they offering?
Ideal income: If you have a set amount you'd like to earn every month, then work backward to see how many members and at what pricing you can set.
Costs: The last thing you want to do is lose money every month on your membership site. So know what you will need to make in order to cover the costs of running the site.
Hybrid pricing: Consider experimenting. Offer both a one time fee and a recurring option and then see what works better over the long run.
Ask: Survey both your email list and your current customers and ask them about pricing, you'll probably get a good range that can help you set your prices.
Positioning: Where are you positioning yourself in the market? Creating a course that's aimed at beginners, for example, is likely going to attract people who are more price conscious than courses aimed at intermediate level people.
Start low: It's always easier to raise your prices than lower them, so if you're debating it's ok to start lower. You can always offer it as 'beta pricing' or 'new member's pricing' and go up from there as needed.
Work through these ideas and you should be able to settle on a few pricing ideas that you can use to get started.
Pricing Tiers
If you're going to set up your site with membership levels or tiers then you're also going to have to think about the pricing on those tiers as well.
Before your head starts spinning, there is a simple solution to this.
First, focus on your middle pricing level. This level is going to be your sweet spot where the vast majority of your members are going to join. So, make this level the price you've decided on as your sweet spot price.
For the highest level site, you want to basically double (or close to it) your sweet spot. The majority of people won't go for this tier, but for the few that do, you can really improve your revenue.
The key here though is you want to make sure you can offer extra value at this level. Some easy things you can do here is offer coaching sessions, private calls, or extra webinars.
Now, when it comes to the lowest membership level, you want to take your sweet spot price and decrease it by about 25-35%. The goal here is you want it to be lower than you middle tier but make potential members feel like for that extra little bit more they can get that better membership.
Here's an example:
Middle tier = $49 per month that's your ideal sweet spot.
Highest tier = $97 per month (that's just under double the middle tier)
Lowest tier = $35 per month (that's about 25% lower than the middle tier, and for a prospective member the difference between the two doesn't seem like all that much for more money per month)
So that's one way to think about pricing if you have multiple membership levels.
Deciding Between Membership Payment Gateways
Just as there are tons of membership plugins out there, you're also going to find a bunch of payment gateways too. These are basically just how your members are going to pay you when they sign up and join.
Even though there are lots of choices out there, we think there are actually two very good choices that will cover the vast majority of membership sites out there.
Let's cover each of these a bit more in-depth.
PayPal
PayPal is one of the most popular payment processors out there for one big reason it's easy to use. PayPal isn't without its share of issues but for people starting out, it's a very good choice. Most people have heard of PayPal and know what it is, and it's simple to sign up for and use.
One of the issues you might run into is that PayPal can be tough to use in a few countries, so if you think you'll have a bunch of members from these areas, you might want to consider a PayPal alternative or a workaround.
Another thing you're going to want to consider with PayPal is they tend to lock down accounts easily over 'suspicious activity' which could mean you could find your account stuck after a big sale. Most of the time, this can be avoided by just calling them ahead of time and giving them a heads up.
Learn more about PayPal for business here.
Stripe
Stripe is another very popular payment processor option. It's just about as easy to setup as PayPal, but a lot of people like it because it offers a bit more flexibility with payments. It also has a really nice and sleek user interface. Stripe can be integrated into your payment page so it doesn't feel like members have to leave your site to buy.
A lot of people like to use Stripe because it's really easy to use with credit cards, which can feel more complicated if people are trying to buy without having a PayPal account. Stripe will let users store their credit card information for easy payment, which is great for recurring fees, for example.
Like PayPal, Stripe also doesn't work well in some other countries, and you'll likely have to get an SSL certificate on your site to make sure you are protecting privacy.
What about WooCommerce?
A lot of businesses might like the idea of using WooCommerce as a way to collect payments. This system is really popular for eCommerce sites and it can offer quite a few advanced features, which can be great down the line as you add on more products, membership levels, and courses.
However, WooCommerce does not work on its own as a payment processor, to get it to work you will have to sign up for either Stripe or PayPal first.
Learn more about WooCommerce here.
Making Your Choice
You really can't go wrong with either Stripe or PayPal. In fact, tons of membership sites offer both options to keep their bases covered. That way, members can choose the payment processor they prefer.
If you're thinking about looking outside of these, here are a couple of things to keep in mind:
Location: Certain payment processors don't work in some countries, so check that out first, especially if you live in one of these countries or expect to have lots of members from them.
Fees: Payment processors are going to take a bit off the top. Check the rates to see what they are so you can bake those fees into your pricing.
Security: The security of your members should be a priority for you. So be sure you pick a processor that has built in security features and understand that you might need to upgrade your site in order to prevent hacks.
Integrations: Membership sites usually have a bunch of plugins to keep everything running, make sure your payment system works well with other plugins and your theme or you could run into problems.
Payment types: If you're going to offer anything beyond a one time payment, such as recurring fees or installments, make sure you use a processor that can handle those easily.
You should have all the information you need to start exploring some of the best payment processors out there and choose the right one for you.
How to Create a Sales Page for Your Membership Site
Alright, we're basically down to the last step here. After you've got your niche, created your course, picked the kind of membership site you're going to have, settled on a price, and installed all those plugins, it's time to actually open your site up for business.
Here's the fun (and yes, kinda nerve-wracking) part!
You're gonna want to create a good sales page that highlights your site and convinces people that your course is going to help them solve a big problem in their lives.
So, how do you do that?
First, understand that there are a couple of big things every successful sales page has:
A killer headline: You need to hook people with an awesome headline that gets their attention and conveys what your course solves right from the jump.
A very clear (and concise) offer: People who come to your sales page must understand exactly what you are selling and why they need it right away. If they are confused on what exactly your membership site does or offers, you're in trouble.
Exactly what's included: Don't make it vague, tell people very clearly exactly what they are going to get from signing up for your membership site.
A list of benefits: Always sell benefits not features. Highlight how being a member of your site will help them make more money, feel more confident, make friends, solve a big problem, and remove stress from their lives (for a few examples).
Price: Here's another place to be very clear. Tell people what your price is, and include any other payment options you might have decided on, i.e. membership levels, recurring fees, installment plans, etc.
Social proof: Here's where you want to include any testimonials from current members, case studies or examples of people who you've helped, or praise from big name people in your nice. The more social proof you can have the better, and whatever you do, never make up this proof or use it without permission.
Money back guarantee: You don't have to offer these, but it's a good idea. If you have built a great course, then you houldn't be innudated with refunds, sometimes it's just not a good fit. Have a set date where people can refund without having to jump through hoops.
Frequently Asked Questions: If you can pre-answer some of the most common objections people will have to joining your membership site, do it here on the sales page. Even answering 2-3 common questins can go a long way to removing some of those last lingering doubts.
Call to Action: Your CTA is where you tell people what you want them to do, in this case become a member! It's a good idea to have a few of these sprinkled throughout your sales page, especially if it's long form. Make sure there is one at the bottom too.
If you have a sales page that includes each of these, you're going to be well on your way to something that sells your course the right way.
The key is to test it out and see what works. If you aren't seeing any sales change things up. Try fixing your headlines, if that doesn't work then improve your benefits, if that doesn't work clean up your offer, and so on.
Writing good copy is not soemthing that comes overnight, so try out a few drafts until you get something you think hits those sweet spots. Then share it with others, ideally in your target audience, to get some feedback. Or, you can hire a professional copywriter to bang out a quality sales page for you. If you don't feel comfortable writing copy, outsource it to a pro!
Once you start making consistent sales, you know you've hit on a good formula for your sales page. From there, as you grow your site, the sky's the limit.
Recap: Have You Decided What Combination of Services is Right for You?
Ok, this was a long post packed with information. So, let's recap.
Here's what you have learned when it comes to creating a membership site:
The basics of a membership site, including the pros and cons
How to come up with a niche for your site
The types of membership sites you can create and how to structure and deliver the content
The different options out there for membership site platforms
An overview of the best membership site plugins
If you should add a forum to your site and how to get started
How to settle on a price and if you should charge monthly or a one time fee
The best options for payment processors
And, some tips on getting your sales page up and running
Hopefully, at this point, you are feeling pretty good and have a handle on all the basics that you'll need to get your membership site up and running in just a few days.
Any questions? Just ask in the comments!
Sean Ogle
Sean Ogle is the Founder of Location Rebel where he has spent the last 12+ years teaching people how to build online businesses that give them the freedom to do more of the things they like to do in life. When he's not in the coffee shops of Portland, or the beaches of Bali, he's probably sneaking into some other high-class establishment where he most certainly doesn't belong.
Learn How to Make Your First $1,000 Freelance Writing (in 30 Days or Less)
Join over 40,000 people who have taken our 6 part freelance writing course. Sign up below and let's do this together.
By entering your email address you agree to receive emails from Location Rebel. We'll respect your privacy and you can unsubscribe at any time.