On January 4th, 2021 my wife and I showed up at the hospital for the last time as a family of two.
I still remember everything about that day. Driving there in the rain, listening to the song Too Easy by Oomiee on Spotify. You just can't listen to it and not feel happy.
Watching movies for hours while we waited for the induction process to do its thing.
Getting a Paypal notification at 4:15 the next morning, in the middle of Tate getting her epidural. A reminder that here, on the most important day of my life, my business is still running.
And the moment that my daughter Elliot was handed to us, and within seconds she latched on to my finger and suddenly, we'd become a family of three.
Everything in my life since that day has changed because of her. So much of it for the better. The joy that Elliot brings to our lives is a constant presence. As she has now crossed the 1-year mark, I'm even more excited to see who she becomes and introduce her to so many of my favorite things in life.
But I'd be lying if I said there weren't struggles that come along with such a wonderful and happy change in our lives.
I'd be lying if I said every day was good. Or that I'd perfected the whole running a business and being a dad simultaneously.
And then you throw a pandemic on top of it.
2021 in many ways was more difficult for us than the year prior and was a year of unbelievable highs, and a handful of lows as well.
This is my annual review.
Related: How to Do an Annual Review
Every year I do things a little bit differently, but for this year I figured I'd do all of my self-reflection and commentary on the future in one post.
5 things that were great in 2021.
5 areas where I struggled.
5 goals and plans for 2022.
I've spent a lot of time thinking and reflecting on this past year. And one conclusion I've come to is that it was the most challenging, yet rewarding year of my life.
Want to know why? Keep reading.
Real Quick, Who Am I?
If you're new to Location Rebel and somehow have come across this post, then let me give you a very quick rundown of who I am, my story, and why it may be relevant to you.
I graduated college in 2007 and got a job as a portfolio analyst.
I did that until late 2009.
I then spent the better part of a year traveling around Asia learning the ins and outs of online marketing, and growing this blog.
In July of 2011, I created Location Rebel Academy and have now had over 4,000 students join our community and learn how to build online writing businesses through freelancing or blogging.
In 2012 I launched my second niche site in the golf space called Breaking Eighty.
In 2016 I created a golf society for private club members around the world – my second membership site after Location Rebel Academy.
In early 2020, I started Slightly Pretentious which is a cocktail and travel site devoted to helping average people have world-class experiences.
I now run all three of those sites, and have devoted my life to helping people build similar businesses around their hobbies or passions.
That's what we do here at Location Rebel.
Here are some of my previous annual reviews.
5 Things that worked in 2021
1. Embraced fatherhood
First and foremost, the best thing that happened in 2021 was I became a dad.
A year later we have a happy, healthy 1 year old who has more and more personality by the day.
She's walking everywhere, she loves to wave at everyone, and is the most curious creature I've ever met.
So many of the early fears of "how on Earth and I going to do this? I know nothing about being a dad." have been laid to rest.
While I have so much to learn, we've managed to keep her alive, and in many ways thrive, despite any fears and insecurities we had about being new parents.
Last year before Elliot was born, I wrote 7 reminders to myself.
The first of which was:
"From here on out, life will always be less convenient. Don't let that stop you from doing things."
This has been proved more true than I ever expected.
No, for real. Very little is convenient anymore. Everything requires planning, takes more time than you expect, and in many ways, life has been more limiting. To be fair, a lot of this is due to COVID.
Yet, we've continued to embrace the idea of doing things and not letting inconvenience get in the way (too much.)
I don't know what my future looks like as a father, but I'm pleased with how it's gone so far.
2. Made more money than ever before
Despite logging the fewest number of work hours of any year, probably ever, 2021 was the most successful year I've ever had as a business owner.
Our gross revenue was about 30% higher than our previous best year, and net wasn't too far off of those growth numbers either.
I believe there are a few factors at play here:
1) More people are looking to work for themselves, remotely.
Location Rebel Academy had a banner year with two of our best promotions ever in January and August. As we come out of the pandemic and there's more competition in this space than ever, we'll see if things continue this way.
As I recently said, because of the competition, I'm not sure this is a niche I'd enter again if starting from scratch.
2) Embraced affiliate marketing beyond Amazon
On my golf niche site Breaking Eighty, a good chunk of our site revenue comes from Amazon. I've been hesitant to move away from Amazon to programs with higher commissions, specifically because it is so widely adopted.
While I earn 3% commission on most items via Amazon, if I moved I'd earn 10-20% if I worked with companies directly using their affiliate program.
My hesitation for switching, was because I assumed far more people would prefer to buy from Amazon with easy and fast shipping, as opposed to through directly through a company's website.
Boy was I wrong.
The effect was almost immediate. In the Summer when I started promoting products through different affiliate programs, numbers started to skyrocket.
Over the holiday season, one affiliate product alone generated over $7500 in commissions.
There's been substantial growth on the golf side of things. However, this has also led to some challenges that I'll explain later on.
3. Successfully simplified my life and business, during a complicated year
Last year my word of the year was "Simple."
I wanted to simplify as much as I could in my life.
No small task considering we were in a pandemic, and we had a new kid within days of the calendar ticking over to 2021.
But I feel like I was pretty successful in this regard.
In order to do it, things had to get more complicated before they got less so, however.
Examples of this:
Ok…those are the two big examples. I know they are only two bullet points, but each of those represented months of work.
And now being on the other side of it, many things about my life do feel simplified.
4. Location Rebel Academy members have had more success than ever.
One of my goals for 2022 needs to be to highlight this more because I rarely do.
2021 was a banner year for so many of our Academy members. It feels like more people than ever were emailing us or posting in the forums talking about the success they've had in our program and beginning their freelance writing businesses.
My right-hand woman Liz and I really devoted a lot of time this past year to honing our curriculum.
We dug into the areas where students had issues, and made changes to make the learning process as streamlined, action-oriented, and enjoyable as possible.
Moving the entire site over to Podia in July, while a massive amount of work, was the cherry on top. I truly believe we've created the best resource in the world for building a writing business on the internet.
5. Survived Another Year of the Pandemic
This may seem like a bit of a cop-out, and as you'll see below, it wasn't without some bumps and bruises along the way: but I survived another year of living in a pandemic.
There are all kinds of very negative things that could have happened as a result of our 2nd year living through COVID.
My wife and I used to always joke that if she also worked from home, we'd be divorced within 6 months.
Well, we're going on two years of her also working from home. We survived a year being at home with a child. We survived buying a house, selling a house, and her going back to work from maternity leave: all in the same month.
We've started to (safely) do a little bit of travel again.
So yeah, we did it.
To be clear, I'm very ready for this season of life to be over. I'm excited to travel again. I'm excited to not have to worry about whether or not my kid is going to get a virus simply from going to daycare or the grocery store.
But it's good to know that despite all of the challenges, we can do this.
And we have.
Learn How to Make Your First $1,000 Freelance Writing (in 30 Days or Less)
Join over 40,000 people who have taken our 6 part freelance writing course. Sign up below and let's do this together.
By entering your email address you agree to receive emails from Location Rebel. We'll respect your privacy and you can unsubscribe at any time.
5 Things that didn't work in 2021
A lot of the things that didn't work well this past year I've found to be the same problems I've always had, exacerbated by the pandemic and fatherhood.
Some of these have been a real struggle to overcome, and while I'm feeling good about the direction things are heading, it hasn't been without some down moments.
1. Eating and drinking became too much of an escape
I've always loved good food and drink. After all, my wife and I have spent the last 5 years (ok at least the 5 years before 2020), traveling to visit the top 100 bars in the world.
But it was in November of 2020 that I had a realization.
After a trip to Bandon Dunes, my last golf trip before Elliot was born, I decided to do a two-day juice cleanse.
No food, just 6 bottles of fresh juice each day.
It was hard.
But not because I was hungry.
It was hard because I was bored.
In a year where I wasn't able to travel, my wife was sick for 6 months during pregnancy, and we were the most locked-down we'd ever been in anticipating our daughter's arrival – I realized then just how much good food and good drinks became an escape.
And it only got worse in 2021.
There were plenty of rationalizations for why we should order in, or make a fancy cocktail, or just splurge and eat whatever we wanted.
There are always excuses. But I've learned that for the past 10 years of my life, I've been privileged to have a lot of novelty.
I usually took 2 trips a month. I was constantly experiencing new people, new places, and new things.
But that has been severely limited these past two years. So good food became the outlet for that.
This video about a "Dopamine Detox" is something I've resonated with very strongly:
In 2022, I'm turning it around. There are no more good excuses, and changing my habits on the most fundamental of levels is going to be crucial.
2. I've struggled to adapt to a new schedule with less free time
I get my best work done in the morning. My wife does not.
For the past year, we've had a pretty good system that has allowed both of us to sleep during a period of time where many new parents don't.
She would handle all of the late-night feedings, but once about 6am hit, if Elliot woke up, then she was mine.
On my most productive days I like to be up in the 5 o'clock hour and work through until about 1.
During 2021, if I were to wake up early, inevitably every time I did that, those would be the days Elliot also woke up early.
And then we'd hang out until 9, or these days until about 8.
I feel so incredibly lucky to have that time with her in the morning. 1-3 hours a day, just us, and it's been so much fun to see her grow and spend that quality time with her.
But.
I'm not generally sitting down to work until after 9.
We pick her up from daycare at 4ish.
7 hours to work.
But then throw in lunch.
And a good workout.
And just the fact I can never focus on anything.
All of a sudden, my time for real diligent, thoughtful work, is a fraction of what it used to be. And the early mornings, where I'm most naturally productive are usually no longer available for work.
I used to have 16 or so hours in a day to get whatever I wanted done. I was certainly not efficient, but I could do it whenever, wherever I wanted. And that's exactly how it went for 10 years.
Now things are different, and it's been a struggle for me to adapt to it.
3. Full-time job, part-time effort
When I started Location Rebel it was the only thing I had going on. It was my full-time job.
Then I started Breaking Eighty as a little side project. I didn't worry about making money or posting on any particular schedule – I just wanted to create the golf site that I'd want to read.
Fast forward a few years and Breaking Eighty started to have some success.
Location Rebel was growing faster than ever as well.
In fact, for the last three years both sites made around the same amount of money. Both were six-figure businesses.
To see them reach their full potential, they deserve full-time attention.
Throw in Slightly Pretentious which has seen some rapid growth as well, and you have three brands that all should be getting full-time attention, yet none of them are.
I've always been hesitant to relinquish control, hire more help, or give up something that I get so much joy from.
As such, the businesses collectively are doing very well.
But they each should be doing much better. In 2022, I'll need to learn how to become a better leader and manager, rather than just a writer.
4. Continue to struggle with phone addiction
Let's call a spade a spade: I'm addicted to my phone.
I've always felt as though I have ADD. I exhibit many of the symptoms but have never actually talked to someone about it.
I don't want drugs, I just want to be able to focus.
This past year I've felt like part of my issue may not be ADD, but rather just dopamine overload. When you check your phone and email dozens of times a day, get conditioned to anticipate regular Paypal notifications, have instant access to anything you could want – that has an effect on your brain chemistry.
Our brains aren't wired that way.
And this year, I've succumbed to all of that through being on my phone constantly.
Again, being at home with an infant, the environment is perfect for abuse.
Her baby monitor is on my phone, so I need to keep it close. Oftentimes when I'm watching her, I'm not able to actually work but I can easily scroll through my phone while she entertains herself.
This addiction causes me to be less present at times when I should be present. It also serves as a distraction when I'm trying to spend time with family or trying to work.
I'd expected it to get better in 2021, but if anything, it just got worse.
5. This was the first year I felt, old.
Add all of this up and by the end of the year, there was a lot of good and bad.
The business is a success and our family is doing well.
But I found myself more distracted, more sedentary, and more mentally hazy than ever before.
A lot of this manifested itself physically as well.
For most of the year, I had intermittent lower back pain that continued to get worse.
A combination of sitting a lot, carrying an increasingly heavy child, and probably (definitely) a bad golf swing – led to this back pain that at times could be pretty brutal.
It got to the point where I wasn't doing things like going for a run, lifting weights, or playing golf, because of it.
This is a very real sign that I'm getting older.
All of the things I took for granted in my 20s are no longer quite so easy or natural.
The good news is that for a variety of reasons I wasn't very active in December, which had my back feeling quite a bit better by Christmas.
Then my first ever trip to the chiropractor was far more productive than I could have ever imagined it would be.
Right now, my back has been feeling 100% for the last few weeks.
But what remains is the reminder that I need to take better care of myself.
Not being able to do so many of the things I loved was one of the scariest feelings I've ever had.
So this year, it's all about doing the things necessary to improve my physical, mental, and emotional health, so that the next 36 years are even better than the previous.
2022 is the Year of Systems
Every year I choose one word to describe my theme of the year. As I mentioned, last year was "simple."
This year, I've probably put more thought into it than ever before.
I'd pretty much decided on something along the lines of "Self."
As in, I want to take care of myself. I want to devote time to cultivating skills around things I love to do.
And so on.
But I realized that there's an overarching theme to those things that will dictate how successful I am.
And that is my systems.
James Clear is a good friend of mine, and someone I've respected for years now – well before the explosive success of Atomic Habits.
Read This First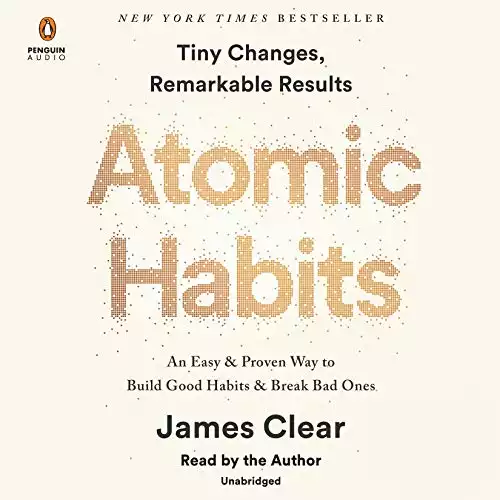 But one of the very best pieces of advice I've ever heard can be found in his book:
"You do not rise to the level of your goals. You fall to the level of your systems. Your goal is your desired outcome. Your system is the collection of daily habits that will get you there. This year, spend less time focusing on outcomes and more time focusing on the habits that precede the results."
The only way any of this changes is through systems and habits.
I've developed a lot of negative habits, and honestly, very few well-oiled systems.
This year we're changing that.
As you'll see in my goals for the year, the common thread among all of them is a system that will help me both create and maintain habits and growth in my life and business.
5 Goals for 2022
I've got a variety of goals for the year, but these are 5 that I think are important.
Some are more measurable than others. For each of the ones that aren't as measurable, I have specific milestones and systems I'm working on to make sure I achieve each.
1. Go all in on Asana to manage my business and productivity
Over the last 10 years, I've tried at least half a dozen pieces of productivity and project management tools.
The only one I've had any level of success with is Asana.
I've had starts and stops with it, but when I'm diligent about using it, it has a dramatic positive effect on my life and business.
I need a place where everything goes.
Every task, every to-do, every project, everything.
And that's Asana. I went through the fantastic Asana for Bloggers course and have been building everything from the ground up.
All of a sudden we have a true editorial calendar, a great collaboration resource for the writers I'm working with, and a place where I manage all of the things I personally need to do.
I've always had the narrative and reputation of being an unorganized person.
I've said it to myself thousands of times: "I'm an unorganized person."
I'm also someone who believes we can change. So just because I've been unorganized for the first half of my life, doesn't mean that I'll need to be that way for the rest of it.
This is the first and one of the most important systems I'll need to continue to refine and stay diligent with this year. Especially if I want to see the business grow while taking care of my physical and mental health.
2. Write 250,000 words
Hands down the single most important thing I've done to get to where I am over the last 12 years is to write.
Things going well? Chances are I've been writing a lot.
Things not going well? Probably have not been writing much.
My goal this year is to focus on building the habit of writing at least 200 words a day.
Now that isn't much. But the idea is I wanted a daily number low enough that if I were having a very off day, it would still be a number I could do quickly and keep the streak going.
In the first 17 days of 2022, I'm averaging 1,198 words a day.
So 250,000 words in a year? That should be nothing. That's the bare minimum.
But the bottom line is, the more I write, the more success I have.
At their heart, all 3 of my businesses are blogs.
How do I get people to the site? Get them on the email list? Get them to buy my products?
Through writing.
So more than the last few years, it's time to get back to basics.
I'm tracking my writing in a Notion document, seeing the numbers add up each day has been making me feel good about the habit, and there's a daily task in Asana to help me remember to both write and track my progress.
3. Get my weight down to 185 pounds
I haven't been at 185 pounds in about 10 years.
To be clear, I'm not overweight. Or I guess technically if you went by the benchmark BMI statistics, I might be barely overweight.
It's not about weight loss, however.
185 pounds has always been a number that felt right to me. That's where I feel like I should be at.
And the only way to get to that number? I need to eat fewer calories than I take in each day.
What needs to happen in order for me to do that?
I need to be more mindful of what I eat, and I need to be more active.
How do I accomplish both of those things?
Right back to our theme of 2022: Systems.
For the past two weeks, I've been using the app Noom, and really enjoying it. The simple act of logging my food has made me more aware of what I'm eating.
Having even a small amount of accountability is helping me to make better choices.
As for exercise, I've always been a very active person.
But in 2021 things took a hit. I'd be pretty tired at the end of the day, and during my limited working hours, I chose to, well, work – rather than work out.
So I know the only way to hit my goal of 185 pounds is to do better at both of those two things.
The weight itself doesn't matter. It's simply the result of implementing successful systems.
4. Gross $400,000
As I mentioned, this past year was my most successful business year to date.
A lot is changing across the landscape of my three websites, so if we can do something in a similar range as to what I did this past year, I'll be very happy.
I don't generally advocate for only having an income-based goal – because you don't have direct control over it.
It's the actions leading up to it that you do have control over.
So I have a variety of things I'm doing on all 3 websites to hopefully continue to achieve success, but in the back of my mind, this is the number I'm shooting for.
5. Do more of the things I enjoy most in life.
Finally, I want to get back to being me.
Between COVID, fatherhood, and scattered business focus – I've gotten away from doing a lot of the things that make me happy.
In 2021 I played about half as many rounds of golf as my previous low for the last 10 years.
I couldn't tell you the last time I practiced playing guitar.
I only skied once last year (but at least this didn't happen while I was skiing.)
My YouTube videos haven't been receiving the creative energy I want out of them.
I haven't been experimenting with cooking new recipes.
Oh, and in the last 22 months? I've only taken two trips that involved flights.
For someone that got on an airplane nearly every single month for 10 years? That one hurts.
This was past November marked my first trip in nearly 2 years:
Obviously being a dad has an effect on all of these things, and makes them more difficult to do.
But this next year a big focus is going to be getting back to doing the things that make me, me.
I've talked to a lot of friends about the concept of losing your identity once you become a parent, and I do feel like there's been some of that.
So I'm making a concerted effort to schedule and plan for the things that make me happy.
Things are good. But they could be better.
The bottom line? Things are really good. But they could be better.
I recognize just how fortunate I am. These last couple of years have been devastating for so many, and I'm in a fortunate position where, despite a pervasive feeling of "languishing" things have been pretty good.
The things that could be better come back to my own level of discipline, and making things that I've largely put on the back burner for most of my life, more of a priority.
It feels like the right time to do this, and there are some healthy changes I'm very excited about.
So we'll see where 2022 takes us, but today, right now? I can't wait to see how it unfolds.
Sean Ogle
Sean Ogle is the Founder of Location Rebel where he has spent the last 12+ years teaching people how to build online businesses that give them the freedom to do more of the things they like to do in life. When he's not in the coffee shops of Portland, or the beaches of Bali, he's probably sneaking into some other high-class establishment where he most certainly doesn't belong.
Learn How to Make Your First $1,000 Freelance Writing (in 30 Days or Less)
Join over 40,000 people who have taken our 6 part freelance writing course. Sign up below and let's do this together.
By entering your email address you agree to receive emails from Location Rebel. We'll respect your privacy and you can unsubscribe at any time.