Well, it's 2021.
Thank God.
For whatever reason, I've spent more time reflecting on the year prior and thinking about what's next than I usually do.
The obvious answer would be because as of last week I'm officially a dad.
But 2020 was unlike any year I've ever had in my life, so it's natural to want to dissect it and figure out how you continue to build, improve, and maintain happiness in the midst of chaos.
I'd like to think I've done a pretty good job this past year.
I decided to get creative with my annual review video. So if you want the highlights?
Watch it here:
Looking for a bit more in-depth analysis? Read on.
What Went Well in 2020?
Alright, let's start with the positive. Here's all the stuff that went pretty well in 2020.
Revenue grew by about 30%
Across all of my sites, we grossed right around $300k this year. I was surprised when I ran the numbers.
This was mostly attributed to raising our Location Rebel Academy prices in January. We didn't see a noticeable downturn in sales, despite raising prices 50%.
That was great to see. And it makes me feel pretty good that members think the value is there at the higher price and we're still delivering on the courses and forums.
Staying mentally sane
2020 was rough. Especially for someone who is used to traveling all the time and having lots of social interaction.
Despite this, while not perfect, I generally stayed in a pretty good headspace all year. I was able to find ways to still get out and do stuff (while staying safe) like golf, hiking, and socially distanced outdoor hangouts. It wasn't the same, but it did help.
I'm happy. I didn't let the macro events of the world affect the micro-world I live in.
Growing Slightly Pretentious Traffic 100x
On Slightly Pretentious, we went from under 200 page views in January to over 20k in December of this year.
Obviously, the whole 100x is sort of misleading since it's basically a brand new site, but I'm excited about the trajectory.
My photography is getting better, and I'm learning what is working for this site.
Plus, I get to make a lot of cocktails. That's a win.
Check out: How to grow your online traffic.
Breaking Eighty Traffic Up
We saw a 30% increase in sessions at Breaking Eighty year over year, but only a 3% increase in page views.
There's a lesson there.
I know I have a LOT of optimizations to make on the site in 2021, which has never had a proper SEO audit. So that's going to be a priority this year.
And a good lesson learned: SEO is something you need to focus on consistently to see real traction, so knowing a little bit of SEO helps.
Eighty Club and Location Rebel Academy Communities Still Strong
Despite having 6 golf events canceled, as well as changing work habits around the world, both of my private communities have maintained strong community involvement and interactions.
I have a LOT I want to do to improve for both of these in 2021 – but I've been pleased to see they've forged on with lots of chatter in the forums every week.
This is a testament to the quality of our members in both groups.
YouTube Consistency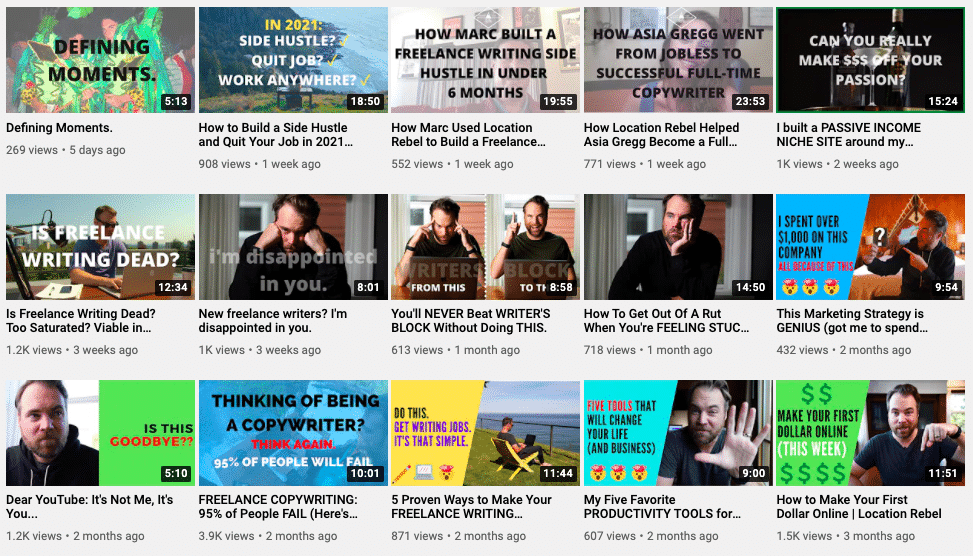 I'll have published, by my count, 78 videos this year. This is 6 more than I did in 2019, and the most I've ever published in one year.
Focusing more on the Location Rebel YouTube Channel has led to a new community, increased email list, and more Academy sales.
But I feel like despite putting out videos, I haven't made as much progress with the channel as I'd hoped.
Moving More.
I have an Apple Watch and I've now closed my move goal 321 days in a row. I've spent countless hours walking through nearby neighborhoods and on the Peloton.
I feel good about that, yet the pandemic did mostly keep me out of the gym, so I don't feel like I'm in the shape I'd like to be in.
It could be much worse, however.
My relationship with Tate
We've often joked that we'd get divorced if we ever both had to work from home. This year tested that, and fortunately, we passed with flying colors.
Our relationship is in a better place than I think it's ever been in – which makes, well just about everything easier.
What Didn't Go Well
Alright, now for the sucky part.
While I love going through the things I did well every year, it's just as important to take a look at the things where I need to improve.
Here they are.
Wasting Time
I feel like I waste hours a day on my phone.
This phone addiction has become much more pronounced, and feels like it's gotten in the way more than ever this year.
It was likely exacerbated by quarantine, but that's not a great excuse.
Being organized
This goes hand in hand with the above. Each month this feels more and more painful for me.
I feel like my extreme disorganization and both physical and mental clutter are taking their toll.
Never in my life have I wanted to be a more organized person. I made some progress in December, but it feels more important than ever to make serious personality and lifestyle changes.
I might have to start following some of my own advice with this.
Location Rebel Traffic Growth
As has been the case for years, traffic was relatively stagnant.
But the current trend is the biggest concern.
The five months from January to May were our best five months ever for traffic. Since then, there's been a significant drop, and it has netted out to traffic being fairly flat year over year.
We've driven less traffic to LR due to our YouTube channel which we've promoted more, but in 2021 I want to optimize the website to see traffic bounce back up.
Any kind of healthy diet (both eating and drinking)
I've learned over the last few months a lot of my quarantine happiness comes from making delicious meals and cocktails in the evening.
It's something to look forward to. However, this is the first time in my life I've felt like I have mild issues with my relationship with food and drink. I don't want to overdo either.
I can use quarantine as an excuse. But, moving forward, I'm going to start building some new habits and routines around eating and drinking to keep everything in check.
Being a responsible adult
Again, this goes back to chronic disorganization. I've been fortunate to have enough success to not have to worry much about my finances.
But as we continue to do well and make money, there needs to be much more thought and organization into our "financial house" so to speak.
Knowing My Numbers
It's embarrassing to admit how little I know about the important numbers in my business.
If you asked me, Shark Tank-style, to tell you my revenue by segment, conversion rates, and so on, I wouldn't have an answer.
I've 80/20'd so much in my life, which has its benefits, for sure. But much of what gets put on the back burner are probably those organizational aspects that help you truly grow and make wise decisions.
So, I need to pick a few key metrics and focus on those moving forward.
Desires Matching Actions
I want nice things. I want a vacation home. I want a big house.
But my actions haven't been showing that.
I haven't been working for it. I haven't earned it.
Time to go back and focus on the stair-step method to get some of these things in check.
Energy Management
My theme for 2020 was "Energy" yet beyond  COVID, Portland also saw riots and forest fires this summer. Needless to say, it all threw me off balance.
I generally didn't consistently do the things that would give me the energy to really pursue my goals and execute to the best of my ability.
I still had slumps in the afternoon, where I couldn't get anything done. And most days, I didn't do much that was productive after 5pm.
Doing hard things
This year, and the last few years frankly, have been easy. I haven't done many hard things.
And when you don't do hard things on a consistent basis or learn new things, it gets even more difficult to do them in the future.
In 2021, I need to push my limits.
Everything I did in 2020 was in my comfort zone. I didn't pursue anything big, lofty, or scary. I never had a chance for a spectacular failure.
This is probably part of the reason why my growth feels flat.
YouTube Strategy
I said I was consistent, and I was.
But I worked hard, I didn't work smart.
I didn't dig into trends, I didn't care much about thumbnails, and I didn't collab or experiment.
I generally looked at my list of YouTube video ideas, recorded a video the day before, and then hit publish.
This year, I'm all about working smarter and truly trying to grow the channel to the potential it has.
Not to mention doing videos because I enjoy them. I'm excited to get more creative, experiment more, and simply have more fun with the channel.
Building and Cultivating New Relationships
A handful of relationships strengthened this year. But as I looked at the relationships in my life, far more weakened than strengthened.
There are obvious reasons for this, the pandemic being a big one.
But more importantly, I didn't make much effort to foster new relationships.
In 2021, I'd like to work to put myself out there more and actually connect with more like-minded peers.
Discipline
If I had to sum up all of these things that need improvement, they all circle back to one thing: a lack of discipline.
I truly have very little.
I've been privy to a lot of fortunate situations to get where I am. Sure there's been hard work involved, but I haven't done the hard work of cultivating discipline in my life.
I think this needs to be one of the underlying themes for 2021.
Goals and Plans for 2021
So how do you take all of this and distill it down into something that's useful for the new year?
How do you create goals that inspire action, hold you accountable, and do more than just make you feel good?
That's a good question.
To start, I'm going to publicly set a could of goals to help get me started as we move into 2021.
I like to think of these goals into two parts. The first, which is a key part of any good goal, focusing on what I can control. The second, what's out of my control, is fuzzier, but if I take action and am disciplined in the areas I need to be I think I can get there.
300 Daily Journal Entries
I've never been good at reflecting, and rarely have journaled.
Yet having been doing it for the past week, it's adding a lot of clarity to my days.
I don't know that I'll be able to do it every day, but 300 feels like a more than reasonable number to aim for.
You can try something similar with a daily writing practice.
Close my Move Ring every single day
This is just a baseline level of fitness and activity. But being at 321 days right now, the last thing I want to do is break the streak.
Plus, it's a goal I can work on controlling. Moving every day is something I can do.
In Control: Close Move Ring
Out of Control: Reach 185 pounds
52 YouTube Videos
Why 52 when for the last two years each I've done over 70? I want to focus more on strategy rather than just sheer volume.
I want to give myself the freedom to be able to do more with each video I create. And if that means one a week rather than two? Great.
I'm not saying I'll only do 52, but I'd like that flexibility.
In Control: 52 GOOD YouTube videos
Out of Control: 50k Subscribers (about double our current number of 24,600)
$500,000 in Revenue
I hesitate to create a goal like this since technically, it's out of my control. But I need to get out of the mindset of "I've plateaued in a good place."
Making $300k this year is fantastic. But if I want to get to $500k I'll need to fundamentally change the way I do some things, and I think those changes will be positive for the long-term health of the business.
Learn How to Make Your First $1,000 Freelance Writing (in 30 Days or Less)
Join over 40,000 people who have taken our 6 part freelance writing course. Sign up below and let's do this together.
By entering your email address you agree to receive emails from Location Rebel. We'll respect your privacy and you can unsubscribe at any time.
My Theme for the Year
Want to do an annual review of your own? Try this process.
Sean Ogle
Sean Ogle is the Founder of Location Rebel where he has spent the last 12+ years teaching people how to build online businesses that give them the freedom to do more of the things they like to do in life. When he's not in the coffee shops of Portland, or the beaches of Bali, he's probably sneaking into some other high-class establishment where he most certainly doesn't belong.
Learn How to Make Your First $1,000 Freelance Writing (in 30 Days or Less)
Join over 40,000 people who have taken our 6 part freelance writing course. Sign up below and let's do this together.
By entering your email address you agree to receive emails from Location Rebel. We'll respect your privacy and you can unsubscribe at any time.