Self motivation is one of the absolute most difficult things we face as an entrepreneur or when starting a new business.
I was at brunch the other day with a friend who was thinking about quitting her job and starting her own business, and it got me thinking about the ways I find self motivation and how I continue to work hard over seven years into starting this website.
I did some digging and found this post that was originally published almost two years ago, and thought it was the perfect response – but in the last two years I've learned about some new ways to stay motivated, so I thought this post was worth updating.
Self Motivation After Quitting Your Job
I still remember my first week living in Thailand.
I saw an elephant walking down the street. I went to the beach almost everyday. I drank buckets of booze with travelers from all over the world.
And I worked – on my own schedule, and when I wanted.
One of the most common questions I get from readers is "how do I stay motivated when I'm first starting my business."
There are all kinds of answers to that question, and the reality is, different things are going to work for different people.
However many of the same things that kept me motivated back when I started are the same things that I use to stay motivated now.
Those days in Thailand are a perfect example.
In that first week, I was living the life. I'd never experienced anything like it before. It wasn't a vacation…I could stay there for as long as I wanted.
I shot this that week:
However, being there wasn't a right. Nor was it anything I'd earned. It was a privilege. And if I wanted to continue the journey and do that for years to come it was going to take hard work, discipline, and motivation.
In this post I share some of the things I personally did back then, and continue to do today to make sure I do the work.
The Most Important Thing I Do to Stay Motivated
As a lifestyle entrepreneur, every day I have the opportunity to do things that many people would love to be able to do.
If I wanted to take a Tuesday off to hike, I can.
If I wanted to head to the airport, and take off for Iceland for a week, I can.
If I just wanted to nap all day, I can do that too.
As I mentioned above, that freedom and flexibility is a privilege, and as soon as you take it for granted, it can disappear before you know it.
So the most important thing I do to stay motivated is to consciously think about how lucky I am, every single day.
Consciously. That's the most important word.
By taking a minute or two everyday to be grateful for the position I've found myself in life – I have all the motivation I need to want to continue this lifestyle.
If you're a new entrepreneur, or even in the position where you can consider becoming a new entrepreneur, you're very lucky.
Think about this often.
I don't necessarily keep a gratitude journal, but if you're struggling to keep things in perspective, it could be a good approach for you to take.
If you're reading this, you're better off than most. Don't forget that as you try to find the self motivation to get closer to your goals.
Reading old posts like this also really helps.
Learn How to Make Your First $1,000 Freelance Writing (in 30 Days or Less)
Join over 40,000 people who have taken our 6 part freelance writing course. Sign up below and let's do this together.
By entering your email address you agree to receive emails from Location Rebel. We'll respect your privacy and you can unsubscribe at any time.
10 Self Motivation Strategies
Ok, that was the big one. But there are a lot of other very tactical things you can do right now to stay motivated in your life, especially if you're working for yourself, working from home, or in another position where self motivation is absolutely crucial.
1) Change Your Desktop
If you're like me, you sit and stare at your computer for hours on end, day after day. Why not use that to your advantage?
Choose a photo that you're working towards.
During the last days at my job I had a photo of a hut on the beach in Thailand. It was only 30 bucks a night to stay there, so it was just a matter of hopping on a plane (and subsequent train, and boat).
What worked here was the fact it was attainable. I didn't put a photo of a Ferrari there, because that didn't necessarily motivate me at that moment. Sure I'd love a Ferrari one day, but the hut was more immediately attainable.
Another idea would be to come up with your personal mission statement or mantra, and put it on top of the motivational image.
Looking at these everyday will force you to think about where you want to be, not where you are.
For me at the moment is a photo of the 16th hole at Cypress Point. If I could play any golf hole in the world, this would be it. The more I work on the golf business, the closer I get to access.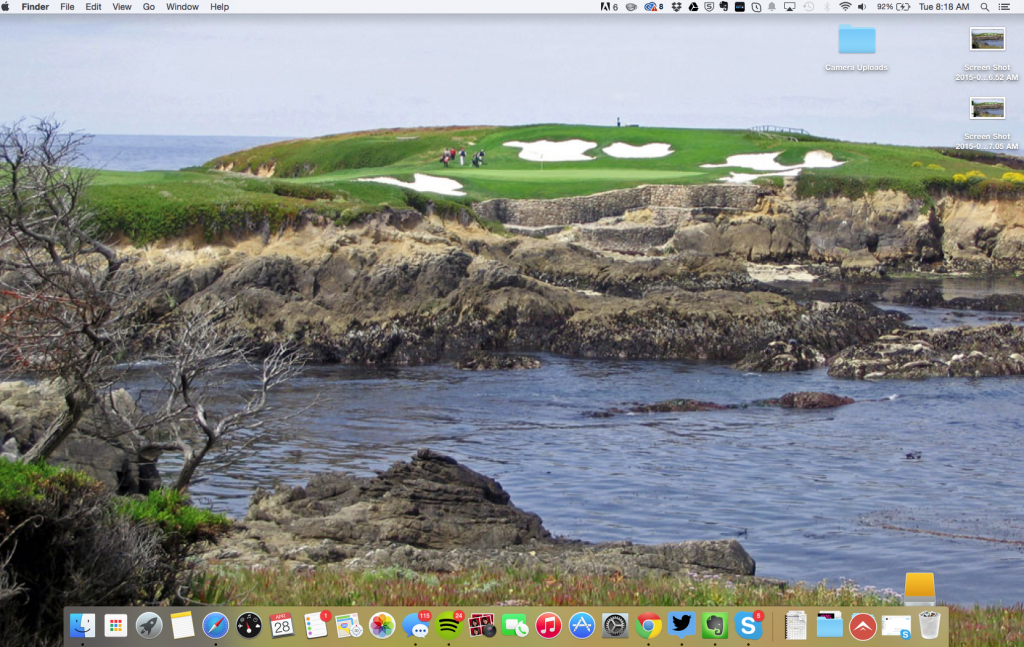 2) Go for a run
There's something about running specifically that gets me motivated to get back to work.
When I was in my day job I'd run around the Willamette River and pretend I was running down a beach in Thailand.
Within a year of doing that I was actually running on a beach in Thailand.
As my business has grown more successful, I now go for runs in the hills around my neighborhood. I want to keep growing my business so that in the next 5 years my office has a better view.
3) Do something fun in the middle of the work week
This is huge for me. If you're still in a day job, take a random Tuesday or Wednesday off – and schedule a day of fun.
Go for a hike, drink a beer at noon, go golf, see a movie – whatever you really enjoy doing.
Then the next day at work, use that day as motivation. When you work for yourself you can do that whenever you want. Remember that feeling.
One of the best ways to stay motivated is to experience what you're trying to achieve. When it goes from vague ideas to something real, it's much easier to work hard to get there.
This is actually one of my biggest secrets to business success:
4) Count the little wins
Early on when starting a business, one of the biggest mistakes I see is people having goals that are too lofty.
"My goal is to be making $5k a month on my own."
That's great, but if that's your only goal, you're screwed.
Getting to that point doesn't happen over night, and if you don't have 5-10 smaller goals for each lofty goal, you'll never feel like you're making progress and you'll get frustrated.
So if you're goal is to make $5k from say freelance writing, you should have other goals that look like this:
Buy a domain for the business
Install WordPress and get the theme setup
Write the copy for all of your pages on the site
Send 5 emails to potential clients
Submit a bid for work
Get your first client
Make your first $
You get the idea…don't focus on the result, focus on the small goals that combined, will get you to that $5k.
Still need to do all of these things? This should help.
In our new beginner's course, we also talk about the importance of having a "milestone mindset", where you train yourself to focus on smaller milestones like the ones above, rather than the end result, lofty goal.
5) Craft the perfect playlist
Have you ever had a song come on, that just makes you start to nod your head and get pumped up about doing big things in the world?
Of course you have.
Create a playlist of all of those songs. For me, I've found lately that the music that gets me into that zone is not what I'd normally listen to. No, lately my motivation playlist consists of what I could only refer to college frat rap. Aer, Hoodie Allen, Chiddy Bang etc.
I think it has something to do with the fact most of the music is fun, from young independent guys doing what they love in life – it motivates me to do the same.
Will it be winning Grammys anytime soon? Probably not, but throw that on during a run, and I can't wait to get back to my desk to get shit done.
6) Do something nice for someone
I've tried to build my business around the following idea:
"Help other people get what they want, and I'll get what I want."
Whether it's spending the time to walk someone through a new business idea, or taking a Saturday and helping them move, I've found the more I do things for others – the more motivated I am to do things for myself.
Might seem weird, but this has worked for me. Being generous with gifts also helps.
7) Write out your bucket list
This is how it all started for me, and how I stayed motivated during the very early days of Location 180. During this time it seemed like every day there was some "catastrophic" problem I had to figure out. From accidentally deleting the site (multiple times), to not getting any traffic on a guest post that took me hours to write – it was the bucket list that kept me moving forward.
Having a tangible list of all the cool stuff you want to do in life is a powerful thing. The more progress you make, the more progress you want to make.
Here's a more recent post on how I use a bucket list to stay motivated. 
8) Create your 'Future file'
What's a future file you might be asking?
I like to think of it as a file of what my life is going to look like 5 years in the future.
Are there exotic places you want to travel? Put images of them in the file.
Do you have a house or car you want to own in the future? Put em' in the file.
Do you know exactly what you want your business to look like in the future? Write about it, then drop it in the file.
What you'll end up with is a huge folder on your computer of things that motivate you. Anytime you're feeling down, return to the file and spend time looking at everything in there.
I bet you don't waste much more time slacking off.
This video was part of my "freedom file". I never intended to make it public, but you can see what I mean at 5:45:
9) Do the Perfect Day Exercise
For years, I've asked people that sign up to my email list to answer this one question.
What does your perfect day look like?
You'd be surprised how often people can't answer that question. You can't move forward if you don't know what you're moving forward to.
I've found the vast majority of people have very similar perfect days – and rarely are they anything outlandish. Most just want the time in the day to work on their own terms, spend time with friends and family, and do a few of the things they love to do.
Hint: This isn't that hard to achieve. And by going through the exercise, it allows you to focus on why you're really pursuing this lifestyle.
10) Remember the simple things for productivity
Finally, remember the simple things that help you with productivity.
Here's a post killing time and the two simple things I do to avoid it.
Often it's not about motivation, it's simply about productivity – and we all struggle with this from time to time. If you have a plan for getting stuff done, you'll be more likely to stay motivated through the low spots of the business.
Here's another productivity strategy I use.
Bonus: Read a biography
I know this was supposed to be 10 things, but this is a good one.
Read a biography from a successful entrepreneur. Not only will you learn a few things you can apply to your business, but you'll most likely see that it wasn't always easy, and perhaps you have a few more things in common with someone like Rockefeller or Branson than you thought.
Losing My Virginity is a great easy to read bio, about Richard Branson if you want a good starting point.
This one about Elon Musk is also a really enjoyable and insightful read.
Bonus 2: Find Accountability
This can come from a friend, a mentor, or even an online community like Location Rebel Academy.
Once a week I try and get together with an entrepreneurial friend who is smarter than I am. This helps me stay engaged and motivated to be the best I can be.
Notice a Theme?
You've probably noticed a theme with many of these strategies – many of them all revolve around focusing on what you really want in the future.
This is the most powerful thing for me. I know what I want, however sometimes a little reminder can be nice – and all of these things have proved really useful for me over the past 5 years.
One Final Question to Help with Self Motivation
I asked this in one of the videos above, and I think when it comes to motivation, it's one of the most important you can ask of yourself:
What's one thing you would love to be able to do every single day, for the rest of your life?
Focus on your answer to that. If you need motivation remember that one thing that you're striving to do more of. Maybe you'll never be able to do it every day, but focusing on that will help make motivation much easier.
How do you stay motivated when working on your business?
Sean Ogle
Sean Ogle is the Founder of Location Rebel where he has spent the last 12+ years teaching people how to build online businesses that give them the freedom to do more of the things they like to do in life. When he's not in the coffee shops of Portland, or the beaches of Bali, he's probably sneaking into some other high-class establishment where he most certainly doesn't belong.
Learn How to Make Your First $1,000 Freelance Writing (in 30 Days or Less)
Join over 40,000 people who have taken our 6 part freelance writing course. Sign up below and let's do this together.
By entering your email address you agree to receive emails from Location Rebel. We'll respect your privacy and you can unsubscribe at any time.