One of the biggest appeals to the Location Rebel lifestyle is being able to work from anywhere. Sometimes that can mean some place exotic – like in Seminyak, Bali where the photo above was taken.
Other times it can be the simple joys of working from your home office or the local Starbucks.
Regardless of where you choose to work, what's important is that you're actually the one that get's to choose it.
One of my favorite parts of Location Rebel and this blog is getting to see all of the incredible places that people are currently calling their "office".
The members you'll see in this post have literally hit every corner of the globe, and the coolest part is that just a year or two ago, many of them were sitting in their day jobs wishing they could be working from someplace exotic.
And now they are 🙂
So if you're thinking of hitting the road or building a business soon, pay attention, because it's possible to get stuff done anywhere with the proper motivation 🙂
Also Check out: The 20 Coolest Offices of All Time
The Hills Of Medellin, Colombia
Ryan, author of Desk to Dirtbag has found that Colombia is the perfect spot to start building his business. But that's not before he spent a year living out of his truck traveling around the US.
Converted Oil Rig off the Coast of Borneo in Sipadan, Malaysia
Tristan King has become a good friend of mine, and he even helped work with me on Hacking the High Life (which is now part of Location Rebel) back in early 2013.
After leaving Melbourne, staring a Shopify Development business, he's been all over the world, and in on particular moment felt the need to rub in the fact that his office for the day was much cooler than mine 🙂
Nai Harn, Phuket, Thailand 
If you've been reading this blog for awhile, you know I have a soft spot for Thailand. So when LR member Russell Smith told me that it would be his destination of choice upon taking off to run his business abroad, I was stoked.
Not only does Thailand have an excellent expat scene, but with views like this? Yeah, that doesn't suck.
 Te Awamutu Golf Course, New Zealand
Lise Cartwright has an incredible story. After working for years in a desk job and being told "you're too valuable in your position, so you're not getting a promotion" she set off to do her own thing.
Now she's making a killing with freelance writing and Kindle publishing – and she also knows I have a soft sport for working at golf courses 🙂
More about how she made the transition here.
Mountains Villa on Koh Samui, Thailand
Koh Samui is like the Hawaii of Thailand. It's a little bit more expensive, a little bit cleaner, and the views are absolutely incredible.
Carlo told me before he joined "My goal is to buy my girlfriend and I a one way ticket to Thailand in the next year." 9 Months later I get an email simply saying "I did it. We're going to Thailand!"
They've been traveling ever since and documenting it on his site Next Stop Who Knows. Want to hear about some of the more difficult aspects of travel, check out his post on Location 180, 6 Things No One Tells You About Running a Business While Traveling Full Time.
 Mountain Retreat Near Glenwood, Colorado
David has been taking a different approach and working on building up a location independent business in his own hometown. He lives in Denver, but don't get me wrong, some of his "offices" and quick escapes to the mountains are world class – and beautiful.  He'll have a post here soon all about building a new business in your hometown.
Medellin, Colombia
While Ryan likes the mountains, Mike Harrington prefers the bustling city life of Medillian. This might be one of the coolest urban workspaces I've seen. And Mike made the transition from desk job to world traveler in just a few months.
He shares his incredible story with me here.
Liverpool, England
Liz Froment has been our community manager here and a good friend of mine for years. She was (is) one of the most active members in Location Rebel, and on the last day of her job, I called her up and said "you should work with me on a few things."
We've been doing it ever since, and I swear she's traveled more than I have. Just this week, we were talking, and she was like "oh by the way, I booked a last minute flight to Disney World – see you next week."
I told her I wanted a sweet picture of her working in one of the countries of Epcot.
Big thanks to her for helping me work with all of the others to compile the photos 🙂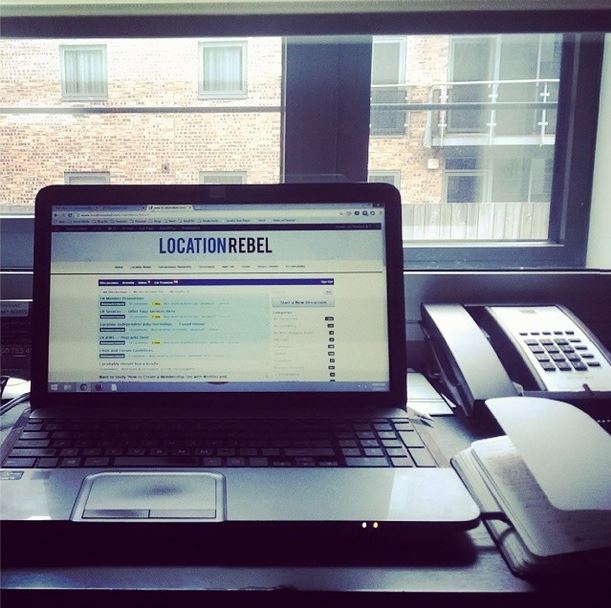 Beach in Dominical, Costa Rica
Kyle is living out the epitome of the working from the beach fantasy, while building his business Ninjas for Health. Costa Rica has become another hotspot for solopreneurs, and is more accessible than SE Asia – while still having much of the same exotic feel and flavor.
Villa in San Juan del Cabo, Mexico 
Each year I take a mastermind retreat with my two good friends Derek and Clay. Last year we found this sweet place in Mexico, and spent a lot of time working from this massive balcony overlooking the ocean.
I won't lie. I miss that balcony 🙂
If you're in the States, hopefully this provides a brief reprieve from the epic cold we've been experiencing almost everywhere – and was a nice way to get your Friday going.
Each and every person in this post has created an awesome business for themselves, with at least a little bit of help from Location Rebel. So if this lifestyle is what you've been searching for – perhaps it's about time you joined us 🙂
Liz Froment
Liz Froment is a full-time freelance writer and the one who keeps Location Rebel running like a well-oiled machine. If she's not writing something informative or witty for her clients, she can most likely be found reading a good book.
Learn How to Make Your First $1,000 Freelance Writing (in 30 Days or Less)
Join over 40,000 people who have taken our 6 part freelance writing course. Sign up below and let's do this together.
By entering your email address you agree to receive emails from Location Rebel. We'll respect your privacy and you can unsubscribe at any time.