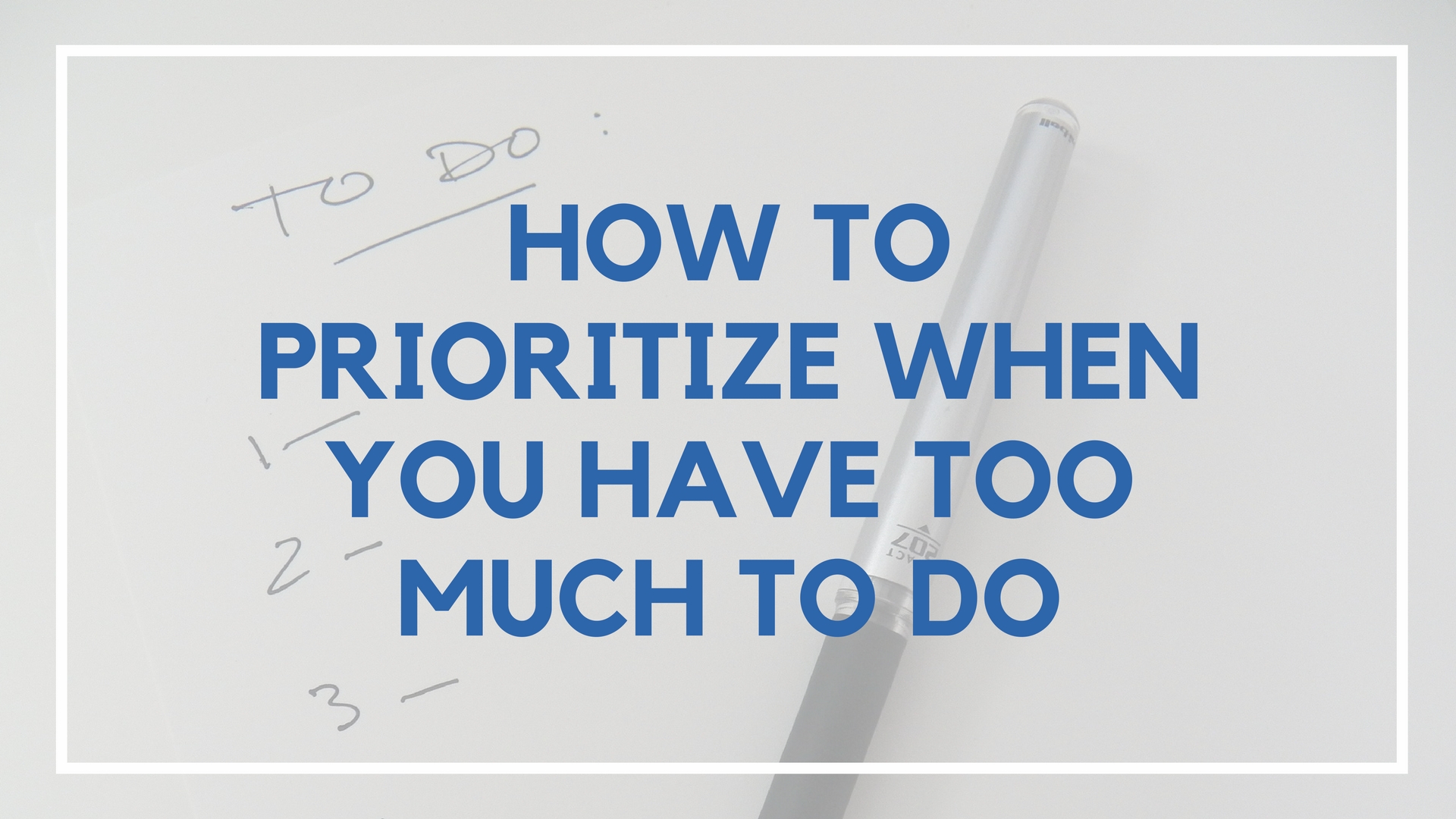 For the last couple of months, I've been facing a never-ending to-do list, and knowing exactly how to prioritize my life has been tough.
After we had made the move from Location 180 to Location Rebel, all of the little things that had been neglected with the site (or consciously put off until after the move) began to reveal themselves.
Old posts need optimizing; email sequences need refining, a content schedule and strategy need implementing. And these are just the tip of the iceberg in our quest to fully revamp the Location Rebel business.
So naturally, I've been feeling a little overwhelmed at times.
Because of this, I'm continually asking the question where do I need to focus? I mean, how do you decide where to spend your time when it seems like there are dozens of things that are important?
I've realized I need to simplify.
How to Prioritize When You Have a Giant To Do List
Often people email me and will tell me about all of the things they're doing to get started on their business: a blog, YouTube account, SEO, guest posting, an e-commerce site, a digital product, etc.
I tell them: It's better to focus on one thing and make 100% progress, than on ten things and make 10% progress on each.
My situation is no different.
Because there is so much to do, I've had a tendency to focus on trying to do all of it, and not make significant progress on anything as a result.
Not only does this lead to a lack of results, but it beats you down mentally when you don't see the progress you want.
Lots of new entrepreneurs end up struggling with this too.
I've already built a solid platform, so things are still overall going well – but for someone just starting, spreading yourself too thin can be the difference between a successful business and a total failure.
So how do you figure out what the most important things are for your mindset and business?
Focus on Your Three Non-Negotiables.
All of your business activities and tasks might not fall into this, but when you're struggling and trying to figure out how to prioritize your life, then always go back to one of these three tasks.
Two months ago I sat down and spent a couple of hours thinking about what three things are most critical to my business success. To figure this out I asked myself questions like:
If you only did one thing every day that would still make you feel like the day was successful, what would that one thing be?
What is the most important component to your business?
What things have you seen success with in the past, but aren't doing on a regular basis?
What are the most successful people you know doing that you aren't?
What is your primary metric in your business? What are two or three secondary metrics?
What habits or routines make you feel really good? Really bad?
Three is an important number.
It allows you to be broad enough to focus on different aspects of business growth while being specific enough that you can always go back and ask yourself:
Is what I'm doing right now one of my three non-negotiable business activities?
Learn How to Make Your First $1,000 Freelance Writing (in 30 Days or Less)
Join over 40,000 people who have taken our 6 part freelance writing course. Sign up below and let's do this together.
By entering your email address you agree to receive emails from Location Rebel. We'll respect your privacy and you can unsubscribe at any time.
My Three Non-Negotiable Business Activities
After hours of thinking, analyzing, and asking the above questions to myself, I came up with my three non-negotiables. I'm including them as a reference to help you think about what yours are.
1) Exercise
You're probably saying "that has nothing to do with business…"
But for me, it has everything to do with business. (And I'm not the only one).
I'm not a lazy or an overly sedentary person, but going to the gym or going on a run on a regular basis has always been hit and miss.
When I'm conquering that routine and exercising every day, I feel confident. It doesn't matter what I do on a given day if I get a good, solid workout in, I feel good.
When I exercise I find myself more focused in the afternoons when my energy usually dips, I find myself sticking to better habits like waking up early, eating better, and drinking water.
All of this leads to feeling better, being more productive, and feeling more confident in myself, which translates to confidence in business.
This post on habits goes into more detail on this.
Exercise also doesn't mean I have to be going to the gym every single day. Walking 6 miles on the golf course is something I enjoy and keeps me active.
2) Connect and Promote
I know a lot of people around the world. When I travel, I'm constantly talking to people, seeing friends, and connecting.
But for the other 8 or 9 months out of the year, I tend to be less proactive about connecting with others and promoting my content.
I talked in this video at the 6:30 mark about "actually promoting our stuff" and how important it is.
I recognize that for the business to grow I have to be actively getting to know others, telling people about some of the cool things we've been working on, and looking for those win win partnerships.
Most people spend 90% time creating content and 10% promoting it. In reality, it should be closer to 50/50 (or even higher on the promotion side) – and this has been an important realization for me.
3) Write
To put it simply, the more I write, the more successful my business is.
Whether it's Location Rebel or Breaking Eighty, both businesses are fundamentally built on content.
The more content I produce, the more opportunities there are to connect with my readers.
But it goes a step farther than that.
While content is important, there are other forms of writing that help grow the business.
Emails to readers, email sequences, sales pages are all different kinds of writing that contribute to the growth of my businesses.
Journaling and reflection are fantastic ways to stay on track and keep things moving in the right direction.
So when all else fails? Write.
Here are two posts to help you write more:
What Are Your Non-Negotiables?
My challenge to you this week is to truly sit down and think about what the three most valuable activities are for your business, and understand the why behind them.
It doesn't just help to know what they are but also why you have them that will help you revert to them anytime you feel like you're trying to do too much or are unclear on what to do next.
It's also worth noting that you can apply this same concept even if you don't have a business of your own yet.
Rephrase the question and ask: "when it comes to my happiness what are my three non-negotiables?"
When you feel like you're in a rut or aren't making as much progress in life, go back to your answer here.
So, I've shared mine…what are your three non-negotiables in life and business?
Sean Ogle
Sean Ogle is the Founder of Location Rebel where he has spent the last 12+ years teaching people how to build online businesses that give them the freedom to do more of the things they like to do in life. When he's not in the coffee shops of Portland, or the beaches of Bali, he's probably sneaking into some other high-class establishment where he most certainly doesn't belong.
Learn How to Make Your First $1,000 Freelance Writing (in 30 Days or Less)
Join over 40,000 people who have taken our 6 part freelance writing course. Sign up below and let's do this together.
By entering your email address you agree to receive emails from Location Rebel. We'll respect your privacy and you can unsubscribe at any time.