Alright, ready to start writing, follow these steps:
Step #11: Create Your First Page
Next, you need to learn how to create a page. A page and a post are very similar with a couple key differences:
A post is listed in reverse chronological order on the page you specify in Settings > Reading. This is essentially your "blog"
A page is static and has no date on it.
If you're writing a blog post it should be a "post", if you're adding say an About page or a Contact page – then you should do it as a "page".
Moral of the story? Don't go crazy. To start you only need a handful of pages. Here's what I recommend:
Home
About
Contact
And a dedicated page for your blog
That's it to get started. Once your site is up and running you can add more pages if you like, but these are the essentials.
Here's how to do it.
On the left sidebar click Pages then click Add New.
We're going to cover a few different aspects of a page here.
First where it says "Enter Title Here" this is the title of your page, for example, Home, Contact, About are all options.
Right under the title, you'll see it says "Permalink" that is the URL for this page.
Click Edit to change the end of the URL. So, if you were going to call this your About page, the URL will be youdomain.com/about.
Note: If you notice your url structures are showing up funny, you might need to edit your "permalink structure."

Do this by clicking "Settings > Permalinks." I would then recommend changing from "default" to "Post Name."

This will make your urls show up like this: https://www.locationrebel.com/sample-post/

Instead of like this: https://www.locationrebel.com/?p=123
To add any photos, video, or audio, click "Add Media".
Then in the big white box is where you write your content.
The items at the top you'll see are very similar to what you'd find on a Google Doc or Microsoft Word, so you should be familiar with those.
On the right-hand side, you'll see a few boxes:
These are pretty self-explanatory.
The Publish box allows you to determine when you want your page to go live. You can publish immediately, or if you're not quite ready, save it as a draft, or schedule it to be published at a later date.
The Page Attributes box is where you will decide if you want to use a specific template for your pages (some themes offer this).
You can also pick where your page is going to appear on the website.
For example, if you want this page to be an About page, then you can leave (no parent) and it will appear on your home menu. But say you have two people you want to feature on your About page. You could have a page called About Sean and another called About Liz.
If this is the case, your About page would be the parent page, and when a visitor hovered their mouse over the About page, two drop-down pages would appear, one About Sean and the other About Liz.
That's how a parent page works.
You can also set the order of the drop downs in the Order box. If you wanted About Sean to appear first, have that page be 1 in order, and About Liz be 2 in order.
Next is the Featured Image box. Use this if you want to have a specific image on your page.
Some themes require you to have a featured image on your posts or pages. So if you happen to see a broken image link when you preview your page, that might be why.
Once your page is good, click Publish and you'll be able to see it on your site.
Step #12: Create Your First Blog Post
I'm gonna go out on a limb and say you're probably pretty interested in starting a blog.
So here's how you can start it.
Since you've already created your Blog page, you can now create your blog posts.
Again, head over to that left-hand sidebar and click Posts and Add New.
The cool thing is a blog post page looks exactly like a page, so you already know exactly how everything works in terms of composing your post, tilting it and adding media.
There are a few differences to pay attention to on the right sidebar with your posts, same as with the box above with your pages.
The Publish box is obviously the same as with Pages.
The Categories box is there if you want to group your blog posts in certain categories. So, if you're writing a travel blog, for example, you might want categories to be Europe, North America, or Asia. That way, when a visitor clicks on a particular category, they will see all the posts in that category.
The Tags box works much the same way, but you could break posts down across a number of categories. Let's use a travel blog example. You could have tags like: hotels, flights, or food. Then when a visitor clicks the hotel tag they can see all posts with that tag, regardless of category.
The last box is Featured Image. Most themes will feature blog templates that allow for a big picture right at the top of the blog post which will also appear on your main blog page like this: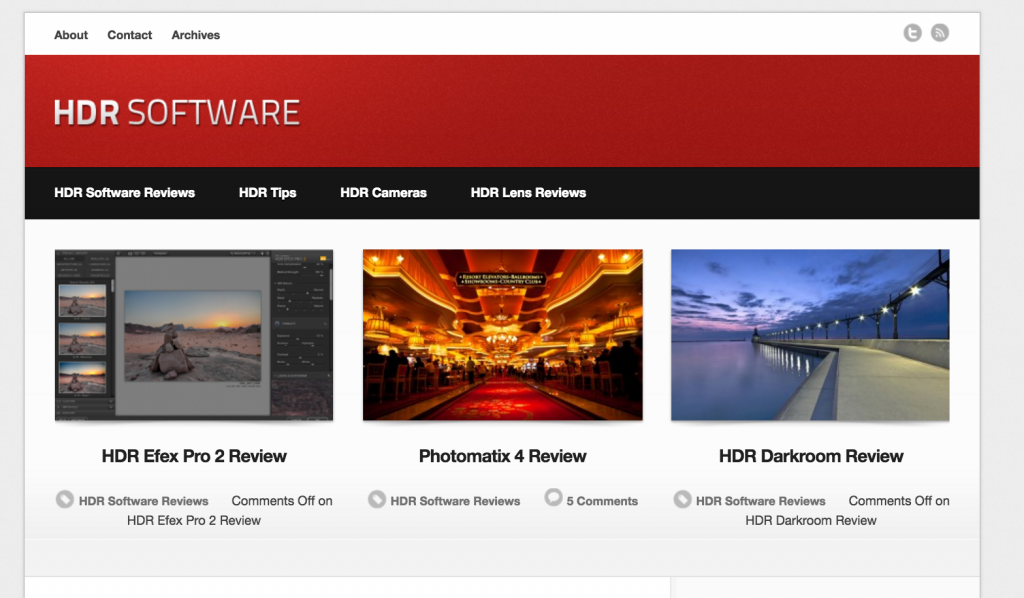 "That which you put out into the universe, always… always comes back to you. Make it something good. That's which goes around, comes around"
So, by now you've got a beautiful looking site, everything is installed, and everything is optimized. There is just one very important thing missing: CONTENT!
It doesn't matter how good your blog looks if you don't have some content to back it up.
Generally, before announcing your new site to the world, I would write 5-10 posts and get them on your site.
Why do this? Well, if someone comes to your site and they only see one post, that says nothing but "Hey, this is my blog. I'm new at this, so follow me!" you probably aren't going to find many people actually interested in following you.
By having a good 10 posts under your belt by the time you really start promoting your site, people will be able to see your personality shine through and really get a sense of who you are and what you're trying to accomplish. This also gives them a more accurate base with which to decide if they want to follow you or not.
This isn't difficult, though. Once you start writing you will be surprised at how easily new ideas and topics will just flow onto the screen.
Keep Your Goals In Mind
The whole purpose of this is to expand your business presence.  If you're doing professional web development and all you're talking about is your new puppy, people aren't going to take you seriously in your profession and growing your business is going to be more difficult.
The Wrap Up
Ok, I know that was a lot of information. But if you made it through, this tutorial should have helped you accomplish the following:
Get a Domain
Setup a hosting account with Bluehost
Install WordPress
Install your WordPress theme
Understand the basics functions of WordPress (Themes, posts, pages, menus, plugins, widgets)
Because every theme is different your experience may be slightly different than the tutorial outlined here, but if you go through your theme documentation you should get extremely in depth help tailored to your situation.
If you've been putting off starting a blog or website because you simply "don't have an idea" or "don't have any technical experience" use this post to try and push past those hesitations.
I firmly believe this is the absolute best step you can take to start making major changes in your life – so if you run into any issues and need help, just leave a comment below and we'll do our very best to get you answers!
Now with that, head over to Bluehost, get your domain and hosting, and let us know when you're new site is up and running!