Passive income, that's the dream, right?
You want to be able to make money online while you're sleeping or traveling or walking your dog. Without having to be locked on your computer day and night missing all that stuff you hoped you'd get with the idea of lifestyle independence.
One of the best ways to do that is through affiliate marketing. So, what is affiliate marketing?
In this post, we're going to give you a quick rundown of exactly what it is, and answer some of your most common affiliate-related questions.
Let's do this.
What is affiliate marketing?
Ok let's start with the basics.
Basically, affiliate marketing is when you earn a commission by promoting someone else's products or services.
Here's a really common example.
Let's say you blog about productivity and you use Focus@Will all the time while you work. You love it and know all its features from the inside out. And you think that other people would probably love it too.
So why not make a little bit of money promoting them?
You can do a quick search and see if Focus@Will has an affiliate or partner program.
Turns out they do! Awesome.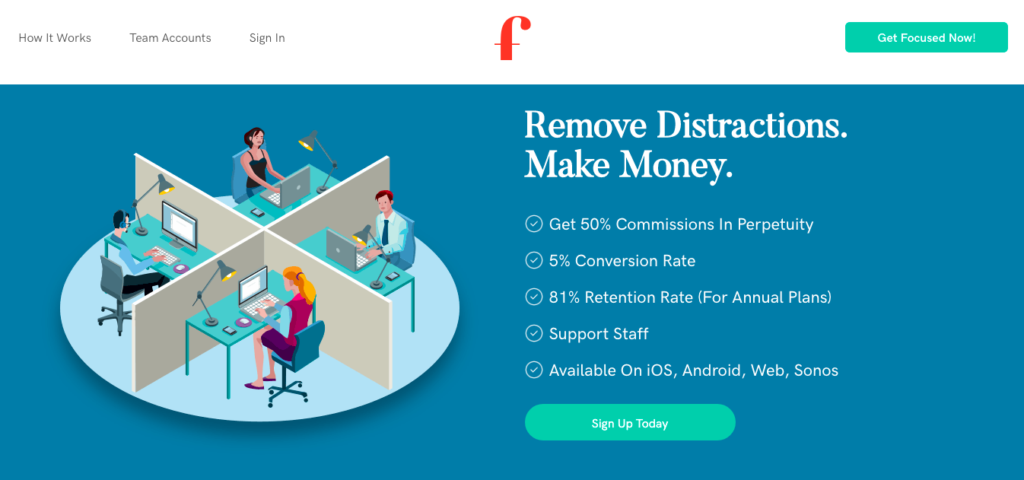 All you have to do is sign up.
You'll get a special little link code that you can insert in all your posts where you talk about Focus@Will, and boom anytime someone uses your link to subscribe, you get some money.
Win-win, right?
That's affiliate marketing in a nutshell.
Now, you probably have a few other questions about that example, so let's dig into those too.
What is an affiliate program?
Lots of brands set up affiliate programs as an easy way to connect with people who want to market their products. These people can be other brands, professional affiliate marketers, or solo bloggers like you.
It's in a brand's best interest to set up a program that is really helpful and useful to the people who want to promote their product.
After all, the more you sell, the more money they make too.
To entice you to sign up to their affiliate program, a lot of brands will offer a commission incentive.
Here are two of the most common examples:
Susan's Paddleboard Company will offer affiliates a 15% commission on every purchase of anything on their site that is bought through your affiliate link.
Bluehost will offer affiliates $65 for every customer that signs up for a web hosting account through your affiliate link.
Sometimes things can get a bit more complex than this, but for the majority of affiliate marketing programs, especially those for common products or services, it will usually be some combination of these examples.
A good question to ask about an affiliate program is "do they have an affiliate manager?"
Affiliate managers are people who are in charge of the affiliate program. They work their best to help affiliates promote and sell as many products and services as possible.
A lot of times, affiliate managers can give you extra tidbits like graphics or videos and even sales copy that can really help you promote products. It's also a good idea to get friendly with these people, they can be a great resource as you start moving forward in your affiliate marketing career.
When you first sign up with an affiliate program you'll often be asked to provide your contact information, payment preferences (check, direct deposit, or PayPal payouts are common), and your tax information.
Remember, if you make enough affiliate commissions, you will have to claim that extra income on your taxes. So pay attention to that, and if you have any questions, check-in with your accountant!
Learn How to Make Your First $1,000 Freelance Writing (in 30 Days or Less)
Join over 40,000 people who have taken our 6 part freelance writing course. Sign up below and let's do this together.
By entering your email address you agree to receive emails from Location Rebel. We'll respect your privacy and you can unsubscribe at any time.
What is an affiliate link?
An affiliate link is a trackable link has a special combination of letters/numbers/symbols that is an identifier for you.
It could look something like this:
https://productsite.com/dap/a/?a=2087
That 2087 is your personal identifier and how the company tracks who buys through you. So it is very important to not fiddle with that link if you don't know what you're doing. If you delete out some portion of it, you're going to miss out on any commissions if sales are made.
There are modifiers you can add to the link for additional tracking purposes, but if you're just starting out, don't worry about that.
When you get that link, you put it right in your content. Remember that blog post you were going to write about how much you love Focus@Will?
Well, here's where you add that link. Sprinkle it through your post a few times and let people know that it is an affiliate link. Most people won't care and are happy to buy or subscribe to something through you.
When you sign up for the affiliate program, you'll usually get brought to a dashboard.
It's going to look something like the image below.
This dashboard is going to have your link displayed for you so it will be easy for you to grab.
You can also check out the dashboard and see if you've made any sales or if people have clicked on your link at all.
Is affiliate marketing a scam?
Now, you might be thinking about this.
The short answer is no, affiliate marketing is not a scam.
Unfortunately, affiliate marketing can get confused with some other more scammy marketing tactics.
One of those is called multi-level marketing, or MLM for short. In order to make money with MLM, you need to build a huge team of people who sell products or services to other people and get commissions. Then those commissions trickle up or down depending on how far the people who have signed up are from you.
With MLM you can only promote products from the program you are a part of. With affiliate marketing, you can promote dozens of different products or services at any time, nothing is holding you back.
If it sounds complex that's because it is. And it's also something you really don't want to get that involved in, especially if you're just starting out. So for now, all you need to know is MLM is not affiliate marketing.
If you want to learn more about the underbelly of the MLM world, I'd suggest listening to Season One of The Dream Podcast.
It's also important to keep in mind that there are right ways and wrong ways of doing affiliate marketing too. There are some people out there who are trying to make a quick buck and take advantage.
That's the wrong way to do it.
A great rule of thumb to follow is that you should start out by promoting the products and services you already use and like. You really can't go wrong if you do it that way.
How to find affiliate programs?
The easiest thing to do is keep your eyes peeled. There are probably affiliate marketing programs already lurking around on the sites of the products and services you already use.
If you want to check, scroll down to the bottom of the page. A lot of companies will put their affiliate marketing (also known as partner or referral programs) signups in the footer of the page.

See it right there under Resources?
Ok the next thing you can do is a Google search.
Use this combination of keywords:
"affiliate program" + [product name]
"referral program" + [product name]
"partner program" + [product name]
"affiliate program" + [brand name]
"referral program" + [brand name]
"partner program" + [brand name]
Another really common affiliate program that is super easy to use is the Amazon Partner Program. Amazon affiliate marketing is the easiest way for most people to get started in this world.
Unfortunately they've cut their commissions recently, but it's still worth checking out.
Keep in mind, Amazon will have much lower commissions than most places, usually running around 1-3%. But you get paid on ANYTHING in the customer's cart, not just the item link they clicked on.
So if they click your link for Q-tips, and also buy a new TV – you'll get paid one the much more expensive item aswell.
Some final tips on affiliate marketing
Here are a few last-minute tips that can help you as you start affiliate marketing:
Do your research: A little due diligence can go a long way. Do a simple Google search and you can get a ton of information on if the program has a good manager and if people are actually making money from it.
Promote what you use: This is a mistake a lot of people make, they don't promote products and services they use and love. It's really easy to sell something when you already love it and think other people will love it too.
Get personal with your reviews: Review posts are a great way to build trust and show that you know your stuff when it comes to talking about the product or service you're trying to promote. So really show how you use the product. This post is a great example.
Befriend your affiliate manager: Hey it never hurts to get friendly with anyone who can help you make more money. So when you start with a program, introduce yourself and see if you can learn any good tips from the manager that can help you along the way.
Promote a mix of products: As you get more into affiliate marketing you can start promoting different things. Don't go crazy and promote stuff that doesn't fit with your site, but related products are always great.
Keep these in mind and you're not going to go wrong as you get more into affiliate marketing.
How do you start affiliate marketing?
So you've got the basics, now how do you get started?
Luckily, we've got you covered with that. There are a bunch of posts on the site you can reference, so start with these:
Any other questions on affiliate marketing? Let us know in the comments!
And if you want some more in-depth training on how to get started, check out our niche site starter guide.
Affiliate Disclosure: Some of the links on this page are affiliate links. Meaning, at no additional cost to you, I will earn a commission if you click through and make a purchase. If you have any questions about this, feel free to contact me!
Sean Ogle
Sean Ogle is the Founder of Location Rebel where he has spent the last 12+ years teaching people how to build online businesses that give them the freedom to do more of the things they like to do in life. When he's not in the coffee shops of Portland, or the beaches of Bali, he's probably sneaking into some other high-class establishment where he most certainly doesn't belong.
Learn How to Make Your First $1,000 Freelance Writing (in 30 Days or Less)
Join over 40,000 people who have taken our 6 part freelance writing course. Sign up below and let's do this together.
By entering your email address you agree to receive emails from Location Rebel. We'll respect your privacy and you can unsubscribe at any time.