In 2009 the All You Can Jet deal came out from Jet Blue.
Essentially, for $499 you could buy an unlimited plane ticket for a month – that would allow you to go anywhere Jet Blue flies.
I'd never seen anything like it, and it sounded like the perfect opportunity to knock a few things off my bucket list, like go to NYC and work from a tropical island.
Alas, I was out of vacation days, and my boss refused to give me anymore, despite more than a couple attempts.
This was about 6 months after my Brazil trip that inspired this blog, and just two months before I'd end up leaving my job.
But at that moment, I was so disappointed that there was a fantastic opportunity sitting in front of me, and I couldn't take advantage of it.
Luckily, over the last few years things have changed.
Point in case: June 26th, 2015.
Note: I haven't done a bucket list-related post in a while, so just bear with me, as I relive what ended up being a pretty special day.
The Car and the Setup
So this whole story begins with an email I received from a PR person for General Motors. It read:
Dear Sean,
I'm working with General Motor's vehicle loan program. We have a fleet of GM's newest vehicles in Portland that we utilize for events. When we don't have events going on, we like to give Portland-area community members like you a chance to check out the cars.
I thought you might be interested in trying out one of the cars in our Portland fleet for a few days. The loan program is completely complimentary and provides you with three to five days with a fully insured GM vehicle to check out – no strings attached. If you have a positive experience and want to post to any of your social channels or your blog, that's great, but it is not a requirement.
Let me know if this sounds like something you'd be interested in trying out. Please feel free to give me a call if you have any questions.
–
My initial reaction, was "Sweet! Maybe I can take a Corvette for a few days!"
As I started thinking about it though, I saw an opportunity to do something I've always wanted to do:
Take a road trip down Highway 1 and go play golf at Pebble Beach – #50 on the bucket list."
I ran the idea by them, and they said I could totally do it, but they could only loan the car out for a week.
I can make that work.
Unfortunately, the Corvette was a no go, but I did get the next best thing: a 2015 Chevrolet Camaro 2SS convertible.
I arranged a few more rounds of golf, convinced my buddy Dan to fly out from NYC and join me, and then last week, the car was dropped off at my house, and I took off on the 12-hour journey down to the Bay Area.
I should say, should you ever get the chance to drive a Camaro do it. 
The version I had was over 400hp and so much fun to drive. Seriously, this thing was awesome.
And it even had some semblance of a backseat…you know, for the golf clubs.
Fast forward a few days.
During the first half of the trip we played some unbelievable golf courses:
And even stayed in a hotel room at the Ritz Carlton Half Moon Bay that had it's own private fire pit.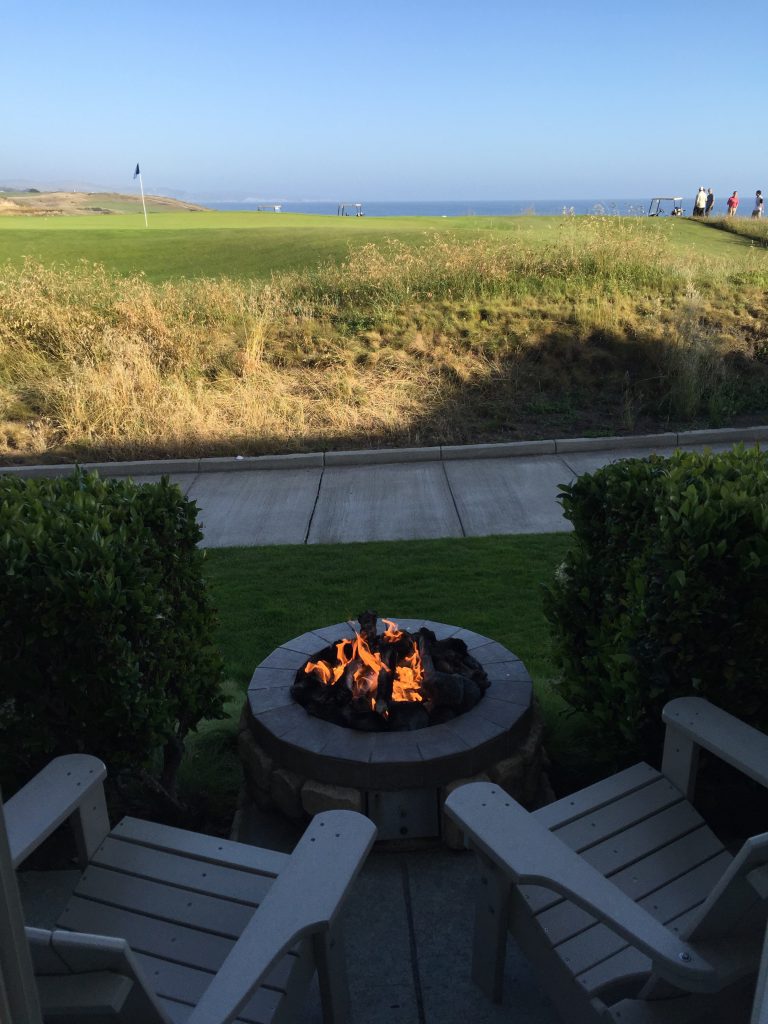 It simply doesn't get much cooler than that.
Playing Pebble Beach
Along with St. Andrews and Augusta, Pebble Beach is one of the most famous golf courses in the world.
It plays right along the Monterey coastline, and just about every famous golfer to ever play the game has teed it up there.
The problem for regular people like you and me?
It's a steep $495 for the greens fee. Despite multiple attempts, they weren't budging at the price.
So I hesitantly coughed up the dough, and proceeded to head to the first tee.
We played at 6:50 in the morning, so the fog hindered the ideal photo opportunities, but we were able to play in about 4 hours – which is unheard of at Pebble.
The whole experience was mesmerizing.
The views were second to none, the history is unparalleled, and the one course I wanted to play since before I even became a golfer was being crossed off.
It was made even better after pars on holes 3, 4 and 5.
However, it wasn't until after the round that things got really interesting.
We were sitting in the Tap Room, getting lunch and a group of guys next to me were talking about Scottish golf courses – a subject I'd become pretty well versed in after my trip last year.
I interjected after hearing them mention Royal Dornoch and said it was my favorite course anywhere, and a must-play.
We then talked briefly about a couple other courses and went back to our meal.
Then as I sat there and looked over, I realized who I'd just been talking to.
Steph Curry – who is known to be a scratch golfer.
It's not very often you sit down for lunch and end up interrupting one of the most famous guys in the country. After we finished up and both parties were heading for the door, I had the opportunity to get a photo, so I reluctantly accepted, and obviously I'm glad I did!
While he took a few more photos, I talked with the other guys he was with outside about Scottish golf courses…oh, and them? Own the Warriors.
Also really cool guys.
Update: Since then I've been fortunate enough to visit Pebble Beach twice. Here was the recap from one of the trips:
The Secret Club
So after my round on one of the best golf courses in the world, and my run in with the MVP, we headed back to San Francisco for the night.
Last summer, I read about this restaurant where you could order an off-menu drink, and upon finishing your meal, you'd be picked up by an Uber Black car and whisked away to a super fancy private club…with an amazing whiskey selection.
We snagged a last-minute reservation, and upon being seated and asked what we wanted to drink, I said:
"Could I get a Wingtip Vieux Carre Me Away?"
The server then replied,
"Ah, we haven't been doing that promotion in a while, and our deal with the club ended. We still have the stuff for the drink though if you'd like to try it."
"Sure, why not."
My dinner companions did the same.
Even though I really wasn't expecting it to actually work, we were all still a little bummed.
We ordered and had an excellent meal at the Burritt room, but as we were about to get the check, the server came back and said:
"You guys passed the test, an Uber will be waiting for you as soon as you finish up."
You should have seen the look on our faces. I honestly couldn't believe it.
Sure enough, we finished hopped in the car, and about 7 minutes later we were dropped off at the Wingtip men's clothing store.
To the right of the store was a bank of elevators, and we headed up to the top floor.
The doors opened and we were there: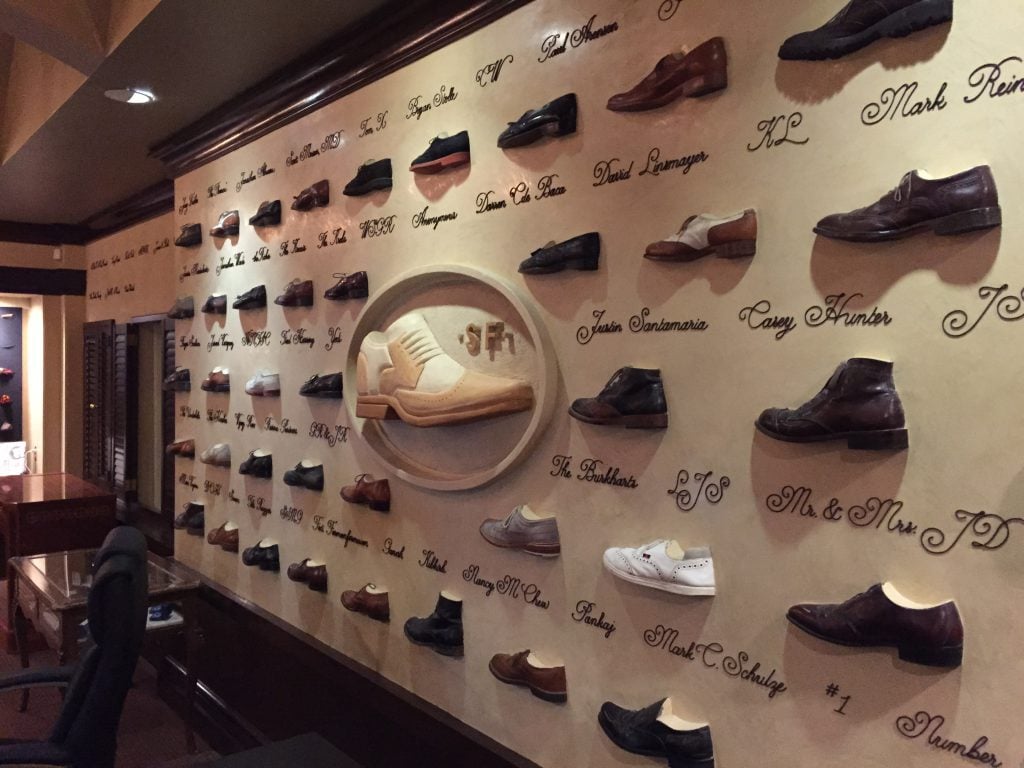 The extremely friendly receptionist Leanne welcomed each of us, and then proceeded to give us a tour of the club before turning us loose and saying "enjoy!"
We made friends with everyone around us, listened to some fantastic live jazz, and tried rare whiskeys I've never seen anywhere else.
Even more surprising was when one of the bartenders told us "yeah we haven't seen anyone from the Burritt Room in months, I thought they ended the promotion."
Apparently, someone was looking out for us.
So that's the story about how in one day we drove a convertible down highway 1, played Pebble Beach, met an NBA All Star, and got into a private San Francisco social club by ordering a secret drink at a restaurant.
Oh, and that same day? I received an invitation to play another bucket list golf course, which is easily one of the 10 most difficult courses to get on in the world.
Since quitting my job,  I've had a lot of pretty good days, but this one, is definitely up there with the best.
Life doesn't suck – and if I was still in my day job? Just as was the case with Jet Blue deal, none of this would have ever happened.
Want to do more cool stuff in life? Check out Location Rebel Academy.
Sean Ogle
Sean Ogle is the Founder of Location Rebel where he has spent the last 12+ years teaching people how to build online businesses that give them the freedom to do more of the things they like to do in life. When he's not in the coffee shops of Portland, or the beaches of Bali, he's probably sneaking into some other high-class establishment where he most certainly doesn't belong.
Learn How to Make Your First $1,000 Freelance Writing (in 30 Days or Less)
Join over 40,000 people who have taken our 6 part freelance writing course. Sign up below and let's do this together.
By entering your email address you agree to receive emails from Location Rebel. We'll respect your privacy and you can unsubscribe at any time.