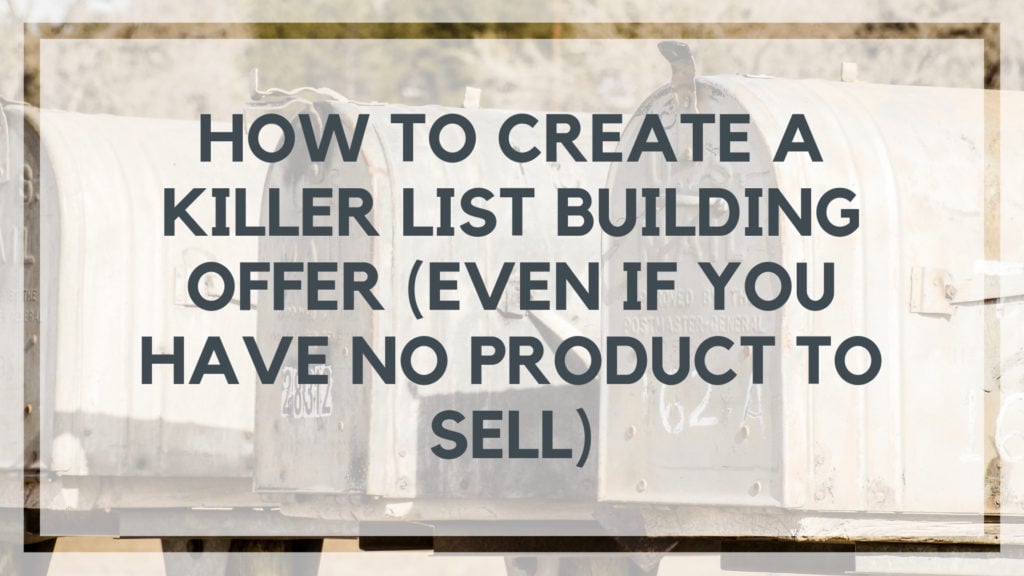 This post on how to build an email list was updated in October 2023 to cover the strategies currently working.
It was July 26th, 2011. I was sitting at a table in a Portland Starbucks, biting my nails, wondering what the next hour would bring.
For three months I'd been working on a product that I knew had a ton of potential but was essentially untested.
While I was working on the product itself I released a series of emails, videos, and free content to give away while I prepared everything for the launch.
The time had come and I was minutes away from the beta release. I was opening Location Rebel Academy up for 20 people, in hopes of getting feedback, building the forums, and preparing it for primetime.
8:55 – my first sale comes in, 5 minutes before I was supposed to actually launch the product. Good sign.
By 9:45 I'd sold out all 20 spots.
I was expecting this to take a few days (if I hit 20 at all) and didn't have a "sold out" page prepared.  4 more sales came in before I could close it.
All told in an hour I made about $7,000 – not a ton of money by any means, but over a decade later this day remains one of my most significant entrepreneurial moments.
Since that day, we've had over 5,000 people join Location Rebel Academy, and it's made over $1,000,000 in its lifetime.
However, all of this started with a killer free offer – before I even had a product to sell.
Building this email list is the single most important factor to making money online. Whether you're selling your own products, selling affiliate products, or building a list of freelance clients.
How to Build an Email List Quickly
I'm sure you've heard all the internet marketing gurus out there touting the wonders of a big list.
Amidst all of their BS, it's one of the things that really is true.
I wouldn't be here were it not for having focused on building a list. But it's not necessarily just for the reasons you might imagine.
Yes, building an email list is an excellent sales tool, but much more importantly, it's a relationship-building tool.
During my time running Location Rebel, I've talked to over 10,000 readers who have responded directly to my emails.
Those are real people. You don't get that kind of personal connection anywhere else. It's not like you're going to get into a meaningful chat with someone via YouTube comments…
But there's a difference between having a list, and building a list.
The latter isn't exactly an easy thing to do.
That being said, there's one strategy I've found that trumps everything else in terms of building that list up quickly.
What is it?
I already told you: The Killer Free Offer.
In April of 2011, before I even had a finished the Academy, I created an ebook called "Location Rebel Arsenal: Everything You Need to Work from Anywhere."
I knew my final product was going to be about building a business that allows you to work from anywhere in the world – so naturally, my free giveaway was something related to that.
The result was a well-edited ebook with interesting visuals, that covered all of the tools I use to run my business.
I threw up a squeeze page, mentioned it in a blog post, and then waited to see what happened.
The results surprised even me.  In less than 24 hours I had over 500 email signups.
More recently, I've been offering my free six-part course that walks you through exactly how to build a freelance writing business.
This free offer has been more effective for growing a list, and in turn generating sales, than any other strategy I've tried.
But this is just one idea for how to do it. In 2024, there are a lot of different tactics you can employ for building a list.
In this post, I'm going to tell you how to build an email list as a content creator, with the strategies that have worked the best for me over the last year.
5 Killer Offers for Building an Email List in 2024
Ok, so you're a content creator of some form you and you now understand the importance of building your email list.
Great. Let's talk about 5 different offers you can promote to grow your list, quickly.
1) The Free Email Course
Depending on how you're going to distribute your offer, there are a few different frameworks you can use.  One is the free email course.
What's great about this is that you don't have to worry about any design or formatting, and it links up directly with your email marketing software – so there's nothing extra needed as far as delivery goes.
Aa 4-6 part course usually works well. That's enough to be able to cover a lot of content, without being overwhelming.
With my primary sequence, it's a 6 part educational sequence, followed by a 3 day sales sequence. Then from there I send 1-2 super helpful pieces of content a week.
2) An Ebook or PDF
Way back when I first started Location Rebel, PDF ebooks were all the rage.
They can still be effective, but you're likely to have more success treating this like a free Kindle book, that you can actually download and read on an iPad or Kindle.
When going this route, I typically use some variation on the following framework:
Introduction
Chapter 1: Overview of What You'll Learn
Chapter 2: Basic Knowledge You Must Have to Move Forward
Chapter 3: Moving from Basics to Strategy
Chapter 4: More Strategy
Chapter 5: Specific Tactic Used to Implement Strategy
Chapter 6: Specific Tactic Used to Implement Strategy
Chapter 7: Practical Application
Chapter 8: More Practical Application
Chapter 9: Conclusion
Obviously, this is purposefully vague.  The whole idea though is to introduce the reader to an idea, make sure they have the basic knowledge needed to understand the idea, and then give them the tools, strategies, and real-world knowledge to apply it to their own lives.
One of the biggest mistakes I see people make with this is using too much theory.
Without real-world examples, it can be difficult to relate to.
If you follow through on this, you'll have a product that you can undoubtedly charge money for.  However, by giving it away for free you have an opportunity to prove yourself – which you'll have to do before people fork out their hard-earned cash on something you create.
Once you have a general overview of your content, create a more detailed outline.  You should draft out every single point, example, and idea for your free product.
When your outline is done it should be more of a fill-in-the-blank for you at this point.  Go down the list and write content around the outline.  Depending on how in depth you go, this is something you should be able to do in a weekend.
3) The Survey Quiz
In 2023, this has been the single most effective list-building offer I've had.
Let me give you an example of how this works.
One of the most popular pages on my golf site is "Best Golf Shoes."
If someone is reading this, chances are they're looking for a pair of golf shoes. But maybe this list isn't specific enough for their needs.
So I have a popup that takes them to a quiz designed to help them find the best golf shoes for their needs:
It's only about 5 questions, and in the end I make my best recommendation based on their needs. To get the answer? You'll need to sign up for my email list.
I currently have 4 quizzes for 4 different golf categories, and these combined have quadrupled my email list in 6 months.
Here are the stats from just one of those:
While it has it's limitations, I've been using the tool Interact for these surveys and overall it's worked great.
4) The Checklist or Guide
One of the simplest, and easiest to create offers for building an email list is a simple checklist.
People love bite-sized digestible things like this.
So come up with a some easy check lists or short PDFs that you can offer in exchange for signing up.
25 Ways to ________
10 Things to Do Before You _______
31 Questions to Ask Before You _______
You get the idea. I use a tool called Beacon to make these. It's great, especially if you have zero design knowledge.
5) The Protected Post
Finally, the last list-building offer works really well under certain circumstances.
And that is to have a blog post that promises XX, and delivers on most of that promise within the post itself.
But if you want the last 20%? You've gotta sign up.
I've used this effectively when writing about "How to Play Private Golf Courses."
I get asked all the time how I get to play so many courses, so I wrote a blog post about it.
There's a lot of background and then I share 8 tips for being able to get on more exclusive courses.
The first 2 are free in the post, but if you want the additional 6, you'll need to sign up.
Not only has it worked well, but it's also been great for starting engagement with email responses as well.
Learn How to Make Your First $1,000 Freelance Writing (in 30 Days or Less)
Join over 40,000 people who have taken our 6 part freelance writing course. Sign up below and let's do this together.
By entering your email address you agree to receive emails from Location Rebel. We'll respect your privacy and you can unsubscribe at any time.
How to Create Your List-Building Offer
Now that you understand a few of the different techniques for building your email list, let's actually create your offer.
Remember, you don't have to have a product to sell at the end of this. For instance, with Breaking Eighty, I don't promote my own products through my list. Rather I just use it to drive traffic to my product reviews and YouTube videos.
But when a time comes I do have something to offer them, the audience should *hopefully* be excited to hear about it.
When you're thinking about your free offer, you need to be very aware of your current brand and what your audience is looking for.
Here's a simple 3 step process for creating your killer offer:
Step #1) Create A Survey for Current Readers
Everyone thinks they know what people want – few actually know.
So let's find out.
By creating a short (that part is important) survey, you can get a sense of what your readers are actually interested in seeing from you.  This will not only give you ideas for your giveaway but can be an excellent source for real product ideas as well.
Here are three of my favorite, useful, questions:
What big problem relating to [Insert Your Subject Matter Here] are you currently experiencing?
How do you prefer to consume content (PDF, Video, Audio, Podcast, etc.)
What type of content do you enjoy the most (Step by Step Tutorials, Personal Narratives, Case Studies, Other:______)
With those three questions, you're learning: 1) Their current problem, 2) How they want to receive a solution to the problem.
When you're creating an offer, these are the questions that will directly relate to the content you're going to give them – which is vital to your success.
Obviously, you can tailor these directly to your current needs, and it will also vary depending on the size of your brand.
You can use a tool like Survey Monkey to put this together, but I've found Google Forms to be perfectly serviceable for small surveys.
Step #2: Create a Brainstorm List of Potential Headlines
Before I actually create my offer, I like to think first about a compelling pitch for the offer.
What I'm providing means nothing if I don't actually get people engaged.
So I start by brainstorming headlines for a potential offer.
Write out as many headlines and calls to action as you can for your offer. These should be eye-catching, and should make anyone want to click through to find out more.
If you're struggling? This is the perfect place to leverage an AI Tool like Jasper or Chat GPT to get some help.
Once you have your list, narrow them down to the top 10 and then make those headlines better. 
What does a good headline look like?
This is one of my favorite formulas:
End Result the Customer Wants + Time Frame + Objection Handled.
In my experience, if you have one of these three things, you've got a good headline.
If you have 2 of 3, you have a great headline.
If you can get all of them into a single headline, then you have one that is impossible to ignore – and that's what we're going for with your free offer.
Take one of our Location Rebel headlines for instance: Make $1,000 in Extra Income in 3 Months (Even While Having a Full-Time Job)
Result: Make $1,000 in Extra Income
Timeline: 3 Months
Objection: Even With a Full Time Job
Rewrite your headline ideas based on this formula, and then your job is going to be to pick one of them and build a free product that delivers on the promises your headline makes.
Here are some more headline ideas to get you thinking.
Step #3: Create an Outline of Your Offer
Ok, so now that you've decided what you're going to build, we need to establish a roadmap.
You wouldn't start a road trip without having a general idea of where you're going, would you? No! And we want to make it as easy as possible to actually create this.
Here are a few ideas for specific free offers that have worked well for me.
Final Thoughts How to Build an Email List as a Creator
I've tried so many things over the years that didn't work.
Every business, every brand, and every audience is different.
Even if you have the right tactic, you might not have the right offer.
So don't be afraid to experiment and try a few things at once to see what works.
But especially if you're an online creator of any sort, having an email list truly is the magic bullet to longevity and success. So in the midst of all your other work, be sure to make building an email list a priority, it's quite frankly, the most valuable asset you can have in your business.
Sean Ogle
Sean Ogle is the Founder of Location Rebel where he has spent the last 12+ years teaching people how to build online businesses that give them the freedom to do more of the things they like to do in life. When he's not in the coffee shops of Portland, or the beaches of Bali, he's probably sneaking into some other high-class establishment where he most certainly doesn't belong.
Learn How to Make Your First $1,000 Freelance Writing (in 30 Days or Less)
Join over 40,000 people who have taken our 6 part freelance writing course. Sign up below and let's do this together.
By entering your email address you agree to receive emails from Location Rebel. We'll respect your privacy and you can unsubscribe at any time.