You have probably heard the buzz about technical writing as a lucrative, growing niche for freelance writers.
The high pay for technical writers is what first caught your attention. New technical writers can charge $60 per hour, and experienced technical writers can easily break the $100 per hour barrier.
That sounds great!
Then you heard about the high demand for technical writers and the anticipated growth in the field. This soothed your fears about finding steady freelance work.
The Bureau of Labor Statistics projects a 5.5% growth in technical writing jobs over the next decade. And freelance technical writing opportunities are growing just as fast.
But…there's a problem…you don't consider yourself a "techie."
You're just an average person who likes to write, but surely becoming a technical writer is way beyond your ability…right?
Wrong!
Writers like yourself have some distinct advantages for getting into technical writing.
Before we look at those advantages, though, let's first understand exactly what technical writing is.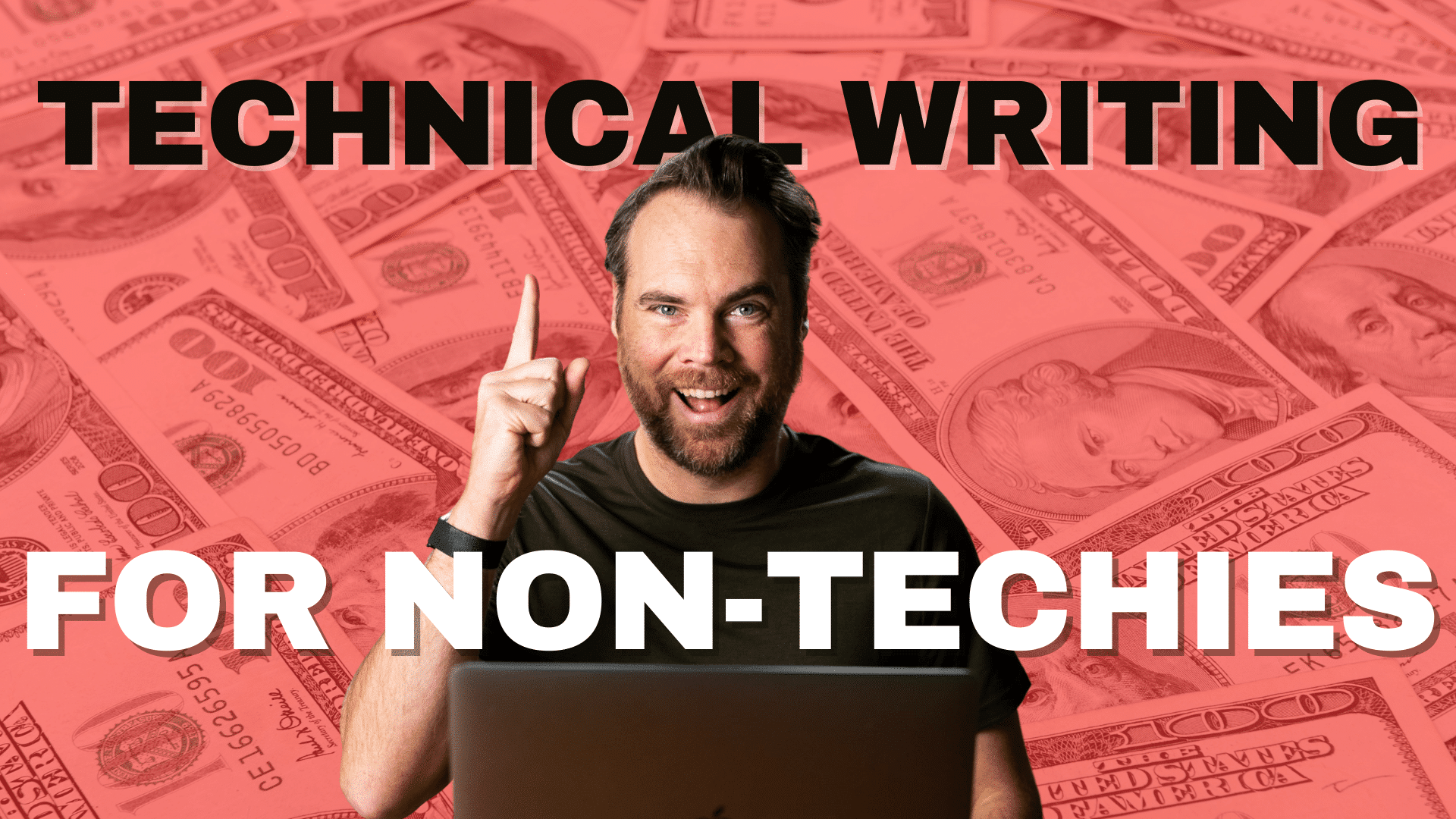 So What is Technical Writing Anyway?
Technical writing is part of a vast field known as Technical Communication.
Under this broader definition, projects can include more than just the writing — illustrations, photographs, and video are commonly used in addition to or in place of written content.
As a freelance technical writer, you can choose to provide multimedia services. But most often, those assets will be supplied by the client. So don't let this intimidate you; you'll usually just be responsible for the writing.
According to the Society for Technical Communication, Technical Communication includes any form of communication that involves:
Communicating about

technical or specialized topics,

such as computer applications, medical procedures, or environmental regulations.

Communicating

by using technology,

such as web pages, help files, or social media sites.

Providing

instructions about how to do something,

regardless of how technical the task is or even if technology is used to create or distribute that communication.
The first bullet point is what most people think technical writing is, but the other two bullet points are where less tech-savvy writers can thrive.
Here are some examples of technical writing that fall under the last two bullet points:
A FAQ (Frequently Asked Questions) page on a website

Instructions on how to return a defective product to an online seller 

Company policy and procedure manuals

Recommendation reports

Product warning labels

Instructions for filling out a form
You might not have considered these things technical writing, but this expanded view is the key to entering the field.
Not technically inclined? Not a problem!
Your main advantage of being a non-techie is your ability to understand your audience. You will often be writing content for consumers and employees with similar levels of technical knowledge to your own.
A shopper with questions about a new microwave oven, a new hire learning how to submit their weekly timesheet, and a website visitor with questions about shipping options for a company's product are likely to be at the same level of understanding as you were when you landed the writing project.
This means you are likely to ask the right questions to get the answers your readers need.
You are not a technical wizard; you are your reader's advocate.
Empathy is your superpower as a technical writer.
It helps you anticipate what questions your reader will ask, what they will struggle with, and how they like to learn.
But what if you can't figure out the answers your readers need? How are you supposed to explain something that you don't understand?
Here's the good news — you're not in this alone!
Learn How to Make Your First $1,000 Freelance Writing (in 30 Days or Less)
Join over 40,000 people who have taken our 6 part freelance writing course. Sign up below and let's do this together.
By entering your email address you agree to receive emails from Location Rebel. We'll respect your privacy and you can unsubscribe at any time.
Subject Matter Experts to the Rescue!
As a technical writer, you'll work with Subject Matter Experts (SMEs). An SME is someone with extensive knowledge of the product or information you've been hired to write about.
An SME could be:
The software engineer who developed the mobile app you're writing help files for.

The human resources executive who crafted the new vacation policy you need to add to the employee handbook. 

A customer service rep who answers the same customer questions over and over and wants to add an online help page to cut down on the number of those phone calls.
SMEs answer your questions and review your writing for accuracy before it gets published.
Although SMEs have great technical knowledge, they rarely do their own writing. Their schedules are often too busy to leave time for writing, and many lack the proper writing skills.
But their biggest weakness is that they are too well acquainted with the subject. They tend to omit basic but essential information because they take their familiarity with the subject for granted. Or they like to delve too deep into technical details that the reader doesn't need, thus confusing the reader more than helping them.
Your newness at a subject will help you focus on giving the reader just what they need while filtering out the excess that they don't.
But What if it Really is Rocket Science?
There are some limitations to be aware of, though. While a lot of technical writing is less technical than you may have thought, there are niches where specialized knowledge is a must.
For example, Application Programming Interface (API) documentation is a red-hot niche, but you will likely struggle without foundational knowledge in coding.
Medical, science, and regulatory writing roles usually require specialized knowledge in those fields.
Even with a team of SMEs at the ready to help, your lack of knowledge could be too great to overcome in these areas. However, if you have this background and want to become a technical writer, your specialty can boost you to the high end of the pay scale.
And if you don't have such specialized knowledge, it's okay to pass up these kinds of roles. There's still plenty of technical writing work out there that you can handle.
I'm Going to Need a Degree for This, Right?
Probably not!
Technical writing degrees are not that common. While some schools, such as Arizona State University Online, offer a BS in Technical Communication, most universities won't offer these degrees.
Employers who hire technical writers usually look for candidates with bachelor's degrees in English, communications, journalism, or a related field. Teachers also make good technical writers because of their skills in educating others.
However, clients seeking freelance technical writers rarely ask about degrees or other credentials. They'll mostly rely on your portfolio to decide whether you're a good fit for their project.
Having writing samples in your writer's portfolio is essential for landing work!
Timely and professional communication with clients during the bidding stage goes a long way toward landing projects too.
It's good business practice no matter what writing niche you choose, and it will land you a lot more work than a fancy degree will.
But…You Do Need to Learn the Basics
Although formal education isn't required to be a freelance technical writer, you'll still need to learn some things before you dive in.
Like most niches, technical writing has its own terminology, conventions, and processes. It's a more regimented type of writing than most, so you'll at least need some foundational knowledge in it.
But you won't need to commit a lot of time or money to get started if you take one of these paths:
Feel free to research other options, as there are plenty out there, but any one of these will get you started. Writing your portfolio pieces will help you hone these basic skills.
Once you start landing freelance work, you can consider reading more books, taking more courses, or earning a professional certificate from an accredited college. As you become more skilled and specialized, you'll be able to land projects with higher pay.
Always remember, though, your portfolio is still your best means to prove your skills to potential clients.
Do I Need to Learn Complex Software to Write in?
If you browse technical writing job listings, you'll likely come across employers requiring skills in specialized software with intimidating names such as MadCap Flare, Adobe FrameMaker and RoboHelp, and Atlassian Confluence. 
Although these "structured documentation" tools are widely used within large companies, you're less likely to encounter them in your freelance work with smaller clients.
So what software will you be writing in?
You'll likely just be writing in Microsoft Word and Google Docs.
Freelancers are more likely to land technical writing projects with small or medium-sized companies that don't need complex systems.
These clients will want to open your documents in the software they are comfortable with. Usually, they will publish your work as PDFs or webpages.
Although you can skip the expensive and complex software as a freelancer, you should at least learn some of Word's advanced features.
Learning these skills will cast you as a true professional:
Applying styles (structural and visual) to document elements

Automatically generating and maintaining the Table of Contents

Breaking long documents into sections

Adding headers, footers, and page numbers

Inserting and formatting images

Working with tables

Inserting footnotes, endnotes, and citations

Adding indexes
You should also be well-versed in tracking changes and sharing comments in your document. This is how you and your client can easily communicate and review specific items within the document.
None of these skills are difficult to learn. You can watch free videos online or read a how-to book to add them to your repertoire.
You…Yes, YOU…Can Become a Well-Paid Freelance Technical Writer!
Now that we've dispelled the myth that it takes a hardcore techie to be a technical writer, you should be able to envision yourself doing this kind of work.
If you're good at learning, organizing, researching, explaining, and, most importantly, understanding your audience, this lucrative niche fits you.
Successful technical writers have come from all sorts of backgrounds — teaching, nursing, journalism, and law, just to name a few.
But if you are one of those hardcore techies? There are plenty of projects out there for you too!
Ready to Get Started with Technical Writing?
Location Rebel Academy has a mini-blueprint called "How to Get Started with Technical Writing."
You'll also learn the marketing skills needed to start landing work. Marketing can be as intimidating to new writers as technology, but Location Rebel Academy lays out simple and effective steps anyone can follow.
And you're never alone in your efforts because there's a supportive community to help and encourage you. There has been a recent influx of members working as technical writers who will welcome you and guide you on your journey.
Check out our 6 day FREE COURSE on starting a freelance writing business.
Jamie Makin is a freelance technical writer in Pennsylvania's Lehigh Valley. She primarily writes procedure manuals and construction specifications for architectural and construction clients. She also offers web design and graphic design services which often complement her technical writing work. In her spare time, she is a railroad enthusiast who loves riding and filming vintage trains, building model train layouts, and sharing it all on her YouTube channel.
Guest Post
Learn How to Make Your First $1,000 Freelance Writing (in 30 Days or Less)
Join over 40,000 people who have taken our 6 part freelance writing course. Sign up below and let's do this together.
By entering your email address you agree to receive emails from Location Rebel. We'll respect your privacy and you can unsubscribe at any time.