I feel like this review is a decade in the making.
I also feel like I've been using the term decade a lot lately, which is kind of freaking me out considering it's proof of just how long I've been doing this. But that's a topic for another day.
The reason I feel like this has been such a long time coming is because Glen Allsopp is one of the very first people I found online.
How I First Came Across Glen Allsopp
Way back in 2008 he had a free website that walked you through how to start affiliate marketing.
So naturally, I bought my very first domain and fired up an affiliate review site for an online guitar lesson course called Jamorama.
Except I was too broke (cheap?) to even buy the product.
I bet you can guess how that one turned out for me.
Along with learning a lot about what not to do when starting affiliate marketing, the big thing I took away from it was: Glen knows his stuff.
The information he provided (for free!) was super in depth, honest, and straight forward.
Let's fast forward 12 years.
Nothing has changed.
Glen Allsopp continues to put the very best SEO and marketing content out on the internet.
Period.
He did it it at his old site Viper Chill, he does it at Gaps, and he does it at Detailed.
There has honestly not been anyone that comes close to the trust level that I have in Glen. If I'm looking for SEO information, I've always tried to see if he has shared anything on a particular topic first before I jump into my research.
Because not only do I trust him, but usually his content is far more in depth than anyone else online.
So at the end of last year, when he announced he would be releasing an SEO course?
"Just stop. Take my money, please." This was my reaction.
I told myself if the SEO Blueprint was under $2k I'd buy it.
And this is coming from a guy who never buys online courses.
On launch day he announced the price…it wasn't $2,000.
Or $1500.
Or even $1,000.
Glen was only charging $597 for it.
The average internet marketer of his caliber, would literally be charging 10x the price – for something I can already tell you wouldn't be half as good.
Is the Detailed SEO Blueprint Any Good?
So that's all great, you get it. I trust Glen.
I like his content.
But is someone who makes a very good living on his SEO secrets actually going to reveal them all for half the price of a new Iphone 11?
And if he does, is any of it actually going to be useful and do-able for the average person who doesn't have much technical knowledge?
Or conversely, will it be too simple, without enough true meat to make it worth while for the more advanced SEO?
Short answer: the Detailed SEO Blueprint lived up to every expectation I had for it.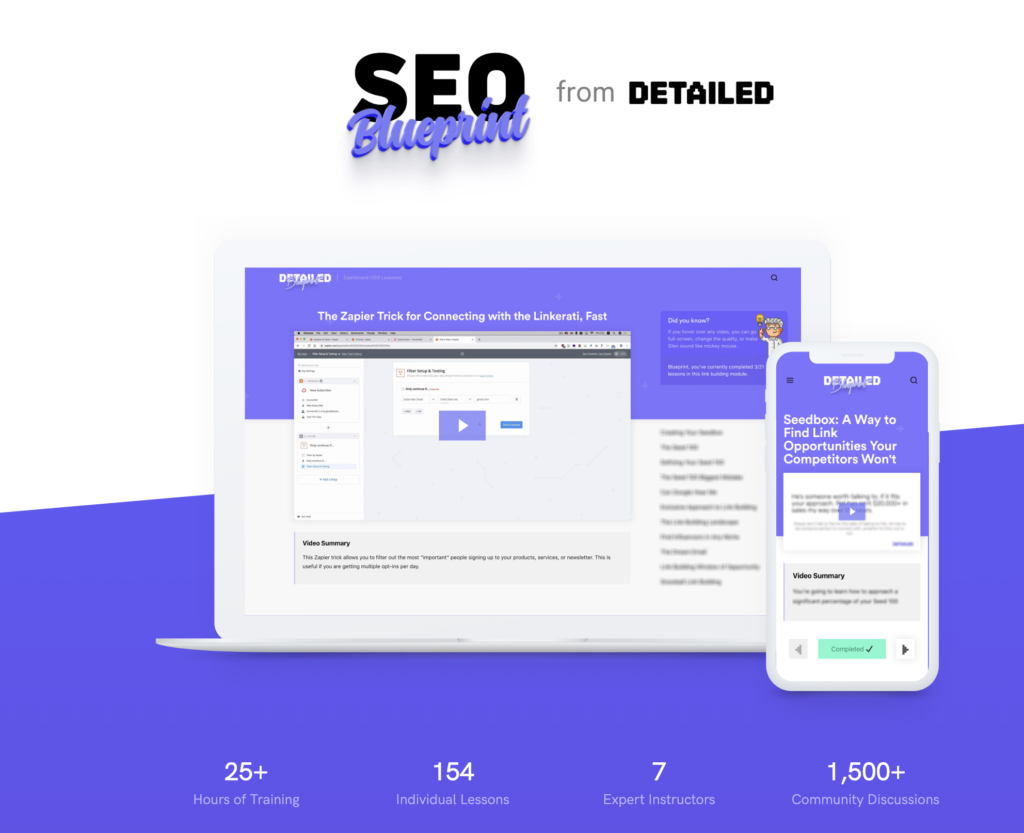 Learn How to Make Your First $1,000 Freelance Writing (in 30 Days or Less)
Join over 40,000 people who have taken our 6 part freelance writing course. Sign up below and let's do this together.
By entering your email address you agree to receive emails from Location Rebel. We'll respect your privacy and you can unsubscribe at any time.
How the Detailed SEO Blueprint Works
So the SEO Blueprint is laid out into 6 sections each with a different number of lessons. The 6 sections are:
On Site SEO
Link Building
Keyword Research
Content
Local SEO
Expert Case Studies
Each section has anywhere from 4-57 modules, and I believe the course as a whole has over 150 different lessons.
Personally I'm not a huge video learning person. I would rather have everything in text so that I can skim through it quickly, and just grab the information I need.
But there's something about the way Glen does his videos that keeps me engaged, entertained, and I've learned something in nearly every one.
Which is saying something considering, I do have a pretty extensive SEO background.
In each video he labels the content as beginner, intermediate, and advanced – which I love.
It gives you an easy starting point, and some easy wins and allows you to ease into some of the more advanced content.
One Tip Alone Made The SEO Blueprint Worthwhile
So when I first joined, I was perusing the different lessons and there was one that jumped out at me in the on site section:
"How to Fix Images as Pages Issue"

This was something I'd noticed on Breaking Eighty. I would upload a photo, and WordPress for some reason would assign it as its own page, with its own url.
I had hundreds of them, and they were essentially just deadweight pages that made the site seem much more bloated with useless content.
But I didn't realize what was causing it, or that this was a relatively well known issue.
Well after watching the video in the SEO Blueprint, I learned there was a weird glitch with the Yoast SEO plugin, that was causing that to happen.
And of course, this was exactly what it was.
In less than 5 minutes I fixed the issue.
And within about a week? We started seeing rankings jump up for some of our biggest keywords – which was perfect timing for the holiday rush and the higher Q4 ad spend season (I run ads on the site).
I've implemented some of his link building strategies and can directly attribute at least 3 very high quality backlinks that I wouldn't have had otherwise, back to the lessons I learned in the course.
What I like about a lot of the content is he takes relatively simple ideas, or things that might seem like common sense, and then he puts a bit of a spin on it to approach things in a way most people would never consider.
Like how to get backlinks through Twitter.
Or a strategy working right now that has the potential to be even better than a PBN (private blog network).
But he also has the technical chops and details for the people who really want to geek out about that side of things. Like how to fix on site structure issues, and how to use creative Googling to find hidden problems on your site you never would have found otherwise.
On top of the content, there are also some bonus tools like the Facebook group, Chrome extension, his own site crawler – and so on that the provide a lot of extra value compared to your typical course.
It's clear this wasn't something he just threw together in a weekend.
He really wanted to make it as valuable as possible, and I would be shocked if there were any premium SEO course on the market that is more comprehensive than this.
Should You Buy the Detailed SEO Blueprint?
Admittedly, I still have only scratched the surface of the lessons. But everything I've read has lead to actionable tasks, that have had a positive impact on my search traffic.
But especially now that I've just in the last 2 weeks seen my highest traffic post take a nose dive, I'll be digging back in to really analyze what's going on and figure out how to fix it.
And oh look, just doing a quick scan there is literally a lesson called "What to Check on Key Pages Which Have Lost Search Traffic."
Guess I know where my starting point will be.
But to answer the question in this headline? Should you buy the Detailed SEO Blueprint.
The short answer is yes, but I'll give you a bit more of an explanation.
If you're looking for a magic bullet, or some magic piece of advice that won't take any work on your part and will skyrocket your rankings?
You won't find that here.
There are plenty of lessons that have quick, easy to implement tips that should hopefully get you some quick wins.
But many of these tips do require you to put significant time into them in order to see results.
Or at least a little bit of time on a consistent basis.
There's the occasional big quick win in here (like my image issue above), but most of the reality of legitimate SEO is that it's going to take hours and hours of time to truly see major progress.
The good news is this courses shows you exactly what to focus on, and gives you the roadmap for how to do it.
If you're a brand new blogger with limited time, and you're already having a tough time creating and promoting your content? Then I'd focus on that stuff first. That will have a bigger impact then this will right this second.
BUT, if you've established your site, you have some content, and you want to learn how SEO can truly help you scale your site, get more organic traffic, and help you build a legitimate business? I honestly think this is one of the very best investments you can make in yourself and your business.
Not to mention the fact that Glen is very involved. He personally answers comments on threads and in the Facebook group which is always nice to see.
Last year I spent $3500 on a technical SEO audit, and the implementation for it.
It was a fantastic investment, and the person who helped me was great.
But if I had this course before? A lot of that could have been done myself.
One final note, is that if you're truly planning to implement this entire course and take your SEO seriously? You'll want a premium SEO tool. You can get trials of MOZ, Ahrefs, and SEMrush that will allow you to do a lot of the work. But I've found SEMrush for me personally to be fantastic, and it's well worth the $99 I spend on it each month.
You can see why in my full review here.
So go check out the SEO Blueprint and see if you think it's right for you. It's been a game changer already for my sites, and I know I've only scratched the surface with what it's going to teach me.
Check out the Detailed SEO Blueprint Here.
FULL DISCLOSURE
In full transparency, here's the rest of the story of what happened when this went on sale.
I emailed Glen to ask him a couple questions about the course before buying it. And he responded saying he's been following Location Rebel for years, and that he'd like to setup an account for me free of charge, under the agreement that I actually go through it and implement it.
So I did not pay for the course. But I was 100% going to, and especially now that I've seen it, I'd absolutely invest in this.
All opinions are my own, and Glen did not request I write this, or even know I was writing it.
There may be affiliate links on this page (actually I know there is, just one, for SEMrush. But as of now, there is not for the SEO Blueprint. I don't get compensated either way if you join or not. But I'm a huge believer in the product and for the right person, it's fantastic.
Sean Ogle
Sean Ogle is the Founder of Location Rebel where he has spent the last 12+ years teaching people how to build online businesses that give them the freedom to do more of the things they like to do in life. When he's not in the coffee shops of Portland, or the beaches of Bali, he's probably sneaking into some other high-class establishment where he most certainly doesn't belong.
Learn How to Make Your First $1,000 Freelance Writing (in 30 Days or Less)
Join over 40,000 people who have taken our 6 part freelance writing course. Sign up below and let's do this together.
By entering your email address you agree to receive emails from Location Rebel. We'll respect your privacy and you can unsubscribe at any time.