If there's one thing I've learned while traveling it's that it pays to know people.  I did things in Brazil last year that I would have never experienced had I not known Mariana.
Here in Thailand,  Cody Mckibben has proven to be my contact, and in less than a week he has shown  me incredible ruins, secluded beaches and introduced me to some awesome people.
After arriving around midnight last Thursday I was determined to take Cody up on his invitation to visit the Ayutthaya Ruins the next morning.  It's a really strange feeling to wake up after about an hour of sleep, hop in a cab in a foreign place and have no clue where you are going.  When the cabbie dropped me off, I could have sworn he took me to the wrong place.  Maybe it's because the street name was spelled nothing like it sounds.
45 minutes later I was cruising down the freeway with Cody, his sister who is in town, and some of his other friends on our way to the ruins.  I really had no concept of just how big Bangkok was until I started driving down the freeway for an hour.
For those of you who haven't been here, just know, it's big…
My First Visit to Ayutthaya Outside Bangkok, Thailand
I'm not gonna lie, before last week I'd never heard of Ayutthaya.
he city was founded in 1350 and King U-Thong proclaimed it as the capital of his kingdom.  At its peak in the 18th century the city had nearly 1,000,000 citizens, making it one of the largest cities in the world at the time. The union collapsed in 1767, however, when the Burmese army stormed and destroyed the city.
To this day you can see hundreds of headless Buddha statues from where the Burmese cut off their heads in the rampage.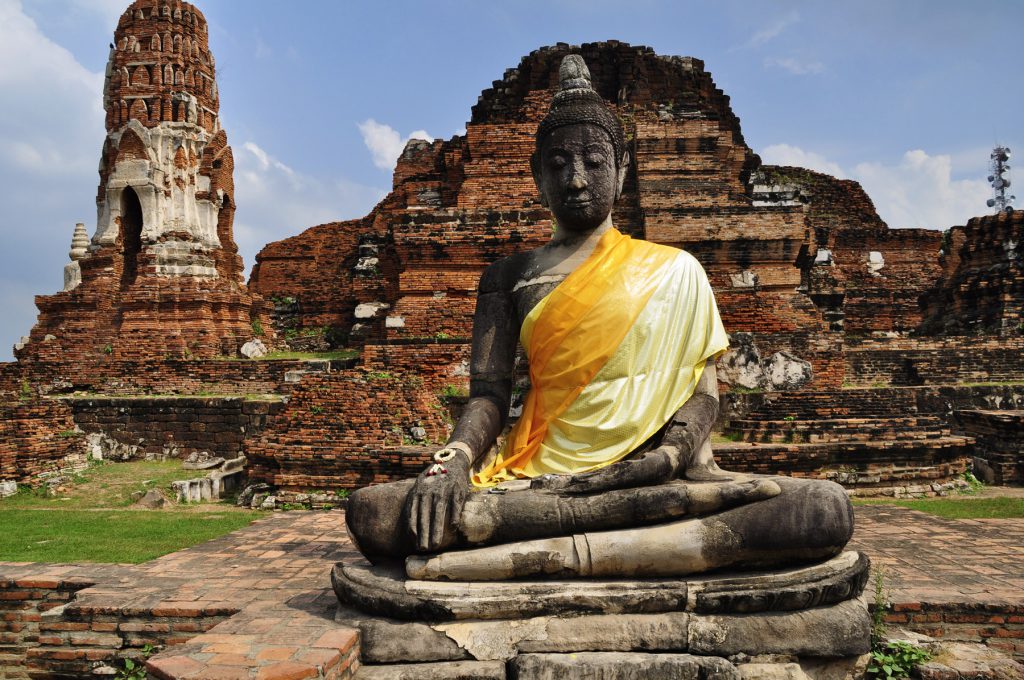 This place is truly incredible, I really haven't ever seen anything like it.  The ruins are spread over a huge area, and you pay a 20-50 baht entry fee for each one.  I believe we went to 4 different sites, the most interesting of which, in my opinion, was Wat Chai Wattanaram.  Seeing the sunset behind the river and the massive Wat was one of the cooler travel experiences I've had.
If you ever find yourself in Thailand, I would highly recommend taking a day and coming out to Ayutthaya.  It's an easy day trip from Bangkok, and is one of the largest tourist attractions in Thailand.
On a separate note, something I'm realizing is that I don't necessarily think I'm a great travel blogger/writer.
One of my goals over the coming months is to increase the quantity and quality of travel related posts.  Both in terms of good narrative, and high quality photos.  I'm still definitely in the learning about best ways to integrate photos in blog posts (funny considering I've been doing this for a while now), so if you have any thoughts I'd love to hear them.  In the meantime, I hope you enjoy the posts regardless!
If you enjoyed this post, be sure to sign up for my email updates and RSS Feed!
Sean Ogle
Sean Ogle is the Founder of Location Rebel where he has spent the last 12+ years teaching people how to build online businesses that give them the freedom to do more of the things they like to do in life. When he's not in the coffee shops of Portland, or the beaches of Bali, he's probably sneaking into some other high-class establishment where he most certainly doesn't belong.
Learn How to Make Your First $1,000 Freelance Writing (in 30 Days or Less)
Join over 40,000 people who have taken our 6 part freelance writing course. Sign up below and let's do this together.
By entering your email address you agree to receive emails from Location Rebel. We'll respect your privacy and you can unsubscribe at any time.