This is a guest post from Noah Kagan. He runs AppSumo.com, How to Make your first $1,000 Business course and a new, free marketing tool called SumoMe.com.
Not only does he want you to read about how to take a workcation, he wants to help you take one.
Leave a comment at the end of this post about why you need a workcation, and he'll be buying a plane ticket to Austin and hooking up lodging for one lucky reader who gets to go down and work with the Appsumo team for a few days.
Seriously, all you have to do is leave a comment.
With that, Take it away Noah!
————————————————————————————
A few weeks ago, I went to Thailand and ran AppSumo (a seven-figure business) from there.
In no way am I trying to brag. We're fortunate to be in the position we are. But I want to show you how to create your own workcation — regardless of the budget.
Over the past few years, I've been extremely fortunate to travel + work = workcation from Costa Rica, Argentina, Maui, Nicaragua, Thailand, an SUV traveling Southwestern United States and more places.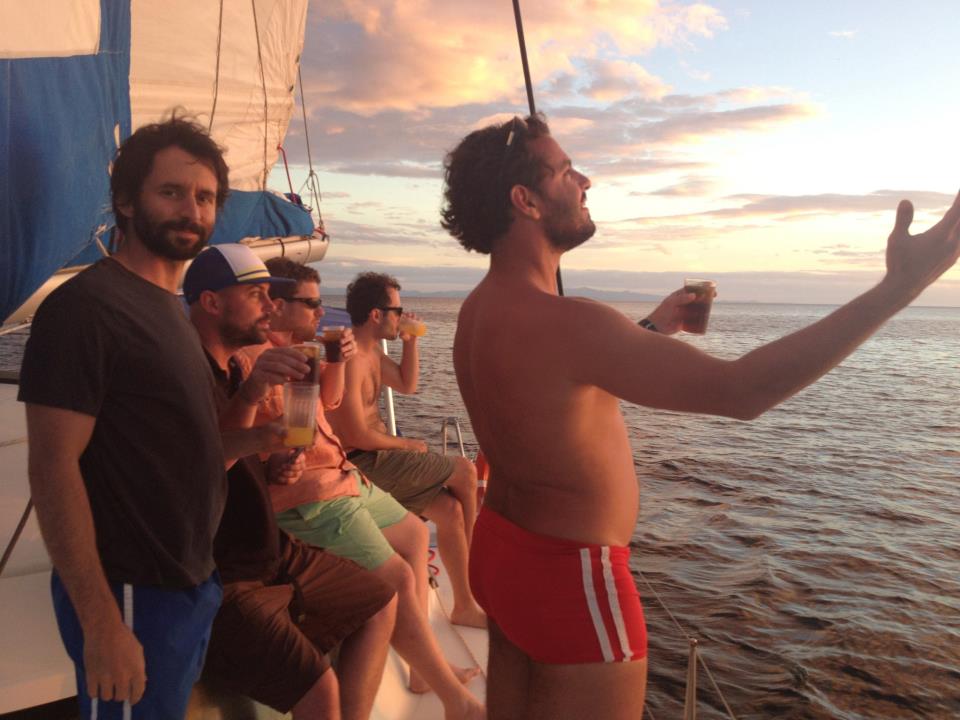 My buddy David who writes about "mini-lives" and Ariel in his sexy shorts while we are workcationing in Nicaragua!
Workcations are an AMAZING way to see a nice place while building your business without interruptions. If you're like me, I enjoy my work — and the fact I can work and travel is an extreme blessing.
(As an aside: If you want help starting your own business so you can also travel, I show people via Monthly1k.com how I've created this lifestyle.)
Ten Steps to Creating Your Own Workcation
1) Location
I recommend staying in a place no more than 10 days. I've found this to be a great balance of enough time to see a place and also to get your work done without interrupting your routine. This includes trying to find a place that's within eight hours of flying. Long distance trips make me want to stay longer since it's such a hassle to fly that far.
The way I choose where to travel is based on places I've always wanted to go. Next up for me: Spain, S. Africa and possibly a beach-town in Mexico.
2) Housing
You can travel around trying to find hostels, but I've found it most effective to get a condo or house via AirBnB, Homeaway, Craigslist sublets / temporary, friend's houses or VRBO. This ensures you'll have a comfortable place, reduces distractions of a hostel and increases security in new places.
Stay put. It will be tempting to travel but you are adding more variables to potentially interfere with your trip. When I did my Thailand workcation we moved around too much so some meetings were missed and other locations had no wireless. Plus, the travel time on buses wore me out when we got to new places.
This is where we worked in Thailand: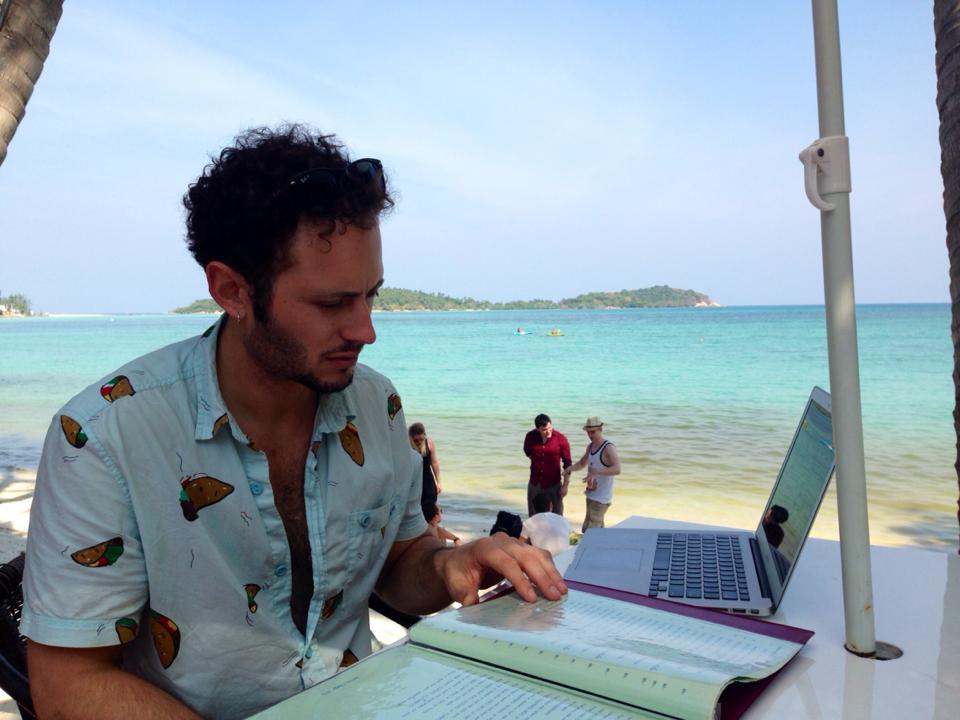 Note: Generally try to book at least three months in advance. This'll give you something to look forward to and be enough time in advance to get a good price.
3) Wi-Fi
Before you book a place, ask to get a screenshot from speedtest.net. Trust me. In Nicaragua, we had horrible internet, so I didn't get as much done. This sucks when you expect to be online. If you're unsure about the Wi-Fi, expect it to suck.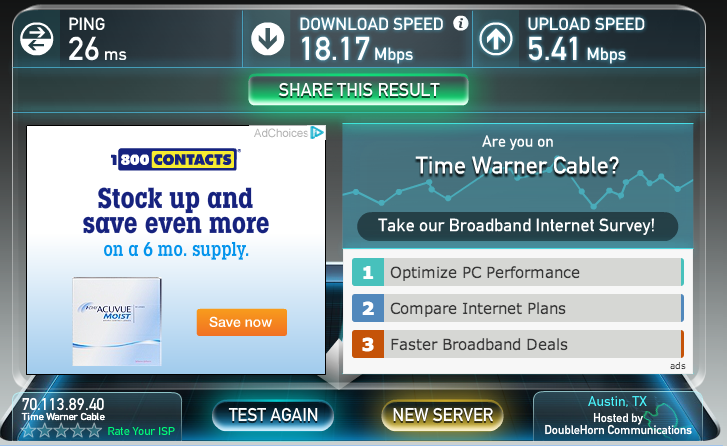 4) Expectations
It's very easy to get to a new place and just party your ass off or spend your time exploring all the tourist sites. Pre-commit to which days and activities you want to do. Also, know what specific things you want to work on while you are traveling. You are likely to accomplish 80% of what you would do if you were in your home setting.
When in Nicaragua I thought I'd get a ton of work done but without internet access, lots of alcohol and tons of activities planned, very little was accomplished.
Counter that to my more recent trip of Thailand, we had dedicated days to working, gorgeous settings which invigorated me to work and I knew the projects I wanted to accomplish and did.
5) Death List
Before you leave on your workcation, create a list of all the dependencies your business will have with you being gone or potentially being offline. Then see if you can do that work yourself or find someone to delegate that work too before you leave.
Here's a few specific examples:
Management of advertising campaigns
Handling support tickets
New features on website / blog
Creating new partnerships for marketing
As well, I've found traveling helps me identify where I need to delegate better or focus on activities to keep the business growing (not just going) when I'm not around.
For AppSumo, I took a trip and realized there'd be no new products to promote if I wasn't emailing partners to feature. That was a huge bottleneck to free-up so I hired a biz-dev Sumo to help us find products to promote in our free newsletter for entrepreneurs.
6) Time Zones
With the AppSumo team we've had challenges where I'm awake and they are asleep. Set your schedule with your team before you leave for when they can expect you to be online.
Many times I was up from 12-4am in Thailand when the team back in Austin wanted to talk to me. This was really inconvenient. Also, the guys weren't sure when I'd be online. Agree to the meetings ahead of time and make it clear how many hours ahead you are.
I set up widgets on my Mac to make it easier to see time zones of people I work with.

7) Block Out Work Times
I totally sucked on this in my recent SUV road trip. I scheduled meetings during the middle of the day which really interfered with an activity I wanted to do in Big Bend.
A better solution is to set blocks of time out when you are going to be doing your meetings and work. This makes it easier you can do things in your new city and get your work done.
Me working while in gorgeous Big Bend.
8) Housing
Get a nice place to work. When I've had a place where I had a nice view of the beach or mountain range, it was so much more enjoyable than just a wall. You may think you want to go to the beach more often and you will, but looking at that versus the same cubicle wall makes work all the more enjoyable.
9) Activities
Schedule no more than 1 thing to see in a city each day. When I've tried to do more I spend the whole time sight seeing and not working. Allocate your time during the week for work so you can not feel guilty and explore on the weekends.
A recent good friend of mine went to work from France. She felt guilty for traveling and spent all her time working. Try to book tickets during the week for weekend so you have something to look forward to and it forces you to get out and have fun.
10) Find a local
When I went to Argentina I asked all my friends (via email, Facebook, Twitter, LinkedIn) who they knew in Buenos Aires. Someone introduced me to Morgan Friedman (the Jewish version) and it was a life saver.
With Facebook you can search friends that live in X country or friends of friends who live in X country. This makes it easy to find people. You can also search geographies in LinkedIn. Ask people that used to live there for referrals too.
Locals know restaurants, bars, coffee shops, where to buy things and more you won't find on review sites. It's also nice to have at least one other person welcoming you to the city versus if you go alone.
Workcations are an amazing experience and blessing for people who are able to do them.
Traveling is a great way to learn about yourself, new food (my fav!) and see just how diverse / unique the world really is.
We've helped over 3,000+ people with Monthly1k.com start their own businesses. I won't say it's easy but it is possible.
Workcations allow you to merge doing work you really want to do, provide you a great way to pay for your travels and balance not just traveling cause you hate your job.
Instead of trying to create a passive-income business to travel the world which inevitably gets boring. I highly encourage you to start a business you really want to work on, invest at least 6-12 months in working on it and then create your first workcation.
Instead of just reading about workcations whether you work in a cubicle or run your own thing, I want to help 1 reader go on one!
For 1 person who comments about why they need a workcation, I'll pay for their plane ticket and provide lodging in Austin, TX with the AppSumo team.
UPDATE: We'll be taking comments until Sunday night at 11:59pm. Then we'll announce the winner on Monday 🙂
Ps. Get Noah's free marketing newsletter here.
Sean Ogle
Sean Ogle is the Founder of Location Rebel where he has spent the last 12+ years teaching people how to build online businesses that give them the freedom to do more of the things they like to do in life. When he's not in the coffee shops of Portland, or the beaches of Bali, he's probably sneaking into some other high-class establishment where he most certainly doesn't belong.
Learn How to Make Your First $1,000 Freelance Writing (in 30 Days or Less)
Join over 40,000 people who have taken our 6 part freelance writing course. Sign up below and let's do this together.
By entering your email address you agree to receive emails from Location Rebel. We'll respect your privacy and you can unsubscribe at any time.