I'm willing to bet that in the grand scheme of places on your "to visit" list, that visiting Jordan isn't necessarily at the top of the list.
I mean, who actually goes to visit that small country in the middle East tucked between Israel and Saudi Arabia.
Well, me for starters.
Since I started this site in 2009, I've had one overarching motto that I'd tried to live by: Do stuff worth writing about.
I've gone paddleboarding on a glacial lake in the Candian Rockies…
And traveled to Cuba just to smoke a cigar.
Well, I think visiting Jordan is one of those things that absolutely qualifies as something worth writing about.
Jordan is hands down one of the most underrated travel destinations in the world, and I highly recommend that you consider adding it to your short list of places to visit.
In this post I'm going to give you a blow by blow of all the things I'd recommend seeing and doing while in the country. This was originally published as 4 separate posts, but to make it as useful and easy to read as possible we've updated and combined everything for 2021.
Jordan Travel: Frequently Asked Questions 
Where is Jordan?
Jordan is located in western Asia, in the Middle East. It's bordered by the Dead Sea to the South, Saudi Arabia to the East, Israel and Palestine to the West, and Syria and Iraq to the north.
Is Jordan Safe?
When I visited, this was hands down the question I got asked most often before I left. Obviously the Middle East has areas that are unstable, but Jordan is a bit of a safe haven in the middle of the chaos, and is completely safe for tourists to visit.
What are the Biggest Tourist Destinations in Jordan?
Petra
Wadi Rum
The Dead Sea
The Red Sea (Aqaba)
Wadi Mujib
Amman
Wadi Rum
Best Time to Visit Jordan
Generally, the best time to visit Jordan is between March and May. You don't get quite the scorching heat you get in the summer, and you get cooler nights.
We went in June and it was hot, but not unbearable.
Summer (June-August) is generally the low season, but prices are cheaper so if you don't mind the heat, this can be a good time to visit.
Amman, Jordan: What to do
We didn't spend a time of Amman, but were there long enough to get a sense of the vibe. We stayed at the Kempinski Hotel, which was excellent, and enjoyed exploring street cafes in the neighborhood close by.
We spent the first half of the next day visiting some of the ruins of the city, including the Roman Amphitheater.
Pretty quickly we headed up to the ruins of Jerash, but if you're looking for things to do in Amman, I'd check out this National Geographic post which is pretty detailed.
Learn How to Make Your First $1,000 Freelance Writing (in 30 Days or Less)
Join over 40,000 people who have taken our 6 part freelance writing course. Sign up below and let's do this together.
By entering your email address you agree to receive emails from Location Rebel. We'll respect your privacy and you can unsubscribe at any time.
Off the Beaten Path: Visiting the Ruins of Jerash
After half a day in Amman, I thought we were heading immediately down to Petra.  Not so much.  We actually wandered our way north through olive country, and found ourselves in the town of Jerash.
Have you ever heard of Jerash? Yeah, I hadn't either, which is amazing considering the history of the site.
Jerash is the most well-preserved Roman city outside of Italy.  Were it not for the scorching heat, I felt like I could be walking through the remains of an Italian village.
Perhaps most remarkable about the city of Jerash was how much of it actually remains.  Whether it was the arches built to celebrate Hadrian's visit, or the towering columns which still dot the landscape from the Forum to the Cardo Maximus (heart of city).  Jerash has been around since 2,000 BC, so to think that 4,000 years later much of the city is still intact is remarkable.
So how did traveling off the beaten path and heading to Jerash make me think more about my life and business?
Well, it got a little existential.
In Portland where I live, if you see a building that's 100 years old, it's like "man, that is an OLD building."
Then you head back east to a place like New York for instance and look at places that are 300 years old.  WOW, man now THAT is really old.
So to head to a place like Jerash where everything is THOUSANDS of years old (about 4,000 to be exact), it makes you think.
What am I going to leave behind? What's my legacy going to be?
I've actually pondered that question with remarkable frequency since my time there.  Simply put, it's one of the oldest places I've ever been.
I've been asking myself difficult questions, like:
Am I doing the best I can with my life and business?
Am I having as much of an impact on others as I want to be/know that I can?
What can I do better? How can I stand the test of time like Jerash?
You never know what thoughts are going to start rolling around when you travel, and these are the ones that Jerash in particular conjured up in my head.
Visiting Wadi Rum: What It's Like to Spend 24 Hours on Mars
What do the movies Prometheus, Transformers 2, and Red Planet all have in common?
They were all shot in the other-worldly desert of Wadi Rum, Jordan.
Wadi Rum is unlike any place I've ever been.  Immediately upon entering the protected area about 4 hours south of Amman, you feel like you've been transported to a completely different world – Mars for instance.
The sand is a dusty red color, and the towering cliffs look like they came straight out of a sci-fi movie.  You see, a million years ago Wadi Rum was part of the Red Sea.  It was all underwater, and due to the soft nature of the sandstone the cliffs are made up of, the saltwater essentially melted the cliffs, resulting in them looking like walls of melted candles.
So why am I sharing with you the history of a desert that's half a world away?  Because if you're going to go to Jordan, spending a day on this martian landscape should be on the very top of your to do list.
You may be wondering, c'mon,  how interesting can a desert be?
Turns out extremely.
Hour 1: Jeep Tour Through the Desert
Wadi Rum was about an hour drive from our previous destination of Aqaba on the Red Sea.  We knew we would be staying in the desert, but at the time didn't know exactly what that meant.
Upon arriving we were pretty stoked to find out that we were staying in a traditional Bedouin Camp, sleeping in tents, and having an authentic meal of Zarb that had been cooking underground for hours.
Before getting too settled however it was time to hop in the back of a truck and haul ass through the desert for a few hours. Every 20 minutes or so we'd stop at a new point of interest, with each one being more interesting than the last.
When you were younger did you ever play the game Crazy Taxi?  This was kind of like that, but not a taxi, and not in a city.  Joel and I were kicking it in the back of this truck, while our driver Mahmoud was cruising around in this bad boy like he stole it.
He looked like he was having so much fun that it made me want to drive.  However, fortunately (or unfortunately for my Baja dreams) Wadi Rum has very strict rules regarding who can drive in most areas of the park.  Access is much more restricted than most similar areas in the middle east.
After stopping at a viewpoint overlooking the vastness that is Wadi Rum, we headed into one of many canyons and listened to our screams reverberate through the cliffs.
For some reason all I could think about after arriving here was how much I wanted to hit a golf ball down this canyon:
This was followed by us flying down a hill and almost shooting out of the back of the truck.  Yes, it's safe to say this was my kind of adventure.
One thing that surprised me was just how many ruins were all over Jordan.  It seemed there were buildings, columns, and petroglyphs all over the place.
Even out in the middle of the desert we stumbled upon these 2,000 year old carvings:
We concluded our tour overlooking the vast expanse of desert after 5 tries of trying to get up the sand dune lying in front of us. This photo pretty much summed up the whole of Wadi Rum: lots of cairns, vast desert, and beautiful vistas regardless of where you look.
Hour 7: Night Shots
This is what happens when you have a camera, tripod, and a huge desert at night:
Hour 12: Sunrise Over the Bedouin Camp
The next morning we were all set to jump out of a plane.
Oh did, I forget to mention that? Occasionally the team from Skydive Dubai will setup shop in Wadi Rum and allow you to jump out of a plane above the otherworldly landscape.
Breakfast was at 5, and we needed to be at the drop zone by 5:30.  So being my usual punctual self, I was up at 4:55 ready to go.
5 rolls around, and no one is up except Mahmoud who was kind of enough to make me some coffee.
5:15, 5:20, 5:30 – still no one awake.
Hmmmm, did I miss the memo somewhere?
"Your guide told me 5am for breakfast?"
"Yeah, he told me the same thing," I said.
Instead, of waiting around he asked me to grab my camera and we headed up to a cliff overlooking our camp to experience sunrise over the desert.  It had been a long time since I was awake early enough to see a sunrise, so it was a pretty cool bonus.
Then 5:45 rolled around and the rest of our group finally made their way to the outside of their tents.  Well you know, all except for Joel who was still sleeping like a baby 🙂
After a quick breakfast of yogurt and pita, we were out the door and ready to make our way to Skydive Jordan.
Hour 14: Skydiving Above Wadi Rum
One of the coolest parts of visiting Jordan was actually the one that almost didn't happen.  Originally the jump was scheduled for the date I had to be leave by, in order to make it back for a World Domination Summit meeting, and because of the popularity of the jump, rescheduling was proving to be difficult.
So we showed up (albeit an hour late) and hoped for the best.
Luckily, we got checked right in and only had to wait about 90 minutes before we were headed out to the tarmac…er, desert, on our way to our 13,000 foot jump.
The first thing I noticed when arriving at Skydive Jordan was just how professional and put together everything was.  I won't lie, there was something about jumping out of a plane in a foreign country that had me a little nervous.
The reality was that they transported the ENTIRE Skydive Dubai operation to Jordan for 3 weeks in order to do this.  That meant we had some of the best equipment and instructors in the world making sure that we didn't die after hurling ourselves out of the plane.
Not only did their instructors know what they were doing, but the camera work was the best I'd ever seen – much better than the work I'd seen for previous jumps in the States…
Here was my video.  If you don't want to sit through all 5 minutes, fast forward to the 3:30 spot and see the awesome footage of the jump itself:
We also got a few photos, that you know, I guess turned out alright…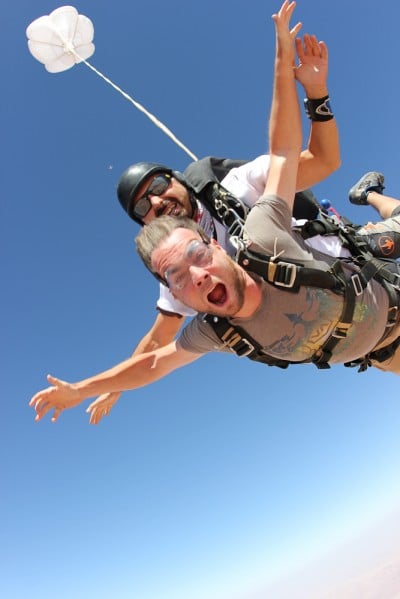 And how about one more for good measure…
Hour 18: ATVs in Wadi Rum
We didn't waste any time after our jump to find our next adrenaline rush.
We had a good hour to kill before our video was ready after the jump, and there were some very fun looking ATVs sitting around next to the site.
After a quick conversation with our host Reine, 10 minutes later we were cruising through the desert, hopping sand dunes, and pinching ourselves wondering if there was any way this day could be any more incredible.
You could tell our guide had been doing this for a while, as his arsenal of dune buggy tricks quickly came out – this guy may have one of the worlds greatest jobs:
Leaving Mars, ahem, Wadi Rum
Our 24 hours in Wadi Rum was perhaps the biggest surprise, in a trip full of surprises.  I had no idea what to expect.  I was blown away by the hospitality of the Bedouin people.  The beauty and uniqueness of the landscape is unparalled anywhere in the world, and the opportunities for adventure activities were seemingly limitless.
If you're into adventure, the outdoors and want to experience someplace a little more off the beaten path.  Head out to Wadi Rum – I promise you won't be disappointed.
Petra, Jordan: One of the Most Epic Things You'll Ever See When You Visit Jordan
One of my favorite movies growing up was without a doubt Indiana Jones and the Last Crusade.  I mean how could you not like it? It had humor, action, adventure –  it's everything that you could want in a movie.
So when I found out that I'd be getting to go to Petra one of the first things that crossed my mind was, we've gotta find the holy grail!
Ok, that may be a little corny, but it was a lot of fun to wander the incredible city of Petra and pretend like I was Indiana Jones.
What Is Petra?
Before heading to Jordan I would generally get one of two responses when I told people that Petra was the thing I was looking forward to most about the trip:
That's AWESOME, so jealous you're going there.
What the heck is a Petra?
Well for those of you who don't know, Petra is one of the Seven Wonders of the New World and by far the largest tourist destination in Jordan.  Petra was founded in the 6th Century BC by the Nabataean people, which in and of itself isn't that exciting. So what is so remarkable about Petra?
The entire city was carved out of a freaking mountain.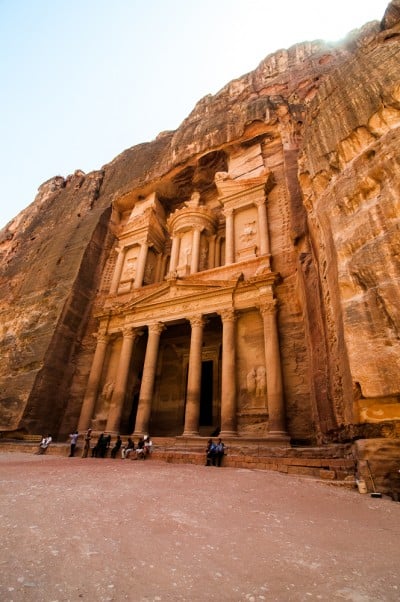 Seriously, it's unreal.
The night we arrived there, we had about an hour before "Petra by Night".  Originally were just going to crash, enjoy our dinner at the Movenpick and get some rest.  However it didn't take long before we realized we couldn't miss out on the experience, which I knew would be a photographers dream.
They do Petra by Night three times a week, and it takes about two hours to do the whole tour.  The most famous part of Petra, the Treasury is about a mile from the entrance to the park.  At 8:30pm they allow you to start walking down the path to the Siq (narrow canyon entrance to Petra), which then dumps you right out in front of the Treasury about a mile later.
What's so cool about this? The whole pathway is lit by candles.
It gets even cooler after you arrive at your destination as Petra is illuminated by hundreds of candles at its base.  While the whole experience was pretty touristy, I'll never forget the feeling of coming out of the Siq to see the illuminated rock carvings in front of me.
What it's like to visit Petra by day
The next day as we walked the same path back into the city, we realized just how much we missed while walking in the dark.  There were carvings everywhere you looked, and perhaps one of the coolest aspects of the city was the elaborate water and irrigation systems they had in place through the Siq that carried into the city itself.
Walking through the city you would see what looked like gutters lining both sides of the streets.  They were specifically designed to not only be able to store water coming in from flash floods, but they also had rudimentary filtering systems as well.
It was clear the Nabataeans were centuries ahead of their time when it came to engineering.
So, what is Petra really like anyways?
When most people think of Petra, they think about the Treasury.  In fact, at least half of the visitors to the site, walk the mile in to see it and then the mile back out and hop on their tour bus.
This is depressing to me.
Petra is an ENTIRE CITY OF STONE, PEOPLE.  It would take days to see it all, and it's a hiker s dream destination.
We were there for a full day and still only saw a sliver of what Petra had to offer.
Along with the Treasury, there was also an amphitheater that was still in remarkably good shape given the age: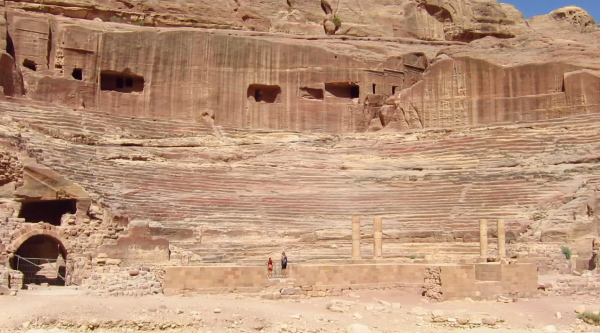 One thing I thought was really cool, that also illustrates their advances in engineering is that they built their buildings to withstand earthquakes.  The section of the park below is currently being excavated by Brown University, where they learned that those horizontal lines you see running across the building were actually to keep it safe during earthquakes.
Pretty remarkable it's still standing thousands of years later:
And perhaps what was even more impressive than the Treasury, was the Monastery.
We didn't know much about the Monastery when we arrived.  In fact, our original plan didn't even include the 3 mile hike up to it.  However, it was without a doubt the highlight of our trip to Petra.
900 steps is what they say.  I don't know if it was actually 900 steps, but it was a ways up there.  Luckily there were some very friendly Bedouin people selling everything from grails to Gatorade all the way to the top.  Unfortunately, despite my best efforts, none of the grails led to immortality.
When we reached the top, we were a bit confused.  There was an open area that had some expansive views, but it looked like there were a couple little shops and that was it.
Well you know, until you turn the corner and this GIANT carving protruded out of the rock.
You see no one had mentioned (and we may not have done our research) that the Monestary was very similar to the Treasury, but BIGGER. It measured 50×50 meters and came out of nowhere.
Immediately we knew we'd made a good choice.
I can't stress this enough, if you go to Petra, hike to the Monastery.  Not only is it much less crowded than the Treasury, but the surrounding view points are spectacular – on a clear day you can see both Saudi Arabia and the Dead Sea.
Is it Worth Visiting Petra?
Jordan isn't exactly a short little jaunt away if you're in America.  So you might be asking yourself:
"Self, do I really want to fly all the way to Jordan to experience Petra first hand?"
I'm going to answer this for you:
Yes, yes you do.
Ma'In Hot Springs and Six Senses Spa: Getting off the Beaten Path
This particular day was supposed to be full of adventure.  We were going to do a canyoning trip through Wadi Mujib, which looks AWESOME.  See The Planet D's's post about it for the gist.
Unfortunately due to high water levels we were unable to make it happen.  With some quick thinking from our hosts in Jordan we ended up at the Ma'in hot springs and Six Senses Spa – a place equally as cool, but for completely different reasons.
With 4 different hot waterfalls in the area, there was something to appeal to just about everyone.  There was a large public falls, a women-only falls, and the private spa falls that we had the pleasure of experiencing.
When I visited the Six Senses I'd never been to a spa.  It'd been years since my last massage, and the idea of simply relaxing and doing nothing is always a difficult one for me.
But I was willing to try my best.
As we sat in our cabana overlooking the beautiful falls, in between trips to our "natural cave sauna" I started thinking about what was going to happen after I returned from my trip.
What did I want to do? What were the immediate goals?
It was this three-hour period of relaxing, clearing my head of distractions that allowed me to start formulating what the next steps were for Location Rebel.  I was able to clearly see where I was lacking and where I had some ground to make up.
So that's what is so great about this whole spa thing…I can get used to this!
Ma'in is located at the base of a steep canyon that rests 750 feet below sea level.  You probably wouldn't have just stumbled upon it unless you were specifically seeking it out. Yet it was getting away from anything that resembled familiarity that put me in a state of reflection.
Could this have been achieved at the day spa down the street in Portland? Maybe.  But the combination of the beauty of our surroundings, the uniqueness of the experience, and the time to relax had an effect that I definitely wasn't anticipating that day.
If you're looking for a way to unwind and reflect on your life, or frankly not think about anything at all, I'd highly recommend visiting the Ma'in hot springs, as it's easily the most unique spa retreat I've ever seen.
Dead Sea: What It's Like to Swim in the Dead Sea
I still remember as we careened our way down the road to the Dead Sea looking at the altimeter on my watch and seeing something I'd never seen before, a minus sign.
We just kept going lower until we reached the point where we were over  1,000 feet below sea level.
The Dead Sea is the saltiest body of water on Earth. It's also the lowest point on Earth.  If this isn't enough to get you excited about visting, how about the fact that because of its extremely high salt content when you get in the water you actually float.   That's how it got it's name actually.  There's so much salt, that nothing can live in the water, hence the name, the Dead Sea.
I was skeptical about this, I mean how cool can it be? Turns out, very.
Our time in the Dead Sea was one of my favorite points of the trip, well you know, aside from when I accidentally opened my eyes letting the salt slowly drip into them…just watch the video for that one.
10 Reasons to Visit Jordan on Your Next Adventure
If you haven't figured it out yet, Jordan is an incredible place that's worth going out of your way to visit.
We've covered a lot of the basic facts and highlights of the country, but to finish up, I wanted to share with you a few of the reasons I personally think visiting Jordan is such a no brainer.
#10) Go Someplace Your Friends and Family Actually Want to Hear About!
This one falls squarely into the category of bragging rights.  It might sound a little conceded to say that, but more so than any place I've been, ever, people want to hear about Jordan for some reason.
Why? I think it has to do with the fact it's so unexpected.  Where is Jordan? What's there? What's it like? Even if places like China, Cuba, or Islay were just as different in terms of landscape and culture, people have heard more about them.  Most of the people I've talked to haven't heard a thing about Jordan, and people get excited about something new like that.
So if you want to take a trip that people actually want to hear about, Jordan (based on my experience) would be an excellent candidate.
#9) World Class Street Cafes
This is one of my primary criteria for judging my love of a city.
When I lived in Bangkok we used to spend hours people watching over 2 for 1 99 baht gin and tonics near Silom.  Sipping coffee on the streets of Barcelona is one of my favorite memories of Europe.  Bottom line, if you want to top my list of best cities, I've gotta be able to drink, work, socialize in some fantastic cafes.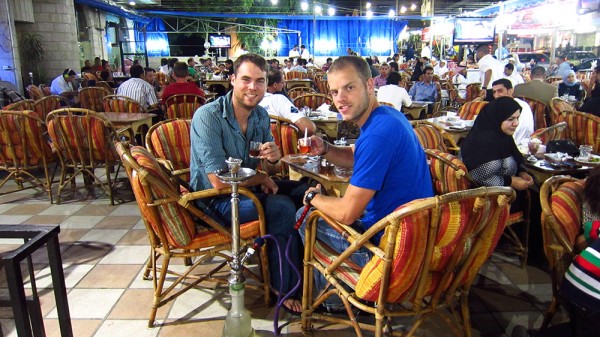 Amman didn't disappoint.  Pretty much the first thing we did after arriving was pop into a street-side cafe near our hotel and grab some mint tea and shisha.  The waiters were some of the friendliest I've seen, the temperature was perfect, and the people watching was right up there as well.
Sitting in street cafes is one of the best ways I know of to see what a city is all about.  Whether it's talking to people around you or simply watching the routines and traditions of those around you – next time you're someplace new make sure you find a spot to hang out for an hour and simply enjoy your surroundings.
#8) Experience the Middle East (Without the Danger)
Many friends and family couldn't believe I was heading to the middle east when I did.  All you hear on the news is about how dangerous it is over there.  The reality? It is certainly dangerous in areas of the middle east, but NOT in Jordan.  Jordan is a bit of a safe haven from the violence going on in surrounding countries.
Jordan is on friendly terms with everyone that surrounds them, making it the safest destination to travel to in the middle east. Based on my experience there, I can totally back this up.  Regardless of where we went I never felt unsafe, and in fact I felt much more comfortable than many other places I've visited.
So if this has been a concern for you and is a reason why you haven't ventured out into that part of the world, you should definitely reconsider.
#7) Swim with Jellyfish in Crystal Clear Water
Something I've always wanted to do was swim in the Red Sea.  During our time in Aqaba we were able to head out on a boat and do some snorkeling in what had to be the clearest water I've ever seen.
As we were cruising out into the sea, we couldn't help but notice there were thousands of purple jellyfish in the water.  "We must be heading out past all of them" was my initial reaction.
We arrived at our dive spot, and as I got to the back of the boat, there were still about half a dozen jellyfish hanging out in the water below.
Now, I don't know about you, but in my 33 years of life, everything I've learned has told me if you see jelly fish you do NOT go in the water.  No one else seemed bothered by this.  Our guide told us they wouldn't sting and we should get in.
I've never felt like such a wuss in my whole life.
I hopped in, and then spent the next 5 minutes sporadically flailing around as I kept thinking jellyfish were out to get me.  Usually I'd be right, and I'd turn around to see a few of them hanging out around my legs – but sure enough, no stinging.  I couldn't handle it though and swam back to the boat.
It wasn't until our guide literally fished one out of the water and placed it in our hand that I was able to get over my fear of jellyfish.
Looking back, I've gotta admit that it was a pretty cool experience, and one most people can't say they've done.  So if you're a big diver, make sure you check out the Red Sea for it's incredibly clear water and jelly swims.
#6) World-Class Cuisine
If you're into Mediterranean food, you're going to love Jordan.  Olives, hummus, baba ghanouj, falafel – all here in spades.  It was a big departure from the street food I've experienced throughout Asia, but a welcome change.
If you come to Jordan you need to make sure you don't miss their national dish of mansef.  We changed our plans on our last day so that we could go experience it ourselves.  It's a giant plate of rice and lamb covered in yogurt sauce.  It's a very communal eating experience, and once you get the hang of rolling the rice, lamb and sauce around in your hand before popping it in your mouth it quickly becomes an addicting meal.
Most people tend to only eat it on Friday or Saturday nights because it's so filling it will put you to sleep and you won't want to do anything else the rest of the day 🙂
#5) You Can See it All in One Trip (Or at least most of it)
I remember thinking back to planning my trip to Brazil in 2009 and saying I wanted to go to Iguazu, the Amazon, Rio, Sao Paulo and about 6 other different places scattered throughout the country.
Oh how young and naive.
It didn't take long before I realized that saying that was like coming to the United States for a week and wanting to see the Statue of Liberty, Golden Gate Bridge and Disney World all at once.
This is the beauty of Jordan however.
You can drive from the northern border to the southern tip near the Red Sea in about five hours.  While we certainly wish we had more than the 6 days we did in Jordan, we were able to at the very least see all of the highlights.  If you're traveling on a limited time frame, you can see most of the country in just a week.  There are also buses that run from all of the major tourist spots, so getting around is relatively easy and affordable.
#4) Detach from Reality
The night we went out to Wadi Rum to stay in a traditional Bedouin camp we had no idea what to expect.  I barely knew what a Bedouin was, let alone what camping in the desert with them would be like.
It turned into one of my favorite parts of the trip, as we truly felt as though we were in a completly different time and world.  Whether it was the old guys sitting by the fire with their shisha pipes, the vast night sky, or the traditional meal of zarb, it was unlike anything I'd experienced before.  Being out there with no internet or modern distractions was something I'll never forget.
If you like the outdoors and want to get away for a bit, staying in a camp like this is a great way to do that.
#3) Get as Close to Mars as Possible on Earth
Ever wonder what it would feel like to walk on the surface of Mars? I'm pretty sure it would be a lot like walking through the desert canyons of Wadi Rum.  Almost any movie that you've seen about Mars had at least some of it's scenes filmed in this region of Jordan.
So whether it's a jeep tour, staying the bedouins, cruising on ATVs or jumping out of a plane, there's plenty to do and see.
#2) Experience the Sensation of Floating in the Dead Sea
Yes, once again, it really is as cool and unique as you've heard. See video above.
#1) Tour a City Built Into a Mountain
It's true, the best reason to visit Jordan is without a doubt the most well known: to tour the incredible city of Petra.
It began about an hour after arriving to Petra when we decided to do the Petra by Night tour.  Hundreds of candles illuminating the mile long trail through the Siq, culminating with a fully lit up Treasury definitely goes down in history as one of my favorite travel experiences ever.
However there's so much more.  You could easily spend a week hiking through Petra – unfortunately we had less than a day.  We made the most of it however by making the trek up to the massive Monastery and a couple of the best view points of the trip.
There you have it, everything you need to know to Visit Jordan
Jordan truly is a one-of-a-kind place to visit. It's unlike any place I've been, and despite being a bit of a trek to get to from the US, it should be high on everyone's "to visit" list.
Questions about my experience there? Just leave them below!
Have you ever been to Jordan? If so, what was your experience like?
Sean Ogle
Sean Ogle is the Founder of Location Rebel where he has spent the last 12+ years teaching people how to build online businesses that give them the freedom to do more of the things they like to do in life. When he's not in the coffee shops of Portland, or the beaches of Bali, he's probably sneaking into some other high-class establishment where he most certainly doesn't belong.
Learn How to Make Your First $1,000 Freelance Writing (in 30 Days or Less)
Join over 40,000 people who have taken our 6 part freelance writing course. Sign up below and let's do this together.
By entering your email address you agree to receive emails from Location Rebel. We'll respect your privacy and you can unsubscribe at any time.