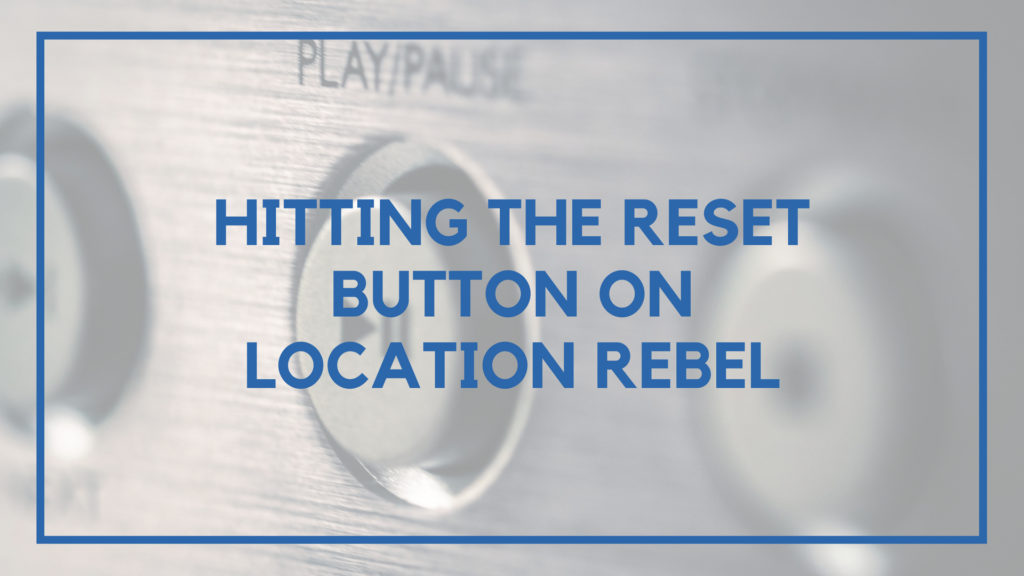 I should have the most boring business on the planet. And I mean that in the best way possible.
There's very little reason that anything should ever be that stressful over here at Location Rebel.
It's not like I've got a ton of client work with huge deadlines.
It's not like anything I do here is life or death important.
I have the freedom and flexibility to do anything I want at any time I want.
By all accounts, it should be the perfect lifestyle business.
But lately, it hasn't felt that way.
In fact, the last few months things have felt hard and stressful.
The root cause of this? It's entirely my own.
The Boring Business Model
Recently I read a Sunday email from Paul Jarvis called "I'm Boring…"
It was the exact "a-ha catalyst" that I'd been needing but hadn't realized until I read the email.
In his email, he talked about his "boring business."
He works 5 hours a day 7 days a week. He does things slowly. His blog posts are prepared months ahead of time.
Doing things the slow way, the boring way, means that not only does he ensure the content he puts out is high quality – but is more or less stress free in the process.
This is the business that I've always had.
But this year? It hasn't been that way.
From January through April we were working to move our site back over to WordPress. It was a stressful process that took longer than it should have – but it's done.
Since then, I expected to be firing on all cylinders. And while many things are going well (traffic is up, opt ins are up, new members are up), none of it has felt effortless or easy.
Why?
A big part of it is self imposed deadlines.
Just about every course or article on starting a blog will hammer home the importance of a routine and consistency (including my own).
And you know what?
Posting consistently is important.
This year we've been sticking to a Tuesday blog post and a Thursday video at Location Rebel.
But in being so locked into that deadline, we've been shooting ourselves in the foot.
All of our lives are busy – and in many cases, we feel like they're busier than they really are.
But over the past few months I've continually found myself on a Monday morning emailing Liz saying "so, what should we do for tomorrow?"
I've been sitting in my dining room on a Wednesday afternoon saying "what video should I shoot for tomorrow?"
It doesn't take a genius to recognize that this is a horrible way to run a content business.
While it's stressful to operate this way, more than anything it causes you to create content that isn't the very best it could be.
And in many cases, it's not even that good. 
Hitting the Reset Button on Location Rebel
Paul's email hit me like a freight train.
My business was no longer boring. It had become full of fires to put out, last minute scrambling, and a working environment that wasn't creative or fun.
And there's zero reason this business should ever be that way.
So, when you find yourself or your business in this situation, what do you do?
How do you get back on track and revert back to doing things the right way? The boring way?
For me, you hit the reset button.
This can come in a lot of forms, but I realized the most important thing I can do right now is to make my business boring again.
There should be a plan. The content should be world class. Everything should be well thought out, and nothing should be last minute.
So to do this, I'm taking a break from our Tuesday and Thursday posting schedule.
Realistically it will probably be about a month long.
There might be the occasional post, but more likely, I probably won't be posting a whole lot for the next month.
What will I be doing?
Getting ahead of the game.
This past week I've created a document that's essentially a roadmap for the rest of the year. It looks at our goals, metrics, the content we want to create and update – the list goes on.
The next month is devoted to that.
To creating content that is truly useful for you. I've been listening to your ideas and feedback, and now is the time to go in and execute.
Videos and blog posts should be done at least a month ahead of time.
The goal is to remove the last minute craziness, and allow us the time to make sure all of our best ideas make it into our posts and videos – rather than taking a good idea, and not doing it justice by throwing it up at the last minute.
This past Thursday was the first time in 5 months I didn't post a YouTube video. And rather than feel guilty about it, I felt excited.
Because I took that time to plan out videos for the coming months. Videos that had unique visuals, ideas, and teachings. And I know by devoting more time to them, they're going to be much better than what you've been getting.
Also taking a step back from posting so much, is allowing me to focus more time for our members inside Location Rebel Academy – and really give them the time and energy that they need to be successful with their new business.
So I'm really looking forward to this.
I'm looking forward to getting back to square one and making this business boring again. Because boring is better for all of us.
Sean Ogle
Sean Ogle is the Founder of Location Rebel where he has spent the last 12+ years teaching people how to build online businesses that give them the freedom to do more of the things they like to do in life. When he's not in the coffee shops of Portland, or the beaches of Bali, he's probably sneaking into some other high-class establishment where he most certainly doesn't belong.
Learn How to Make Your First $1,000 Freelance Writing (in 30 Days or Less)
Join over 40,000 people who have taken our 6 part freelance writing course. Sign up below and let's do this together.
By entering your email address you agree to receive emails from Location Rebel. We'll respect your privacy and you can unsubscribe at any time.