Updated February 2019 to ensure all advice in this story is up to date.
Here at Location Rebel, it's pretty obvious that we're a big fan of creating lifestyle businesses. That can mean a lot of different things to do different people, but usually this comes in the form of freelancing or niche sites.
But that's not always the case.
Sometimes you have an idea so good, and with so much potential, that it's impossible not to capitalize on it.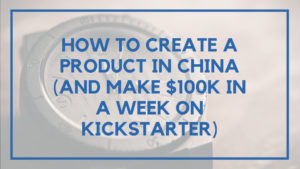 And on a trip to China a few years back it wasn't me who capitalized on an idea, but my friend Ryan Beltran – who took it, and through a launch on kickstarter that made over $500,000, he introduced Original Grain to the world.
What is Original Grain?
It's a company that makes wooden watches.
You see, my wife Tate used to have this wooden watch, back before they were a thing.
I've never seen anyone get so many compliments on an accessory in my life – and considering hardly anyone was making them, there was a big opportunity to create a new business around them.
I traveled to China to meetup with some friends and to find factory that made them to consider starting a business around it myself.
While I decided the timing wasn't right for me, Ryan ran with the idea, and well, the rest is history.
In this post, Ryan goes over what it took to go from idea to physical product, to launch.  If you've ever thought of making a product of your own, then this is a must read.
Want more in depth hand holding on how to get started?
Check out: How to Build a Physical Product in China
This video provides a good overview of it as well.
Original Grain Watches: A Case Study for Making a Product in China and Successful Launching on Kickstarter
I emailed Ryan some questions I was curious about as it relates to how he built the watches and the company, here were his responses.
Where do you even begin looking for people who can actually make a product for you?
Once you've determined the product you'd like sell, knowing where to look for suppliers can easily seem like one of the most overwhelming tasks on your list. Thankfully for me, the largest trade show in China (The Canton Fair) was just a quick train ride away. Spanning over three weeks with three different phases, you can literally find any and all products there.
If you do decide to invest in a trip to attend the fair, the key is to have a well established game plan prior to going. I can still vividly remember the first time I walked into that massive complex and having no idea where to begin. However, if you come prepared with specific products in mind you can get started from day one meeting with suppliers and setting up visits later that week. I'd highly recommend attending The Canton Fair or similar trade shows to find manufacturers and inspire your product ideas even further.
If I can't make it over to a sourcing fair, where should I go? Can I still do this?
Absolutely.
For those without the start-up budget to travel and attend a sourcing fair, other alternatives do exist. I'm sure most people are aware of websites like Ali Baba, where you can virtually search for any product and find more suppliers than you'd ever need. This is great place to start. But you've gotta be really careful, quality control is really difficult when you're not on the ground, and you never quite know what you're going to get.
This is why going to someplace like the Canton Fair is so nice, because you can feel samples of other products and get an idea of the quality.  Sean and I went through literally dozens of watch manufacturers and only found a handful that were up to my standards for Original Grain.
If you're really serious about doing this without going to China, your best bet is to get in touch with someone on the ground there who knows what they're doing.
I have a couple American friends who do nothing but sourcing for a living, getting in touch with someone like that will ensure that you enter the process with your eyes wide open.
Check out: How to Find a High Quality Supplier on AliBaba
So, the initial idea was for a wood watch. You took it even farther than I could have envisioned, how did you evolve it into something so unique?
This initial idea goes way back to my original research into the watch market and stemmed from the fact that there was minimal competition. Once we left the fair and I'd determined there truly was a need in this niche, I knew there was one more thing to do…niche down even further and come up with something that hadn't been done before.
How to Find a Niche:
After talking with consumers, we learned some of the big problems with other products out there were a lack of durability, little reliability in the cheap Chinese movements, and a lack of "day-to-day" wearability.
So I went to work, and the result was a hybrid design that features 100% all-natural wood and stainless steel. The evolution was definitely a little more complicated than that, but at the end of the day my goal was to offer an innovative and simply better alternative to the current wood watches available, that you could wear day in and day out in any situation.
How did you design it? Can factories in China pretty much do anything you want?
The design process was easily one of the most exciting parts about taking the watch from concept to physical prototype. If you want to create it, you can find a factory to make it. I'm by no means a professional designer, but my previous background in product development definitely made things easier.
Factories are generally very helpful when it comes to developing your product. In my experience with these watches specifically, they had an in-house team of designers that were able to help refine things prior to making a prototype. As a side note, having someone who can speak the native language is essential if you need a lot of help with this.
This is also another benefit of being close to the manufacturer, I could hop on a train and meet in person with the team that was actually creating my watch.  We made a lot of changes in the early going that I simply don't think would be possible if I wasn't there in person.
What sets you watch apart from other similar watches? (Inspiration, high quality materials etc)
The number one thing that sets my watch apart from others is the design. It truly is unique. Second, these watches offer a much higher quality feel than their competitors. By incorporating wood and stainless steel into the design, I was able to give it that natural wood look, with a more classic and "real watch" feel.
We source the majority of our materials and parts from around the world, and the factories were a huge help in facilitating that process. For instance, we didn't want a cheap movement. We wanted the watch to be reliable, and still affordable. So we went with one of the most well-regarded Japanese movements out there. In terms of perceived quality, it's second only to Swiss movements, which cost many multiples more.
We also sourced our own wood from various countries. We don't alter the wood's natural color, but simply give it a protective polish that will maintain its original look.
How much time did it take from idea to having a working prototype? What big changes took place?
I had the initial idea back in May of 2012 when Sean was in China, sat on it for awhile, and then decided to really make it happen in July of that year.
Once you fin a reliable, quality supplier to manufacture your product the timeline really isn't that long to have a working prototype. You have to understand the fact these factories are extremely goof at what they do and can pump things out in a hurry. Once I had the initial designs ready, it took about a month to receive a prototype.
The majority of your time will be spent tweaking designs and finalizing everything. For example, I had to purchase new molds for the case and band, I shaved off fractions of a millimeter from the wood bezel, and slightly altered my face designs. All of which takes time.
Are there minimum order quantities you have to have to even get a factory to work with you?
The minimum order quantity (MOQ) levels will vary depending on your product.
Of course the cheaper your per unit cost is, the higher the MOQ and vice-versa. When I first started to manufacture products in China, I thought there was little wiggle room to negotiate the minimum order with factories, but what I've found is they're actually pretty flexible. This is yet another reason why it's beneficial to visit the factory in person, as they will be more likely to work with you on this if you do so.
Very rarely is the initially quoted MOQ going to be a deal breaker if you can't meet their requirement.
What are all of the costs associated with the manufacturing process? (Design, Proto development, QC,)
This will vary by the product you're dealing with and from person to person depending on skill set, where you live, and personal preference. If you have the ability to do the design yourself then you can factor out that cost. Prototypes can add up quickly if you need to make a lot of adjustments. For example, I had to purchase molds for my watch case and band in order to get the exact specifications I wanted. Then purchase samples to test color combinations and different face designs.
Quality control comes down to your preference, time, and location. For me, I was able to be on the ground from start to finish.
But for most I assume this is not the case. I would suggest for those who are not able to either go visit the factory at all or do quality control, hire out someone to do this for them. Absolutely do not try and do this from your home country and outsource with no help from someone on the ground. And I strongly advise you make a visit to see your factory at some point.
If I were to put a rough estimate on the amount of money one should expect to spend starting a similar type of project, I'd say $5,000…on the high end.
That would easily get you through the design stage, into factory samples and prototypes with more precise specifications, and a final product with packaging. I'd even go so far to say this much initial capital could get you to China for a factory visit. At that point, you're going to be a little strapped for cash to market your product/business or get a super baller website, but that's why platforms like Kickstarter are so great!
Here's a more thorough walkthrough of how to work with factories in China.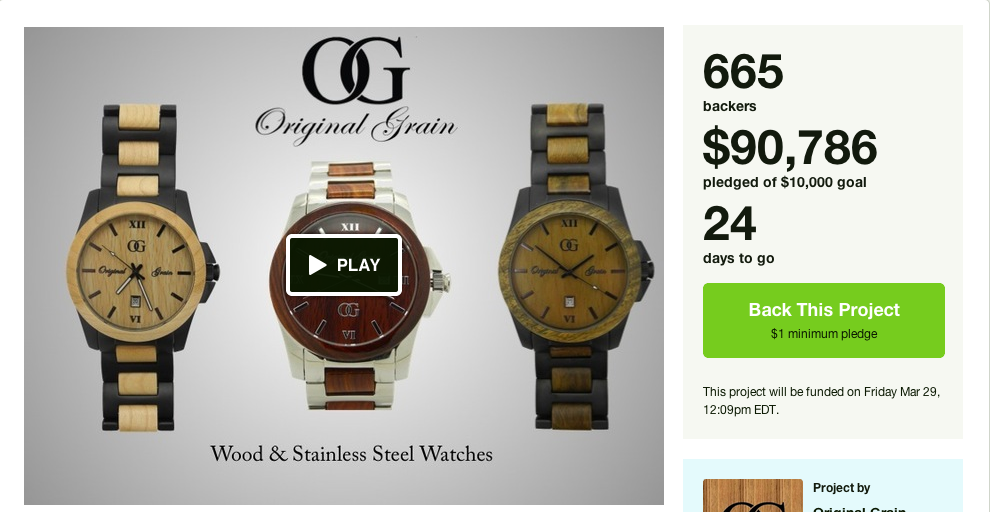 Now let's jump into the fun stuff. Kickstarter. $25k in 24 hours, going on closer to $100k now after almost a week.  What do you think led to so much fast success?
As I'm sure most of you know, the key for success with any online business is generating traffic.
So, prior to launch that was my number one priority. I reached out to everyone I knew. I told them all about my project and launch date, and really tried to get as many people to contribute in the first few hours of going live as I could.
No one wants to be the first person to join something, so if I could get the people that had already committed to donating to do so early, I knew that could be a big factor in building momentum.
One of the biggest unexpected factors was receiving enough momentum to land on the front page of Kickstarter in their "popular" category – which generated even more traffic.
I had my goal of $10,000 reached in less than 5 hours and I truly believe it was huge for creating a buzz around the project. Who doesn't want to hop on a fast moving train?
How Do you Make a Kickstarter Video for a New Product? Your's looked great!
First and foremost, let me come right out and say that I literally had zero hours, minutes, or seconds in video editing experience prior to making our Kickstarter video. That being said, I too was please with the finished version
Like all things when you're starting your own business, it was yet again another great learning experience…frustrating at times, but invaluable in the long run.
One piece of advice I can give when it comes to making a video for Kickstarter, is do your research. Watch countless videos, especially projects similar to yours (that were successful), and see what they did. Take bits and pieces from their videos and craft a unique story. People want to connect with you on another level beyond your awesome product.
With the money you're raising, what's next for the brand?
I'll be honest and say prior to the campaign my answer to the "next steps" question was a little different…for obvious reasons! With the success I'm having and the money I'm raising, knowing where to allocate funds is crucial as I work to manage the growth.
Continuing to build my online presence will remain a priority, however I now have a lot more leverage in finding retailers to carry my brand. Being able to fall back on the fact I've received so much demand in only a few days since I launched, immediately establishes a new level of confidence, and more importantly, credibility with my product. With that said, I'm crafting an in-depth sales and marketing strategy to sell my watches beyond an e-commerce platform and extend my reach into as many physical retail outlets as possible.
Exciting times for us at Original Grain and we can't say thank you enough for all of the support. I welcome an questions people have about the manufacturing process or strategies surrounding the Kickstarter campaign, and will get back to everyone as quickly as possible.
You Ready to Get Original?
I'm stoked to see how the rest of this year plays out for Ryan and Original Grain. We spent a lot of hours on Tuk Tuks and in the back of buses talking about how he was going to approach this launch, and obviously he did a lot of things right.
Ryan was also cool enough to give me a prototype of the maple design, and I get compliments on it every time I wear it.  The owner of the highest end watch shop in Portland even said "oh wow, this is a really cool piece" when I took it in to get the links resized.
Interested in watches or any other aspects of making products in China? Just drop a comment!
Want to learn how to do the same thing Ryan did? Check out: How to Manufacture a Physical Product in China
Sean Ogle
Sean Ogle is the Founder of Location Rebel where he has spent the last 12+ years teaching people how to build online businesses that give them the freedom to do more of the things they like to do in life. When he's not in the coffee shops of Portland, or the beaches of Bali, he's probably sneaking into some other high-class establishment where he most certainly doesn't belong.
Learn How to Make Your First $1,000 Freelance Writing (in 30 Days or Less)
Join over 40,000 people who have taken our 6 part freelance writing course. Sign up below and let's do this together.
By entering your email address you agree to receive emails from Location Rebel. We'll respect your privacy and you can unsubscribe at any time.